Fresh Peach Pie with Flaky Butter Crust
This Fresh Peach Pie with Flaky Butter Crust is about to become your favorite peach pie. Everyone loves a flaky, all-butter crust, and this one delivers. The peach filling is perfectly thick and juicy.

Fresh Peach Pie with Butter Crust
My parents have a yard with unbelievably fertile soil that grows whatever fruit they toss at it. Given that their neighborhood used to be warm-climate farm land, the richness of their ground is no surprise.
When I found out I was moving to Minnesota 9 years ago, my first gazillion thoughts centered around the obvious. Frozen tundra. 😖 🌨 My next bazillion thoughts focused on – what else? – food.
Like, where in the world would we get affordable fresh fruits?! And do they even have fresh peaches and berries in MN?
Turns out I was both right and wrong. The Arctic frost situation? That's for real. Nothing else to be said about that.
But my peach fear was totally made up. We actually get an abundance of all the veggies and fruits here. Not only are the local farmer's markets amazing, but we get awesome fruits shipped in daily.
Which means I still get to munch on stone fruits every summer. And we still bake up fabulous fresh peach pie. There's absolutely nothing else like homemade peach pie, loaded with fresh, ripe in-season peaches. This juicy peach pie is double-hugged by the flakiest all-butter crust there ever was.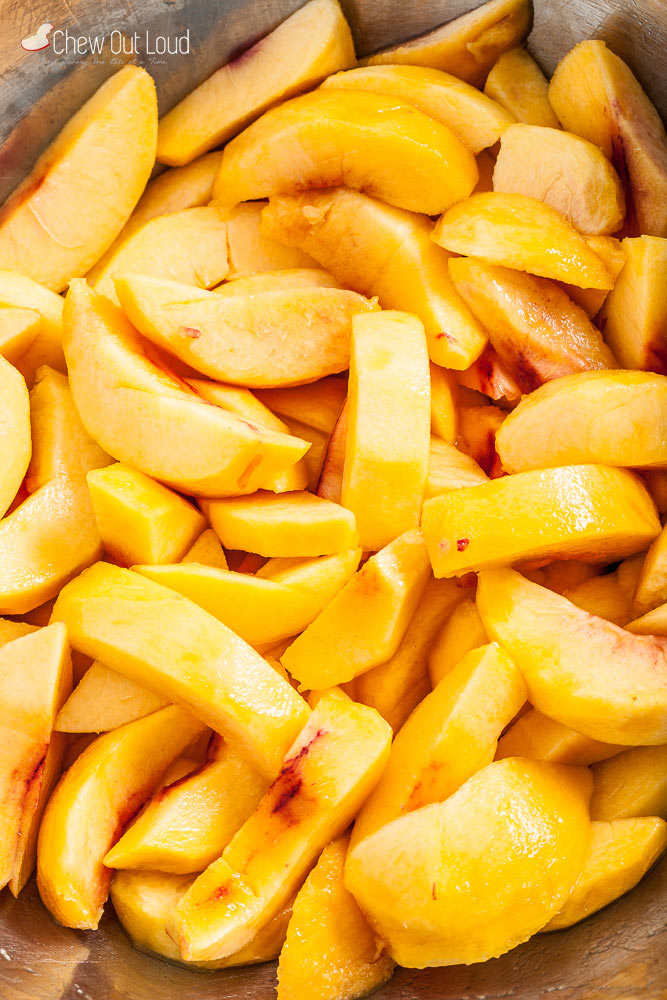 Picking Perfect peaches
The perfect peach pie begins with perfect peaches. Get the most out of your peaches by looking for these qualities:
Feel: You'll want plenty of semi-ripe, very sweet peaches. It's important to use peaches that aren't overly ripe, since too-ripe fruit breaks down quickly during the baking process and will result in a mushy filling. Go for semi-ripe peaches that are just slightly soft and yields just a bit when pressed near the stem (if you're not planning to use your peaches right away, buy firmer peaches and let them ripen a bit on your kitchen counter.)
Appearance: Choose peaches that are heavier and larger; they'll tend to be juicier and sweeter. Vibrant, deep color throughout the surface of peaches indicates fruit that's been grown under prime conditions and will yield better flavor.
Smell: Go with peaches that not only look great, but smell great. A sweet, peachy aroma indicates the fruit holds delicious flavor within.
Storing Peaches
If your peaches are firm but you want to use them within a couple of days, simply let them soften to desired ripeness on your kitchen counter. For somewhat faster ripening, you can place them in a closed paper bag at room temperature. Adding a banana in the bag can speed up the process even more.
Once peaches feel slightly tender on top, they're ripe and can be stored in the fridge to keep them from over-ripening.
If you're not planning to use firm peaches for more than a couple of days, you can choose to ripen them later without compromising flavor.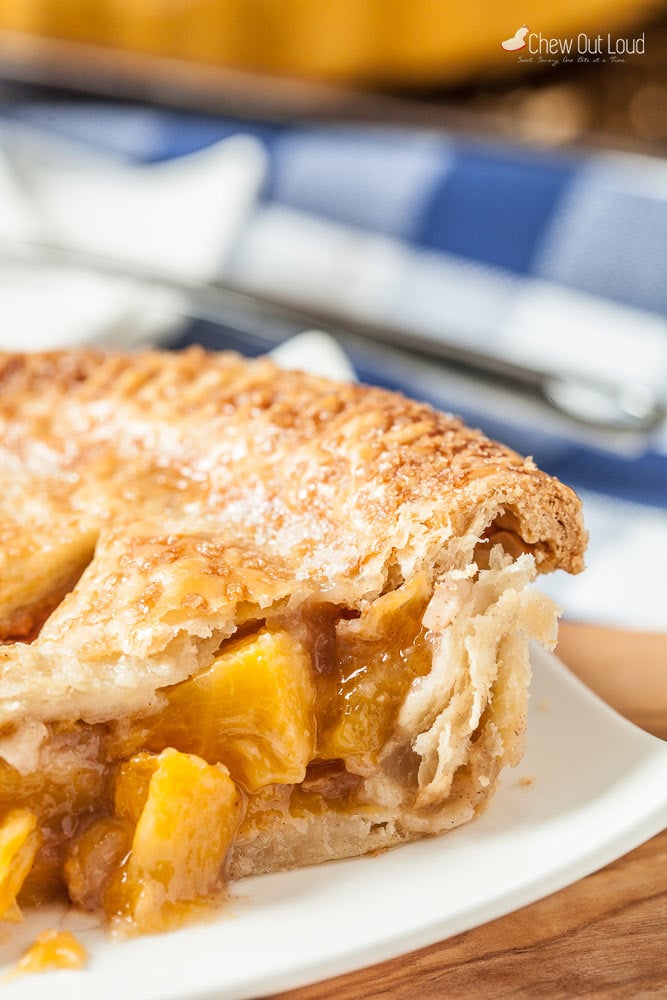 About that Perfect Pie Crust
I know I mentioned the flaky all-butter crust in this deal sealer ↑
This double crust recipe is what I use in all my pies. I've tried a ton of other pie crusts, including store bought stuff in a pinch. (No judgment here, right? 😊)
This pie crust is the real deal. It's all-butter, wonderfully flaky, and tastes phenomenal. No shortening, no trans-fats, no artificial anything. Not in the crust nor in the peachy filling. Just all-natural goodness.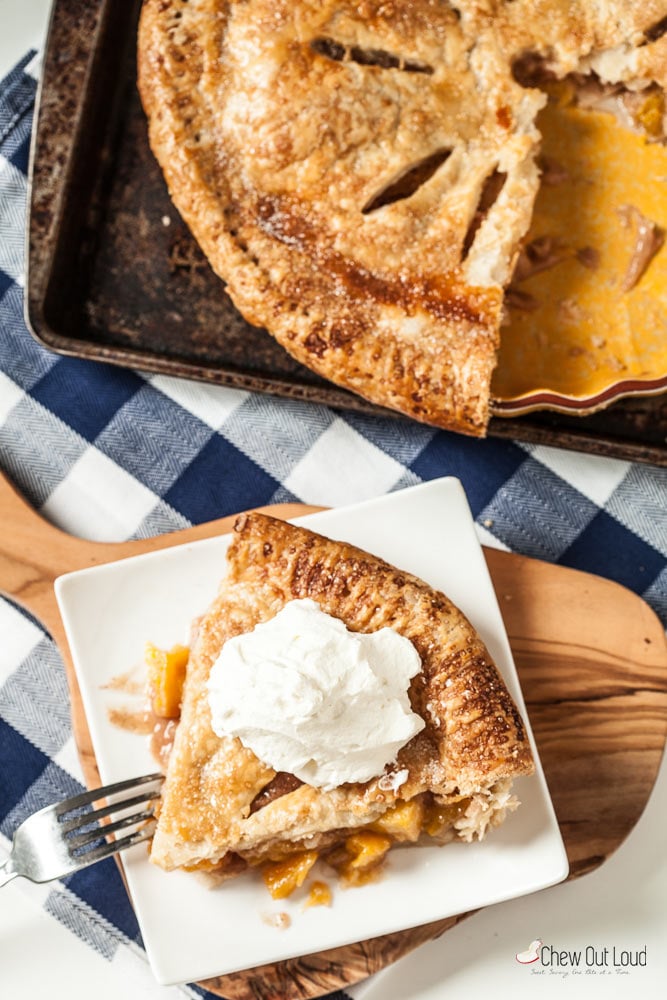 P.S. This peach pie is unbelievably amazing when warmed up and served à la mode with vanilla ice cream. Or freshly whipped cream.
P.P.S. It's more than okay to eat peach pie for breakfast.
---
Try our Now-Famous Apple Pie, too:
---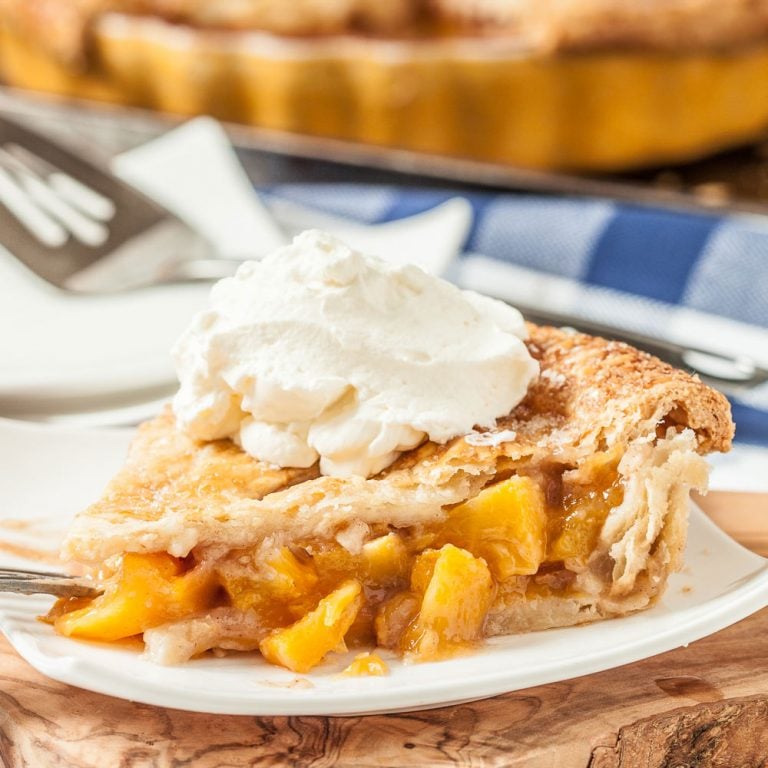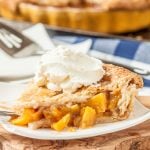 Fresh Peach Pie with Flaky Butter Crust
This Fresh Peach Pie with Flaky Butter Crust is a standout recipe that's supremely peachy. Everyone loves a great crust, and this one's all butter - no trans fats or artificial ingredients.
Ingredients
For the dough (double crust):
2 ½

cups

all purpose flour

½

tsp

table salt

1

cup

butter

,

chilled and diced

½

cup

very cold ice water

1

large egg

,

lightly beaten
Instructions
Dough (make ahead): In a large bowl, combine flour and salt. Cut in butter until mixture resembles coarse crumbs, just until there remains small pea-sized butter chunks in the dough. Gently stir in 1 TB of ice cold water at a time, until mixture starts to hold together. It should be pliable enough to stick together when pinched, but not sticky. Work the dough sparingly, using either pastry cutter or cold fingers. The key is not to overwork the dough (avoid using food processor.) The little chunks of butter should still be visible.

Chill: Gently form 2 dough balls (1 slightly larger than the other) and wrap well in plastic. Refrigerate at least 1 hour (up to overnight.)

Preheat: Preheat oven to 450F with rack on second-to-lowest position. Place a large cookie sheet on the rack to heat up.

Roll: Roll the larger dough ball out to fit bottom/sides of 9-inch pie pan, with bit extra for edges. If dough is firm, you may need to roll it out twice. Place crust in bottom of pie pan. Press evenly into the bottom and up sides of the pan. Press down the edges. Brush bottom crust with some of the beaten egg. Roll the smaller dough ball to fit over top of 9-inch pie pan and set it aside.

Filling: In a colander, add sliced peaches and sprinkle with lime juice. Toss gently and let juices drain out. In a bowl, combine the sugar, flour, cinnamon, ginger, nutmeg, and salt. Pour mixture over peaches, tossing to coat. Spread peach filling into the pie crust. Dot evenly with butter. Cover with the top pie crust, folding edges under and fluting to seal (or use fork to press down.) Cut about 8 slits on top crust. Brush rest of beaten egg over the top. Sprinkle with desired amount of coarse sugar.

Bake: Carefully remove the heated cookie sheet from oven. Place pie on sheet and return to rack. Bake 10 minutes at 450F and then reduce to 350F. Bake 30-35 minutes or just until top is golden brown and filling is bubbling (cover loosely with foil if top browns too quickly.)

Cool: Cool completely at room temp to allow pie filling to set (very important.) Serve chilled or at room temp. Reheat if you want to serve warm.
Notes
Be sure to let pie cool completely; overnight is best, as the filling sets up when it reaches room temperature.
Serve with vanilla ice cream or stabilized whipped cream.
If you enjoyed this recipe, please come back and give it a rating ♡
Nutrition
Calories:
515
kcal
|
Carbohydrates:
62.9
g
|
Protein:
6.9
g
|
Fat:
27.2
g
|
Saturated Fat:
16.4
g
|
Cholesterol:
91.9
mg
|
Sodium:
231.5
mg
|
Fiber:
3
g
|
Sugar:
25.7
g
Did you make this?
Leave a comment below and tag @chewoutloud on Instagram
Just Here for the pie: