Best Blueberry Pie
By Amy Dong
Published Aug. 9, 2022
Updated Sep. 29, 2023
This amazing Blueberry Pie is loaded with fresh blueberries encased in a flaky butter crust. The filling is thick and sets up nicely without being runny. The all-butter crust is golden and crisp, making every bite unforgettable. Pairs well with vanilla ice cream.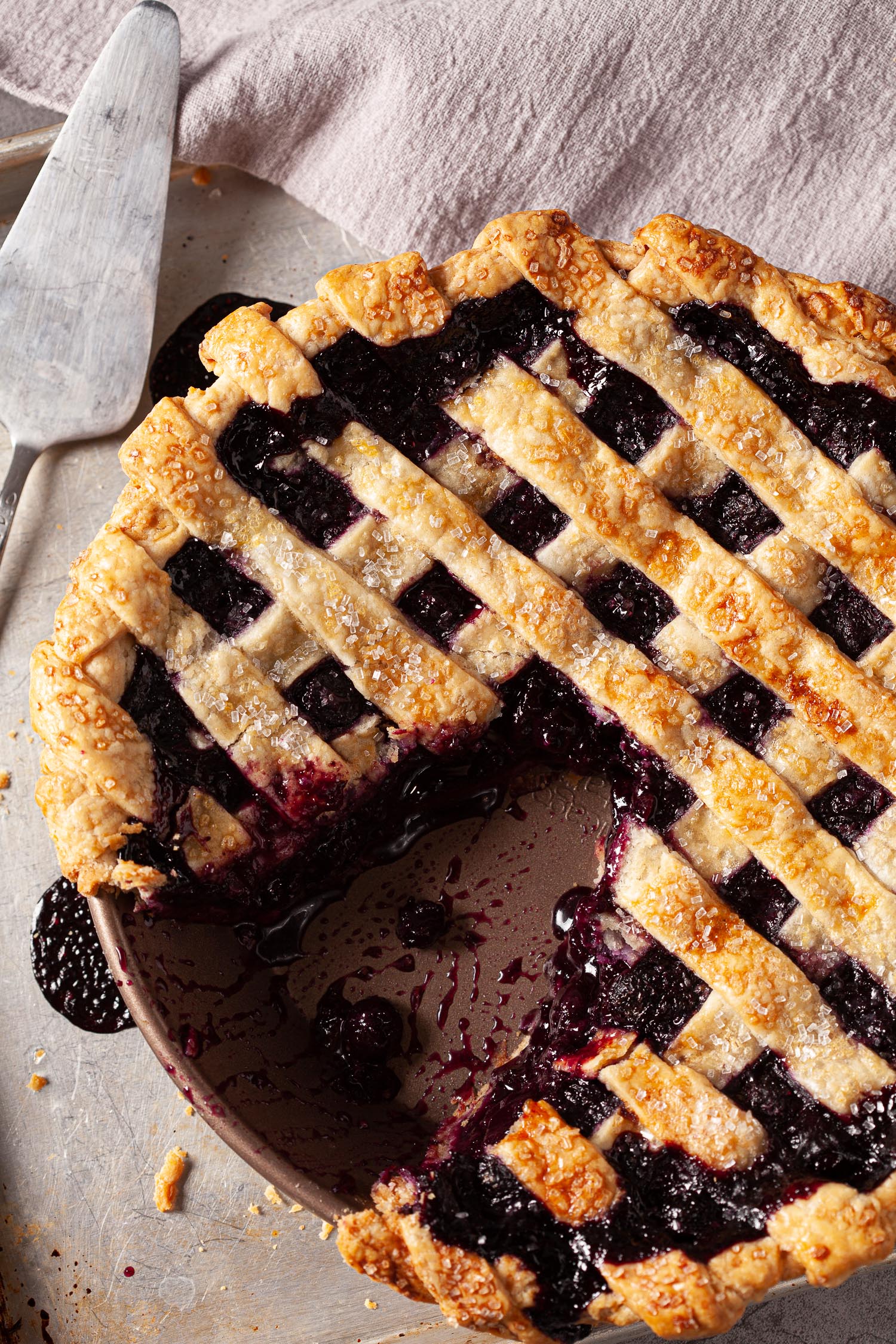 The Best Blueberry Pie Recipe
A classic recipe, blueberry pie is a baked dessert that comes together with a golden, flaky pie crust base and a sweet blueberry filling. Depending on where you go, it can be found with a pie crust topping, a crumble topping, or no topping at all. For our version, we include a thick, decadent filling that is completely covered with a flaky all-butter crust. One bite just isn't enough!
What You'll Love About Blueberry Pie
This dessert boasts bold flavors with fresh blueberries bursting with sweetness.
The addition of apples helps create a thicker filling without detracting from the blueberry flavor.
It tastes even better than your local bakery's blueberry pie and is great for feeding a crowd.
Leftovers keep well for dessert the next day.
Served warm or cool, it's always great with a scoop of vanilla ice cream.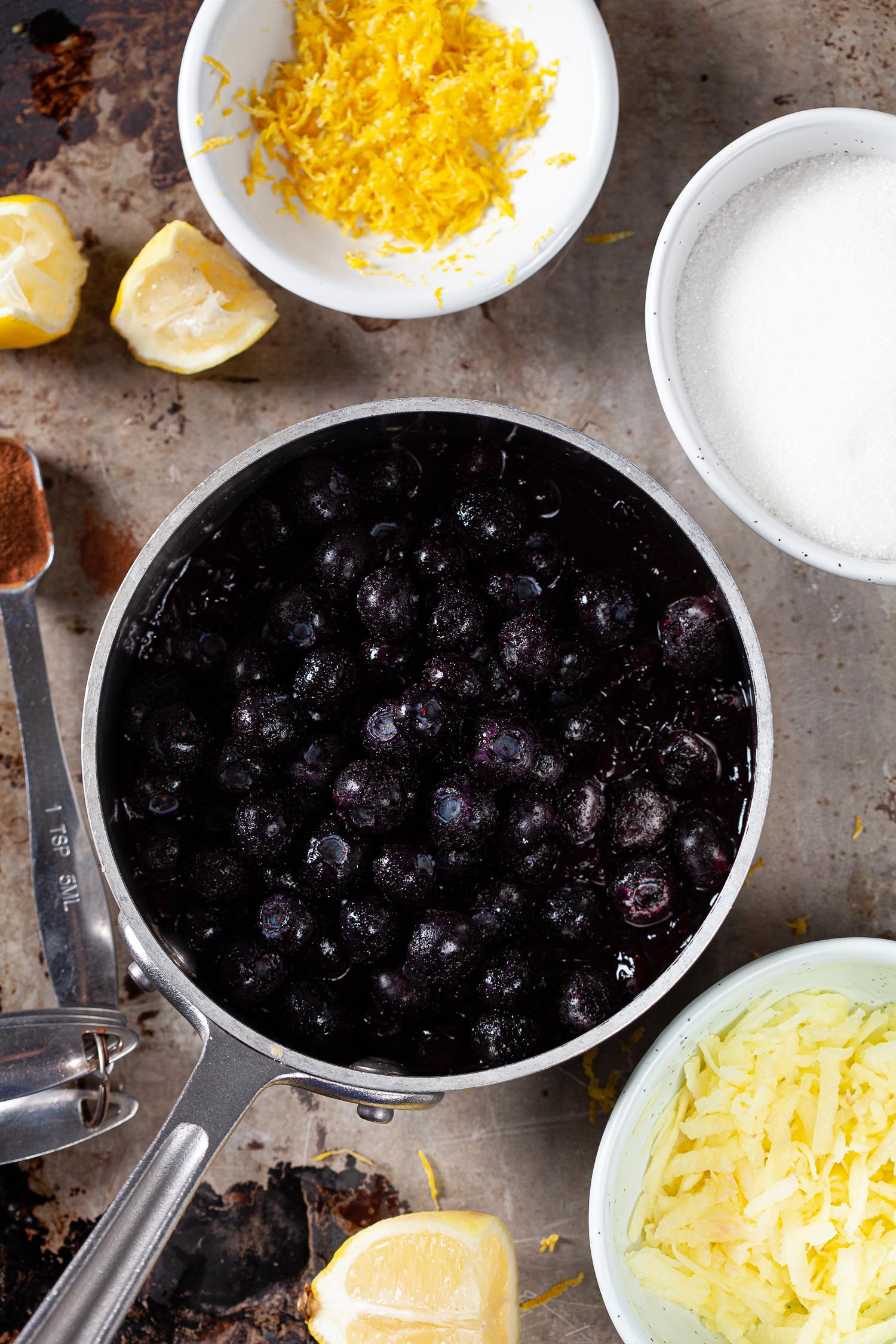 Key Ingredients for Blueberry Pie
A simple recipe, the basic ingredients needed are items you likely already have in your pantry and fridge. Here they are:
All-purpose flour works best for the base of the crust. If you do swap it out, make sure you use a low-protein or soft wheat flour.
Cold butter is crucial to creating the best dough but only when combined with cold water to form a dough.
A dash of salt and pinch of sugar belong here to bring out natural flavors and enhance the sweetness.
Don't forget the eggs! They help make the pie crust more pliable and easier to roll out.
You can't have a blueberry pie without fresh fruit. Juicy blueberries and a Granny Smith apple create an unbelievably tasty filling.
A dash of lemon juice boosts the acidity of the filling and balances out the sugar so that it is not cloyingly sweet.
The secret to a thick, gooey center is a bit of cornstarch.
The warm flavor of cinnamon provides the perfect final touch.
3 Tips For Blueberry Pie Filling
Use the sweetest, ripe blueberries you can find. Avoid frozen blueberries, as frozen blueberries tend to contain too much excess water.
Blueberry pie filling can be made ahead of time and chilled until ready to use. You may reheat it slightly for ease of use.
Be sure pie filling is cooked down and reduced appropriately; don't rush the process.
3 Tips for Pie Crust
The pie dough can be made in advance. Cover tightly and chill in fridge until ready to use. You may need to let it sit at room temperature for just a bit prior to using, but dough should still be cold.
Use cold butter when cutting it into the dough mixture, as it's the small bits of intact butter in the dough that results in the flaky texture you want.
Handle the dough as minimally as necessary to form your two dough discs. Overworked dough causes a tougher texture in the finished pie crust.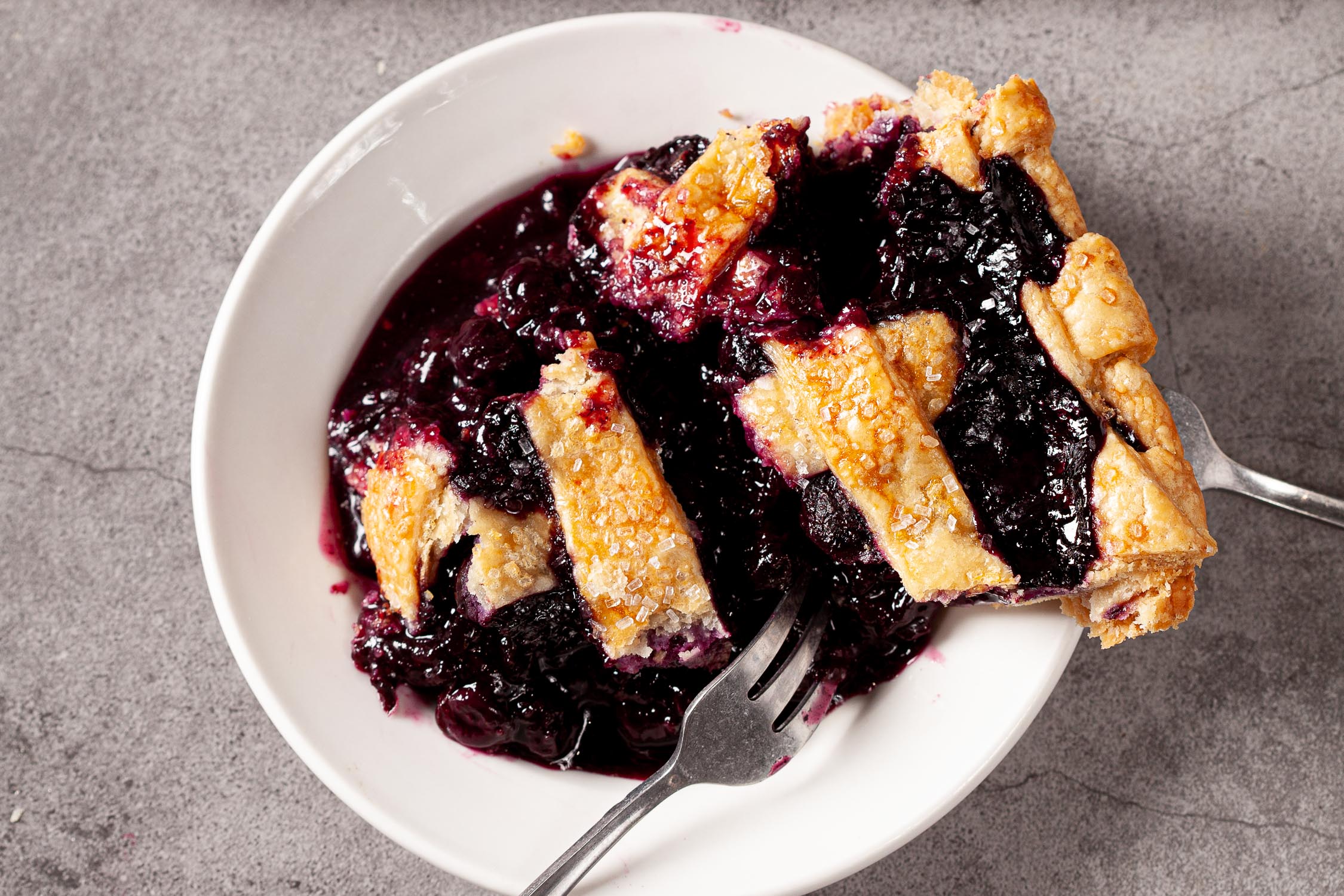 Blueberry Pie Commonly Asked Questions
How do you keep blueberry pie from being runny?
Be sure to cook your blueberries until the mixture has reduced to 1 1/2 cups, and let your pie cool before serving. It's of utmost importance to let it cool completely in order to fully set.
Can I use frozen blueberries for blueberry pie filling?
We highly recommend staying with fresh blueberries, as the excess water content in frozen blueberries affects the flavor and thickness of blueberry pie filling.
Can I use a pre-made pie crust?
Though homemade pie crust is unparalleled, you can certainly use a store bought pie crust. Just be sure it is double crust.
How far in advance can I make this recipe?
Ideally, you'll bake your pie the night before you'd like to serve it, as that will allow your homemade blueberry pie to fully cool. Leftover blueberry pie can be kept covered at moderate room temperature for 2-3 days or covered/chilled in the refrigerator for up to 5 days.
---
More to Cook and Eat
---
Watch Blueberry Pie In Action
Did you make this?
Please give us a rating and comment below. We love hearing from you!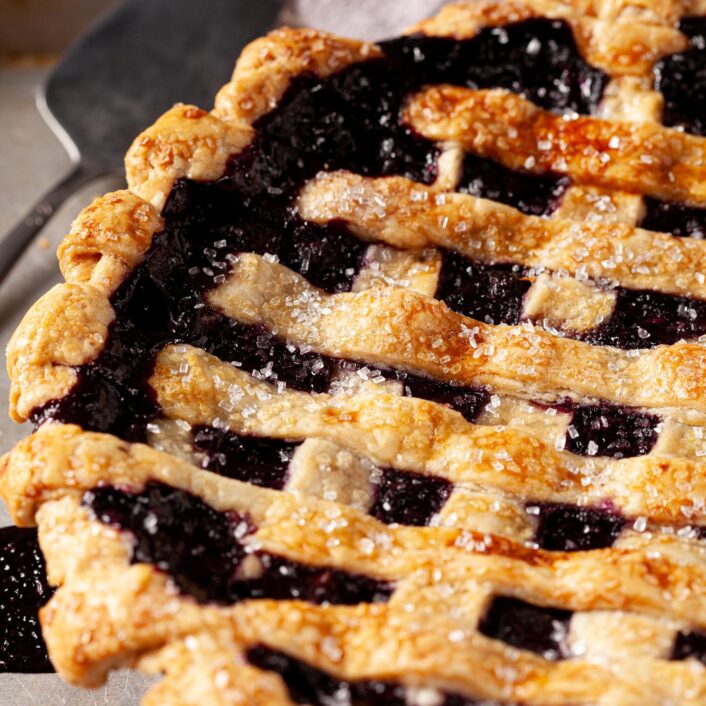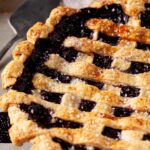 Blueberry Pie
This amazing Blueberry Pie is loaded with fresh blueberries encased in a flaky butter crust. The filling is thick and sets up nicely without being runny. The all-butter crust is full of flavor and golden crisp, making every bite unforgettable.
Ingredients
For the Filling:
6

cups

fresh blueberries

1

granny smith apple,

peeled and grated on large holes of a grater

2

tsp

grated lemon zest

2

tsp

freshly squeezed lemon juice

¾

cups

white sugar

2

TB

cornstarch

½

tsp

cinnamon

pinch

of table salt

2

TB

salted butter,

cut into 1/4 in pieces
Instructions
Prepare the dough (make ahead): In a large bowl, combine flour and salt. Cut in cold butter (I use a pastry cutter) until the mixture resembles coarse crumbs, just until there remain small pea-sized butter chunks in the dough. Gently stir in 1 TB of ice cold water at a time, until the mixture starts to hold together. It should be pliable enough to stick together when pinched, but not sticky. Work the dough sparingly, using either a pastry cutter or cold fingers. The key is not to overwork the dough (avoid using a food processor.) The little chunks of butter should still be visible. Gently form 2 round disks (1 slightly larger than the other) and wrap well in plastic. Refrigerate until you're ready to use.

Make the Filling: Place 3 cups of berries in a saucepan and set over medium heat. Mash berries several times to release juices. Continue cooking, stirring often and occasionally mashing, until half of the berries have broken down. Mixture should be thickened and reduced to 1 1/2 cups. About 8 min. Let cool slightly.

Wring and Combine: Place grated apple in a clean cloth and wring to dry. Transfer to large bowl and add cooked berries, the remaining uncooked berries, lemon zest, lemon juice, sugar, cornstarch, cinnamon, and salt. Toss to combine.

Prepare the Crust: Remove the larger dough disk from fridge. Roll out in floured work surface into a 12 inch circle, about 1/8 inch thick. Gently transfer dough into pie plate, leaving about 1-inch overhang on all sides. Pour filling into pan and scatter butter pieces on top of filling. Place in fridge.

Roll out second disk of dough the same way as the first. Drape rolled out dough on top of filling, with a 1/2 inch overhang on all sides. Fold and tightly flute edges of dough (or use tines of fork) to seal well. Cut several slits on top to allow steam to escape.

For a lattice top, use a sharp knife to slice rolled-out dough into 1-inch strips. Alternate vertical/horizontal strips on top, folding the top edges securely underneath the bottom crust edges.

Brush top with egg wash and sprinkle with coarse sugar. Place pie in freezer about 10 min.

Preheat oven to 400F, with rack on lower middle position. Place pie on baking sheet and bake 30 minutes. Reduce to 350F and bake until golden brown, about 30-40 min. If edges brown too quickly, tent top of pie loosely with foil. Transfer to wire rack and cool completely before serving.
Notes
*If you enjoyed this dish, please come back and give it a rating 🙂
Nutrition (per serving)
Calories:
524
kcal
|
Carbohydrates:
66.7
g
|
Protein:
6
g
|
Fat:
27.3
g
|
Saturated Fat:
16.4
g
|
Cholesterol:
91.9
mg
|
Sodium:
160.6
mg
|
Fiber:
4.2
g
|
Sugar:
31.2
g