Creamy Vanilla Bean Ice Cream
This vanilla bean ice cream is pure, rich, and creamy. Only the good stuff, nothing artificial about it. It's 5-ingredient bliss!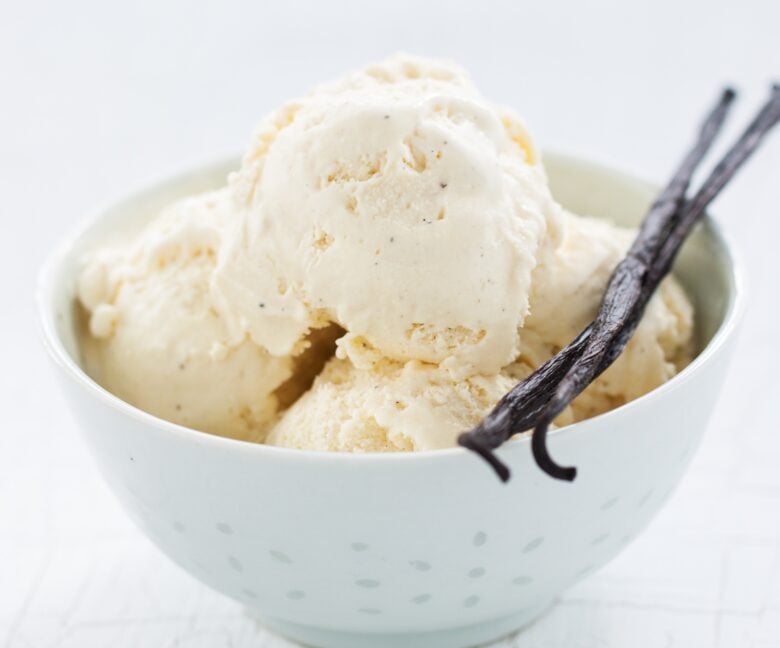 Creamy Vanilla Bean Ice Cream
There's nothing better than a cold, creamy scoop of ice cream on a hot summer day. We love going to our favorite ice cream shops and choosing from a long list of flavors, but have you ever tried making it at home? Be prepared for the best, most creamy ice cream you've ever tasted!
While we love the variety of fun flavored ice cream recipes, nothing quite replaces a classic scoop of vanilla ice cream. What's even better is seeing those tiny, fresh vanilla bean flecks in the thick, creamy base that bring the perfect pop of vanilla flavor.
Enjoy this classic summer treat in a cone or in a cup. Use it to make the most creamy root beer float or serve it with cold brew coffee for a mouthwatering affogato. Vanilla bean ice cream is also the perfect addition to your favorite baked dessert.
Why This Recipe Stands Out
It uses simple ingredients. Most of the ingredients in this recipe are kitchen staples. Cream, milk, sugar, eggs, and vanilla are things you may already have in your kitchen.
It uses eggs for a thick, custard-like ice cream. We love the rich, creamy results that come from using bright orange egg yolks in our ice cream base.
It uses fresh vanilla beans. This subtle but powerful addition adds a burst of fresh vanilla flavor that vanilla extract alone can't quite compete with.
The process is easy. While there is some stovetop watching required, this recipe lets the ice cream maker do most of the work.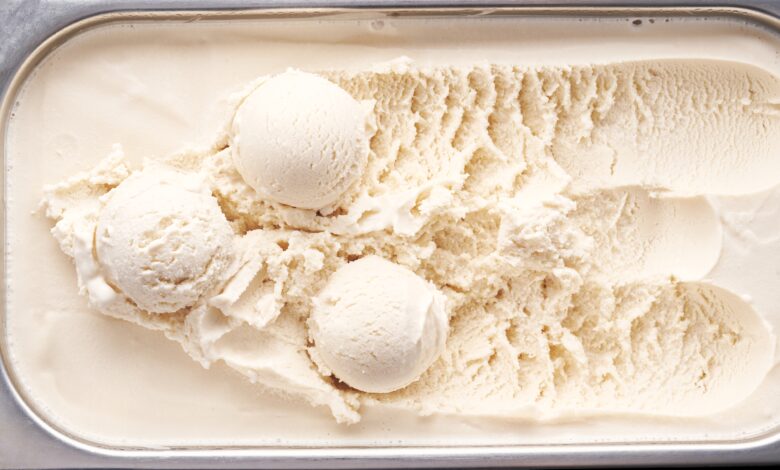 French Vanilla vs Vanilla
In the vanilla ice cream world, there are two main camps. One is French vanilla and the other is Philadelphia-style ice cream (usually just called "vanilla"). But what exactly is the difference?
The difference of these two varieties lies in the use of egg yolks. French vanilla is made with egg yolks giving it that golden tint and thick, custardy texture. Philadelphia vanilla, on the other hand, usually does not use egg yolks resulting in a purer white ice cream with a slightly lighter texture. Both of these varieties can use either vanilla extract or fresh vanilla beans. This recipe is technically a French vanilla ice cream. If you're wanting to try vanilla (Philadelphia-style) ice cream, try this easy, delicious vanilla ice cream recipe.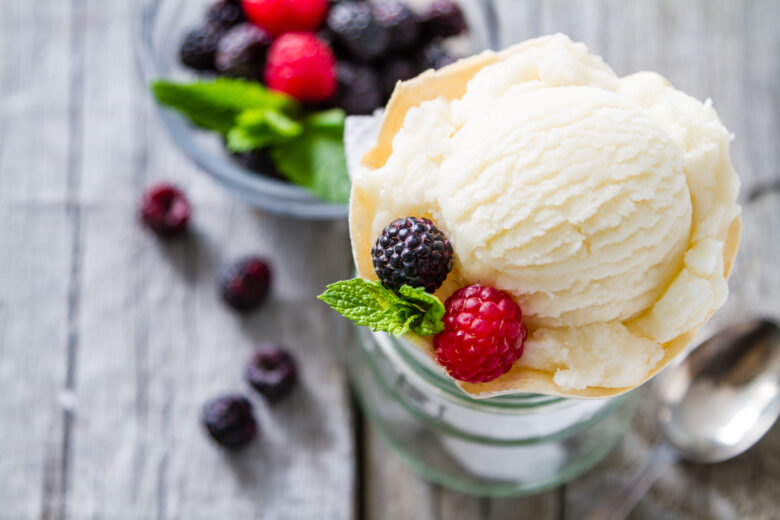 Key Ingredients
Whole Milk – Whole milk works as the base for this recipe. We like whole milk over a lower fat percentage, because it gives the ice cream that thick, luxurious texture.
Heavy Cream – Note that heavy cream and whipping cream are ever-so-slightly different. For the best results, we use heavy cream, because of it's higher fat content that makes the ice cream creamier and easier to scoop straight out of the freezer.
Vanilla Bean – Fresh vanilla bean is the star of this recipe. It's the perfect way to take that vanilla flavor up a notch.
Eggs/Egg Yolks – Eggs (especially egg yolks) make this ice cream thick, custardy, and add that golden color characteristic of French vanilla.
Sugar – Regular granulated sugar works just fine for this recipe. We love the simple sweetness paired with the heavy, rich cream and egg yolks.
Key Tips For Success
Vanilla bean ice cream is just about as simple as it gets with just 5 ingredients, but there are a few tips we like to use to ensure the perfect outcome. Take a look at these key tips for success for a delicious ice cream better than store-bought.
Use the vanilla bean pod. When mixing the milk and cream in your saucepan, throw in the vanilla pod along with the seeds. It'll add even more flavor to the ice cream. Just don't forget to remove it before adding the eggs.
Invest in a thermometer. Although it's totally possible to make this ice cream without a thermometer, we like to have one to ensure that the cream and egg yolk mixture is reaching the proper temperature.
Use cold eggs. It will be easier to separate your egg yolks if you're starting with cold eggs.
Don't forget to chill. We like to chill the ice cream mixture for at least a few hours before churning it. This helps to ensure our ice cream turns out smooth and creamy without any big ice crystals.
Let it sit. We know it can be hard to wait when you have that freshly churned ice cream sitting right in front of you with the scent of vanilla calling your name, but let your ice cream set in the freezer before digging in. You won't regret it!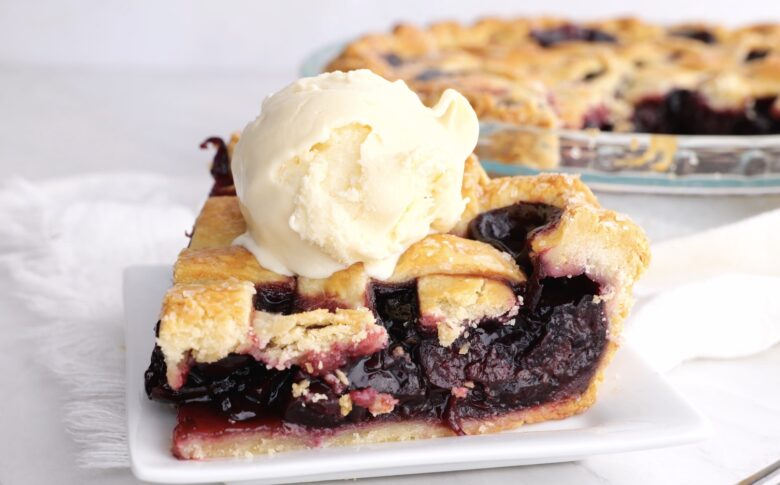 Commonly Asked Questions
Do I need to buy pasteurized eggs for this recipe?
You can definitely buy pasteurized eggs for this recipe, but it's not necessary. The process of tempering the egg and sugar mixture in the hot milk and then heating it to 170 degrees will essentially pasteurize the eggs. So, you won't have to worry about the ice cream being unsafe to eat.
Can I use a lower fat milk for this recipe?
We don't recommend replacing the whole milk with a lower fat percentage. The fat in the milk and heavy cream helps to create a creamy ice cream that freezes evenly without ice crystals.
How long can I keep vanilla bean ice cream in the freezer?
Homemade vanilla ice cream will keep well in the freezer for about 2 weeks. Any longer could result in freezer burn, but it's so delicious it won't be a problem finishing it before then.
Where can I find vanilla beans?
Vanilla beans are sold at most grocery stores in the spices section. Otherwise you can find them on Amazon or other online stores.
Desserts To Serve With Vanilla Bean Ice Cream
We love creamy vanilla bean ice cream on it's own, but if you're looking for a real showstopper dessert, try whipping up these Fudgy Brownies or this Chocolate Zucchini Cake as the perfect chocolate and vanilla combo.
There's not a more dynamic duo than cake and ice cream. Try pairing this vanilla ice cream with bright, and sweet Carrot Cake or a classic, rich Chocolate Cake.
Have you just stumbled upon this recipe in the fall? Try serving this with your favorite pie. We love this sweet, flaky, and buttery Apple Pie and this perfect Pumpkin Pie.
Did you make this?
Please give us a rating and comment below. We love hearing from you!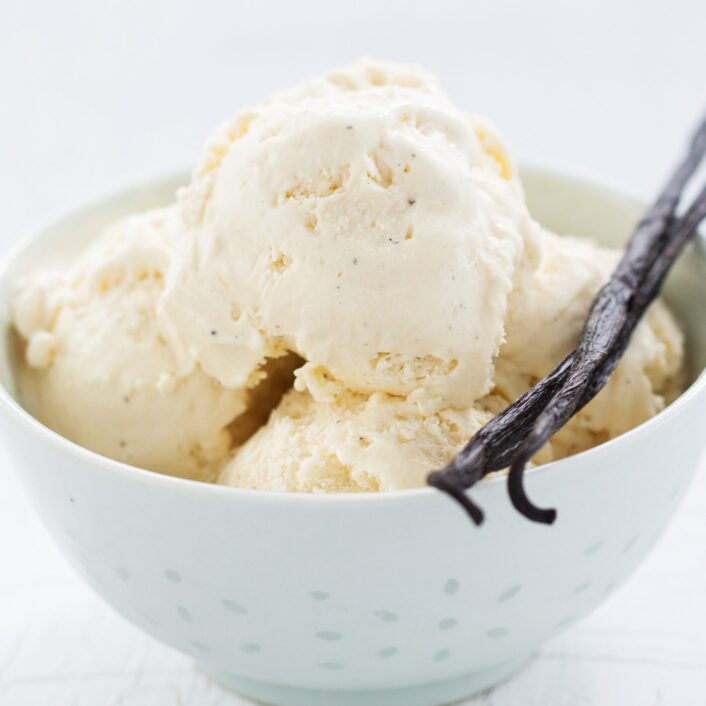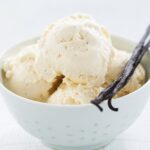 Creamy Vanilla Bean Ice Cream
This vanilla bean ice cream is pure, rich, and creamy. Only the good stuff, nothing artificial about it. It's 5-ingredient bliss!
Instructions
Combine milk and cream in medium saucepan. Using sharp knife, split vanilla bean in half, lengthwise. Scrape out all the seeds into the saucepan. Put bean pod in saucepan; there is plenty of flavor left in pod. Bring mixture to slow boil. Reduce heat to simmer 30 minutes. Stir frequently. If you get a little milky film on top, just keep stirring.

Combine 2 eggs, 3 yolks, and sugar in a medium bowl. Lightly beat until mixture is thick, smooth, and pale yellow. Remove bean pod from milk mixture. Measure out 1 cup of the hot mixture. Gradually pour the cup of milk mixture into the egg mixture in a slow, steady stream while whisking – you can also use a mixer on low speed. When combined, pour egg/milk mixture back into saucepan.

Stir constantly over low heat until mixture is thick enough to coat spoon. Do not let it boil. If using thermometer, it should be around 170F.

Transfer to a bowl, cover with plastic wrap directly over custard, and chill completely. Takes at least a few hours chill, so do this overnight if you like.

Pour chilled custard into ice cream maker and churn until thickened, about 25 min. Transfer to airtight container and place in freezer to set.
Notes
We've been using our Cuisinart Ice Cream Maker for many years, with great results.
If you prefer a simple, egg-free vanilla ice cream, here's a recipe for that.
See original article for more serving ideas and flavor variations.
If you enjoyed this recipe, come back and give it a rating ❤️
Nutrition (per serving)
Calories:
212
kcal
|
Carbohydrates:
13
g
|
Protein:
4
g
|
Fat:
16
g
|
Saturated Fat:
10
g
|
Polyunsaturated Fat:
1
g
|
Monounsaturated Fat:
4
g
|
Trans Fat:
0.003
g
|
Cholesterol:
136
mg
|
Sodium:
39
mg
|
Potassium:
107
mg
|
Sugar:
13
g
|
Vitamin A:
709
IU
|
Vitamin C:
0.2
mg
|
Calcium:
81
mg
|
Iron:
0.3
mg