Pure, Creamy Vanilla Bean Ice Cream
As we hang onto the final summer days, we are clinging to all things warm-weather related around here. I'm truly a summer girl who adores living in flip flops. It is with reluctance that I'll bid sweet summer goodbye. Sniff sniff.
It's true, you did just read about Bananas Foster "Split" last week. I have a mini obsession with ice cream right now. I am determined to make – and eat – as much ice cream as possible before the weather turns. It turns in a matter of days here.
Like, after a 72-hour fall season, we'll launch into a 6-month deep freeze.
Moving on. Onto our happy topic – ice cream! 🙂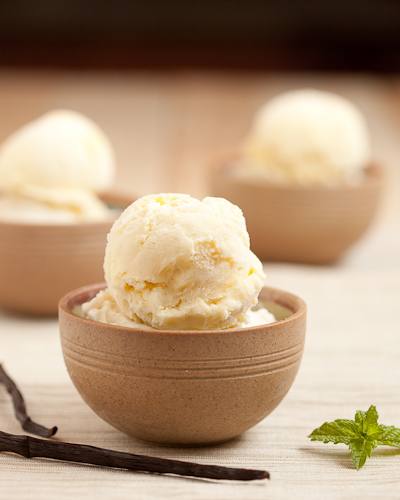 Yeah! Ice cream somehow just makes people smile.
If you're like me, you like to keep things pretty simple on a day-to-day basis. That's what this is – simple and oh-so-satisfying.
Vanilla bean is my favorite ice cream flavor in the whole wide world. Pure, natural, and nothing artificial about it.
There are only 5 ingredients that go into this treat.
This recipe uses eggs, which results in a rich, creamy ice cream. I also like to make the basic no-egg version, which is much lighter in texture.
I guess it depends on mood and preference. The boys and I easily devour both.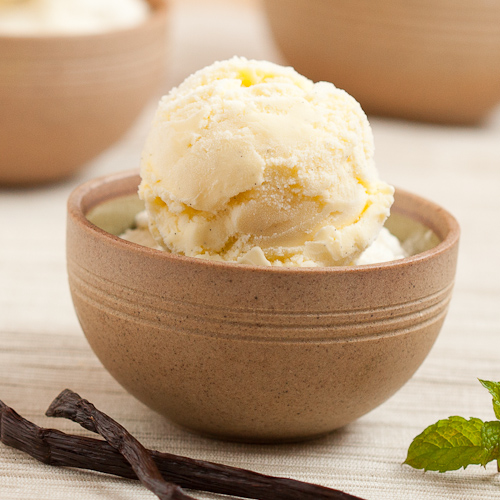 Because of this ice cream's thick/creamy texture, it can set up pretty firmly in the freezer. If it does, just set it on the counter to soften a bit before serving.
It's soooo worth it.
The flavor of this ice cream reminded me of vanilla bean creme brulee. Except it's frozen. Can't go wrong with that. Enjoy, and save some for your peeps!
RECIPE (about 10 servings)
INGREDIENTS
1 1/2 cups whole milk
1 1/2 cups heavy cream
1 whole vanilla bean
2 large eggs + 3 large egg yolks
1/2 cup white sugar
DIRECTIONS
Combine milk and cream in medium saucepan. Using sharp knife, split vanilla bean in half, lengthwise. Scrape out all the seeds into the saucepan. Put bean pod in saucepan (there's lots of flavor left in pod.) Bring mixture to slow boil. Reduce heat to low, and simmer 30 minutes. Stir frequently. If you get a little milky film on top, don't worry about it. Just stir away.
Combine 2 eggs, 3 yolks, and sugar in a medium bowl. Lightly beat until mixture is thick, smooth, and pale yellow. Remove bean pod from milk mixture. Measure out 1 cup of the hot mixture. Gradually pour the cup of milk mixture into the egg mixture in a slow, steady stream while whisking (can also use a mixer on low speed.) When combined, pour egg/milk mixture back into saucepan. Stir constantly over low heat until mixture is thick enough to coat spoon. Do not let it boil. If using thermometer, it should be around 170F.
Transfer to a bowl, cover with plastic wrap directly over custard, and chill completely. Takes at least a few hours chill, so do this overnight if you like.
Pour chilled custard into ice cream maker and churn until thickened, about 25 min. Transfer to airtight container and place in freezer to set.
posted by chewoutloud