We've found the crispiest, crunchiest, tastiest peach crisp ever… the flavors are perfectly balanced and totally irresistible!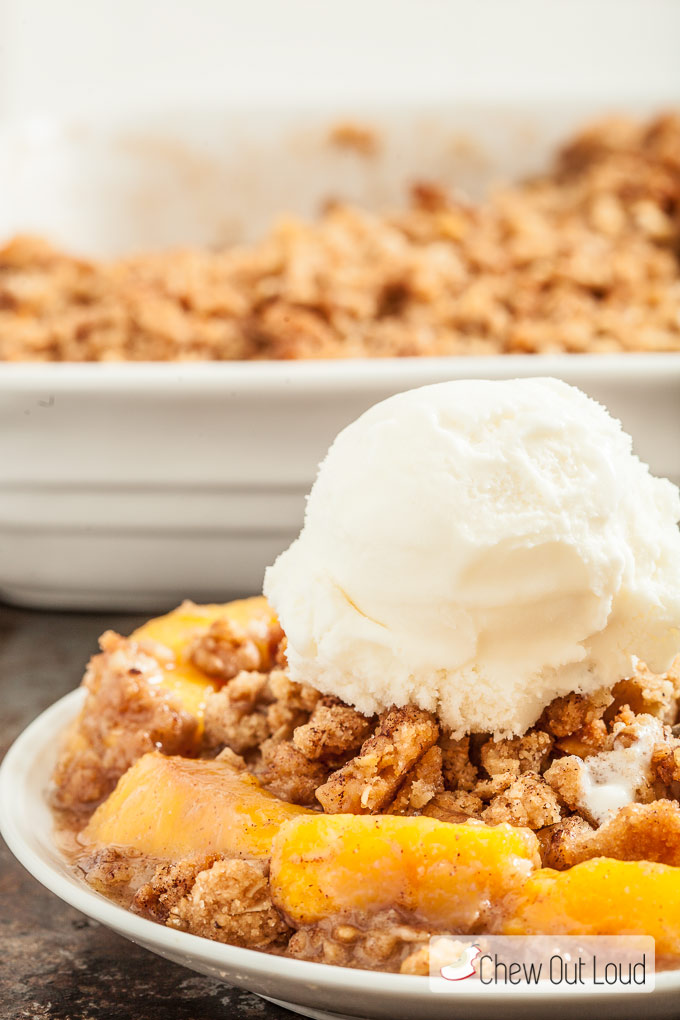 Our kitchen has been teeming with peaches these past couple of weeks, which we relish with every juicy bite. We know how short the season is for stone fruits, so we do a bit of hoarding while it's still in season.
Despite my peach fuzz allergy (for reals) I adore peaches. Yeah, my bizarre allergy forces me to peel off the fuzzy skin if I want to avoid rashy-neck syndrome. Seeing that I'm a sucker for peach pies and crisps, I'll happily peel away.
Which leads me to this luscious peach crisp. I have been trying my darndest to serve up the peach crisp – juicy and plump with tender peaches, just the right balance of sweetness, and covered with a supremely crispy topping…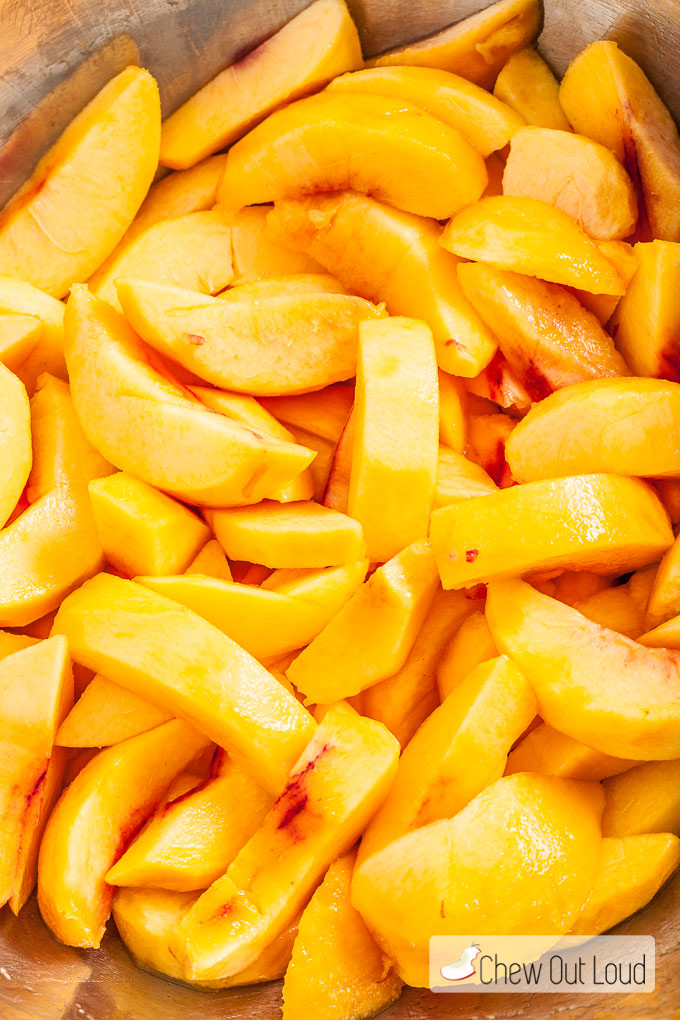 You'd think it wouldn't be this hard to find the perfect peach crisp. One would think.
I've had way better luck in general with pies than crisps. Aloha, isn't a crisp supposed to be way more laid back? Obviously not in my funky world.
I'm now a pro at all the possible ways a peach crisp can be botched, busted, and flopped.
I actually did make a pretty mean peach crisp last year, which was delish. But today we are talking perfection, guys.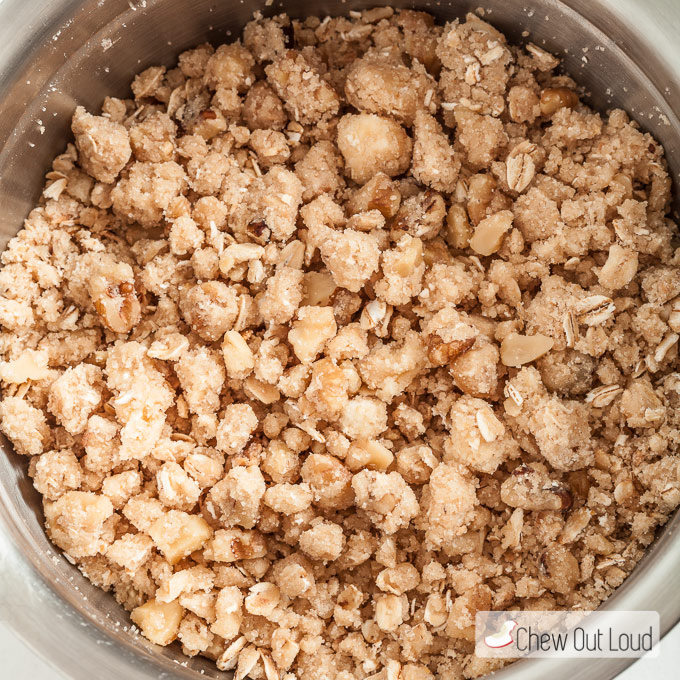 Pulling off the perfect peach crisp is no small stunt. No thank you to overly sweet, overly watery, or overly soggy.
I went through many a failed-it before hitting this nailed-it.
But guys, we have arrived. May I present The Best, Crispiest Peach Crisp. Ever.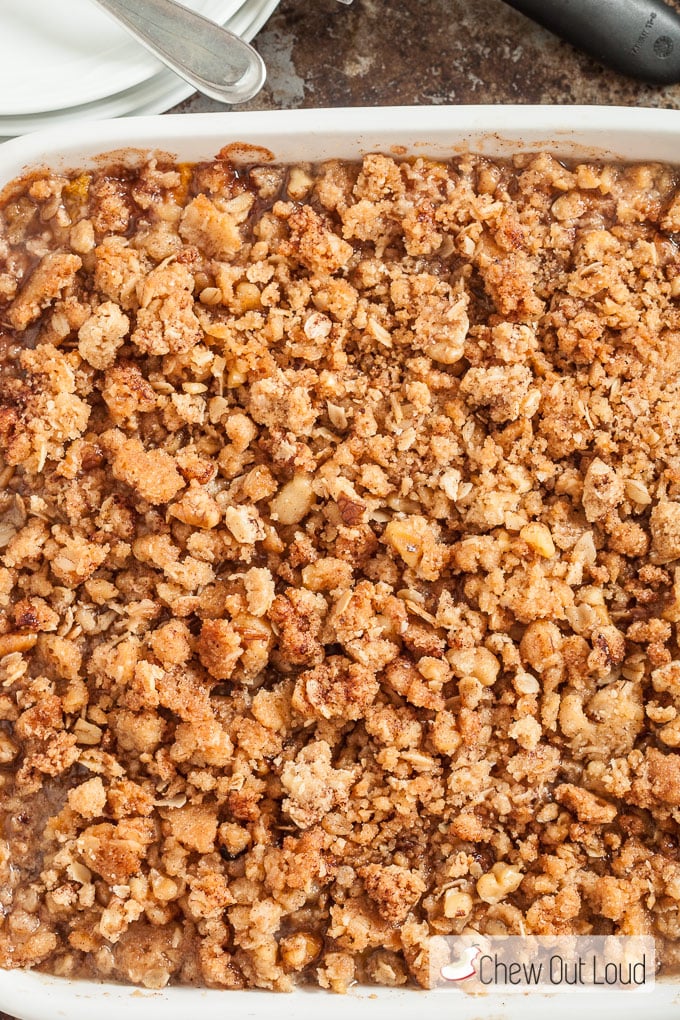 This peach crisp owns a sublime balance between sweetness and spices. The warm spices are great for the transition between summer and fall. A bit of lemon juice further offsets the sweetness.
It's juicy, but not overly so. The peaches bake into soft, tender slices of fruit coated with natural juices that have been thickened up just enough.
And the topping? That's the crowning clincher.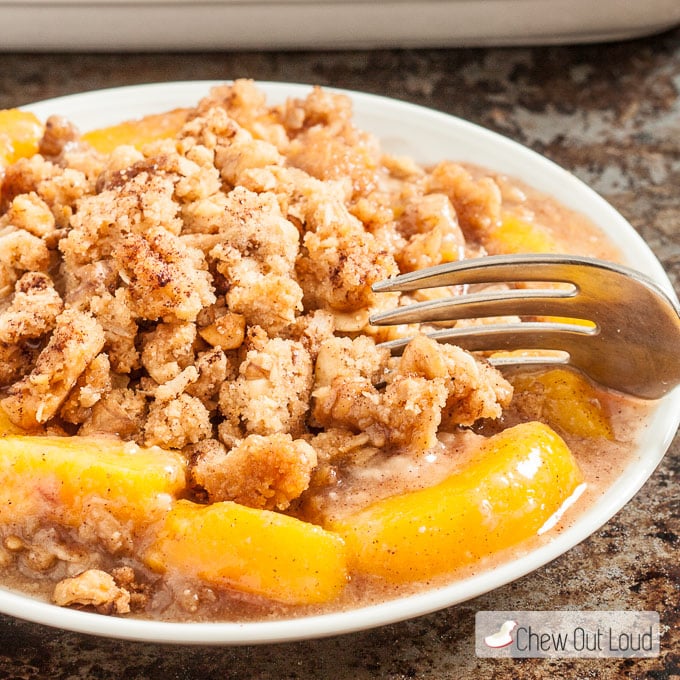 The topping for this peach crisp is a touchdown.
It's crispy, crunchy, nutty, golden, and tastes fantastic.
There is one disclaimer: eat this the day it's made, the sooner the better. Because no matter what you do, no peach crisp can stay crispy if it's been resting on top of cooked sweet peaches too long. Cooked sweet peaches naturally continue to release more juices as it sits, which contributes to the sog factor. So don't let her loaf around too long.
But who can wait that long anyways? We couldn't wait to sink our forks into this peach crisp; it smells incredible while baking. It tastes even better than it smells.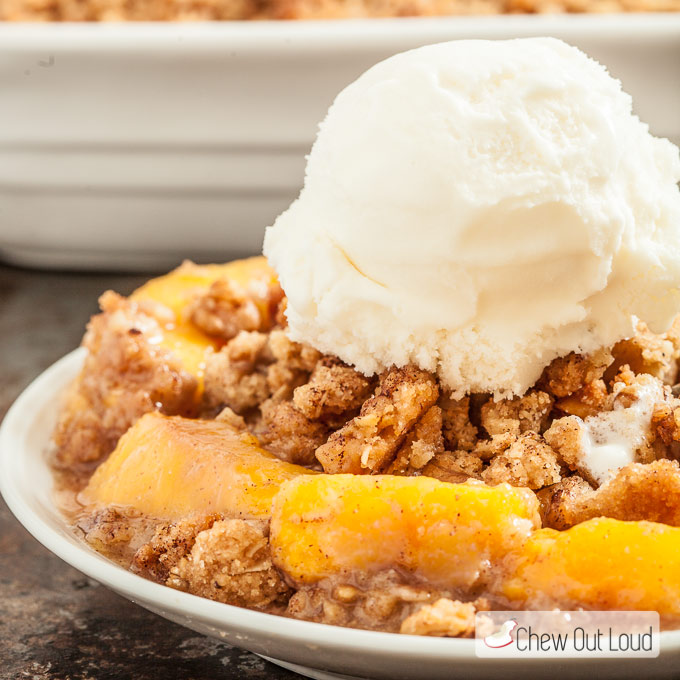 Definitely serve this peachy crisp while it's still warm from the oven. Same day.
With a nice scoop of vanilla ice cream on top (optional but not really, right?)
Mmmm's, ahhhh's, and oooooh's guaranteed. Enjoy.
Print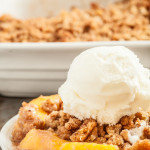 The Best, Crispiest Peach Crisp
Author:

Prep Time:

45 mins

Cook Time:

30 mins

Total Time:

1 hour 15 mins

Yield:

8

1

x

Category:

dessert

Cuisine:

American
---
Description
This is THE best and crispiest peach crisp you'll ever sink your teeth into! The step of pre-baking the topping really helps you achieve that sought-after crunchy texture. Macerating the peaches ahead of time prevents the crispy from becoming watery. Just be sure to serve this awesome crisp warm, the day it's baked.
---
Scale
Ingredients
For the Filling:

3 1/2

lbs semi-ripe peaches, peeled and sliced into

3/4

inch wedges

1/3 cup

granulated sugar

1 1/2 tsp

cornstarch

4 tsp

lemon juice

1/2 tsp

ground cinnamon

1/4 tsp

ground ginger

1/8 tsp

ground nutmeg

1/8 tsp

table salt
For the Topping:

1/2 cup

all purpose flour

1/2 cup

old fashioned rolled oats

1/4 cup

granulated sugar

1/4 cup

packed brown sugar

1 tsp

ground cinnamon

1/4 tsp

ground ginger

1/8 tsp

ground nutmeg

1/8 tsp

table salt

2 tsp

vanilla extract

6

TB salted butter, cut into

6

pieces, chilled

1/2 cup

nuts (walnuts, pecans, or sliced almonds)
---
Instructions
Place one oven rack on lowest position and another oven rack on middle position. Preheat to 375F. Line a baking sheet with parchment paper and set aside.
Gently toss peaches and 1/3 cup sugar together in a large bowl. Let sit for about 45 minutes, gently stirring several times, to allow maceration.
Meanwhile, make the Topping: In a large bowl, combine flour, oats, 1/4 cup granulated sugar, brown sugar, cinnamon, ginger, nutmeg, and salt. Whisk to combine. Drizzle vanilla over the top and stir to combine. Add cold butter pieces and use clean fingers to gently work it into a crumbly mixture, with small clumps throughout. Add nuts and gently stir just enough so the nuts stick to the mixture. Mixture should consist of 1/2 inch chunks throughout, with some small loose bits.
Scatter topping into a single layer on lined baking sheet. Bake on middle rack until lightly browned and firm, 12-14 minutes, giving it a gentle toss halfway through baking.
Drain macerated peaches in a colander set over a bowl and reserve 1/4 cup of the juice (either discard remaining juice or save it for another purpose.) Whisk the reserved juice with cornstarch, lemon juice, salt, cinnamon, ginger, and nutmeg. Fold in the peaches, and gently stir to coat. Transfer peach mixture to a deep 8×8 baking dish. Sprinkle topping over the peaches evenly, pressing down gently if needed. Place on lowest rack and bake until nicely browned and filling is bubbling around edges, about 25-40 minutes (loosely tent the crisp with foil if it starts to brown too quickly.) Let peach crisp cool 15 minutes. Serve while it's warm from the oven.
---
Notes
Crispy topping can be prepared and baked ahead of time and stored in an airtight container for up to 2 days before use.
Do serve finished peach crisp while it's still warm, shortly after you bake it. That will ensure a crispy topping, while preventing peaches from further releasing excess juices (cooked sweet peaches continue to release juices as it sits, which can lead to sogginess.)
Source: Chew Out Loud, adapted from Cooks Illustrated Cookbook
Here are some other crumbly treats we think you'll love:
1. Peach 'n Blueberry Crumb Bars. Why not add some blue to the peaches? These bars are perfect for potlucks and gatherings.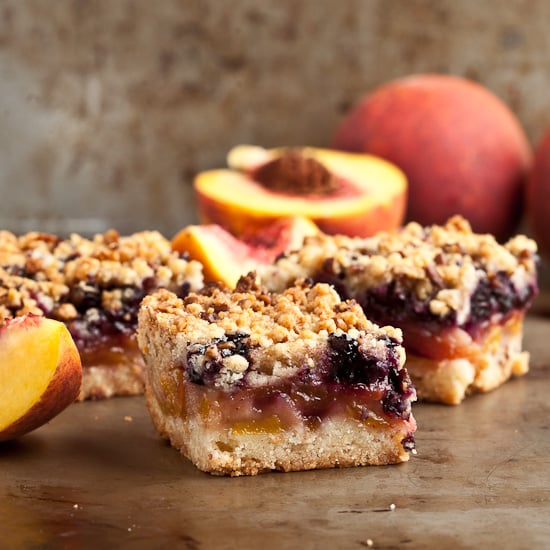 2. Very Berry Pie Bars. No peaches? No worries. These berry pie bars are much easier than making a pie, and they taste marvelous.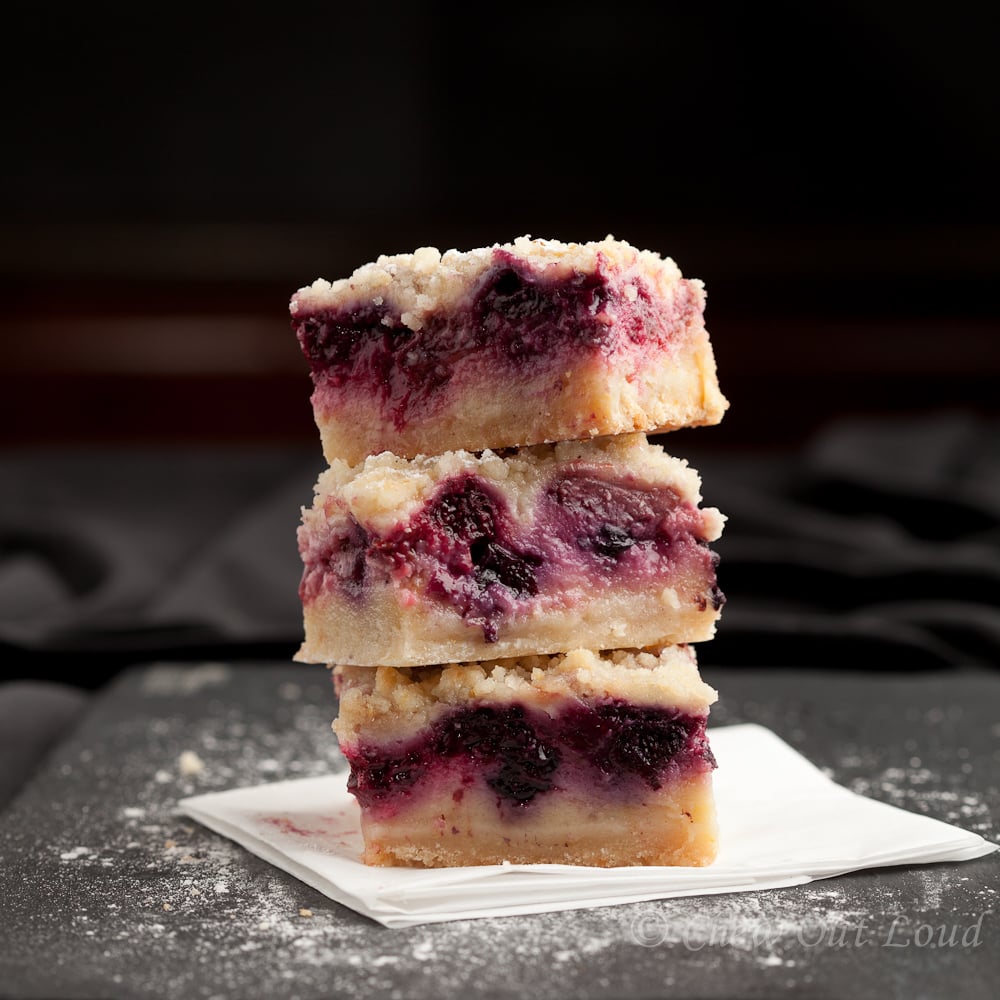 3. Pumpkin Bars with Biscoff Crumble. Fall or not, here they come. Anytime of year, these pumpkin bars with crumbly topping are a hit.