JapChae Recipe (Korean Stir Fry Noodles)
Japchae is a Korean noodle dish that's commonly eaten at parties and potlucks. This dish is incredibly savory and intensely flavorful. Simply omit the beef for a wonderful vegetarian dish. Naturally gluten-free.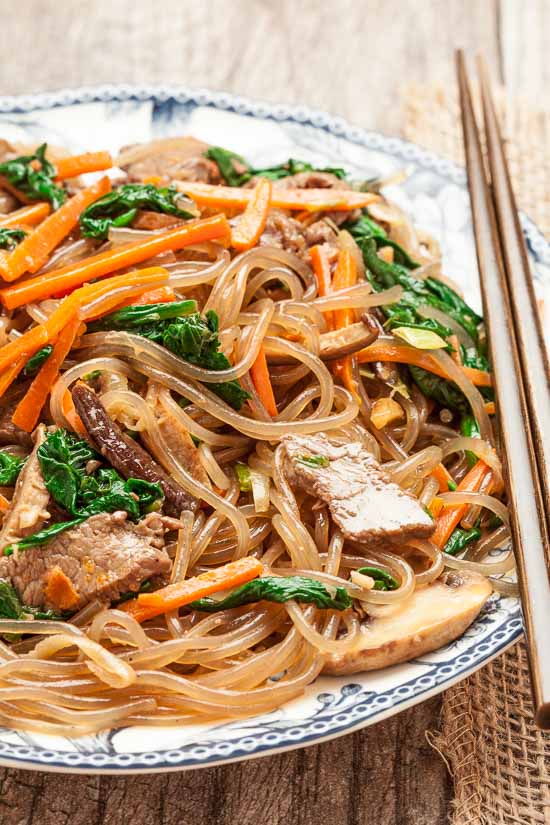 Chinese New Year is this week. Not that I would have known it, except for my trusty Google calendar hitting me over the head that it was this week.
Hubby's worse off than me. He had no clue it was Chinese New Year until he walked by a community celebration on his way to coach basketball, of all things.
We didn't even know there was a local Chinese club, and even if we did, we wouldn't join it because we can't speak the lingo. Duh.
Well, I know a few more words than Hubby does.
We are so not traditional. We are totally watered down. We blame it on our parents 🙂
But in the arena of food…that's a whole-entire-all different story…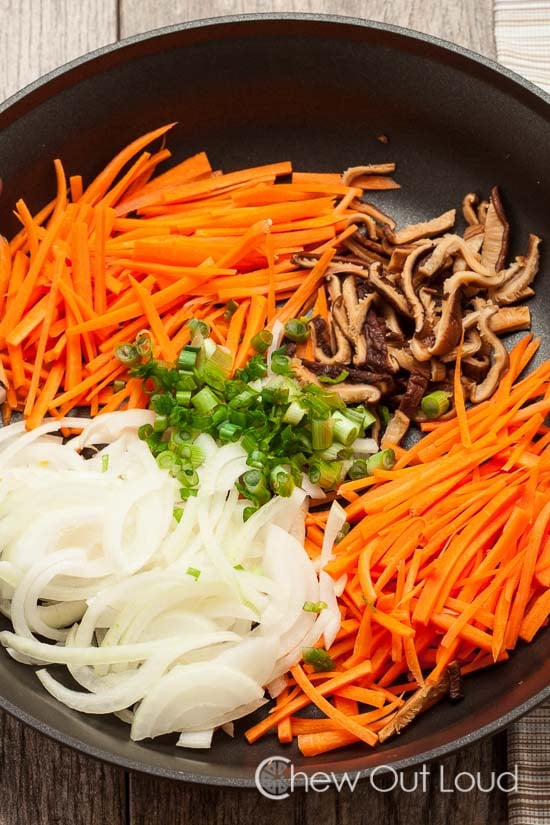 After all, we both grew up on Asian food and Asian food we know.
Japchae isn't technically Chinese. But I've been to plenty of family parties and potlucks that have been graced by the mouthwatering presence of these stir fry glass noodles.
More accurately, these noodles are made of sweet potato starch. My package of noodles listed sweet potato starch as its only ingredient. Pure, natural, healthy, and gluten-free.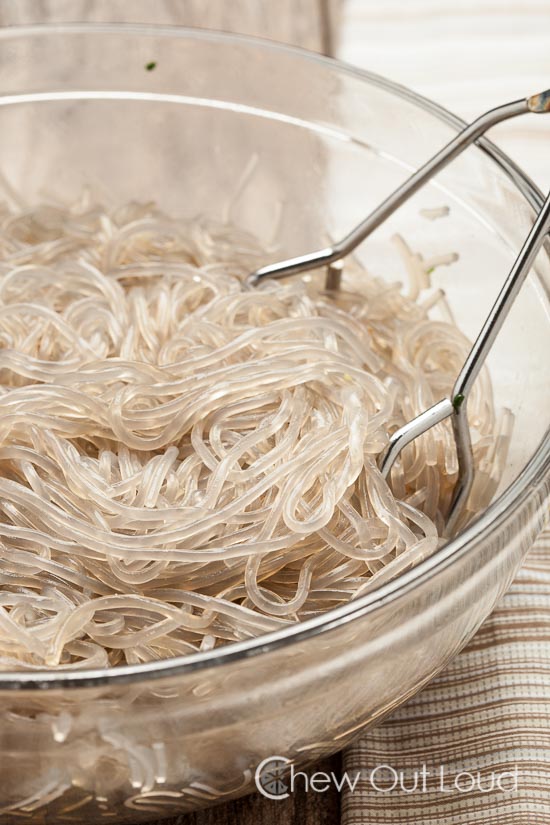 After moving to the midwest, I forgot about the awesomeness of Jap Chae. But my temporary memory lapse wouldn't last long.
A few years in, a Korean friend made a mountainous tray of scrumptious Jap Chae for a party. It was the dish that kept going empty, and somehow she had some secret stash and kept refilling.
I had thirds. Or fifths. Nobody was counting.
The point is I got immediately re-hooked to the chewy deliciousness of Jap Chae and made it my kitchen mission.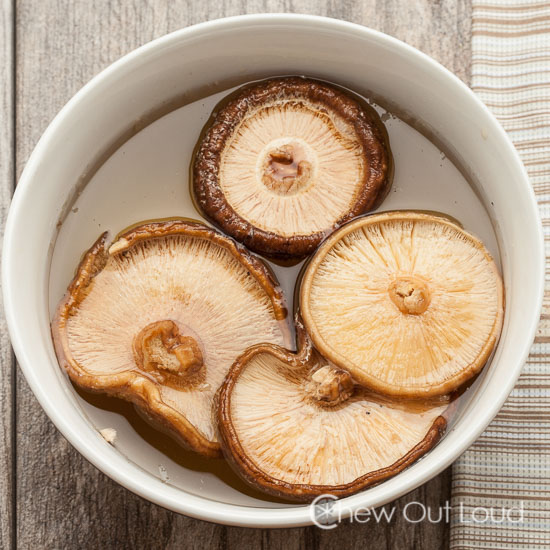 First, let's chat mushrooms. Note that these must be the dried Shitake mushrooms found in most Asian aisles of major grocery stores. They're different from anything labeled "shitake" in the refrigerated sections; get the dry kind only. They're aromatic and intensely flavorful.
This is when I shed silent tears for my non-mushroom eating friends.
A bit 'o beef talk. You can use either a moderate portion of beef filet or ribeye for the protein. It'll turn out ridiculously tender and savory.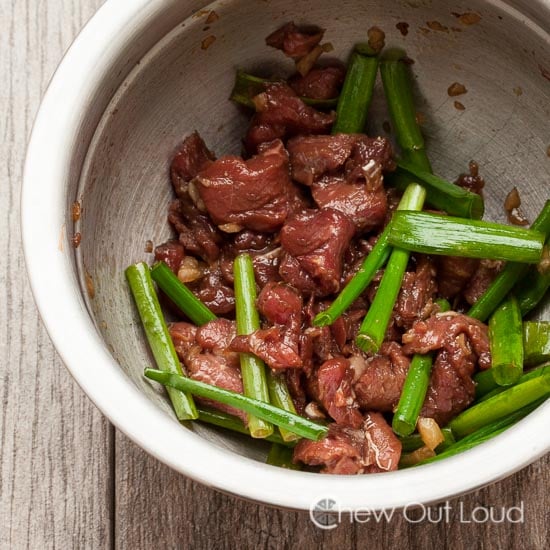 This colorful dish is teeming with veggies: carrots, spinach, and white mushrooms contribute to an unforgettable party in your mouth.
A party you'll wish could go on and on and on.
By the way, feel free make it meatless if you prefer. Just omit the protein for an incredible vegetarian dish.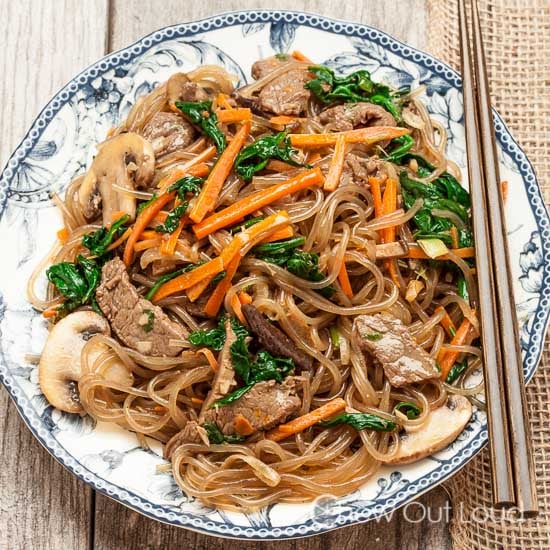 The potato starch glass noodles are springy, light, and toothsome. They have a nice chewy yet soft texture.
Not heavy, allowing us to devour more of it without the guilt.
There's no soup, but these noodles are 120% slurp worthy.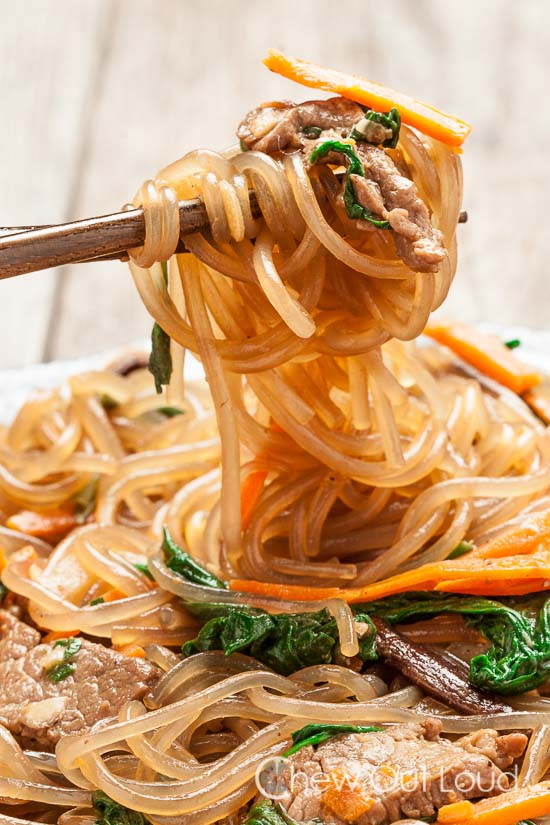 watch this recipe in action:
Did you make this?
Please give us a rating and comment below. We love hearing from you!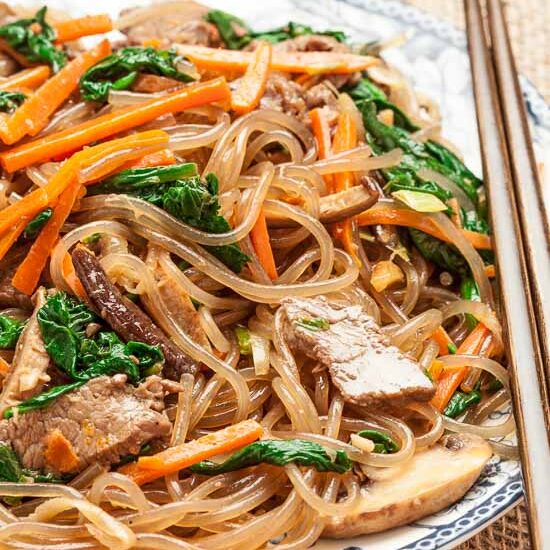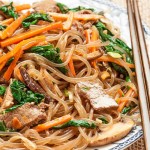 Jap Chae (Korean Stir Fry Noodles - GF)
Jap Chae is a savory, full-flavored stir fry consisting of potato starch glass noodles. It's naturally healthy and gluten free. A combination of veggies and tender beef makes this a standout dish. Bring it to your next party and watch it vanish.
Ingredients
6

oz

beef

,

filet mignon or boneless ribeye recommended for tenderness cut into bit size strips

4

garlic cloves

,

minced, divided

1

TB

plus 3 tsp granulated sugar

,

divided

4

TB

tamari sauce,

divided

4

TB

Asian toasted sesame oil,

divided (caramel brown in color; found in Asian aisles of grocery stores)

olive oil for cooking

1

medium onion

,

thinly sliced

2

carrots

,

peeled and cut into matchsticks

4

large dried Shitake mushrooms

,

soaked in warm water 1-2 hours to soften, cut into thin strips

8

oz

white mushrooms

,

thinly sliced

8

oz

baby spinach leaves

,

bagged/prewashed is easiest

10

oz

sweet potato starch noodles,

sometimes called sweet potato vermicelli or Dangmyeon

2

whole stalks green onion

,

ends removed, cut into bite size pieces

table salt and freshly ground black pepper

2

TB

toasted sesame seeds for garnish
Instructions
In a bowl, combine beef with half of the minced garlic, 1 tsp sugar, 2 tsp soy sauce, 1 tsp sesame oil, and 1/4 tsp ground black pepper. Stir to combine, cover, and chill in fridge.

In a large nonstick pan, add 2 TB olive oil over medium heat. Once oil is hot, add onion, carrots, shitake mushrooms, and a pinch of salt (1/8 tsp.) Cover and stir over medium heat about 3 minutes or until onion is translucent. Add white mushrooms and pinch of salt. Stir for 2 minutes or until mushrooms just turn soft. Add spinach and stir jut until wilted. Transfer mixture to a very large bowl, cover, and keep warm.

Bring a large pot of salted water to boil.

Meanwhile, in the same nonstick pan (now empty,) add 1 TB olive oil, beef, and green onions over medium heat. Stir until beef is no longer pink. Add beef mixture to the large bowl of veggies and cover.

Place noodles into the large pot of boiling water, stirring often, 7-8 minutes or just until noodles are soft and chewy. Drain, rinse briefly with cold water, draining well. Using kitchen shears, make a few cuts through the noodles so they aren't as long. Place noodles back in empty pot. Add 3 tsp sugar, 2 tsp soy sauce, and 4 tsp sesame oil. Toss well to combine.

Mix together the noodles and the beef/veggie mixture (either in large bowl or large pot.) Add remaining garlic, sugar, soy sauce, and sesame oil. Add salt/pepper to taste. Toss well by hand. Sprinkle on toasted sesame seeds and serve warm or at room temp.
Notes
If noodles seem a bit sticky after tossing, feel free to add more sesame oil until noodles are loosened and glossy.
Nutrition (per serving)
Calories:
387
kcal
|
Carbohydrates:
52
g
|
Protein:
9
g
|
Fat:
17
g
|
Saturated Fat:
4
g
|
Polyunsaturated Fat:
5
g
|
Monounsaturated Fat:
7
g
|
Trans Fat:
0.4
g
|
Cholesterol:
20
mg
|
Sodium:
724
mg
|
Potassium:
521
mg
|
Fiber:
3
g
|
Sugar:
6
g
|
Vitamin A:
3602
IU
|
Vitamin C:
14
mg
|
Calcium:
93
mg
|
Iron:
3
mg
Here are some tried and truly delicious recipes for your Asian food mood: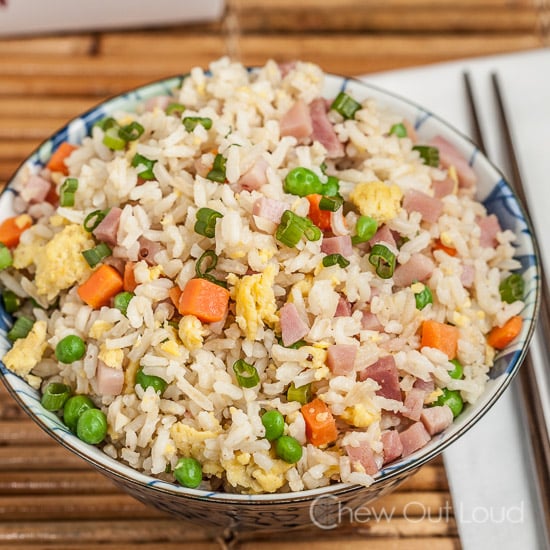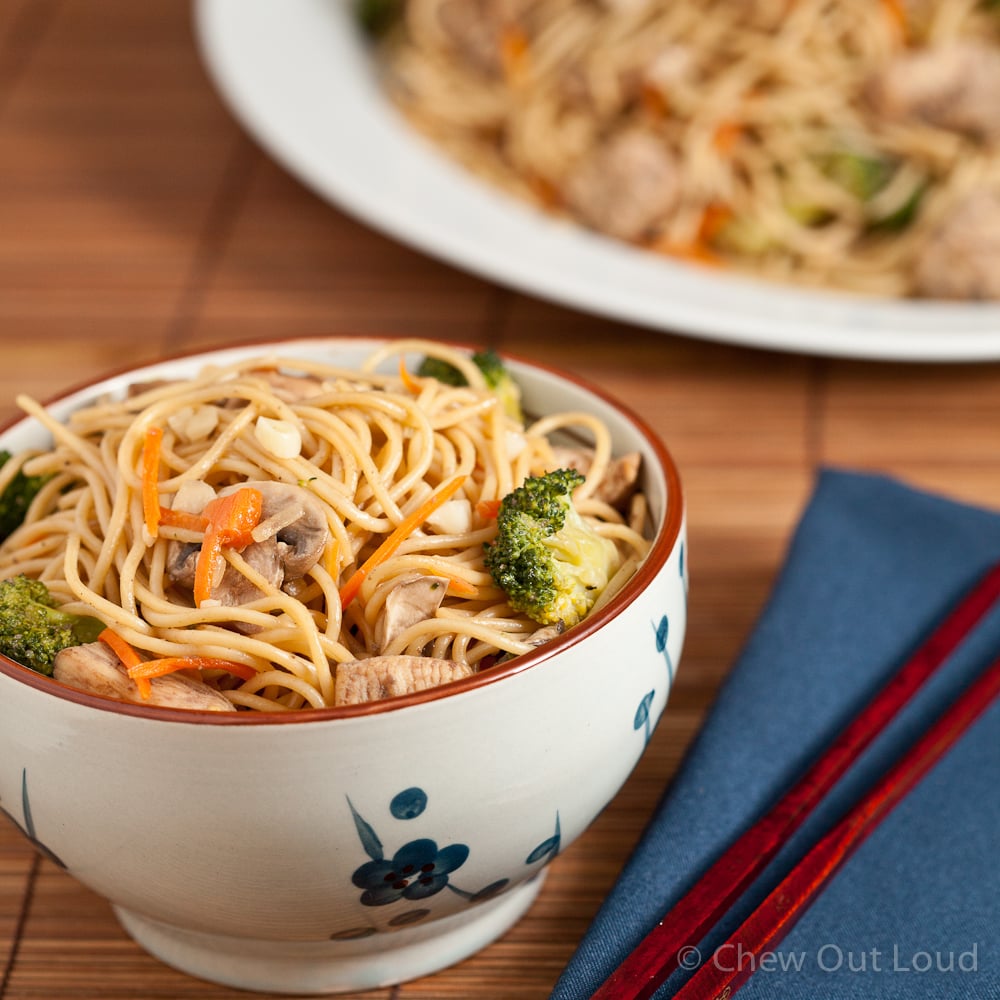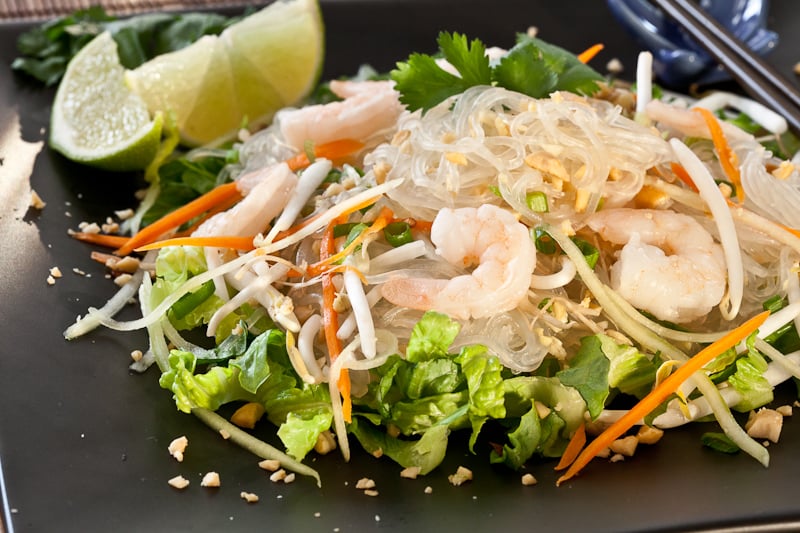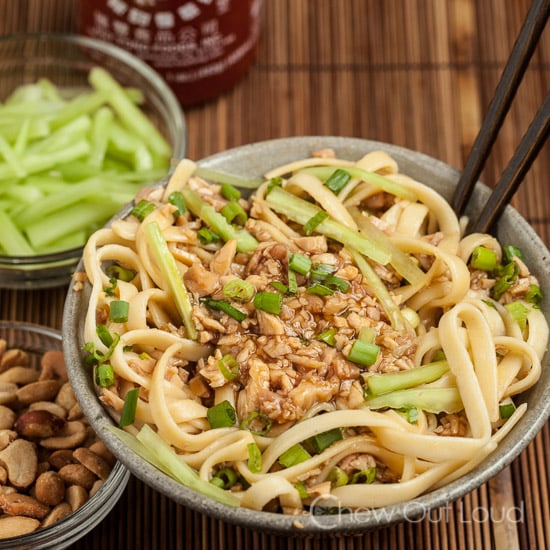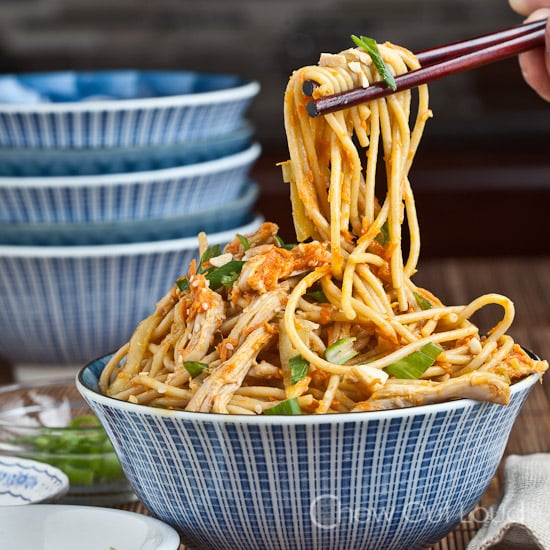 6. P.F. Chang's Monogolian Beef