How to Cook Cabbage | Sauté, Stir Fry
By Amy Dong
Published Mar. 3, 2021
Updated Aug. 17, 2022
Cabbages are a nutritious, healthy, and affordable vegetable that's extremely versatile. Here are a few easy, delicious ways to cook cabbage that your family will actually eat.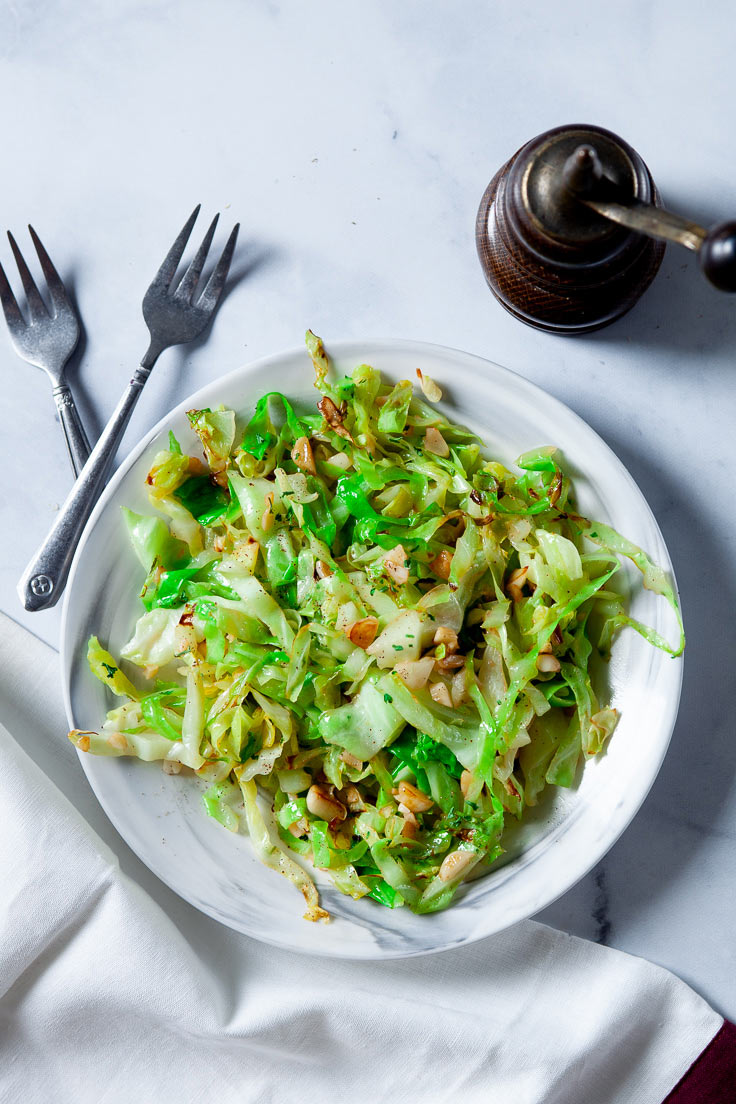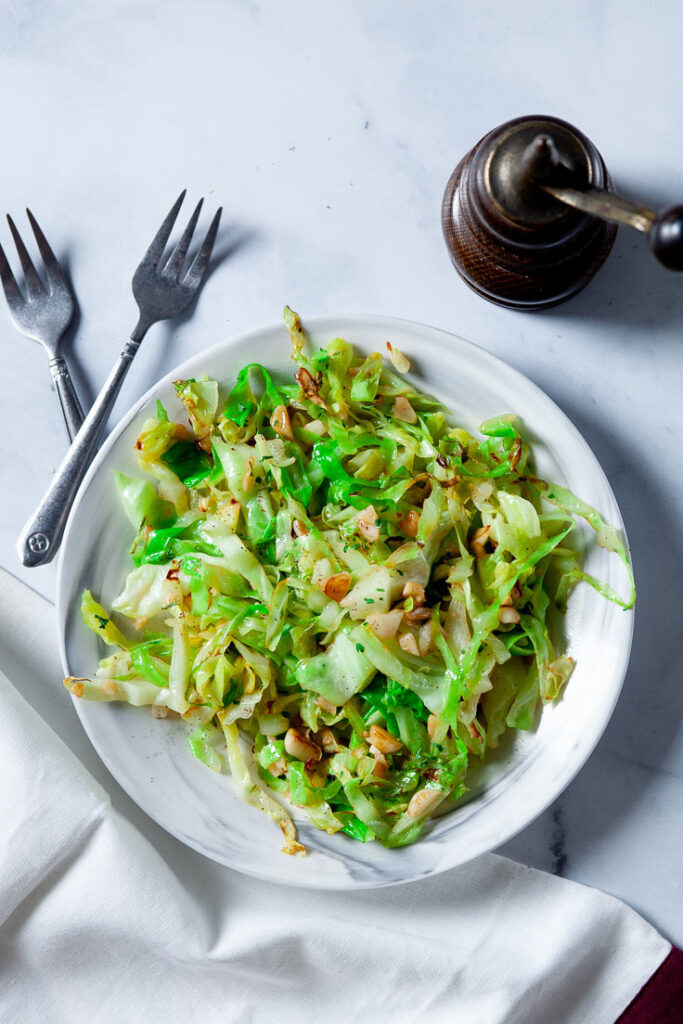 How to Prep and Cook Cabbage
It's easy to overlook the common cabbage. Most of us are used to seeing it all year round in grocery stores, so it doesn't quite have the seasonal urgency that asparagus has. Cabbages also tend not to radiate the same trendy vibe as Roasted Brussels Sprouts or Air Fryer Broccoli.
Yet, it's high time to reexamine the advantages of cabbage in our lives. Not only is it supercharged with nutrition and health benefits, cabbage is also one of the cheapest fresh vegetables around. A huge pro: it keeps crisp and fresh for what seems forever.
Also. Cabbage does not have to be relegated to coleslaw, nor does it have to transform into soggy mush when cooked. Here's how to cut and cook cabbage so it becomes sweet, savory, and just-right-tender.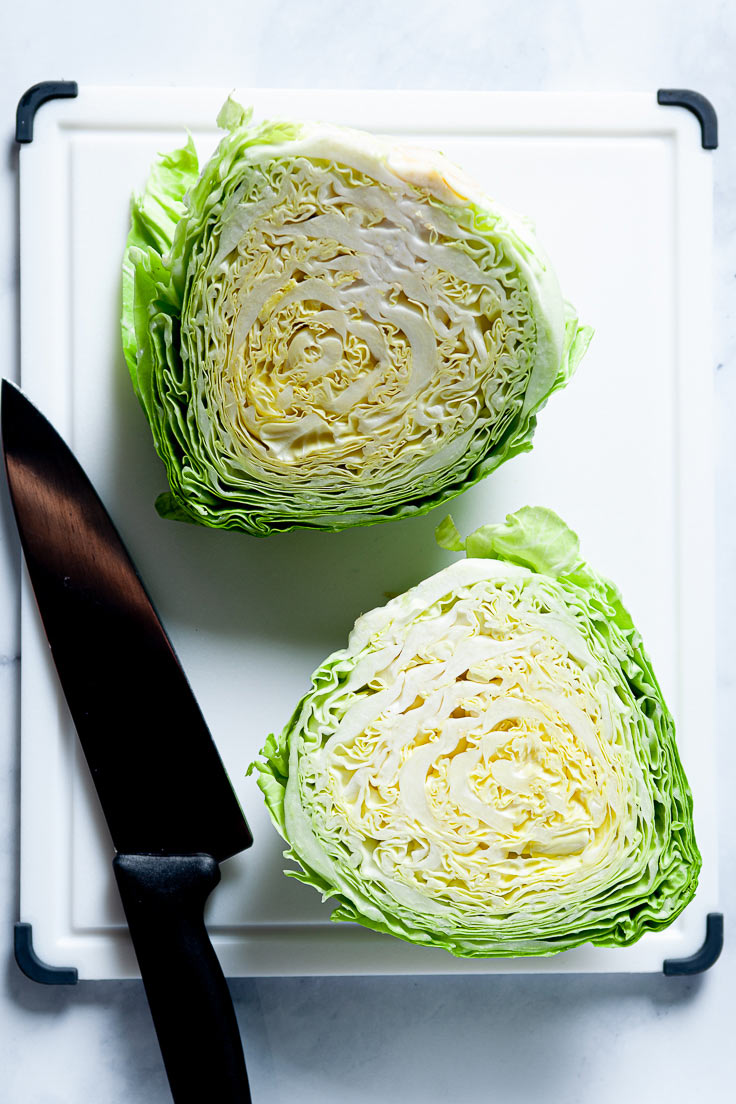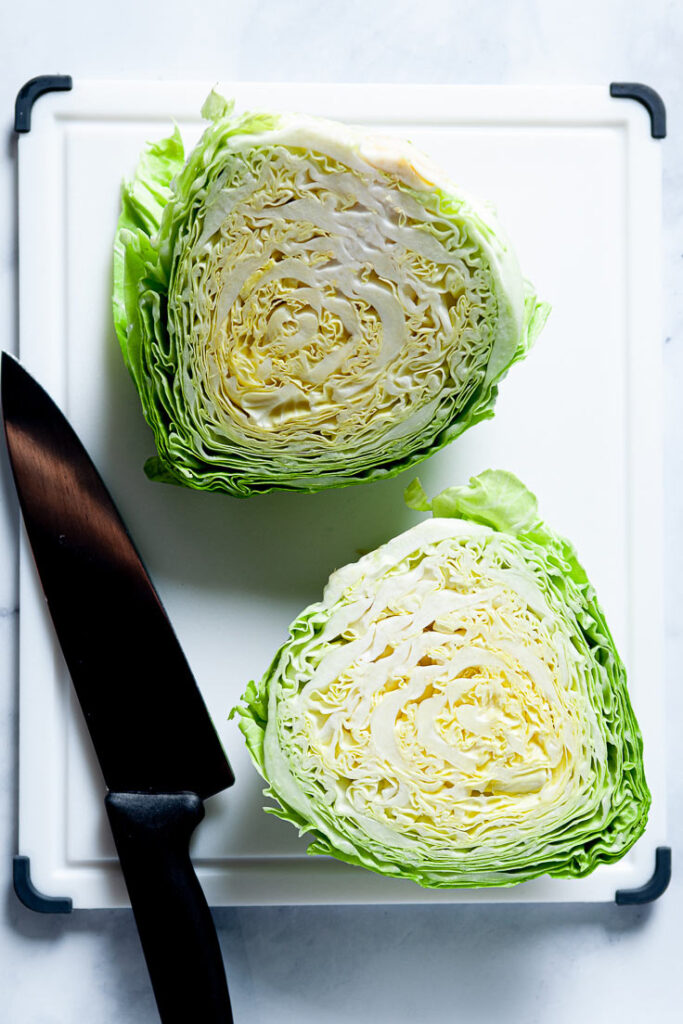 Sauté or Stir Fry Cabbage for best flavor
We love raw cabbage for texture in salads, such as in this Crunchy Cabbage Ramen Salad. That said, it's beyond easy to sauté or stir fry cabbage, which draws out its natural sweetness. Stir fried cabbage is a delicious side dish that pairs well with any meal.
How to cut cabbage easily:
Thinly sliced cabbage cooks quickly and can even give some nice browning along edges.
Slice cabbage in half – you can use both halves now, or save the other half by keeping it wrapped tightly in plastic wrap in the fridge.
Slice again, so cabbage is divided into quarters.
Slice cabbage thinly and evenly.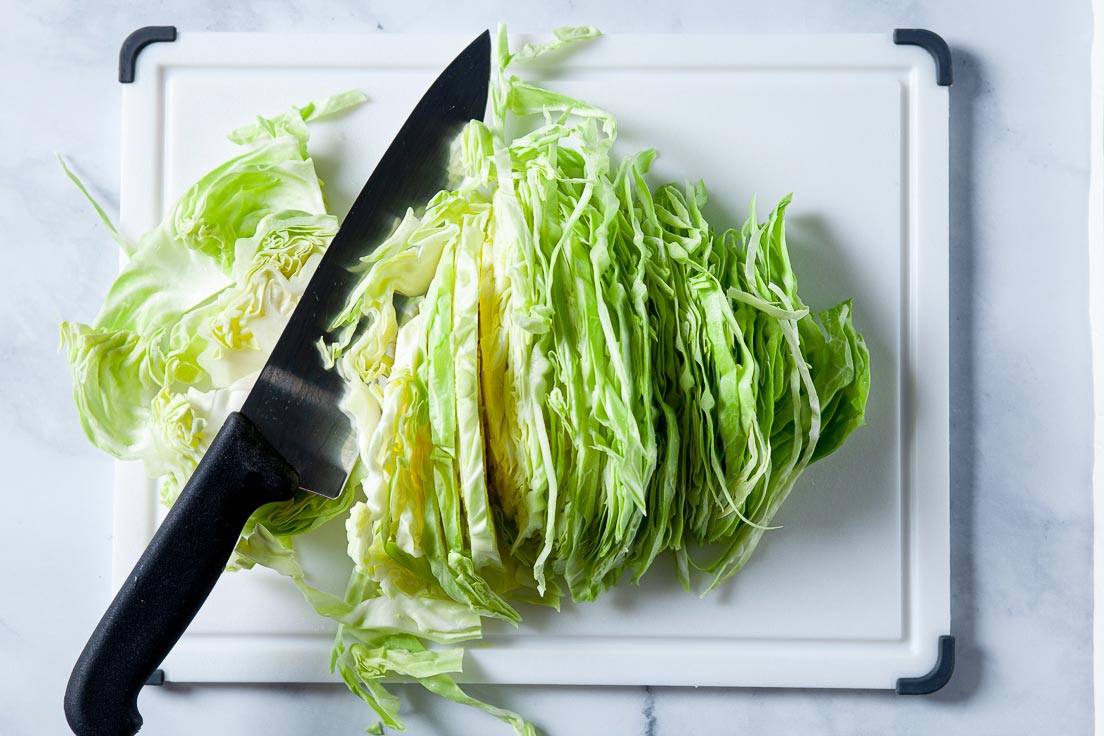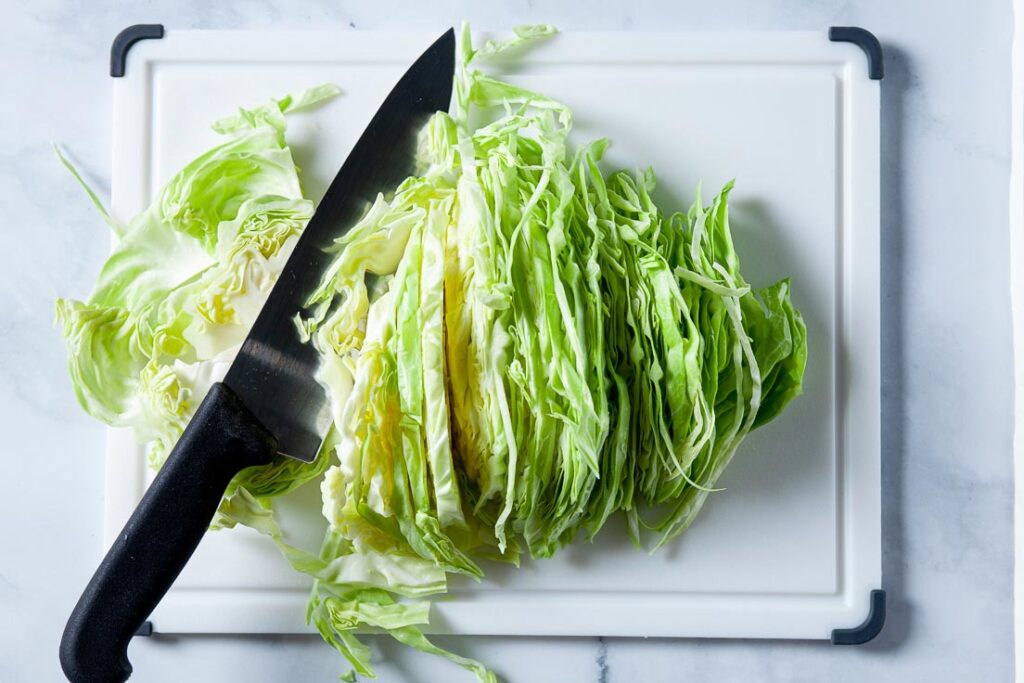 few ingredients, Great flavor
It does not get easier to cook up the best cabbage your eaters have ever eaten:
Use a large pan or skillet. Cabbage will be fluffy and seem like "too much" at first, but it shrinks a ton during cooking.
Use your favorite extra virgin olive oil and don't be shy. Olive oil is one of the good guys.
Freshly chopped garlic is a must. It's the secret to making cabbage that actually smells delicious (not funky – I know you know what I mean.)
Stir frequently to ensure even cooking and to prevent garlic from burning.
Stop cooking as soon as cabbage is tender and soft, yet still retains a bit of crunch. If the garlic and edges of cabbage are lightly browned, give yourself a pat on the back.
Kosher salt and freshly ground black pepper should be added to taste at the end of cooking. If you add it before the cabbage has wilted, your taste buds can easily misjudge the correct amounts.
Bacon Option
If you've got bacon lovers, feel free to add cooked, crumbled bacon to the pan towards the end of cook time. This will help bacon stay crisp. Additionally, if you'd like to use some of the bacon grease for stir frying the cabbage, simply use it 1-1 in place of the olive oil.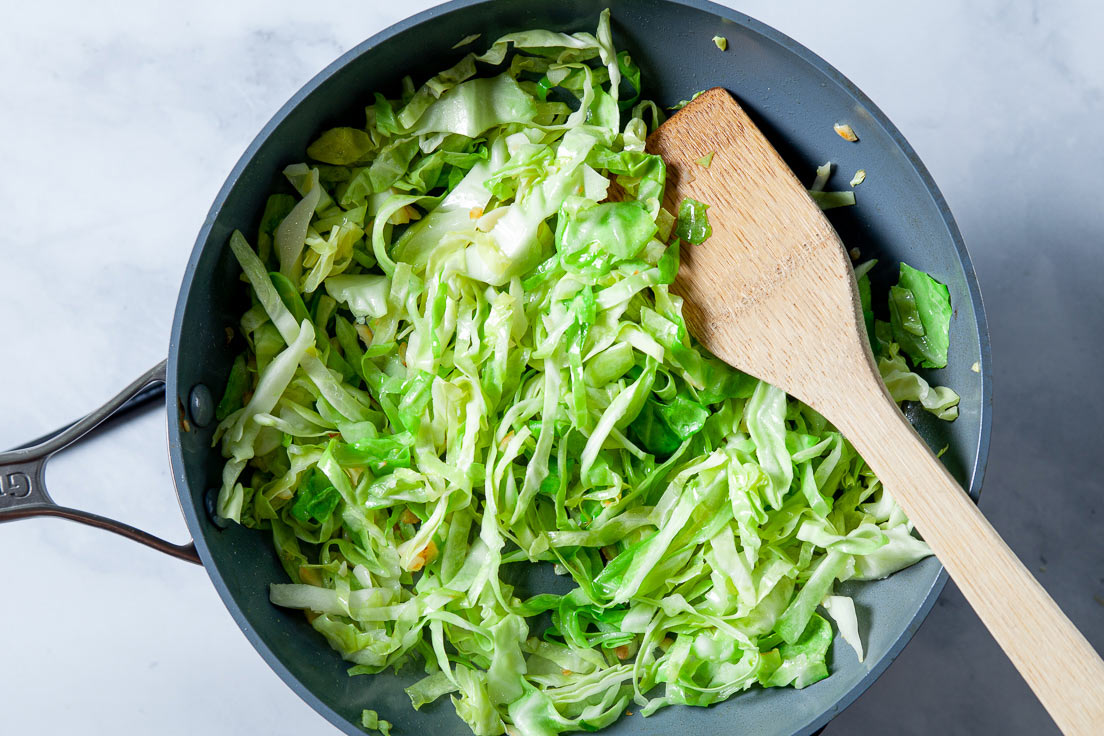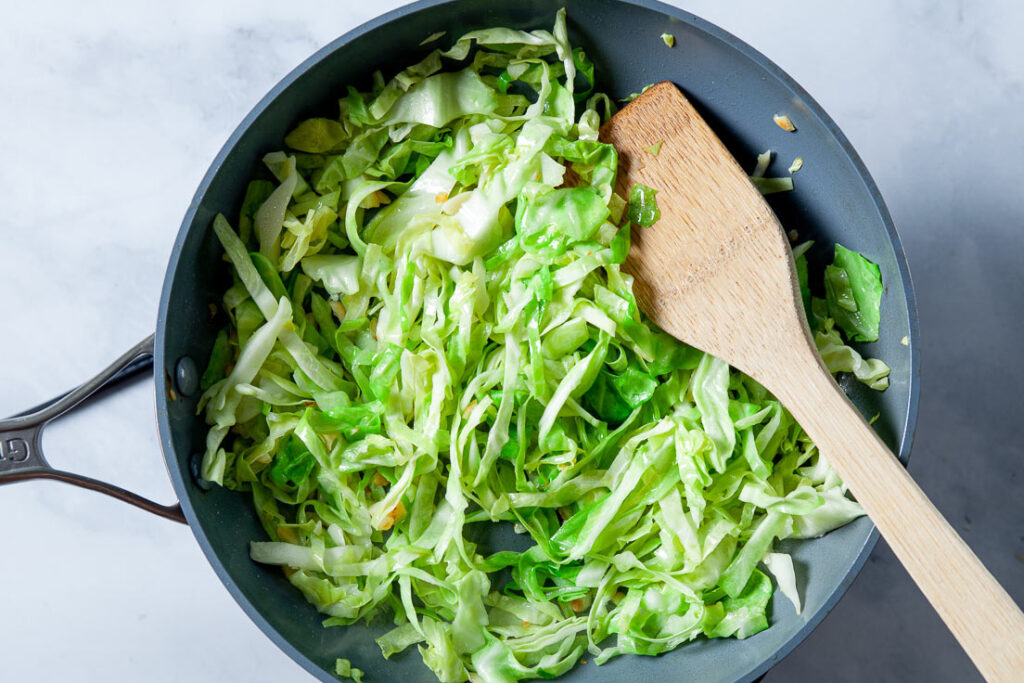 delicious Ways to Use Cabbage
Salads: You already know the role cabbage plays in coleslaw. It's also vibrant and tasty in this Crunchy Thai-Style Salad and this Cabbage Ramen Salad that includes a dressing so delicious, you'll want extra batches to keep in the fridge.
Braises: It's easy to add sliced cabbage to braised meats, as long as it's added towards the end of cook time. This Slow Cooker Corned Beef with Cabbage showcases the sweetness of slow braised cabbage.
Tacos: Use extra-thin sliced cabbage instead of lettuce for taco nights. The hearty crunch of cabbage is perfect in Crispy Baja Fish Tacos.
Soups: Toss cut-up cabbage into your favorite soups towards the end of cooking so you can control the level tenderness. If we'd thought of it sooner, we would have used it in this Ham and Potato Soup.
Burgers: Yes, burgers. We lay down purple and green cabbage in these juicy Asian Burgers with Sriracha Mayo. It's seriously so good.
Bowls: As in, rice bowls and noodle bowls and even burrito bowls. Add sautéed cabbage to these easy Korean Beef Bowls or use raw cabbage in these Chicken Burrito Bowls.
---
Try this Easy Roasted Vegetables on a Sheet Pan:
---
Did you make this?
Please give us a rating and comment below. We love hearing from you!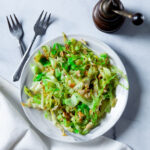 Sautéed or Stir Fried Cabbage
Cabbages are a nutritious, healthy, and affordable vegetable that's extremely versatile. Here's how to cook cabbage your family will actually eat. Serve it as a side dish with any meal.
Ingredients
3

tablespoons

extra virgin olive oil

5

cloves

garlic

,

chopped

Half a head of cabbage

,

thinly sliced

Kosher salt and Freshly ground pepper

,

to taste
Instructions
In a large pan, heat olive oil on medium high heat until hot. Add garlic and stir 1 minute, until fragrant.

Add sliced cabbage and stir frequently for even cooking and to prevent garlic from burning. Stir until cabbage is softened and edges are lightly browned, about 4-5 minutes depending on desired level of tenderness.

When cabbage is just about done, add kosher salt and freshly ground pepper to taste. Serve hot.
Notes
Save the unused half of cabbage for later use: wrap it tightly in plastic wrap and place it in the fridge (it should keep fresh for 1-2 weeks if stored correctly.)
Non-vegan option: add cooked, crumbed bacon towards the end of sauté time. You can also use some of the bacon grease for cooking if you'd like.
If you enjoyed this recipe, please come back and give it a rating ♡
Nutrition (per serving)
Calories:
82
kcal
|
Carbohydrates:
5.2
g
|
Protein:
1
g
|
Fat:
7.1
g
|
Saturated Fat:
1
g
|
Sodium:
16.4
mg
|
Fiber:
1.3
g
|
Sugar:
2.3
g