Instant Pot Beef Pot Roast with Gravy
This Instant Pot Beef Pot Roast is exceptionally tender and boldly flavorful. We add potatoes and carrots to make it a complete meal-in-one.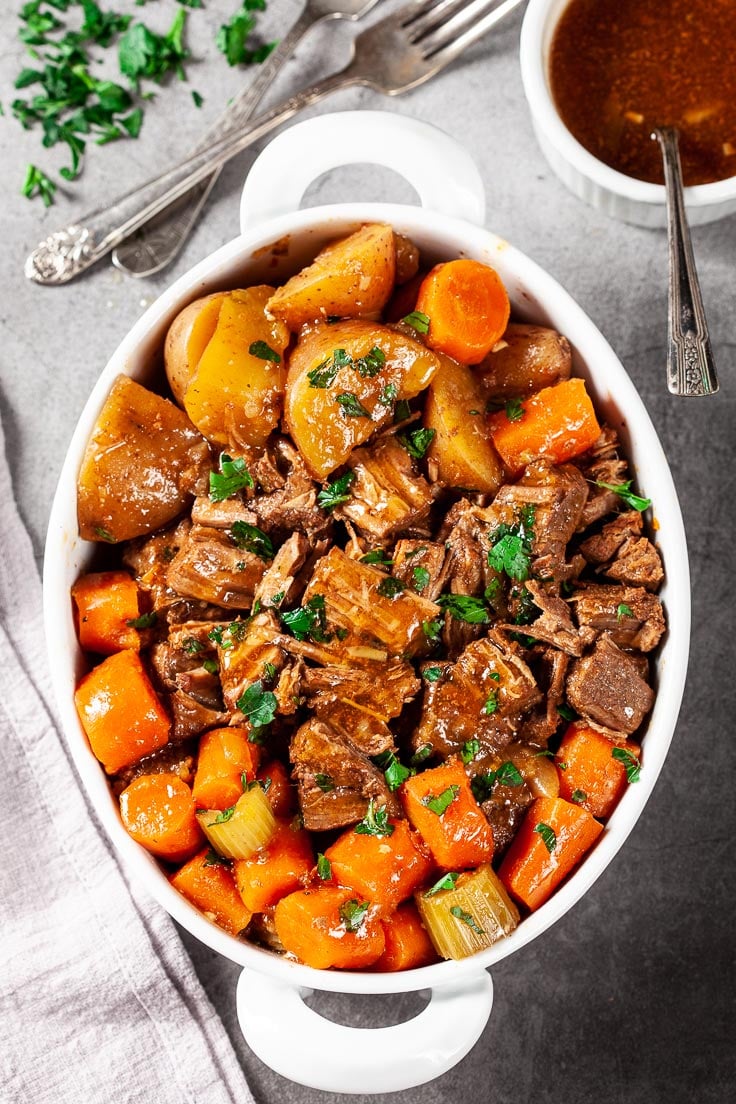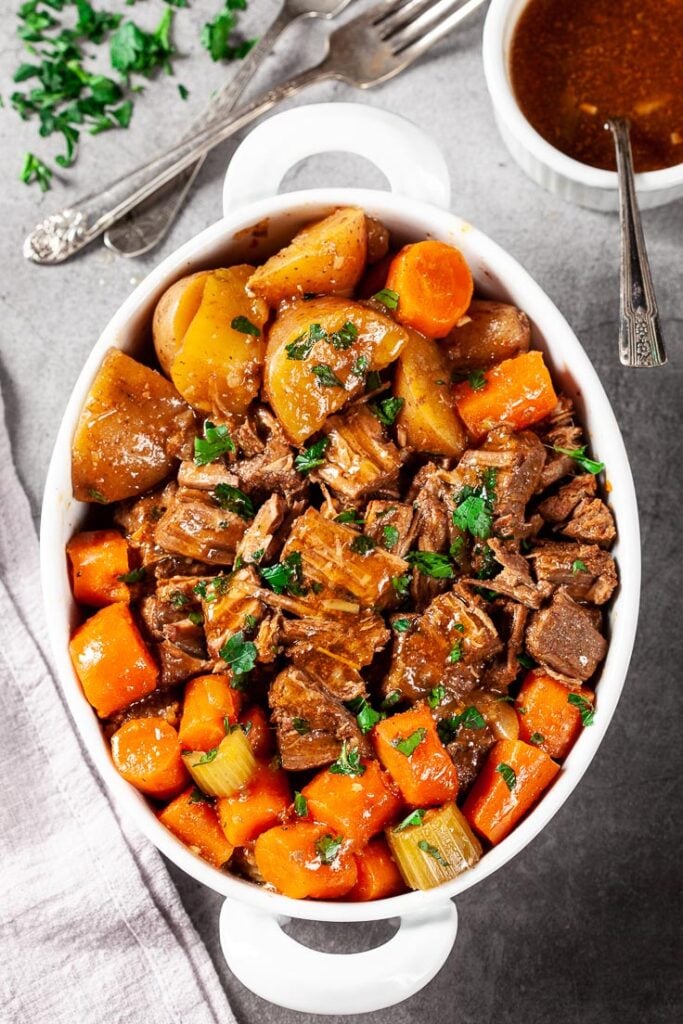 Instant Pot Beef Pot Roast with Gravy
If you've ever been disenchanted by past experiences with beef pot roasts that are tough, dry, or bland, it's time to throw those unfortunate impressions out the door right now.
A really good pot roast is fork-tender, juicy, and abundant in flavor. When done right, a pot roast can't be beat for a hearty and satisfying family dinner any night of the week. It's a scrumptious meal you can be proud of sharing with friends or dinner guests on weekends.
Best of all, pot roast is easy on the wallet and light on elbow grease. Armed with an affordable beef roast, basic pantry ingredients, and your pressure cooker, you'll have a deliciously cozy dish to put into your file of reliable dinner recipes.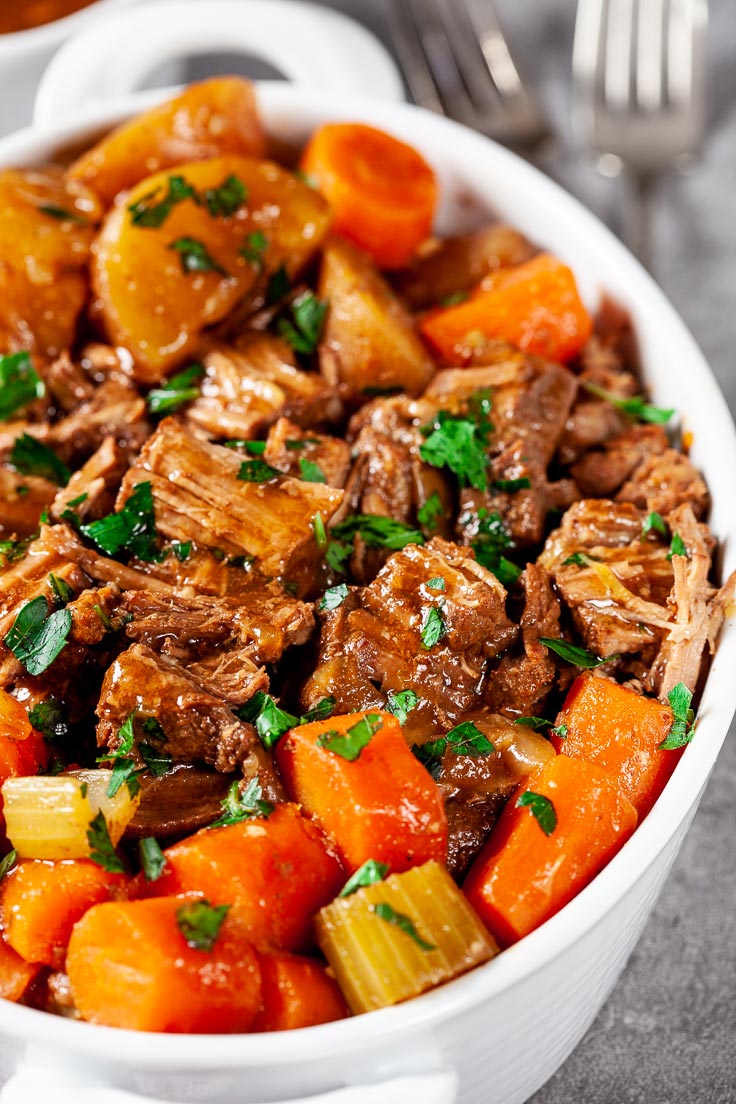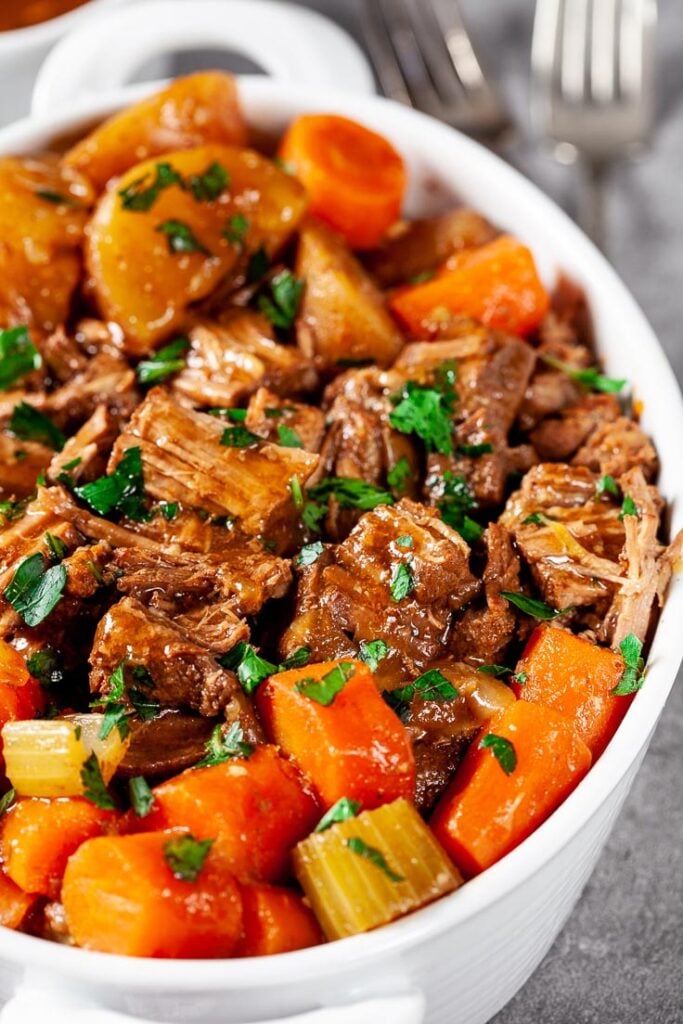 How to Cook Pot Roast in Your Instant Pot
Cooking appliances come and go, but a good Instant Pot is worthy of becoming a dependable fixture in your kitchen for many years to come. Some beginners start out with a 6qt pressure cooker, but we highly recommend getting the 8qt capacity cooker, as you'll soon appreciate its ability to easily manage things like soups and stews and roasted potatoes for the entire family. Don't forget this handy steam diverter, which protects the bottom of your cabinets from being warped by steam.
A huge advantage of making pot roast in the Instant Pot is the ability to sear all sides of your beef roast, directly in the pot itself. Add oil to the inner pot of the Instant Pot, turn it to sauté mode, and sear away. No need to brown beef on the stovetop or dirty a separate pan.
Once the beef roast is nicely browned, switch the Instant Pot from sauté mode to pressure cook mode. Add the seasonings and cook for just one hour. Add the potatoes and vegetables for another 5 minutes. Fork-tender beef is your quick reward.
Typically, a beef chuck roast (or any appropriate cut of beef roast) would take from several hours in the oven to 12 hours in the slow cooker. Yet, it only needs a little over an hour to achieve irresistible tenderness in the pressure cooker.
Option: Slow Cooker Pot Roast
Still, there's a time and place for slow cooker pot roasts, such as when you'd like to do slow cooking overnight or all day while you're at work. We don't recommend using your Instant Pot for slow cooking pot roast, so feel free to grab your good old slow cooker for the task.
Here's our Slow Cooker Pot Roast with Gravy recipe, which uses many of the same ingredients, with a gravy that cooks right in the meat and vegetable mixture. Note that 12 hours on low setting is highly recommended for best results, so be sure to allow enough time for beef to break down into fall apart tenderness.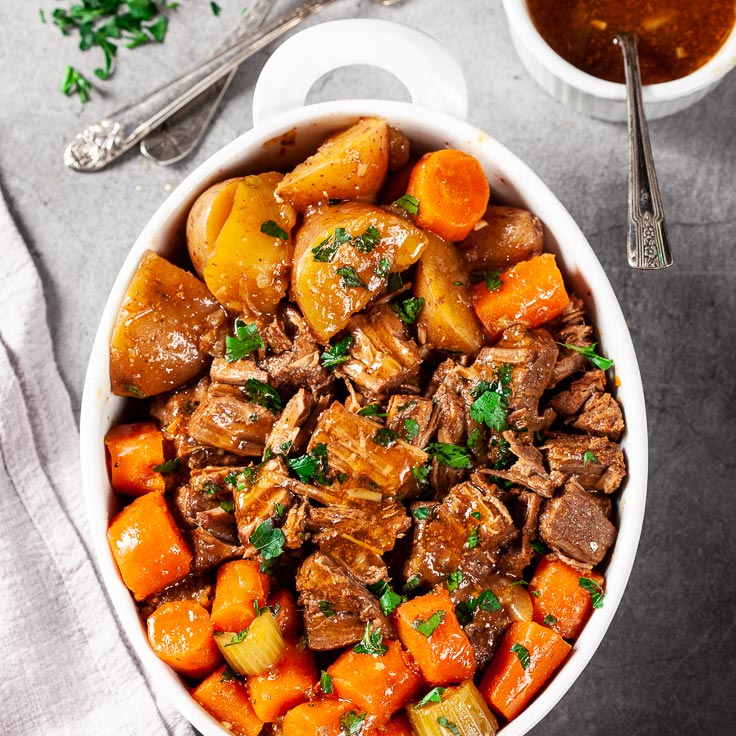 Pro Tips for Your Best Pot Roast
For best flavor and tenderness, choose boneless beef chuck roast
If your chuck roast is extra fatty, you can trim some of the excess fat, but do leave at least half of the fat on, as that is essential to achieving ideal tenderness (you can always skim off the fat after cooking.)
Always pat-dry any excess moisture off of the beef with paper towels before cooking, as any excess moisture will interfere with browning.
Though not traditional, we highly recommend cutting beef roast into 8 even pieces prior to cooking; time and time again, we've found that this little step ensures even cooking and allows flavors to permeate throughout.
Add the vegetables and potatoes only during the final 5 minutes of cooking; this allows for tender veggies without becoming mushy.
Serve with buttered noodles, fluffy rice, or rustic bread to soak up that delicious gravy! Better yet, rotate between the three, for several nights' worth of meal-prep dinners.
---
Try This Instant Pot Beef Barbacoa, Too:
---
Did you make this?
Please give us a rating and comment below. We love hearing from you!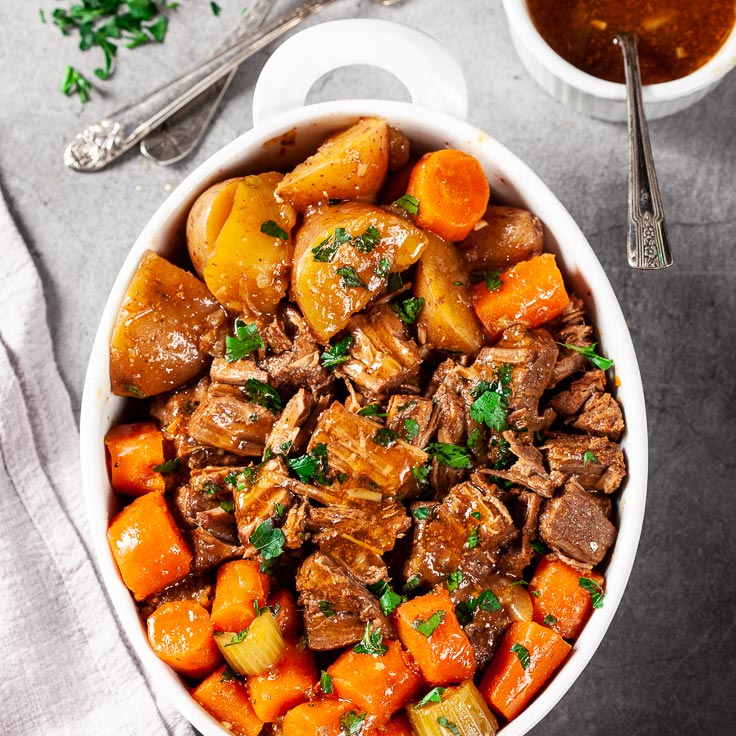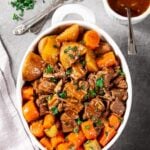 Instant Pot Beef Pot Roast with Gravy
This Instant Pot Beef Pot Roast is exceptionally tender and boldly flavorful. We add potatoes and carrots to make it an easy meal-in-one. Serve with noodles, rice, or rustic bread.
Ingredients
3 ½ - 4

lbs

boneless chuck beef roast

4

TB

olive oil

1

large onion

,

quartered and roughly sliced

8

cloves

garlic

,

chopped

3

TB

tomato paste

2

tsp

soy sauce

3

cups

regular strength beef broth

6

carrots

,

peeled/sliced into 1-inch pieces

6

stalks celery

,

sliced into 1/2-inch pieces

2

medium sized potatoes

,

peeled/sliced into 1 1/2 inch pieces

2

TB

corn starch fully dissolved in 3 TB water

kosher salt and freshly ground black pepper
Instructions
Trim a bit of excess fat, but leave most of it for tenderness. Use paper towels to pat-dry beef thoroughly. Slice beef roast into 8 even sized pieces. Sprinkle sides of beef with a light layer of kosher salt and freshly ground black pepper, pressing down to adhere seasoning to the meat.

In the inner pot of Instant Pot, add 2 TB oil over sauté mode. Once oil is hot, brown half the beef pieces on all sides. Remove from pot and repeat with remaining half of beef pieces. Add back all browned beef.

Add garlic, onion, bay leaves, tomato paste, soy sauce, and beef broth. Switch setting to Pressure Cook on High, and set for 1 hour cook time (be sure vent is turned to correct position.) After 1 hour, do a manual Quick Release, and add carrots, celery, and potatoes. Stir them into the beef mixture, close lid tightly, and set to pressure cook for 5 more minutes. Do a manual Quick Release and transfer meat, vegetables, and potatoes to a large serving dish and keep warm, while leaving the sauce/liquid in the pot. Skim fat off top of sauce.

Turn on Sauté mode to bring gravy/sauce to a gentle boil. Gradually stir in fully dissolved cornstarch (must be completely dissolved in water, without any trace of white streaks left) and stir until sauce thickens into a gravy-like consistency. Add kosher salt and black pepper to taste.

Pour gravy over pot roast, vegetables, and potatoes (remember to remove bay leaves.) Serve with buttered noodles, fluffy rice, or rustic bread.
Notes
If you'd prefer to serve pot roast directly out of the Instant Pot: after thickening the gravy, add back the beef/potato mixture into the pot and gently fold to coat with gravy. Keep Instant Pot on Warm Mode.
For slow Crock Pot version, see recipe for Slow Cooker Pot Roast with Gravy.
If you enjoyed this recipe, please come back and give it a rating ♡
Nutrition (per serving)
Calories:
482
kcal
|
Carbohydrates:
42.1
g
|
Protein:
51.6
g
|
Fat:
13.1
g
|
Saturated Fat:
2.3
g
|
Cholesterol:
144.8
mg
|
Sodium:
504.5
mg
|
Fiber:
9.3
g
|
Sugar:
19.5
g