Most Tender Pot Roast (Slow-cooker recipe)
Do you have a favorite, tattered old recipe that's a beloved go-to dish that never fails?
One that you make for your family and friends whenever you want an easy, crowd-pleasing meal.
One that is fail-proof. Finicky-eater-proof. Bullet-proof.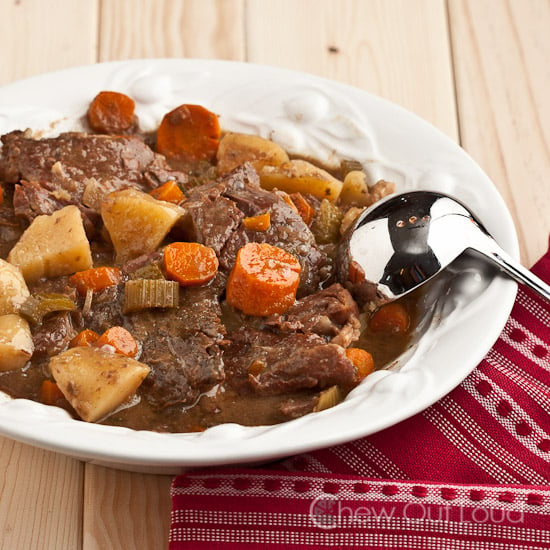 This is that recipe for us. This tender pot roast is my favorite recipe to fall back on when I need to serve up a meal that's easy, fuss-free, and absolutely succulent.
This is the dish that adults, kids, family, and friends love, and it's one of my most requested recipes.
The inventor of the slow cooker was genius. I love that all the tasty ingredients for this tender pot roast are thrown into my trusty old Crock Pot, and the next time I set foot in the kitchen, it's when dinner is ready and calling out our names.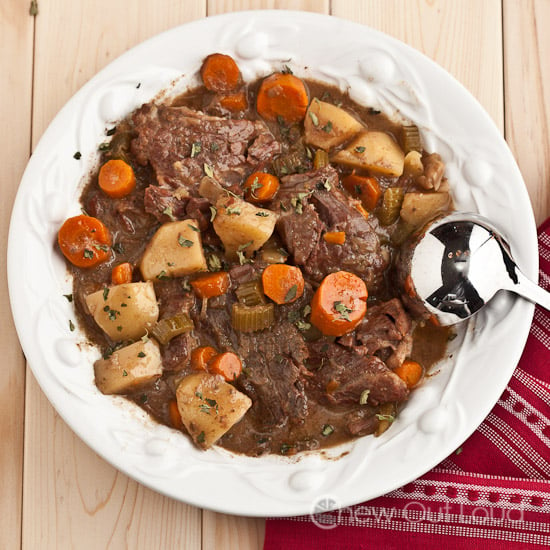 In typical night-owl fashion, I usually toss everything into the slow cooker the night before and set it in the fridge. In the early morning, Hubby turns the cooker on and lets it do its magic for the day.
Voila! Hours later, dinner smells phenomenal and the beef roast is as tender as can be. It literally falls apart in the best way at the touch of a fork.
Melt-in-your-mouth tender beef. Juicy, soft veggies give this pot roast a deliciously aromatic flavor. Plus, they count as the "greens" in the meal. Sometimes I add potatoes into the mix, if the weather calls for extra hearty fare.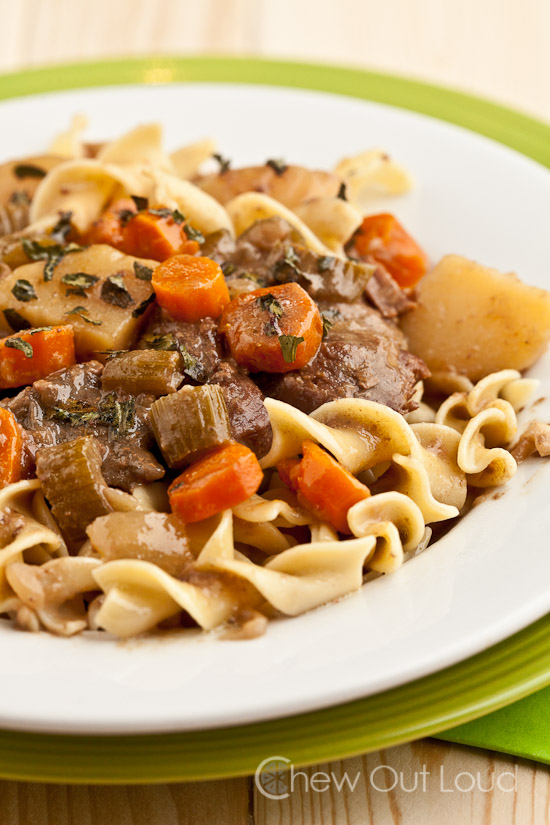 Your eyes do not deceive you. Those are noodles right there, underneath all that pot roast goodness, on a day I decided to throw potatoes into the mix. Potatoes and pasta? There's no shame in that; none at all.
I make it a point to have plenty of savory, scrumptious, drippy sauce in this pot roast. Just so we can drown chewy egg noodles into the flavorful gravy, making it the most toothsome comfort meal ever.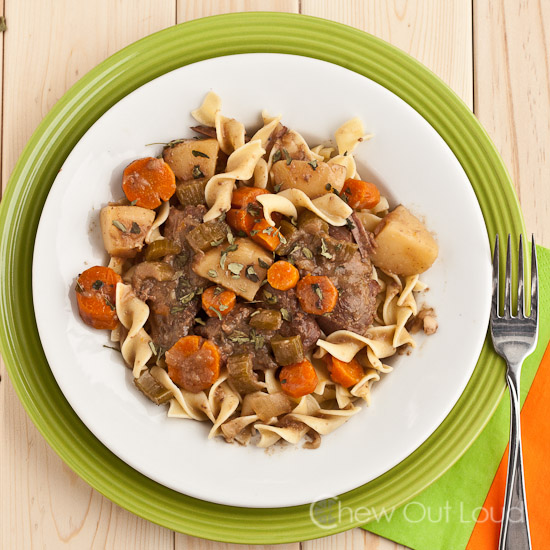 Go ahead. Make it easy. Make it mouthwatering. Make it on a weeknight, because you can.
Enjoy!
P.S. If you're looking for a fancy beef stew that cuts no corners, there's nothing yummier than this French Beef Stew, which is a total knock-your-socks-off kind of dish.
Print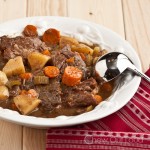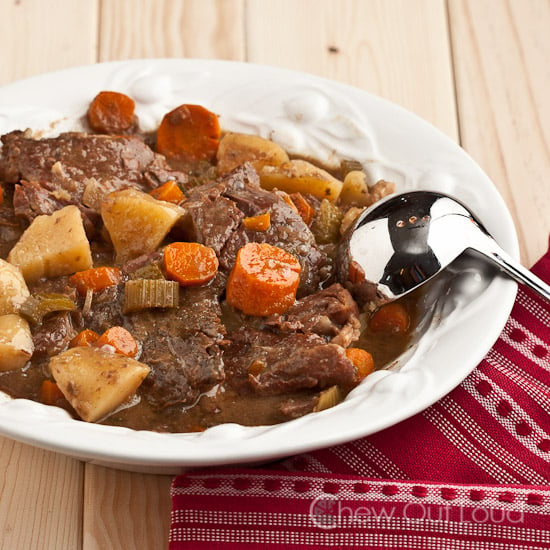 Most Tender Pot Roast (Slow-cooker)
This is our favorite pot roast for a warm, hearty, superbly comforting meal. Serve plenty of the gravy over egg noodles, mashed potatoes, or rice, and watch how quiet it gets around the table…YUM!
3

–

4

lbs boneless chuck beef roast, divided into

3

or

4

pieces

1

lb carrots, peeled and thickly sliced

1

lb celery, sliced

2

onions, peeled and sliced

2

envelopes dry onion soup mix (i.e., Lipton)

1

(10.5 oz) can cream of celery soup

1

(10.5 oz) can cream of mushroom soup

2

soup cans' worth of water

6

TB all purpose flour

5

small cubes beef bouillon (see note)

2 tsp

garlic powder

2 tsp

fresh ground pepper
Optional: 3-4 medium russet potatoes, peeled and cut to bite size, to be added during last half of cooking time
Instructions
Place cut-up vegetables into slow cooker. Dry chuck roast pieces with paper towel and place on top of veggies.
Combine all remaining ingredients in a bowl (except potatoes) and mix by hand until incorporated. The bouillon cubes may not dissolve, which is fine.
Pour sauce evenly over the chuck roast, ensuring that it is as covered with liquid as possible. Turn slow cooker on Low for 10-12 hours. (it's a long time, but that's what makes the beef so tender.)
If adding potatoes, wait until the last 5-6 hours to toss them in, or they will get overcooked.
Skim fat off top. Season to taste with more salt/pepper if needed. Serve with warm buttered egg noodles, rice, or mashed potatoes.
*Note: I use 5 of the small, perfectly cubed bouillon cubes (similar to a dice.) If you're using the larger rectangular bouillon cubes (i.e., Knorr), reduce to 3 cubes.
Author:
Category:

main dish
Source: Chew Out Loud