There's nothing like a good loaf (or two!) of crusty, chewy French bread at the dinner table.  This recipe results in a beautifully browned and crisp crust, with a soft and chewy center.  Slice it up for your bread basket, slather on some butter, and watch it vanish. 
A few years ago, I started making my own bread with a passion. I think my bread baking obsession was fueled by the arctic air here… baking bread is wonderfully therapeutic when staying indoors is 120% better than stepping outside.
My favorite bready experiments include Homemade Bagels (totally not as scary as I'd feared) and mall-like Soft Pretzels.
Our nosh-worthy dinner breads include this fantastic Rustic Rosemary Garlic Bread and Better Than O.G. Breadsticks.
I've made this Crusty French Bread a few times, and it's always terrific.  If you're in the market for making your house smell like a bakery and putting the most tasty loaf of French Bread on the dinner table, we've got your back.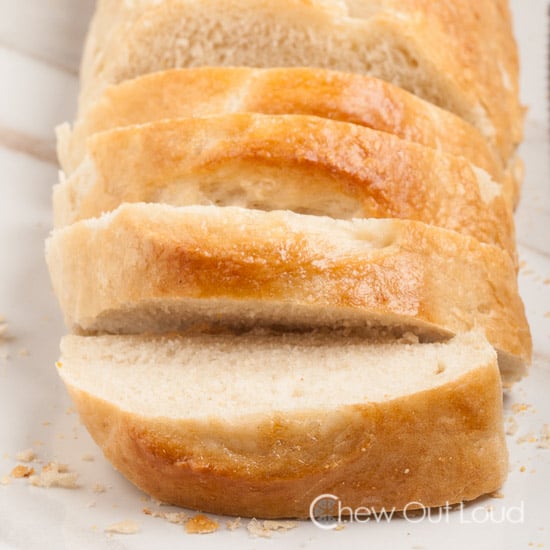 We're a day away from Thanksgiving, and some of us will have store bought dinner rolls on the menu.  But if you really want to make your carb-lovers happy, make a loaf of this easy Crusty French Bread.
Yeah, but the yeast.  Have no fear.
Because this recipe contains no heavy flours or add-ins, it rises super well.  So well, in fact, that you can literally see the ballooning dough growing right in front of your face as you're busy doing other things.
As long as your house isn't a freezer, this baby will rise beautifully and fast.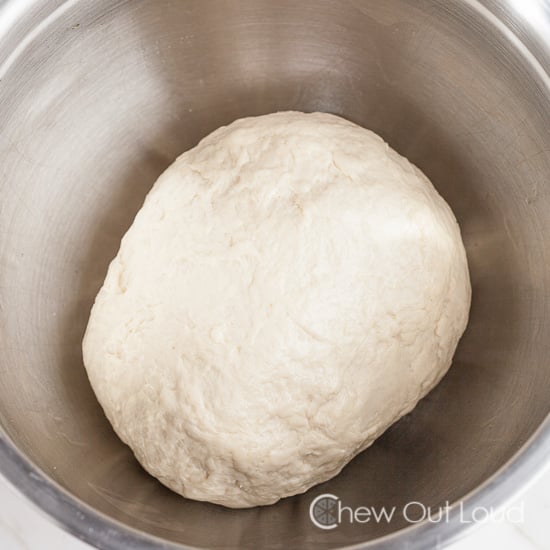 First, make the dough, cover it up, and place it in the warmest part of your house.
I personally like to turn my oven on warm mode, turn it off (don't forget that part,) and place the dough in it for rapid rising.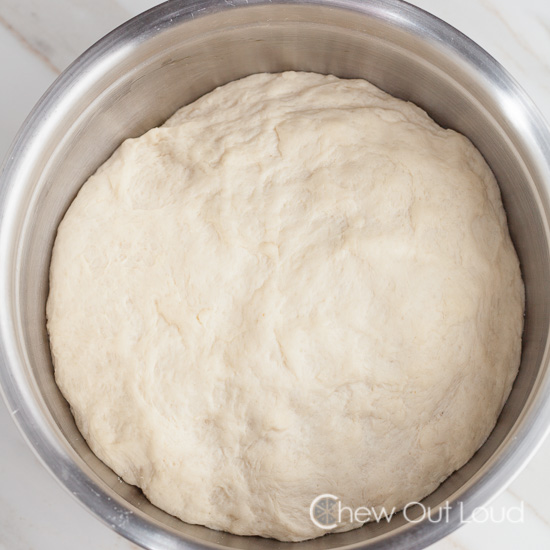 Here's the dough nice and puffed to double in size.
After 30 minutes or so, start checking to see if your dough has doubled in size.  The instructions say up 60 minutes, but that's if the temperature in your kitchen is cool.  If the dough is placed in a warm place, it will rise to double the size much sooner.
This is probably the only time the word punch is appropriately associated with solid food. Punch that dough down and shape your loaves.
Give it another 30 minutes or less to rise for a second rise to double the size.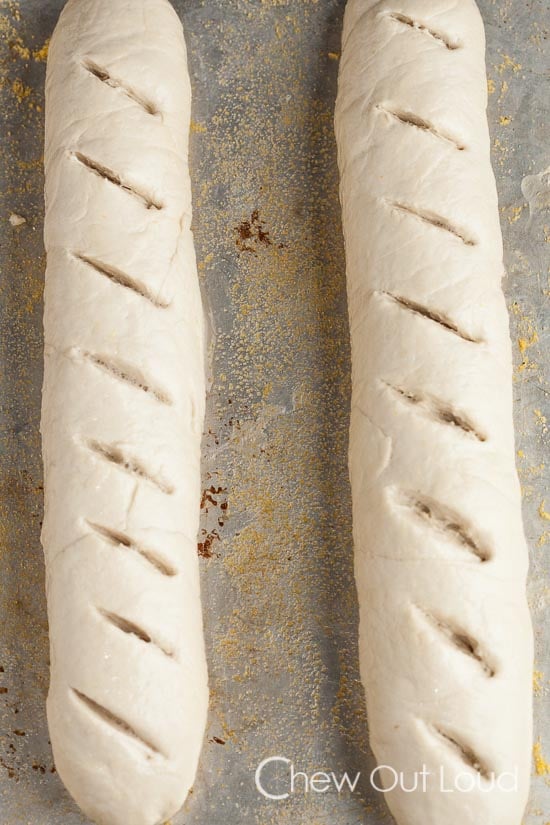 Bake for less than 30 minutes total.
Golden, crusty homemade bread is about to emerge from your very own oven and wow everyone at the table.
Feel free to show off those gorgeous loaves before slicing for the bread basket.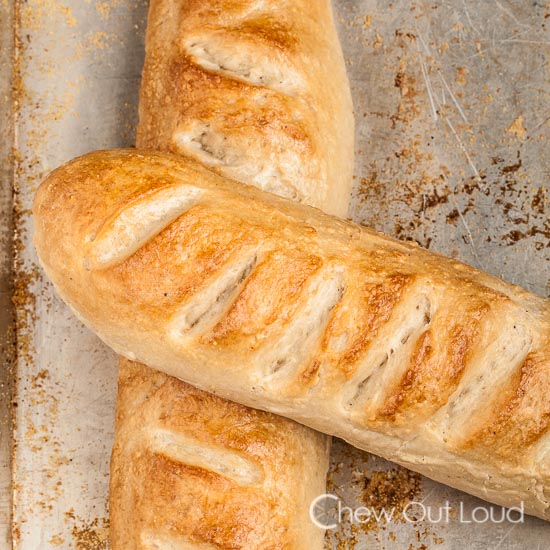 This Crusty French Bread is perfect for dunking into hot soup like this one.
It's also amazing with a slather of butter and straight into your mouth.
Or savagely tear into it with your hands and have a carb feast.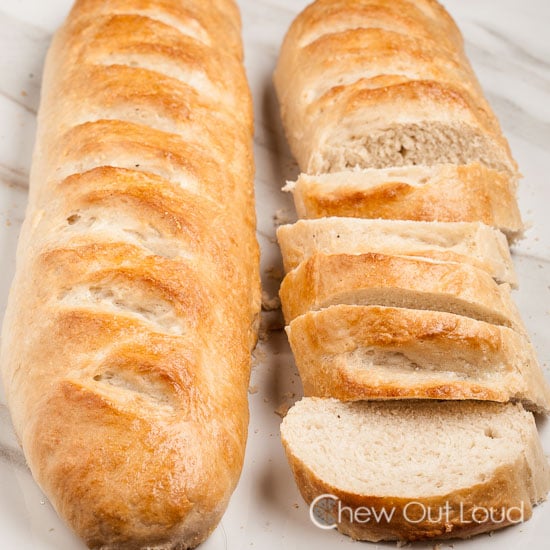 If you have leftovers, simply wrap the bread tightly in foil and leave at room temp.  Reheat in oven the next day for another meal of bready deliciousness.
I haven't tried this yet, but I believe this bread would freeze well wrapped tightly in foil.  Defrost at room temp and reheat in oven.
I'm thinking I'll make several loaves, wrap 'em up, and freeze.  It would be awesome to defrost and give it a quick bask in the oven for dinner on any weeknight.  So I don't have to run to Trader Joe's for my crusty baguette on a Monday night.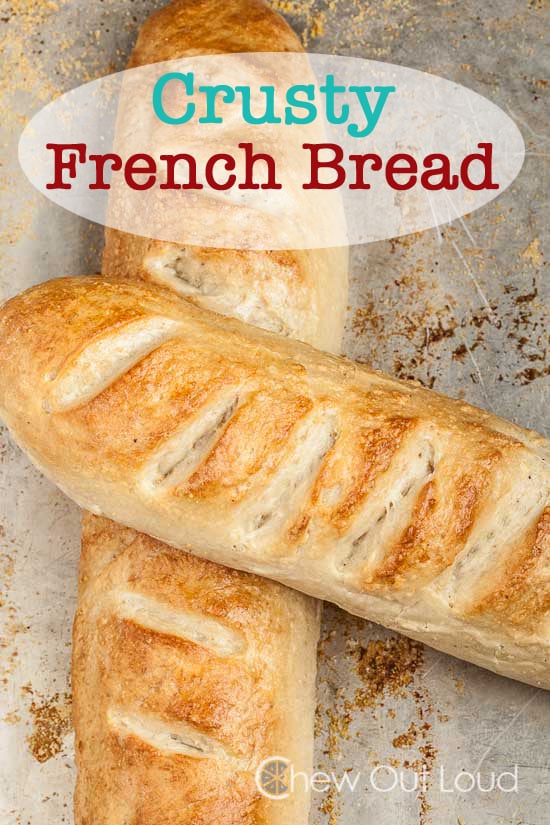 Happy bread-making 🙂
Enjoy!
Print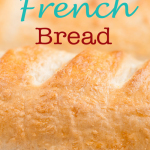 Crusty French Bread Recipe
Author:

Yield:

2

loaves

1

x
Category:

side
---
Description
This Crusty French Bread is perfect for any meal. It's an easy, fail-proof recipe that allows for quick rise times, and results in a wonderfully crispy exterior and chewy interior. Great for dunking in soup or slathering butter onto.
---
Scale
Ingredients
4 cup

s all purpose flour

2

(.25 oz) packages active dry yeast (be sure it's fresh!)

1 tsp

table salt

1

TB white sugar

1 3/4 cup

s water at 110F

1

TB cornmeal

1

egg white, beaten with 1 TB water
---
Instructions
In a large bowl, combine the flour, yeast, sugar, and salt. Hand-whisk until well combined. Gradually stir in the warm water (test the temperature with thermometer to ensure it's right around 110F) and stir until a dough forms. The consistency should be roughly like play-dough, not too sticky but easily forms into a smooth/elastic dough ball. Add 1 TB water at a time as needed to gain that consistency.
On a lightly floured surface, knead dough 10 minutes. Shape into a ball, place into a well-oiled bowl, and turn dough to lightly coat in oil. Cover bowl tightly with cling wrap and place bowl in a warm, draft-free place until doubled in volume, 30-60 minutes.
Gently punch dough down and divide in half. Place on lightly floured surface, cover, and let sit 10 minutes. Roll each half into approx. 14×9 inch rectangle. Roll rectangle up lengthwise, moisten edges with water, and pinch tightly to seal. Taper and seal ends.
Line baking sheet with parchment paper. Sprinkle evenly with cornmeal. Place loaves seam side down on sheet. Cut diagonal slits into loves on top, about 1/4 inch deep. Brush loaves with egg/water mixture. Gently lay cling wrap over loaves and place in a draft-free warm place until nearly doubled in size, about 30 minutes. Meanwhile, preheat oven to 375F with rack on lower middle position. Place a large pan of water on lowest rack.
Bake 15 minutes. Brush again with egg/water mixture. Bake another 10 minutes or until bread looks done. Serve warm.
---
 Source:  Chew Out Loud, adapted from allrecipes.com
Here are our other always-awesome bread recipes:
1.  Better than O.G. Breadsticks.  Yeah, Olive Garden is known for one thing — the garlic breadsticks.  But wait until you try these easy homemade ones.  They will knock your socks off.  No restaurant breadsticks will compare after this!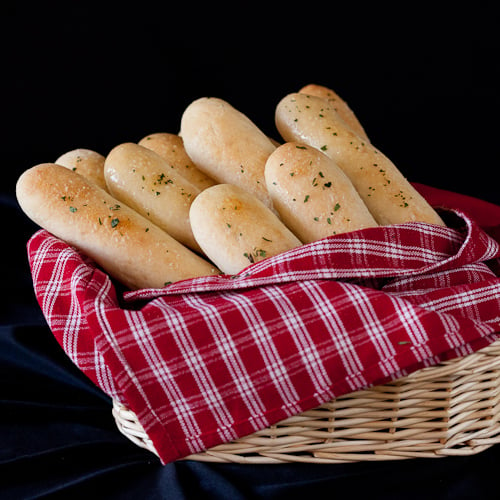 2.  Rustic Rosemary Garlic Bread.  This bread is the bomb.  It's so chewy soft in the center, with a flavorful exterior crust…this is one of those things you want to gobble up the minute it emerges from the oven.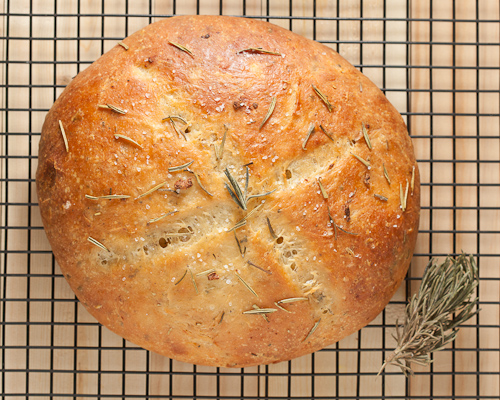 3.  Easy Cheesy Garlic Bread.  So, you're low on time and still want delicious bread straight out of the oven.  This one takes almost no time at all and yields a mouthwatering bread.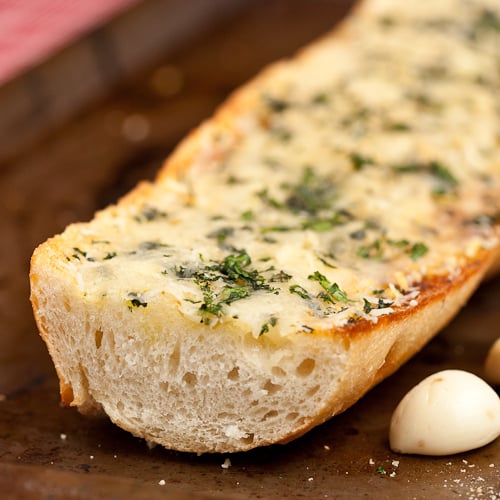 4.  I know this isn't bread, but it's fab for dunking bread into!  Our almost famous Homemade Chicken (or turkey, after Thanksgiving!) Noodle Soup.  It is the best we've ever had the pleasure of lapping up.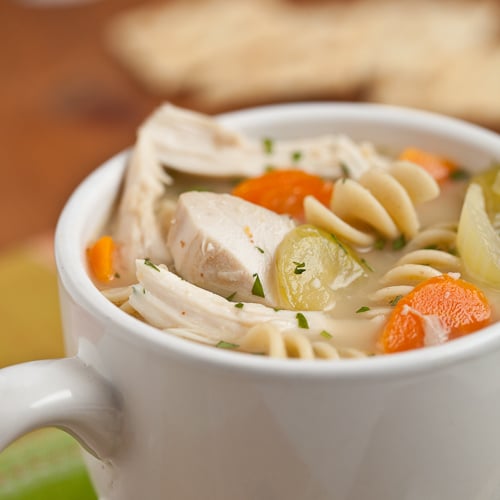 5.  While we're at it, let's drool over this delicious Curried Butternut Squash Soup.  Perfect next to that homemade bread of yours.