Moist Apple Fritter Bread
This Apple Fritter Bread is spectacularly moist and dense. It's loaded with apples, spices, and topped with a decadent brown sugar-pecan topping. Don't let fall slip away without baking this bread.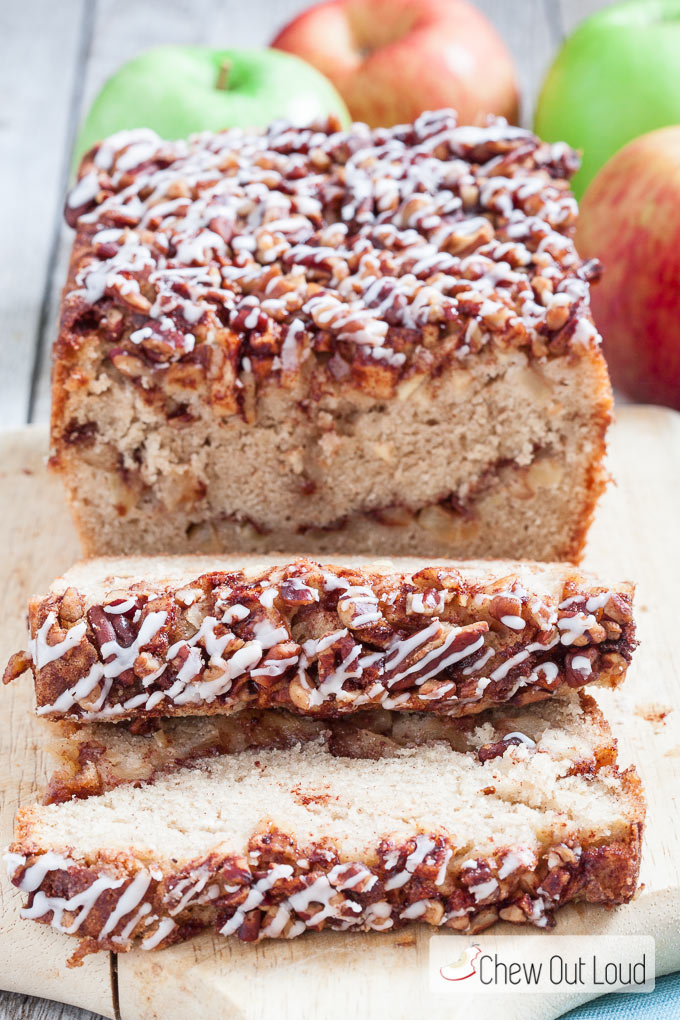 Is anyone else experiencing brain-spin that it's already October?
This is the month of apples + pumpkins galore. All the local orchards are throwing apple parties the first couple weekends of October. There'll be cider tastings, apple picking, hay bale jumping, and corn maze romping.
I searched high and low for a farm that offered Honeycrisp apple picking. We finally found one that still had some fabulously crisp, sweet, scrumptious Honeycrisps.
And this is what happened…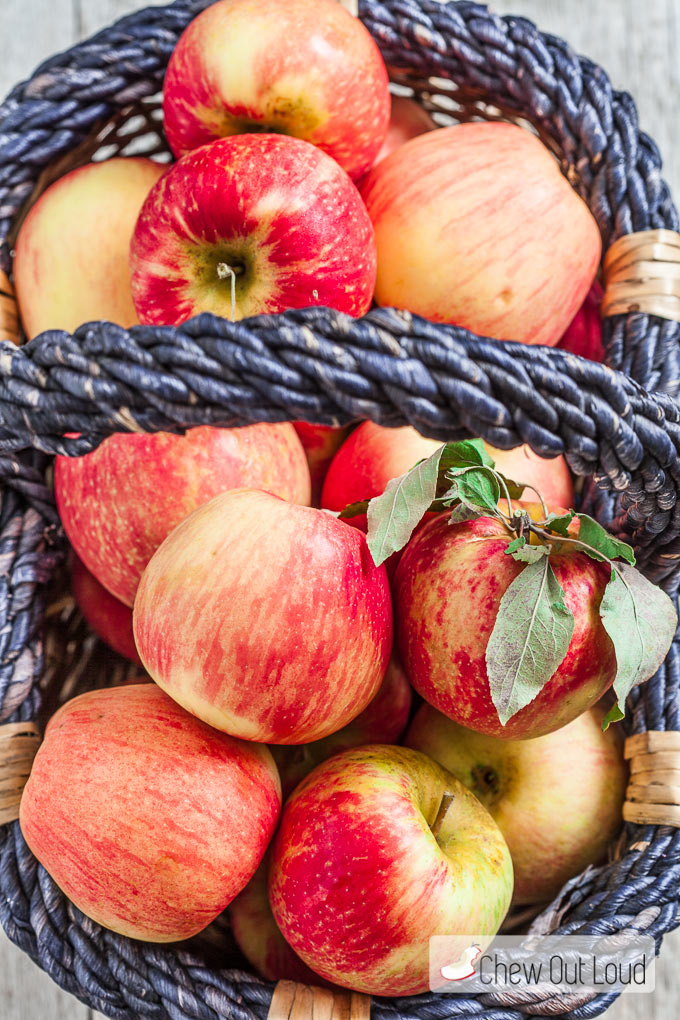 This is just a smidgen of the ridiculous mountain of apples my brood of 5 picked off those trees.
We went crazy and came home with an embarrassing amount of the best apples ever created.
I've never spent so much money on fruit in my life.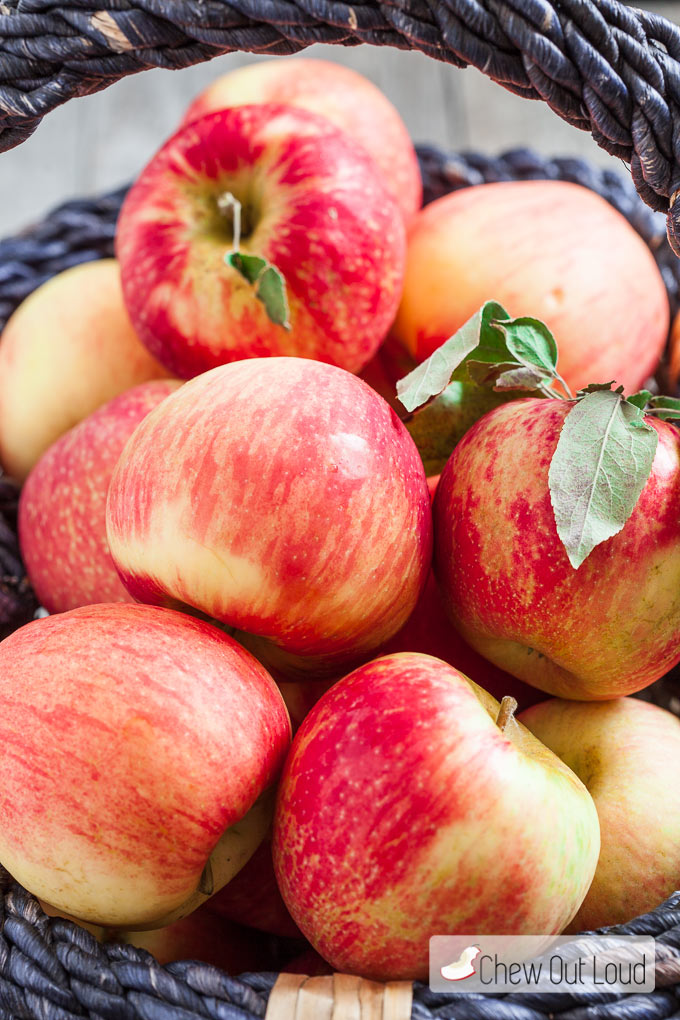 I ended up giving away some of our biggest, reddest, brightest apples. Don't wanna keep a great thing to yourself.
Just like this Moist Apple Fritter Bread.
It's just WAY too good to keep to yourself.
Once I tasted this luscious bread, it was slice-and-share time. Because I could and would eat the entire loaf myself within 24 hours. That would be good and bad.
This Apple Fritter Bread has a super moist, dense, and tender crumb. It's almost pound cake-ish, which can only be good.
Resting in the center of the loaf is a wonderful layer of apples and spice.
Let's just go ahead and have a moment of silence so we can gawk at the topping.
You can absolutely omit the nuts in the topping…but only if you must.
We adore the crunch of pecans mixed with brown sugar and cinnamon.
The topping is buttery, crunchy, sweet, and filled with fall spices.
A little simple glaze over the top = always welcome.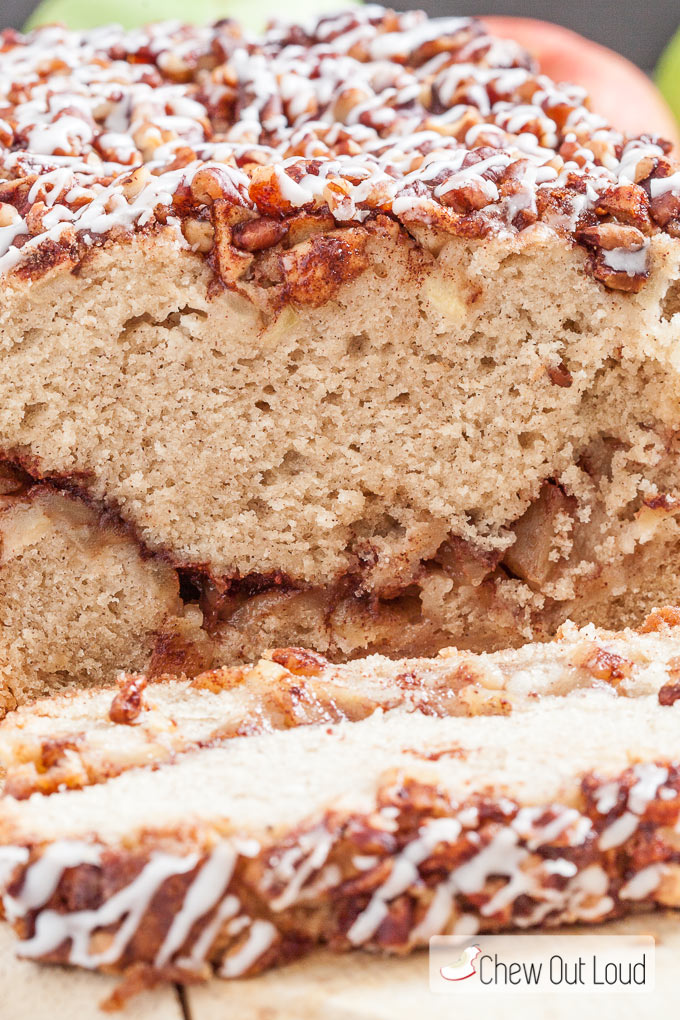 Next time (there's gonna be a next time) I would probably mix the apples into the batter, to get chunks of apples evenly throughout the entire loaf. I'm kind of symmetrical like that.
But I'd definitely keep the layer of brown sugar mix down the middle, because it's just so preetttty.
Breads can be so vain.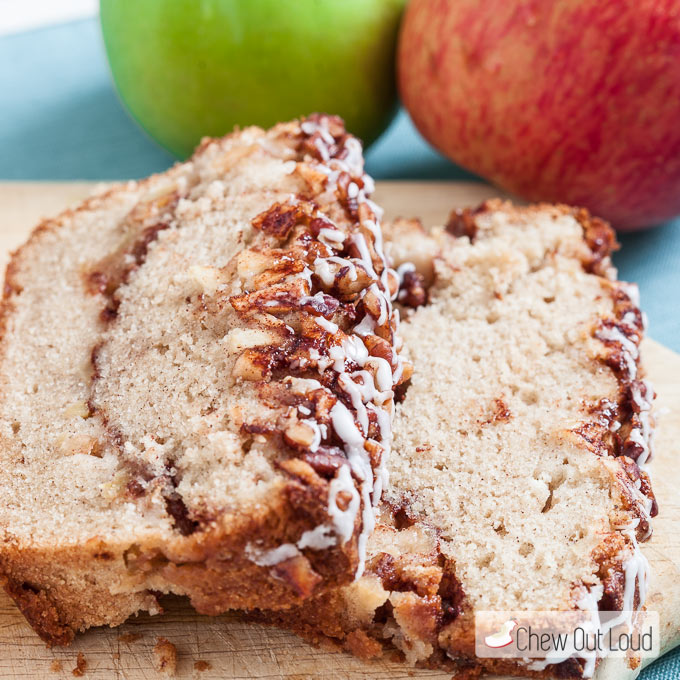 Here's to a season full of apples.
And people to share them with.
Enjoy!
Print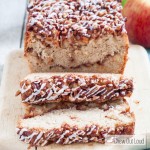 Moist Apple Fritter Bread
This Apple Fritter Bread is spectacularly moist and dense. It's loaded with apples, spices, and topped with a decadent brown sugar-pecan topping! Don't let fall slip away without baking this bread.
Prep Time:

20 mins

Cook Time:

60 mins

Total Time:

1 hour 20 mins
Streusel Topping

1/3 cup

light brown sugar

1/2 cup

chopped pecans or walnuts

2 tsp

ground cinnamon

1/4 tsp

ground nutmeg
Bread

2/3 cup

granulated sugar

1/2 cup

butter, softened to room temp but not melty

2

large eggs

1/2 cup

milk

2

TB canola oil

2 tsp

pure vanilla extract

1 1/2 cups

all purpose flour

2 tsp

baking powder

1 tsp

ground cinnamon

1/2 tsp

ground ginger

1/4 tsp

table salt

3

medium Granny Smith apples, peeled and chopped
Glaze

1/2 cup

powdered sugar

1

TB milk, more or less
Instructions
Make the Streusel Topping by combining all topping ingredients in a bowl; stir to combine well. Set aside.
Preheat oven to 350F with rack on lower middle position. Grease a 9×5 loaf pan. Set aside.
In the bowl of a stand mixer fitted with paddle attachment, beat sugar and butter on medium-high speed until smooth and creamy. Beat eggs in 1 at a time until combined. Beat in milk, oil, and vanilla until incorporated.
In a separate bowl, whisk together the flour, baking powder, cinnamon, ginger, and salt until well combined. Add flour mixture into the butter/egg mixture. Beat on low speed just until combined. Do not over-mix. Use a rubber spatula to scrape down sides and fold batter just until no flour streaks remain.
Pour half of the batter into greased loaf pan. Add half of the apples in an even layer and press down on them so they "stick" to batter. Sprinkle half of the Streusel Topping over apples. Pour remaining batter evenly on top. Press in the remaining apples, followed by the remaining Streusel Topping.
Bake 60-70 minutes or just until a toothpick inserted in center of loaf comes out with a few tender crumbs attached. Cool loaf in pan completely before removing from pan.
While loaf is cooling, make the glaze. Mix powdered sugar and milk together until it is a drizzle consistency. Add a bit more milk if needed to thin it; add a bit more powdered sugar to thicken. Drizzle glaze over cooled bread.
Author:
Category:

breakfast, brunch
Source: Chew Out Loud, inspired by The Baking ChocolaTess
Here are some fall breads that are must-bakes this time of year!
Best Pumpkin Spice Bread – loaf after loaf, this one is the best one we've ever eaten.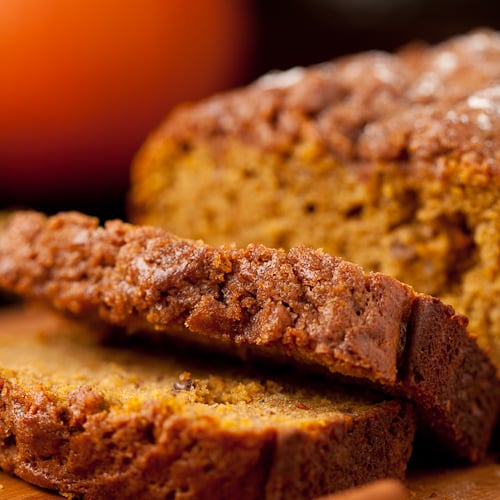 2. Honey Pear Bread. Just as good, if not even better, than apples in bread. Try it and see for yourself.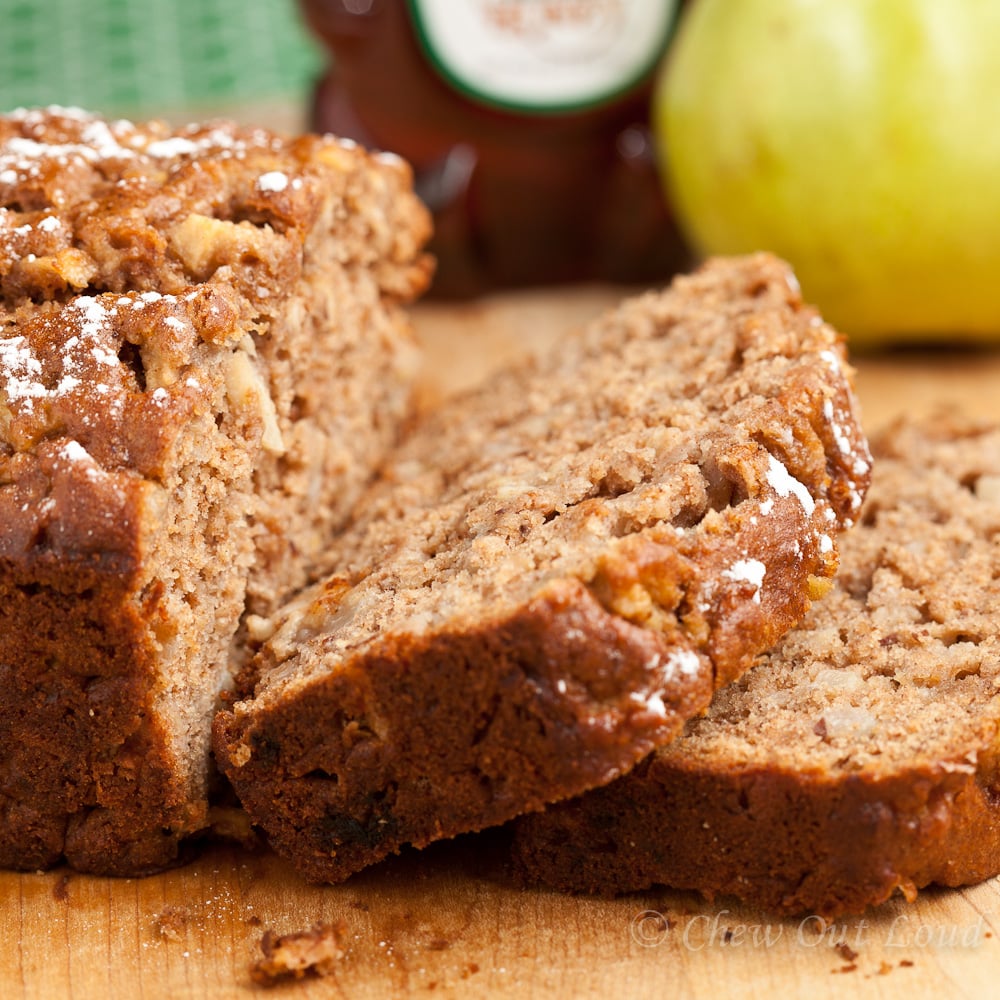 3. Sweet Potato Bread. Use up leftover sweet potatoes in this deliciously moist and dense bread.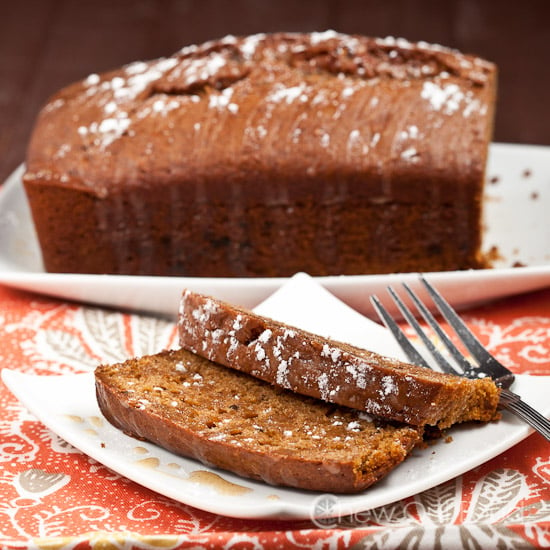 4. Moist, Buttery Poppyseed Bread. This one disappears in a flash every time it's brought anywhere.