Apple Fritter Bread
There's nothing quite like the smell of fresh apple fritter bread baking in the oven on a chilly autumn morning. This beautiful apple bread with streusel is begging for you to enjoy a slice. The crispy sugary streusel topping contrasts beautifully with the moist apple bread beneath.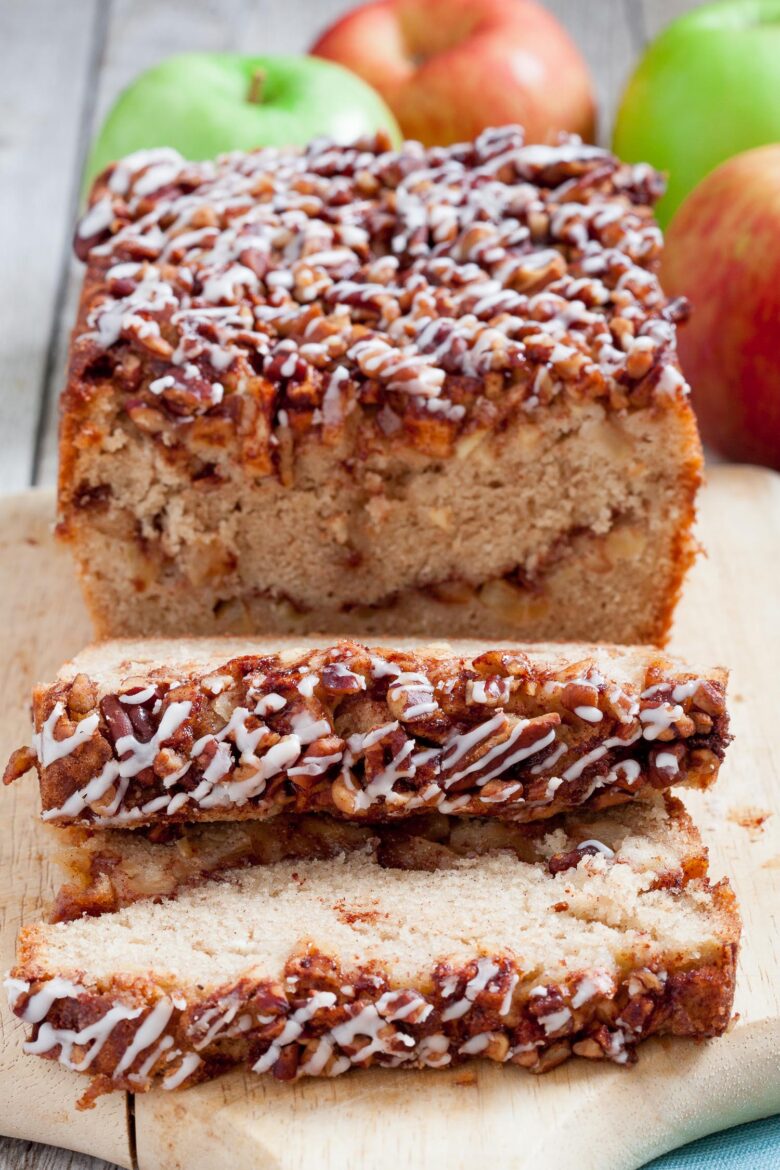 What Is Apple Fritter Bread?
As a delicious fall recipe, this quick apple bread is a cross between a coffee cake and an apple pie. There is a cinnamon sugar and butter streusel layer on top of the bread, and it is baked with chopped apples inside.
The streusel topping is made with warm apple spices, brown sugar, and chopped pecans to give this apple bread a nice bite.
What You'll Love about Apple Bread
This bread uses fall-favorite ingredients and spices that everyone loves this time of year.
It's easy to freeze the bread so that it lasts longer. It will stay fresh in the freezer for up to six months.
It makes a thoughtful hostess gift or housewarming gift.
The streusel topping contrasts beautifully with the moist apple bread underneath.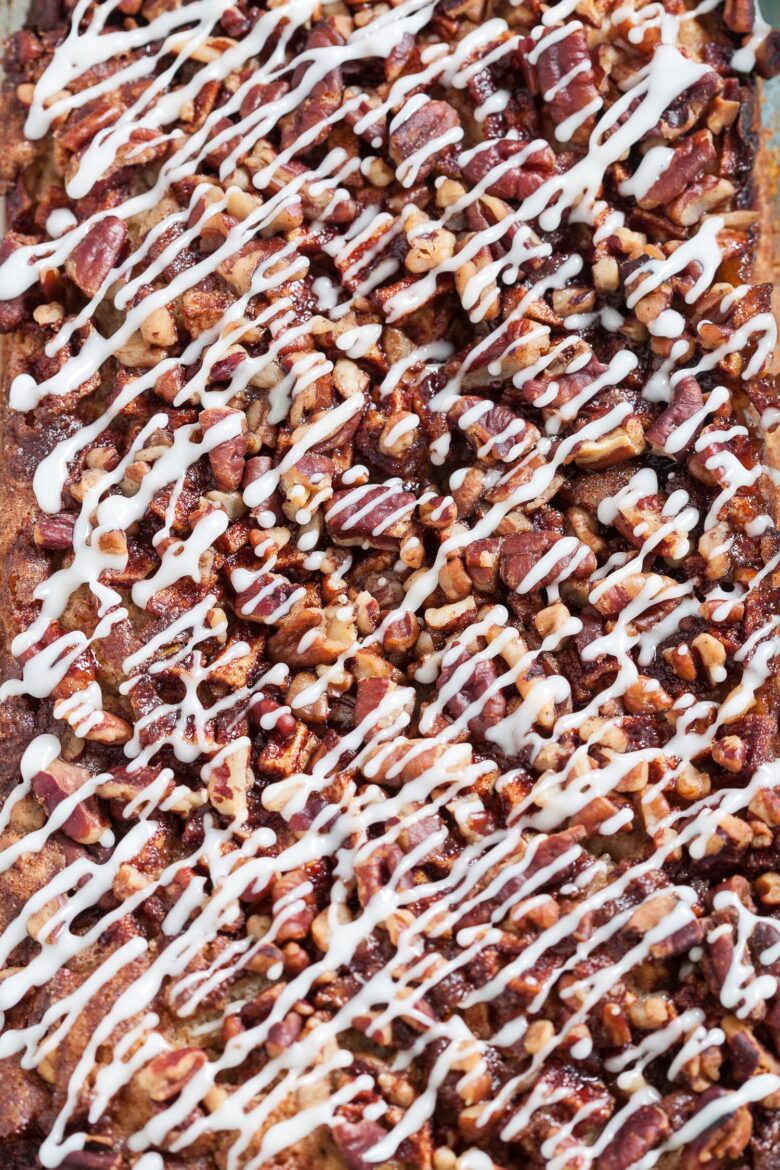 The Best Apples For Baking
The most important thing to remember when you bake with apples is this: always bake with tart varieties. If you use sugary-sweet apples, you won't be able to control the level of sweetness, and the result could be something that makes your eyes pucker from all the sugar overload.
For this apple bread, it's best to use a mixture of both Granny Smith and Honeycrisp apples.
Granny Smith apples are green and quite tart. They are the apples that are most commonly used in apple pie. Honeycrisp apples have splotchy red skin and are well-balanced with sweet and tart flavors .
Tip: If you have any leftover apples from this recipe, consider using them in another recipe like this Apple Texas French Toast Bake or this Apple Cinnamon Caramel Cake!
Key Ingredients For Apple Fritter Loaf Bread
Though amounts can vary a bit depending on taste, the basic ingredients are items you may already have in your pantry and fridge. Here they are:
Streusel Topping
Brown Sugar: this gives the topping a warm molasses flavor.
Chopped Pecans: use toasted pecans (or walnuts) for some extra crunch to the streusel topping.
Ground Cinnamon and Nutmeg: these two spices are key for giving this streusel bread its warm autumn flavor. Be sure to use very fresh ground cinnamon and nutmeg for the best flavor.
Unlike many streusels, butter and flour are not needed here.
Apple Bread
Granulated Sugar: sweetens the bread without overpowering it with rich flavors.
Butter: be sure to soften the butter first to make it easier to mix.
Eggs: a wonderful emulsifier, it holds all the ingredients together.
Milk: use any kind of milk you want, just make sure it is plain and unsweetened.
Canola Oil: use your favorite baking fat that has a mild flavor.
Vanilla Extract: this ingredient is optional, but it enhances the flavor of the apples.
All-Purpose Flour: this is the most commonly-used flour as the base of this bread recipe.
Baking Powder: helps creates airy bubbles in the bread and prevents it from being too dense.
Cinnamon: tastes like a blend of sweet and spicy.
Ginger: gives the bread a bit of a bite and cuts through some of the sweetness.
Salt: balances the sweetness of the apple bread.
Apples: use a combination of Honeycrisp and Granny Smith apples for the best flavors.
Glaze:
Powdered Sugar: this is the base of the glaze.
Milk: use your favorite type of milk, as long as it is unflavored and unsweetened.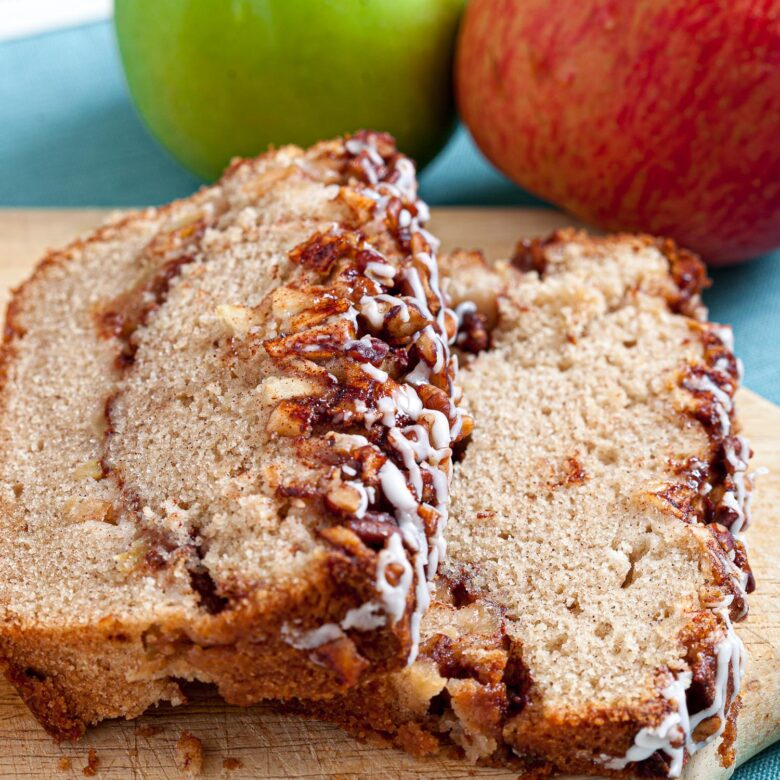 Pro Tips On Making Apple Bread
Butter the loaf pan or line it with parchment paper for super easy bread removal.
Be careful not to over-mix the bread batter when you add the dry ingredients to the wet. If you mix it too much, you might create a dense cake without much lift or airiness.
Allow the loaf pan to cool completely before you try to remove the apple bread. It is a tender bread that needs time to fully cool and set for easy removal.
Drizzle glaze over the cooled bread. If the bread is still hot, it will melt the glaze.
Apple Fritter Bread Commonly Asked Questions
What is streusel topping made of?
Streusel toppings vary quite a bit and usually include a mixture of flour, butter, and sugar. For our Apple Fritter Bread, the topping needs no butter (you'll use a simple glaze over the cinnamon-sugar mixture.) Instead of flour, we added our favorite nuts. We found that the nutty flavors taste exquisite with the apples.
What kind of apples are good for bread?
The ideal apples to use for bread are granny smith apples, as they have a balance of tartness and sweetness. They also resist breaking down during the baking process.
How do you freeze this bread?
To freeze this quick bread, let it cool completely. Then, wrap it tightly in plastic food wrap and aluminum foil. Store it in the freezer for up to six months.
How do you keep apple bread from turning out dry?
The key to ensuring your quick breads bake up tender and moist is to measure your dry ingredients carefully; avoid tapping down your measuring cup. Always use a gentle "scoop and level" method when measuring flours.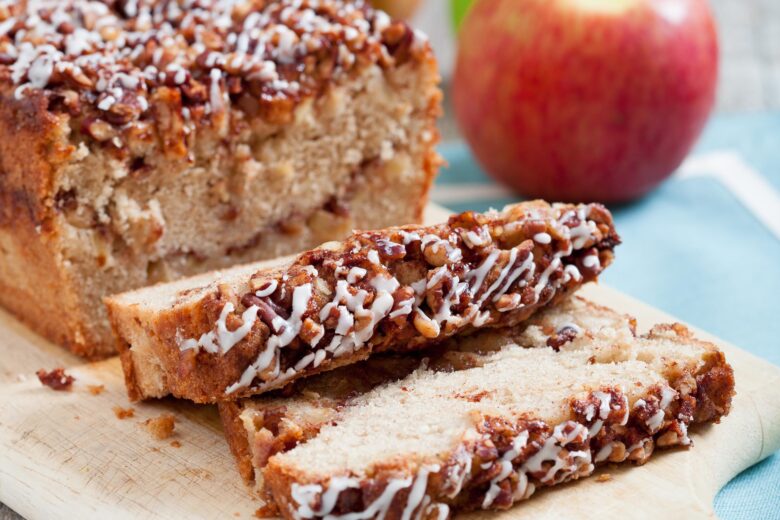 More To Bake And Eat
---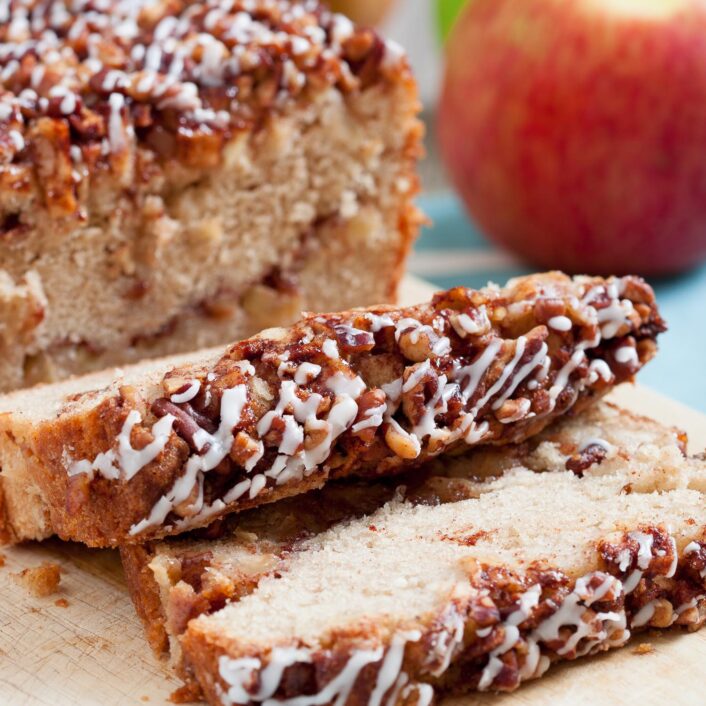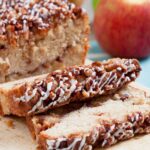 Apple Fritter Bread
There's nothing quite like the smell of fresh apple fritter bread baking in the oven on a chilly autumn morning. This beautiful apple bread with streusel is begging for you to enjoy a slice. The crispy sugary streusel topping contrasts beautifully with the moist apple bread beneath.
Ingredients
Glaze
½

cup

powdered sugar

1

TB

milk

,

more or less
Instructions
Make the streusel topping by combining all topping ingredients in a bowl; stir to combine well. Set aside.

Preheat oven to 350F with rack on lower middle position. Grease a 9×5 loaf pan. Set aside.

In the bowl of a stand mixer fitted with paddle attachment, beat sugar and butter on medium-high speed until smooth and creamy. Beat eggs in 1 at a time until combined. Beat in milk, oil, and vanilla until incorporated.

In a separate bowl, whisk together the flour, baking powder, cinnamon, ginger, and salt until well combined. Add flour mixture into the butter/egg mixture. Beat on low speed just until combined. Do not over-mix. Use a rubber spatula to scrape down sides and fold batter just until no flour streaks remain.

Pour half of the batter into greased loaf pan. Add half of the apples in an even layer and press down on them so they "stick" to batter. Sprinkle half of the Streusel Topping over apples. Pour remaining batter evenly on top. Press in the remaining apples, followed by the remaining Streusel Topping.

Bake 60-70 minutes or just until a toothpick inserted in center of loaf comes out with a few tender crumbs attached. Cool loaf in pan completely before removing from pan.

While loaf is cooling, make the glaze. Mix powdered sugar and milk together until it is a drizzle consistency. Add a bit more milk if needed to thin it; add a bit more powdered sugar to thicken. Drizzle glaze over cooled bread.
Notes
If you enjoyed this recipe, please come back and give it a rating ♡
Nutrition
Serving:
1
slice
|
Calories:
325
kcal
|
Carbohydrates:
52
g
|
Protein:
3
g
|
Fat:
17
g
|
Saturated Fat:
8
g
|
Polyunsaturated Fat:
2
g
|
Monounsaturated Fat:
6
g
|
Trans Fat:
0.5
g
|
Cholesterol:
33
mg
|
Sodium:
207
mg
|
Potassium:
48
mg
|
Fiber:
3
g
|
Sugar:
27
g
|
Vitamin A:
385
IU
|
Vitamin C:
0.03
mg
|
Calcium:
114
mg
|
Iron:
1
mg
Did you make this?
Leave a comment below and tag @chewoutloud on Instagram