Apple Texas French Toast Bake
French toast is always a winner, but how about one that's baked with thick Texas Toast bread? Then combine it with chunks of apples and pure apple butter? Out of this world deliciousness.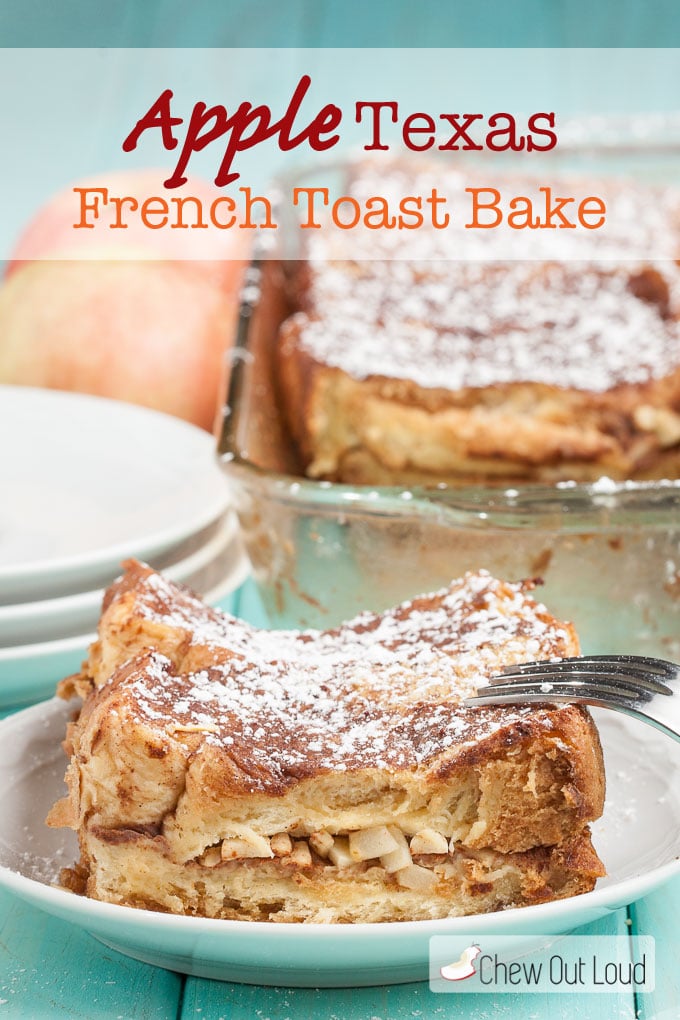 Is it possible to take an already very good thing and make it even better?
When it comes to food, it's a resounding yes.
Case in point: This pin-popular Texas French Toast Bake we shared 2 years ago. Since then, eaters have declared it a stalwart standout. It will always remain one of my favorite crowd-friendly French toast casseroles.
But it's fall and our kitchen is teeming with apples. So we made it our toasty mission to apple-fy our breakfast…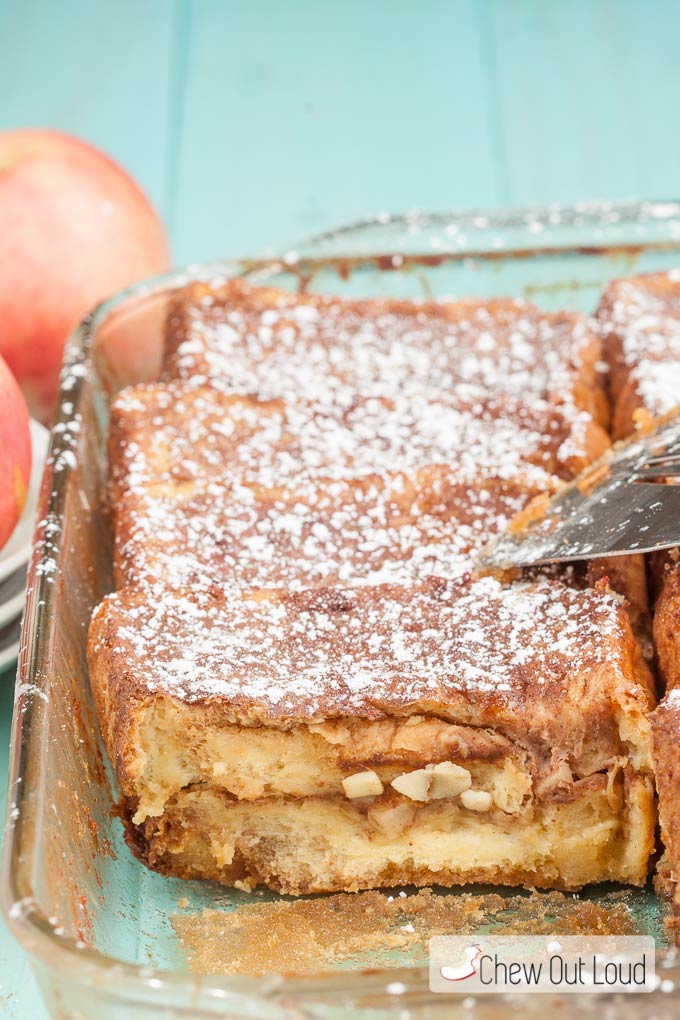 Brilliant, golden deliciousness has arrived.
Half the milk is replaced with pure apple butter. The apple butter provides a fantastic apple depth to the flavor.
Each bite rewards you with chopped apple pieces, cooked to tender perfection.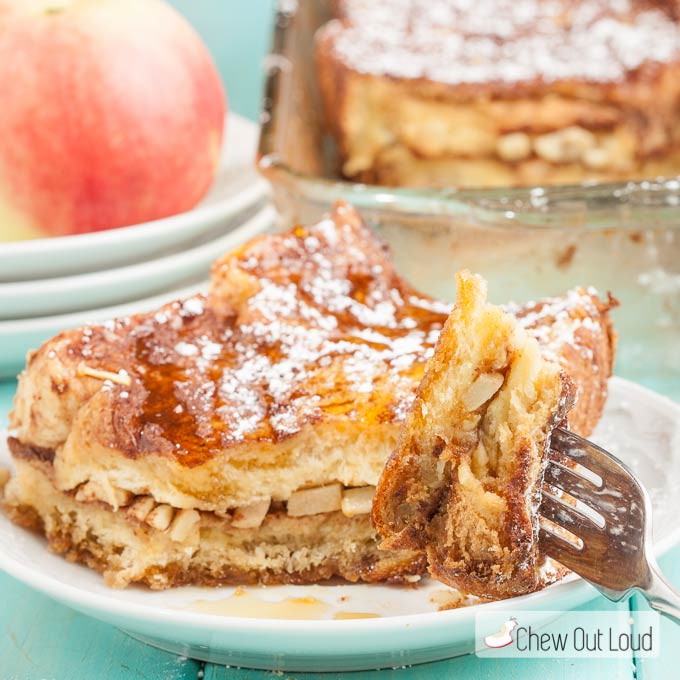 Said apples are hugged on top and bottom by layers of soft and tender Texas Toast bread.
Here would be a good place to note: Use only fresh loaves of Texas Toast bread, located in the bread aisle of major grocery stores. Here's a pic of the specific bread I used. Do not try to sub with regular bread or other kinds of bread.
[Of course, any kind of frozen bread = no.]
Results cannot be guaranteed unless a loaf of fresh, thick Texas Toast Bread is used.
Done with the bread chalk talk. 🙂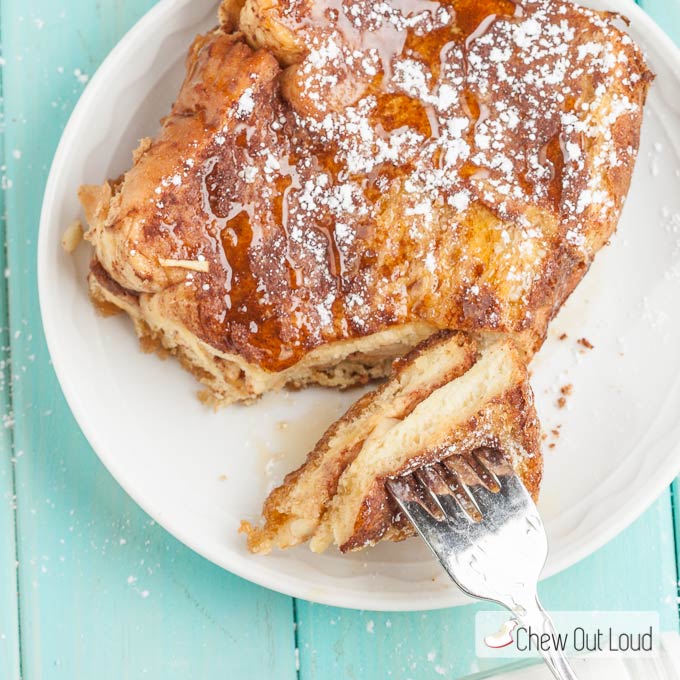 Cinnamon and brown sugar are laced into this Apple Texas French Toast Bake, giving it just the right amount of sweetness mixed with the smell of fall spices.
Real maple syrup and powdered sugar are perfect toppings. Optional for some, maybe. A requirement for others.
We never say no to maple syrup around here.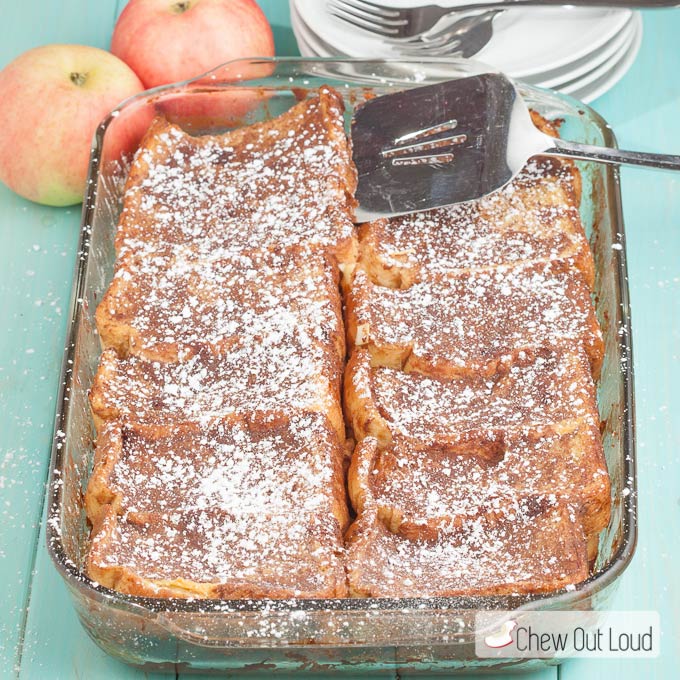 As always, the crowning glory of such recipes as these is that they can be prepared the night before.
I really said that. Prepared the night before. No waking up early to assemble anything.
In fact, it's essential for the thick Texas Toast bread to sit in the delicious custard all night. It helps the bread to soak up all the goodness.
So go ahead — sleep in, pop this casserole into the oven when you wake up, and relish your morning.
Did you make this?
Please give us a rating and comment below. We love hearing from you!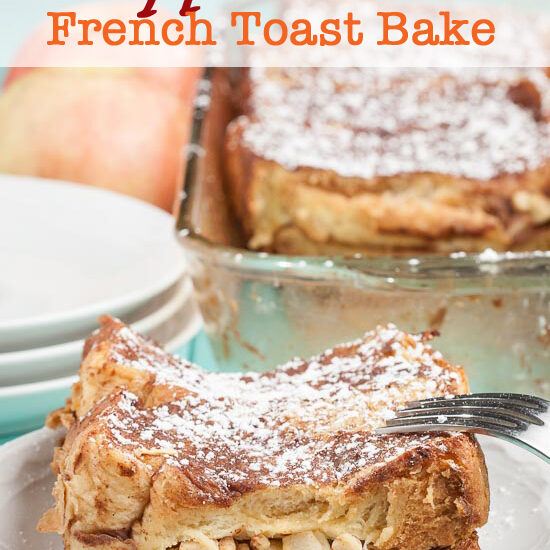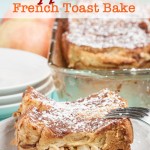 Apple Texas French Toast Bake
This Apple Texas French Toast Bake is the quintessential fall treat! Infused with cinnamon, apple butter, and chunks of apples, it will be the hit of any brunch gathering. Prep the night before and allow it time to chill overnight. Be sure to use an entire fresh loaf of Texas Toast Bread, found in most grocer's bread aisles.
Ingredients
½

cup

melted salted butter

1

cup

packed light brown sugar

1

loaf

Texas Toast bread

,

approx 1 lb., 12 oz fresh, (not frozen. Don't use other breads.)

4

large

eggs

¾

cup

whole milk

¾

cup

apple butter

1

tsp

vanilla extract

2

granny smith apples

,

peeled and diced

2

TB

light brown sugar,

mixed with 3 tsp cinnamon

Powdered sugar for sprinkling

Maple syrup for serving
Instructions
In a bowl, combine melted butter and brown sugar and stir until well combined. Grease a 9x13 pan on bottom and sides. Pour butter mixture into the pan, spreading mixture evenly.

In a bowl, beat together eggs, milk, apple butter, and vanilla until incorporated. Set aside.

Layer a single layer of Texas toast bread in the pan, cutting pieces to fit as needed. Slowly and evenly distribute 1 cup of the egg mixture over the bread, spreading with a rubber spatula to ensure even soaking. Sprinkle with half of the brown sugar/cinnamon mixture evenly. Distribute diced apples evenly over the top. Repeat with second layer of bread, egg mixture (take care to spread evenly onto every piece of bread) and remaining brown sugar/cinnamon mixture. Cover tightly and chill overnight in fridge.

Preheat oven to 350F with rack on lower middle position. Bake covered for 30 minutes. Uncover and bake another 10-15 minutes or until golden brown. Let sit at room temp for 10 minutes or so. When serving, be sure to scrape up all the bottom's sticky goodness along with each slice of French toast. Serve with powdered sugar and maple syrup while warm.
Nutrition (per serving)
Calories:
454
kcal
|
Carbohydrates:
72
g
|
Protein:
10
g
|
Fat:
14
g
|
Saturated Fat:
7
g
|
Polyunsaturated Fat:
2
g
|
Monounsaturated Fat:
4
g
|
Trans Fat:
0.4
g
|
Cholesterol:
101
mg
|
Sodium:
443
mg
|
Potassium:
229
mg
|
Fiber:
3
g
|
Sugar:
40
g
|
Vitamin A:
446
IU
|
Vitamin C:
2
mg
|
Calcium:
205
mg
|
Iron:
3
mg
Source: Chew Out Loud
Here are some fabulicious breakfast bakes that can be prepped the night before, for a simply delicious morning!
The Original Texas French Toast Bake. Nobody doesn't like this one.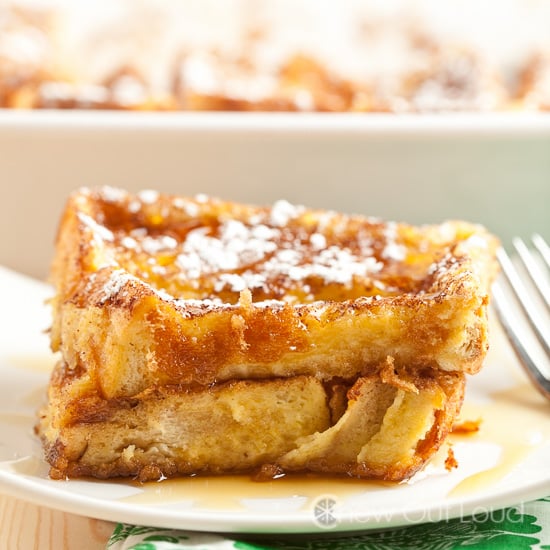 French Toast Casserole, with a crispy-luscious-drool-inducing streusel. Bring this to your next brunch gathering. Seriously.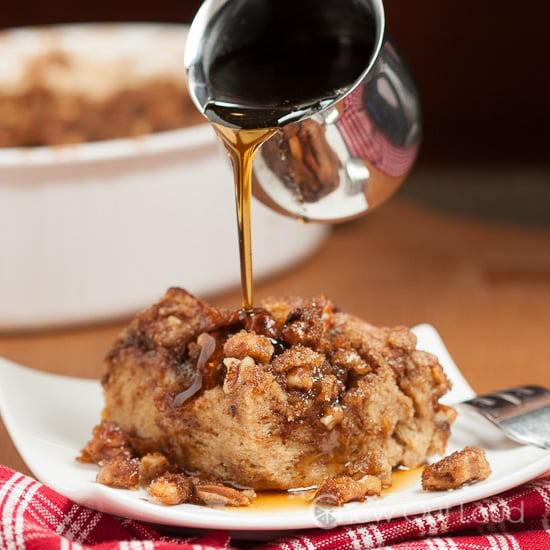 Mexican Enchilada Breakfast Bake. This one has been requested by friends every time I bring it somewhere. In fact, it keeps reappearing at brunch gatherings, no longer made by me 🙂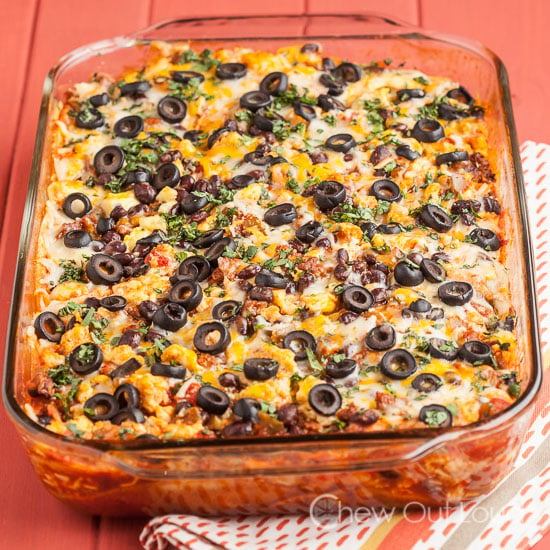 Cheesy Potato Breakfast Bake. Yes. Yes. And yes. One bite and they'll be after the recipe.