Perfect Oatmeal Cookies
Made with simple ingredients and even better than your favorite bakery's recipe, these oatmeal cookies are thick, chewy, and easy to bake for a delicious, crowd-pleasing treat!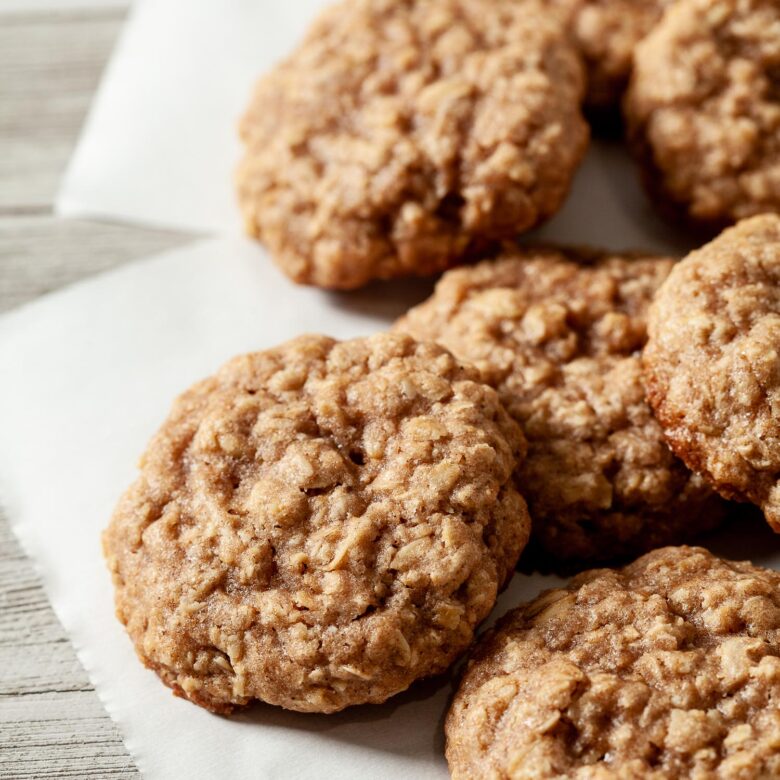 Video: Watch Us Make This recipe
Why These are the Perfect Oatmeal Cookies
Crispy around the edges, soft and chewy in the center, and full of sweet flavor, they're utterly irresistible.
Just 10 ingredients are all you need to make this oatmeal cookie recipe.
They're fully baked and ready to eat in less than 30 minutes.
One batch makes 24 cookies, meaning this recipe is great for parties, holiday gifting, bake sales, and everything in between.
Once baked, leftover cookies keep well, and the dough is easy to freeze.
Key Ingredients
One of the great things about these oatmeal cookies is that they utilize basic ingredients you're likely to have on hand. As a result, this is a great recipe to keep in your back pocket for those times when you need dessert in a pinch. Here are the primary ingredients you'll need:
All-purpose flour – This forms the base of the cookies, helping them hold their shape. If desired, feel free to swap out half of the regular all-purpose flour for a whole wheat variety for a boost of extra fiber.
Spices – Cinnamon and nutmeg provide a subtle warm flavor that balances out the sweetness of the sugar.
Unsalted butter – Used to add moisture and richness.
Sugar – A combination of granulated and brown sugars is used to sweeten the dough, providing a caramel-like flavor and keeping it soft and moist.
Eggs – Room temperature eggs bind the batter together.
Old-fashioned rolled oats – Unlike other varieties of oats, rolled oats are hearty, toothsome, and bake wonderfully, adding extra texture to these oatmeal cookies.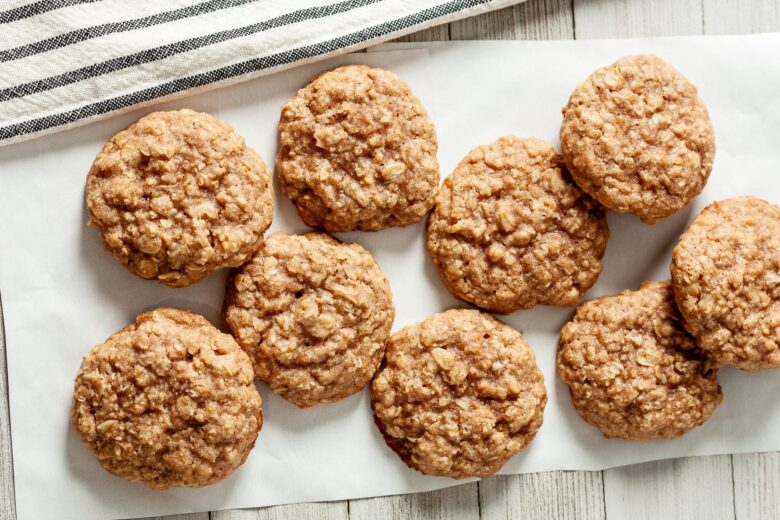 Flavor Variations
We love the simplicity of these easy oatmeal cookies, but feel free to mix and match different ingredients to make the flavor your own. For instance, common add-ins include:
Baking Tips for Easy Oatmeal Cookies
Follow the tips below, and these easy oatmeal cookies are a breeze to make. The only hard part is waiting for them to cool before digging in!
Use Room Temperature Ingredients. Let your ingredients sit out and come to room temperature before combining them together. This allows for easy mixing, creating cookies that are soft and moist.
Measure Carefully. When it comes to baking, using proper measurements is crucial. For the best results, we recommend using a scale to portion out all of the ingredients. If this is not an option, use the spoon and level method instead, and make sure to pack your brown sugar tightly.
Beat Carefully. Take your time beating the butter and sugars together until they're light and fluffy. It will require at least 2-3 minutes of beating but is essential to create the best texture.
Avoid Overmixing. Be sure to mix the ingredients just until they are well combined. Continuing to mix will overwork the dough, resulting in tense, tough oatmeal cookies.
Don't Overbake. Keep a close eye on your oven, and remove the cookies as soon as the edges are browned and set. The centers may still look a little underdone, but they will continue to bake and firm up as they cool.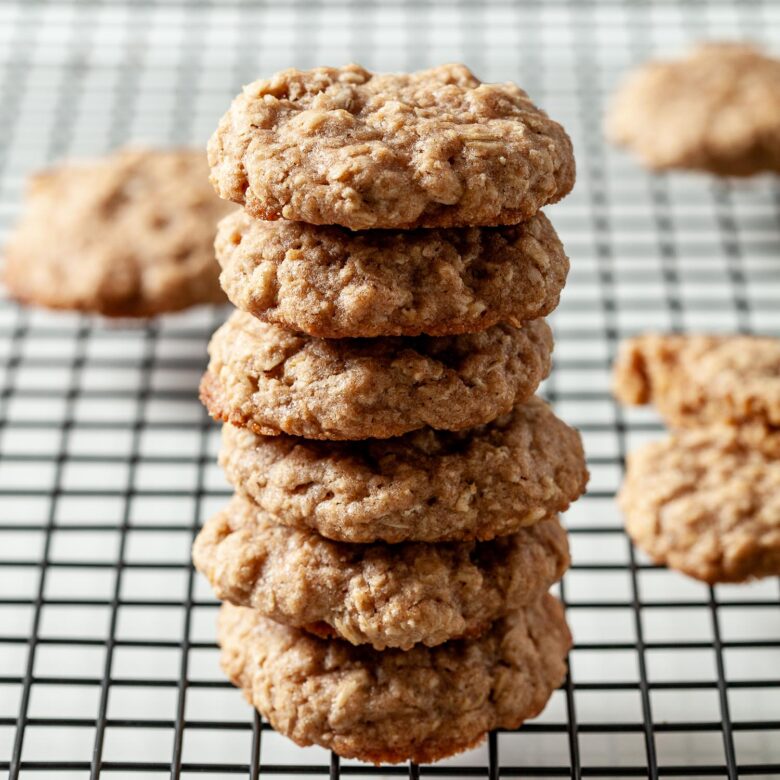 How to Store Oatmeal Cookies
Once baked, these easy oatmeal cookies keep well. Or, you can easily store the dough to make later. As a result, they're great to prepare in bulk for a satisfying treat! Follow the tips below to keep them fresh.
Room Temperature: Once baked and fully cooled, these oatmeal cookies can be transferred to an airtight container or sealable bag and stored at room temperature for up to 1 week.
Refrigerator: If you want to prepare in advance, you can form the dough, transfer it to a sealable container, and keep it in the fridge for up to 4 days before baking this oatmeal cookie recipe.
Freezer: Both the baked cookies and the dough can be frozen and saved for later. Once assembled, the dough should be wrapped tightly and frozen for up to 3 months. Meanwhile, fully baked cookies can be stored in an airtight container in the freezer for up to 2 months. Then, thaw them in the fridge. Or, cook the dough from frozen, adding a minute or two of baking time as needed to ensure the oatmeal cookies bake all the way through.
Common Questions
Can I use a hand mixer for this oatmeal cookie recipe?
Yes. We recommend using a hand mixer to combine the wet ingredients. Then, use a rubber spatula to gently fold in the oats to avoid overmixing the dough.
Is this recipe for oatmeal cookies gluten-free?
No. All-purpose flour contains gluten. However, feel free to swap it out with a 1:1 all-purpose gluten-free flour alternative, and make sure to use oats that are certified gluten-free, if needed.
What causes oatmeal cookies to turn out crispy?
If your oatmeal cookie recipe turns out hard or tough, it's likely either because the batter was over-mixed or the cookies were over-baked. Be sure to combine the ingredients just until they're smooth. Then, keep a close eye on your cookies, and remove them from the oven when the edges are puffy and golden brown and the center still looks just slightly underdone.
Can I make oatmeal cookie dough ahead of time?
Yes, the cookie dough keeps well when wrapped airtight in the fridge. You can make the dough up to a week ahead of time. You may need to let it sit at room temperature for 5-10 minutes prior to using, if chilled dough is too firm to work with.
Can I freeze oatmeal cookies?
These oatmeal cookies freeze beautifully. Wrap them airtight and keep them in the freezer for 1-2 months. Cookie dough freezes well also.
What add-ins can I use for oatmeal cookies?
Though we love these oatmeal cookies just as they are, they're also delicious with dark chocolate chips, milk chocolate chips, or white chocolate chips. You can add raisins or dried cranberries as well.
---
More to Bake and Eat
Chewy Pumpkin Oatmeal Cookies – Ultra chewy, never cakey, and easy to make, these cookies are guaranteed to become your new favorite dessert.
Peanut Butter Oatmeal Cookies – Made with 6 simple ingredients and full of nutty flavor, these cookies are gluten-free and dairy-free to fit a variety of dietary needs.
Monster Cookies – A childhood favorite, these Monster cookies are bursting with sweet flavor and crunchy, chewy texture in every bite.
Chewy Oatmeal Chocolate Chip Cookies – Why choose between regular chocolate chip and classic oatmeal cookies when you can have both thanks to this recipe?
Oatmeal Butterscotch Cookies – Made with sugar, spice, and everything nice, one bite of these treats, and they're guaranteed to become a new favorite for your entire family.
---
---
Did you make this?
Please give us a rating and comment below. We love hearing from you!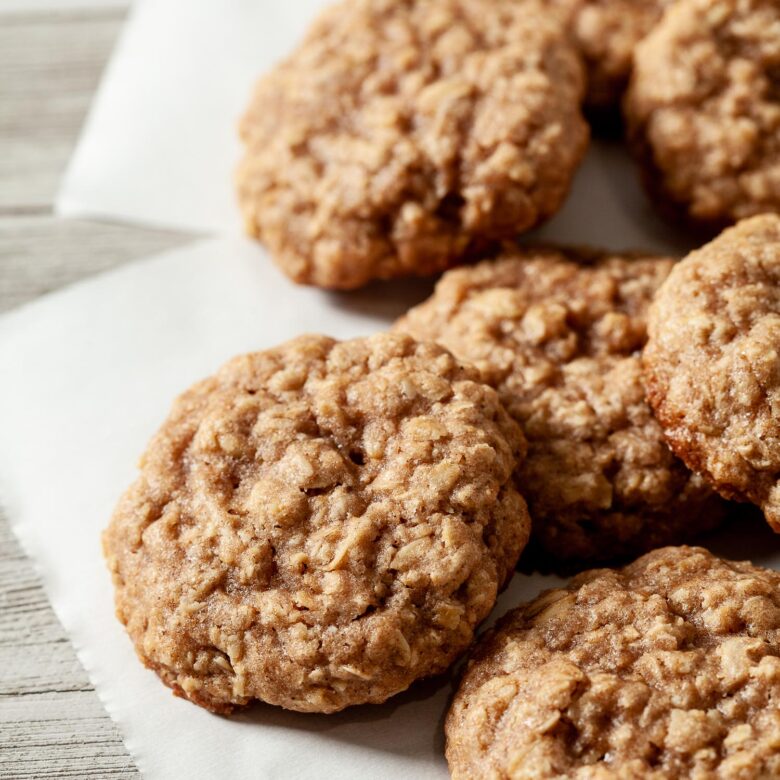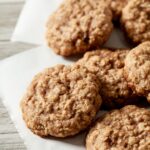 Perfect Oatmeal Cookies
Made with simple ingredients and even better than your favorite bakery's recipe, these oatmeal cookies are thick, chewy, and easy to bake for a delicious, crowd-pleasing treat!
Instructions
Preheat oven to 350F with rack on lower middle position. Line baking sheets with parchment and set aside.

In a bowl, whisk flour, salt, baking powder, cinnamon, and nutmeg to fully incorporate.

In the bowl of a stand mixer fitted with paddle attachment set to medium speed, beat together the butter and both sugars until light and fluffy, a full 3 minutes.

Add eggs one at a time and mix until combined. Reduce speed to low and add dry ingredients, beating just until combined; don't over-mix here. Gently mix in the oats just until combined.

Roll dough into 2 TB sized balls and place 2 inches apart on lined baking sheets. Gently flatten each ball into a disk shape. Bake 13-15 minutes or just until edges are golden. Cookies will seem a bit under, but they will set upon cooling.
Notes
If you enjoyed these cookies, please come back and give them a rating ♡
Nutrition (per serving)
Calories:
200
kcal
|
Carbohydrates:
32
g
|
Protein:
5
g
|
Fat:
7
g
|
Saturated Fat:
1
g
|
Polyunsaturated Fat:
2
g
|
Monounsaturated Fat:
3
g
|
Trans Fat:
0.001
g
|
Cholesterol:
14
mg
|
Sodium:
68
mg
|
Potassium:
115
mg
|
Fiber:
2
g
|
Sugar:
19
g
|
Vitamin A:
20
IU
|
Vitamin C:
0.01
mg
|
Calcium:
32
mg
|
Iron:
1
mg