Chewy Oatmeal Chocolate Chip Cookies
By Amy Dong
Published Jan. 27, 2013
Updated Jul. 18, 2023
We're in the final days of Back-to-Healthy month (aka January), and we are still quite oatmeal-happy here in our kitchen.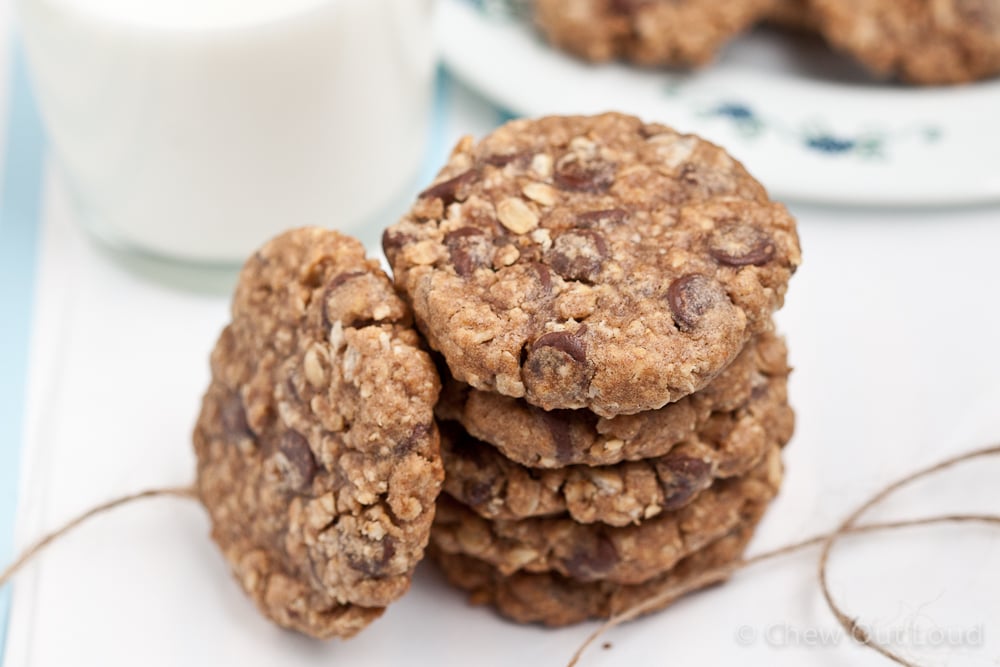 My new year's non-resolution (no official resolutions here) was to eat a lot more oatmeal, a lot more often this year. I haven't exactly kept up with my one-bowl-a-day ambition, but healthful oats are finding their way into my everyday baking.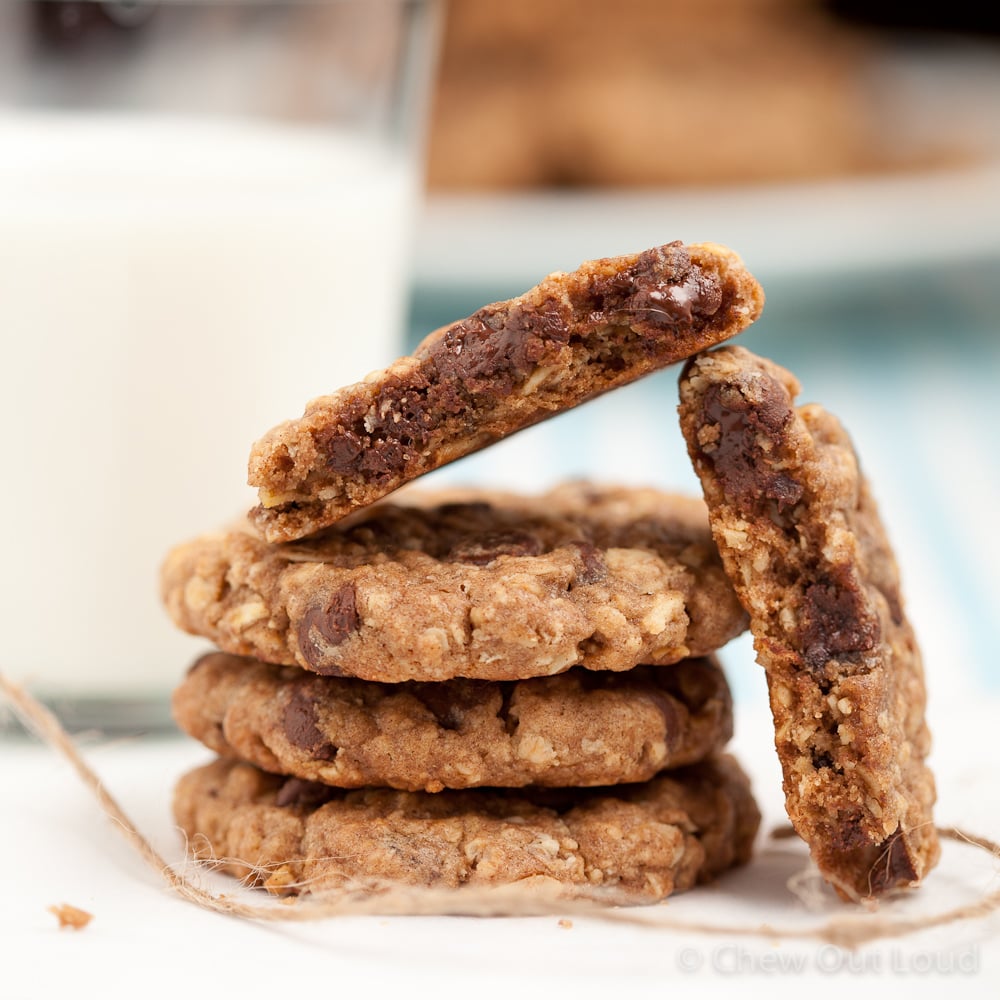 True, true… these are cookies. Cookies with chocolate, at that. But, hey… they are also laden with robust old-fashioned oats. Not the quick-cooking oats, but the good ol' old-fashioned oats. Heartier, chewier, and bigger oat-y taste senstation is the result.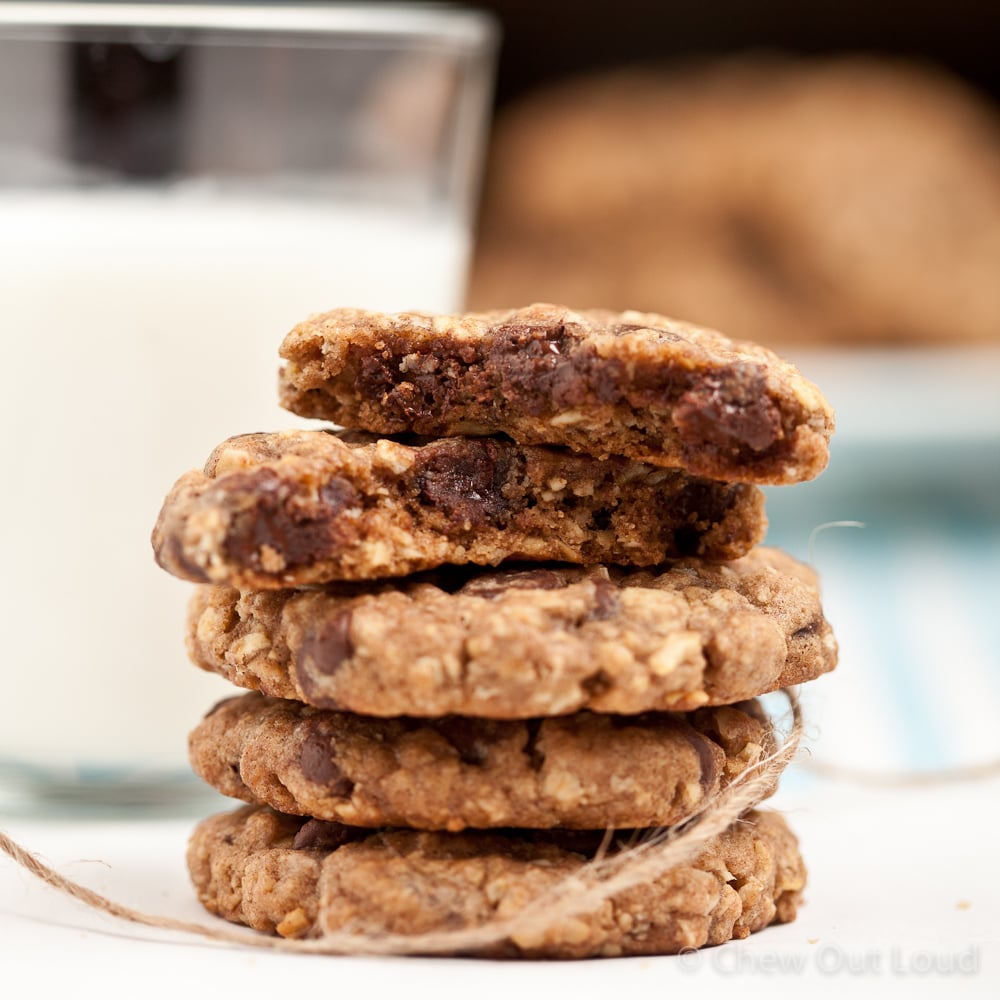 These are unbelievably scrumptious oatmeal cookies! For one, they taste like chocolate. Like a rich chocolate chip cookie with texture…soft in the center and lightly crisp at the edges. For another, the use of old-fashioned oats give these cookies a satisfying chewiness that you can sink your happy sweet tooth into.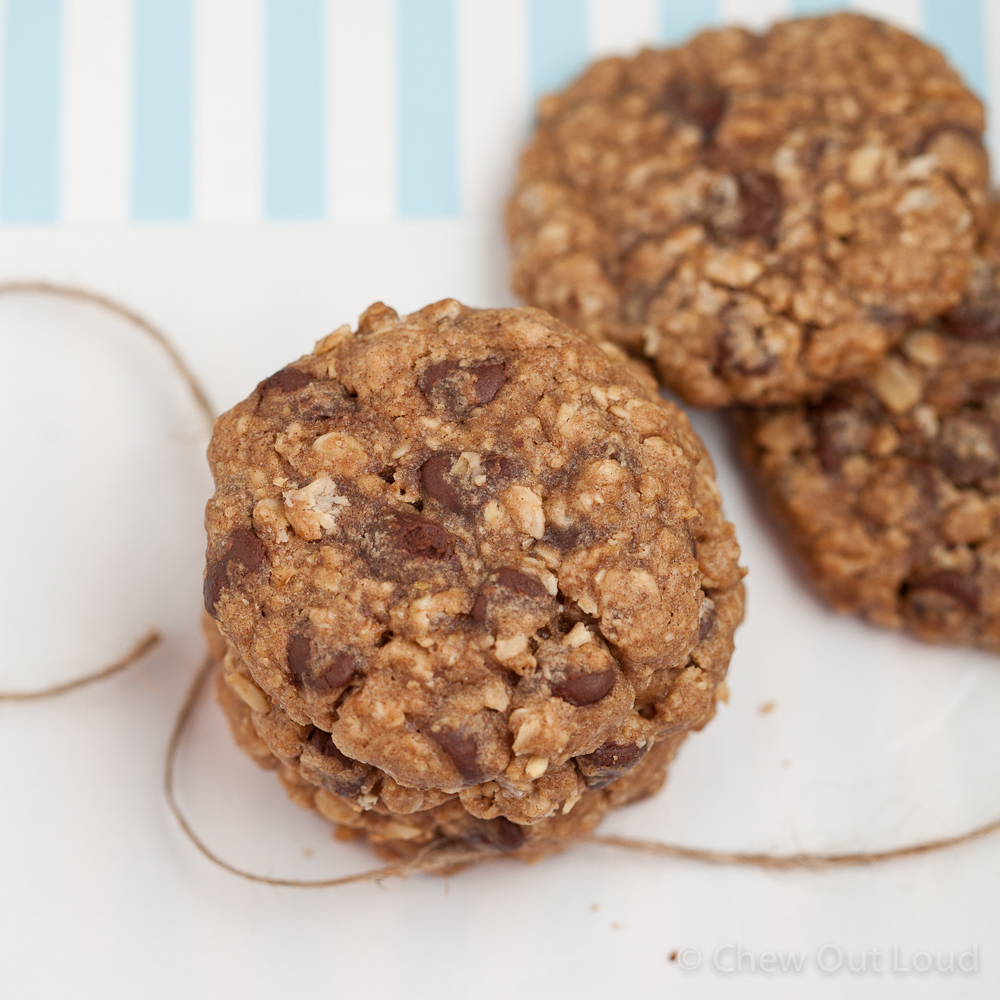 Chewy Oatmeal Chocolate Cookies boast a perfect balance of sweetness with a bit of saltiness, loads of semi-sweet chocolate, and chock-full of natural oats. Can this combo be any better?! Oh, yes, they can – because these fab cookies naturally bake up nice and full, without spreading too much. You can count on a perfectly thick, dense cookie that stays soft and chewy. Just the way you like 'em. 🙂
——————————————————————
RECIPE (40-50 medium sized cookies)
INGREDIENTS
1 cup regular butter, softened just to room temp (not too soft)
3/4 cup white sugar
1 cup packed light brown sugar
2 large eggs, room temp
1 TB vanilla extract
2 cups all purpose flour
1 tsp baking soda
1 tsp salt
3 tsp ground cinnamon
3 cups rolled old-fashioned oats (not quick-cooking)
1 (12oz) bag semi-sweet chocolate morsels
DIRECTIONS
In the large bowl of stand mixer, cream together room-temp butter with the white and brown sugars, until fluffy. Several minutes on medium-high should do it. Beat in eggs one at a time. Stir in vanilla.
In a separate bowl, sift together flour, baking soda, salt, and cinnamon. Stir the dry ingredients into the wet ingredients. Mix in the oats. Gently work in the chocolate morsels until incorporated. Dough may be thick and heavy.
Preheat oven to 350F, adjusting rack to lower-middle. Keep cookie dough in fridge while waiting for oven. Line cookie sheets with parchment paper. Drop rounded balls of cookie dough, about the size of a walnut, 2 inches apart on cookie sheet. Flatten each rounded ball to a 1/2 inch thick cookie.
Bake 8 minutes in preheated oven. Cookies will seem underdone, but remove them from oven. If you're making much larger cookies, remove at 9 minutes. The key is not to overbake. They will set upon cooling. Allow cookies to cool on baking sheet 5 minutes and transfer to wire rack to finish cooling. Enjoy!
Source: Chew Out Loud, adapted from allrecipes
Note: If you want less salt, reduce to 1/2 tsp salt. Cookies stay soft and chewy for a couple of days in airtight container. They are best on the day they're baked, but nobody complains about leftovers! Cookie dough can be wrapped up tightly and kept in fridge for up to a week.