Thai Chicken and Rice (One Pan)
By Amy Dong
Published Feb. 6, 2021
Updated Apr. 5, 2023
This Thai Chicken and Rice is a tasty way to twist up the old chicken and rice dish. Not only is it healthy and full of flavor, but it comes together easily and quickly in just one pan – perfect for meal prep!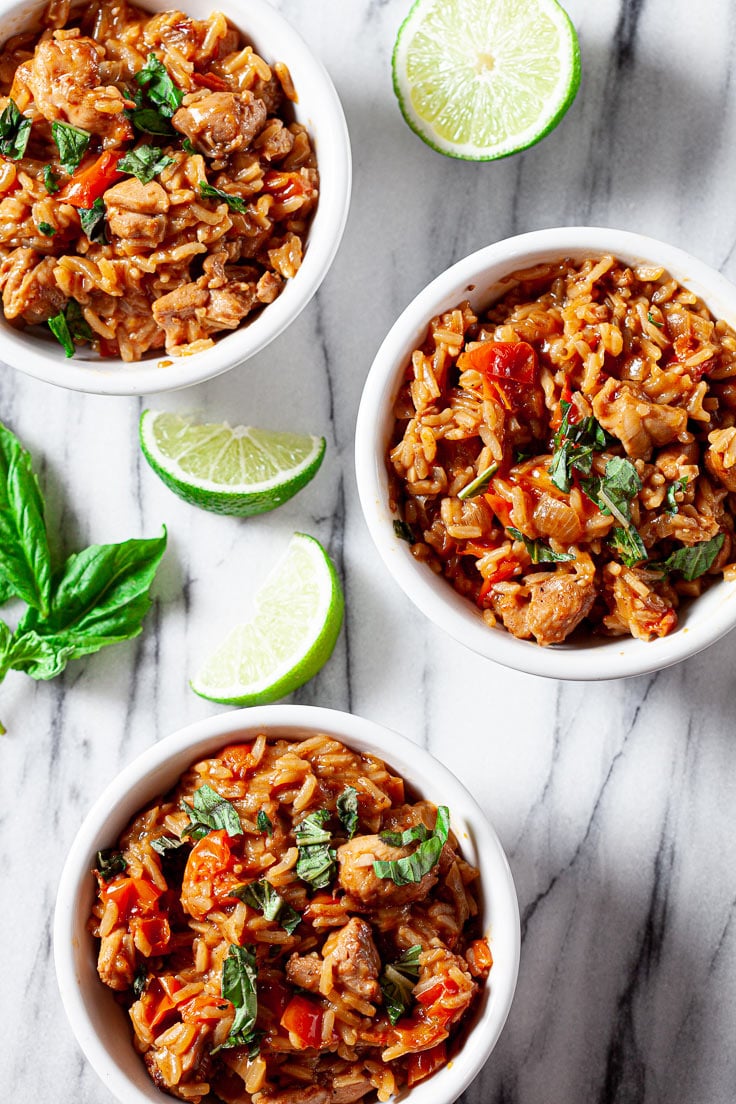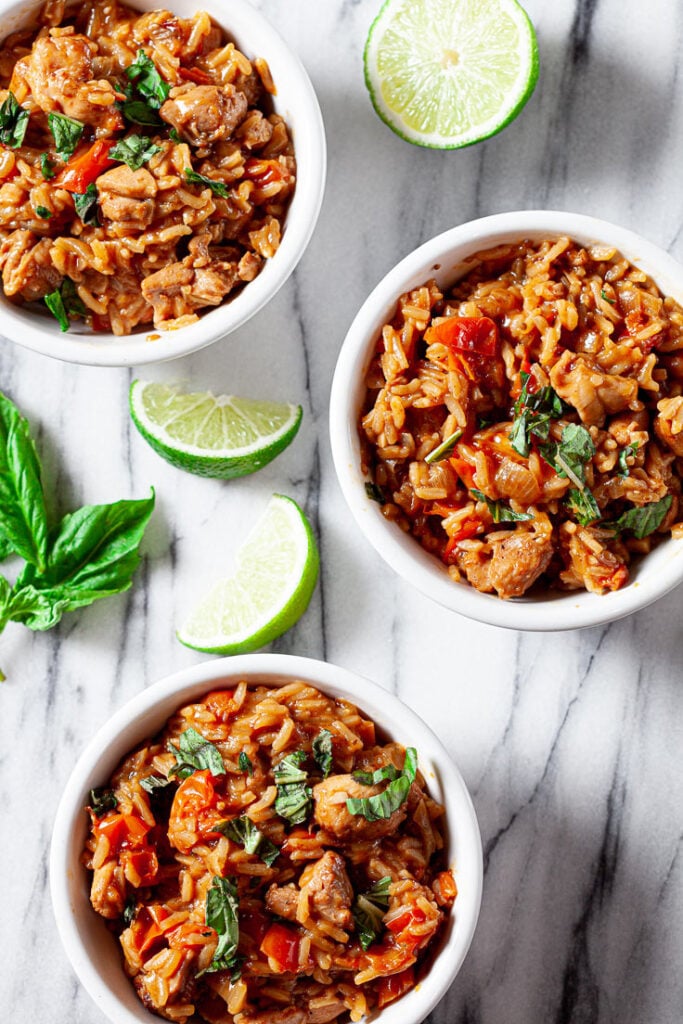 Thai Chicken and Rice
Get ready for a magnificently tasty way to twist up the old chicken and rice routine, because you're about to go from ordinary to extraordinary using just one pan and 30 minutes of time.
We're talking a surprisingly healthy, light chicken and rice that makes no sacrifice on flavor. Make it milder or kick up the spice; it's entirely up to you. There's plenty of room for variation in this Thai inspired chicken and rice dish; we've listed some favorite ideas for you below.
The big plus about this 30-minute dinner: it's super easy to prepare in advance and is a standout choice for quick and easy meal prep.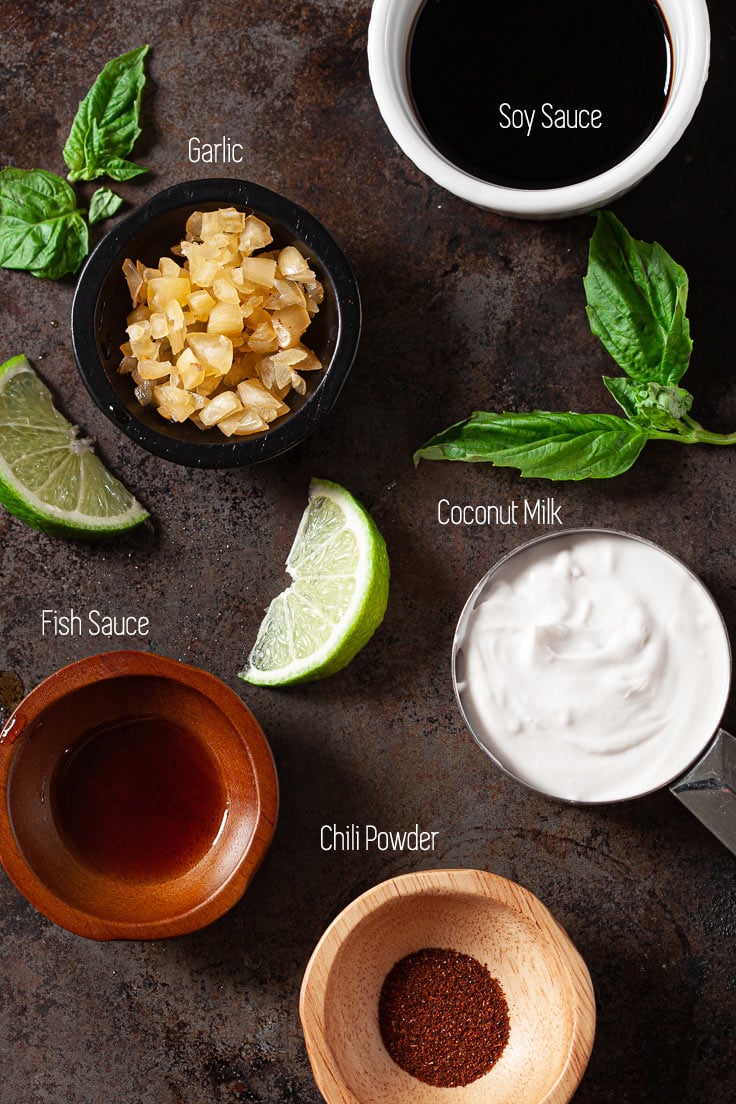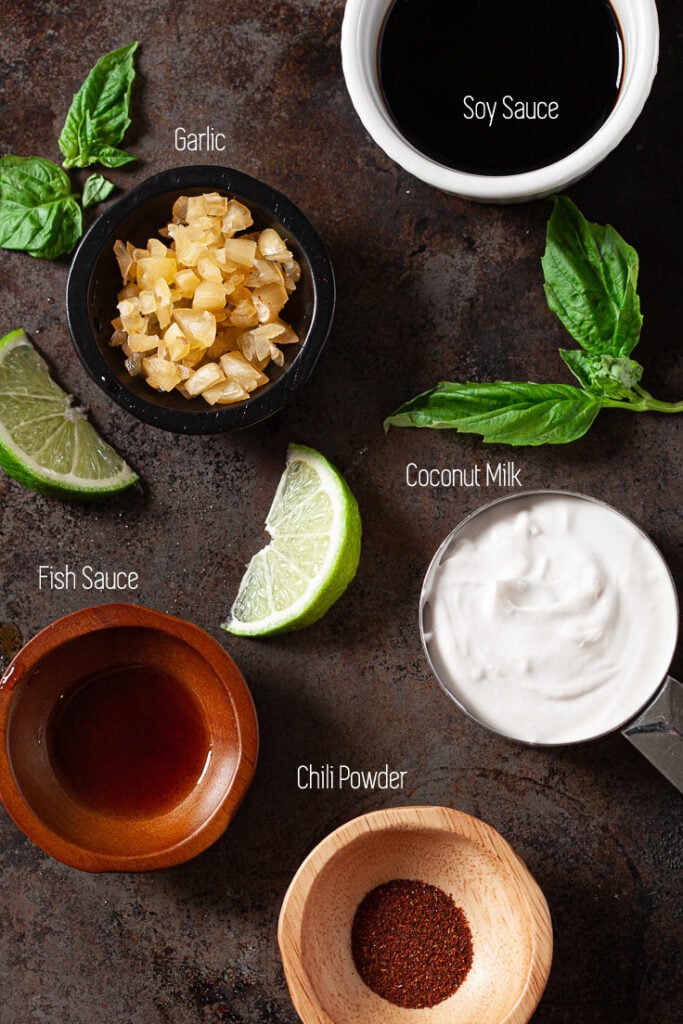 Your Strategy for Meal Prep
Here are several things you can do the night before or days in advance, so all your pieces are ready to go when 5pm comes around on the day you're ready to cook.
Cut boneless/skinless chicken thighs (thighs recommended for tenderness) and place in covered container in fridge. This can be done 1-2 days ahead of time. Extra chicken can be cup up and frozen in freezer bags for future meals like Chicken Enchilada Casserole.
Chop onions and garlic ahead of time: up to several days in advance. They'll keep well chilled in an airtight container. It's smart practice to always have chopped onions and garlic in separate small zipper bags to save time. They'll keep for a long time in the freezer.
Seed/Chop vegetables 1-3 days ahead: If using bell peppers, they'll stay fresh and crisp in airtight container in fridge even up to 3 days. Chopped tomatoes should be used the next day.
Mix liquids in advance: chicken broth, coconut milk, soy sauce, fish sauce, and chili powder. Keep mixture in an airtight container in fridge, up to several days until ready to use.
On dinner night, simply take out your prepared ingredients and cook.
Bonus: fully cooked Thai chicken and rice re-heats well and is fantastic for meal prepping extra lunches or dinners.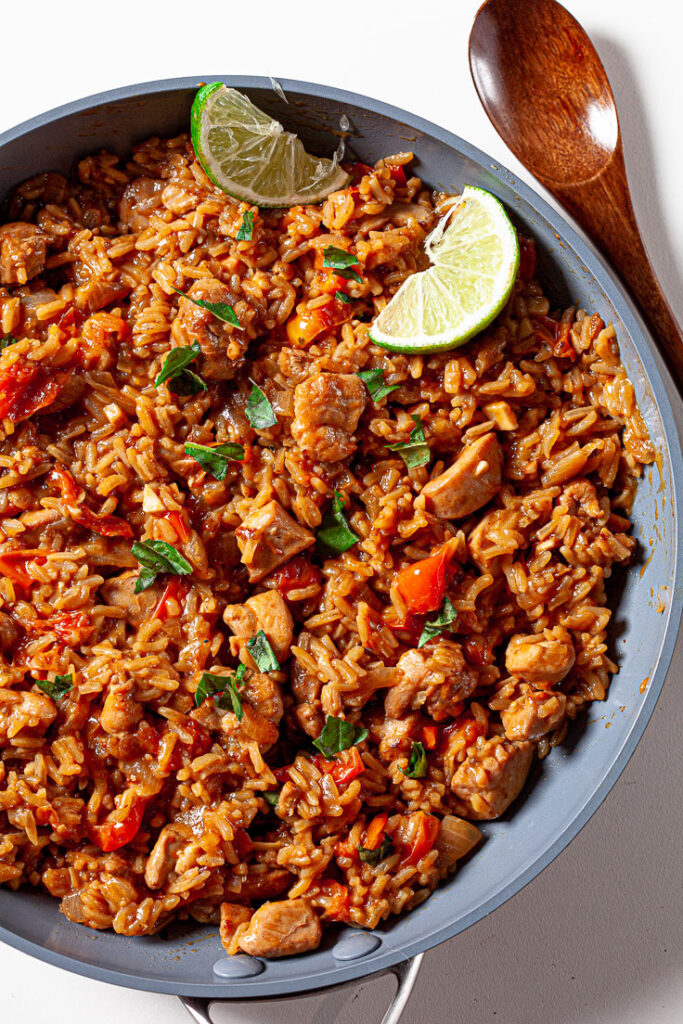 Ingredient Substitutions and Variations
Ground turkey or any other ground meat can be used in place of chicken thighs.
Try thinly sliced flank beef steak or shrimp instead of chicken.
Almost any vegetable can work in this chicken and rice dish: instead of bell peppers or tomatoes, also try broccoli florets and edamame.
For a vegetarian version, replace the chicken/beef broth with vegetable broth and add tofu, edamame, or scrambled eggs.
Top with freshly chopped cilantro or green onions.
Use your favorite dried chili peppers in lieu of chili powder.
Other easy Thai Dishes to try
---
---
Did you make this?
Please give us a rating and comment below. We love hearing from you!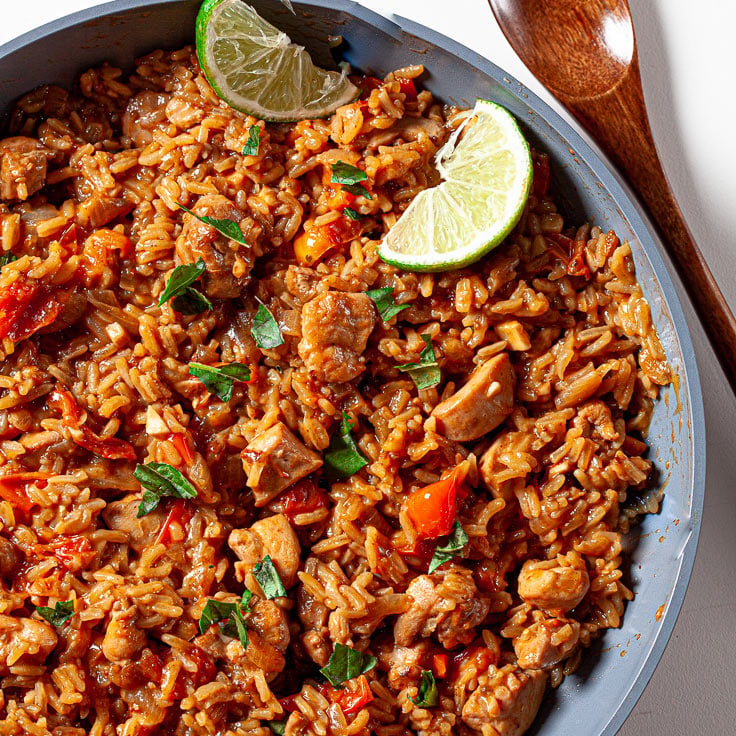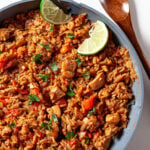 One Pot Thai Chicken and Rice Dish
This One Pot Thai Chicken and Rice Dish is quick, easy, and full of scrumptious flavor! Perfect weeknight dinner and meal prep idea.
Instructions
In a large nonstick pan, heat oil on medium high heat. Sauté onion until browned and tender. Add garlic and stir 1 more minute. If needed, add a bit more oil. Add chicken and stir 2-3 minutes or until chicken is lightly browned.

Stir in the bell pepper OR tomatoes, rice, broth, coconut milk, soy sauce, fish sauce, and chili powder. Bring to a boil and immediately reduce heat to low. Cover and simmer on low-boil for 20 minutes or until moisture is absorbed and rice is tender.

Remove from heat and let stand, covered, for 10 minutes. Gently toss with with Thai basil and serve with lime wedges and peanuts.
Notes
This recipe was updated to include canned coconut milk, as it provides a richer flavor. If you'd like, you can substitute the coconut milk with more broth.
Be sure to use canned coconut milk, often found in ethnic aisles of grocery stores. Canned coconut milk is specifically made for cooking. It's very different from American style coconut milk that's sold in cartons.
If coconut milk has thickened in the can, stir it well before measuring. Coconut milk will become fully liquid when heated.
Leftover coconut milk can be stored in airtight container and frozen. After defrosting, place in blender to re-mix into original texture. Use in any recipes or smoothies.
This recipe is mild in spice level; if you like more heat, add more chili powder.
You can use 1 large tomato, seeded and well drained, in place of the red bell pepper. Just be sure to fully drain out the juices.
See original article for meal prep ideas and ingredients substitutions.
If you enjoyed this recipe, please come back and give it a rating – we really appreciate it! ♡
Nutrition (per serving)
Calories:
273
kcal
|
Carbohydrates:
24.1
g
|
Protein:
11.2
g
|
Fat:
15
g
|
Saturated Fat:
6.8
g
|
Cholesterol:
36.3
mg
|
Sodium:
617.2
mg
|
Fiber:
1.3
g
|
Sugar:
2.4
g