Russian Tea Cakes (Mexican Wedding Cookies)
It's about time I posted these Russian Tea Cakes. These cookies are fabulously popular during the winter holidays, and though Christmas was five months ago, these cookies know no boundaries in time. Russian Tea Cakes are otherwise known as Mexican Wedding Cakes and Snowballs. My personal favorite moniker for these cuties are Southern Pecan Butterballs. Ultimately, they are simply one thing: melt-in-your-mouth-amazing.
The simplicity of Russian Tea Cakes is quite deceiving. Like, don't-judge-a-book-by-its-cover deceiving. They are far more than meets the eye. These cookies are perfect morsels of nutty sweetness. They are tenderly crisp and melt into a buttery bliss bite after bite. After bite.
Russian Tea Cakes are made with just six ingredients you probably already have in your kitchen. I love the flavor that pecans impart, so I stick with pecans for my nuttiness 🙂 Grinding the pecans allows the texture of the cookies to remain light and airy, and the flavors to infuse seamlessly.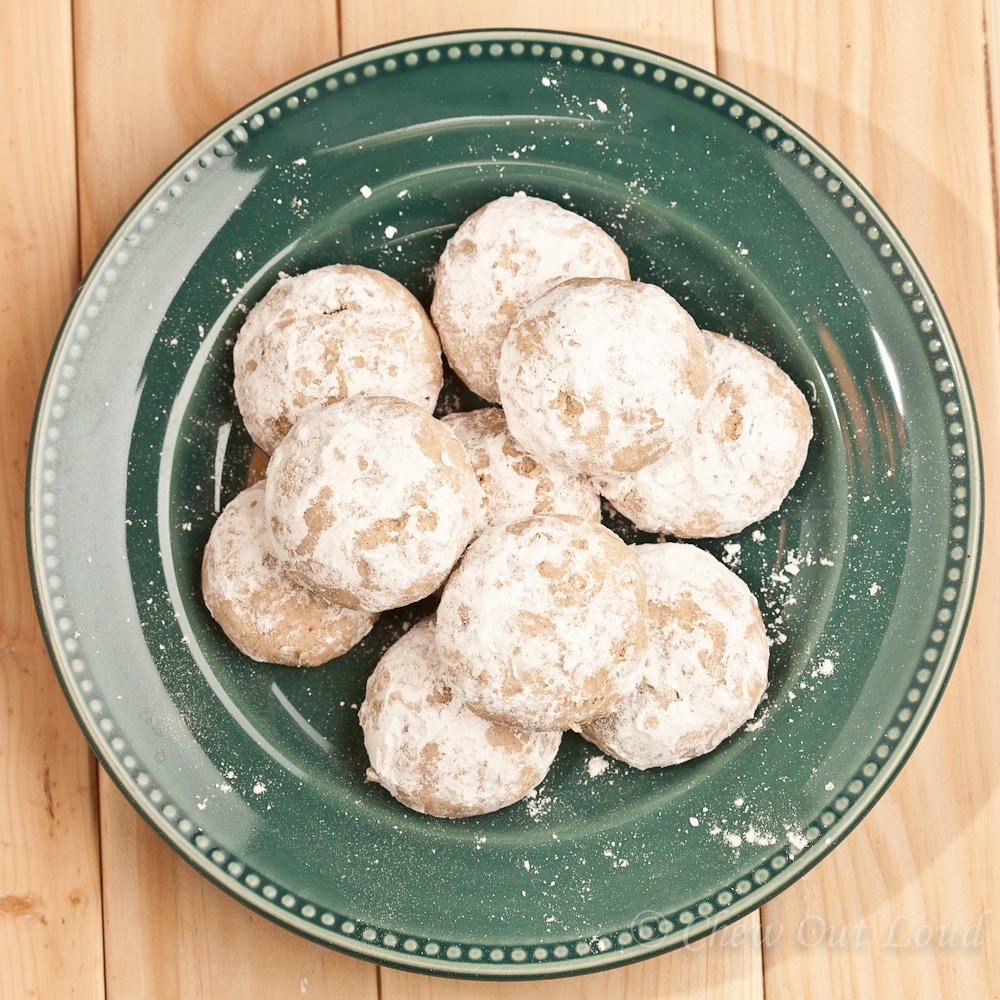 I think these are Hubby's new favorite cookie. The kids inhale them, of course, because what kid doesn't love plenty of magical powder sugar? I personally had to share them with friends so I wouldn't pop all of them into my mouth in one afternoon.
These cookies are known to keep superbly well for many days (even weeks!) in an airtight container. But seriously, let's be real – nobody can keep them around that long. Sounds good in theory. Enjoy!
---
RECIPE for Russian Tea Cakes (40-50 cookies)
INGREDIENTS
1 cup salted butter, room temp
2 cups powdered sugar
1 TB vanilla extract
2 cups all purpose flour
1 cup pecans, toasted, cooled, and finely ground (not to the point of it becoming a paste)
1/4 to 1/2 tsp cinnamon, depending on taste
DIRECTIONS
Beat butter in the bowl of an electric mixer until light and fluffy, 5-8 minutes. Add 1/2 cup powdered sugar and vanilla and beat until well blended. Add flour and nuts, beating until incorporated. Remove dough and divide roughly in half. Wrap each half in plastic and chill in fridge for at least 1 hour.
Preheat oven to 350F, rack on lower middle position. Whisk together remaining 1 1/2 cups powdered sugar and cinnamon in a pie dish.
Take out first half of chilled dough. Make 1-inch cookie balls and arrange balls on a parchment-lined cookie sheet, 1 inch apart. Bake cookies just until bottoms are light golden brown, 16-17 minutes. Cool for 5-10 minutes on sheet. Carefully toss warm cookies in the cinnamon sugar mix, coating completely. Place cookies on wire rack to finish cooling. Once fully cooled, re-coat each cookie in cinnamon sugar mix and serve. Repeat with other half of dough.
Source: Chew Out Loud, adapted from Smitten Kitchen