Perfect Cut-out Sugar Cookies
By Amy Dong
Published Nov. 29, 2019
Updated Dec. 22, 2022
These cut-out sugar cookies have earned their title. They are easy, fuss-free, and retain their shape perfectly after baking. It's a buttery, chewy, tasty cut-out cookie that can be decorated to your heart's content.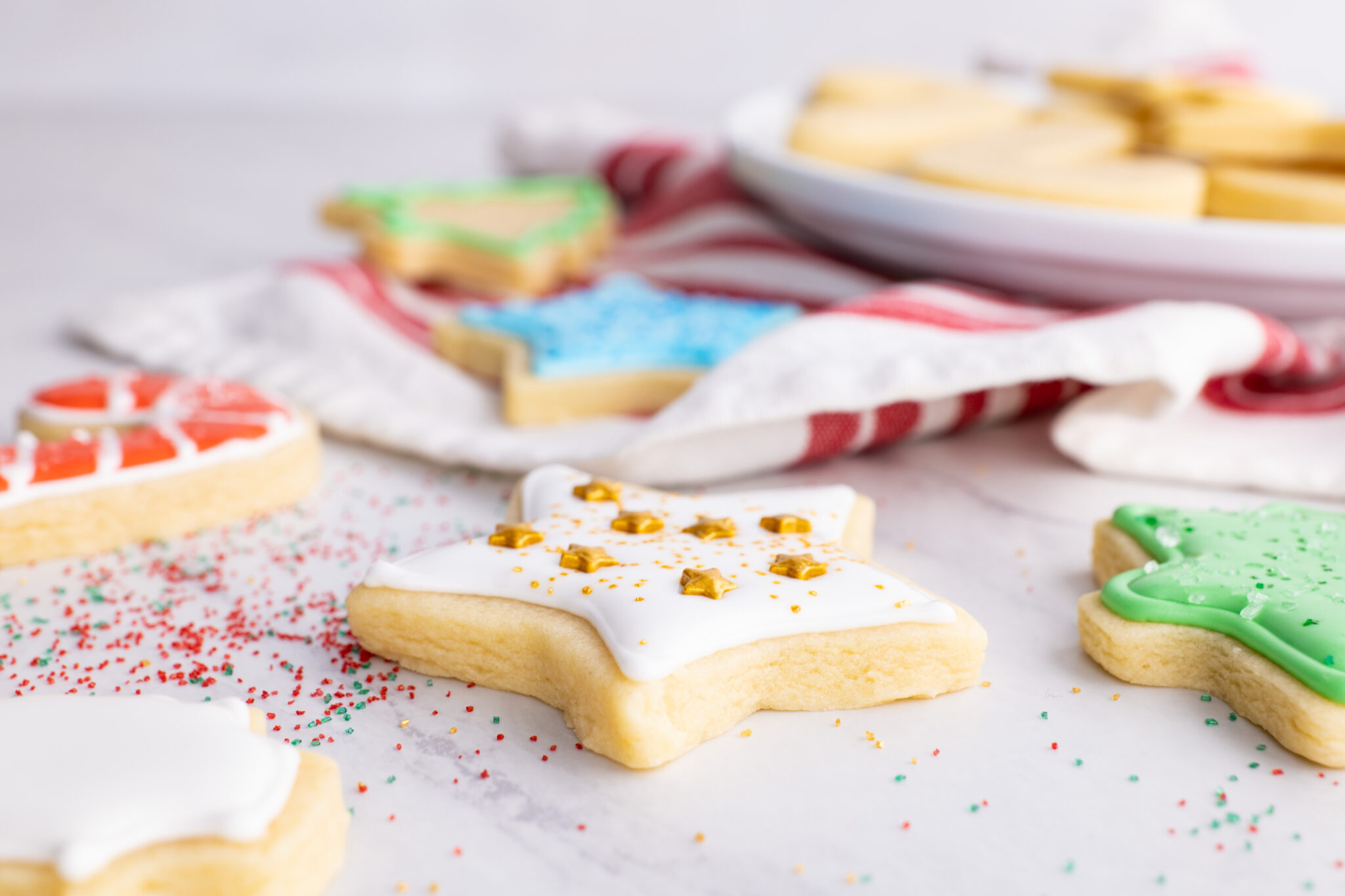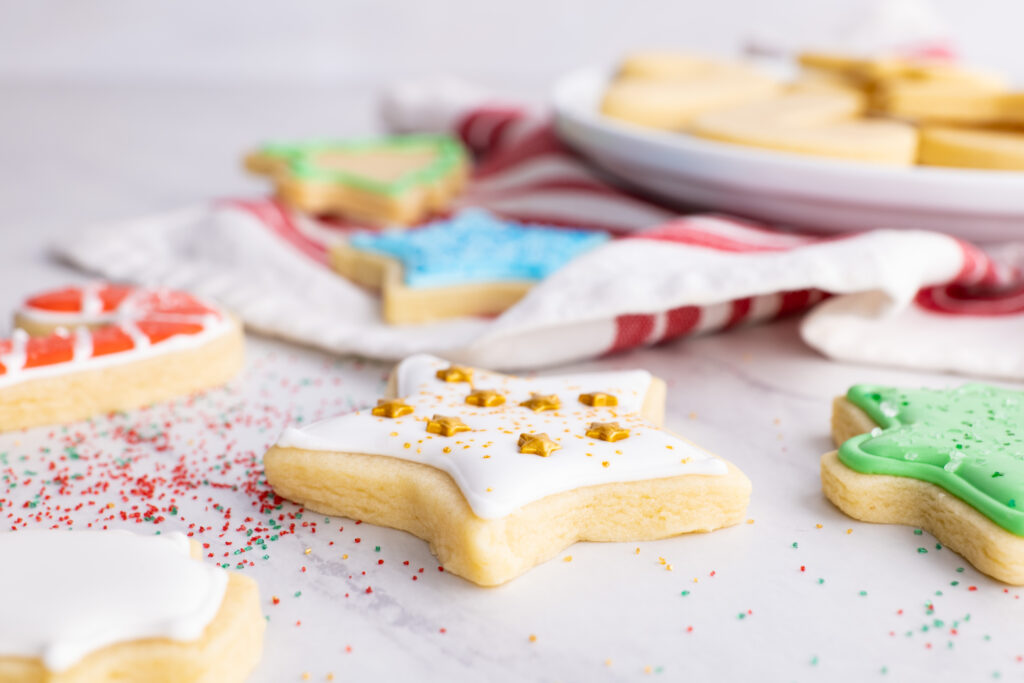 How to make Perfect Cut-Out Sugar Cookies
While I was making last minute cookie plans this year, the ever-important question of whether or not to do cut-out cookies came up. I hold these crucial debates within myself from time to time.
That internal deliberation lasted approximately 11 seconds. These soft, buttery cut-out cookies are known to be so good, they doesn't even need frosting or sprinkles or…. dare I say it…chocolate. In fact, you only need 7 ingredients and some fun cookie cutters in order to make a cookie party happen.
Let's talk about how to make cut-out cookies so good, you'll want to eat them straight out of the oven.
Watch Us Make These Cut Out Sugar Cookies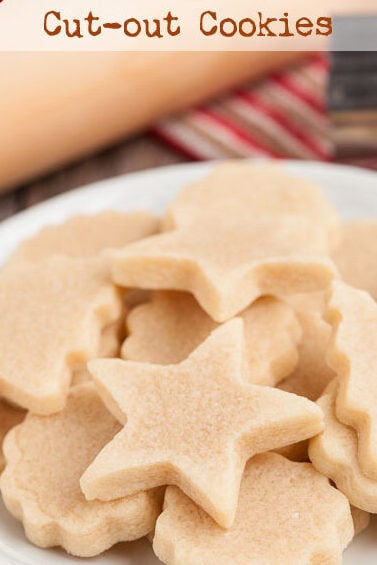 Sugar Cookies That are packed with flavor
I've made cut-outs from soft sugar cookies and these reliably wonderful gingerbread cookies every year. It's the season, and all the cookies beg to be made.
Aside from your usual cookies for that cookie exchange or dessert tray, amp up the flavors with these cut-out cookies this year. These little treats are perfectly shape-able with your selection of cookie cutters. These are especially tasty, with a flavorful depth that most sugar cookies don't have. More on that below.
Delicious Sugar Cookies: Secret Ingredient
The secret to a deeper flavor in these sugar cookies: almond extract. It's a non-negotiable ingredient that provides absolutely amazing flavor that sets these sugar cookies apart from all others. Most people will immediately notice a wonderful aroma in these cookies, but they won't be able to pinpoint how you did it.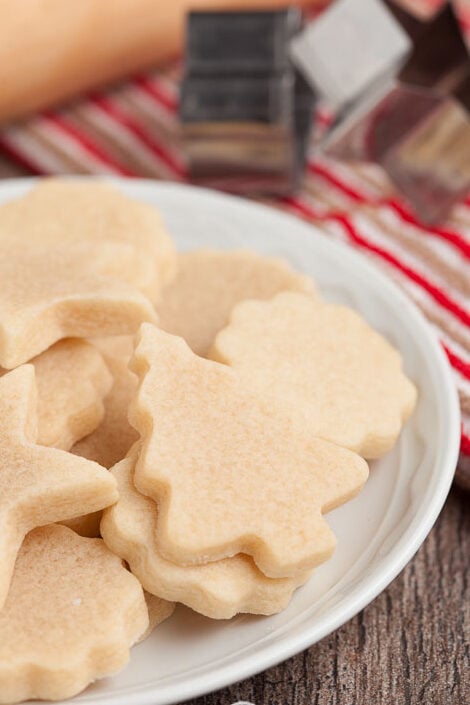 Keys to Successful Cut-Out Cookies
Be sure to measure flour accurately, using scoop/level method, described here. Your cookie dough should end up with a texture similar to play dough; not sticky nor crumbly, but soft and malleable.
Beat the butter and sugar for the full 3 minutes; this step is important in order for the cookies to keep their shape well during baking
Don't skip the 10-minute freeze time prior to baking, as that helps cookies to bake without puffing/spreading away their shape.
Take care not to over bake these cookies. They won't brown much at all, and should appear slightly under-baked when you take them out of the oven. Your adorable cookies will set upon cooling.
Because every oven and every cookie-cutter size is different, it will be important to watch your first batch carefully so you know how long your specific cookie shapes should bake for. A good way to test this is to bake a small batch first to determine your best bake time.
Make these cut-out cookies larger or smaller, using any shapes you like. Of course, bake times will vary for bigger vs. smaller cookies, so it's best to place similar sized cookies together on the same tray.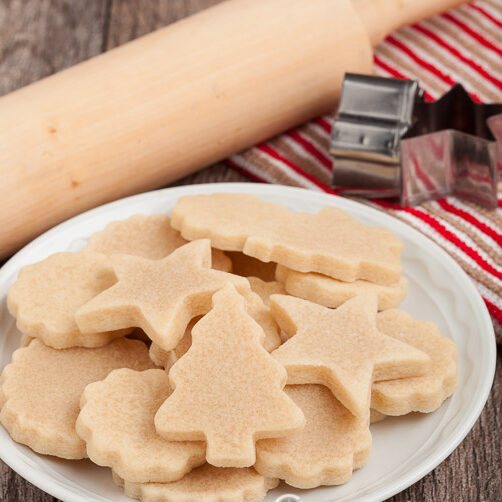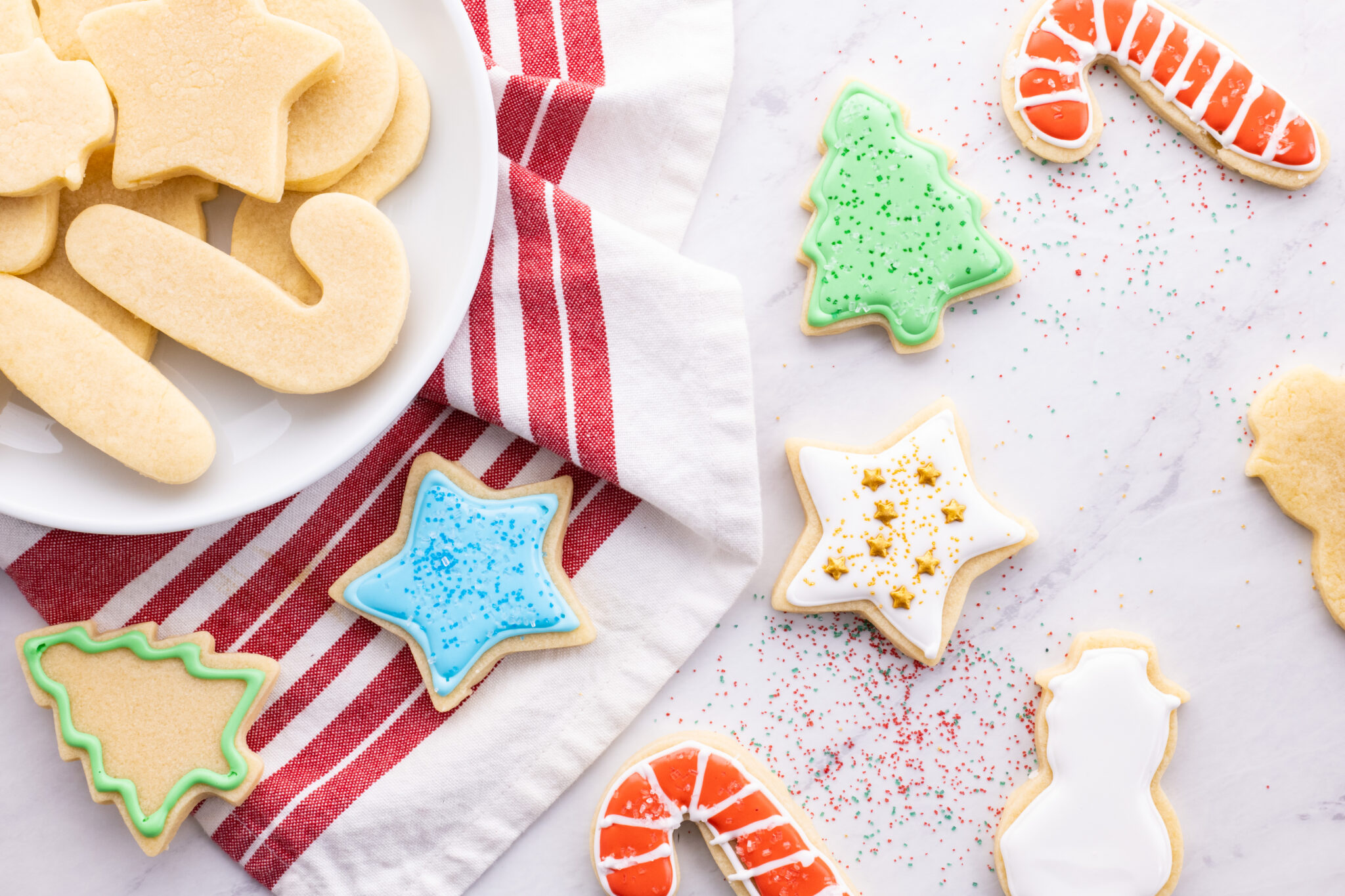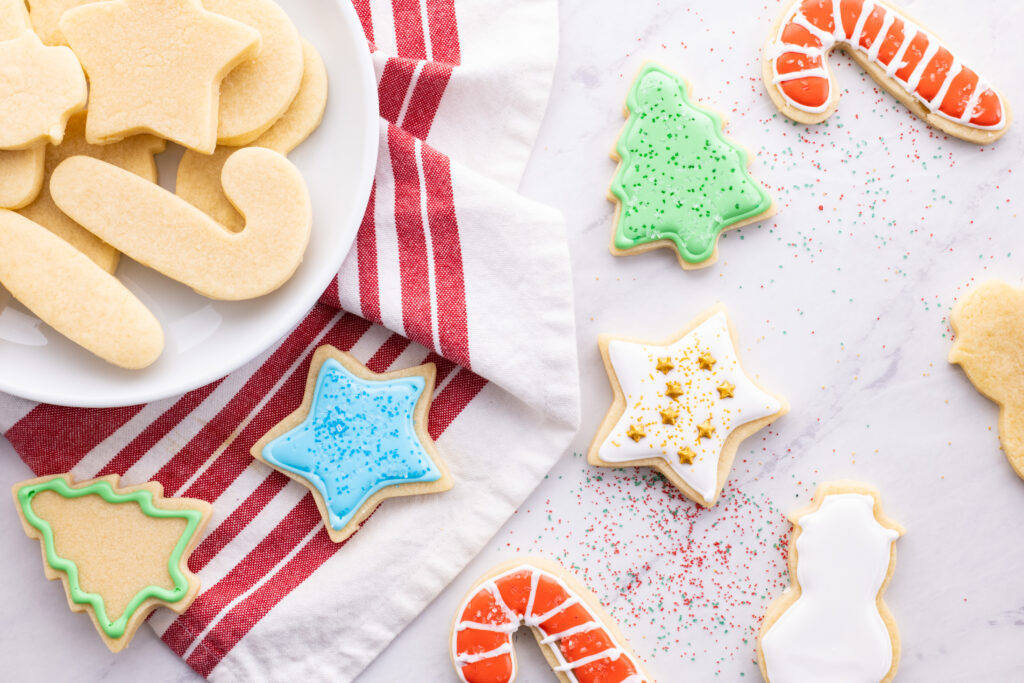 Decorating Your Cut-Out Cookies
These cookies are tender, buttery, and lightly sweet with a delicious infusion of vanilla and almond – though they don't contain actual almonds, the bit of extract goes a long way in providing that aromatic almond flavor.
These cut-out cookies are genuinely so good on their own, we don't often do much besides sprinkle some coarse sugar on top for a bit of texture.
That said, feel free to decorate your cookies to your heart's content, because you can. Some super easy and fun ideas include:
Colorful sprinkles added into your cookie dough; red/pink/white for Valentines, green/red/white for Christmas, or choose a funfetti style. Get creative and have fun!
Melt white chocolate or semi-sweet chocolate chips, transfer to a baggie, cut a tiny hole in the corner, and drizzle onto cooled cookies.
Of course, your favorite frosting or super easy icing can be used on cool cookies – you may want bigger shapes for this.
More Cookies to Eat
Did you make this?
Please give us a rating and comment below. We love hearing from you!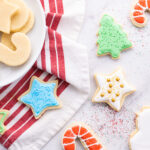 Perfect Cut-out Sugar Cookies
These Cut-out Cookies are easy, keep their shape well after baking, and are tender and buttery. They are light in color even after baking, which makes them a great canvas for your decorating whims.
Instructions
Preheat oven to 350, with rack on lower middle position. Line baking sheets with parchment paper.

In a bowl, whisk together the flour and baking powder. It's important to measure flour accurately; use the Scoop and Level Method to ensure proper measurement. Set aside.

In the bowl of a stand mixer fitted with paddle attachment, mix the sugar and butter on medium-high speed until mixture is light and fluffy, about 3 minutes; use rubber spatula to scrape down sides as needed. Be sure to beat the full amount of time – it helps to set a timer. Add the egg and extracts and beat to fully incorporate.

Switch to medium-low speed. Gradually add the flour mixture, gently mixing just until combined, stopping to scrape down the sides and bottom of bowl as needed. Do not over-mix.

Use hands to work cookie dough into a smooth ball for rolling; if flour was measured accurately, texture will be similar to soft play-dough. It should not be sticky nor crumbly, but smooth and pliable.

Roll dough out on a floured surface to about 1/4" thick and cut into shapes. Place cookie shapes on baking sheet lined with parchment or silicone baking mat and freeze entire cookie sheet for 10 minutes, which helps retain shape when baking. (If you live in a cold region, you may even be able to place it outside. Otherwise, you can place in freezer in smaller batches if needed.)

Transfer sheet of semi-frozen cookies straight into the preheated oven, 1 baking sheet at a time. Bake larger/thicker shapes (3-inch diameter or larger) for 9-11 minutes and smaller shapes 7-8 minutes.

It's important to watch your first batch closely so you know how much time to bake your particular sized/shaped cookies. If they're baked too long, they'll be more likely to lose their shape. Cookies should be removed from oven when they seem slightly under-baked and pale. They will set upon cooling.

Let cool 3-4 minutes on baking sheet and use cookie spatula to transfer to a cooling rack. Let cookies cool completely before icing – we love this super easy icing.
Notes
Worth repeating: these cookies won't brown much, so be sure to take them out even when they look slightly under-baked and pale. As cookie shapes/sizes vary greatly depending on cookie cutters, watch your first batch of cookies carefully to become familiar with how long to bake your cookies without them losing their shape.
It's extremely important to measure flour accurately; use this simple Scoop and Level method.
These cookies are moderately sweet, as they're meant to be paired with icing/frosting. If you are enjoying them plain, add another 1/4 cup sugar.
Yield amount is roughly 48 cookies, but actual amount of cookies will vary depending on size of cookies/shapes.
If you enjoyed this recipe, please come back and give it a rating!
Nutrition (per serving)
Serving:
1
g
|
Calories:
78
kcal
|
Carbohydrates:
11
g
|
Protein:
1
g
|
Fat:
4
g
|
Saturated Fat:
2
g
|
Polyunsaturated Fat:
0.2
g
|
Monounsaturated Fat:
1
g
|
Trans Fat:
0.2
g
|
Cholesterol:
10
mg
|
Sodium:
52
mg
|
Potassium:
6
mg
|
Fiber:
1
g
|
Sugar:
5
g
|
Vitamin A:
118
IU
|
Calcium:
17
mg
|
Iron:
1
mg