Grilled Zucchini
By Amy Dong
Published Aug. 22, 2022
Updated Jul. 11, 2023
Grilled zucchini is the best way to enjoy zucchini all summer long, even into fall. It's incredibly healthy, tasty, and takes just minutes to make.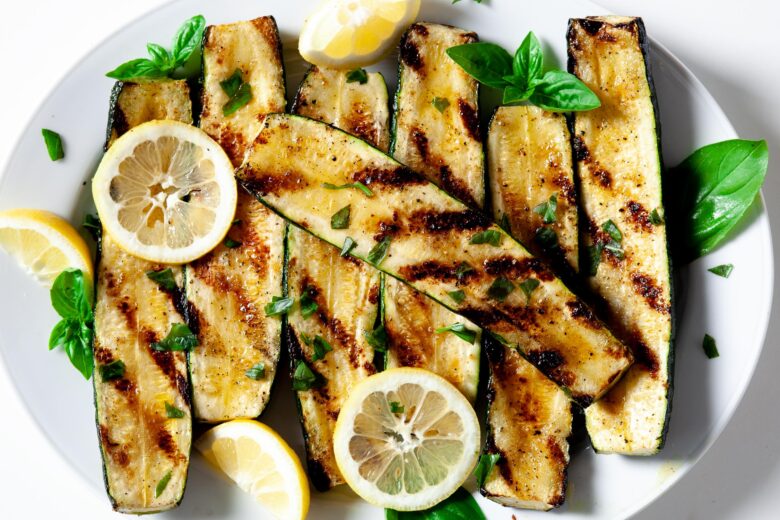 Video: Watch Us Make This Recipe
Grilled Zucchini: Seasonal Favorite
There's nothing quite like juicy, perfectly charred grilled zucchini all summer and into fall. Anyone who has watched a zucchini plant grow in their garden know zucchini are incredibly prolific growers. This summer squash is one of the most fun and popular items to have in your garden.
There are endless zucchini recipes to relish, from Moist Zucchini Bread to Chocolate Zucchini Cake. There's no shortage of baked goods with zucchini, so today we're focusing on the pure delight of simply grilled zucchini.
What You'll Love ABout Grilled Zucchini
Grilled Zucchini requires only a few pantry staples, yet results in fantastic flavors. It's a low effort, high reward kind of recipe.
It's the best way to use up all those summer/fall squash in its purest, simplest form.
It takes less than 10 minutes to get your grilled zucchini on the table.
You can serve grilled zucchini with pretty much any meal, as it's a fabulous vegetable side dish.
There are countless flavor variations you can try; grilled zucchini is amazing sprinkled with fresh lemon juice, smoked paprika, or grated parmesan. The options are endless!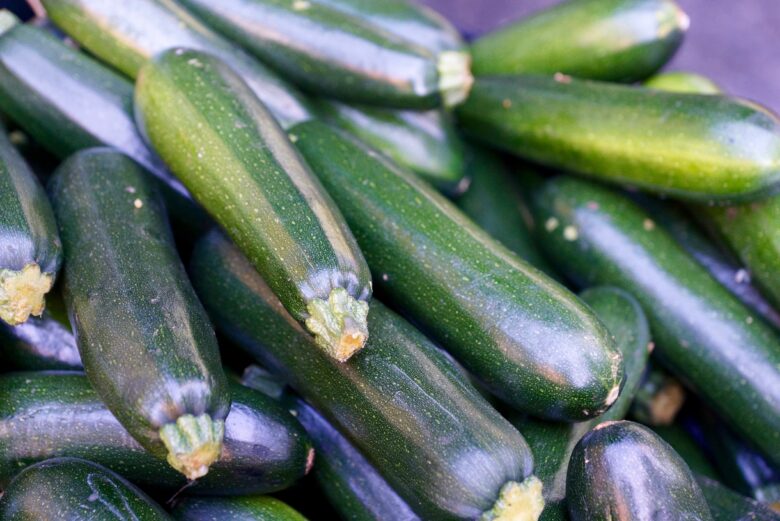 How to Buy and Store Zucchini
First off, when choosing zucchini from the store or market, look for smaller zucchini that are firm to the touch and vibrant green in color. You may be tempted to grab the largest zucchini, but larger/older zucchini can actually have slightly bitter skins and less juicy flesh.
Be sure zucchini are a blemish-free as possible. Stay away from squash that have nicks, cuts, or have any soft spots.
For grilled zucchini, choose squash that are straighter and more evenly thick throughout; this will allow for even cooking on the grill.
Gently wash and thoroughly dry zucchini once you get home. Store them in a loose plastic bag or paper bag in the refrigerator's crisper drawer for up to 5 days. We've found that fresh zucchini are best when used soon after purchase.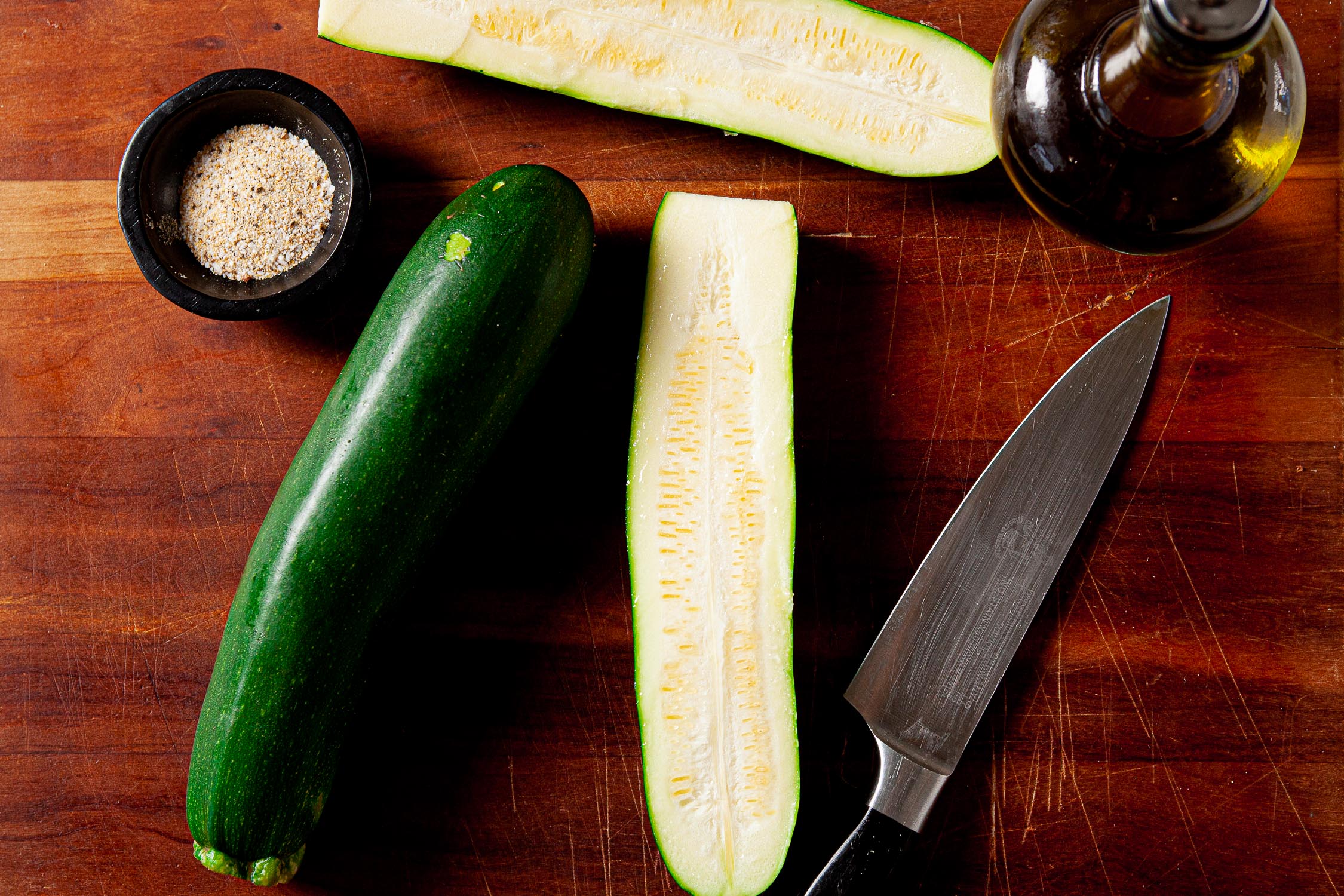 How to Grill Zucchini: Pro Tips
Slice zucchini as evenly straight down the middle as possible. Again, it helps if you chose zucchini that are straighter and more evenly thick throughout.
Be generous with the olive oil; a lot of the oil will dissipate on the grill, so you'll want plenty of it in order to prevent zucchini from sticking on the grill.
Be sure to use kosher salt and freshly ground, coarse black pepper. We love whole tellicherry peppercorns that we grind ourselves, as it makes all the difference. The simple salt-and-pepper flavor profile will shine through.
Use medium-heat to grill zucchini, 3-4 minutes on each side, just until you get the nice grill marks. Cooked zucchini should be soft, juicy, and moderately charred. If you over cook them, they may turn out more shriveled than you like. When undercooked, they will retain a raw flavor.
Grilled Zucchini
Commonly Asked Questions

What is the best way to slice zucchini for grilling?
You'll often see zucchini being sliced into either thin strips or coins. The reason we don't do that is twofold: a) it's too easy to overcook thinly sliced zucchini, and b) the smaller or thinner the pieces, the harder it is to flip zucchini over without them falling through the grates or sticking to the grates. Zucchini halves are so much easier to prep and cook.
What does grilled zucchini taste like?
You'll notice the same earthy flavors you already love in zucchini, but with that delicious lightly-charred smoky flavor added on.
Should I peel the zucchini before cooking?
There is absolutely no need to peel zucchini. The skins of zucchini squash are delicate and mild, as long as you choose younger/smaller squash.
Why is my zucchini slightly bitter?
The larger/older your zucchini squash is when you bring it home, the more bitter the skin becomes. Always pick zucchini that are smaller and younger, firm to the touch, and unblemished.
More to Grill and Eat
Did you make this?
Please give us a rating and comment below. We love hearing from you!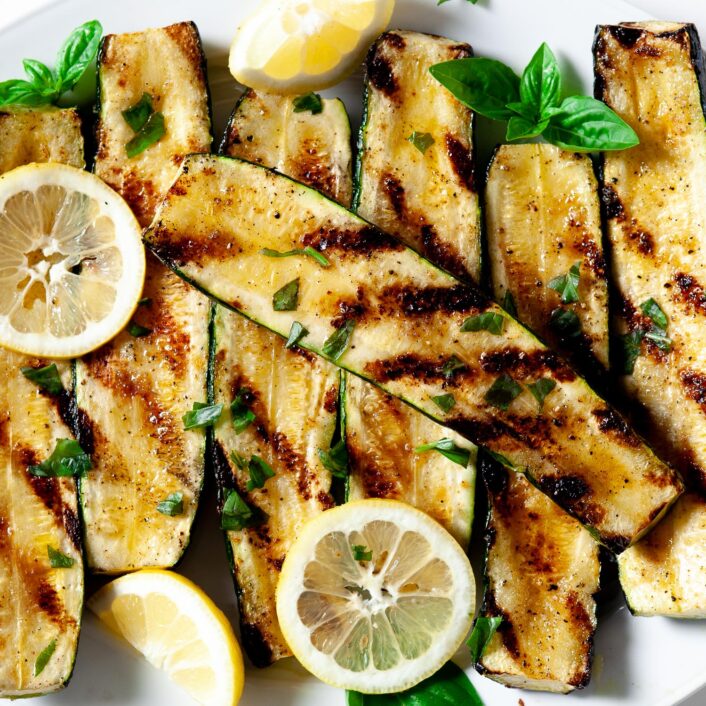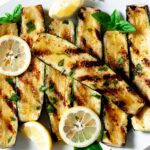 Grilled Zucchini
Grilled Zucchini is a super fast, healthy, and flavorful way to enjoy juicy zucchini all season long!
Ingredients
Optional Seasonings
lemon wedges

,

for garnish
Instructions
Wash and dry zucchini thoroughly. Slice zucchini down the middle, lengthwise.

Brush olive oil evenly on top of cut side of each zucchini half

Lightly sprinkle kosher salt and freshly ground black pepper over each zucchini half. If desired, add a light sprinkle of garlic powder and onion powder.

Heat outdoor or indoor grill on medium heat. Once hot, cook zucchini 3-4 minutes on one side, without moving them around. Use thin metal spatula to flip each zucchini half and cook 3-4 minutes on other side, just until zucchini halves have nice grill marks on them.

Serve warm. Garnish with lemon wedges, if desired.
Notes
For flavor variations, try smoked paprika or grated parmesan cheese
If you enjoyed this recipe, please come back and give it a rating ♡
Nutrition (per serving)
Serving:
1
g
|
Calories:
62
kcal
|
Carbohydrates:
0.01
g
|
Protein:
0.01
g
|
Fat:
7
g
|
Saturated Fat:
1
g
|
Polyunsaturated Fat:
1
g
|
Monounsaturated Fat:
5
g
|
Sodium:
0.2
mg
|
Potassium:
1
mg
|
Fiber:
0.01
g
|
Sugar:
0.01
g
|
Vitamin A:
1
IU
|
Vitamin C:
0.1
mg
|
Calcium:
0.2
mg
|
Iron:
0.04
mg