Healthy Blueberry Muffins
These healthy blueberry muffins are a wonderful feel-good breakfast, as they're loaded with whole grains and steel cut oatmeal.
January has one thing in common with September. Both are "Back to…" months. It's "back to school" for September. For January, we're all "back to healthy." At least, in theory.
Though my beloved family would agree that we enjoy our share of indulgent-worthy foods, we absolutely include lots of good-for-you stuff. You know… just to even things out a bit. Because we all adore oatmeal, we have a stash of various types of oatmeal. My favorite is Steel Cut. They are whole grain and minimally processed, so they're more nutritious than other types of oatmeal. They are also super delish!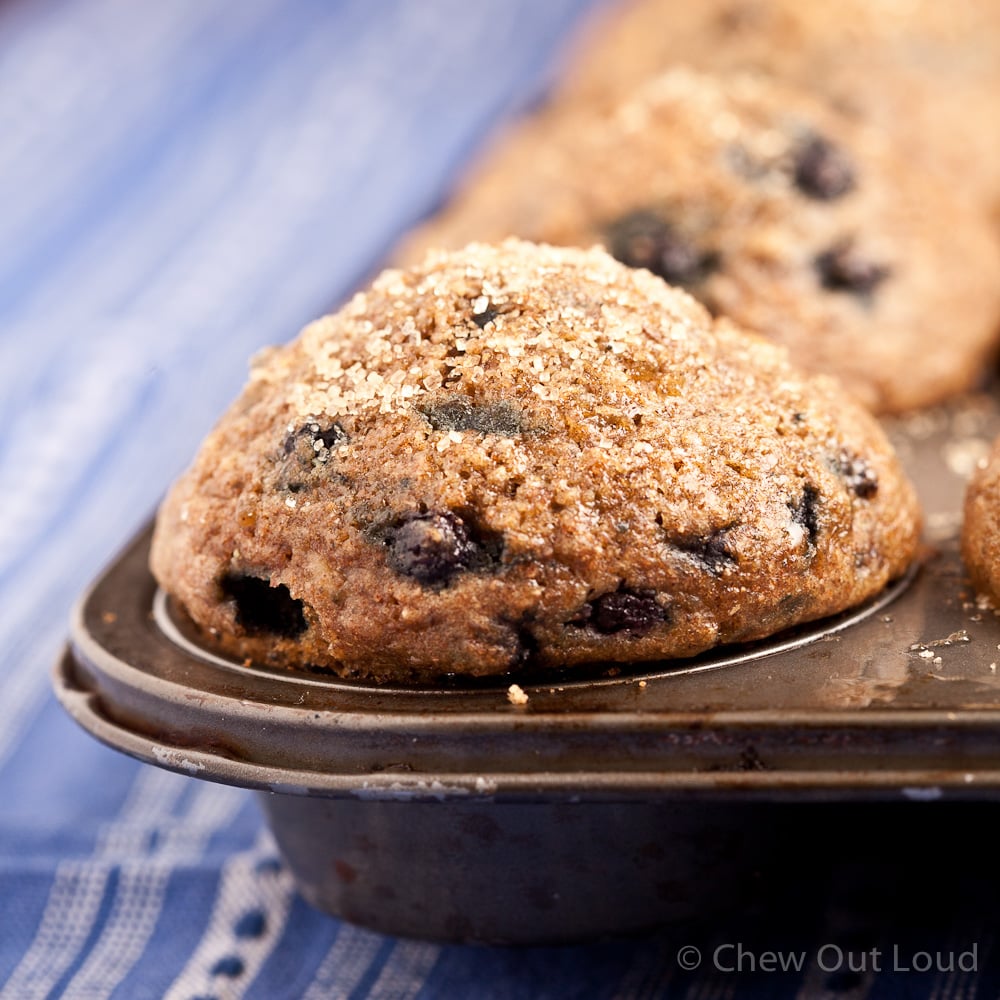 Ever make just a bit too much oatmeal? I do that almost every time. Oatmeal leftovers are…well, they aren't exactly the same the next day. No worries, because Steel Cut Oatmeal Muffins are here!
These are fantastic. Steel Cut Oatmeal Muffins are tender, moist, and overflowing with good things! You'll feel great about these muffins first thing in the morning. These are lightly sweet, chock full of blueberries, infused with warm cinnamon, and the best way to use up leftover oatmeal!
I have only made these using steel cut oatmeal, so I can't attest to how the muffins would turn out using other kinds of oatmeal. If you haven't tried Steel Cut oats, it's SO worth the try! Steel Cut oats are heartier and chewier, with delicious nuttiness and oatiness (not a real word.)
You might never go back to the old stand by, once you've had Steel Cut oats. Enjoy!
——————————————————————————————–
RECIPE (12 large muffins)
INGREDIENTS
1 1/2 cups whole wheat flour
1 cup all purpose flour
2 TB dry flax meal
2 tsp baking powder
1 tsp baking soda
1/2 tsp table salt
1 TB ground cinnamon
2 large eggs, room temp
1/3 – 1/2 cup white sugar (depending on sweetness of berries)
1 1/3 cups buttermilk
1/4 cup olive oil
1/4 cup pure maple syrup
1 TB vanilla extract
1 cup leftover, cooked steel cut oatmeal
1 cup fresh or frozen blueberries (if frozen, do not defrost)
Turbinado or coarse sugar for topping
DIRECTIONS
Preheat oven to 350F, positioning rack to middle or lower middle. Oil or line 12 muffin cups.
Sift together the wheat flour, all purpose flour, flax meal, baking powder, baking soda, salt, and cinnamon. In separate bowl, beat together eggs and sugar until well incorporated. Add buttermilk, olive oil, maple syrup, and vanilla, and mix well. Mix in cooked oatmeal until incorporated. Quickly fold in the dry ingredients into the wet ingredients. Just gently fold from bottom up, until flour is no longer visible. Do not overmix. Some small lumps are okay. Lastly, very gently fold in the blueberries.
Spoon batter into prepared muffin cups, filling all the way to the top, as full as possible. Sprinkle with coarse sugar. Bake for 20-25 minutes, or until toothpick comes out almost clean, with a few tender crumbs still attached. Remove from oven and cool at least 10 minutes before removing from muffin tin. Finish cooling on a rack.
Source: Chew Out Loud, inspired by NY Times
Note: These can keep a couple of days in airtight container at room temp. They can also be frozen in airtight container for up to a month or two.