Sweet Honey Cornbread
This honey cornbread recipe is hearty and robust. It's rustic with plenty of cornmeal, yet tender and moist. Sweet, buttery cornbread that's baked in the skillet or cast iron for a soft interior and a slightly crispy golden exterior.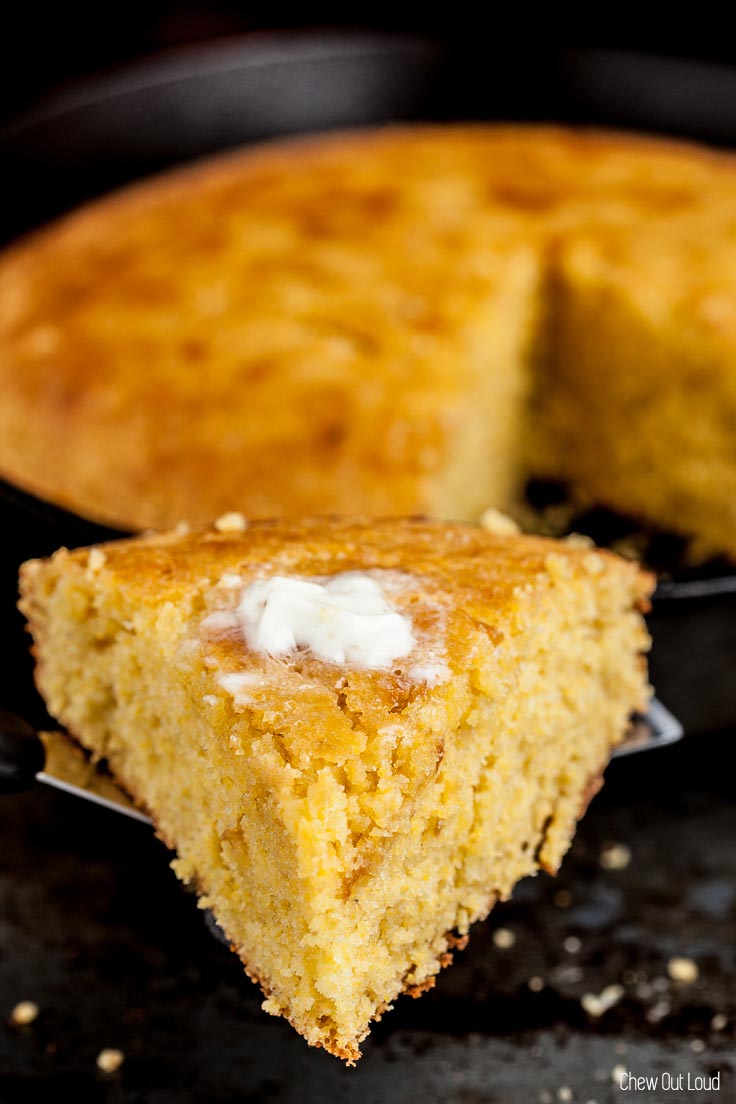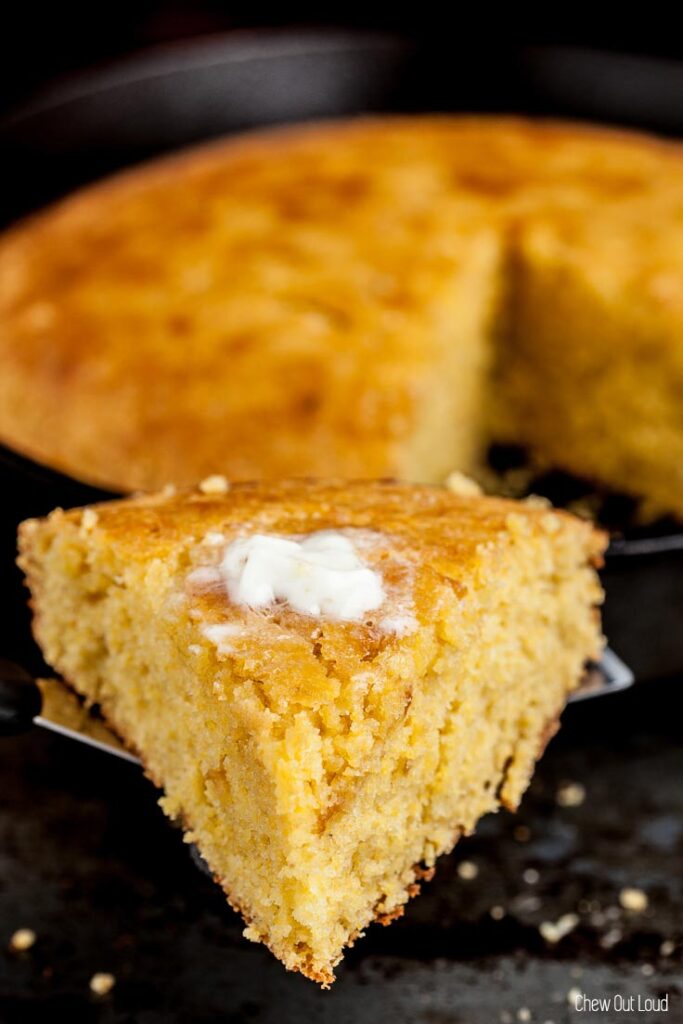 Sweet Honey Cornbread Recipe
Cornbread is one of the little golden joys in life. I'm a sucker for for a great cornbread recipe, and apparently, so is the rest of my family. We break out the homemade cornbread whenever we have an excuse to have it.
Whether our super moist cornbread is paired with this Chunky Homestyle Chili, White Chicken Chili, Slow-Cooker Chili with Sriracha, or Baked BBQ Ribs… honey cornbread has a well deserved, permanent fixture next to them all…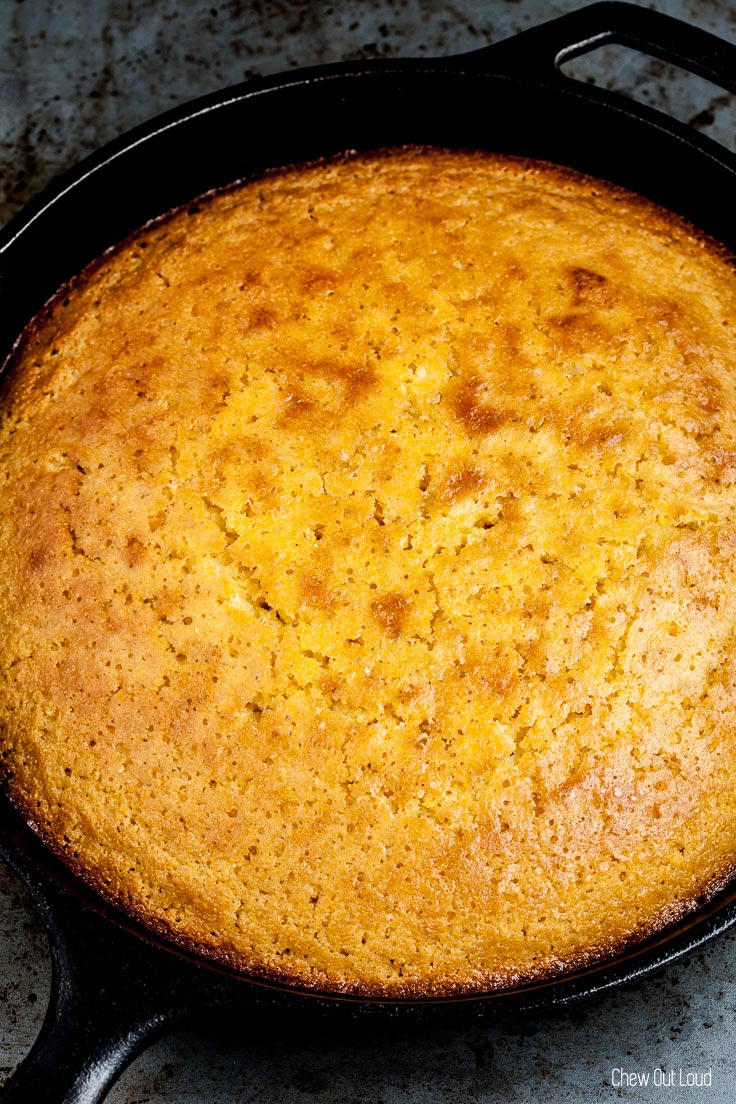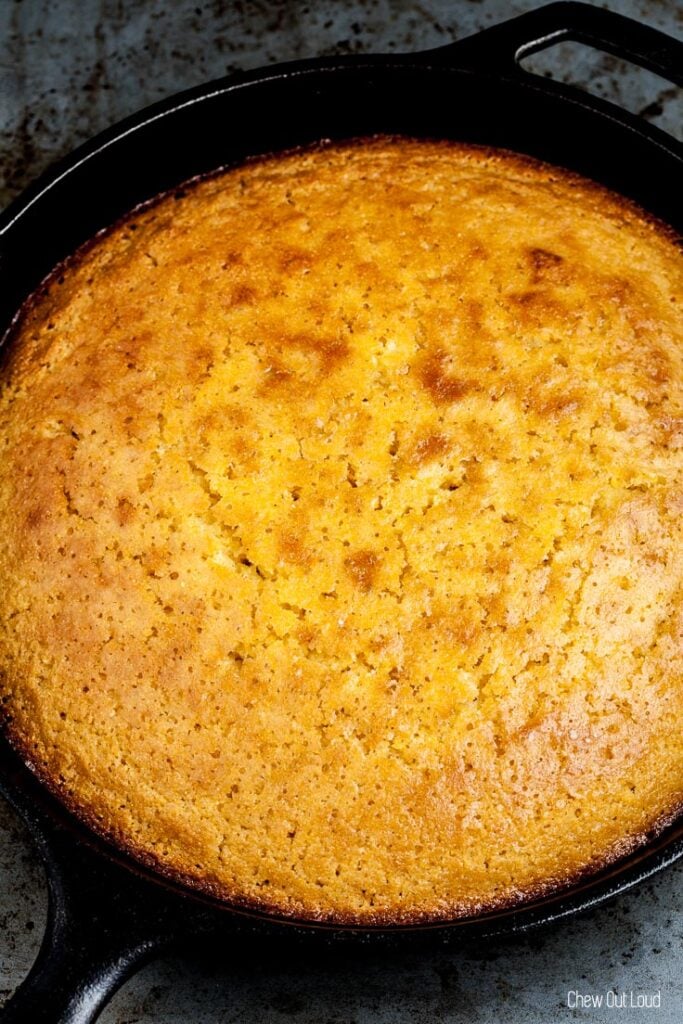 This Sweet Cornbread smells irresistible
Just the sweet aroma of honey and cornmeal wafting throughout the kitchen and home is enough to tempt everyone's taste buds.
The sight and smell of freshly baked honey cornbread gets everyone racing to the dinner table, and I don't have to ring that dinner bell more than once.
In fact, they're usually tasting sweet pinches of honey cornbread before they even sit down at the table.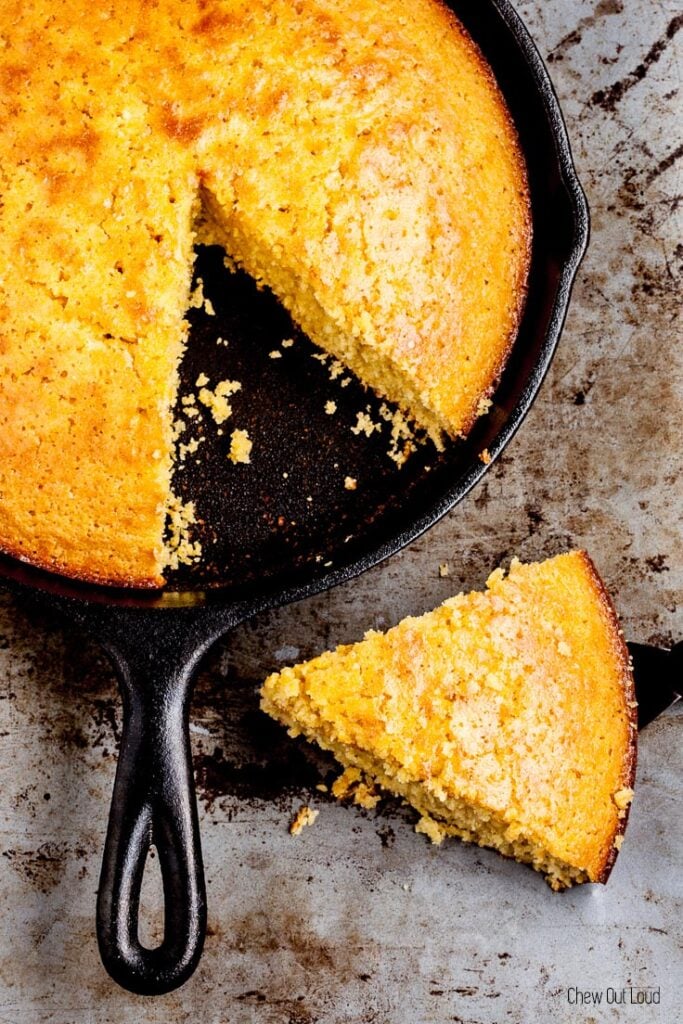 Cast Iron Skillet Cornbread for hearty results
This honey cornbread is baked in a cast iron skillet, which gives it much more of a hearty and rustic quality. This is not an airy, light, cakey type cornbread, though it is sweet and tender. It's a real cornbread-cornbread.
This skillet cornbread boasts a crumb that lets you know the goodness of old fashioned cornmeal is in every bite. It's dense, rich, and moist. Not at all dry. This honey cornbread comes out beautifully thick, does not sink, and is wonderfully sweet and buttery.
Hint: right after this golden skillet cornbread comes out of the oven, smother the top with melty butter and serve while it's warm; you'll be dubbed the world's most epic cornbread maker.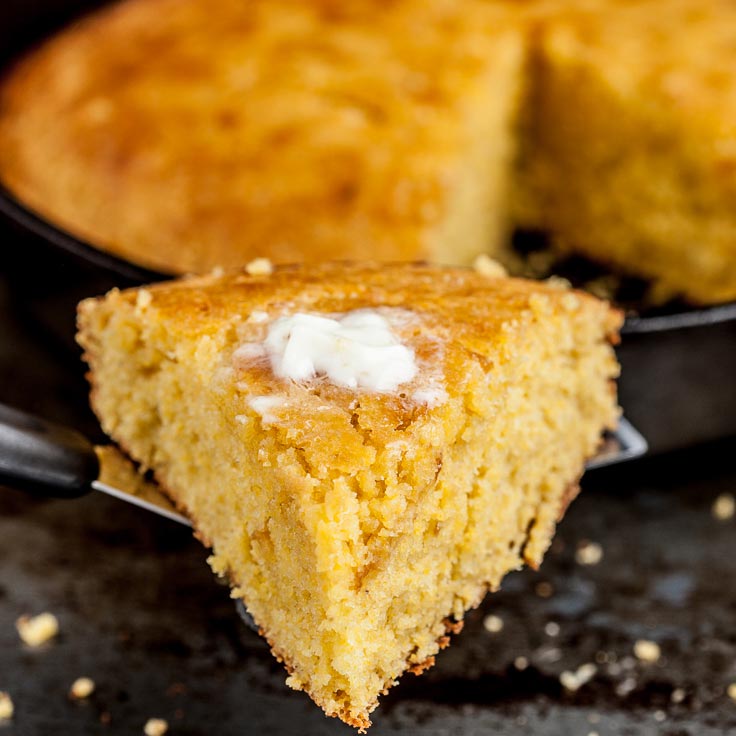 Fresh out of the oven with butter on top
Let's re-emphasize the fact that honey cornbread is simply delectable when eaten freshly baked, still warm, with a drizzle or pat of butter on top to soak into the luscious bread. Drool worthy.
This cornbread is still great the next day, as long as it's wrapped airtight and left at room temp. Give it a little microwave zap, wrapped well in damp paper towels, and it returns to melt-in-your-mouth delicious. I would recommend eating it all up within the first or second day. (Not a problem in our house!)
If you prefer to make sweet cornbread muffins, these ones are the ultimate favorite of ours…everyone who's tasted them agree they are the best and moistest cornbread muffins around!
You may want to save this recipe, too:
Did you make this?
Please give us a rating and comment below. We love hearing from you!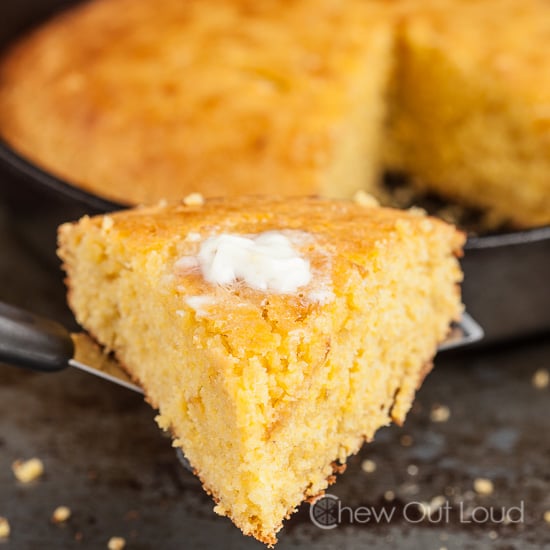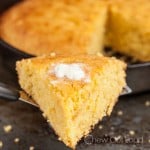 Sweet Honey Cornbread
This honey cornbread is tender and moist, while slightly crisp on the exterior, thanks to the cast iron skillet! Simply amazing fresh out of the oven. Perfect with chili, soups, stews, or BBQ!
Instructions
Preheat oven to 375F, with rack on lower-middle position. Grease your cast iron skillet and set aside.

In a large bowl, combine cornmeal, flour, baking powder, sugar, and salt. Whisk together well.

In a separate bowl, whisk together milk, eggs, butter, honey, and vanilla. Gently fold wet and dry ingredients together until just incorporated; do not over-mix or over work the batter.

Pour batter into greased cast iron skillet and bake 20-30 minutes until golden brown – bake time will depend on width of your skillet. If top browns too quickly, cover loosely with foil and continue baking. Be sure to start checking for doneness after 20 minutes. Cornbread is done when toothpick inserted in center has a couple of tender crumbs attached to it. Not completely clean, or it might turn out dry.

Drizzle melted butter over the top, allowing it to soak into the cornbread, and serve while warm. Or serve with pats of softened butter on top.
Notes
* For muffins, bake 13-15 minutes in lined muffin tins, just until toothpick comes out with tender crumbs attached.
*If you enjoyed this recipe, please come back and give it a rating ♡
Nutrition (per serving)
Calories:
272
kcal
|
Carbohydrates:
41.2
g
|
Protein:
4.6
g
|
Fat:
10.2
g
|
Saturated Fat:
5.9
g
|
Trans Fat:
0.3
g
|
Cholesterol:
61
mg
|
Sodium:
500.3
mg
|
Fiber:
1.4
g
|
Sugar:
20.7
g
My all-time favorite, never fail recipe for Sweet Cornbread Muffins that's moist and tender every time is this recipe, adapted from Cooks Illustrated: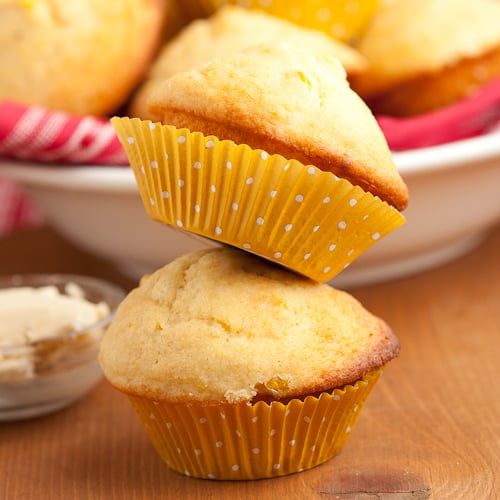 How about no-fail, crowd-pleasing Chunky Chili to go with the cornbread?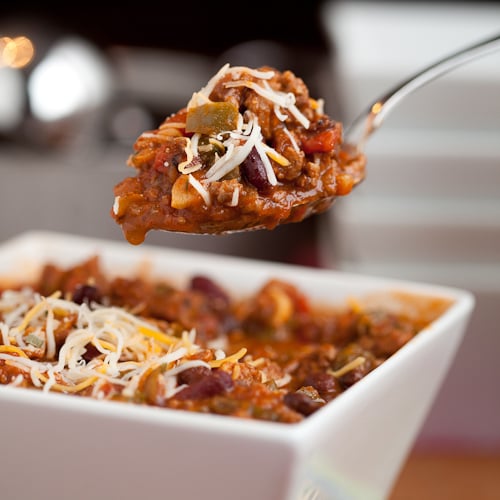 White Chicken Chili in the Slow Cooker is one of my favorite things to make for new moms, new friends, potlucks, etc. etc.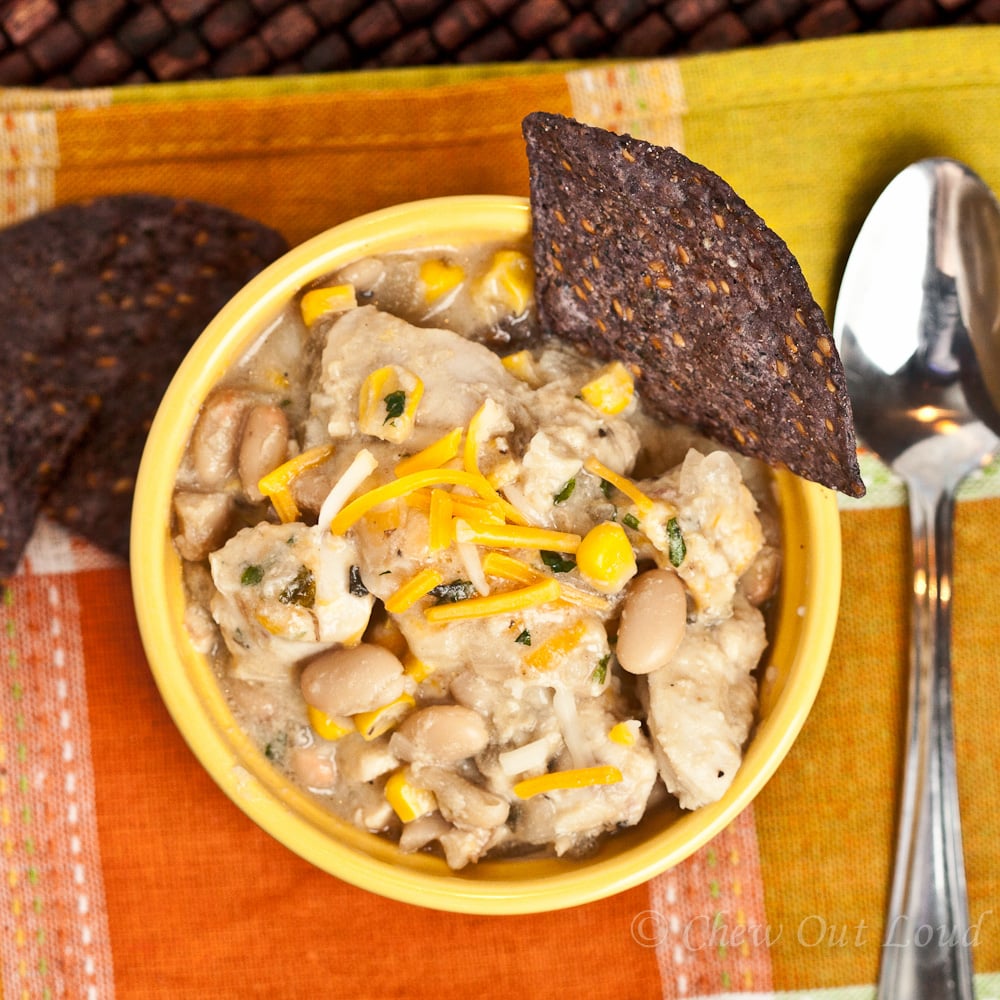 Anytime we have sweet cornbread, BBQ Baked Ribs are a perfect match. This one is oven-baked to perfection, so no need to fuss with the grill on a rainy day!