Tex Mex Chicken Burrito Bowl
Hungry family or hungry self? Low on time, but you want dinner that's healthy and delicious? This Tex Mex Chicken Burrito Bowl is all that and more. Healthy, scrumptious, and on your table in a jiffy.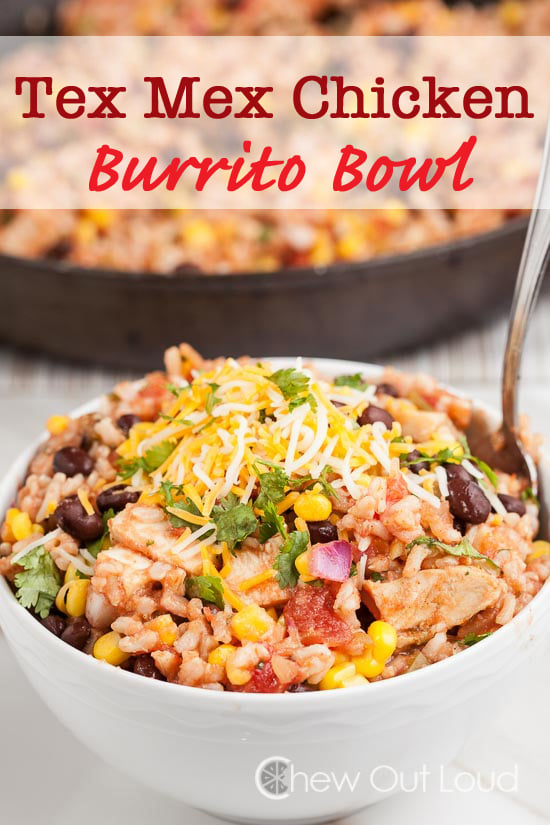 This is one of those weeks. You know the kind. It seems the only sitting down I've done is behind the wheel.
We just exited a crazy weekend filled with soccer tournaments and hockey for The Littles. I realize they need a new collective title because the oldest isn't so little anymore.
We jetted from game to game to hosting a dinner (my fun) to church to more games. Not including loads of laundry and dog washing.
Monday rolled around and I would have missed half my appointments and conferences if not for Google Calendar.
And all the boys in the house are hungryyy, Mommy! What's a girl to do about dinner?!?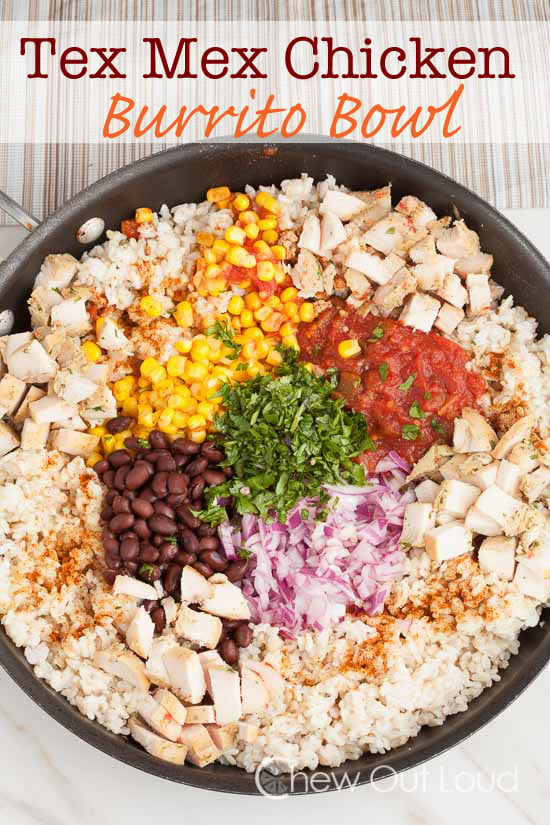 One frazzled afternoon when I realized I'd forgotten about dinner while baking all day for an event — irony not lost on me — I bravely peeked in the pantry and guess what stared back?
There were all the yummy fixings for a burrito bowl. I hadn't planned on making a burrito bowl, but there it all was.
Canned corn, black beans, and salsa. Yes! I even had a big batch of leftover brown rice in the fridge. Awesome sauce.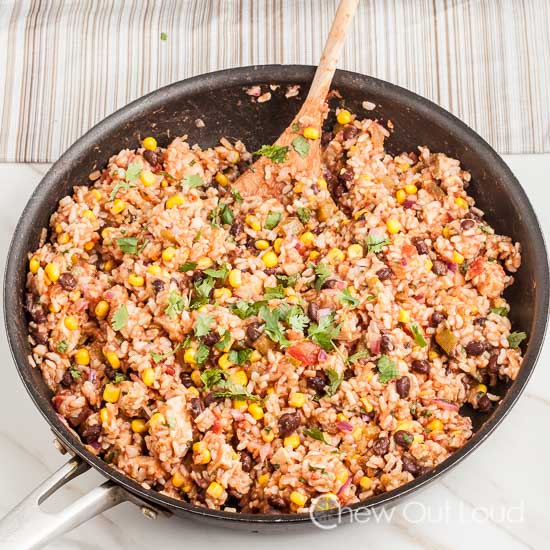 This chicken burrito bowl could not. be. easier.
Simply toss it all into one big skillet, stir it together, and voila!
The family polished off their big bowls and asked for seconds. Thirds. There were no leftovers.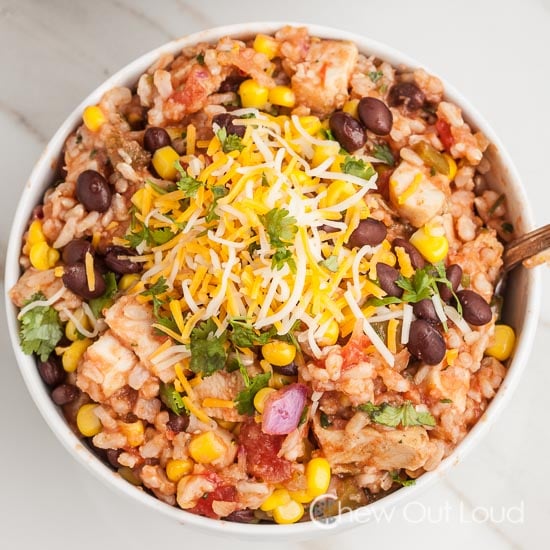 If you're like me this week, let's make a little room to breathe. Have a cup of tea or coffee and sip it slower. Get Pandora to play a favorite song. Burn a pretty candle.
And make sure we always have some canned corn, black beans, and salsa in the pantry.
Enjoy! 🙂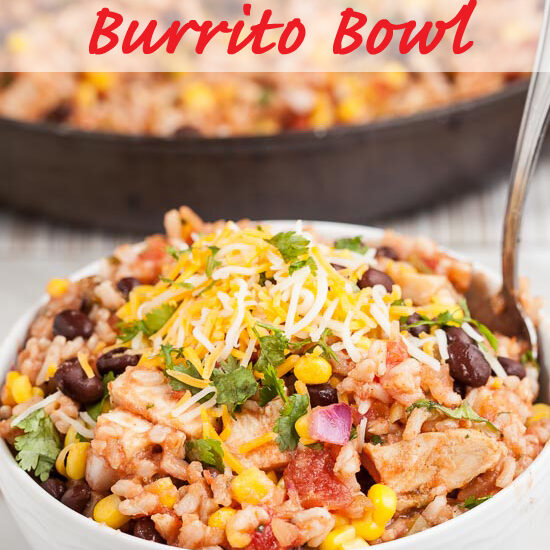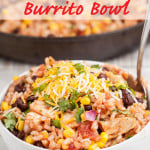 Tex Mex Chicken Burrito Bowl
This Tex Mex Chicken Burrito Bowl is healthy, delicious, and easy. Brown rice improves the health factor without sacrificing any flavor. It's everything you love about a chicken burrito, in a bowl.
Ingredients
½

cup

chopped red onion

1

lime

,

sliced into wedges

2

boneless/skinless chicken breasts

,

or shredded rotisserie works, too

kosher salt and pepper

4

cups

cooked brown rice

,

cooked according to package instructions

2

cups

mild chunky salsa

2

tsp

taco seasoning mix

⅔

cup

canned corn

,

drained

⅔

cup

canned black beans

,

rinsed well and drained

¼

cup

chopped cilantro

,

plus more for garnish if desired

2

cups

shredded cheddar cheese for topping
Instructions
In a small bowl, toss onions with lime juice from 2 wedges of fresh lime. Let sit while you prepare the rest of the dish.

Pat dry chicken breasts. Sprinkle both sides with a generous pinch of kosher salt and pepper. Grill on a greased grill pan over medium-high, 2-3 min per side or until just cooked through. Remove from heat for at least 5 minutes and dice the chicken.

In a large skillet, combine cooked rice, salsa, taco seasoning, corn, black beans, cilantro, onion/lime mixture, and chicken. Cook on medium-high to heat through, stirring frequently.

Serve with plenty of cheese sprinkled on top. Sprinkle extra cilantro on top if desired. Serve with remaining lime wedges.
Did you make this?
Leave a comment below and tag @chewoutloud on Instagram
Source: Chew Out Loud
Here are a few more of our favorite easy weeknight meals:
Easy Mexican Chicken Stew. This is one of those favorite meals I have; perfectly easy for Monday nights, but delicious enough for guests on Saturday.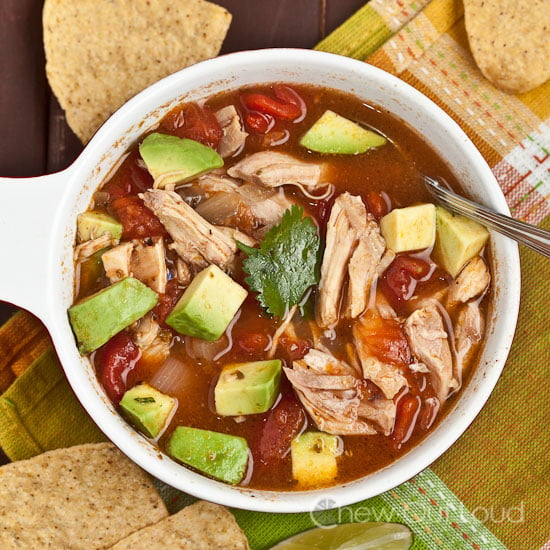 This Best Easy Mexican (Spanish) Rice is the perfect accompaniment to the above chicken stew. Fabulous for taco night, too.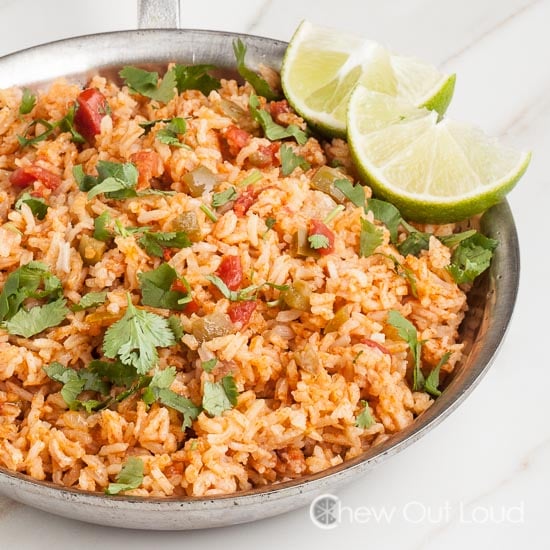 Carnitas, carnitas, carnitas… we love this stuff! We're used to the BEST Mexican pulled pork out in LA, but now we simply make a big mouthwatering batch of our own. Fork-tender, amazing flavor… you'll fall in love.