Chipotle Chicken Burrito Bowls
Chipotle fans, you'll adore these Chipotle Chicken Burrito Bowls! Healthy, easy, incredible.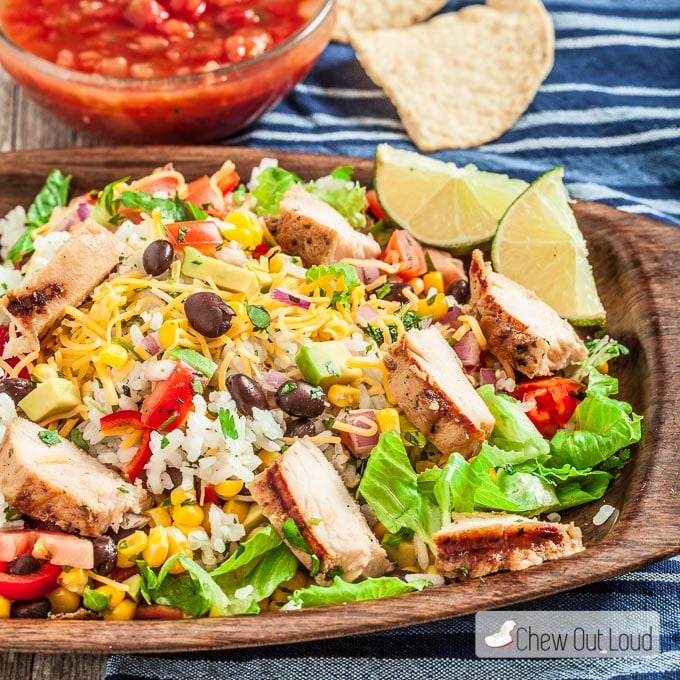 My mom is a couple years shy of 70. After all these years, she still surprises me. I'm always amazed at how she tackles life with seemingly ceaseless energy despite her aches and pains.
Though decidedly old-fashioned, Mom is amazingly willing to try new things. Like trek through unknown woodsy trails after dark while fleeing mean Mosquitos. Like driving hours of windy mountain roads to go trout fishing with us. She hates fishing.
And downing humongous Chipotle burritos filled with every (yes, every) topping choice offered. We're talking football-sized burritos that even the guy behind the counter can't believe he's actually wrapping up.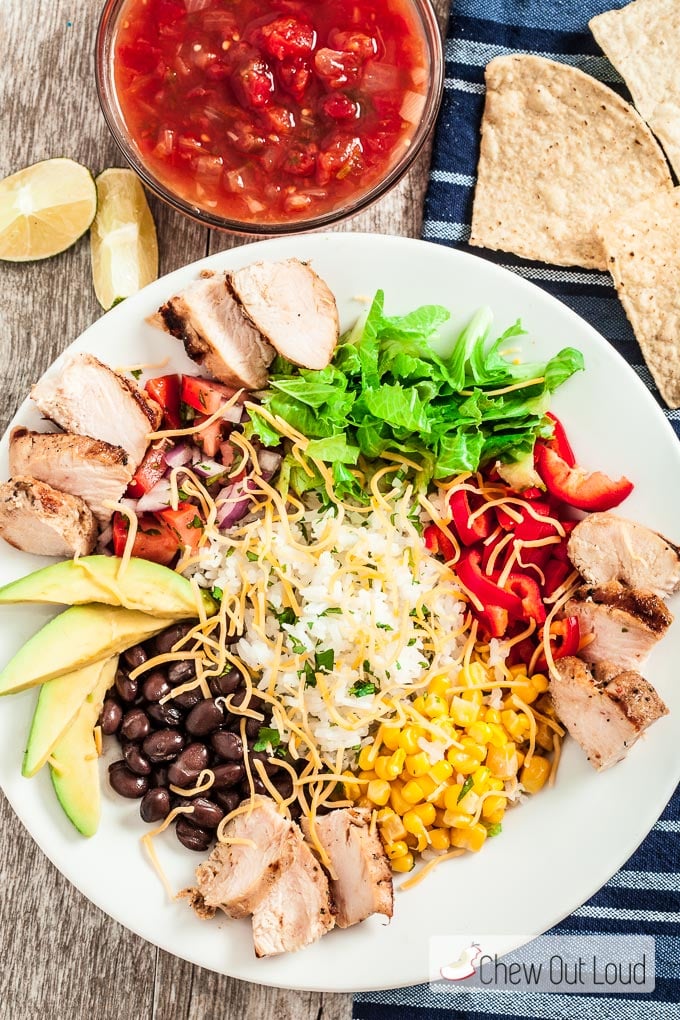 It actually was a surprise to me that Mom even liked Chipotle, given that she's a die-hard first gen Chinese grandma who's mainly eaten and cooked Chinese fare all her life. I have zero memories of guac filled burritos growing up.
Imagine my shock when her recent visit with us included an impromptu dinner at Chipotle one night and she eagerly devoured the biggest chicken, rice, and bean burrito any of us has ever seen.
Like I said, she got every single topping there was.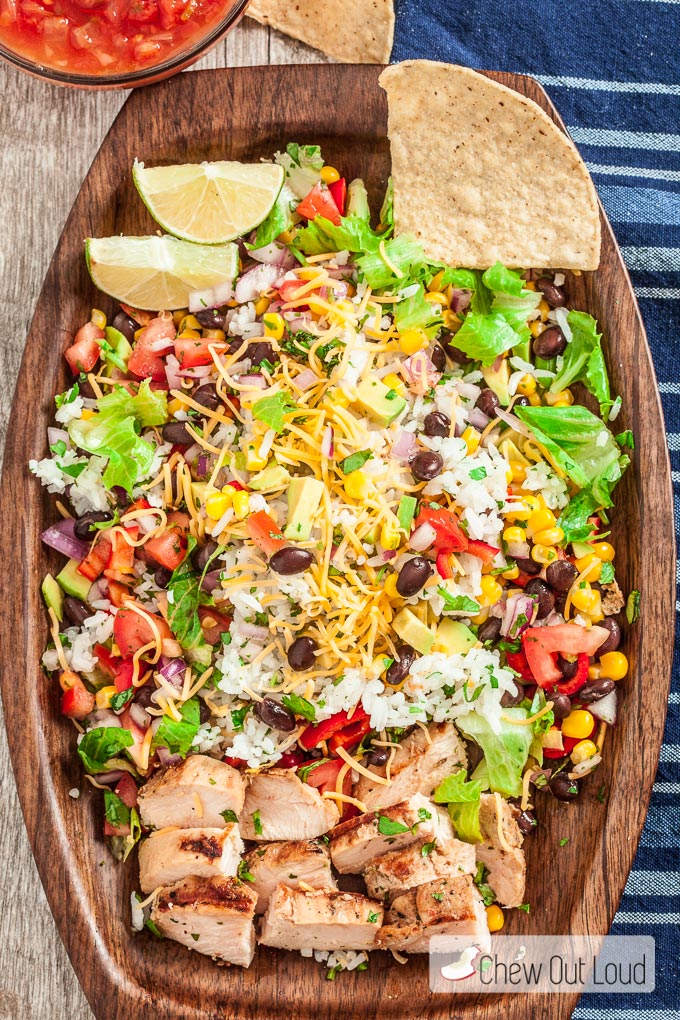 Which brings me to my own Chipotle darling.
My personal favorite Chipotle offering is the yumalicious chicken burrito bowl. I get mine outfitted with plenty of greens, black beans, corn, onions, tomatoes, and cheddar.
Happily massed with tender cilantro lime rice and tasty chicken.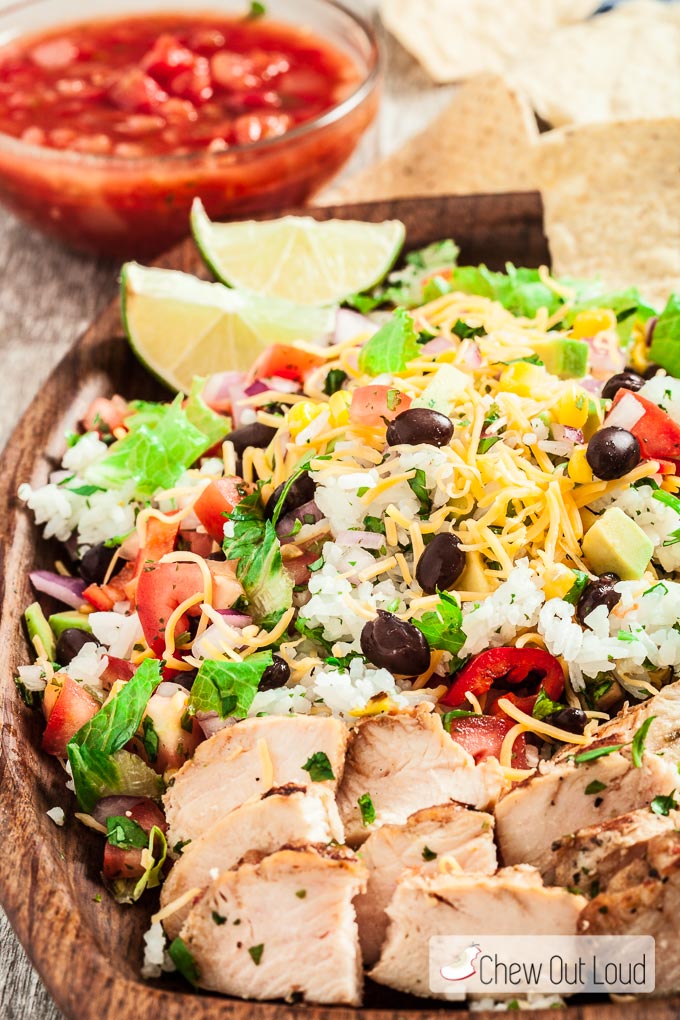 It'a about time these Chipotle Chicken Burrito Bowls made the scene here.
Particularly in the summer when farm fresh produce is wildly popular, you may already have all the ingredients you need for your chicken burrito bowl.
These bowls are highly personalized to suit your own tastes. This is your own foodie rockfest. Go ahead and add, subtract, or modify according to what tempts your tummy. Customize it for your favorite peeps.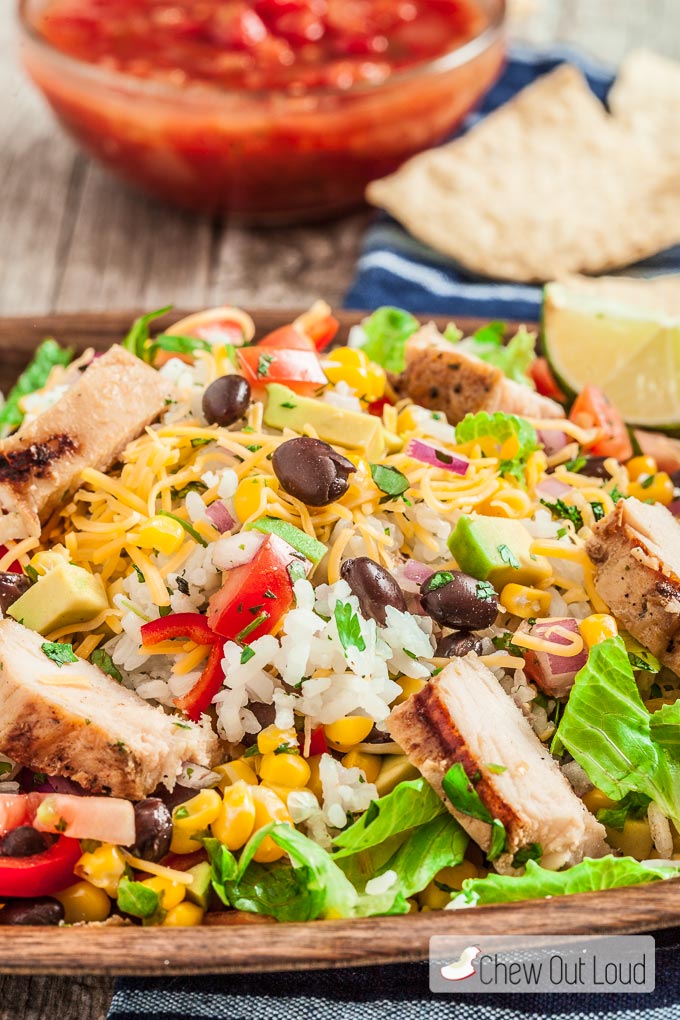 Top it with guac, sour cream, or salsa. Bring in the tortilla chips if you want a bit of crunch.
The cilantro-lime rice is a fantastic base for burrito bowls. I could and did eat cilantro-lime rice by the spoonful before mixing it all up into that colorfully gorgeous mess of a meal.
This is the best kind of mess. Enjoy.
Print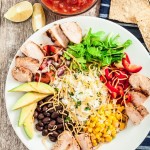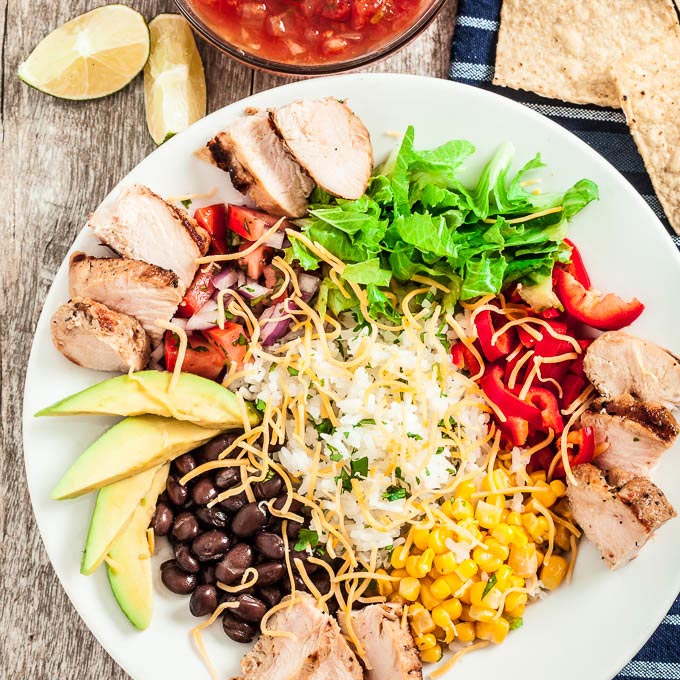 Chipotle Chicken Burrito Bowls
This copycat recipe for Chipotle Chicken Burrito Bowls is 200% delish! It's fresh, healthy, flavorful, and packed with goodies. Cilantro-lime rice is fantastic all on its own. Customize it to satisfy your cravings.
Prep Time:

30 mins

Cook Time:

20 mins

Total Time:

50 mins
For the Chicken:

4

boneless skinless chicken breasts, pounded to even thickness and towel dried
Juice of

half a

lime

1/4 cup

extra virgin olive oil

3

TB Homemade Taco seasoning (or store bought packet)
For Cilantro-Lime Rice:

2 cups

uncooked long grain rice

2

TB salted butter

2 tsp

table salt
Juice of

1

large lime, for tossing

2/3 cup

freshly chopped cilantro, for tossing
For Burrito Salad

1 cup

chopped romaine lettuce

1/2 cup

diced bell peppers, any color

1/2 cup

diced tomatoes

1/2

diced red onions

1/2 cup

sweet corn kernels

1/2 cup

canned black beans, rinsed and drained

1/4 cup

chopped fresh cilantro

2

stalks scallions, chopped
Garnishes: sour cream, fresh guacamole, fresh salsa
Instructions
Cook rice according to package instructions, adding the butter and salt into the water. Without lifting the lid, set cooked rice aside.
While rice is cooking, prepare the chicken: In a bowl, combine the chicken with oil, lime, taco seasoning. Toss to coat and cover. Marinate for 30 minutes. Meanwhile, chop all the Burrito Salad ingredients and toss them together in a bowl. Set aside.
Grill chicken on medium high heat, about 4 min per side, depending on thickness of chicken. Cook just until center is no longer pink; don't over-cook. Remove from heat and set aside.
Toss and fluff rice with a fork. Add the lime juice and cilantro and toss to combine. Spoon rice into individual bowls. Top with Burrito Salad mixture. Add sliced grilled chicken and garnish as desired. Serve warm or at room temp.
Author:
Category:

main dish

Cuisine:

Tex Mex, Mexican, Southwestern
Source: Chew Out Loud, adapted from Gimme Delicious
Here are some other delicious Tex-Mex dishes that we think you'll love:
1. Mexican Rice with Chicken and Shrimp. Fast, easy, and flavorful. Healthy to boot.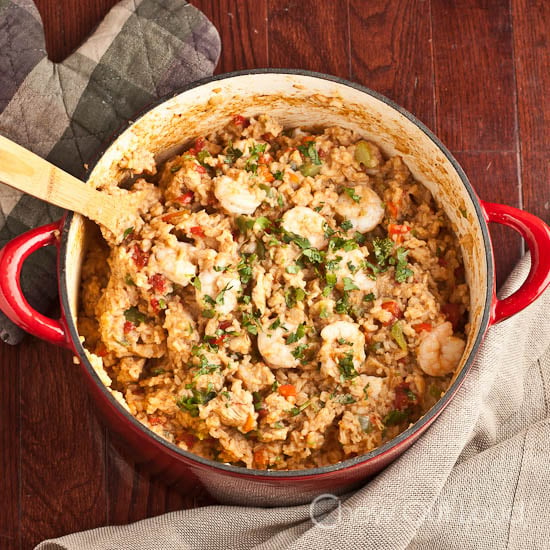 2. Best Easy Mexican Rice. It took many, many recipes to finally land on this fluffy and tasty one. You'll say bye-bye to all boxed rice mixes.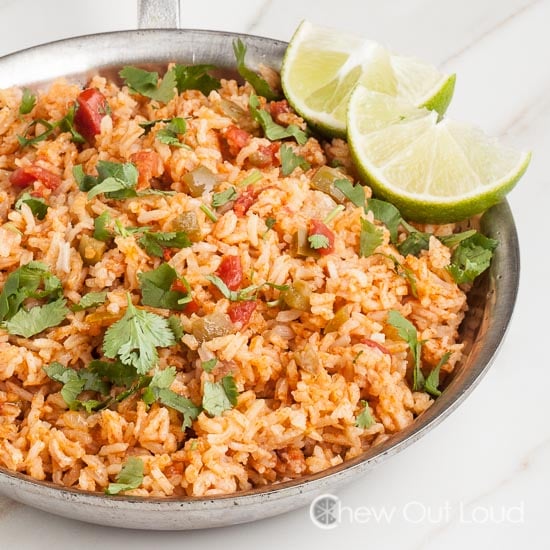 3. Cuban Rice and Beans. This is SUCH a crazy delish rice dish. Rice 'n beans never tasted so good.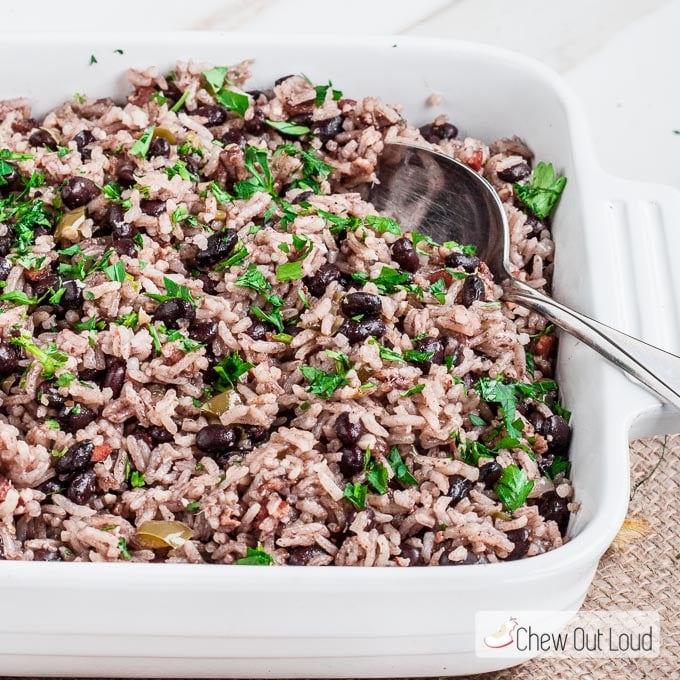 4. Southwestern Barley Salad. After trying this at a restaurant, it was my immediate mission to remake it at home. It's the perfect spring/summer dish.