Tropical Green Smoothie
By Amy Dong
Published Jul. 10, 2014
Updated Aug. 17, 2022
Whether you're new to the Green Smoothie phenomenon or you're a blending pro, this Tropical Green Smoothie is sure to please. This nutritious smoothie is the perfect way to start your day. It's also a gratifying and healthy afternoon snack.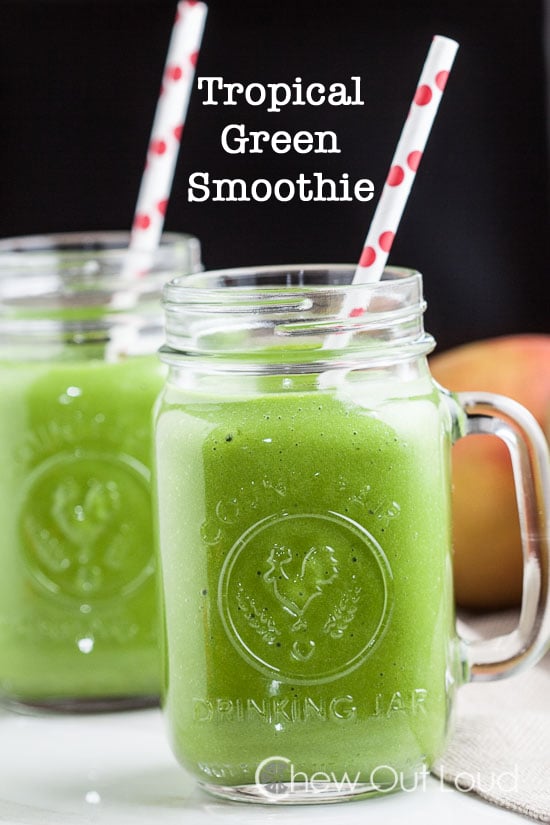 I've long admired the Vitamix my parents own. I don't know how they decided on such a blender, but I'm guessing Mom may have been inspired by a cool Costco demo.
Admittedly, those smoothie samples are delish and the presentations are quite impressive. After watching a demo, it's tempting to plunk a pricey blender into the bottomless shopping cart.
Said blender is currently sitting in Mom's storage room. Not sure it's ever been used. I've considered snagging it. I'd ask first, of course. But then we live nearly a cross country distance, and I wouldn't want to borrow something I couldn't easily transport. Plus, I'm sure they will use it. One day.
When I spied the Ninja blender on major sale at Target AND I had gift cards to boot, guess what I did? Welcome home, New Kitchen Appliance. [pssst….you don't need a powerhouse blender for this.]
My smoothie obsession begins…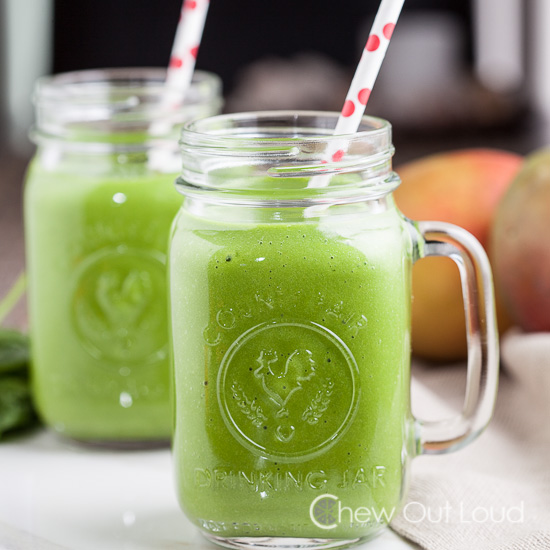 And I don't just start with any smoothie recipe. I have to go with a green smoothie.
Because I've already made my share of fruity smoothies, like this summery Tropical Mango Smoothie and shake-like Avocado Coconut Smoothie. Those are things my old (now defunct) blender could handle.
But now that I can blend greens easily, I'm going green.
This Tropical Green Smoothie is one that everyone, young and old, will embrace. Despite the handfuls of fresh spinach in this healthy blend, there's also enough ripe fruit and a touch of honey that keeps everyone happy.
I wasn't sure how The Littles would receive their first green smoothie. The first Little took a look at the bright green color, gingerly took a sip, and then another. He gave me a grin and a thumbs up. The other Littles simply downed their portions in a snap and asked for seconds.
I had to grab a cup to save some for Hubby, who agreed it was tasty. Soon the entire pitcher was nearly gone.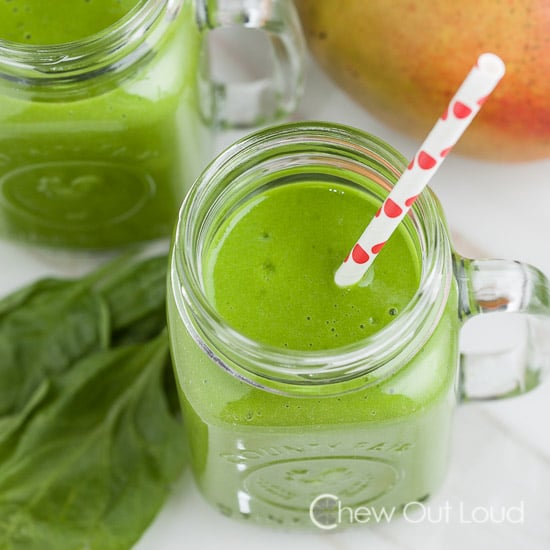 This Tropical Green Smoothie is creamy, smooth, and refreshingly delish. It's also flexible, so feel free to mix in your favorite tropical fruits or use coconut milk instead of almond milk.
Here's to going green.
Enjoy!
Did you make this?
Please give us a rating and comment below. We love hearing from you!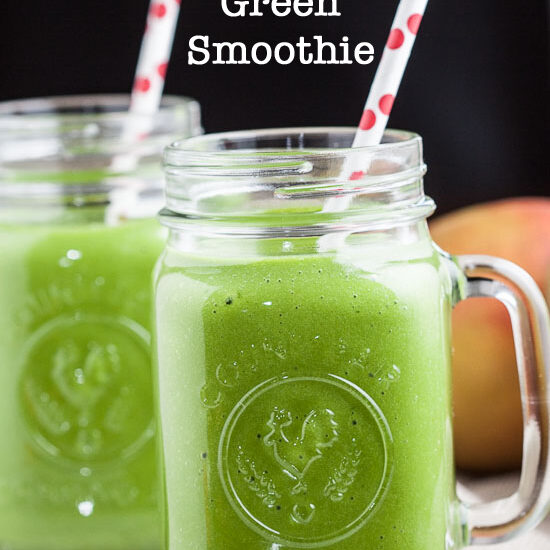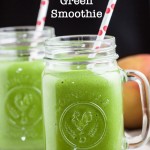 Tropical Green Smoothie
This Tropical Green Smoothie is full of fresh spinach, tropical fruits, and a touch of honey. The result is a green smoothie that is yummy enough for everyone to enjoy. Be sure to use very ripe fruits for best flavor and natural sweetness. Freeze your ripe fruit for a cold smoothie.
Ingredients
2

cups

fresh baby spinach

,

packed

1

cup

sweetened vanilla almond milk

,

or coconut milk

1

cup

very ripe mango

,

peeled/cubed and frozen

1

cup

very ripe pineapple chunks

2

very ripe bananas

,

peeled and frozen in cling wrap

2-4

TB

pure honey
Instructions
In your blender, add the almond milk and spinach. Blend until completely smooth. Add the frozen ripe fruits (one kind of fruit at a time) and blend until smooth each time. Add desired amount of honey to taste. Blend until frothy and creamy smooth.

Serve immediately. (Unused portion should be kept in airtight container and chilled for no more than 2 days.)
Nutrition (per serving)
Calories:
142
kcal
|
Carbohydrates:
34
g
|
Protein:
2
g
|
Fat:
1
g
|
Saturated Fat:
0.1
g
|
Polyunsaturated Fat:
0.5
g
|
Monounsaturated Fat:
0.5
g
|
Sodium:
95
mg
|
Potassium:
415
mg
|
Fiber:
3
g
|
Sugar:
26
g
|
Vitamin A:
1915
IU
|
Vitamin C:
44
mg
|
Calcium:
103
mg
|
Iron:
1
mg
Source: Chew Out Loud
Here's that Tropical Mango Smoothie that our family eagerly gulps down on any hot summer day.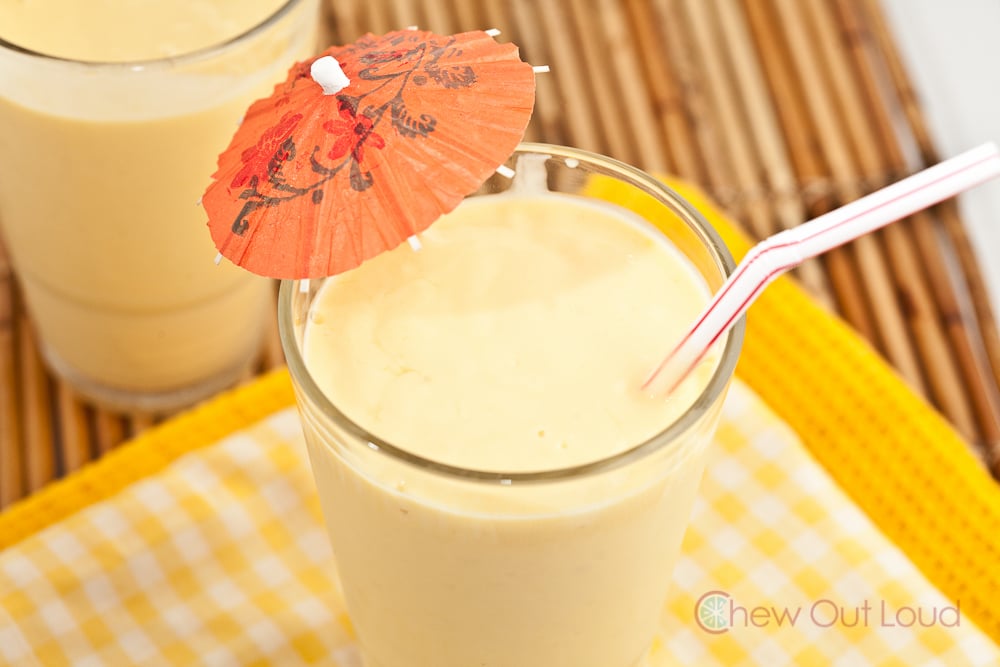 In Asian countries, various versions of Avocado Shakes/Smoothies are super popular. This recipe is easy, creamy, and tasty.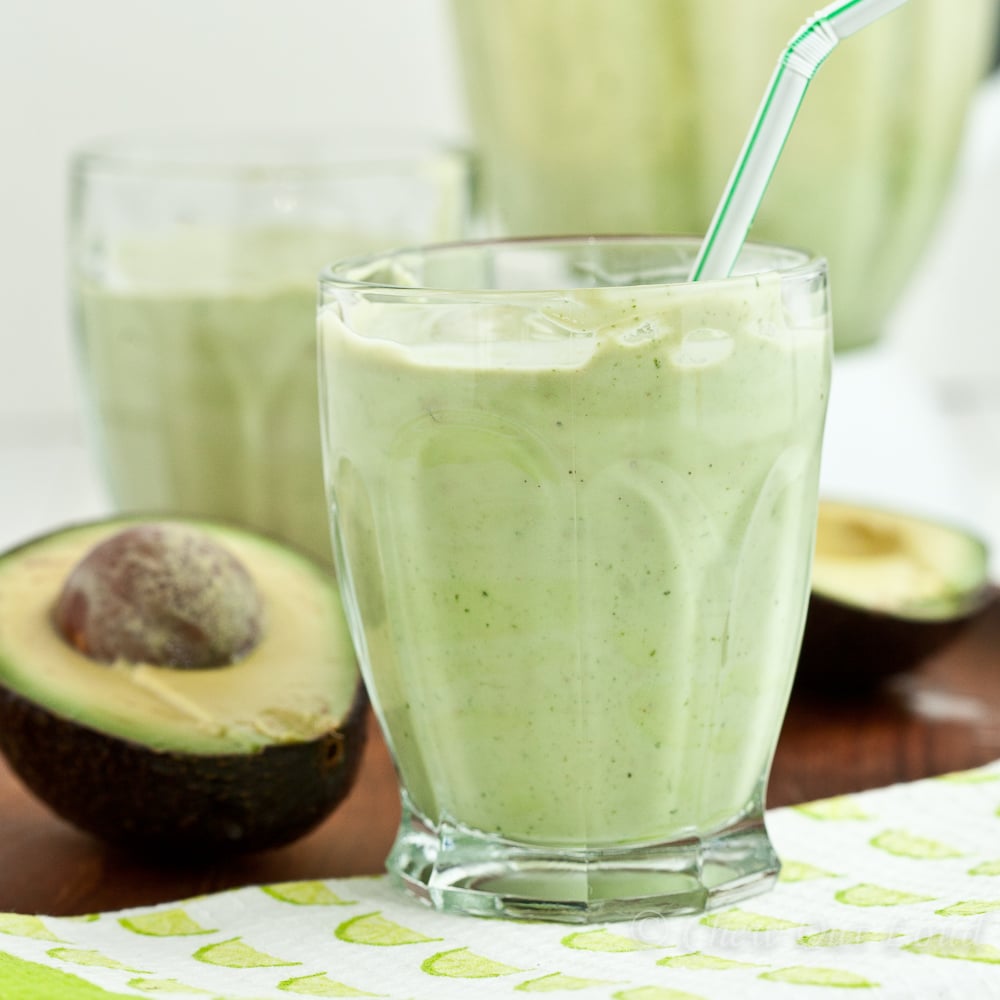 These chewy Peanut Chocolate Protein Bars (5 ingredients!) are seriously worth it. Way better than spending your entire wallet on a few bars from the store. And they're no-bake.