Everyone adores these cute little White Chocolate Raspberry Cheesecake Bites. They are just the right size for popping into your mouth. Creamy, smooth, rich, and decadent morsels worthy of any occasion.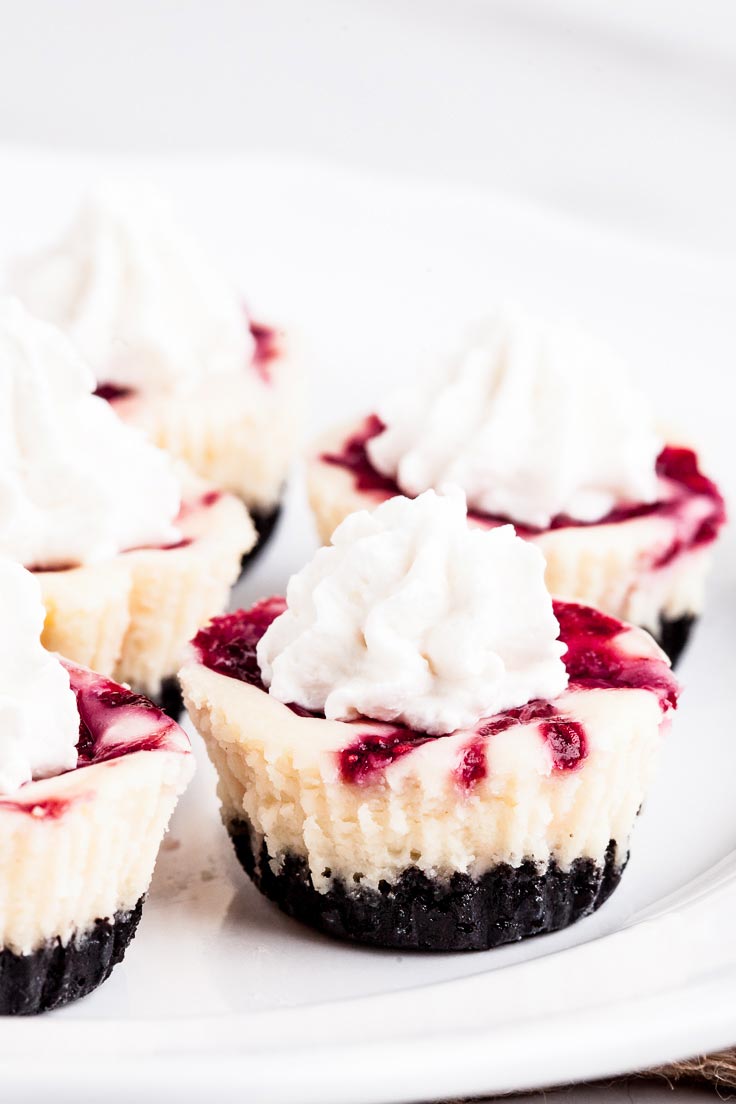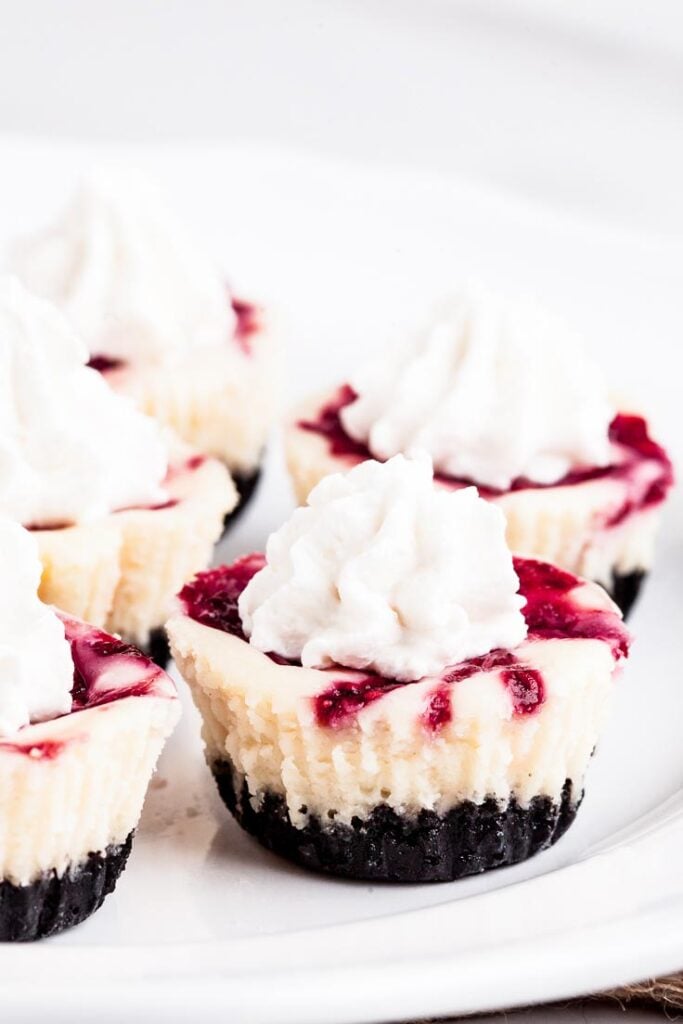 White Chocolate Raspberry Cheesecake Recipe
Some choices are way trickier than others.
Case in point: if you wear glasses or contact lenses, this will make complete sense. The optometrist blasts you with so many flips of lenses that pretty soon all of them look the same and you're just taking a wild stab in the dark when you proclaim 2 is better than 4. You hope your answers won't result in a premature bifocal prescription.
Then again, if you're the optometrist, you're probably jaded with the 1-2-3-4 questions a billion times per day when all you want is a latte.
All of my Littles just went through this drill today, thanks to their unlucky genes. I could tell my guys had difficulty making up their minds whether lens 1 was better than lens 2. Or whether they see floaties in the air…because when I press my eyeballs like this, then I see floaties…
Thankfully, not all choices are even slightly hard. White Chocolate Raspberry Cheesecake Bites, we're looking at you (see what I did there?)
White Chocolate Raspberry Cheesecake (better than Cheesecake Factory, for reals)
If someone asks me what I'd like for dessert, it takes me about a nanosecond to answer. Granted, it depends a bit on my mood at the time, but generally there's not a whole lot of thought needed.
Cheesecake is almost always on my (and Hubby's) hit list of favorite desserts. We've nicknamed ourselves the Cheesecake Buffs.
Then one day long ago, we stopped paying big bucks for small pieces of cheesecake at all the restaurants. We discovered the secrets to making our own NY style cheesecakes and have a happy collection of flavors at this point.
My hands-down favorite is forever this big sharable version of white chocolate raspberry cheesecake . cheesecake, on a buttery Oreo crust. I took that recipe and made them into these individual White Chocolate Raspberry Cheesecake Bites that are perfect for any occasion. Once you put these decadent little cheesecakes on display, they'll disappear like nobody's business.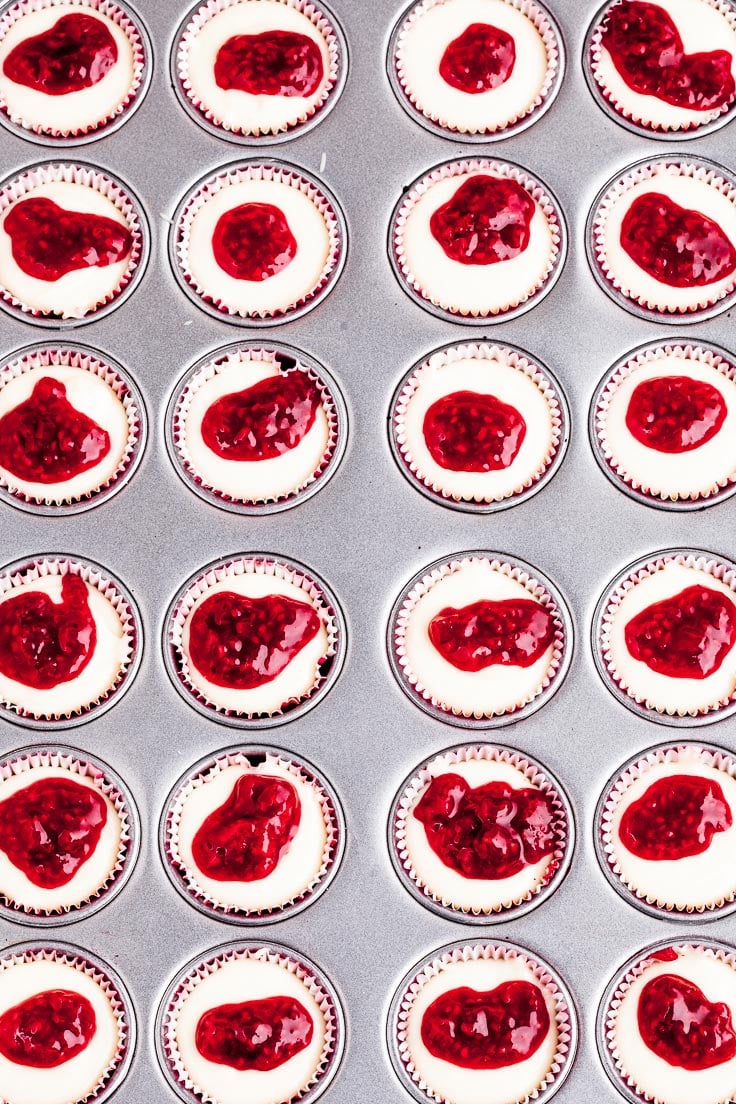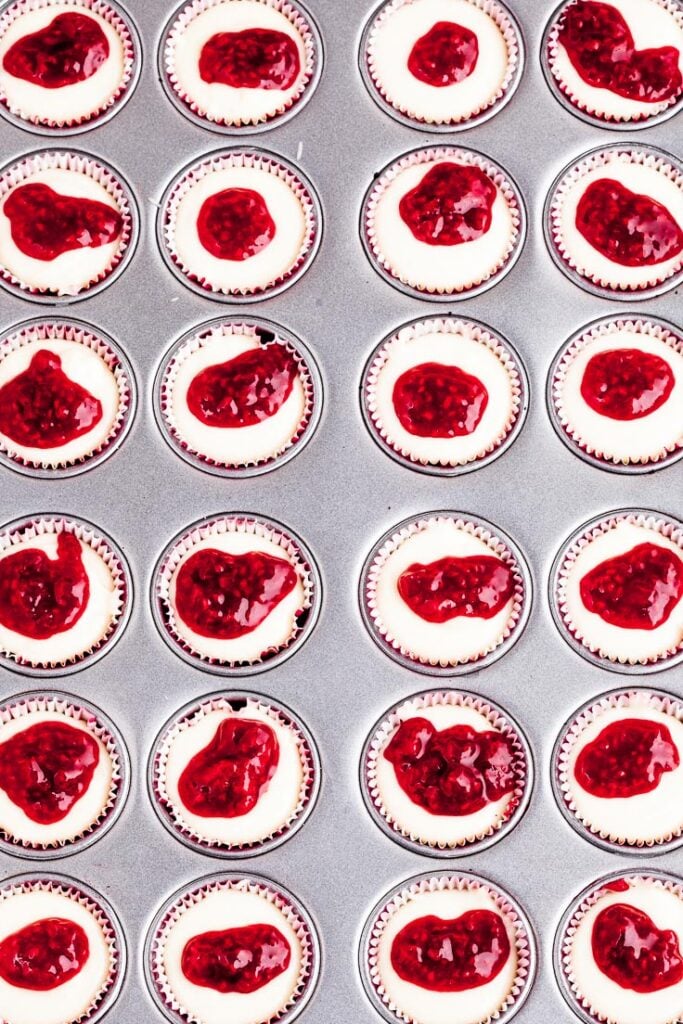 Tips for making the best white chocolate raspberry cheesecakes
Make the raspberry sauce ahead of time. You only need 3 ingredients for said raspberry sauce, and it keeps well in the fridge for up to a week.
Crush the Oreo cookies ahead of time while you're at it. I like to quickly scrape off the cream filling of the cookies, since those aren't needed and you get a bigger chocolatey flavor in the crust without the center filling. Cookie crumbs keep well in an airtight zipper bag for several days.
This one's huge: be sure your blocks of cream cheese are very soft prior to using them. They should be so soft that they're almost melty (but not quite melted.) This allows the cream cheese to blend seamlessly, into a smooth-velvety-creamy consistency.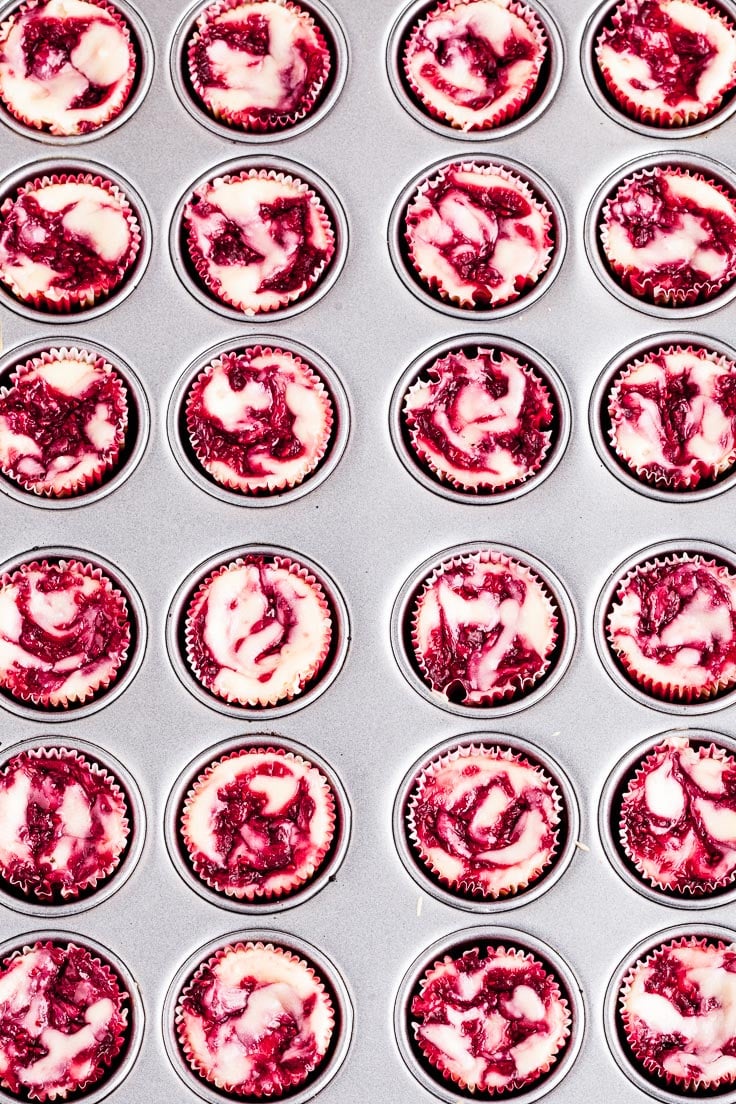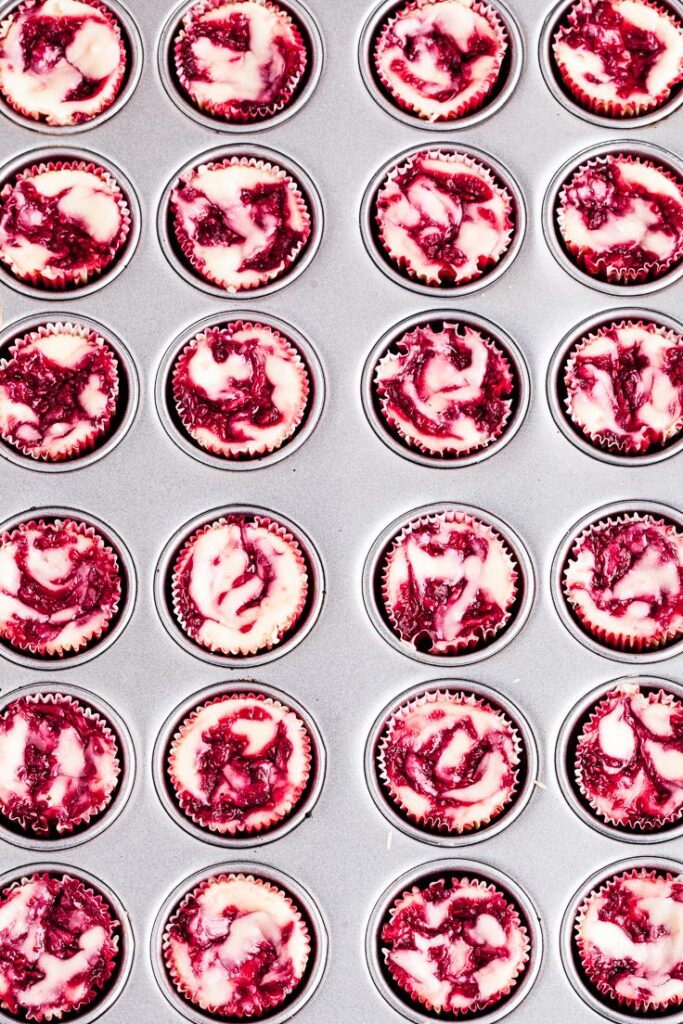 Rich, Dense, New York Style cheesecake for your dessert table
These individual cheesecake bites taste exactly like larger classic cheesecakes, but transformed into rich little bites for popping into your mouth. They are pretty, festive, and perfect for sharing.
These mini cheesecakes are great for birthdays, holidays, brunches, and any other excuse you can muster up for making these. Like I said, they'll disappear in a flash.
You'd be wise to hide a few in your freezer before serving them; otherwise, you might not get to taste any at all.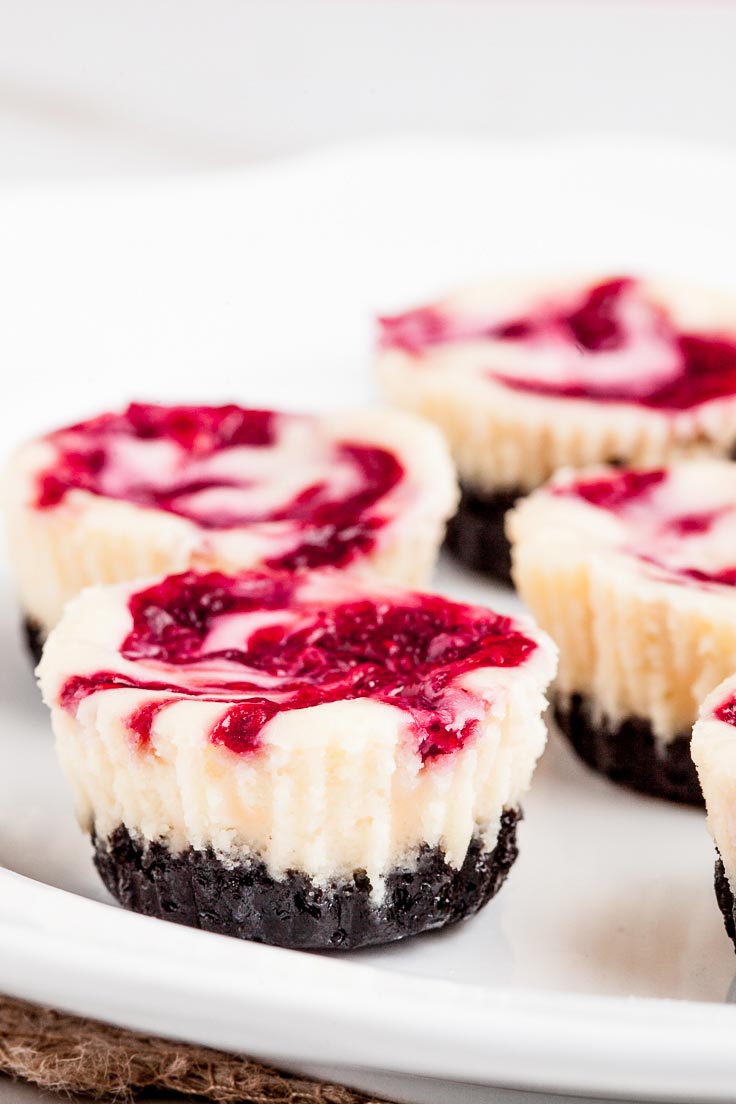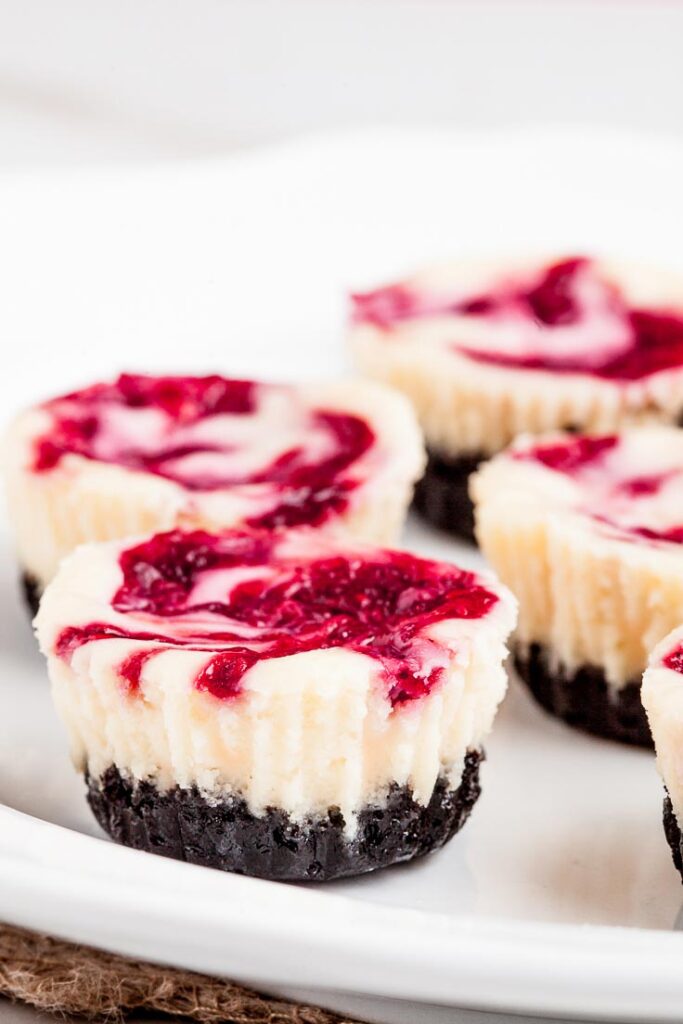 Cheesecake can be made ahead of time and refrigerated or frozen
This mini cheesecake recipe freeze beautifully, as most cheesecakes do. You can easily make an entire batch, bake them, and freeze them. Just bring them out when the party starts.
Pipe on some Homemade Stabilized Whipped Cream, stabilized to ensure that they'll keep shape at room temp without ever turning soft and runny. In fact, you can make the stabilized whipped cream a day ahead of time and store in fridge until you're ready to spoon it over the cheesecake.
If you're lucky enough to have leftovers, you can freeze the cheesecakes, even with stabilized whipped cream piped on top. Perfect for mini cheesecake emergencies 🙂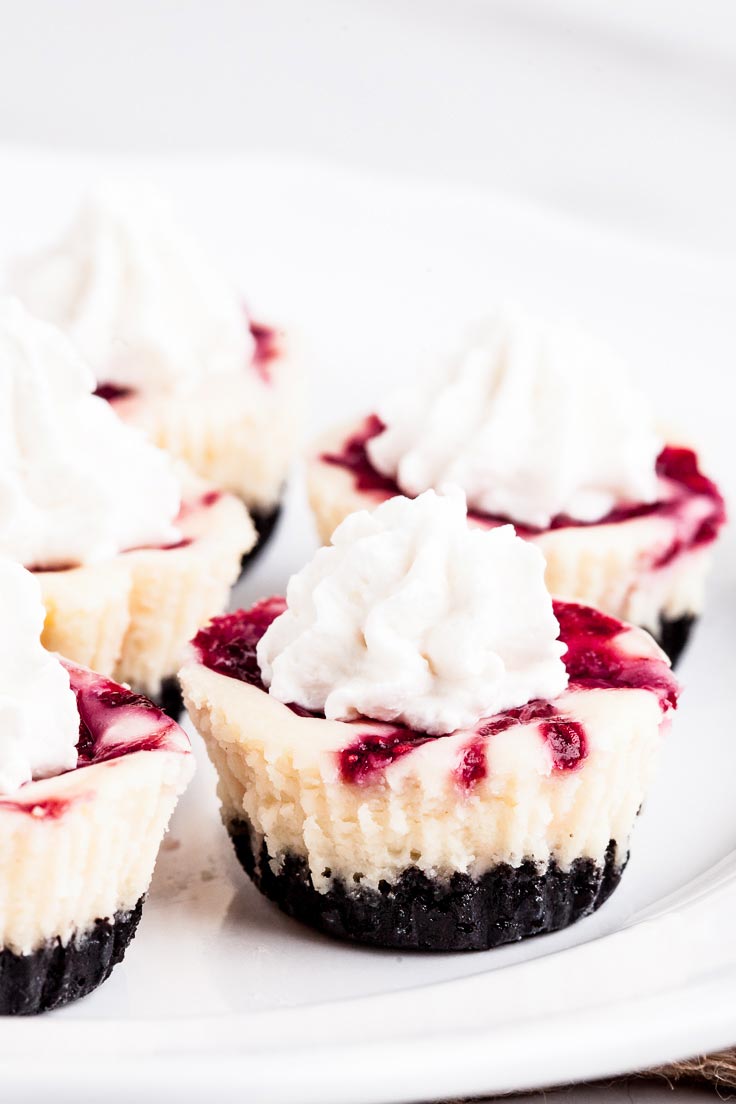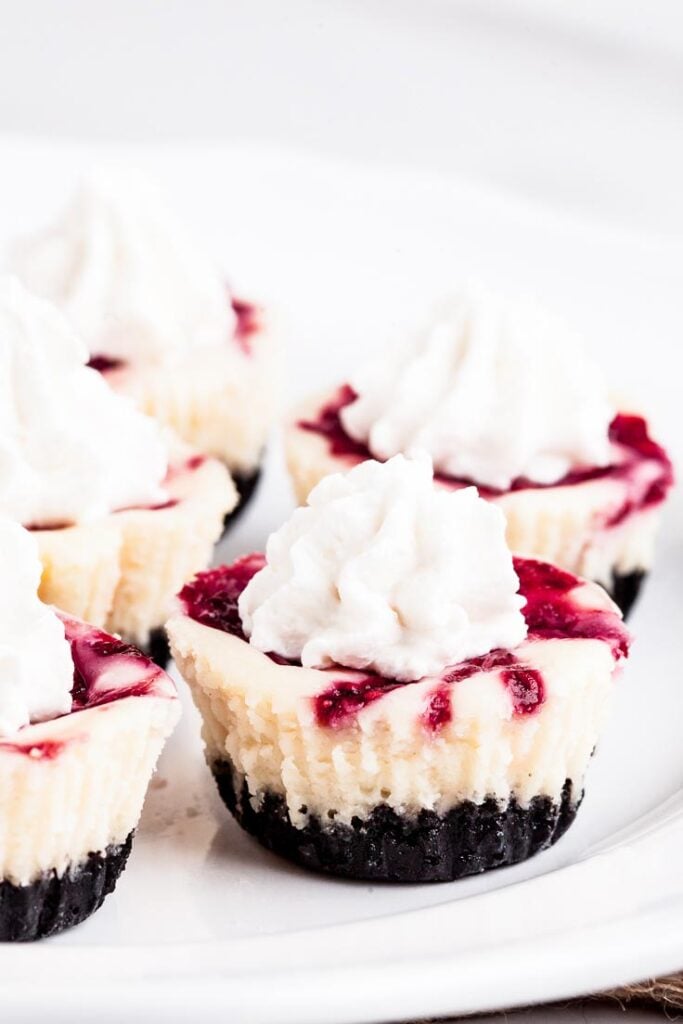 Print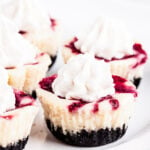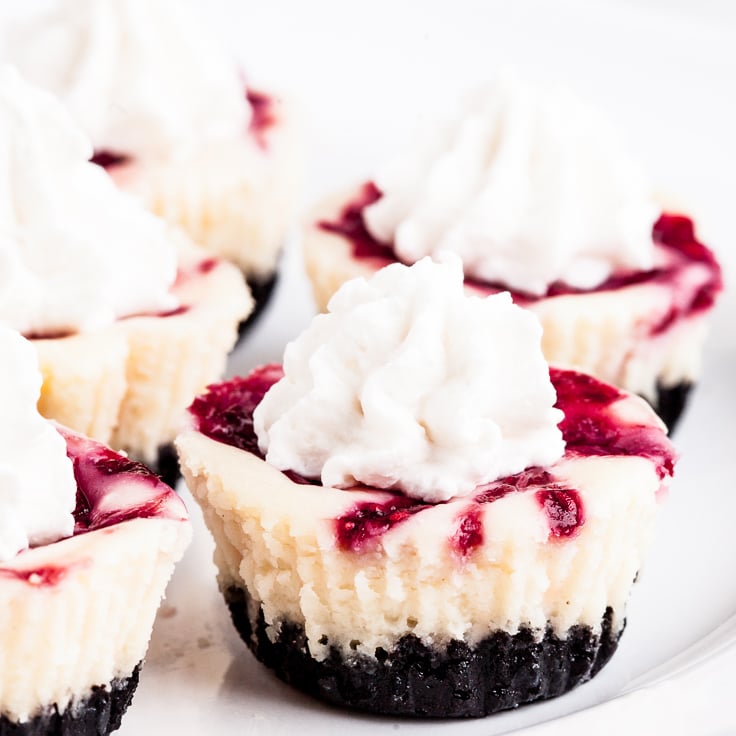 White Chocolate Raspberry Cheesecakes Bites
Author:

Prep Time:

30

Cook Time:

20

Total Time:

50 minutes

Yield:

48

1

x

Category:

dessert

Method:

bake

Cuisine:

American
---
Description
These White Chocolate Raspberry Cheesecake Bites are perfect for birthdays, holidays, parties, and anytime sharing! They're dense NY style. Luscious, rich, smooth, creamy cheesecakes strewn with real raspberry and topped with homemade whipped cream.
---
Scale
Ingredients
For the Crust:

1 1/2 cups

Oreo cookie crumbs, cream centers removed (about

22

–

23

finely crushed cookies)

6

TB salted butter, melted
For the Custard:
Half bag (6 oz) pure white chocolate chips

1/4 cup

half and half

1 1/2

(12oz total) blocks whole cream cheese, softened to almost melted

1/4 cup

sugar

2

large eggs

1 tsp

vanilla extract
For the Raspberry Sauce:

5 oz

frozen or fresh raspberries

1

TB granulated sugar

1 1/2 tsp

cornstarch dissolved in 3 TB water
---
Instructions
Make Crust: In a large bowl, mix fine cookie crumbs with butter until well incorporated. Should resemble wet sand. Scoop 1 slightly rounded tsp crumb mixture evenly into 48 lined mini muffin tins. Press down to form bottom crusts.
Preheat oven to 325F, with rack on lower middle position.
Make Raspberry Sauce: Combine raspberries, sugar, and dissolved cornstarch in a saucepan and bring to a boil, stirring often. Once mixture is thickened, remove from heat and set aside.
Make Custard: In heavy saucepan, melt white chocolate chips together with half and half on low heat, stirring often. Remove from heat. In large bowl, mix together nearly melted cream cheese and sugar until smooth. Beat in eggs one at a time. Add vanilla and the melted white chocolate mixture.
Scoop 1 rounded TB custard evenly into lined mini muffin tins. Dollop 1/2 tsp raspberry sauce over the custard. Gently use a thin knife to lightly swirl.
Bake 20 minutes or until tops are puffy and no longer sticky upon light touch. Let cool to room temp and then cover and chill in fridge (overnight is recommended.) Top with Stabilized Whipped Cream and serve.
---
Notes
Raspberry sauce can be made up to a week ahead of time and stored airtight in fridge until ready to use.
Baked cheesecakes can be covered airtight and stored in fridge 2-3 days. They can also be frozen 1-2 weeks in airtight container. 
Keywords: White Chocolate Raspberry Cheesecake
Cheesecake Lovers, these are for you:
1. NY Style White Chocolate Raspberry Cheesecake. This is the large pie, grown up size version that you can slice up and share. Perfect holiday or birthday "cake" for cheesecake lovers.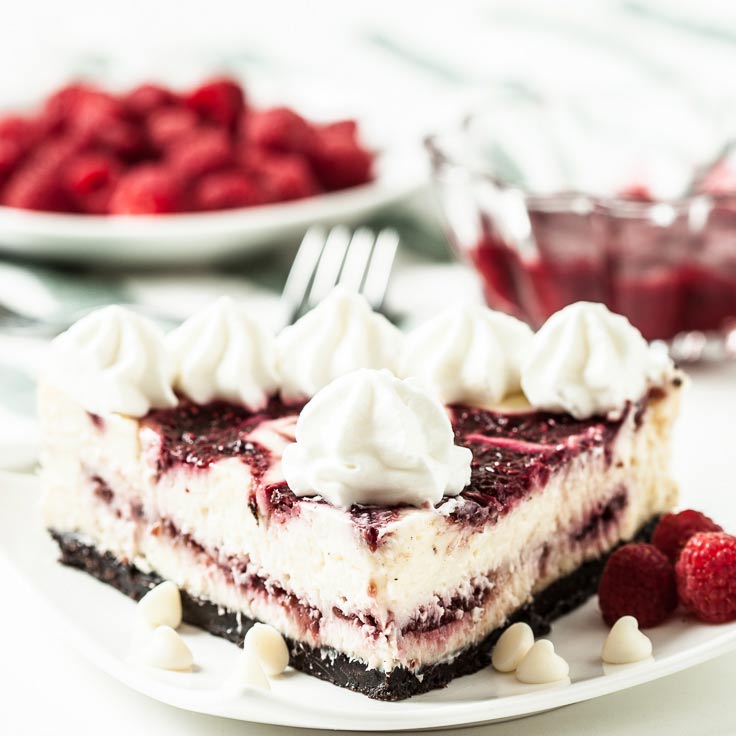 2. NY Style Pumpkin Cheesecake. This has become a social hit, for good reason. It's great for fall and winter, and anytime you want a better-than-the-factory Pumpkin Cheesecake.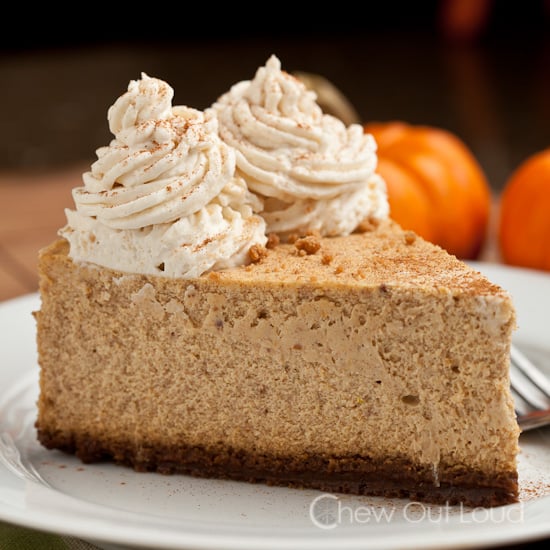 3. Perfectly Smooth NY style Cheesecake. This method of cheesecake baking prevents unsightly cracks, dips, sinking, etc. Get a beautifully smooth cheesecake every time.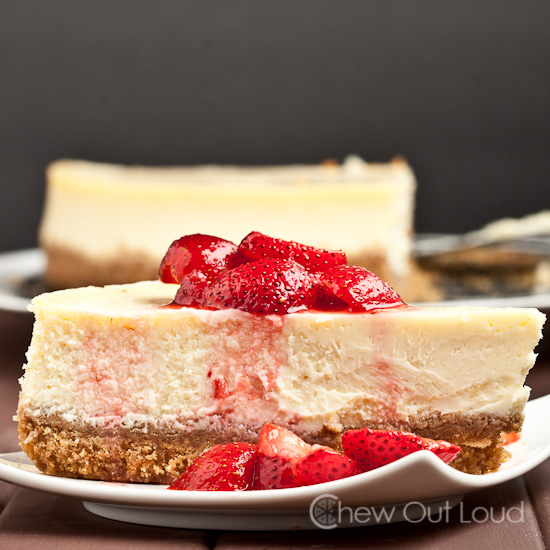 4. Chocolate Chip Cheesecake Cookie Dough Bars. Simply scrumptious, decadent, and worth every. single. bite.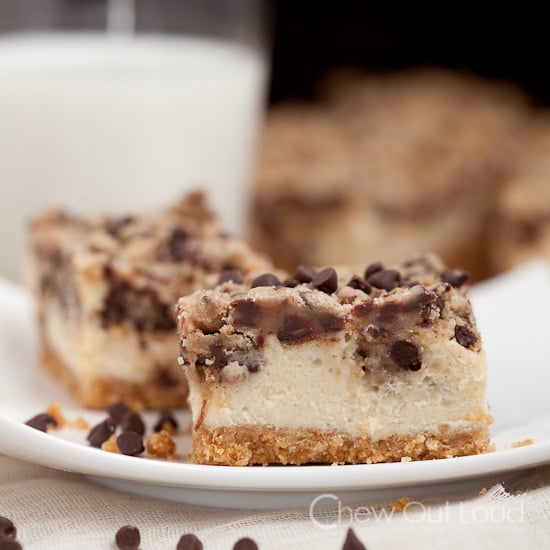 5. These Salted Caramel Cheesecake Bites are unbelievable. You have to taste them to believe them. Everyone loves these baby cheesecakes and they'll be hitting you up for the recipe.