White Chocolate Raspberry Scones
These White Chocolate Raspberry Scones are one of our favorite morning treats ever – super moist, not dry. Making your own tender scones are way easier than it seems.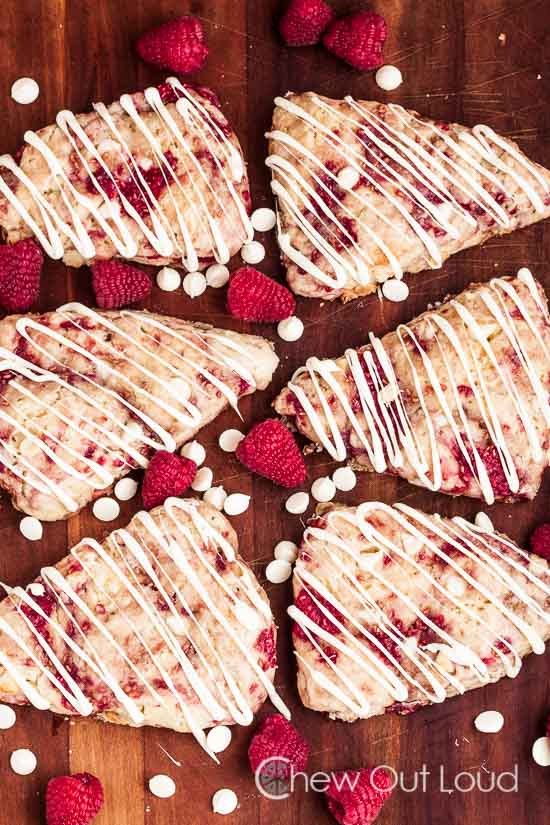 We are fortunate to live in a community that adores farmer's markets and supports local farms. Yeah, they're only available about 3 months out of the year, but those months are always highly anticipated.
The farm stand that I dance and skip toward belongs to the local mom 'n pop bakery. No holds barred there – they've got everything from freshly baked bread to unbelievable muffins and scones, all made with natural ingredients in house. They are amazingly moist, tender, and like no other scone you've ever tasted.
If my peripheral vision even catches sight of the White Chocolate Raspberry Scones at said farm stand, I'm sure to come home with a colossal bag full every time.
Hubby just eyes my mountainous bag with raised brows and says nothing. The smart man…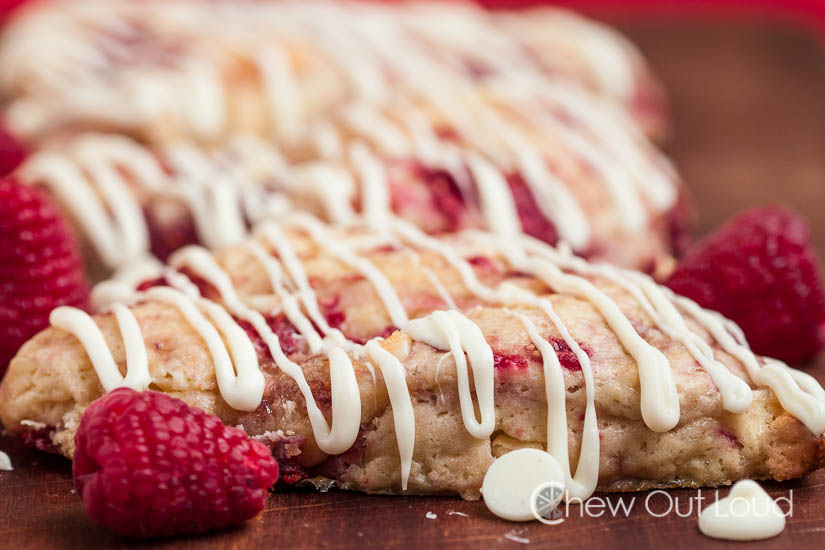 Given that the rest of the year doesn't allow for farmer's market spreads, I'm left with way too many months of pining for those White Chocolate Raspberry Scones.
That's probably a good thing, or I'd bust our budget every month on bakery scones. Nobody said they were cheap.
What's a girl to do, except set out to make her own copy cat version at home?
Put on the apron (or not) and start scooping the flour.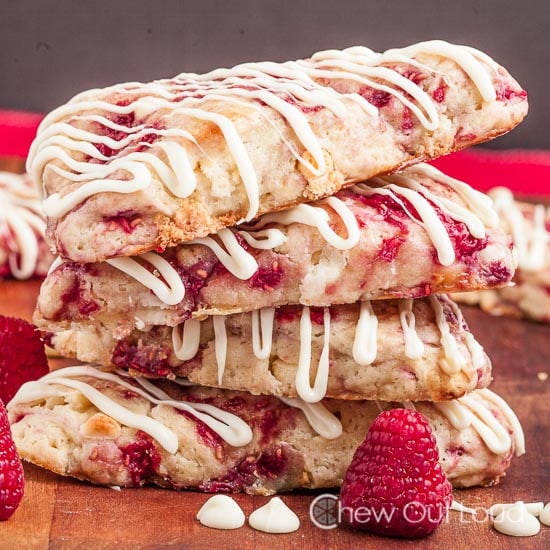 Friends, these are the BEST homemade scones I've ever made or tasted.
I dare say I like them just as much as the ones from my local bakery. These White Chocolate Raspberry Scones are superbly moist, tender, and nowhere near dry. Just don't over bake them 🙂
One of my boys, who happens to be a whopping white chocolate & raspberry fan, picked these as his favorite baked breakfast treat in the whole wide world.
You and me both, Son.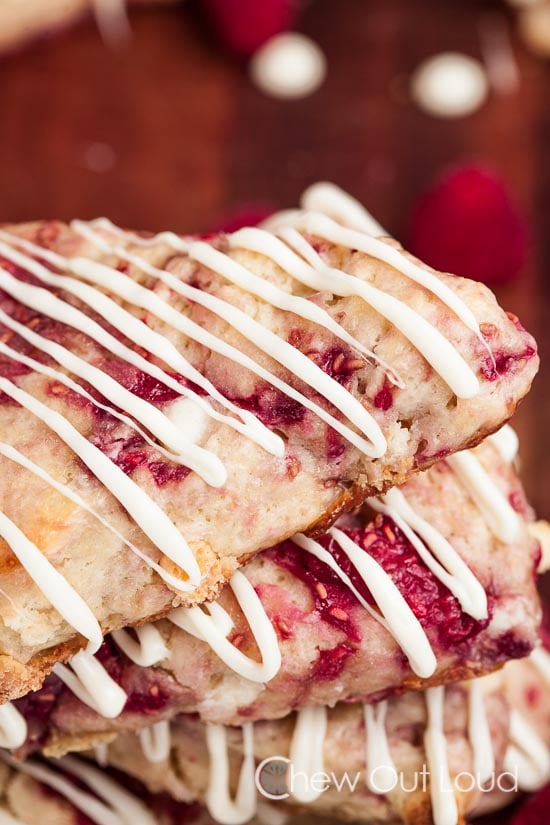 We used fresh raspberries, which are available pretty much year round at grocery stores, thank goodness. The fresh berries provide that amazing moistness you can't get otherwise.
The white chocolate gives these scones that sweetness to balance out the berries. The almond extract is a must in this recipe, as it imparts such great flavor that is not overpowering yet definitely flavorful.
Enjoy!
Did you make this?
Please give us a rating and comment below. We love hearing from you!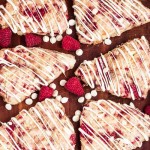 White Chocolate Raspberry Scones
These White Chocolate Raspberry Scones are a family favorite! They're superior in moistness and perfectly flavored with just the right amount of sweetness. Dough can be made ahead and chilled until ready to use. Be sure not to over bake these. Baked scones will keep nicely at room temp for 2 days.
Instructions
In a large bowl, whisk together the flour, sugar, baking powder, baking soda, and salt. Using large holes of a box grater, grate frozen butter into the flour. Use fingers to work in the butter until it resembles a coarse meal. Stir in white chocolate chips.

In separate bowl, whisk together sour cream, eggs, and almond extract until fully incorporated.

Use a fork to stir sour cream mixture into flour mixture until large clumps form. Gently stir in raspberries with a rubber spatula. Do be gentle, but the berries will break up somewhat; that's ok. Use hands to gently form dough into two even sized balls. Don't overwork dough. Dough will seem rather wet. Wrap dough balls tightly and chill until it's easier to work with, about 1 hour.

Meanwhile, line baking sheets with parchment paper. Set oven to 400F, with rack on lower-middle position.

On a lightly floured, flat surface, gently pat each dough ball (might still seem too wet, but it will bake up fine) evenly into an 8-inch circle, about 3/4 inch thick each. Using a very sharp knife, cut each circle into 8 triangle wedges. Place triangles on lined baking sheets, 1 inch apart.

Brush the egg wash on top of each triangle. Sprinkle tops with coarse sugar. Bake one sheet at a time, about 14-17 minutes or just until tops are light golden. Do not over bake. Allow scones to cool completely to room temp.

Melt 1/2 cup white chocolate chips and drizzle over the top. Serve immediately, or store in airtight container for up to 2 days. Baked scones are best within first 24 hours. If they are very slightly under baked, they will stay moist longer.

*Note: If you want to make the dough ahead of time, simply wrap the two dough balls in cling wrap and chill up to 2 days in fridge. Then, shape and bake as directed.
Nutrition (per serving)
Calories:
356
kcal
|
Carbohydrates:
41
g
|
Protein:
6
g
|
Fat:
19
g
|
Saturated Fat:
11
g
|
Polyunsaturated Fat:
1
g
|
Monounsaturated Fat:
5
g
|
Trans Fat:
0.5
g
|
Cholesterol:
75
mg
|
Sodium:
352
mg
|
Potassium:
112
mg
|
Fiber:
1
g
|
Sugar:
16
g
|
Vitamin A:
498
IU
|
Vitamin C:
2
mg
|
Calcium:
82
mg
|
Iron:
2
mg
Source: Chew Out Loud
Here's a shout out to our best scone recipes:
White Chocolate Berry Almond Scones. These are similar to the above scone, but they're made with dried mixed berries and a powdered sugar glaze, topped with crunchy almonds. So, so good!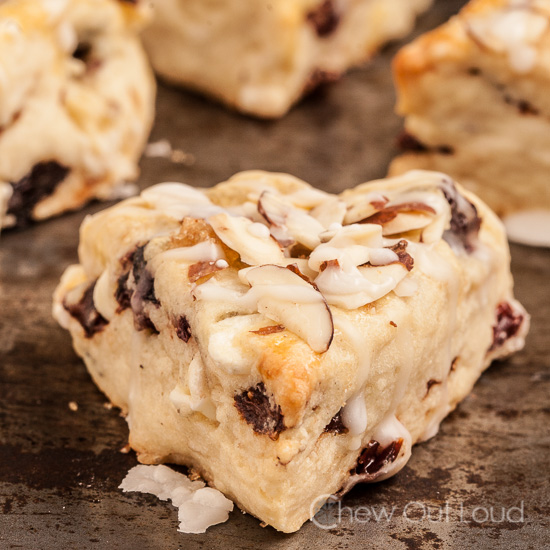 Pumpkin Spice Scones. Move over, coffee shop scones. These homemade ones are simply unparalleled by any other. They're ultra moist and tender.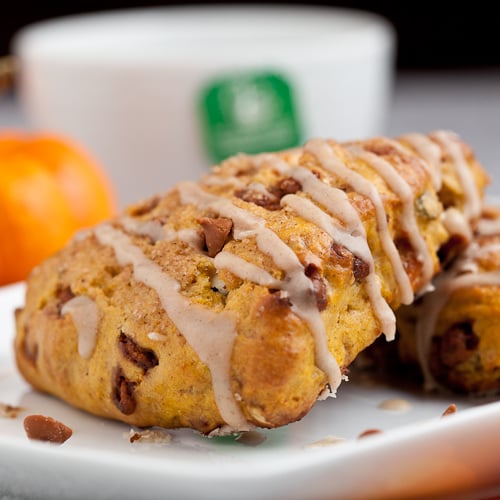 White Chocolate Cranberry Scones. These are made with fresh cranberries, which add to the delicious moist texture. They're great for holidays or anytime you want to add cranberry goodness to your morning!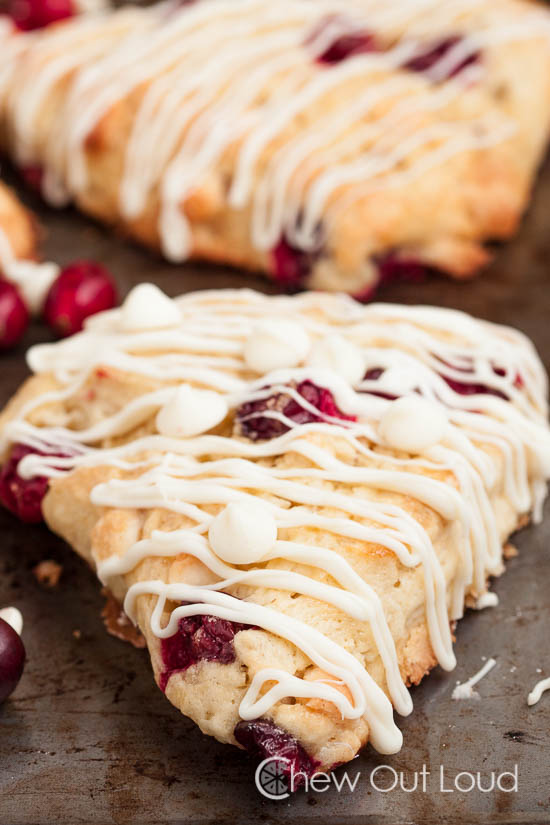 Triple Pumpkin Scones with Cream Cheese Icing. Drool and swoon. For pumpkin cream cheese lovers everywhere.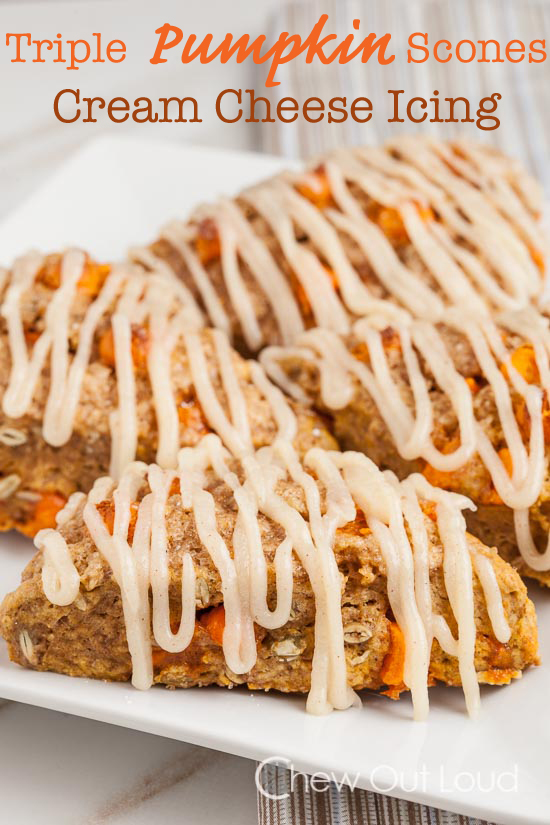 We'd love to have you follow us on Pinterest, where we pin the best stuff we can find.
Follow us on Facebook and Twitter for the newest recipes, foodie news, and gift-card giveaways (psst, my fave giveaway is Target!)
Hang with us on Instagram for behind-the-scenes food prep and inspiration for your everyday meals.