Perfect New York Cheesecake
Whoa! Time, where have you gone? Somehow, despite our relatively early preparations for Christmas, I am nonetheless shocked upon a peek at the calendar.
How is it that Christmas is just a bit over a week from now? When did that happen?
Amidst my crazy – albeit totally fun – baking projects and weekly holiday events, I'm trying (trying!) to take moments to breathe slowly and deeply, sing loudly, and continue to count blessings. (I did mention 1000 Gifts, right?)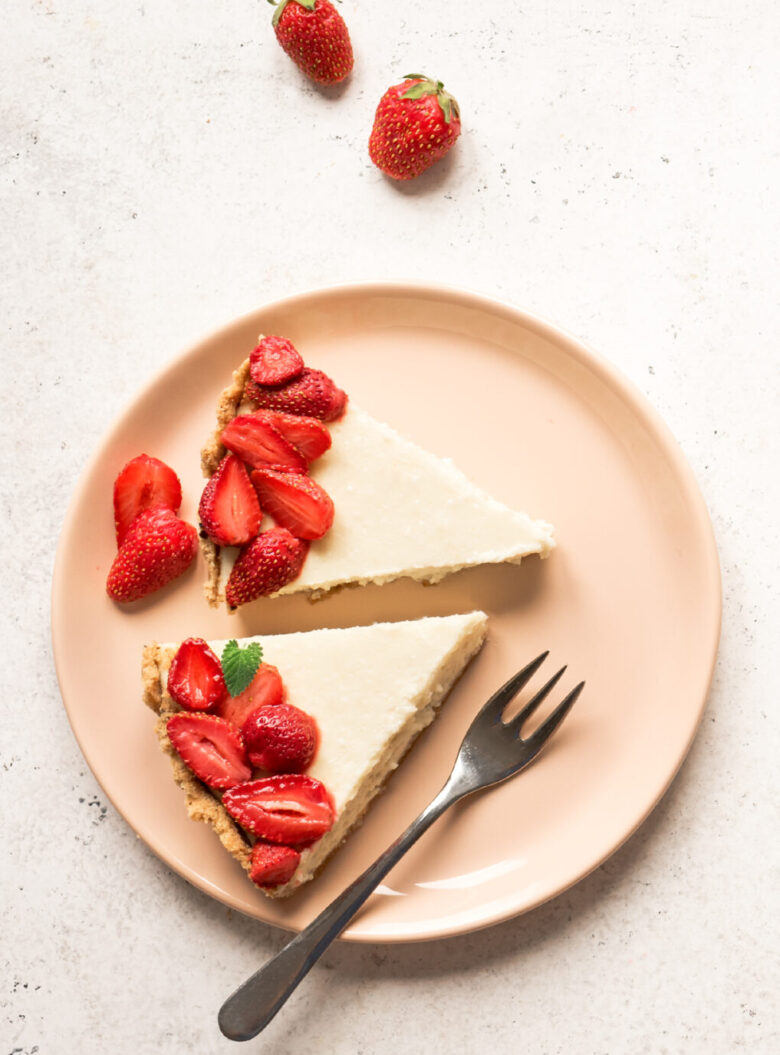 Let's talk Cheesecake. Perfect…New York Style…Cheesecake. I'm all over it.
Hubby is every bit as much of a cheesecake fiend (aka snob) as I am. I admit it. I seriously, one-hundred-percent honestly never order cheesecake at restaurants anymore. That includes my old friend, The Cheesecake Factory. I will always have a soft spot for that place, but I don't go for cheesecakes like I once did.
Because few things come close to a perfectly dense, rich, creamy New York Cheesecake you make yourself. White Chocolate Cheesecake on Oreo Crust? Got it. Pumpkin Cheesecake on Gingersnap Crust. Done.
An entire cheesecake, not just a slice. An entire cheesecake every bit as good as your fave restaurant, full of oooohs and aahhhs. No sinking, cracking center. Cheesecake perfection in every sense of the word…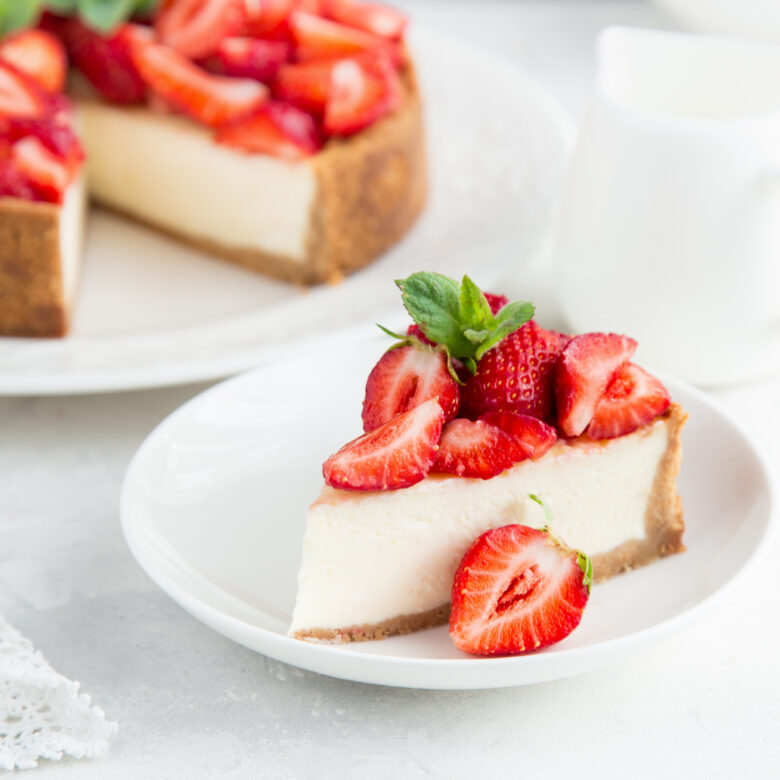 This is not a wimpy cheesecake. It's not fluffy, airy, or whippy, whatever that means. It's truly a New York Style Cheesecake, unabashedly rich and decadent.
And it is easy. It's so easy to bake up your own mouthwatering cheesecake at home. This cheesecake uses a low and slow baking method to get its beautiful crack-free, sink-free top. This cheesecake does not need a bunch of frills on top to hide unsightly cracks.
We love just spooning some fresh berries over each slice. Keep it simple. Of course, a dollop of stabilized whipped cream (no runny, melty mess!) will not be refused.
So…if you're still looking for a perfect dessert to serve for that holiday dinner, party, get-together…here it is.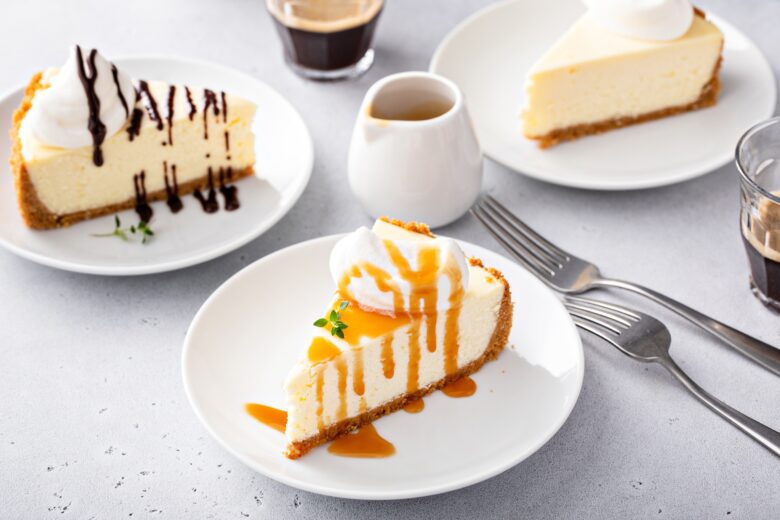 Make this cheesecake ahead of time, even up to 3 days, and keep chilled in fridge.
IF you have any leftover slices or if you just want to make a whole cheesecake for yourself (been there, done that) this cheesecake freezes nicely. Just slice, wrap, freeze, and thaw whenever you want blissful indulgence.
Enjoy!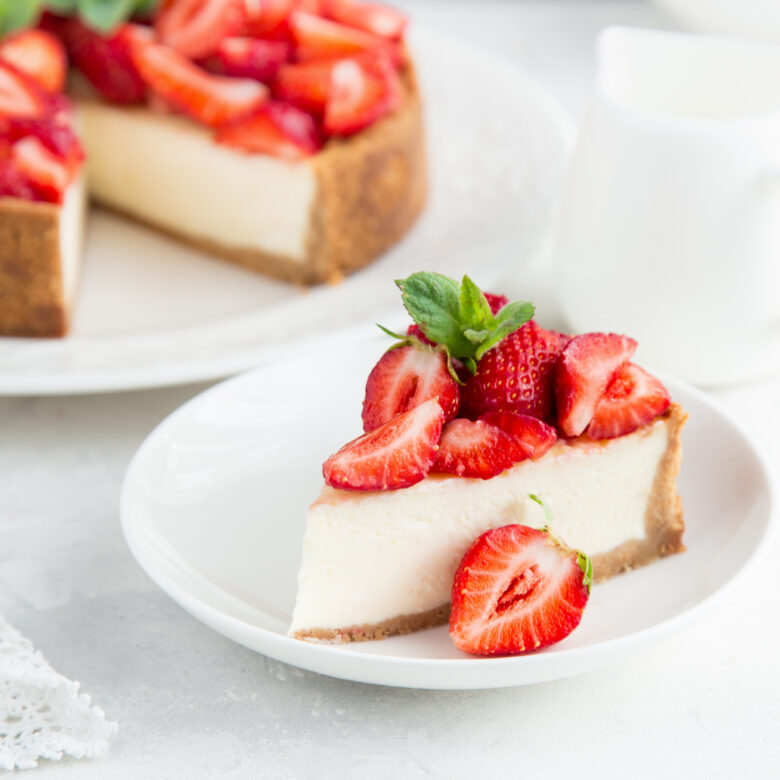 Perfect New York Style Cheesecake (no cracks)
This is a true New York Cheesecake – rich, thick, creamy, smooth, and decadent. The low/slow baking method prevents sinking/cracking on top. Can be made 2-3 days ahead of time and chilled until ready to serve. Leftovers freeze very well.
Instructions
Preheat oven to 350F. Grease a 9-inch springform pan on bottom/sides. Set aside.

Mix graham cracker crumbs with melted butter. Press firmly and evenly into prepared springform pan.* Bake crust for 8 minutes.

Turn oven down to 225F. Place large pan of water on lowest rack.

In bowl of stand mixer, combine lukewarm cream cheese and sugar. Mix until smooth and creamy. Add eggs, egg yolks, and vanilla. Mix until smooth. Add flour and heavy cream, blending and scraping down sides until fully incorporated and smooth.

Pour batter into prepared pan. Place springform pan on large baking sheet. Bake in center rack, until filling is mostly set, about 3.5 hours – or until center very slightly jiggles when you gently shake it. Cheesecake will set upon chilling.

Turn oven off. Crack oven open a bit, and allow cheesecake to cool at least 2 hours or longer – I leave it in oven until it reaches room temperature.

Chill in fridge in springform pan; at least overnight and up to 3 days. Run thin knife carefully around edges of pan, and release springform, when ready to serve.

Optional Strawberry Topping: slice up 16-20 oz strawberries, mix with 1/4 cup granulated sugar, and allow to macerate 30-60 minutes or until a thick sauce forms around the berries. Spoon over cheesecake slices.
Notes
Graham cracker crust can be pressed evenly onto bottom and up the sides of pan, or it can simply be pressed onto the bottom only. This is completely up to you.
You can also use your own preferred fruit glaze for the topping.
Other topping options: caramel sauce, stabilized whipped cream, or fudge sauce.
Be sure to read through instructions fully, and prepare to have cheesecake made at least 1 day in advance, so it has time to chill and set in fridge overnight.
Did you make this?
Leave a comment below and tag @chewoutloud on Instagram
Want cheesecake in a simple dessert-bar? Chocolate Chip Cheesecake Bars: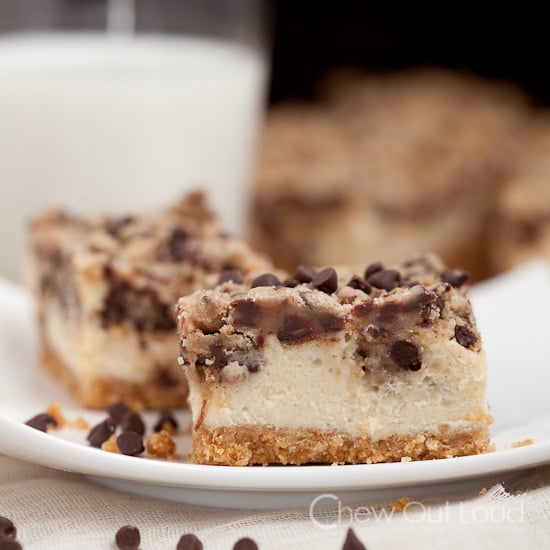 How about more strawberries and cream cheese…in this Fresh Strawberry Cake with Cream Cheese Frosting: