Chocolate Chip Cookie Cheesecake Bars
By Amy Dong
Published May. 15, 2013
Updated Jul. 25, 2023
Chocolate Chip Cookie Cheesecake Bars. This post needs no words, really. A picture is worth a thousand, right?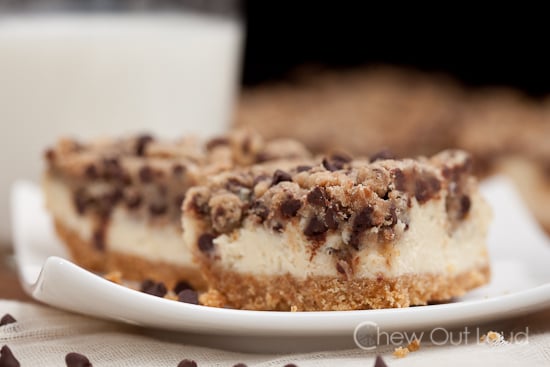 But I do have a small back-story. Dialogue:
Hubby: I have a Dessert Challenge Day at work coming up. Do you have an idea for what I can make?
Me: Awesome! I've totally got ideas. What's the date of the Dessert Challenge?
Hubby: Tomorrow.
Me: (Silence. Blink. Blink.)
After I recovered from the mini shock, my excitement to bake something yummy kicked in. I'd been hankering for Chocolate Chip Cookie Cheesecake Bars for quite some time. No better excuse than a Dessert Challenge to break out these decadent treats.
Oh. My. Goodness. This was so, so worth it. So worth the late-night baking and kitchen blunders that occur as a result of late-night baking. Hubby was making an entire pan for work, and I was making another pan for me. A little chaos in the kitchen. Note to Self: Make this during normal hours and pay attention = it's a cinch!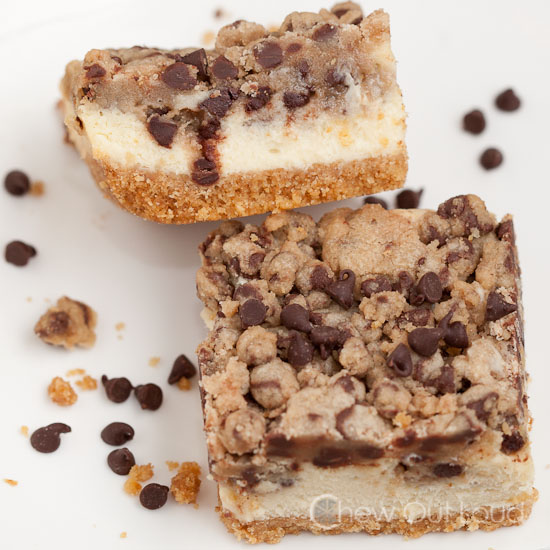 There's something here for everyone. Flavorful graham cracker crumb crust for all the crust-lovers. Thick, rich cheesecake for cheesecake fans like myself. Chocolate chip cookie dough full of gooey chocolate for cookie buffs. Decadent and rich. Smooth and creamy. Textured and chewy.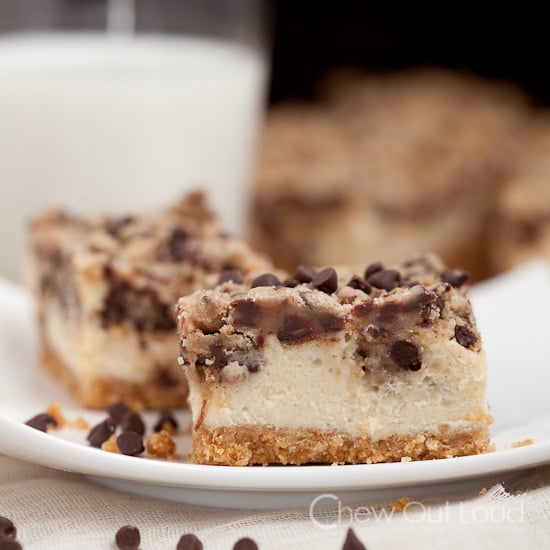 You can taste the crust, cheesecake, and cookie all separately yet it all marries together like a match made in heaven.
You have to try this. Your taste buds will thank you. And your family and friends will look at you with speechless awe. Enjoy!
Did you make this?
Please give us a rating and comment below. We love hearing from you!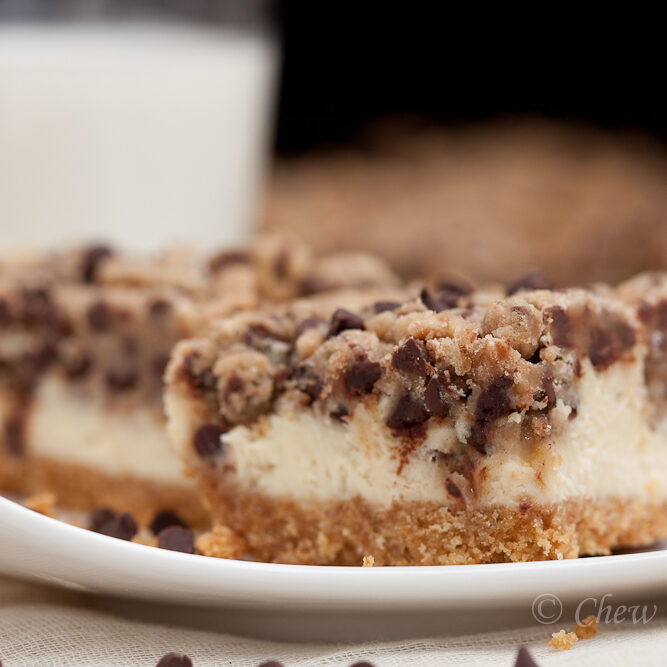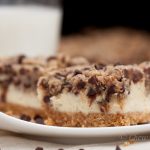 Chocolate Chip Cookie Cheesecake Bars
These dessert bars are out-of-this-world-amazing. Something for everyone's craving in one pan. It's always a sure hit!
Ingredients
For Chocolate Chip Cookie Dough:
Instructions
Preheat oven to 325F with rack on lower middle. Line 8x8 square baking pan with parchment paper, with enough hanging over handles to make a "sling." Oil the parchment paper.

To Make Crust: Mix melted butter and cracker crumbs together until resembles wet sand. Press mixture firmly and evenly into bottom of pan. Bake for 7-8 minutes. Remove pan to rack, but keep oven on.

To Make Cheesecake Filling: In bowl in stand mixer fitted with paddle attachment, cream together the cream cheese and sugar until light and fluffy and smooth. Mix in egg and vanilla on low until incorporated, taking care not to overmix. Pour cheesecake batter into prepared crust. Set aside.

To Make Chocolate Chip Cookie Dough: In bowl on stand mixer with paddle attachment, beat butter, and brown sugar on medium-high until light and fluffy, about 3 minutes. Add vanilla and mix just until combined. Slowly mix in the flour on low speed just until combined, taking care not to over mix. Fold in chocolate chips. Drop clumps of slightly-flattened dough evenly on top of cheesecake batter. Continue until all cookie dough is evenly distributed across top of cheesecake.

Bake 30-40 minutes, until top of dough feels mostly dry and entire pan looks mostly set if given a gentle shake. It will continue to set up as it chills. Move bars to cooking rack to cool completely. Chill several hours or overnight. Lift bars out by sling and cut. Keep cut bars in fridge until ready to serve. Leftover bars can be wrapped and stored in freezer.
Nutrition (per serving)
Calories:
405
kcal
|
Carbohydrates:
38
g
|
Protein:
5
g
|
Fat:
26
g
|
Saturated Fat:
15
g
|
Polyunsaturated Fat:
1
g
|
Monounsaturated Fat:
6
g
|
Trans Fat:
0.5
g
|
Cholesterol:
76
mg
|
Sodium:
266
mg
|
Potassium:
85
mg
|
Fiber:
1
g
|
Sugar:
25
g
|
Vitamin A:
787
IU
|
Vitamin C:
0.1
mg
|
Calcium:
65
mg
|
Iron:
1
mg
Source: Chew Out Loud, adapted from mybakingaddiction