White Chocolate Raspberry Cheesecake Recipe
This White Chocolate Raspberry Cheesecake Recipe will knock your socks off! It's a decadent New York style White Chocolate Raspberry Cheesecake that's even better than restaurants.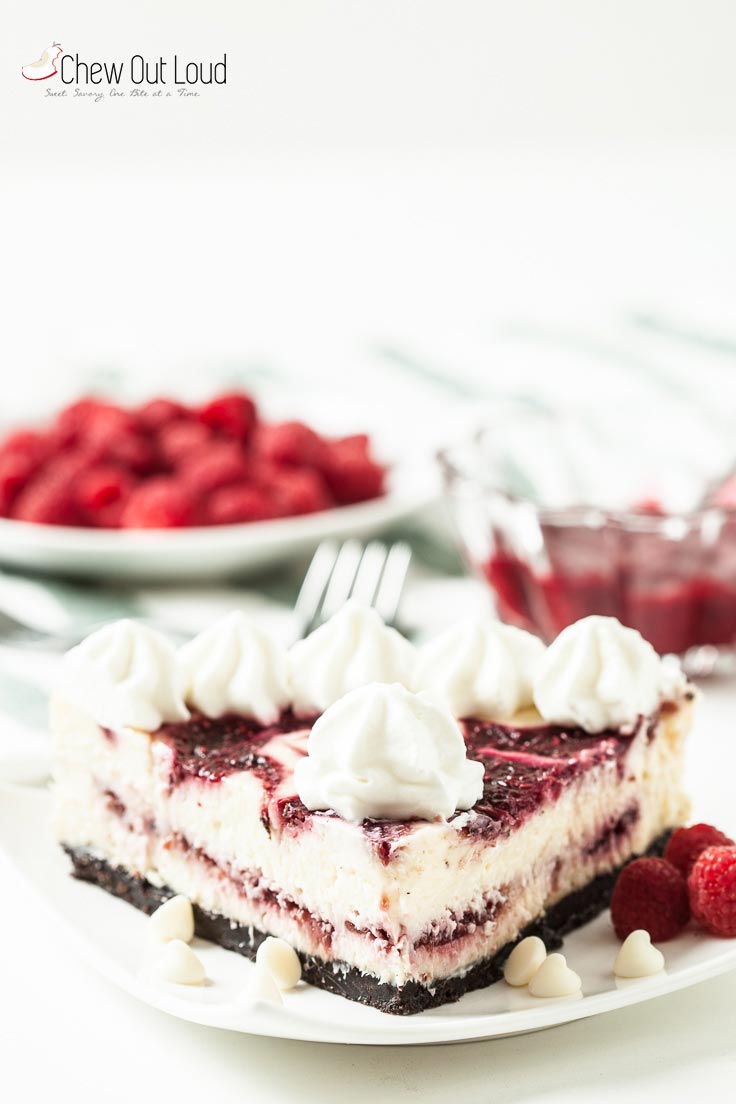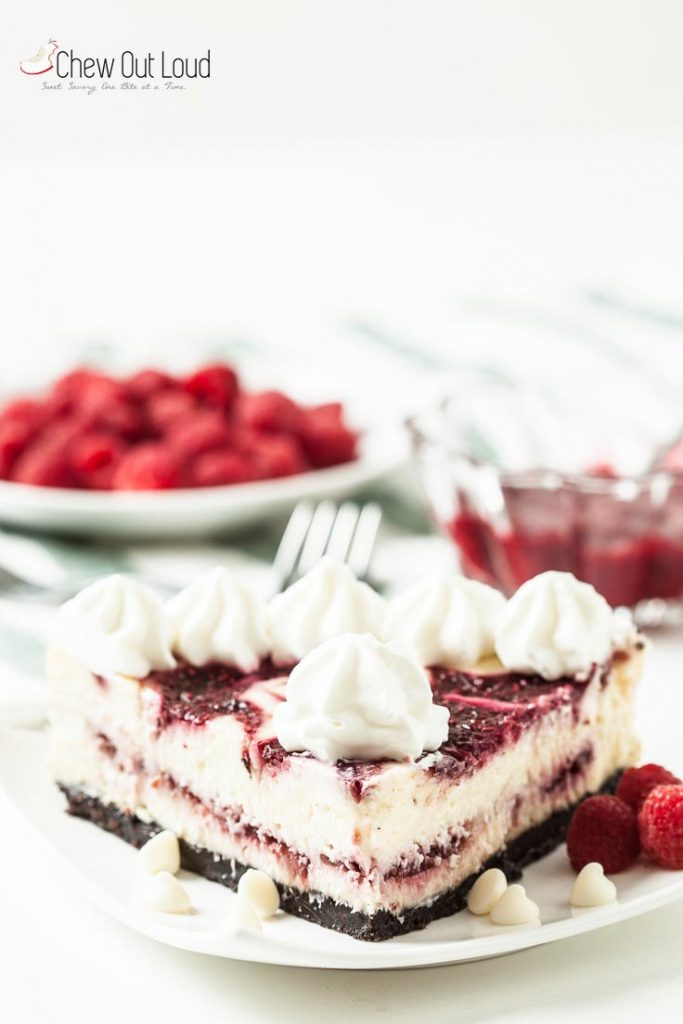 Better Than Restaurant Cheesecake
When I'm asked what my favorite special dessert is, it is consistently a toss up between these two fail-proof goodies: Melt-in-your-mouth Tiramisu and today's White Chocolate Raspberry Cheesecake.
The former is tender, light, and creamy-fluffy. The latter is decadent, smooth, velvety rich – everything you'd suspect in a New York style cheesecake recipe.
This White Chocolate Raspberry Cheesecake makes a joyful appearance almost every Christmas and at least one birthday throughout the year. It also gets the spotlight at dinner parties, potlucks, and when friends come over. It's common for people to stare at this cheesecake's glory for speechless moments before cheerfully digging in and devouring huge slices. You'll get used to its star power 🌟
I adore New York style cheesecake for its make-ahead qualities (you can make it completely ahead of time a day or two before serving.) We double appreciate its ability to freeze beautifully IF we happen to be blessed with leftovers.
Even if you're not a cheesecake recipe maker/eater, we're guessing this white chocolate raspberry cheesecake recipe will change your game forever…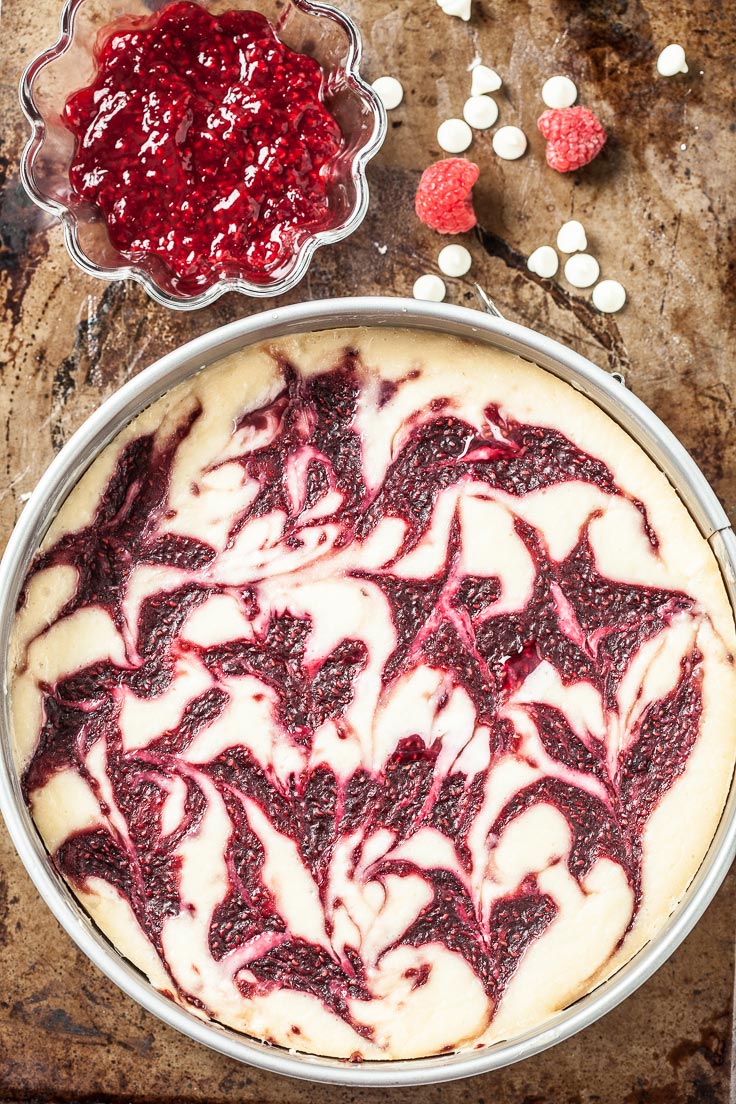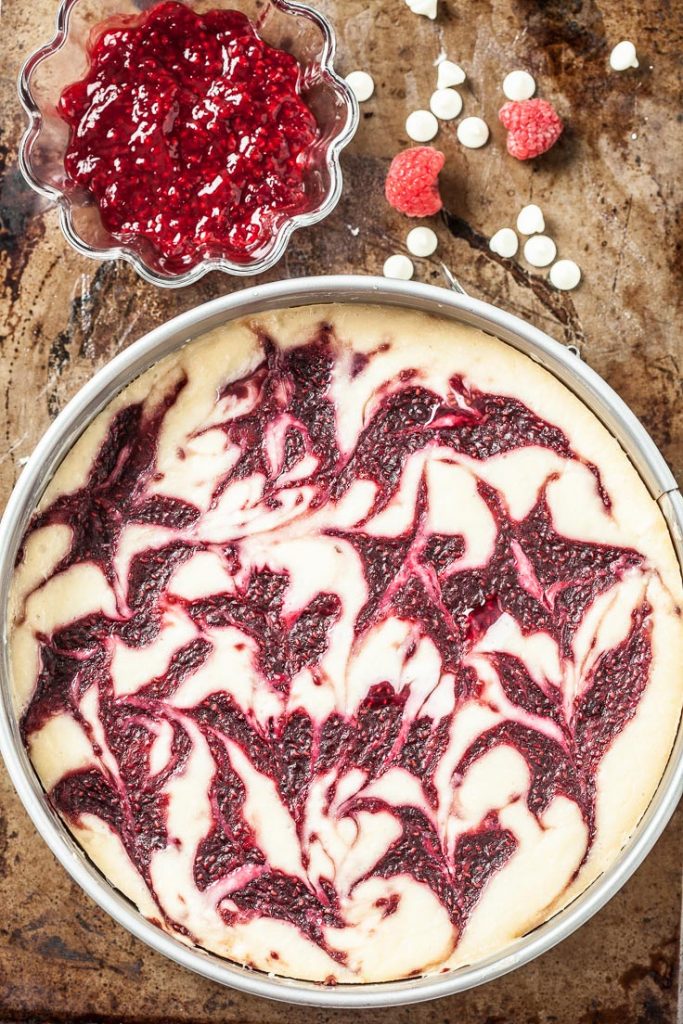 New York Style, thick and velvety
This White Chocolate Raspberry Cheesecake recipe genuinely rivals any restaurant versions. Not kidding.
Our luscious cheesecake recipe has all this going on:
decadent New York style richness and velvety thickness
chocolatey layer of Oreo crumb crust
abundant fresh raspberry sauce baked right in, plus extra on the side
perfectly balanced sweetness + fruitiness due to white chocolate and berries
And if all that isn't enough, this white chocolate raspberry cheesecake recipe can be fully (whipped cream and all!) assembled days before serving. That's the deal sealer for me – I LOVE recipes that can be made ahead of time.
Because on party day…less mess = less stress.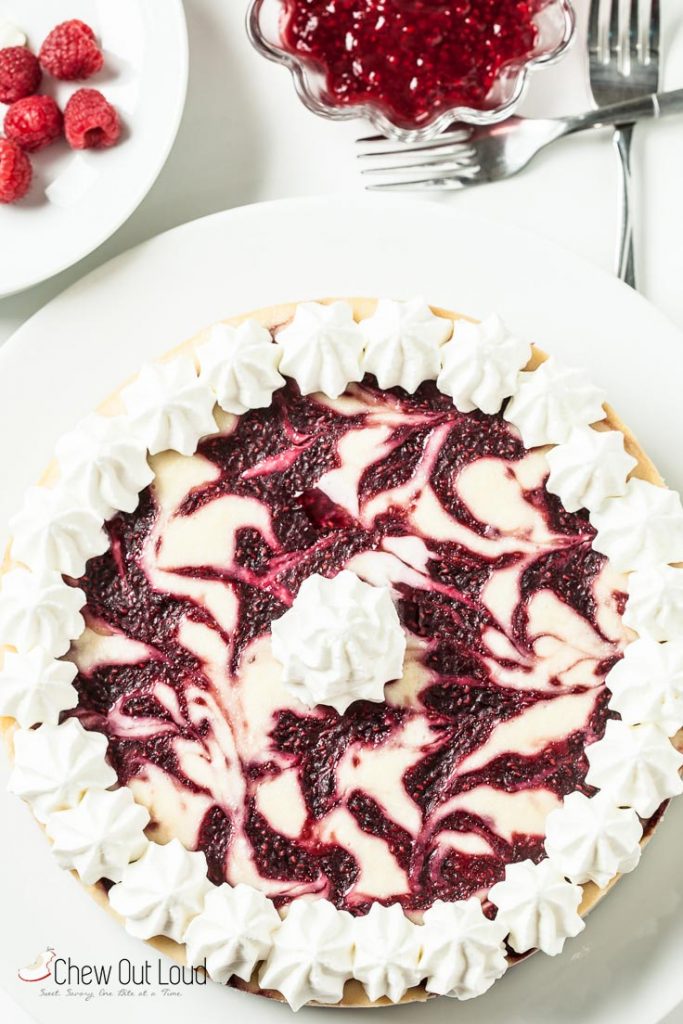 Stabilized Whipped Cream
Some fluffy Stabilized Whipped Cream is highly recommended for this dazzling cheesecake. There's a huge difference between stabilized whipped cream vs. regular whipped cream (and if you're going to make your own amazing cheesecake, say no to whipped cream in a can.)
Stabilized whipped cream holds its shape very well, doesn't get runny, and can be piped on the cake hours before you serve it. It's a total essential for all the desserts that love whipped cream.
Here's to changing your cheesecake game forever.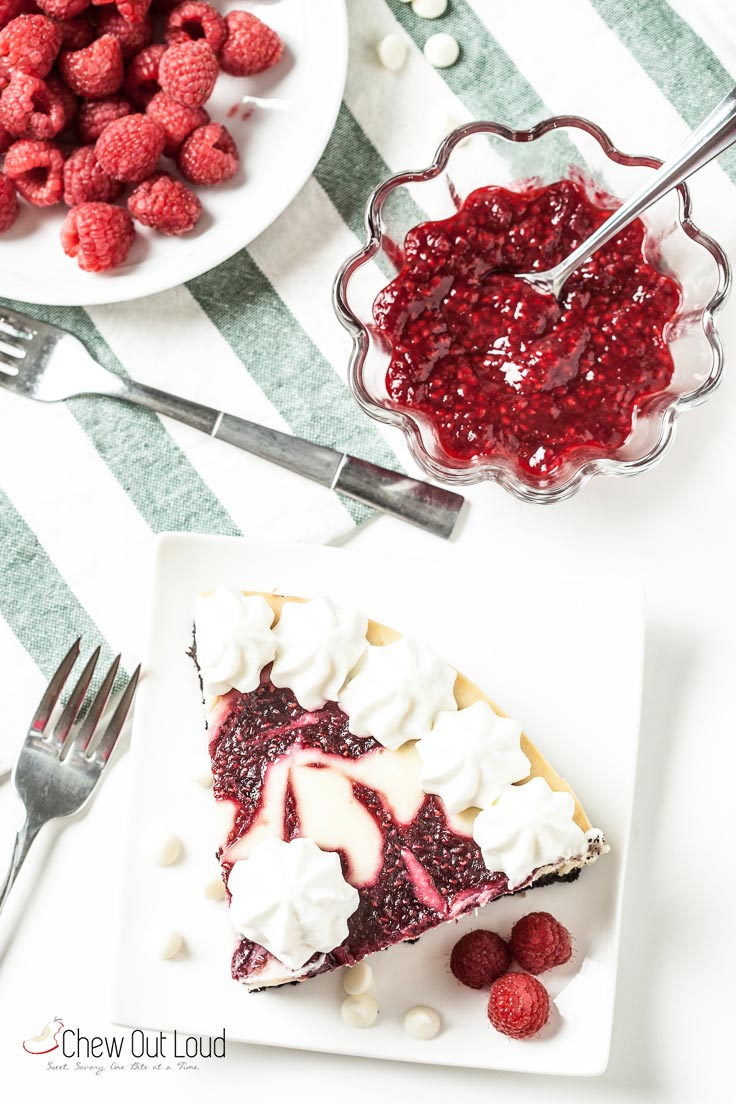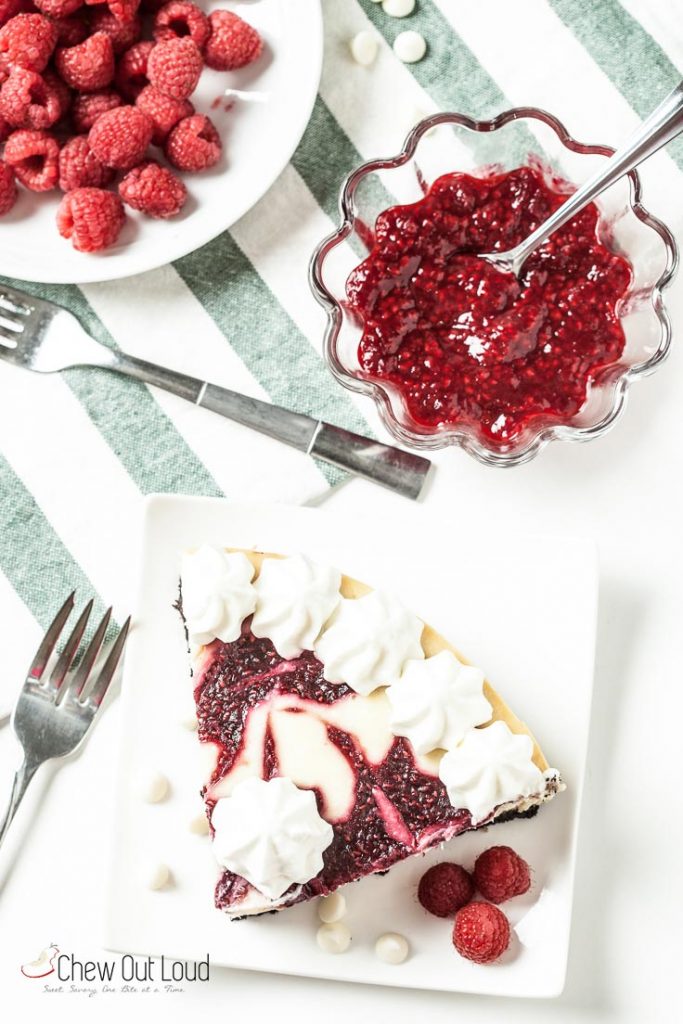 ---
Try These Blueberry Pie Bars, Too
---
Did you make this?
Please give us a rating and comment below. We love hearing from you!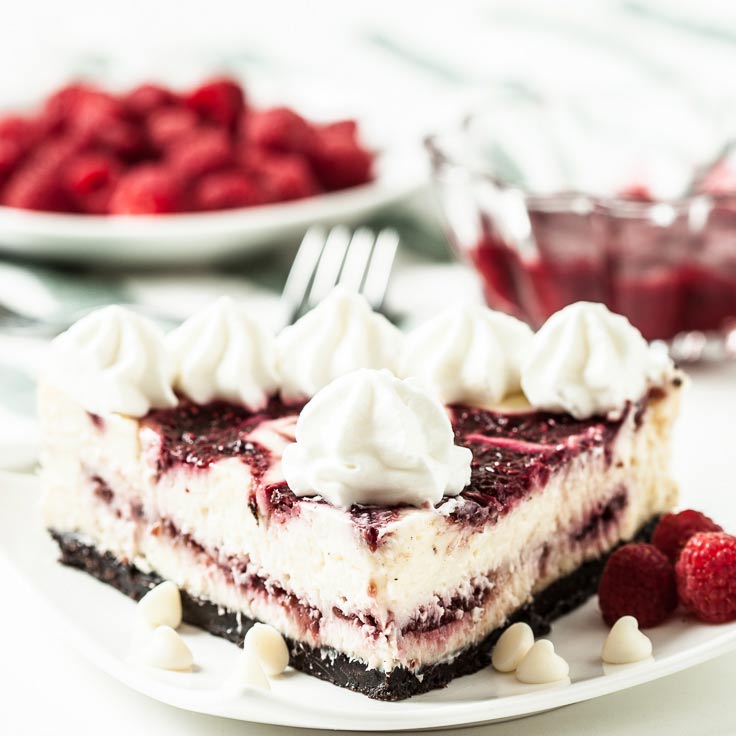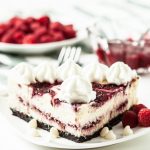 White Chocolate Raspberry Cheesecake Recipe
Ingredients
For the crust:
2 ½

cups

chocolate cookie crumbs

½

cup

melted butter
For the raspberry sauce:
10

oz

frozen raspberries

2

TB

sugar

3

tsp

cornstarch,

dissolved in 1/2 cup water
Instructions
Make the crust: In a large bowl, mix fine cookie crumbs with butter until well incorporated. Press into bottom of a greased 9-inch springform pan. Set aside.

Make raspberry sauce: In a heavy saucepan, combine raspberries, sugar, and cornstarch/water mixture. Mix well. Bring to boil and boil for 5 minutes, stirring occasionally, until sauce is thick enough to coat a spoon. Remove from heat and set aside.

Preheat oven to 215F. Set rack to lower middle position. Place a pan full of water in the lowest rack. Using a small heavy saucepan, melt white chocolate chips with half and half, on low heat. Stir often until completely melted and smooth. Remove from heat and set aside.

In large bowl, mix together softened cream cheese and sugar until smooth. Beat in eggs one at a time. Add vanilla and the melted white chocolate mixture.

Pour half of batter over the crust. Spoon about a third of the raspberry sauce over batter in small chunks. Swirl with tip of butter knife. Gently pour in the remaining cheesecake batter. Spoon another third of the sauce over the top of batter. Swirl with tip of butter knife to complete the desired marble effect.

Bake at 215F for 3 to 4 hours. Filling will still jiggle in the center and seem undone. Edges should feel firm upon light touch. Turn heat off and let cheesecake cool in the oven, with door ajar.

Once cool, cover springform pan tightly with foil and cool cheesecake in fridge overnight. Carefully remove cheesecake from springform, and garnish with whipped cream, white chocolate shavings, or fresh raspberries. Remaining third of raspberry sauce can be used for topping as well.
Notes
If you are freezing leftovers, simply wrap cheesecake well with cling wrap. Defrost in fridge or counter. It tastes just as yummy after being frozen!
The slow-bake method at room temp allows you to bake a cheesecake without cracks on top. It takes longer to cook, but will give you a smooth cake without unsightly cracks.
Nutrition (per serving)
Calories:
416
kcal
|
Carbohydrates:
44.9
g
|
Protein:
7.2
g
|
Fat:
23.8
g
|
Saturated Fat:
12.7
g
|
Cholesterol:
107.1
mg
|
Sodium:
277.5
mg
|
Fiber:
2.1
g
|
Sugar:
23.6
g
---
Cheesecake Cheers:
Best New York Style Pumpkin Cheesecake is an explosion of pumpkin-flavored, rich cheesy sweetness in every bite. No need to wait until you can order this from a restaurant anymore.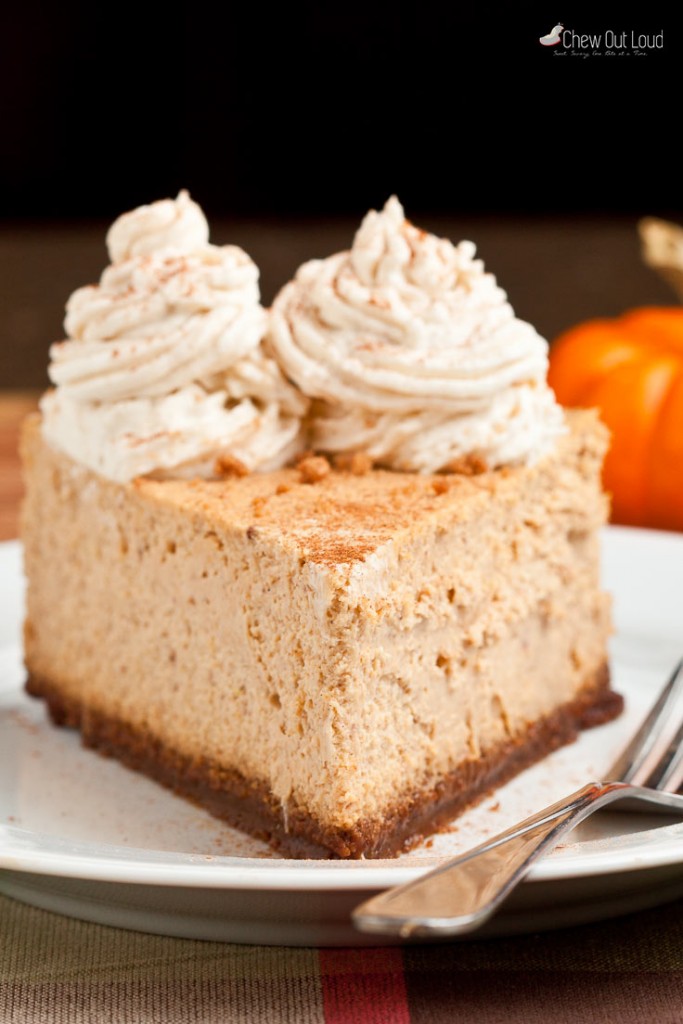 2. White Chocolate Raspberry Cheesecake Bites – these are wonderfully delicious and beautiful at the same time. They're perfect for birthdays, holidays, showers, and just anytime you want to celebrate with your people.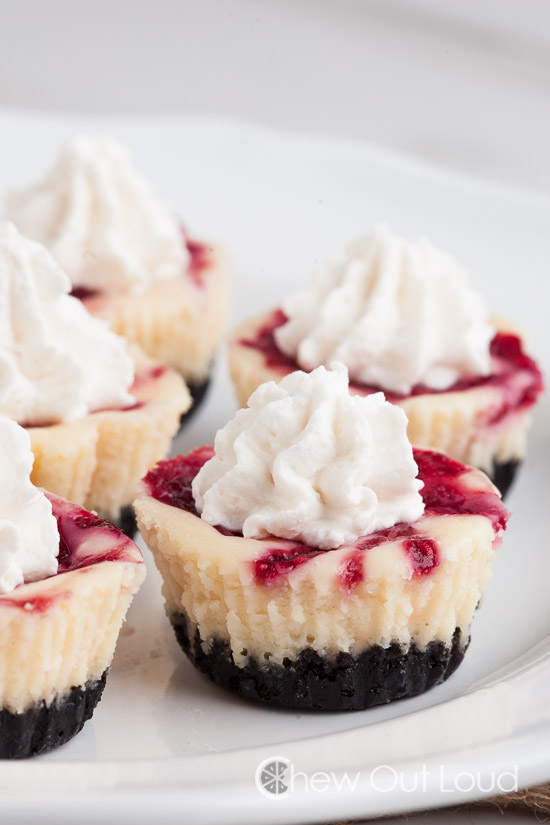 3. Salted Caramel White Chocolate Cheesecake Bites – these luscious morsels have been touted as the best dessert I've ever had from people who have tried it. We think you may agree.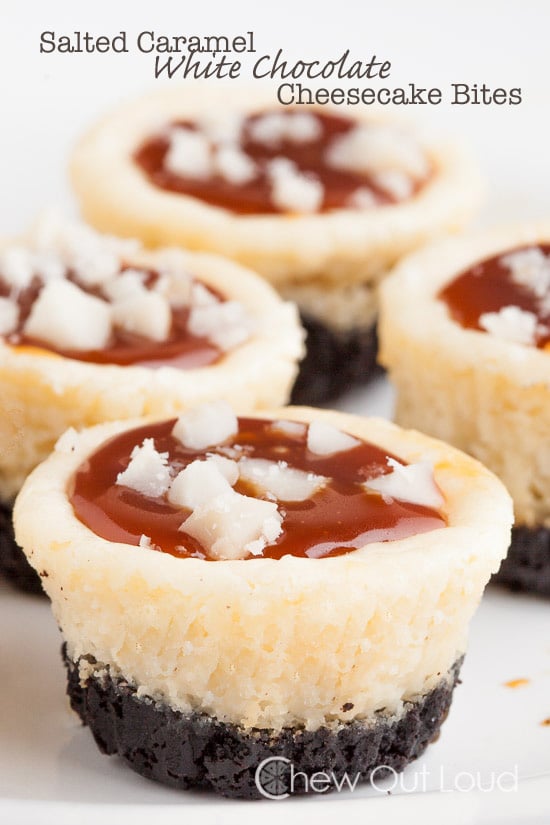 4. Chewy, Fudgey Cheesecake Brownies – No need to choose between cheesecake vs. brownie. Enjoy the best of both worlds in one single dessert.