Salted Caramel White Chocolate Cheesecake Bites
These Salted Caramel White Chocolate Cheesecake Bites are a crowd favorite. They're dense, NY style tiny cheesecakes. Perfect for any dessert table, holiday tray, or any occasion your sweet tooth desires!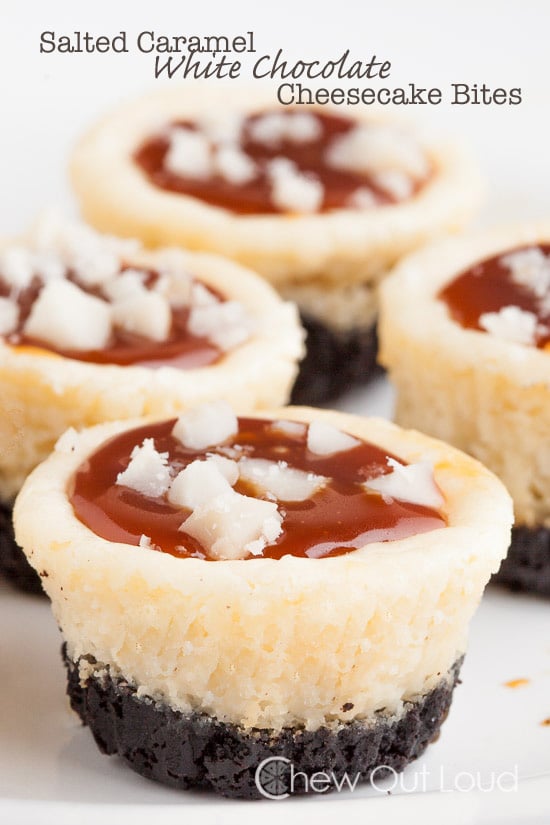 If you've been around our kitchen long enough, you know we are cheesecake buffs.
NY style dense and high Pumpkin Cheesecake. NY style No-Sinking-Nor-Cracking Cheesecake.
Or my favorite White Chocolate Raspberry Truffle Cheesecake.
Even Chocolate Chip Cookie Dough Cheesecake Bars.
Now this…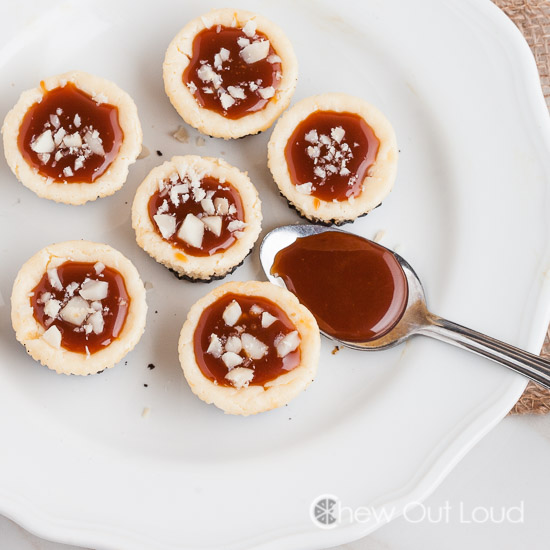 Itty Bitty Bites of NY style cheesecakes strewn with creamy white chocolate and topped off with homemade Salted Caramel.
These are bite-sized morsels that pack a huge punch of rich cheesecake flavor.
Tiny means you can eat more of 'em. Everyone will want to eat more. Can't blame them.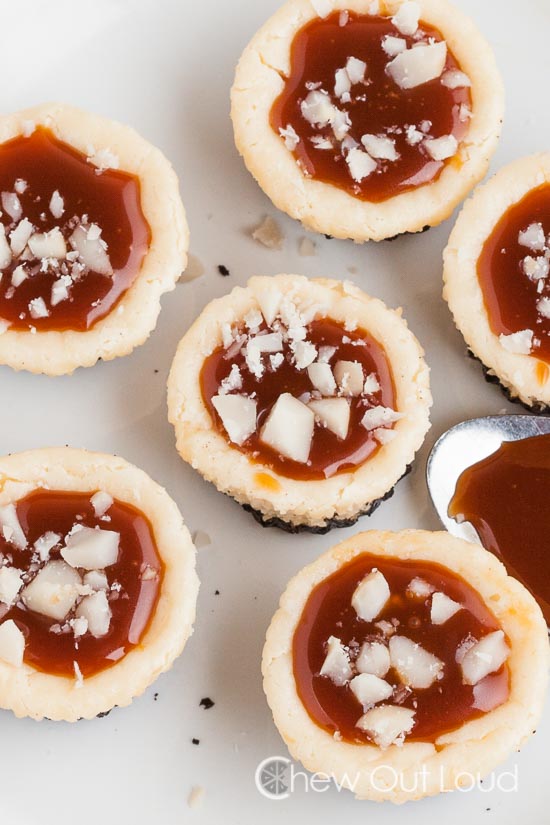 I brought these baby cheesecakes to my women's group Christmas brunch yesterday. You know the saying that an emptied platter makes a cook happy.
Is that a saying? It should be.
My dessert platters were joyfully emptied out. No leftovers = definite win.
A friend walked up to me and delivered sweetest note, asking for this recipe. Deb, this recipe is for you 🙂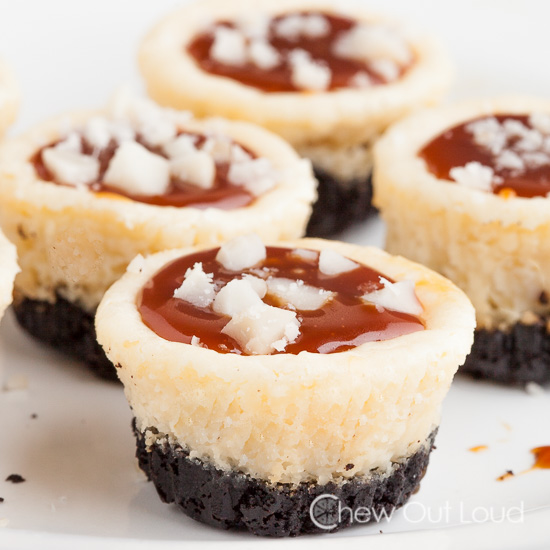 Salted Caramel White Chocolate Cheesecake Bites.
Rich, dense, creamy, and little. Bite after little bite.
Enjoy!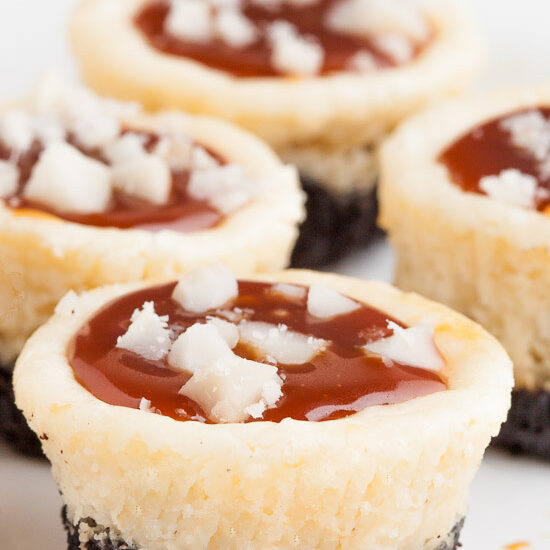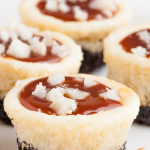 Salted Caramel White Chocolate Cheesecake Bites
These Salted Caramel White Chocolate Cheesecake Bites are little NY style cheesecakes. Rich, dense, creamy, and luscious. Topped with salted caramel and chopped macadamia nuts, if desired. Make them and watch 'em disappear fast.
Ingredients
FOR THE CRUST:
1 ½

cups

chocolate Oreo cookie crumbs

,

from 22-23 whole cookies, cream removed

6

TB

salted butter

,

melted
FOR THE CHEESECAKE:
Half bag

,

6 oz pure white chocolate chips

¼

cup

half and half

1 ½

12oz total blocks whole cream cheese, softened to almost melted

¼

cup

sugar

2

large eggs

1

tsp

vanilla extract
SALTED CARAMEL SAUCE:
1

cup

granulated sugar

6

TB

unsalted butter

,

sliced into pieces, and softened

½

cup

of heavy cream

2

tsp

flaky sea salt,

or coarse kosher salt

chopped macadamia nuts for sprinkling

,

optional
Instructions
Make Crust: In a large bowl, mix fine cookie crumbs with butter until well incorporated. Should resemble wet sand. Scoop 1 slightly rounded tsp crumb mixture evenly into lined mini muffin tins. Press down to form bottom crusts.

Preheat oven to 325F, with rack on lower middle position. Line mini muffin tins with liners.

Make Cheesecake Filling: In heavy saucepan, melt white chocolate chips together with half and half on low heat, stirring often. Remove from heat. In large bowl, mix together nearly melted cream cheese and sugar until smooth. Beat in eggs one at a time. Add vanilla and the melted white chocolate mixture.

Scoop 1 rounded TB batter evenly into lined mini muffin tins. Bake 20 minutes or until tops are puffy and no longer sticky upon light touch. Let cool to room temp and then cover and chill in fridge. Cheesecakes will sink in the center, which is perfect for this recipe.

Make Salted Caramel: In a heavy saucepan, place sugar in even layer. Heat sugar over medium-high, whisking frequently. Once it starts melting, whisk continuously as it cooks, until all clumps are melted down. Turn heat down to medium, insert thermometer into the melted sugar, and continue stirring until melted sugar turns red-brown. The minute your thermometer reads 350F, add all the butter (caramel may bubble up; be careful!) Whisk until completely melted. Immediately remove pan from heat, carefully pour in the cream, and whisk until a smooth sauce forms. Whisk in the flaky salt. Let sauce cool to almost room temp before drizzling over dessert. Store leftover sauce in airtight container for future use. (Keeps very well.)

Keep cheesecakes covered and chilled until ready to serve.
Did you make this?
Leave a comment below and tag @chewoutloud on Instagram
Recipe Source: Chew Out Loud
Here are a few of our tried and true recipes for cheesecake fans!
Tall, dense, NY style Pumpkin Cheesecake. This one's gone pin-happy. For good reason.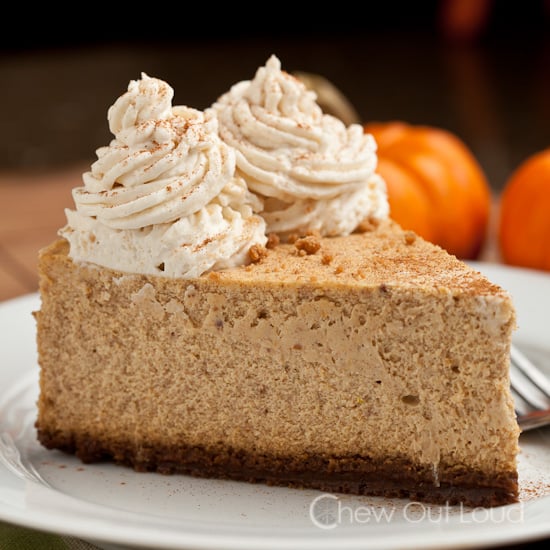 Perfect, Sink-Free and Crack-Free NY Style Cheesecake. No more unsightly sinking and cracking all over the tops. See how easy it is to make a beautifully smooth, delicious cheesecake.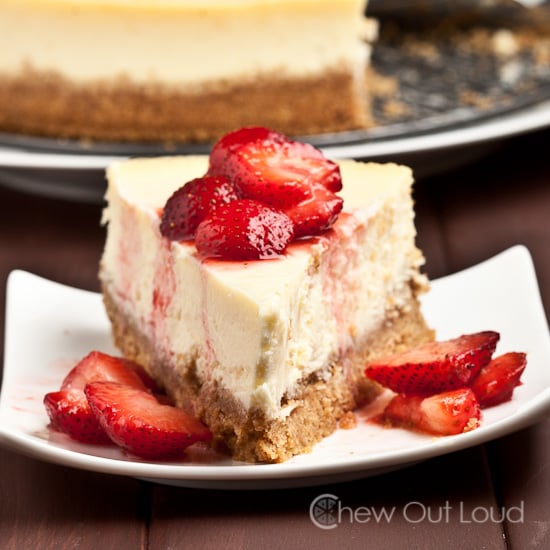 Chocolate Chip Cookie Cheesecake Bars. For those who can't decide between cookies and cheesecake. Have your chocolate and eat it too.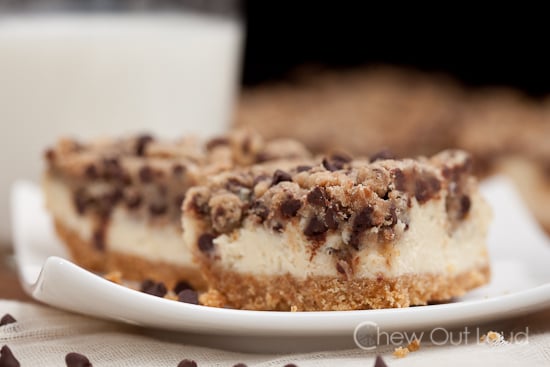 Dark Chocolate Fudgy Brownies with Salted Caramel. This isn't cheesecake, yeah, but it's got salted caramel.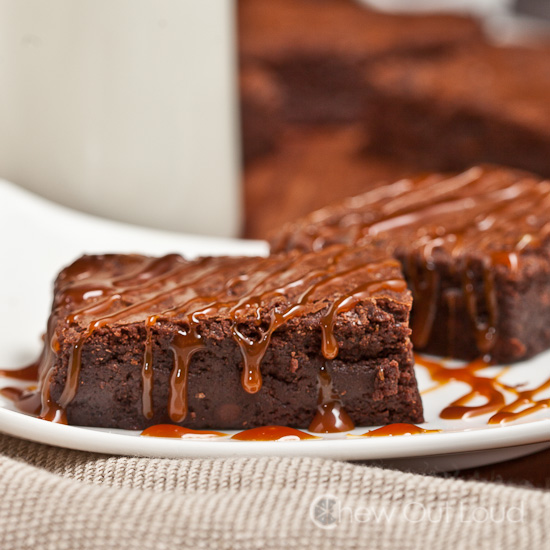 We'd love to have you follow us on Pinterest, where we regularly pin the best stuff

Follow us on Facebook and Twitter for the newest recipes and giveaway prizes (currently, our $50 Target giveaway.)
Hang with us on Instagram for behind-the-scenes shots of the food we make… and happy things

We're honored you came over today and hope you enjoyed today's recipe.