Homemade Spaghetti Sauce
By Amy Dong
Published Jan. 14, 2021
Updated Aug. 17, 2022
Homemade spaghetti sauce boasts fresh flavors that can't be beat. Make extra sauce to freeze for easy meal prepping. This sauce is wonderful over any type of pasta you like.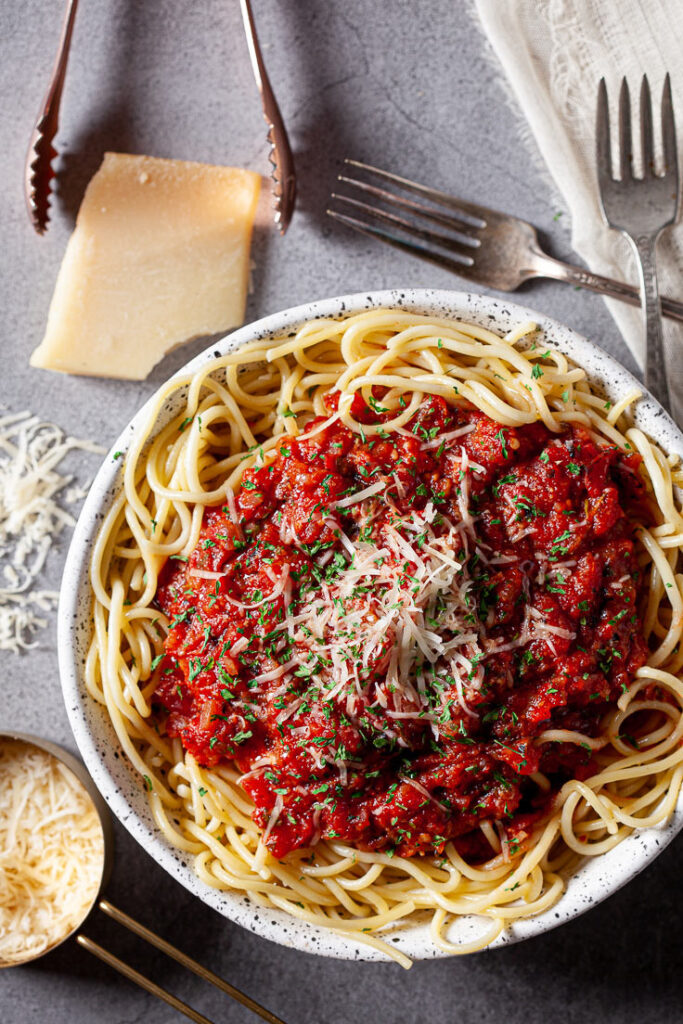 Homemade Spaghetti Sauce
Some days, It may be tempting to pop open a jar of store-bought spaghetti sauce, throw it over some noodles, and call it dinner. On those days, it just is what it is.
That said, most spaghetti nights call for greater flavor and satisfaction than jarred spaghetti sauce can offer. There's nothing like homemade spaghetti sauce, with the right balance of tangy tomato goodness, a touch of sweetness, and savory deliciousness. We often use this sauce for our Cheesy Baked Ravioli Casserole as well.
If that isn't enough to get all us busy cooks on the homemade spaghetti sauce train, then there's this: it takes less than 45 minutes for a pot of hearty, comforting, delectable spaghetti sauce to happen.
Your family adores you already, but they're about to appreciate your talents just a little bit more the next time they sit down to your spaghetti dinner.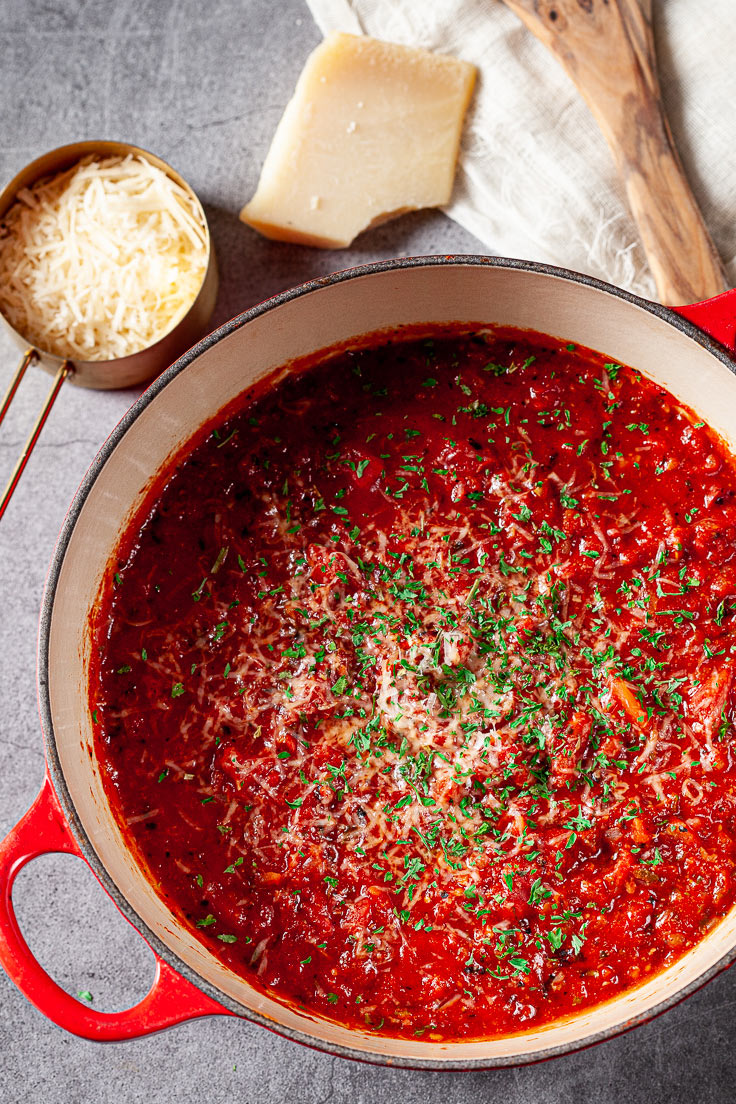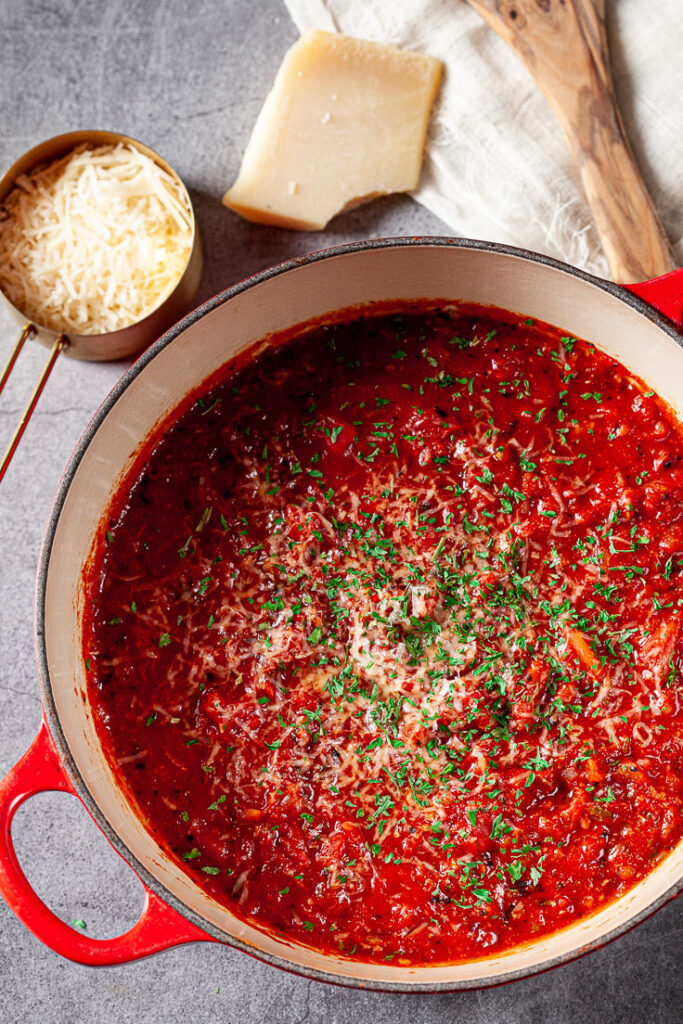 The Basics of Spaghetti Sauce From Scratch
Tomatoes are clearly key when it comes to homemade spaghetti sauce. If you're lucky enough to have plenty of vine-ripened, homegrown tomatoes in your garden (and it happens to be summertime,) you can certainly crush your own tomatoes. You'll want to peel and seed them first, but keep and use their luscious juices along with the flesh. Note that store-bought tomatoes do not have nearly the same flavor quality as homegrown tomatoes, and thus aren't recommended. If you have a bounty of tomatoes to use up, this No-Cook Tomato Garlic Sauce wants to be next in line.
For those of us who are making spaghetti sauce without a tomato garden, canned crushed tomatoes are the next best thing. Look for a good quality brand that uses flavorful tomatoes. Be sure not to drain out the juices; you'll want to use every bit of the juices in your sauce.
Freshly chopped onion and garlic are a must-have. If you're a garlic fanatic, feel free to use more of it. In a pinch, ground onion and garlic can be used, but fresh will impart the best flavor in your sauce.
Basil and oregano are two favorite herbs in spaghetti sauce. We highly recommend fresh herbs, if possible. Again, if you're blessed with an herb garden, go raid it now.
Dry herbs will work in a pinch, but do make sure any dry herbs you use are freshly purchased, as they can quickly diminish in flavor and aroma. Dry basil often has a very short shelf life.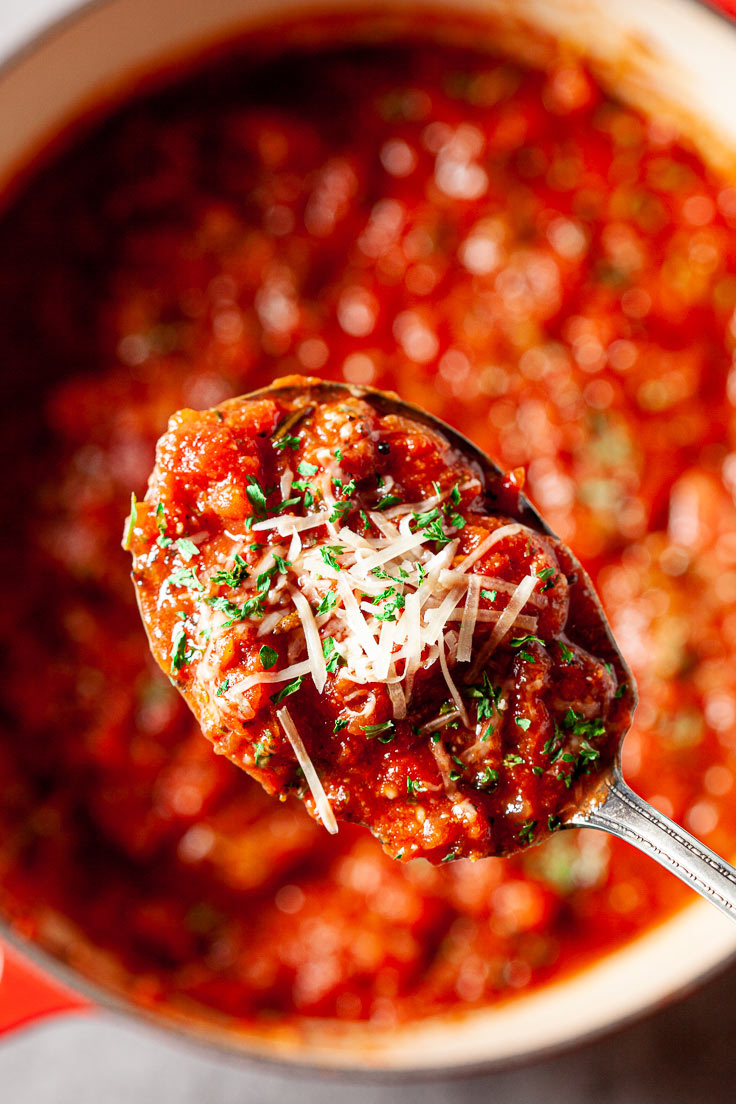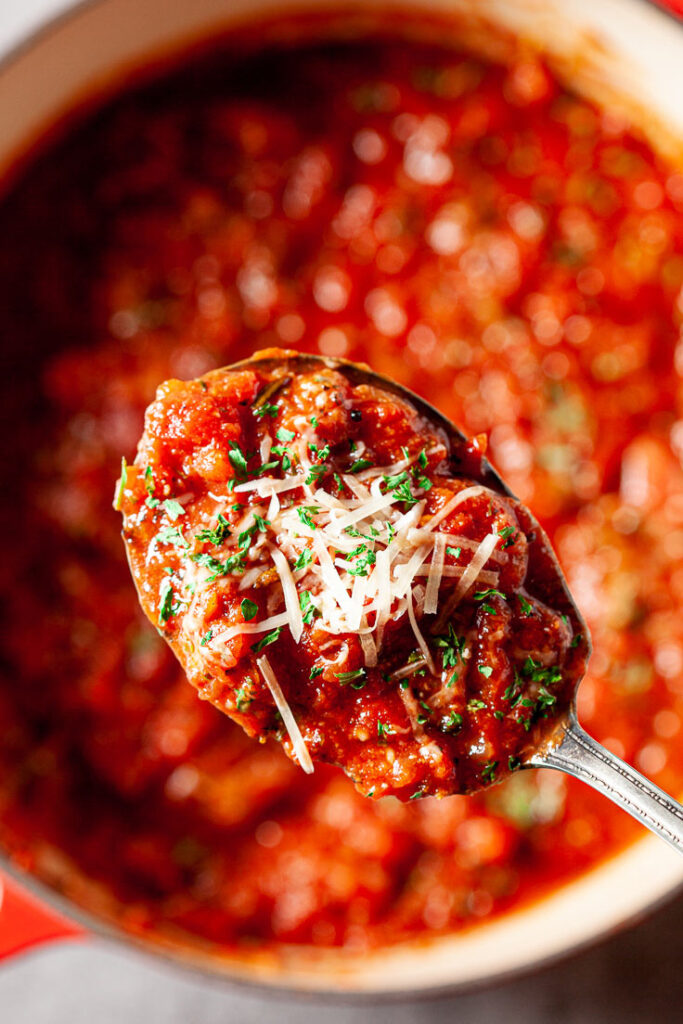 Strategies for Prepping Ahead
If your ground meat is frozen, take it out of the freezer the night before (because who hasn't forgotten to defrost the meat before?!)
You can buy fresh basil and oregano several days ahead of time and keep herbs fresh longer with a couple simple steps.
Feel free to chop onions and garlic up to several days ahead of time, as they'll keep well in an airtight container in the fridge. A favorite strategy of ours is to chop extra onions/garlic and freeze them in airtight bags until ready to use. They will last several weeks or longer in the freezer.
It's easy to shred an entire block of your favorite parmesan cheese, which has much better flavor than pre-shredded packages. Use extra clean hands to shred the cheese and seal in separate airtight bags. Parmesan can last weeks in the fridge this way.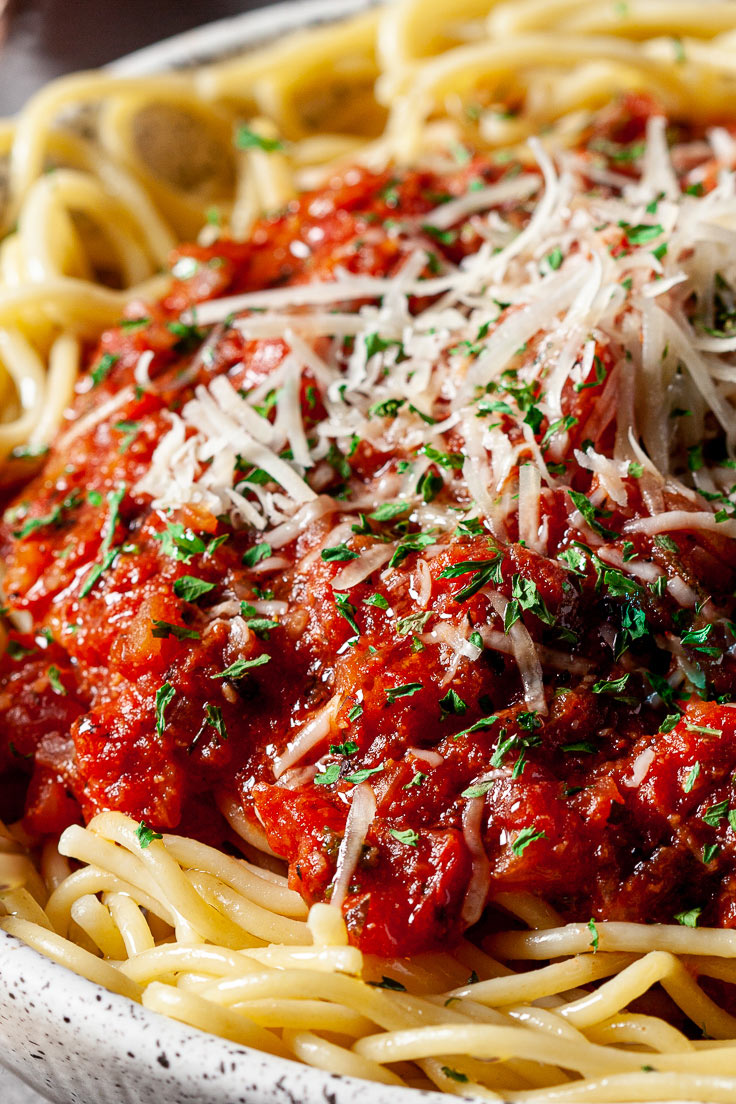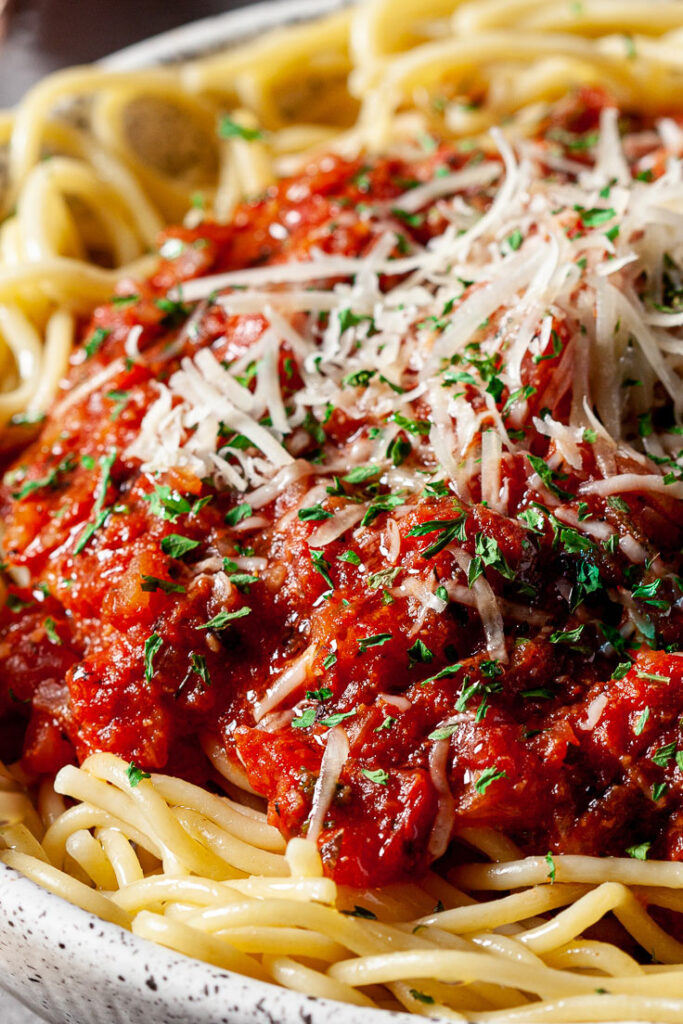 ---
---
---
Did you make this?
Please give us a rating and comment below. We love hearing from you!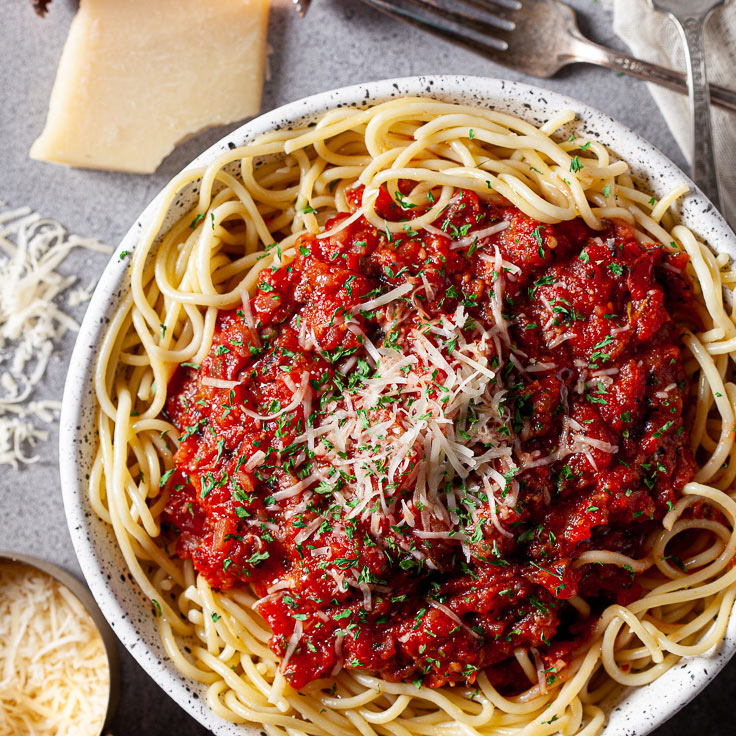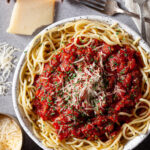 Homemade Spaghetti Sauce
Homemade spaghetti sauce boasts fresh flavors that can't be beat. Make extra sauce to freeze for easy meal prepping. This sauce is wonderful over any type of pasta you like.
Ingredients
1

TB

olive oil

1

onion

,

chopped

6

cloves

garlic

,

chopped

1

lb

lean ground beef

½

tsp

coarse kosher salt

28

oz

can crushed tomatoes with juices

3

TB

tomato paste

1

cup

beef broth

1

bunch fresh basil leaves

,

torn to small pieces (about 1/2 cup loosely packed)

1-2

TB

fresh oregano leaves

,

depending on taste

⅓

cup

freshly shredded parmesan cheese

Optional Garnishes: freshly chopped parsley

,

crushed red pepper flakes, freshly torn basil, parmesan cheese for topping
Instructions
In a Dutch oven or heavy pot, heat olive oil on medium-high until smoking. Add onion and garlic, stirring 1 minute until aromatic. Add ground beef, kosher salt (not table salt,) and black pepper. Stir, breaking ground beef up into small pieces, until just cooked through.

Add tomatoes with juices, tomato paste, beef broth, basil, and oregano. Stir to combine well. Once sauce starts to boil, reduce to a simmer. Cover and continue to simmer 15 minutes.

Add parmesan, stirring to incorporate. Season with additional salt/pepper if desired. Serve warm over spaghetti noodles or other pasta. Garnish as desired (we love extra parmesan and basil on top!)
Notes
You can also use ground turkey or ground pork sausage (no casing) in place of ground beef. If using seasoned sausage, omit salt/pepper during browning.
Feel free to use chicken broth or vegetable broth in place of beef broth.
If you have homegrown, vine-ripened tomatoes, feel free to use peeled/seeded and freshly crushed tomatoes; keep the juices to include in the sauce. Store bought tomatoes are often picked when unripe, and are not recommended
If you need to use dry herbs, substitute with 1 TB dry basil and 1 tsp dried oregano, or adjust amount to your taste. Be sure to use freshly purchased dry herbs, as they tend to lose flavor quickly in the pantry.
Sauce itself (without pasta) can be frozen in airtight container for several weeks.
If you enjoyed this recipe, please come back and give it a rating ♡
Nutrition (per serving)
Calories:
280
kcal
|
Carbohydrates:
31.7
g
|
Protein:
26.6
g
|
Fat:
7.4
g
|
Saturated Fat:
2.7
g
|
Trans Fat:
0.1
g
|
Cholesterol:
79.4
mg
|
Sodium:
476.9
mg
|
Fiber:
6.7
g
|
Sugar:
19.2
g
Pasta Perfect: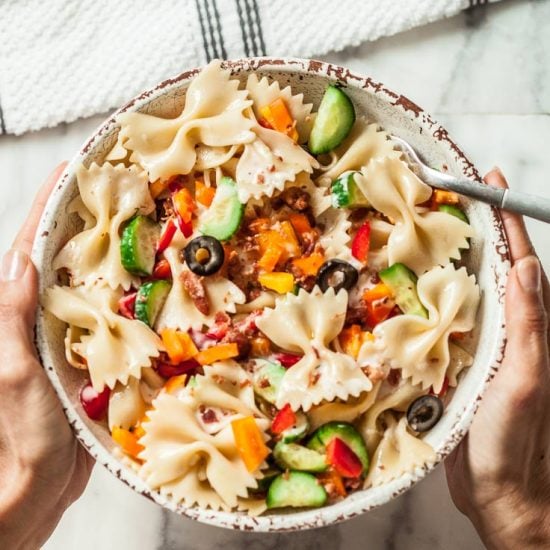 ---
---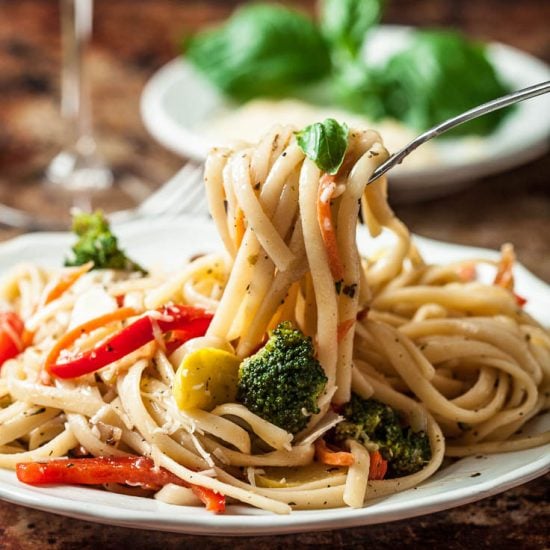 ---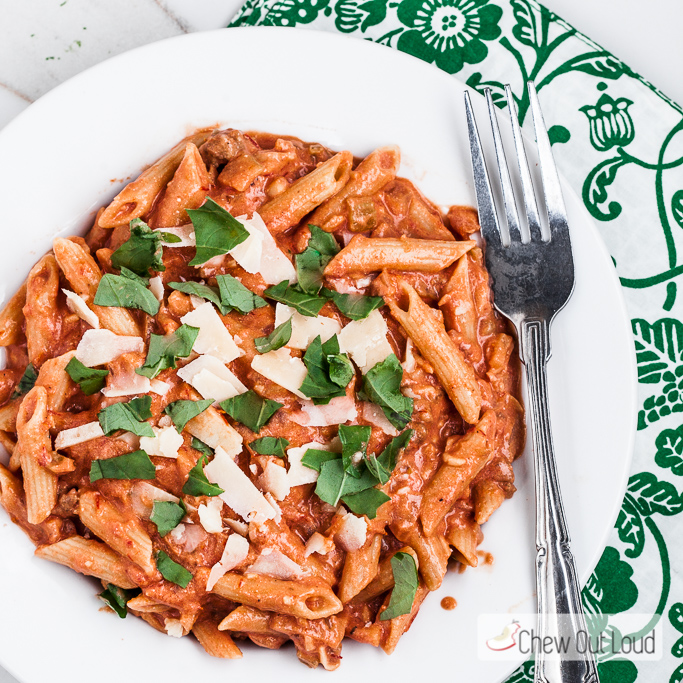 ---