30-Minute Spaghetti Carbonara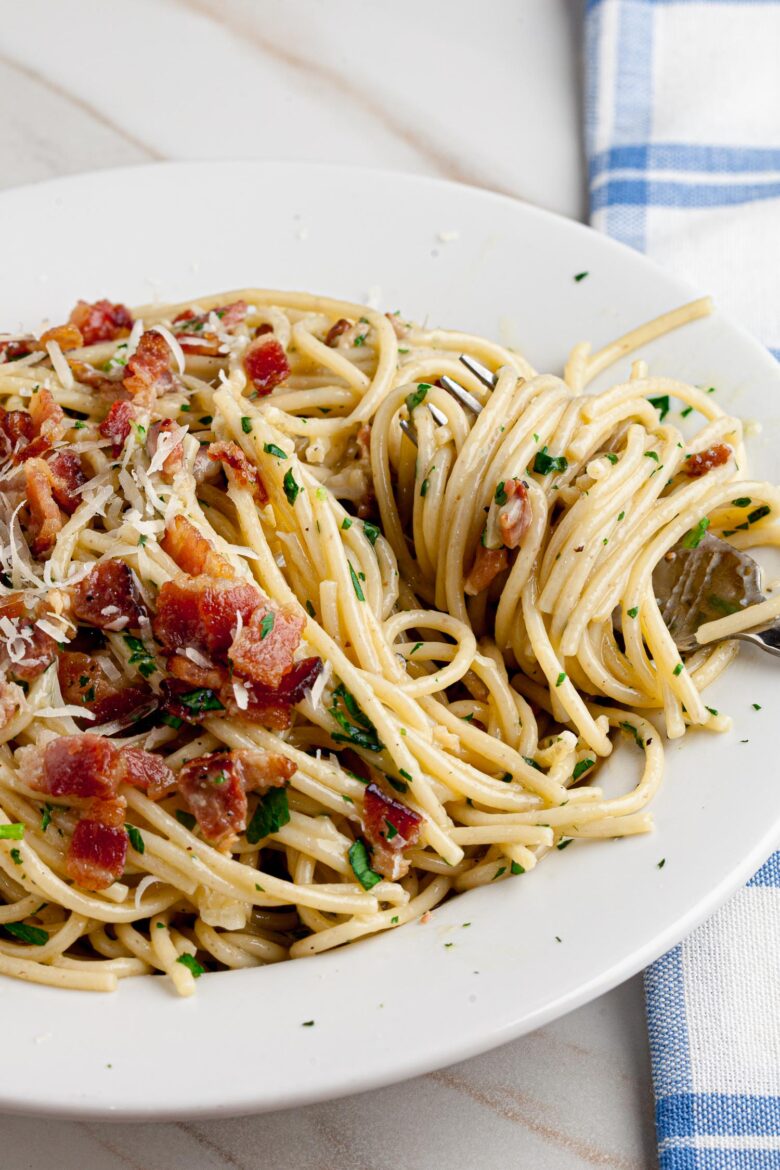 Video: Watch Us Make This Recipe
Why This Recipe Stands Out
Spaghetti Carbonara is quite possibly one of our favorite pasta dishes to order at an Italian restaurant. The combination of bacon, cheese, and freshly ground pepper on pasta is simply divine. It's one of those dishes that tastes like it takes much longer to make than it actually does.
It's quick and easy to make. From beginning to end, this recipe takes just 30-minutes to throw together.
It's so flavorful. This recipe uses white wine, bacon, cheese, and garlic. Just one of these ingredients packs a punch of flavor, but all of them together make a dish that's truly spectacular.
It's restaurant-quality. And when we say that, we mean your classy, upscale Italian restaurant that you reserve for date nights.
This Spaghetti Carbonara is versatile. There are so many ways to make this dish your own based on your preferences and what you have on hand.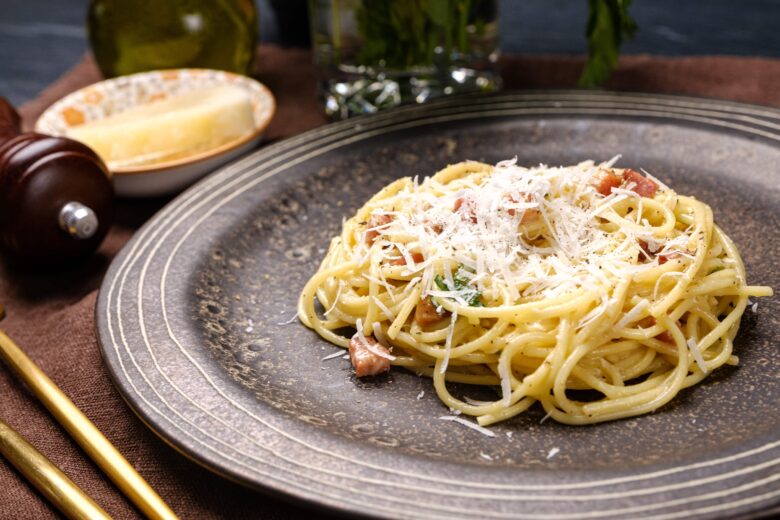 What Is Spaghetti Carbonara?
Spaghetti Carbonara is a traditional Italian pasta dish. Carbonara, specifically, is a sauce traditionally made with beaten eggs, crispy guanciale (pork jowl), Romano cheese, and freshly-ground black pepper. However, many people tweak this sauce by substituting bacon for the guanciale or Parmesan cheese for the Romano.
Carbonara sauce can really be served with any kind of pasta, but it's commonly served with longer varieties like Spaghetti. Pasta Carbonara has become common all around the world today, thanks to its vibrant flavors.
Key Ingredients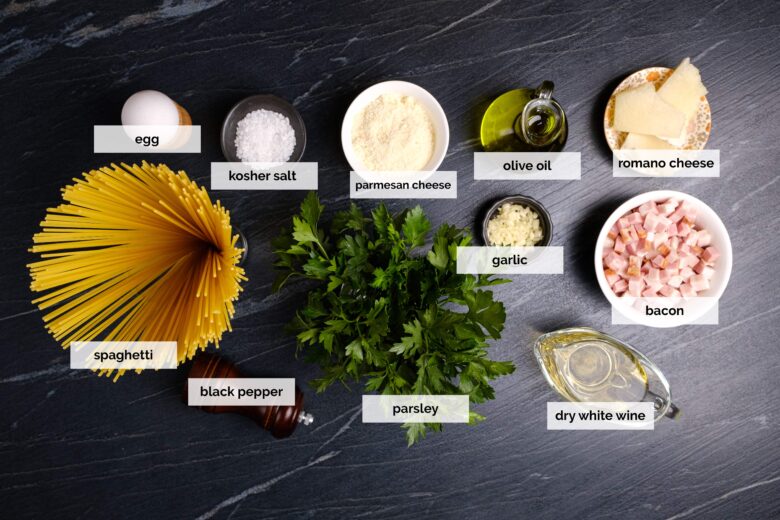 In this recipe, we start with the simple staple ingredients of Carbonara and add a few additions to give this dish an extra punch of flavor.
Olive Oil – We like using extra-virgin olive oil for this recipe, because it's the least processed form of olive oil leaving it with more antioxidants and vitamins and a richer flavor.
Bacon – Thick-cut bacon gives this dish that irresistibly smoky flavor further proving bacon's reputation for making everything better.
White Wine – Dry white wine, such as Pinot Grigio, offers the acidity and flavor that blends wonderfully with the bacon, cheese, and garlic.
Eggs – Eggs give this dish a rich, creamy texture and golden color. Although the eggs aren't fully cooked, they are tempered when they're mixed with the pasta making them totally safe to eat.
Parmesan and Romano Cheese – We use both Parmesan and Romano cheese in this recipe to get the best of both worlds. The freshly grated cheese melts on the pasta bringing that cheesy, briny flavor to this dish.
Garlic – We highly recommend fresh garlic for this recipe for that bold, garlicky flavor that goes well in any pasta dish.
Substitutions and Variations
Pasta: We use Spaghetti for this recipe, but feel free to switch the pasta up! We think Linguine, Fettuccini, or Angel Hair (Capellini) pasta would all go wonderfully with this recipe too.
Meat: Although we use bacon in this recipe, we also think the classic guanciale or pancetta are great if you can get your hands on them. Also, feel free to make good use of leftover meat with this dish. Tender, Juicy Chicken Breast would be a wonderful alternative.
Cream Sauce: If you don't want to use wine, you can use unsalted bone broth. If you're looking for a similar pasta recipe without the wine try making this 30-minute Spaghetti with Garlic and Olive Oil and just add the bacon from this recipe to it!
Step-By-Step Instructions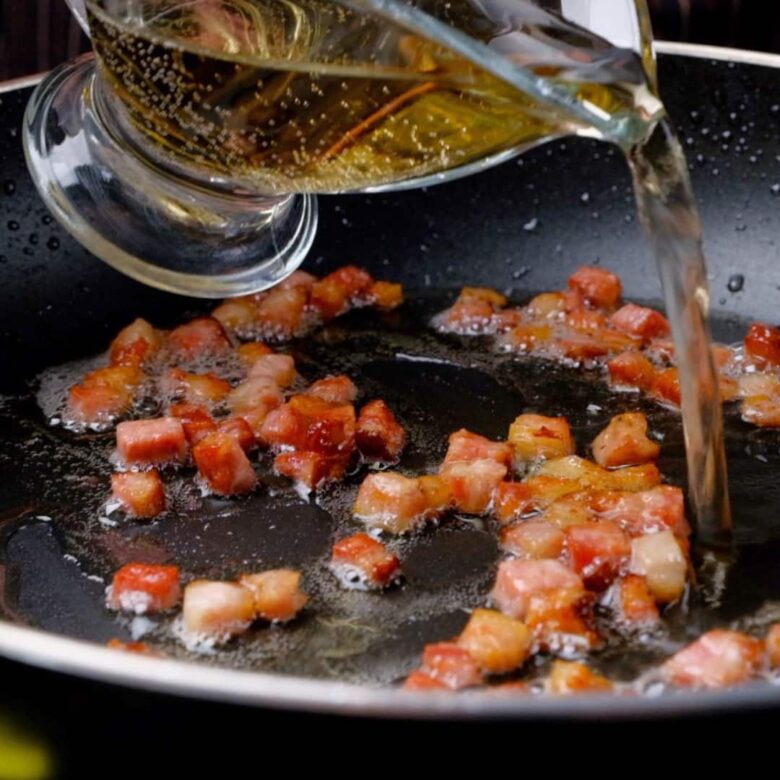 Add bacon to large pan with heated olive oil and cook until crisp. Then add the wine and simmer until reduced. Season with salt and pepper.
Add spaghetti to pot of boiling water and cook to al dente consistency.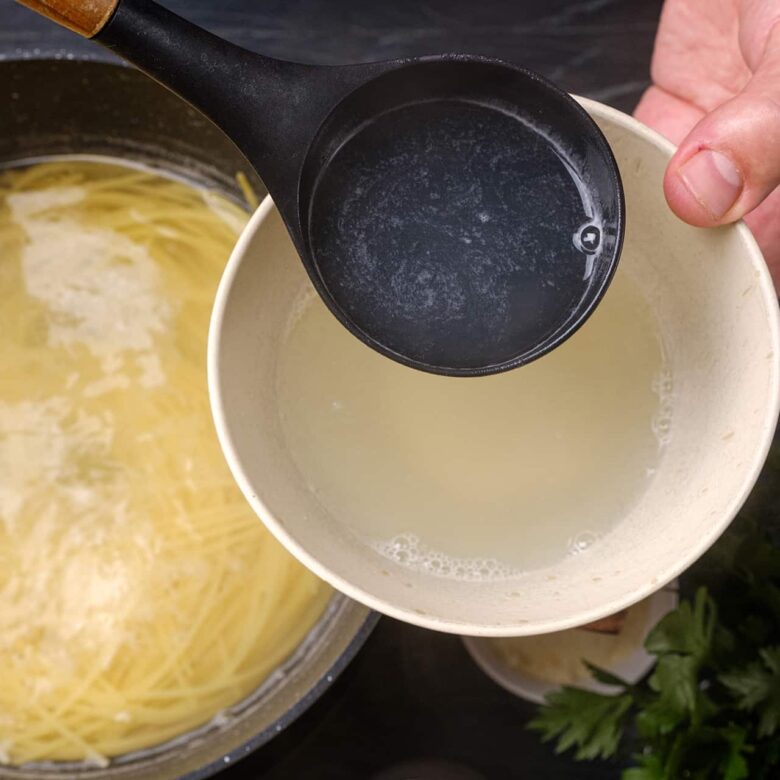 3. Reserve 1/2 cup of pasta water and drain the rest.
4. Add pasta and whisked egg, cheese, and garlic mixture to a warm bowl heated in the oven at 200 F.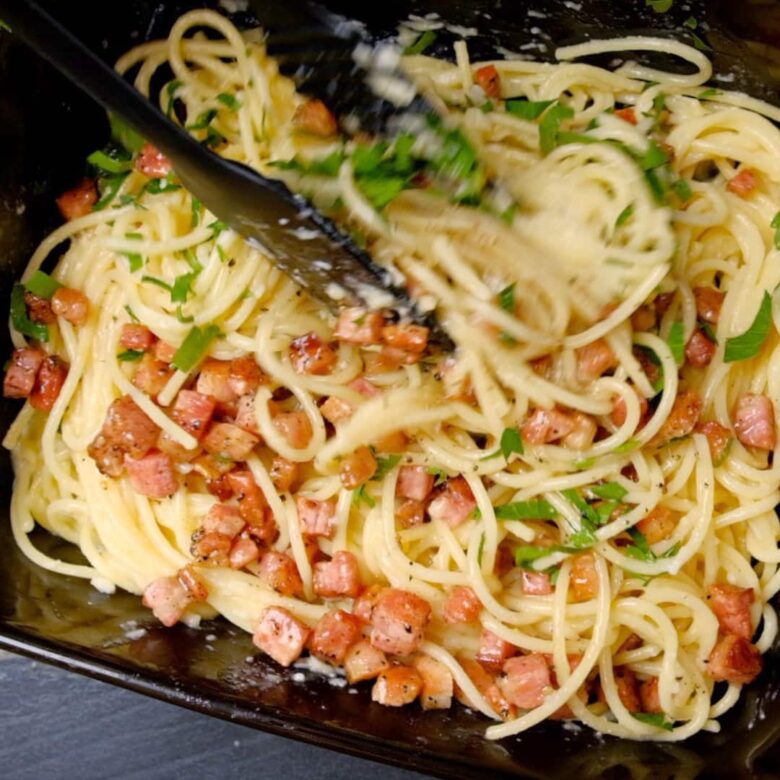 5. Add bacon mixture and toss all ingredients together. Then add parsley and toss until combined. Use pasta water to adjust consistency if needed.
6. Sprinkle with salt and pepper and serve garnished with extra parmesan.
For full list of ingredients and instructions, see recipe card below.
How To Prep Ahead
Because this recipe comes together so quickly, there isn't much to prepare in advance. We do, however, recommend getting all of your ingredients measured and chopped before starting, since the actual cooking process goes really quick.
That being said, this Spaghetti Carbonara is wonderful the next day. So, feel free to make extra and keep it in the fridge to have for a easy meal prep dinners.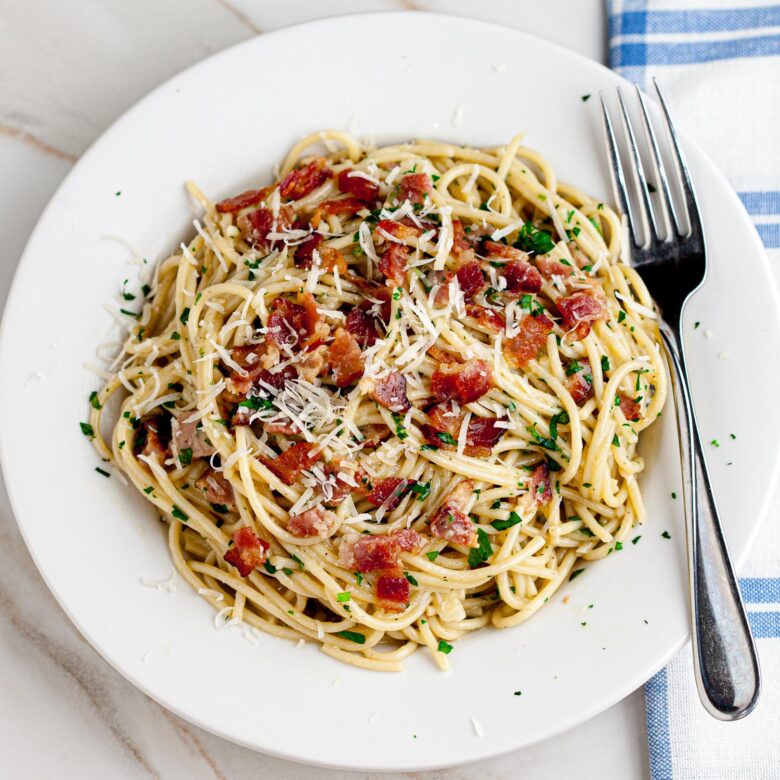 What To Serve with Spaghetti Carbonara
Commonly Asked Questions
How do I store this creamy Spaghetti Carbonara?
Store Spaghetti Carbonara in an airtight container for up to 4 days. If you need it for longer, freeze it in an airtight container for up to 3 months. Spaghetti Carbonara tastes amazing the next day, if you're lucky enough to have leftovers!
What is the trick to a good, creamy Carbonara sauce?
The main trick to good Carbonara lies in the eggs. Make sure you are using room temperature eggs and beating them thoroughly before adding them to the pasta. Also, to keep your eggs from curdling, make sure the pasta is not too hot. We do this by throwing the cooked pasta straight into a warm bowl and then adding the egg mixture.
What do I do if I accidentally threw out my pasta water?
Don't worry if you threw out your pasta water! You can replace it by simply mixing a cup of water or broth with between 1/4 and 1/2 tsp of cornstarch for similar results. Then just use as much as you need.
What does "al dente" mean?
Cooking pasta to "al dente" means cooking it until it's slightly firm and no more. We prefer "al dente" pasta for most recipes to prevent it from getting mushy.
Did you make this?
Please give us a rating and comment below. We love hearing from you!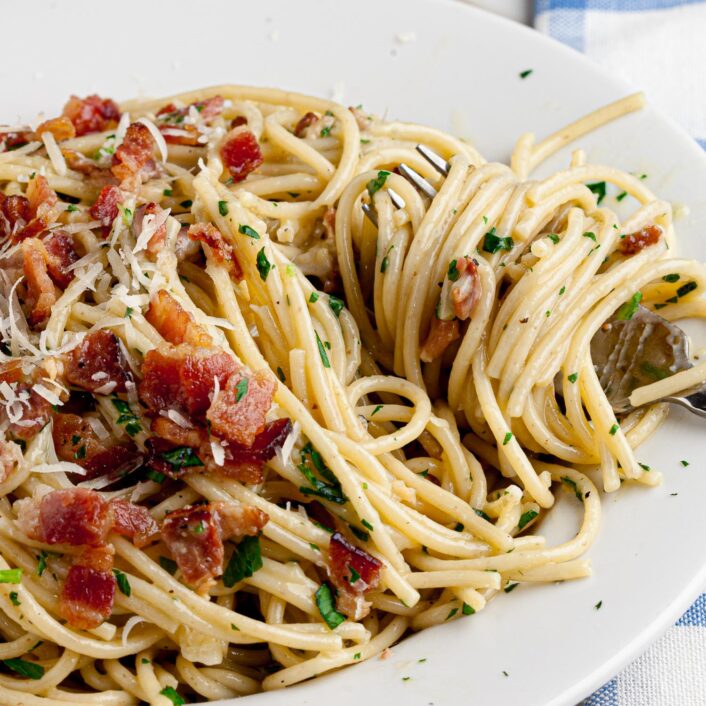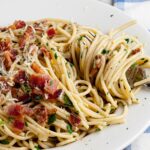 30-Minute Spaghetti Carbonara
Creamy, rich, and smoky, this 30-Minute Spaghetti Carbonara is one of our favorite Italian dishes. This is one of those meals that is fancy enough for entertaining on the weekend, but easy enough for a simple, delicious weeknight dinner.
Ingredients
¼

cup

extra-virgin olive oil

8

slices

bacon

,

thick-cut, cut into small pieces

½

cup

dry white wine

3

large

eggs

½

cup

parmesan cheese

,

freshly grated, plus more for serving

½

cup

romano cheese

,

grated

4

large

garlic cloves

,

minced

1

lb

spaghetti

,

dry

kosher salt and freshly ground black pepper to taste

¼

cup

chopped parsley for garnish
Instructions
Set a large oven-safe bowl in the oven and set oven to 200F, to keep bowl warm. Bring a well-salted large pot of water to boil.

While water is heating up, heat up the olive oil in a large skillet over medium heat. Add bacon and cook, stirring, until browned and crisp. Add wine and simmer until slightly reduced, about 7 minutes. Toss in 1/4 tsp kosher salt and 1/4 tsp black pepper and stir. Remove from heat, cover, and set aside.

In a bowl, whisk together the eggs, cheeses, and garlic and set aside.

As soon as water in large pot boils, add pasta and cook just until al dente, according to package instructions; don't over cook. Reserve 1/2 cup of the hot pasta water and drain the rest (do not rinse pasta, just drain it.)

Remove hot bowl from the oven. Add the drained pasta and egg mixture into it, stirring well. Add bacon mixture and toss well to coat. Add parsley and toss. Adjust consistency with reserved hot pasta water if needed. Add kosher salt and pepper to taste, if needed. Serve with freshly grated parmesan.
Notes
Serve creamy Spaghetti Carbonara with Strawberry Avocado Caprese Salad and Tiramisu for a full Italian meal.
Make sure eggs are room temperature and whisk them very well to ensure a smooth sauce.
Don't rinse pasta. We want to keep the extra starch on it to help thicken the sauce.
Variations: you can use a different pasta, such as linguine, instead of spaghetti. Try pancetta instead of bacon. For additional protein, add shredded chicken or shrimp. If you don't want to use wine, you can substitute with unsalted bone broth.
If you enjoyed this recipe, please come back and give it a rating. We ❤️ hearing from you!
Nutrition (per serving)
Calories:
603
kcal
|
Carbohydrates:
59
g
|
Protein:
23
g
|
Fat:
29
g
|
Saturated Fat:
9
g
|
Polyunsaturated Fat:
4
g
|
Monounsaturated Fat:
14
g
|
Trans Fat:
0.05
g
|
Cholesterol:
127
mg
|
Sodium:
471
mg
|
Potassium:
312
mg
|
Fiber:
3
g
|
Sugar:
2
g
|
Vitamin A:
456
IU
|
Vitamin C:
4
mg
|
Calcium:
228
mg
|
Iron:
2
mg