30-Minute Spaghetti Carbonara
This Spaghetti Carbonara takes just 30 minutes to pull off, but it tastes like you spent much more time on it. This quick dish is creamy, rich, smoky, and flavorful…something the entire family will devour in a blink! Leftovers are delicious, if you're lucky enough to have any.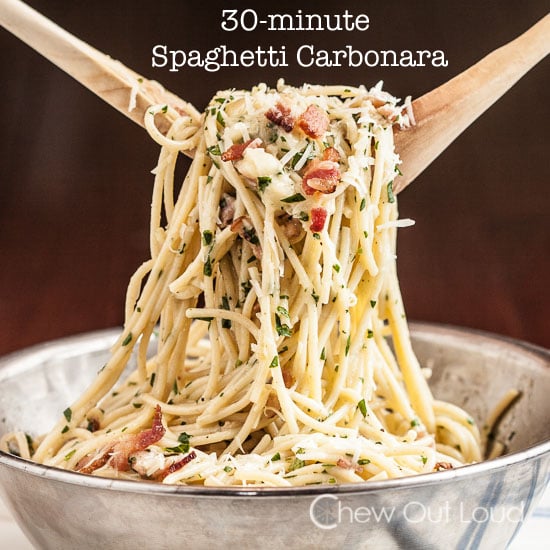 If there's anything my family adores, it's got to be bacon. Second only to bacon is their love for cheesy pasta. It's no surprise that this Spaghetti Carbonara was an immediate hit the minute it landed on the dinner table.
I've long been a fan of spaghetti carbonara. Who can resist? It's essentially a wonderfully creamy sauce smothered all over al dente pasta, laced with smoky bits of bacon and loaded with garlic.
I've eaten plenty of Spaghetti Carbonara at restaurants, but never realized it could be this easy and way more fabulous at home…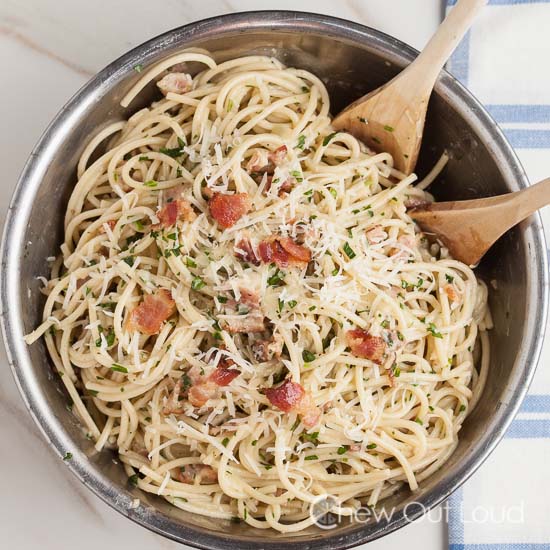 Despite summer having the reputation of being filled with lazy days, it seems our summer has been anything but. This summer has been exceptionally active and full for us.
Maybe it's the overlapping sports that all our boys are doing. Or the out of town trips, both short and long. It could be the full marathon I committed to during a moment of insanity. Most likely, all of the above.
Regardless, it means I'm digging for as many easy and quick meal plans as possible. Without sacrificing flavor because I'm still a foodie at heart.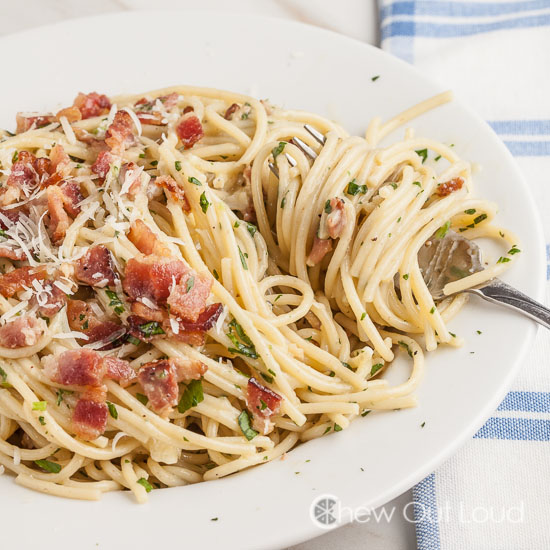 We've enjoyed a few phenomenal 30-minute type meals around here lately. From 30-minute Steamed Buns to 30-minute Spaghetti with Garlic and Olive Oil, we've been noshing on tasty meals in a flash.
I even took the liberty of giving you a few more totally yummy quick meal ideas below, should you be interested 🙂
This Spaghetti Carbonara is loaded with garlic (no skimping on the garlic, please) and plenty of parmesan and romano cheeses. The pasta is cooked perfectly to al dente, which gives it a wonderful chew without being soggy.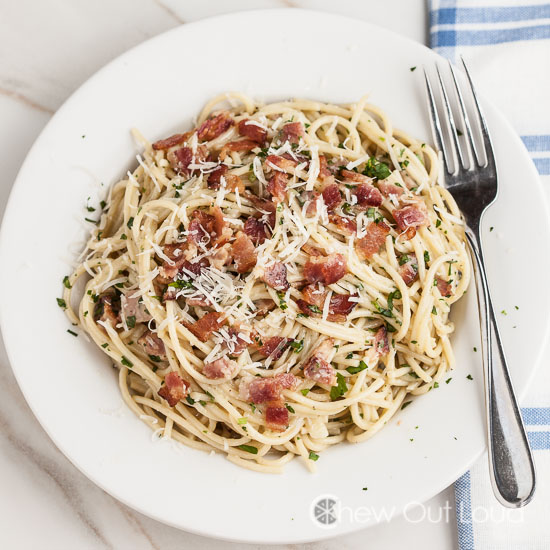 And bacon. No words needed for smoky bits of bacon in every bite. It causes the entire dish to be infused with smoky goodness, which is absolutely deeee-vine.
Oh, and should you be lucky enough to have leftovers for lunch or dinner the next day, be forewarned that the leftovers are even more incredible.
Here's to several more weeks of fun in the sun, and plenty of 30-minute homemade meals.
Enjoy!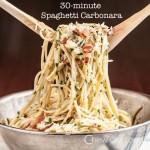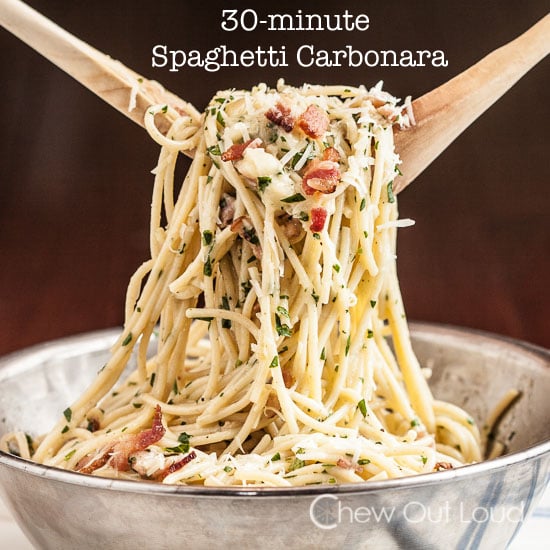 30-Minute Spaghetti Carbonara
This Spaghetti Carbonara tastes like you spent way more than just 30 minutes on it. Creamy, rich sauce coats perfectly cooked al dente pasta. Generously studded with bacon and garlic. Leftovers are amazing.
Ingredients
¼

cpu extra virgin olive oil

8

slices

thick-cut bacon

,

cut into small pieces

½

cup

dry white wine

3

large eggs

½

cup

freshly grated parmesan cheese

,

plus more for serving

½

cup

grated romano cheese

4

large garlic cloves

,

minced

1

lb

dry spaghetti

kosher salt and freshly ground black pepper to taste

¼

cup

chopped parsley for garnish
Instructions
Set a large oven-safe bowl in the oven and set oven to 200F, to keep bowl warm.

Bring a well-salted large pot of water to boil.

While water is heating up, heat up the olive oil in a large skillet over medium heat. Add bacon and cook, stirring, until browned and crisp. Add wine and simmer until slightly reduced, about 7 minutes. Toss in 1/4 tsp kosher salt and 1/4 tsp black pepper and stir. Remove from heat, cover, and set aside.

In a bowl, whisk together the eggs, cheeses, and garlic and set aside.

As soon as water in large pot boils, add pasta and cook just until al dente, according to package instructions; don't over cook. Reserve 1/2 cup of the hot pasta water and drain the rest (do not rinse pasta, just drain it.)

Remove hot bowl from the oven. Add the drained pasta and egg mixture into it, stirring well. Add bacon mixture and toss well to coat. Add parsley and toss. Adjust consistency with reserved hot pasta water if needed. Add kosher salt and pepper to taste, if needed.

Serve alongside additional fresh parmesan.
Did you make this?
Leave a comment below and tag @chewoutloud on Instagram
Source: Chew Out Loud, adapted from Cooks Illustrated
Here's a super simple Tortellini Bake, for busy weeknights. Tastes awesome.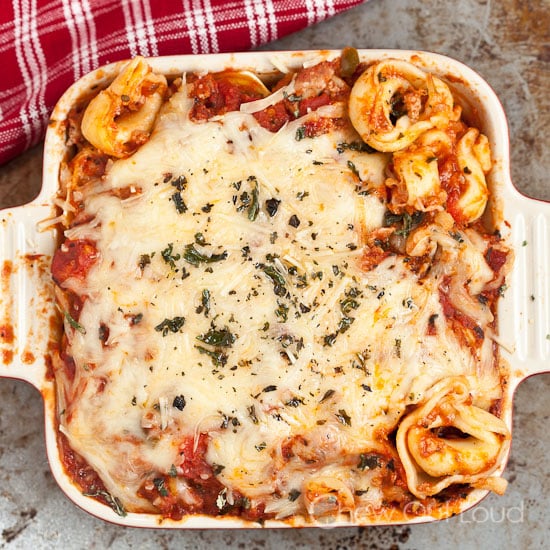 This Easy Penne with Sausage and Peppers has been one of my long time favorites for busy nights.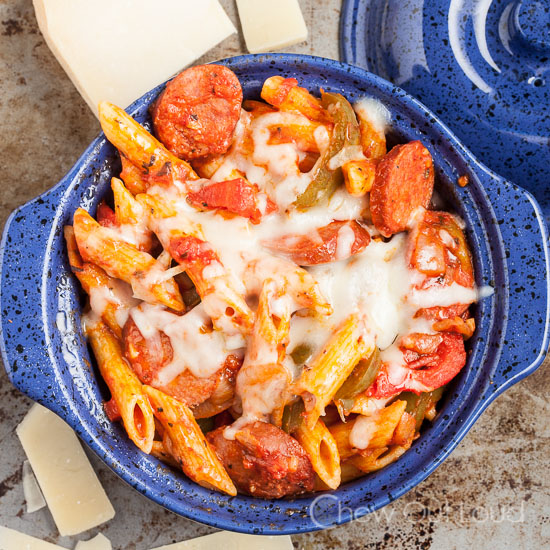 This 30-minute Spaghetti with Olive Oil and Garlic is no-fuss, no-frills, and simply delish.