Almond Biscotti Recipe
By Amy Dong
Published Dec. 10, 2012
Updated Nov. 16, 2023
These almond biscotti cookies are satisfyingly crunchy and flavorful. They're perfect for dunking into your favorite cup of coffee or tea.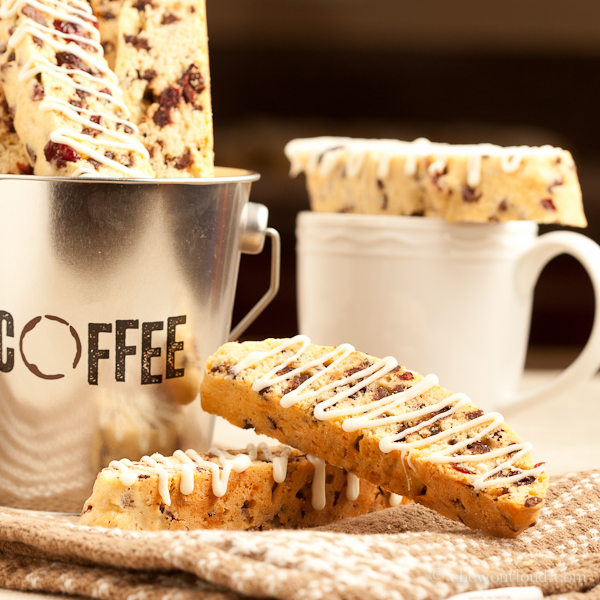 Almond Biscotti Cookies
Is anyone else in the heartland feeling the sudden freeze? The frost has definitely found us in MN.
To all my beautiful Californian family & friends: I love you dearly and miss you more than you know…but I just can't read any more Facebook posts about your "weather" out there. Because it makes me want to cry and go stare longingly at my collection of flip flops.
I need cookies. Double Chocolate Biscotti cookies to the rescue.
I know many people in our current Midwestern stomping ground who are enjoying the sudden blanket of heavy snow today. True, I do enjoy how pristine and beautiful fresh snow can be. To say the kids were excited is an understatement. They immediately donned their rugged snow gear and threw themselves into the thick white powder, and "helped" Daddy shovel.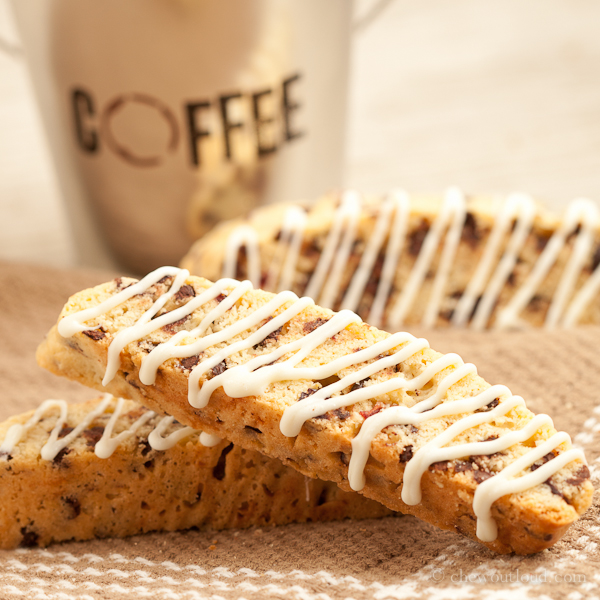 Our biscotti cookie recipe is easier than you'd think
For those mornings or afternoons when you can stay in and sip on a hot mug of coffee or tea… bring in these double chocolate Biscotti cookies. They are the perfect dunking cookie. I used to think Biscotti would be tricky to make from scratch, but I started making these a few years ago and fell in love with homemade Biscotti.
They are pretty straighforward, extremely flexible (any fave add-ins would be yummy), and best of all? They keep so, so well. Biscotti is classically crisp in texture (dunking perfection) and they stay nicely crunchy at room temp for days. Or frozen for much longer.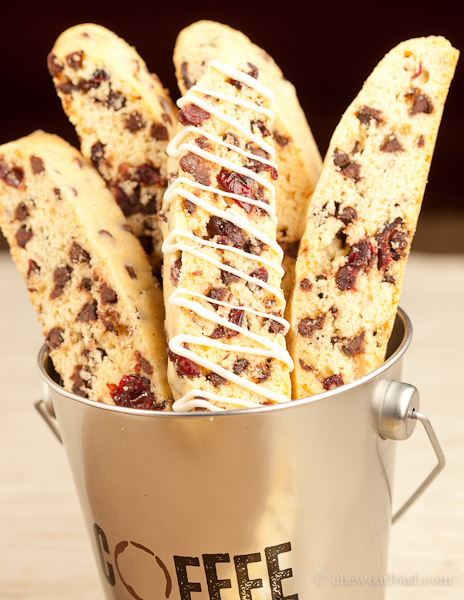 Biscotti Cookies are perfect food gifts, transport well, and freeze well
This recipe will make enough Biscotti to give away as yummy Christmas treats, or you can keep some in the freezer for a quick morning or afternoon treat when you need it. In fact, I just made a batch to give to my girlfriend's lovely family. There was enough leftover to go with Hubby's coffee at breakfast. And kids' afternoon snack. And my breakfast + snack.
To make it Christmas-y, I added dried cranberries. They are a perfect addition for a holiday breakfast/brunch or cookie exchange. For a little variation this holiday season you might love this gingerbread biscotti!
Enjoy these cookies, stay warm, and romp a little in the snow. If you're lucky enough to get snow 🙂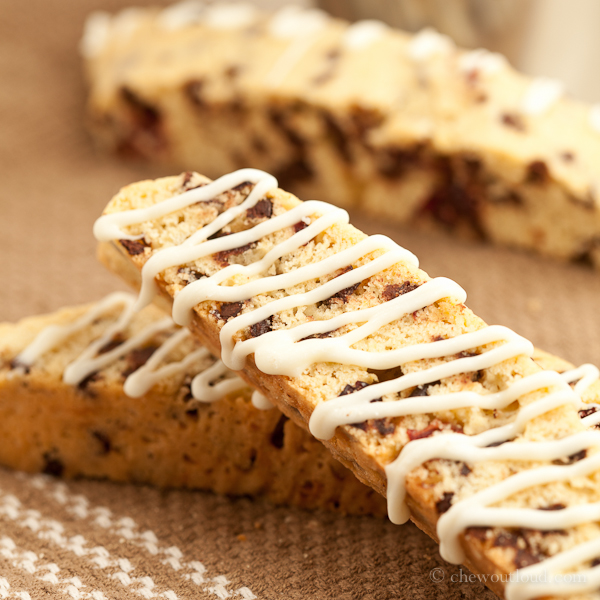 Did you make this?
Please give us a rating and comment below. We love hearing from you!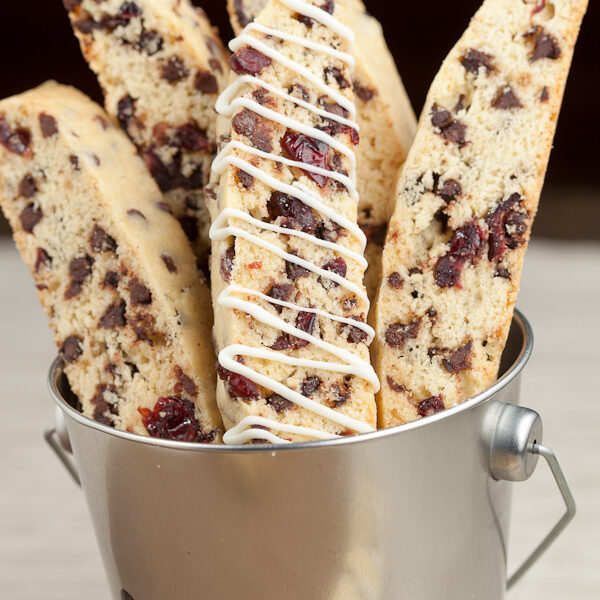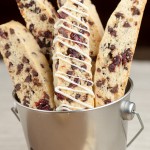 Double Chocolate Biscotti Cookies
These chocolate biscotti cookies are satisfyingly crunchy and flavorful. They're perfect for dunking into your favorite cup of coffee or tea. Great for gifts, too.
Instructions
Preheat oven to 300F. Line baking sheet with parchment paper.

Combine flour, salt, and baking powder in a large bowl. Set aside.

In another large bowl, mix oil and sugar until well blended. Add vanilla extract, almond extract, and eggs. Beat until well incorporated. Gradually stir egg mixture in with the flour mixture. Mix in the chocolate chips, nuts, and dried fruits (if using) by hand. Dough may be sticky; place in fridge for 30 minutes to help with stickiness.

Divide dough into equal thirds – using wet hands here will help with sticky fingers. Form each third into logs, about 12×3 each, on the parchment lined cookie sheet.

Bake 35-40 minutes on middle rack, until lightly brown and mostly firm to the touch. Place light cloth over logs and cool for at least 30 minutes or until they are almost room temp. Turn oven down to 275F.

Carefully cut cooled logs on diagonal, into slices that are a little less than 1 inch thick. Depending on your knife, you might either press down very gently to get clean cuts, or you might use a gentle sawing motion. I use my sharp bread knife. Lay Biscotti onto their sides, on parchment covered baking sheets. Bake 10 minutes. Flip and bake 10 minutes more. Biscotti is done when they feel dry. Cool on cooling racks.

Melt white chocolate in small bowl in microwave, in approx. 30 second increments, until smooth and melted. Transfer melted white chocolate into a plastic baggie, cut a very tiny hole in bottom corner, and drizzle over Biscotti. Happy dunking!
Notes
Feel free to use all semi-sweet chocolate chips, or any variety of your favorite nuts/dried fruits for the add-ins.
If desired, you can do an egg wash over the dough logs before baking. Just beat 1 egg with 1 TB water and brush onto logs.
Biscotti will keep crisp for up to a month in your pantry; be sure to wrap it airtight.
If you enjoyed this recipe, please come back and give it a rating ♡
Nutrition (per serving)
Calories:
169
kcal
|
Carbohydrates:
25.9
g
|
Protein:
2.6
g
|
Fat:
6.5
g
|
Saturated Fat:
2.3
g
|
Cholesterol:
21.8
mg
|
Sodium:
44.5
mg
|
Fiber:
0.9
g
|
Sugar:
15.4
g