30-Minute Steamed Buns (Man Tao)
By Amy Dong
Published Jul. 9, 2014
Updated Aug. 17, 2022
When you crave soft steamed buns but don't have the time to make them from scratch or hassle with dough rising, here is a quick and easy solution for those busy weeknights. It takes just one ingredient and less than 30 minutes to serve up these soft and tender buns.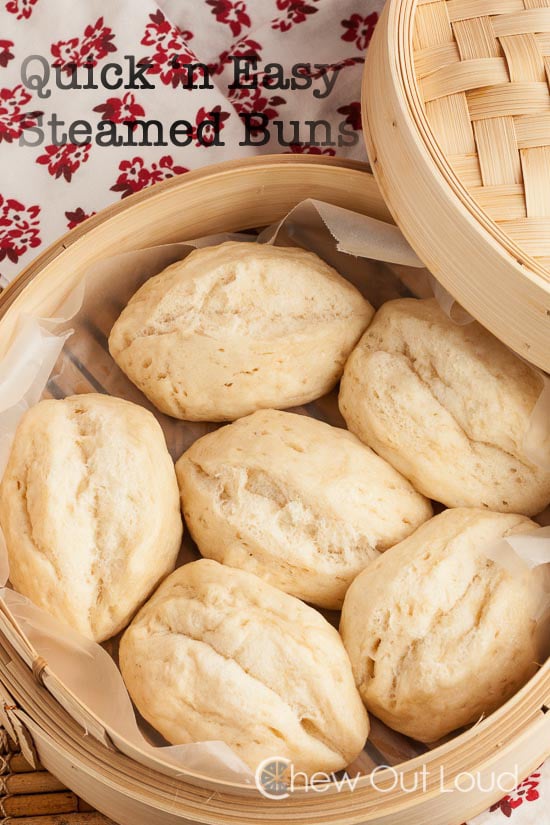 Let me begin by confessing that this will be more of a food hack rather than a recipe. #foodhacksrock
I oscillated back and forth about whether to share this idea we've been enamored with at our home.
There's typically more than one ingredient in my recipes. I strive to keep food doable and manageable most of the time, but these Quick 'n Easy Steamed Buns are almost embarrassingly simple. Almost.
But I just can't contain myself. Both grown ups and kids adore these steamed buns so much that I just can't keep it to myself any longer.
It's time to share this tasty little secret…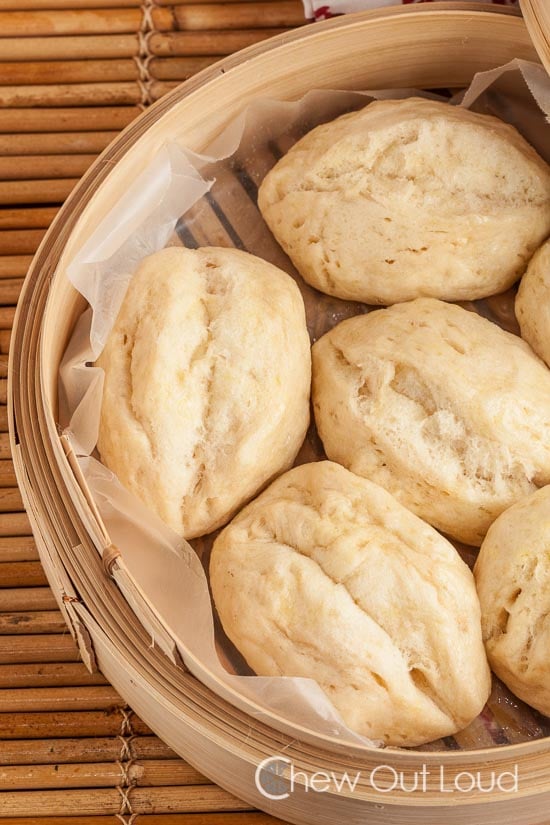 If you're on any social media, particularly Pinterest, you've seen some pretty cool life hacks.
Life hacks refer to any trick or shortcut or novelty method that increases efficiency…anything that solves an everyday problem in an inspired, ingenious manner. (Thanks, wiki!)
This one just happens to be about food. Naturally.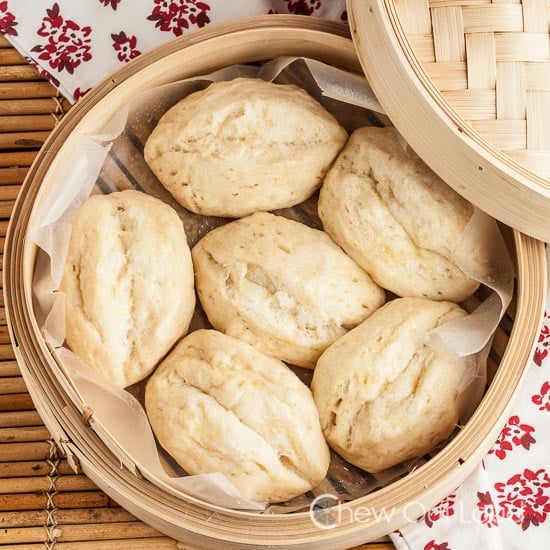 Steamed buns normally take hours to make from start to finish, with the yeast dough kneading and rise time. What if we want soft, tender steamed buns on a Monday night?
You won't believe the results. I didn't believe the results. But we are a buncha believers now, and if you try this, you will be too.
On a particularly busy day, I popped open a refrigerated can of my favorite Trader Joe's Buttermilk Biscuits (I use Trader Joe's because it doesn't contain hydrogenated grease and other artificial stuff.)
Rather than turn on the hot oven, I opted to steam those babies. It was a risk, but a small one. Such a risk taker. Total success.
Asian style steamed buns for dinner, in less than 30 minutes. Incredibly soft, tender, and fluffy. And yeah, somewhat buttery…but who's going to complain about that? They just silently devour.
Enjoy!
Did you make this?
Please give us a rating and comment below. We love hearing from you!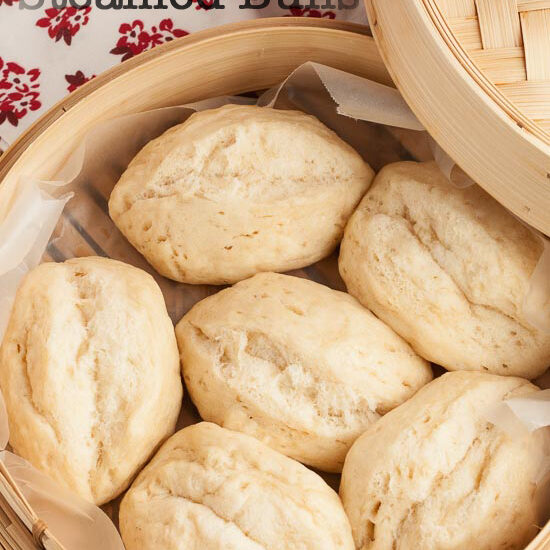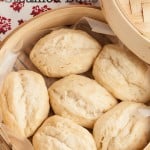 30-Minute Steamed Buns (Man Tao)
When you don't want to turn on your oven and prefer steamed bread instead, you can have these fluffy soft steamed buns in under 30 minutes. They are absolutely delicious and tender. Perfect weeknight meal solution.
Ingredients
1

can

refrigerated large buttermilk biscuits

,

8 count (I use Trader Joes)

water for steaming
Instructions
Line the basket of a steamer with wax paper.

Pop open can of biscuits and flatten each biscuit into approx. 3 1/2" rounds. Fold each round in half (like a mini taco) and pinch edges together to seal.

Place buns in steamer with an inch or two of space in between each bun.

Set steamer in a large wok or very large pan.

Fill wok or pan with as much water as possible, without the water touching bottom of the steamer. There should be about 3/4 - 1" of space between pan and steamer to ensure the boiling water doesn't reach the buns.

Cover steamer tightly. Bring water to a boil. Reduce to a medium-low boil and let steam about 20-25 minutes.

Turn heat off and let buns rest 5 minutes before removing cover.
Nutrition (per serving)
Calories:
211
kcal
|
Carbohydrates:
28
g
|
Protein:
4
g
|
Fat:
10
g
|
Saturated Fat:
1
g
|
Polyunsaturated Fat:
4
g
|
Monounsaturated Fat:
4
g
|
Cholesterol:
1
mg
|
Sodium:
544
mg
|
Potassium:
129
mg
|
Fiber:
1
g
|
Sugar:
2
g
|
Vitamin A:
1
IU
|
Calcium:
28
mg
|
Iron:
2
mg
Source: Chew Out Loud
If you're a bread lover like we are (I'm a carbo fiend)… you'll appreciate these outstanding Olive Garden clone Breadsticks. In fact, these are 200x better than the restaurant chain's version, since these are fresh out of your oven, super soft, garlicky, melt-in-your-mouth!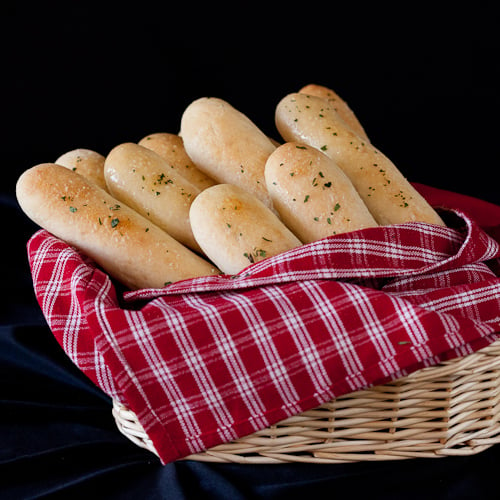 Love Naan Bread, but don't want to spend time and money going out to an Indian restaurant for it? This hot homemade grilled flatbread is akin to Nann…it's chewy, tasty, and hits the spot.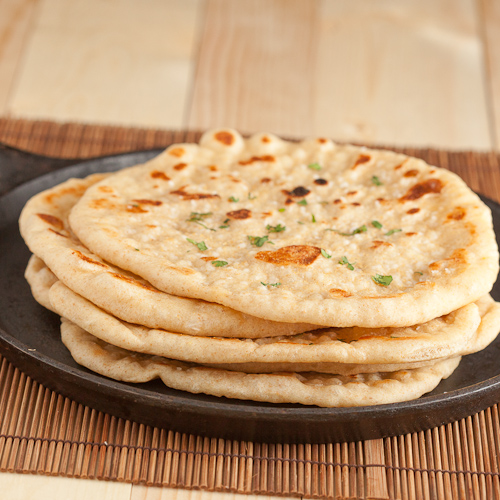 And here's our now-famous rustic Rosemary Garlic Bread. Again, homemade is always so much better. Fresh out of your own oven, hot, and chewy on the outside yet soft on the inside.