How to Make Olive Garden Breadsticks
By Amy Dong
Published Apr. 22, 2020
Updated Nov. 20, 2023
With basic pantry ingredients, you can enjoy these fluffy soft Olive Garden Breadsticks fresh out of your own oven. Warm, buttery, homemade bread is yours.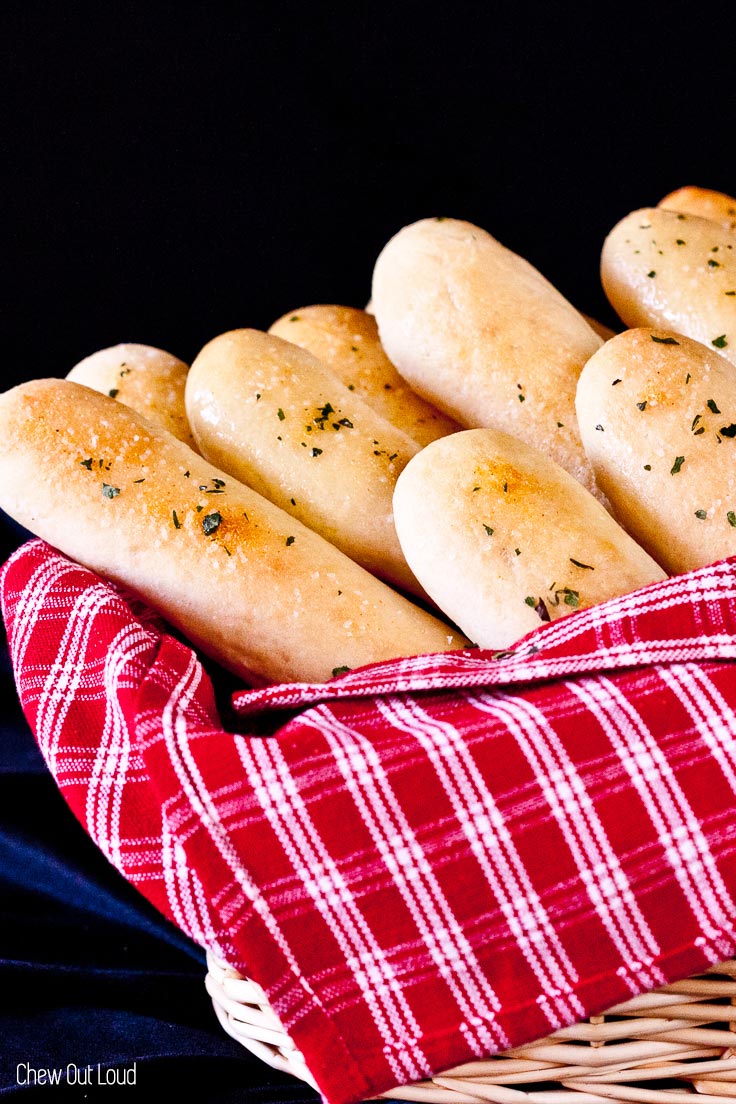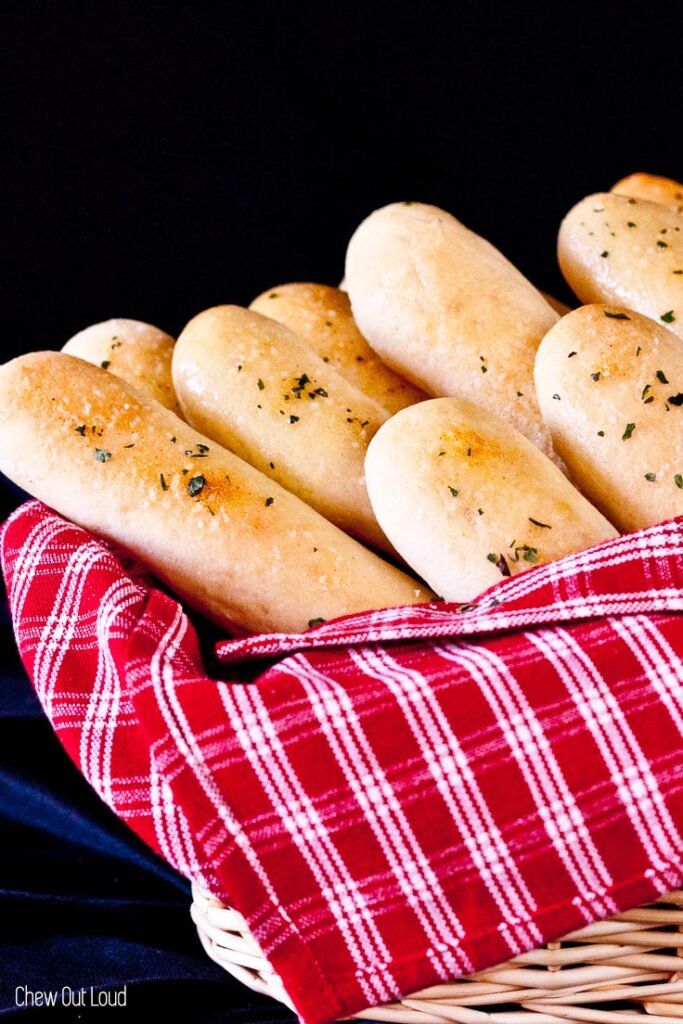 Homemade Breadsticks Taste Better Than Olive Garden's.
There's a reason for the long standing popularity of Olive Garden's famous breadsticks. They're soft, fluffy, buttery, and oh-so-garlicky.
Some of us have fond cravings for dunking those pillowy breadsticks into comforting bowls of Pasta e Fagioli. Or perhaps a meal of breadsticks and Creamy, Crispy Caesar Salad is what your taste buds call for.
Once you try these homemade breadsticks, you'll never go back to anything else. All it takes is basic pantry ingredients, most of which you may already have in your kitchen.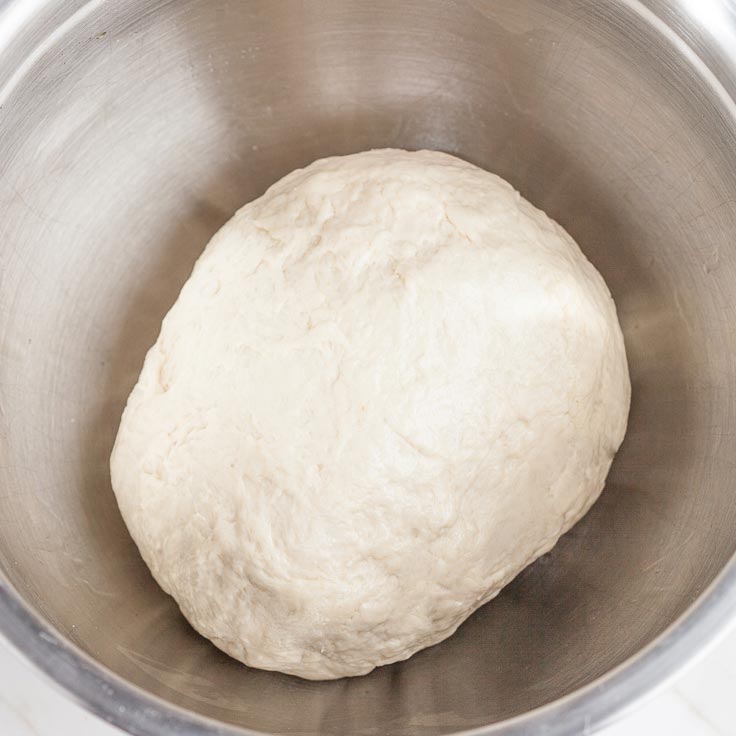 Key Ingredients for Soft Homemade Breadsticks
You may already have most of these basic ingredients in your pantry right now. They're great items to always have on hand for baking or cooking in general.
Active dry yeast: stores typically carry this in their baking aisle, near the flours and sugars. It commonly comes in a small jar or in small envelope-like packages. Do check the expiration date to ensure the freshness of yeast.
All purpose flour: plain all-purpose flour works perfectly for these homemade breadsticks. No need for specialty flours.
Butter: either salted or unsalted butter will work here. Note that salted butter stays fresh longer in your fridge than unsalted, as the salt is a natural preservative. Be sure you're using sticks of real butter that haven't gone rancid. Avoid margarine or tubs of butter spreads.
Sugar: regular white (aka granulated) sugar, sweet and simple
Table salt: for the dough mixture, you'll want to use common table salt. (Save the coarse kosher salt for the topping.)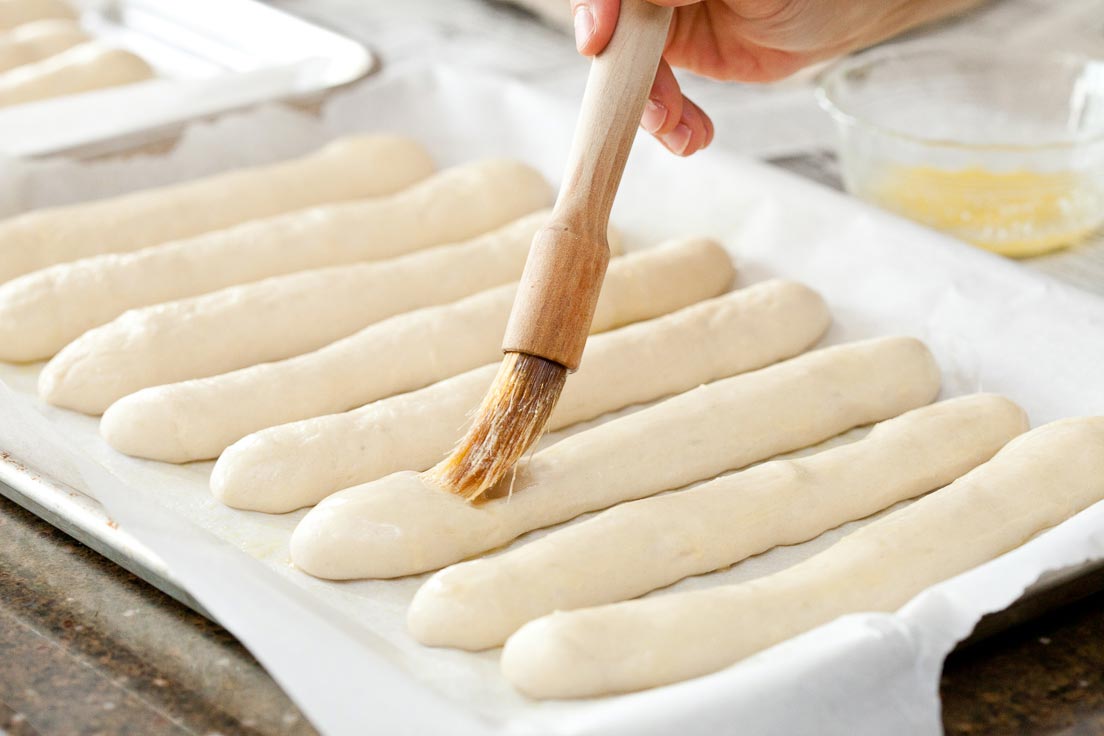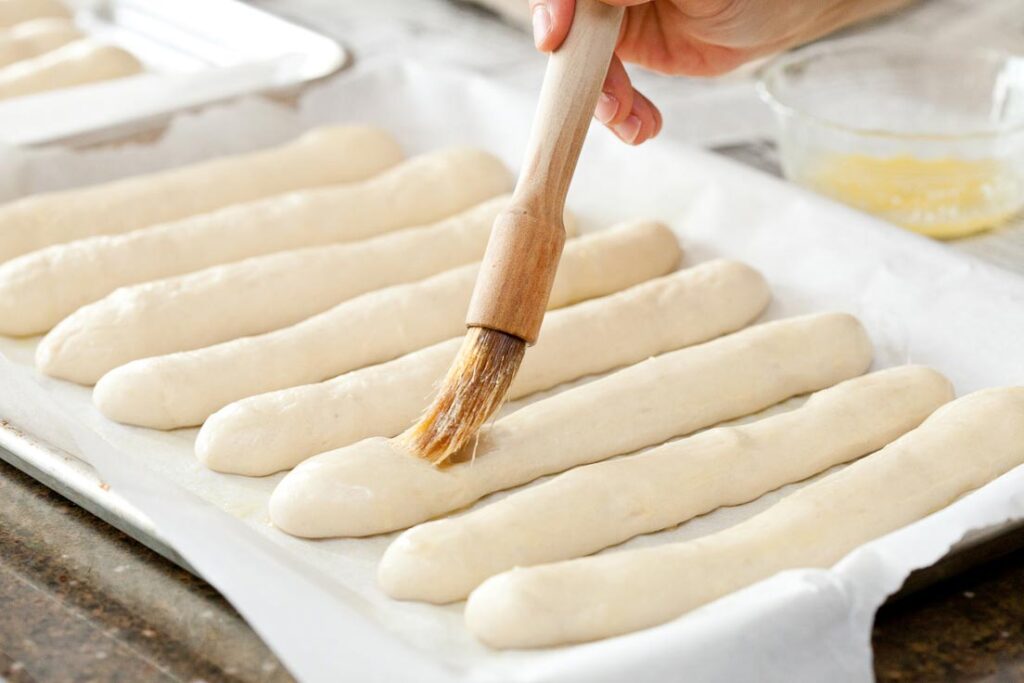 Topping Your Homemade Bread
Kosher salt: the coarse texture of these larger salt crystals makes a difference, so if you need to substitute here, sub with a coarse sea salt (not fine table salt.)
Garlic powder: it's important to use garlic powder, rather than dried minced garlic, as the fine texture of garlic powder adheres well to the butter coating.
Grated Parmesan cheese: feel free to use either the 100% pre-grated parmesan cheese from the jar or finely grate your own block of parmesan cheese.
Dried oregano: feel free to sub with any other dried herb you have on hand, such as basil or Italian blend.
PRO TipS
Do ahead: prep your topping ingredients while the dough is rising. It helps to have melted butter and seasonings ready to go.
Eat now: Bake your better-than Olive Garden breadsticks while everyone's around (and drooling) so you can serve them fresh out of the oven. These are truly best when eaten warm and fresh.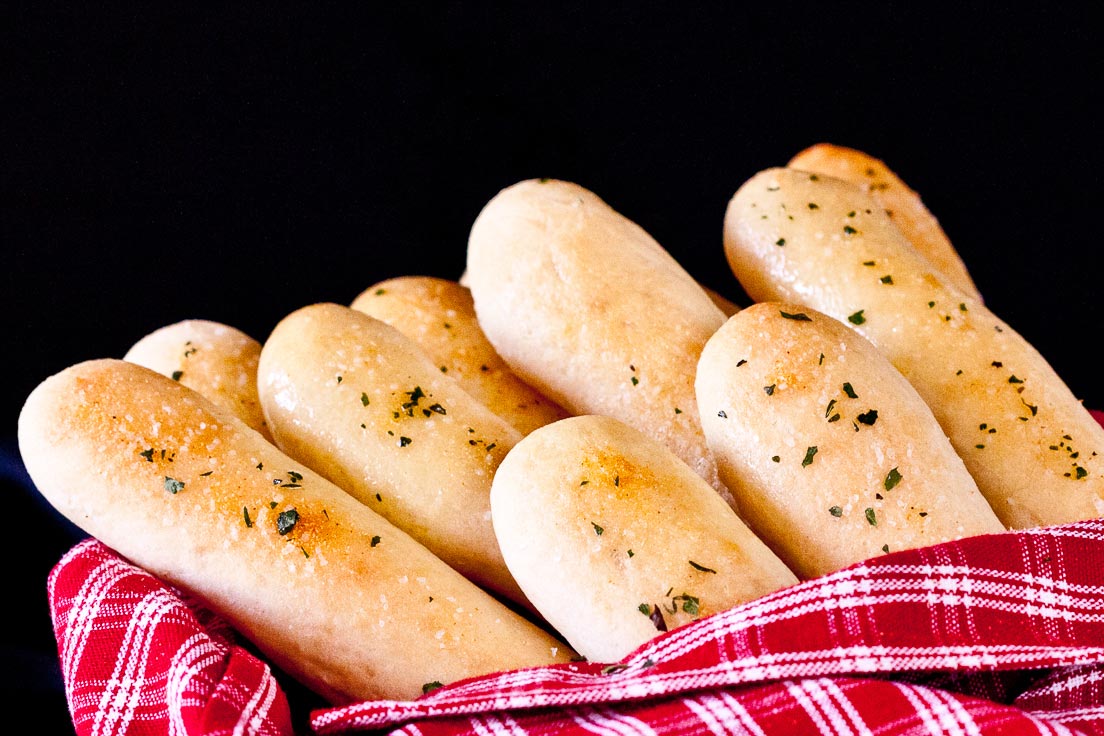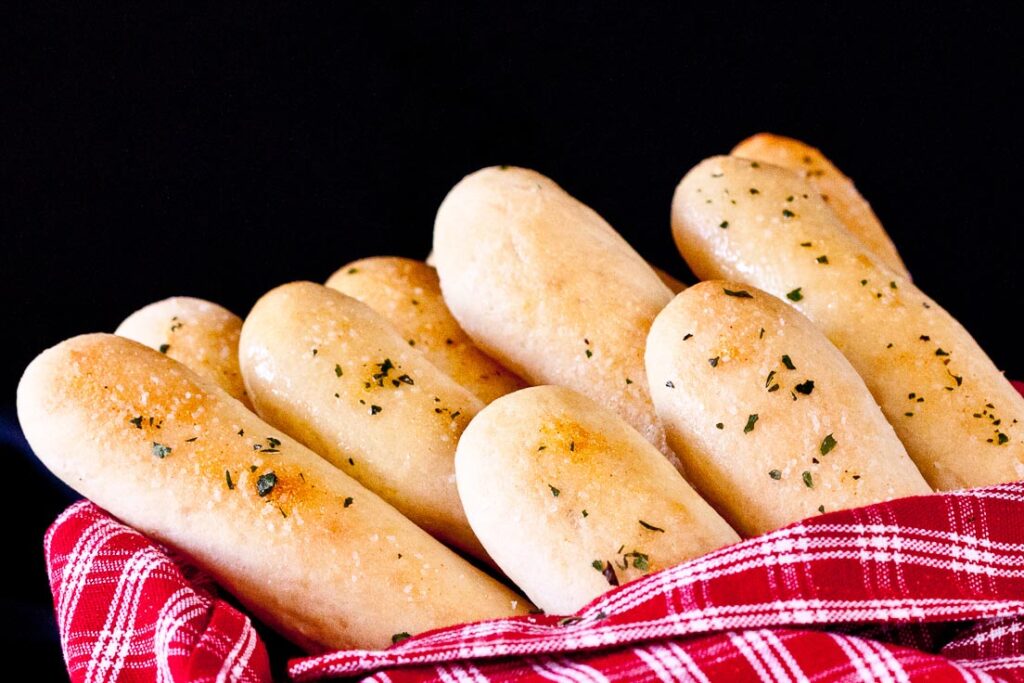 Try Our 3-Ingredient Shortbread, too:
Did you make this?
Please give us a rating and comment below. We love hearing from you!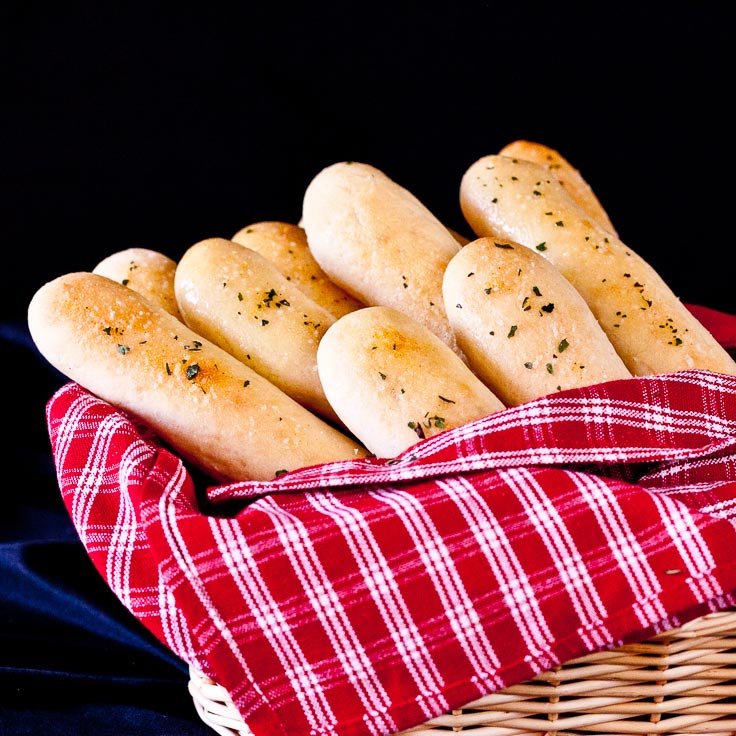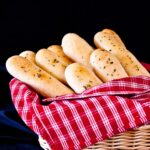 How to Make Olive Garden Style Breadsticks
With basic pantry ingredients, you can enjoy these fluffy soft Olive-Garden Style Breadsticks fresh out of your own oven.. Warm, buttery, garicky goodness is here.
Ingredients
For the Dough
.25

oz

active dry yeast,

or 2 1/4 teaspoons

¼

cup

warm water

,

115 F

4 ½

cups

all purpose flour,

plus more if needed

2

TB

butter

,

softened (not melted at all)

2

TB

white sugar

1

TB

table salt

,

fine, not coarse

1 ¼

cups

+ 2 TB warm water

any oil spray of your choice
For the Coating/Topping:
4

TB

melted butter

½

tsp

coarse kosher salt

¼

tsp

garlic powder

Pinches

of finely grated Parmesan cheese

Pinches

of dried oregano

,

basil or Italian blend work, too
Instructions
Sprinkle yeast into 1/4 cup warm (115 F) water. Let sit about 10 minutes, until foamy.

Slowly add flour, butter, sugar, table salt, and warm water (1 1/4 cups + 2 TB).

Mix until dough forms. Dough should be just a little bit sticky, but still able to easily form a ball (similar to Play-Doh, just slightly stickier). If dough is too sticky, add a tablespoon of flour at a time until your dough reaches right consistency.

Knead dough by hand on lightly floured surface for about 5 minutes, or until dough becomes smooth and soft. Roll dough into a 2-foot log. With sharp knife, cut into 16 even pieces. Keep pieces covered with clean cloth.

Knead each piece slightly and shape into 7-inch long breadstick. Place breadsticks 2 inches apart on a large, parchment-lined baking sheet. Spray breadsticks with oil and cover with cloth. Let rise in draft-free, warm spot until size of dough has doubled -- about 45 min to 1 hour.

While dough is rising, prepare the topping and preheat oven to 400F, with rack on lower middle position. After rising, gently brush breadsticks with half of the melted butter and sprinkle evenly with kosher salt. Bake until lightly golden, about 13-14 minutes. Watch closely to prevent over browning.

Brush hot breadsticks with remaining melted butter. Sprinkle evenly with garlic, parmesan, and oregano. Serve immediately.
Notes
To sub with instant dry yeast: use 2 teaspoons of instant yeast.
Prep time includes dough-rising time.
If you enjoyed this recipe, come back and give it a rating ♡
Nutrition (per serving)
Calories:
169
kcal
|
Carbohydrates:
27.5
g
|
Protein:
3.8
g
|
Fat:
4.7
g
|
Saturated Fat:
2.7
g
|
Cholesterol:
11.4
mg
|
Sodium:
219.5
mg
|
Fiber:
1
g
|
Sugar:
0.6
g
Bake The Bread YoU Love
---
---