Rustic Rosemary Garlic Bread
This Rosemary Garlic Bread recipe yields a wonderfully golden brown crust on the outside and a soft texture on the inside. It's just as good as (if not better) than restaurant bread. Taste and see for yourself…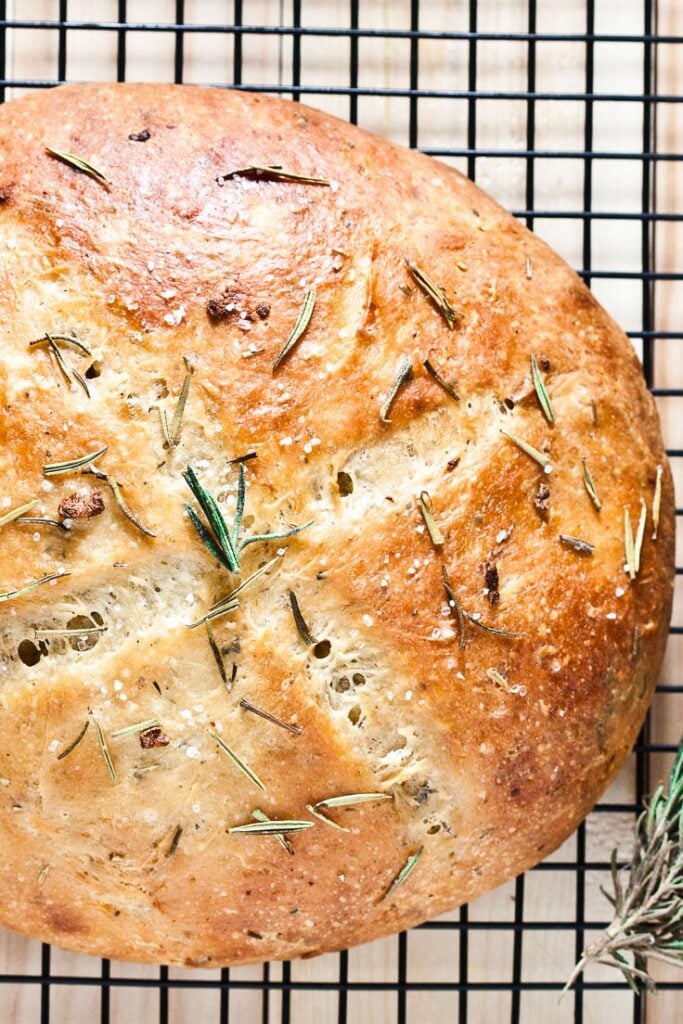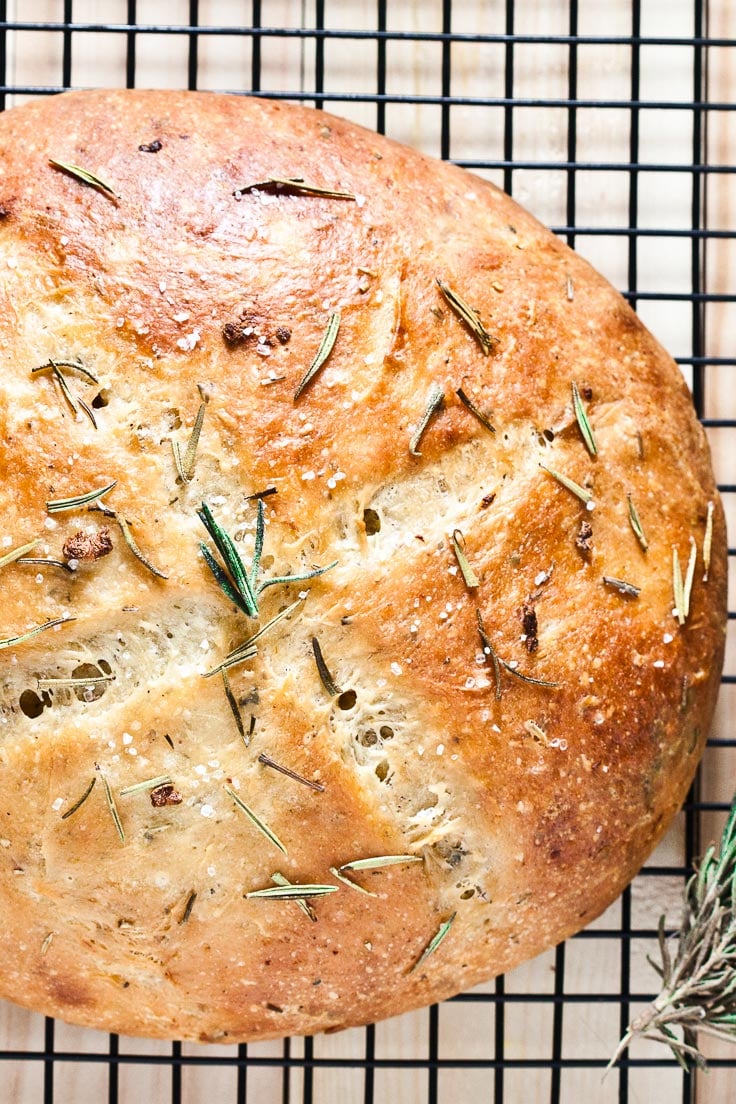 Rosemary Garlic Bread From Your Own Kitchen is the Best
Recently, I felt compelled to obey that bread-making compulsion that comes calling now and then. Everyone knows the fall season is synonymous with a sudden onset of baking activity. For me, that includes bread.
Armed with a craving for rustic bread, an addiction to garlic, and a fondness for the heady aroma of rosemary, I decided to bake the Best Rosemary Garlic Bread ever. If such a thing can be decided 🙂
I was super thrilled that this actually resulted in the Best Rosemary Garlic Bread we've ever had. It's most definitely a family favorite now. The mouth watering aroma from the oven is one big ridiculous temptation. Seriously, we all sooo wanted to tear into this loaf the minute it emerged.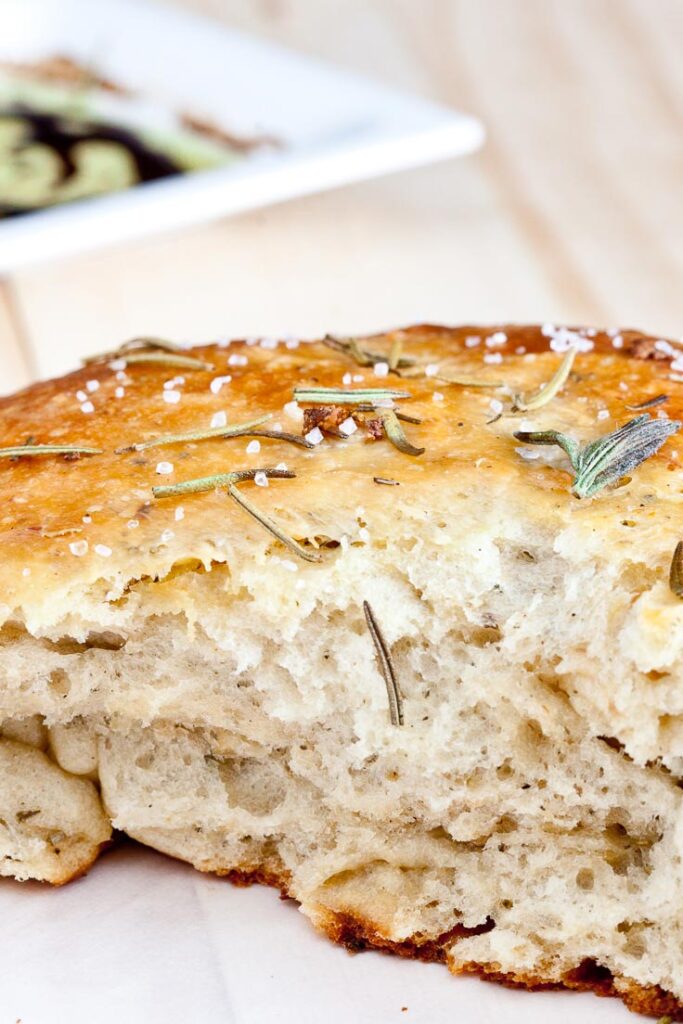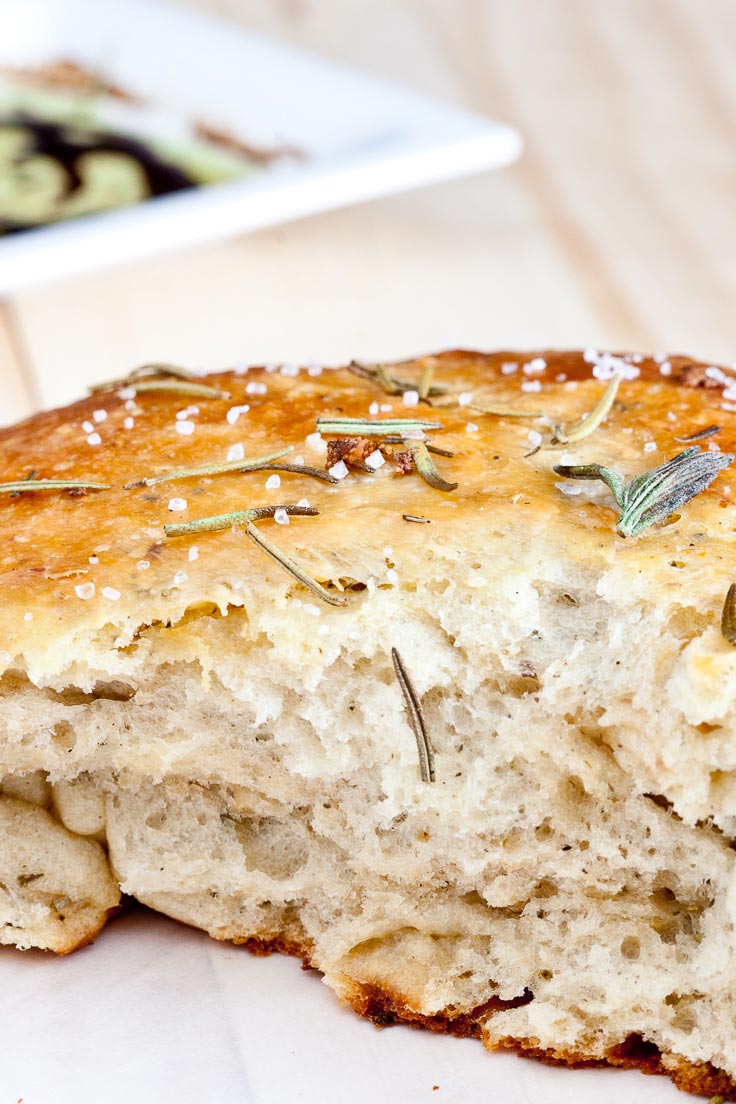 Golden chewy crust and soft fluffy center
Needless to say, once the dinner bell was officially rung, the bread lasted maybe seconds. Oh-So-Good. The exterior has that artisan, rustic texture – a gorgeous golden crisp crust.
The inside? Everything I'd want in a hearty dinner bread… it's chewy, soft, yet robust… delicious. The roasted garlic and rosemary are absolutely meant for one another. The seasoning flavors this bread perfectly.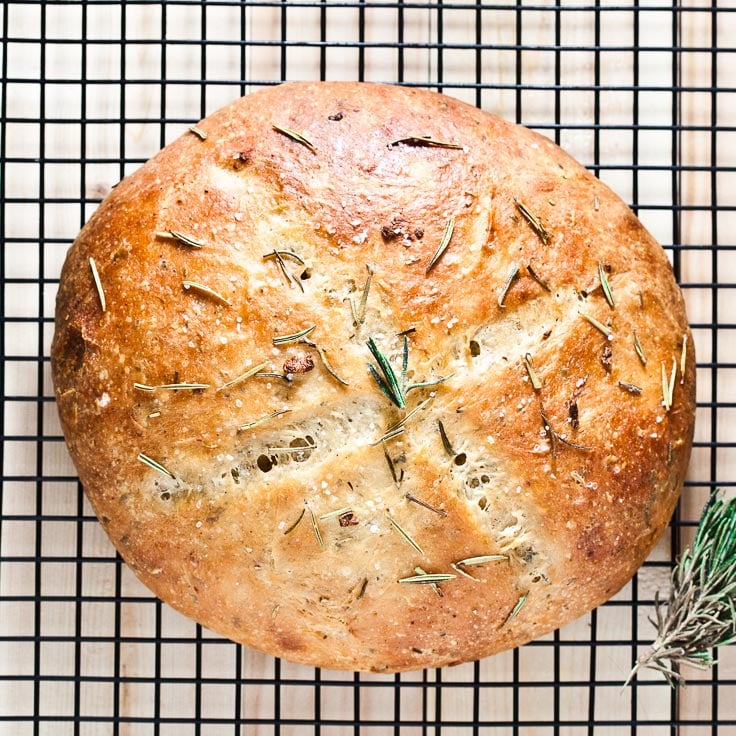 No need for special equipment
I always make homemade bread by hand, only because I've never purchased a bread maker. I've thought about getting one, but so far it's been fine without and I actually like the cathartic kneading of dough. You can absolutely make this magical bread at home with no special equipment at all.
Plan ahead to allow time for rising. Depending on the temperature of your room, it could take a couple of hours for the dough to double. I like to put mine in an oven that has been slightly warmed up, which helps the rise time go a bit faster. No doubt, this bread is so worth it. You'll be one popular baker at the dinner table. Enjoy!
Watch this bread being made: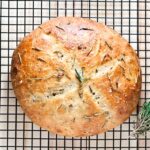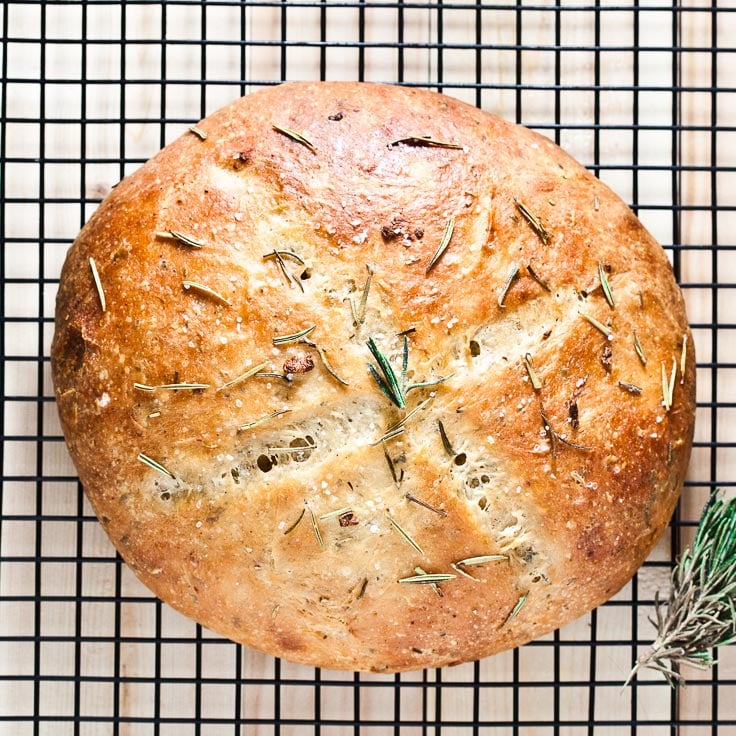 Rustic Rosemary Garlic Bread
This fabulously hearty and chewy bread sends out delicious aromas of rosemary and garlic as it bakes. It's much tastier than many restaurant versions. We think you'll love this!
Ingredients
1 ½

tsp

active dry yeast

1

cup

warm water

,

110-115F

2

tsp

white sugar

2

tsp

fine salt

3

TB

extra virgin olive oil

2 ½

cups bread flour

1

TB

dried rosemary

¼

tsp

freshly ground black pepper

½

tsp

dried oregano

1

head of roasted garlic

extra olive oil for brushing on top and serving

coarse sea salt for sprinkling on top

clean water in spray bottle

Optional: good olive oil and balsamic vinegar for serving
Instructions
In large bowl, Sprinkle yeast into 1 cup warm water. Mix in the sugar and salt. Let sit for about 10 minutes or until it foams. Add in olive oil. Add flour and knead (by hand or stand mixer/hook) for about 10 minutes.

Add rosemary, black pepper, and oregano. Knead another 5 minutes. Finally, gently knead in roasted garlic by hand, about 1 minute. Dough should come together well at this point; slightly sticky is fine, but still should be manageable.

Place dough ball in well oiled bowl, turning dough a few times so that dough surfaces are protected by oil. Tightly cover bowl with cling wrap. Place in warm, draft-free area to rise until dough is doubled, approx. 1 hour, depending on room temp (if your room is cooler, it could take 2 hours.)

After dough is doubled, gently punch it down and shape into a rounded loaf. Using sharp knife, make a criss-cross design on top. Place rounded loaf on greased baking sheet. Cover up loaf with large mixing bowl inverted over it. Make sure bowl is large enough that it gives your loaf room to rise. Let rise until doubled again, approximately 1 hour.

After dough has doubled again, very gently brush with olive oil, sprinkle with coarse sea salt and a bit more rosemary. Try not to deflate loaf at all.

Bake at 375F for 25-30 minutes, spraying loaf with water once during the middle of baking. Bump oven up to 425F and spray loaf with water again. Watch carefully - bake just until top is a nice golden brown, taking care not to over bake.

Let bread rest 5 minutes before cutting into it. Serve bread fresh and warm, with your favorite blend of good olive oil, freshly ground black pepper, and balsamic vinegar!
Notes
Be sure your yeast is very fresh, to ensure a good rise. Replace yeast if it's been sitting in pantry a long time.
Measure ingredients carefully, taking care not to "tap down" flour when measuring. Always use dry measuring cups and use scoop/scrape method as described here.
You can roast several heads of garlic ahead of time and keep them airtight in fridge to use for recipes like this. Roasted garlic can last nicely for up to a week.
If you enjoyed this recipe, please come back and give it a rating ♡
Nutrition
Calories:
221
kcal
|
Carbohydrates:
32.5
g
|
Protein:
5.1
g
|
Fat:
7.7
g
|
Saturated Fat:
1.1
g
|
Sodium:
584
mg
|
Fiber:
1.1
g
|
Sugar:
1.5
g
Did you make this?
Leave a comment below and tag @chewoutloud on Instagram