Naan (Grilled Flatbread)
This scrumptious naan flatbread turns out soft, tender, and flavorful. They cook up with plenty of nice, airy bubbles and are deliciously chewy.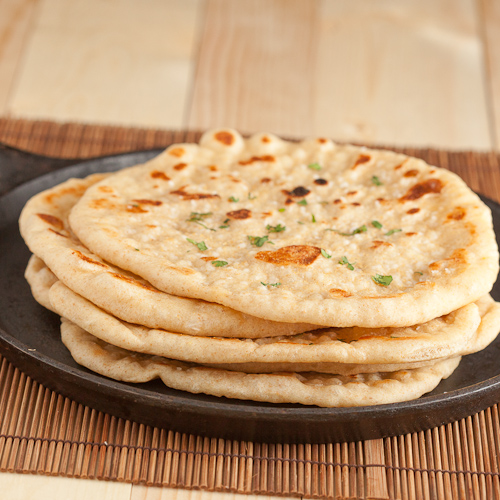 Naan Grilled Flatbread
I previously shared my favorite recipe for Chicken Tikka Masala which was a huge hit with everyone who has tried it. Now, this fabulous naan style recipe has been waiting for its turn in the spotlight. It very well could steal the show.
Like the Chicken Tikka Masala, I have tried numerous times to create a decent flatbread that reminds me of the naan I'm so used to ordering from my favorite Indian eateries. I even tried a popular naan recipe that looked promising.
Unfortunately, none of the recipes worked out well enough to write home about. Until now.
Watch this Naan Recipe in Action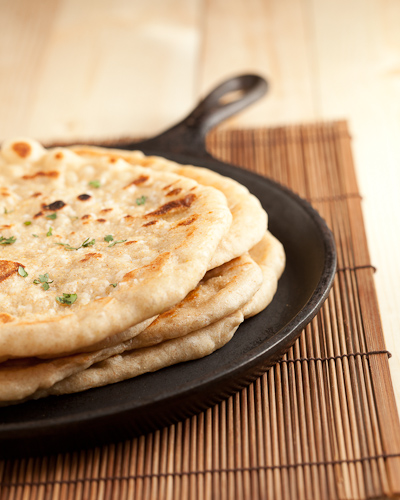 Naan Recipe, Easy to Make
This could well be the closest I'll ever come to making flatbread akin to Indian or Asian naan. I'm very okay with that, given the happy results of this delicious flatbread.
In all truth, it's extremely difficult – maybe next to impossible – for most home cooks to make authentic naan bread. We can come pretty close to the real thing, but won't actually replicate the original classic entirely.
The reason for that is due to the fact that most of us do not happen to have a home kitchen adorned with a traditional clay oven, which can get up to 900F. At least, I don't. It's that extremely high heat that creates the unique texture of authentic naan flatbread.
Soft, Tender, Flavorful
This scrumptious naan stye flatbread turns out soft, tender, and flavorful. These cook up with plenty of nice, airy bubbles and an irresistibly chewy bite.
Tip: don't over your just-cooked naan with foil. The warm condensation will your big, pretty bubbles to flatten. That's basically what happened to mine. I share that tidbit so it won't happen to you 😉 Regardless, none of my eaters noticed – these were gobbled up as soon as they were released.
Overall, this tasty flatbread is a bit thicker and chewier than traditional naan, but it has made a worthy name for itself – every last bit of the bread was scraped up. No leftovers means no experiments with reheating. Therefore, I can't say how well leftover naan keeps, but my guess is your freshly cooked naan will be devoured in a flash.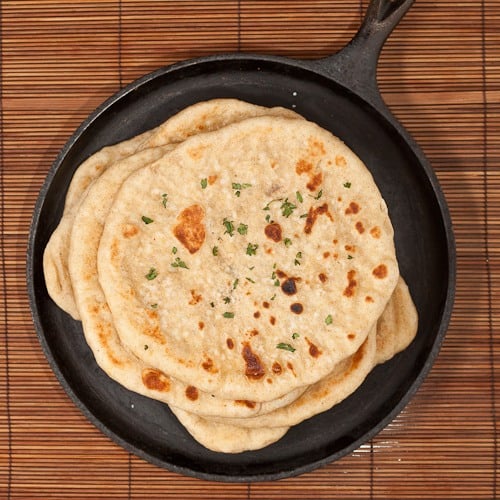 Fresh Off the Pan
This naan recipe is is simple and straightforward. You just have to stay patient while cooking them because (unless you have multiple cast iron skillets and uncanny hand-eye-speed coordination) you will probably be cooking them one at a time.
You'll have to bat away all those hands trying to grab the bread before you've officially rung the dinner bell. Good thing these cook up fast!
Do be sure to serve these up while still warm and fresh, so cook them up right before you're ready to nosh. Enjoy!
Did you make this?
Please give us a rating and comment below. We love hearing from you!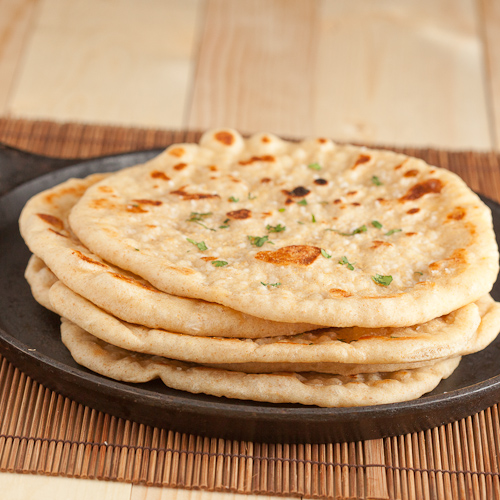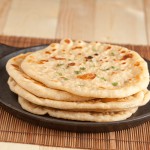 Naan (Grilled Flatbread)
This scrumptious naan flatbread turns out soft, tender, and flavorful. They cook up with plenty of nice, airy bubbles and are deliciously chewy.
Ingredients
2 ¼

tsp

instant yeast

2

tsp

sugar

1 ½

tsp

salt

,

plus more for sprinkling

¼

cup

whole wheat flour

2 ½

cups

bread flour, plus more for dusting

1

cup

room temperature water

¼

cup

plain whole yogurt

1

TB

olive oil,

plus more for oiling bowl

4

TB

melted butter for brushing on flatbreads

kosher salt to taste

garlic powder to taste
Instructions
In a standing mixer, combine yeast, sugar, salt, whole wheat flour, and bread flour in the bowl of mixer. Mix with paddle attachment until blended, about 15 seconds. Add water, yogurt, and olive oil. Mix on low until a shaggy dough forms, about 30 seconds.

Replace the paddle with the dough hook and knead the dough on medium speed until smooth and glossy, about 8 minutes. Add more flour, only 1 TB at a time, if needed in order to get a dough that clears the sides of the bowl. Be careful not to add too much dough. It should still stick to the bottom of the bowl. (If mixing by hand, knead dough until smooth and elastic, 12-15 minutes.)

Transfer dough ball to well oiled bowl. Turn dough in bowl, so surfaces of dough are protected by oil. Cover with plastic wrap and place in draft free, warm spot until dough has doubled in bulk. About 1 hour.

Turn dough onto lightly floured surface. If sticky, sprinkle lightly with flour. Cut dough into 8 equal portions. Roll each portion into round ball. Roll or flatten each ball into a 4 in. circle, always keeping other dough balls covered while working. It helps to set them on wax or parchment paper, to prevent bottoms from sticking. Let the 4-inch circles rest for 10 minutes. One at a time, with lightly oiled rolling pin, roll each into 6 inch circle. Keep others covered as you work on each one.

5-10 minutes before cooking, heat a heavy cast iron pan over medium high heat. Working one at a time, gently lift a dough circle, stretch it about 1 inch larger, and place in skillet. You can also press it into a better circle quickly right after you put it into the pan.

Cook until small bubbles appear on the surface of the dough, about 30 seconds. Using a large, flat spatula, flip the bread and cook until bottom is speckled and deep golden brown in spots, about 2 minutes. Flip bread over once more and cook until bottom is speckled and deep golden, 1-2 minutes.

Transfer bread to a wire rack and cool for a couple of minutes. If desired, brush bread lightly with butter and lightly sprinkle with a bit of kosher salt and/or garlic powder to taste. You can cover loosely in clean towel to serve warm. If you do have leftovers, wrap bread tightly in foil and reheat at 300F for 15 minutes.
Notes
Be sure to gently "scoop and level" with dry-measuring cups when measuring flour; do not tap or pack down flour while measuring (this will lead to bread that's tough/dry.)
Cook time does not include the time for dough to rest/rise.
If you enjoyed this recipe, please come back and give it a rating ♡
Nutrition (per serving)
Serving:
1
g
|
Calories:
245
kcal
|
Carbohydrates:
35.6
g
|
Protein:
6.2
g
|
Fat:
8.6
g
|
Saturated Fat:
4.1
g
|
Cholesterol:
16.3
mg
|
Sodium:
733.6
mg
|
Fiber:
1.6
g
|
Sugar:
1.6
g
---
---
---