15-Minute Steamed Fish
This easy recipe for This Chinese Style Steamed Fish is spectacularly delicious and healthy. It comes together in just 15 minutes and you don't even need a steamer. We'll show you how to steam the most succulent fish fillets in the microwave!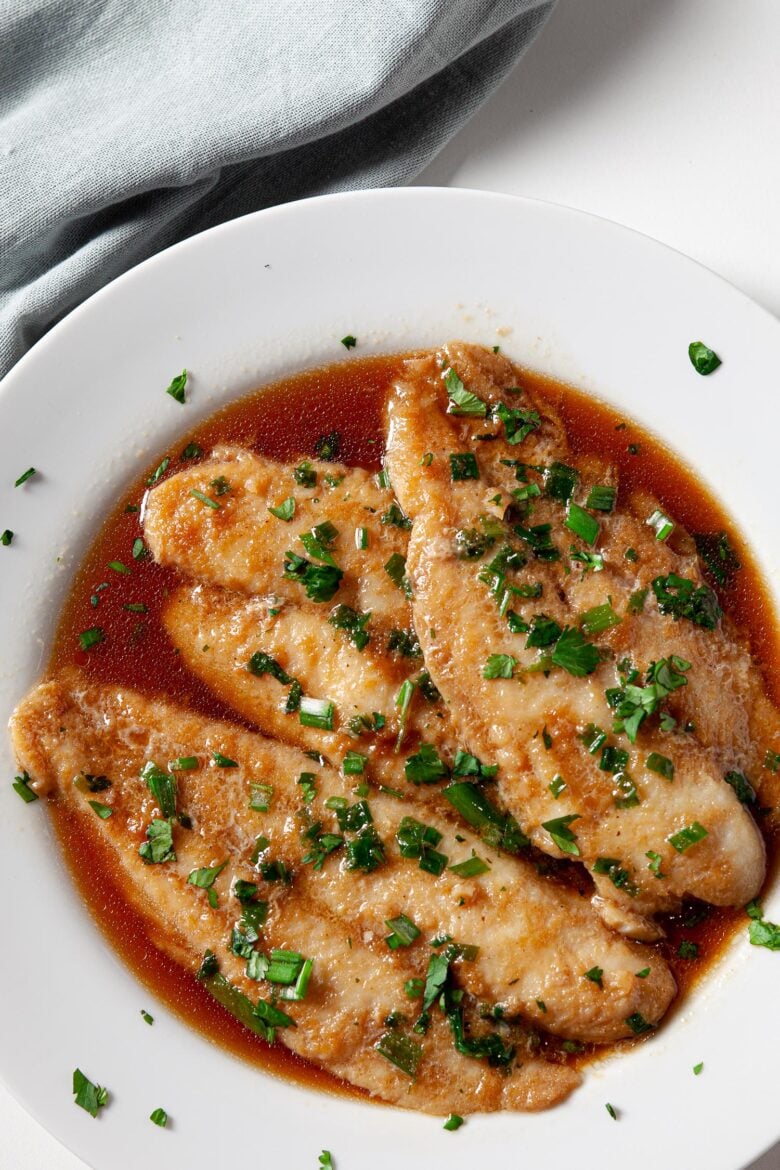 Steamed Fish – Without a Steamer
When people proclaim they don't like any fish due to fishy-ness, it's probably because their fish either wasn't fresh or it wasn't cooked right. It could be a bad cut. If fish tastes fishy, something's messed up. I said it. Please don't be mad or TP my house 😇
Being an Asian American raised in Southern CA, we basically lived on alltheseafood all my life. Steaming hot, aromatic, stunningly flavorful fish was on the dinner table every week.
The best Asian steamed fish involves fresh whole fish and big steamers. In downtown L.A. markets, that means doing some high-jumping plyometrics among a chaos of grandmas in order to get the fish guy's attention, followed by brazenly pointing to the live red snapper you want for supper.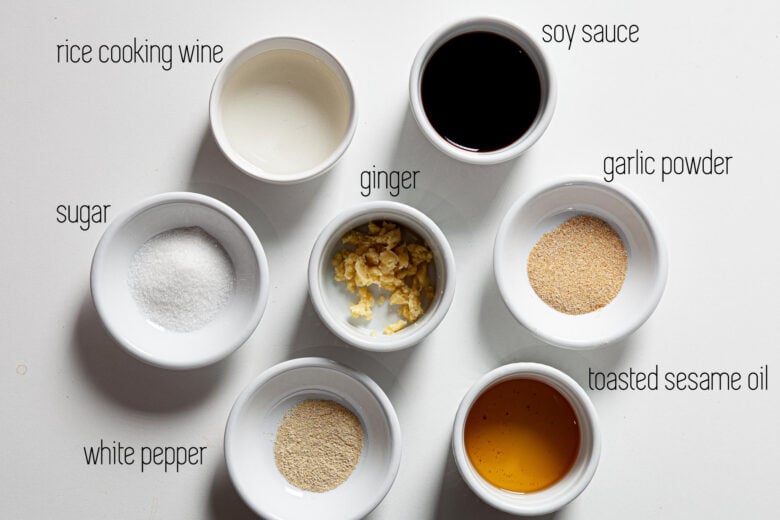 Thankfully, you don't have to do any of that. This is my toned-down, Monday night version of Asian steamed fish that's so easy and tasty, it'll knock your plyos off…
This 15-Minute Ginger Soy Asian Steamed Fish is based on the real deal whole-fish recipes I grew up on, but way more manageable for weeknights. The Littles love this one and there's no fish bone worries. It's so yummy, it doesn't need the classic hot oil drizzle at the end, which saves us calories.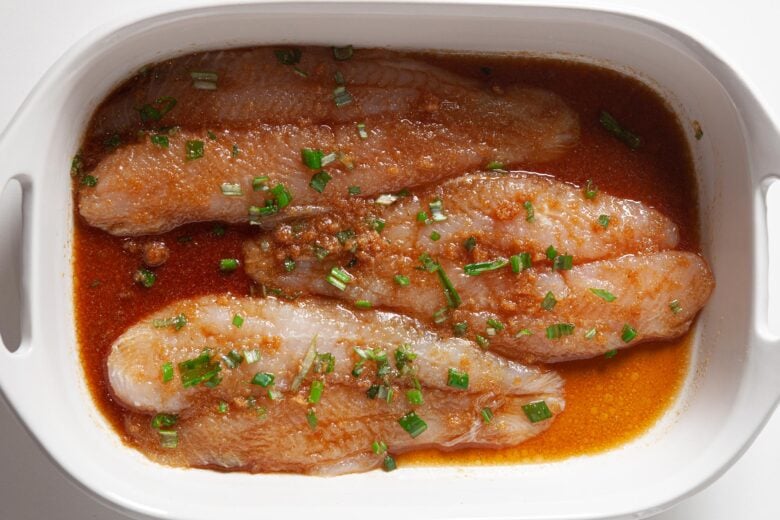 Oh, and did I say there's no steamer involved? For reals, Friends. If you've got a microwave, you've got this. All you need is a 6-minute zap and you've got yourself a steamin' hot deal.
Asian Steamed Fish with no bones, no steamer, and 15 minutes. Slightly scandalous and totally delicious.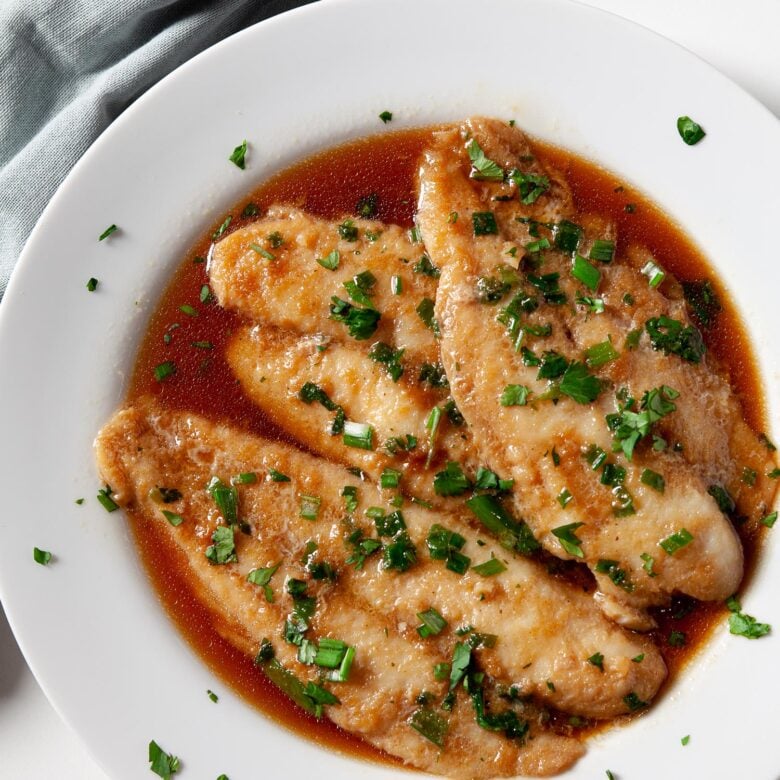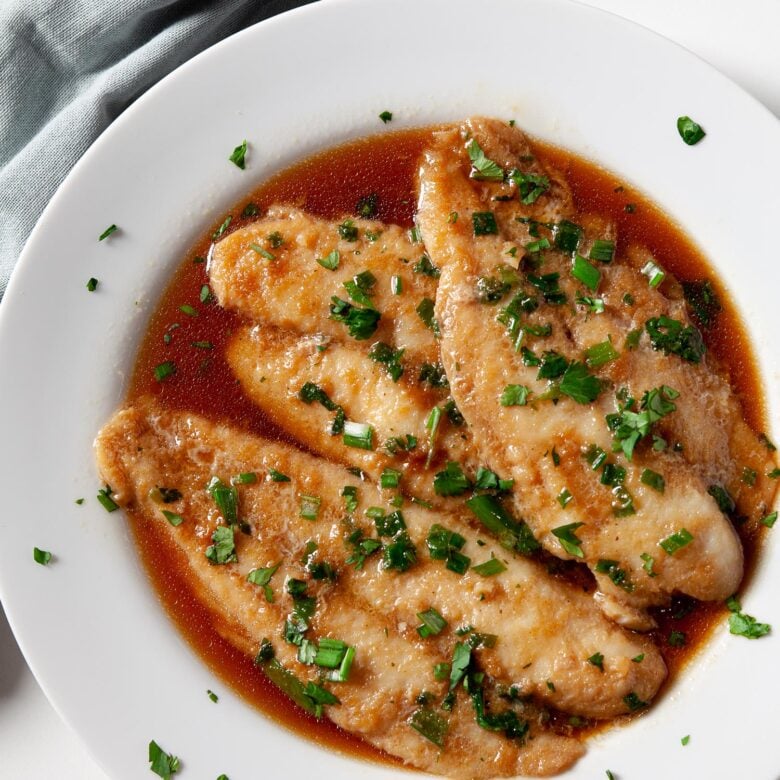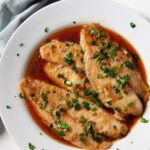 15-Minute Ginger Soy Asian Steamed Fish
This super easy recipe for Ginger Soy Asian Steamed Fish is spectacularly delicious and healthy. It comes together in just 15 minutes (or less) and you don't even need a steamer.
Instructions
Dry fish fillets thoroughly with paper towels – this step is important to ensure flavors don't become diluted from excess water. Place fish in a single layer in a 9×13 glass dish or other large microwavable dish.

In a bowl, whisk together all remaining ingredients (except for cilantro and green onions) until well combined. Pour evenly over the fish, ensuring that both sides of fillets are coated with sauce. Sprinkle evenly with cilantro and green onions on top of fillets.

Tightly cover dish with two layers of cling wrap. Microwave on high for 4-6 minutes, depending on thickness of your fish; if your microwave doesn't have a turntable, be sure to rotate the dish halfway into cook time. If needed, add another 1-2 minutes of cook time; cooked fish should be firm and flaky at the center. Carefully remove cover and serve immediately.
Notes
It's important to use the right kind of fish. A mild, semi-firm, somewhat flaky white fish is best. Use 1-inch-thick fillets of: sea bass, flounder, halibut, or snapper (also known as rockfish), or swai. Cod may work if you can get good fillets that are at least 1-inch thick.
I used toasted black sesame seeds for garnish. Feel free to use regular sesame seeds, if you'd like.
We use reduced sodium tamari soy sauce, as it's more pure in flavor and gluten-free.
For a super healthy meal, serve with Air Fryer Broccoli and Perfect Brown Rice.
If you enjoyed this recipe, please come back and give it a rating ❤️
Nutrition
Serving:
1
g
|
Calories:
145
kcal
|
Carbohydrates:
3
g
|
Protein:
28
g
|
Fat:
2
g
|
Saturated Fat:
1
g
|
Polyunsaturated Fat:
1
g
|
Monounsaturated Fat:
1
g
|
Cholesterol:
68
mg
|
Sodium:
72
mg
|
Potassium:
442
mg
|
Fiber:
0.3
g
|
Sugar:
2
g
|
Vitamin C:
0.3
mg
|
Calcium:
16
mg
|
Iron:
1
mg
Did you make this?
Leave a comment below and tag @chewoutloud on Instagram
Source: Chew Out Loud
The Sea is Where It's At: