Apple Crisp Recipe
This Apple Crisp recipe is easy, non-fussy, and absolutely scrumptious! Great buttery crispy crust. Apples that are cooked just right. Perfect with a dollop of whipped cream or ice cream!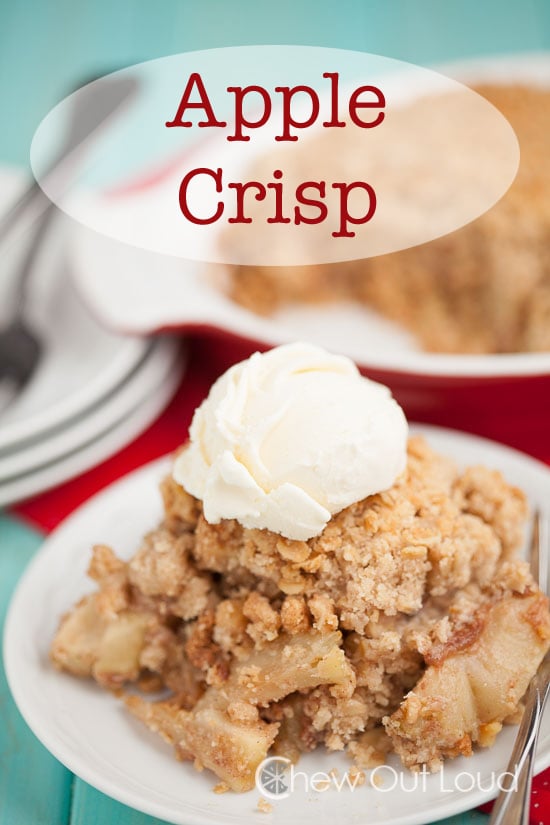 Today was a gorgeous fall day. We're getting a bit of an anomaly with the temps this week getting up to the mid to upper 70's. That's called a heat wave during fall in Minnesota.
The quirky warm temps are hanging with us for a few short days, but I'll take it. Nope, not complaining one iota.
I fully embraced the sunshine and spontaneously whisked the boys off to a festival of sorts after school.
Our prize for such an ad-lib adventure was a bucket load of various apples…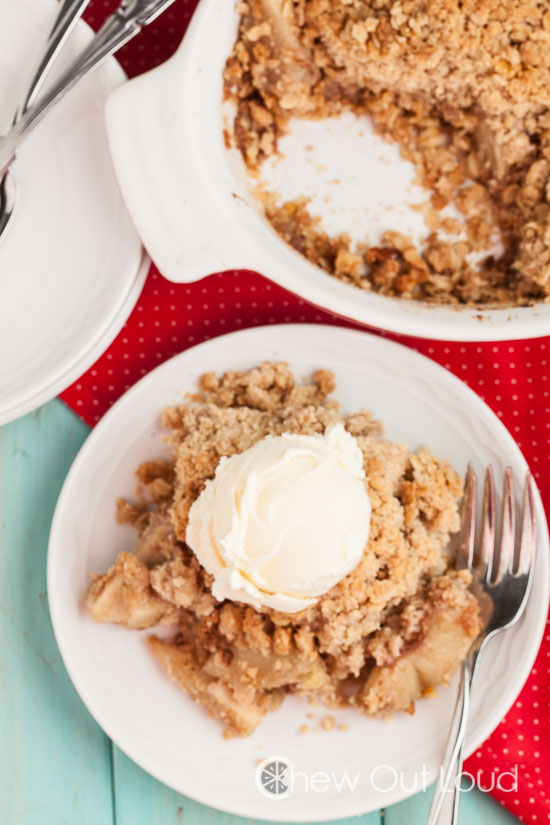 No matter that we're actually lucky enough to get apples year round. Nobody takes a second look at them in June. But once fall hits, apples are in. It's suddenly like nobody has ever seen apples before in their life.
Pretty red ones, pink ones, green ones, and golden ones abound. Blue ones probably exist somewhere.
Suddenly the kids want whole apples in their lunch boxes. Huh?
Sure, you can have all the fresh apples you want in your lunch box. And how about some apple crisp for dessert tonight too?
Delinquent mama.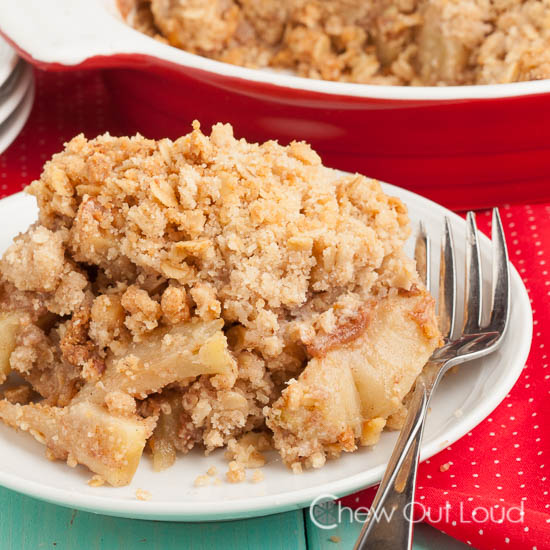 Who can refuse?
This is semi-healthy-ish fare. It's loaded with fruit, oats, and nuts if you want them.
This apple crisp recipe contains a mixture of granny smith and golden delicious apples, creating a filling that's not too firm yet not too mushy. The filling is further loved on by a thick layer of buttery crisp crust.
Your house will smell amazing. Cinnamon, fall spices, and butter ⇒Yum-a-licious.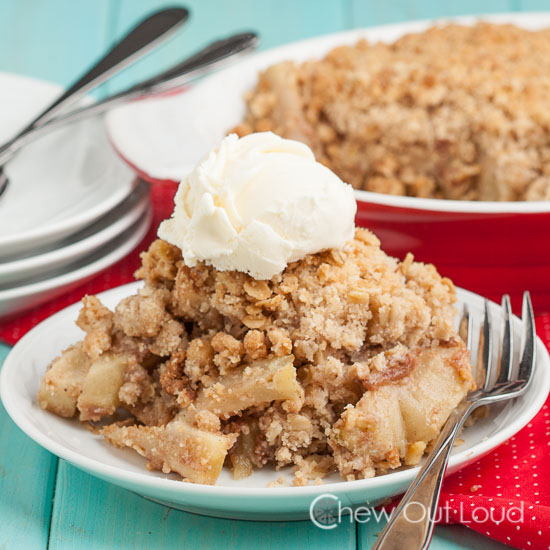 Just watch your family's eyes widen as they walk through the door with this apple crisp baking in the oven.
Nobody will complain that you transformed some apples into this luscious dessert.
Add a dollop of homemade whipped cream or creamy vanilla ice cream.
And serve at your own risk.
Print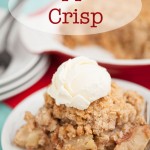 Apple Crisp Recipe
This apple crisp boasts a fantastic buttery crust that is crispy and plentiful. The apples are cooked to a nice consistency; not too firm yet not mushy. The house will smell amazing. Think apples and butter, wafting through the air.
Filling:

2.5

lbs granny smith apples (peeled and cut into

3/4

inch wedges)

2.5

lbs golden delicious apples (peeled and cut into

3/4

inch wedges)
grated zest of 1 large lemon
freshly squeezed juice from 2 lemons

1/2 cup

granulated sugar

3 tsp

ground cinnamon

1 tsp

ground nutmeg

1/4 tsp

ground cloves
Topping:

1 1/2 cups

all purpose flour

1/2 cup

granulated sugar

3/4 cups

light brown sugar, packed

2 tsp

cinnamon

1/4 tsp

kosher salt

1 cup

old fashioned oats

1/2

lb (2 sticks) cold butter, diced

1/2 cup

chopped pecans or walnuts
Instructions
Butter a 9×13 baking dish. Preheat oven to 350F with rack on lower middle position.
In a large bowl, combine all filling ingredients and toss to incorporate. Pour into buttered baking dish.
In a bowl, combine all topping ingredients. Using a pastry cutter, cut butter into the ingredients until mixture is crumbly and the butter is in small pieces, roughly the size of peas. (If your fingers are cool, it's often easier to just mix with clean hands.) Scatter topping evenly over the apples.
Place baking dish on a large baking sheet. Bake for 1 hour or just until top is brown and apples are soft. (Start watching the crisp around 45 minutes, and loosely tent with foil if it is browning too quickly.)
Author:
Category:

dessert

Cuisine:

dessert
Source: Chew Out Loud
Here are a few of my favorite crispy-type desserts. They're easy and delectable!
1. Peach and Blueberry Crumb Bars. This is a sure crowd pleaser. I bring this one to potlucks and come home with empty platters.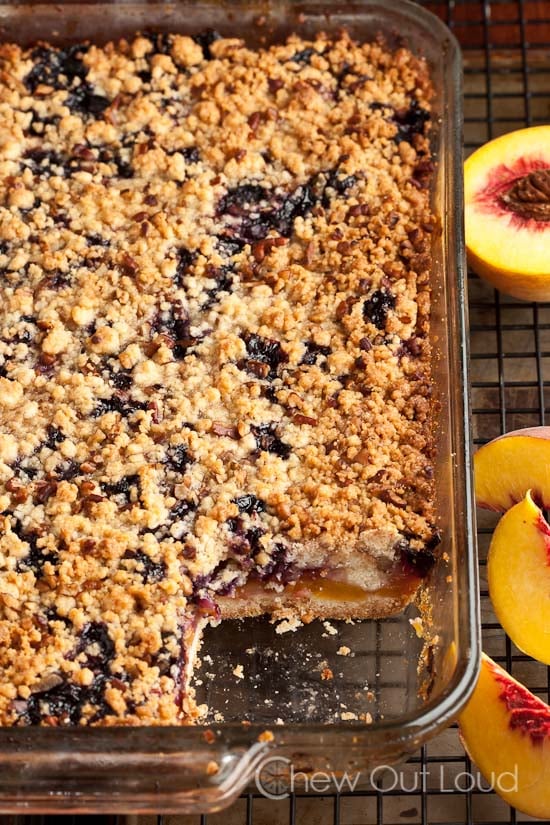 These Pumpkin Bars with Biscoff Crumble? There are simply no words adequate to describe these. You literally have to make them, eat them, and mmmmm over them. You'll see.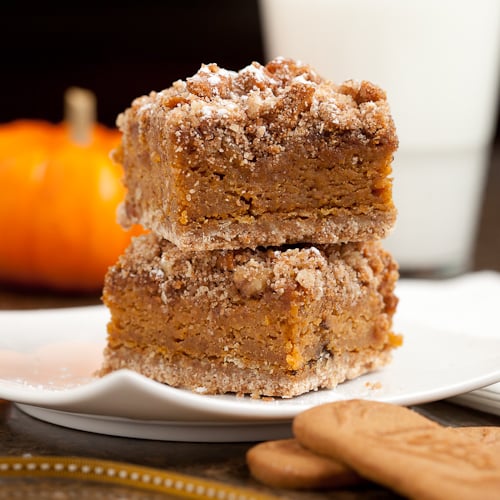 Verry Berry Pie Bars. Any mixture of your favorite berries will work. This simply can't not be good. It's a pie in bar form. You know it's good.