Gluten-Free Apple Crisp
By Amy Dong
Published Sep. 10, 2023
Updated Sep. 12, 2023
You will be rewarded with a gluten-free apple crisp that is perfectly tender in the center and golden brown on top. Easier than baking a whole apple pie, it's a simple dessert that your friends and family will devour.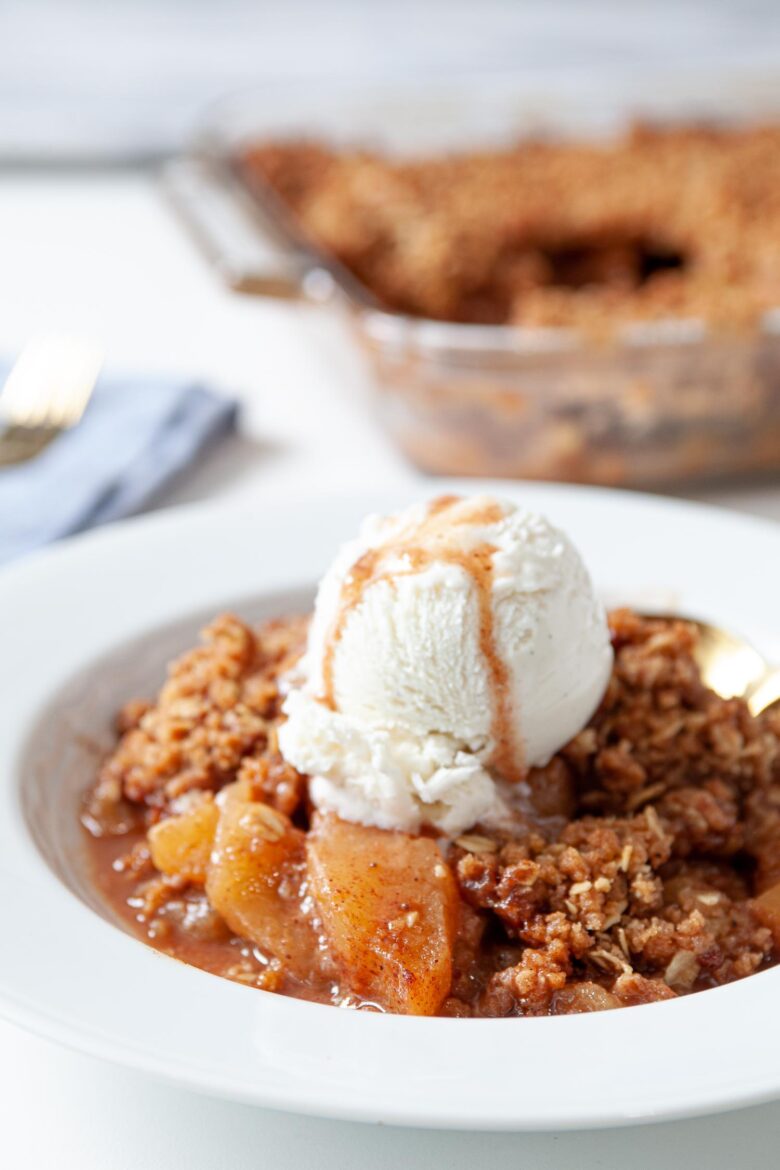 Gluten Free Apple Crisp
Crisps are a type of American dessert that are compromised of fruit and a crispy topping. They come in many varieties such as peach crisp and easy apple crisp. However, no matter what type of fruit is used, the center is always soft and sweet, and the topping comes together with a mixture of butter, flour, sugar, and whole oats.
For this gluten-free apple crisp, we took our original recipe and swapped out just a few ingredients to create the same irresistible taste in a more allergy-friendly dessert. Served warm with a big scoop of vanilla ice cream, it's a fall staple that will have your guests begging for seconds!
Apple Crisp vs. Apple Crumble
In the United Kingdom and Australia, the terms crisp and crumble are used to refer to the same dessert. Yet, in America and Canada, the two are not quite the same. They're both baked fruit desserts. Yet, fruit crumbles have a much softer topping similar to a coffee cake streusel. Meanwhile, crisps are marked by their crumbly topping that almost always contains some kind of nuts and oats.
Key Ingredients
We turned standard apple crisp into a gluten free dessert that's absolutely incredible. You will appreciate the ingredient list, which is simple and budget-friendly.
Baking powder is combined with gluten-free rolled oats to create a light and crunchy topping without the need for flour.
Brown sugar, cinnamon, and salt are used in conjunction with melted butter and added to the topping for warm flavors and a rich taste. You'll also need a pinch of nutmeg and a dash of ground cloves for the filling.
Toasted pecans add a finishing touch and a nice crunch to the crust.
A mixture of Granny Smith and Honeycrisp apples makes for a sweet flavor and out-of-this-world texture.
Technically optional, the only thing that could make this gluten apple crisp even better is a scoop of Creamy Vanilla Bean Ice Cream, and we definitely include it!
Key Steps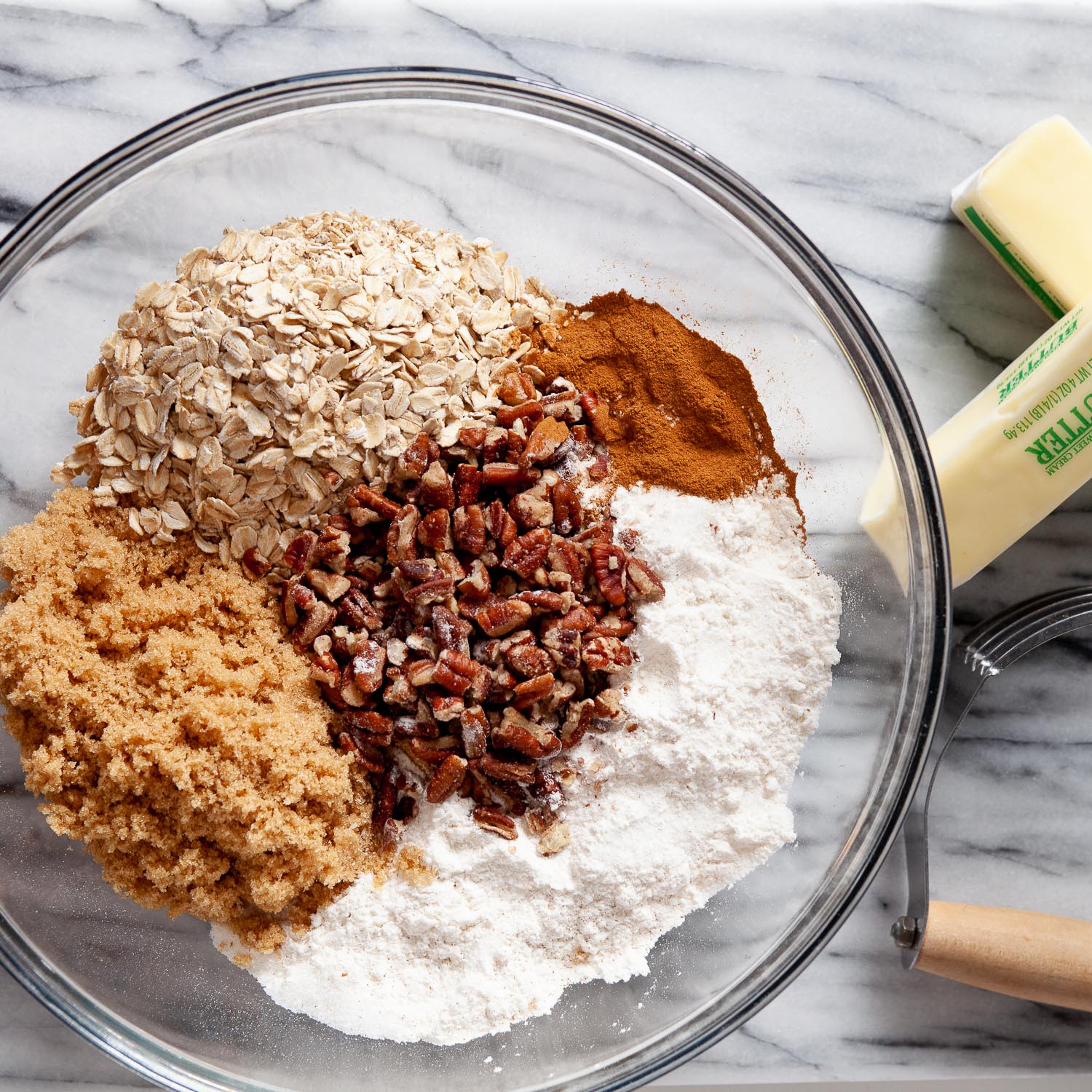 Combine spices, butter, and sugar with oats and gluten free flour.
Use clean hands or pastry cutter to form topping; chill until use.
Crunchy apples with sugar, warm cinnamon, and lemon zest for an irresistible gluten free apple crisp filling.
Layer filling with plenty of crisp topping for an amazing gluten free apple crisp.
→ For full list of ingredients and instructions, see recipe card below.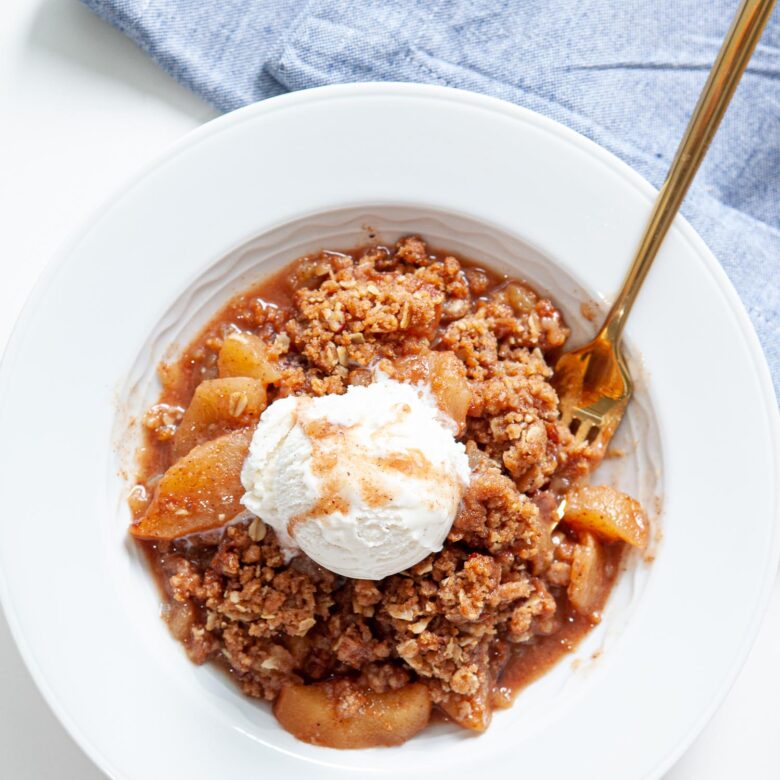 Pro Tips For Success
One of the great things about this gluten free apple crisp is that it's crazy easy to make, especially when you follow our best baking tips.
Use Certified Gluten Free Oats. You'll want to make sure the oats you're using are from a certified gluten-free factory. Otherwise, you run the risk of cross-contamination, and they may not be 100% gluten-free.
Use a Pastry Cutter and Cold Butter. This allows for easier cutting and guarantees that your topping is sufficiently coated with equal-sized pieces of butter for an absolutely decadent dessert.
Cover with Foil. If the top begins to brown before the center is fully cooked, remove your crisp from the oven, cover the top with foil, and bake for another 15 minutes or until the edges begin to bubble.
Let Your Crisp Cool. We know it's hard to wait, but trust us; it's worth it. Letting your dessert cool for 1-2 hours will allow enough time for the center to thicken. Otherwise, it will all fall apart.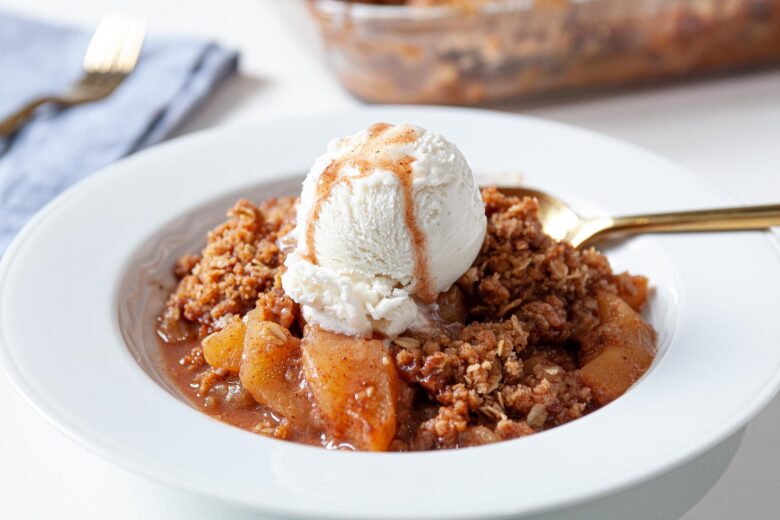 Commonly Asked Questions
Why is my topping not getting crispy?
The most common reason why the topping doesn't get crisp is that the butter was not distributed evenly. To prevent this from happening, be sure it blends well into the oat mixture.
What are the best apples to use for a gluten free apple crisp?
The best apples for a gluten free apple crisp are Honeycrisp, Granny Smith, or Golden Delicious. However, whatever varieties you choose, you'll want to make sure that they are crisp, slightly tart, and can withstand baking. For instance, while great for snacking extra sweet varieties like Gala and Fuji apples will become too mushy once baked and make for a runny crisp.
Why is my crisp a bit dry?
If your crisp turns out dry, it's because there was not enough butter. Be sure to double-check the ingredient list before you begin baking; don't skimp on the butter.
Can I substitute cinnamon?
If you need to swap out the cinnamon, consider using another warm spice such as nutmeg, allspice, or even apple pie spice instead.
Can I make a gluten free apple crisp in advance?
Yes, you can store leftovers in an airtight container in the fridge for up to six days. Or, keep it airtight in the freezer for up to two months.
Can this gluten free apple crisp recipe be made dairy-free, too?
Yes, swap out the regular butter for a dairy-free option to achieve the same taste and texture without the use of dairy.
---
More to Bake and Eat
---
---
Did you make this?
Please give us a rating and comment below. We love hearing from you!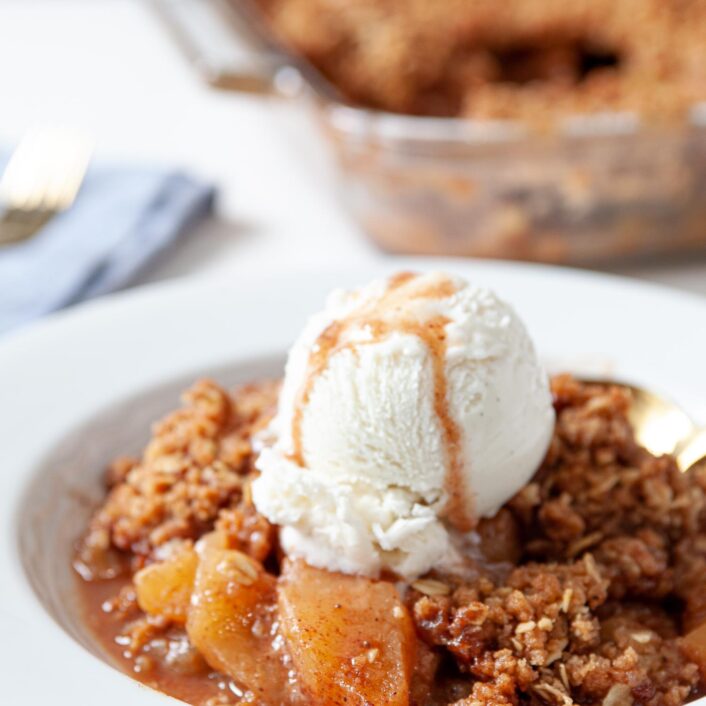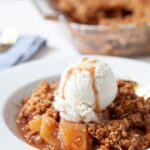 Gluten Free Apple Crisp
Made with wholesome gluten-free ingredients, this gluten free apple crisp is gooey in the center and perfectly crisp on the outside. Easier than baking a whole apple pie, it's a simple dessert that's always a hit.
Ingredients
For the Topping:
1

cup

brown sugar,

packed

1

tsp

ground cinnamon

⅛

tsp

table salt

½

cup

(1 stick) salted butter,

diced and cold

¼

cup

toasted pecans
For the Filling:
2 ½

lbs

firm apples,

see note

Zest + Juice of 1 large lemon,

a little under 1/4 cup juice

½

cup

brown sugar,

packed

2

tsp

ground cinnamon

½

tsp

ground nutmeg

¼

tsp

ground cloves
Instructions
Butter an 8×8 baking dish, and preheat oven to 350F with rack on middle position.

In a bowl, combine all topping ingredients except butter. Stir to combine well. Using a pastry cutter, cut cold butter into the ingredients until mixture is crumbly, resembling wet sand with little clumps of butter still intact. (If your fingers are cool, it's easier to mix with clean hands.) Cover and chill while you prepare the filling.

In a large bowl, combine all filling ingredients and toss to incorporate. Pour into buttered baking dish. Scatter cold topping evenly over the apples.

Place baking dish on a large baking sheet. Bake uncovered for 45 minutes, check the topping, and cover loosely with foil if it's already browning. Continue baking another 15 minutes, or just until topping is nicely browned and edges are bubbling.

Let cool at least 1-2 hours or until lukewarm to allow filling to thicken.
Notes
I use a mixture of Granny Smith and Honeycrisp sliced into 1/2-inch thick pieces.

Use old fashioned whole oats, for best texture. We do not recommend instant or quick-cooking oats here.
If you enjoyed this recipe, please come back and give it a rating ♡
Nutrition (per serving)
Serving:
1
g
|
Calories:
387
kcal
|
Carbohydrates:
71
g
|
Protein:
2
g
|
Fat:
14
g
|
Saturated Fat:
8
g
|
Polyunsaturated Fat:
1
g
|
Monounsaturated Fat:
4
g
|
Trans Fat:
0.5
g
|
Cholesterol:
31
mg
|
Sodium:
245
mg
|
Potassium:
250
mg
|
Fiber:
5
g
|
Sugar:
55
g
|
Vitamin A:
435
IU
|
Vitamin C:
7
mg
|
Calcium:
1362
mg
|
Iron:
3
mg