Best Summer Berry Sangria
By Amy Dong
Published Jul. 11, 2017
Updated Mar. 28, 2023
This Summer Berry Sangria is the ultimate refreshing, sparkly, delicious drink of the season. Unlike most sangrias, this recipe doesn't need a lengthy chill time. Easily whip up a pitcher of Best Summer Berry Sangria all summer long.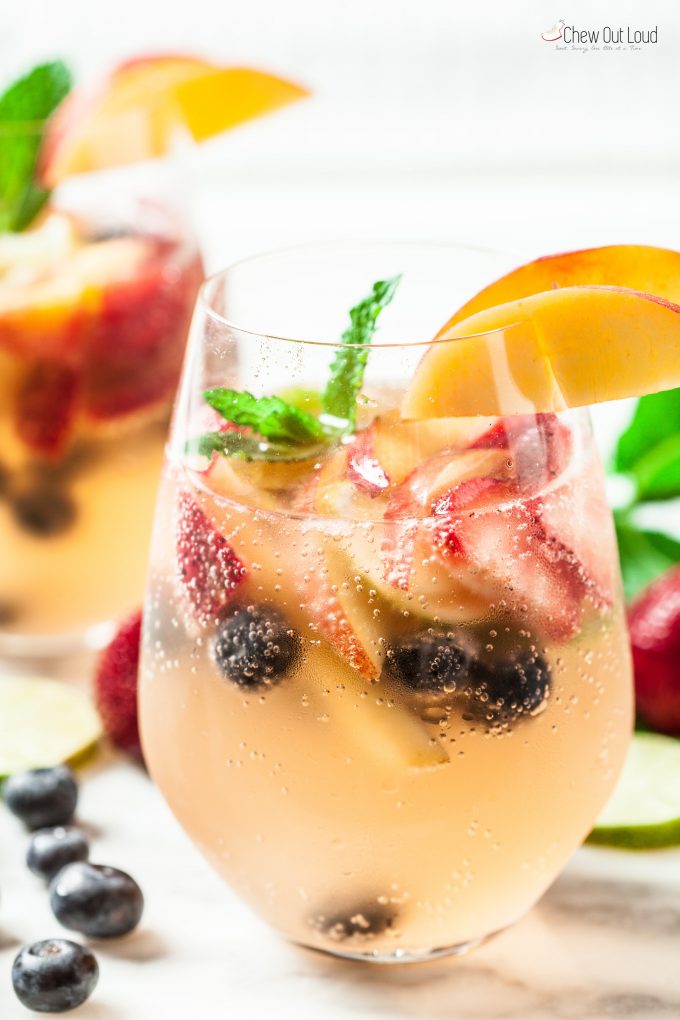 Sangria for Summer
Tell me I'm not alone in feeling like the summer is whizzing right by.
I mean, Hello…all the BTS supplies already at Target right after 4th of July?? Colored pocket folders were already sold out at Walgreens.
According to my FB feed, I'm definitely not the only one who's sad about what's happening on store shelves. Add in the fact that some schools actually start the first week of August – silent sobs for all my friends in that boat. It's only midsummer, amiright?
Being in midsummer reminds me that these warm days are short. If I don't make margin for those slower summer moments, those moments won't happen. Because I'm awful at doing Slow. My default is breakneck speed and I don't wanna break my neck.
Here's how I'm planning to make room for Slow (aside from slowly sipping a Summer Berry Sangria).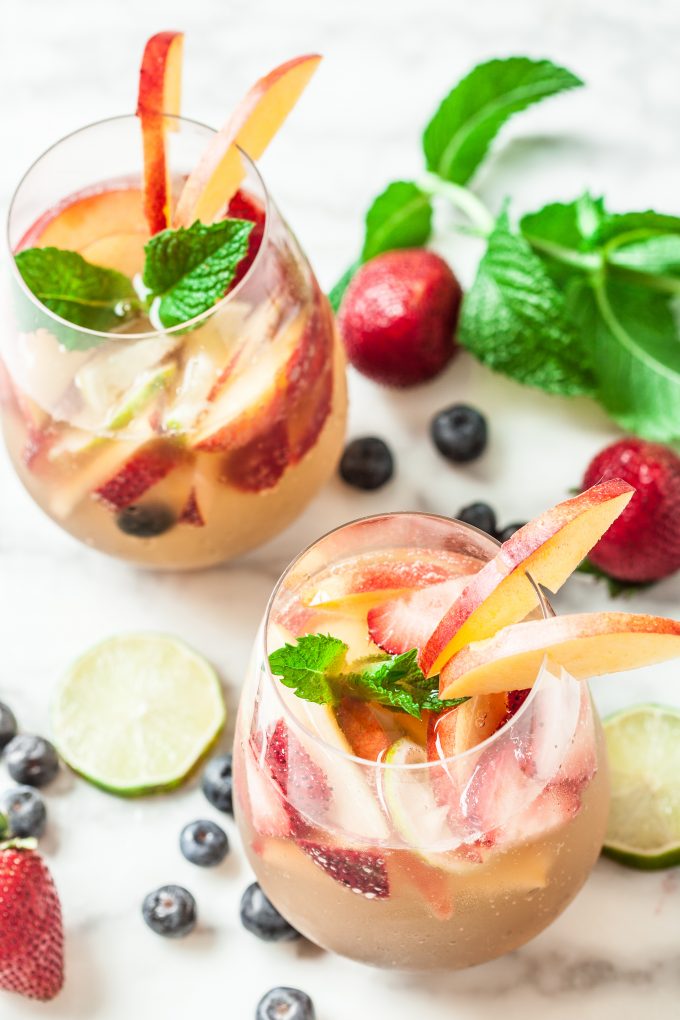 For one, I plan to sit on the porch, quietly watching the Littles play. Without my iPhone. Without a book. Without a mental checklist of things. Just sit and breathe it all in.
Okay, keeping it real – it might not be quiet, like at all. But it's a very good start.
Next is where a book can come in. I plan to give myself space to finish reading one of the many books sitting half-read on my nightstand. Books like this nothing one or this broken one. [Not related in any way to the authors, I just adore their writing and secretly wish we were sisters.]
Back to my porch sitting idea…I'd like to add a glass of Summer Berry Sangria to that scene. Chomping on berries while sipping sparkly sangria sounds fabulous in that picture. In fact, if we were neighbors, I'd invite you to join me. We could add a bowl of crunchy samoa snack mix to our gig.
Instead, I'll do the next best thing and give you the recipe. You can make it, sip it, and we'll Instagram each other about how supremely easy + yummy this summer berry sangria is.
It's the virtual thing to do.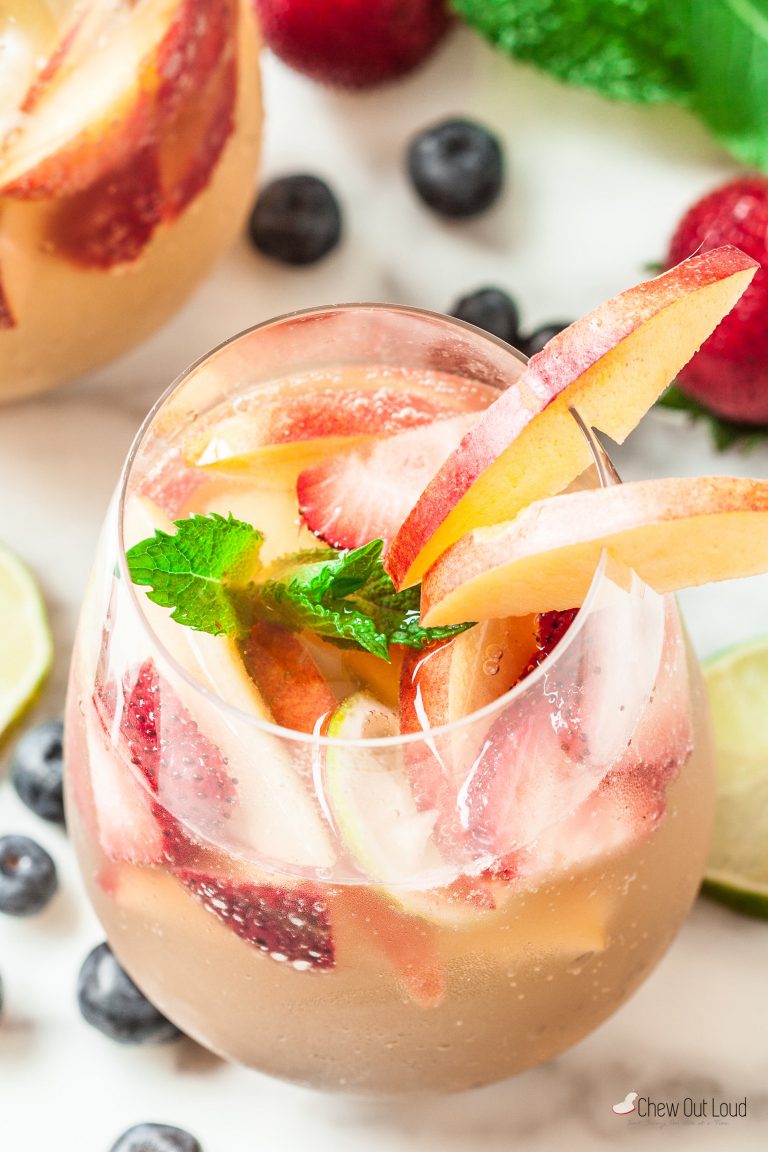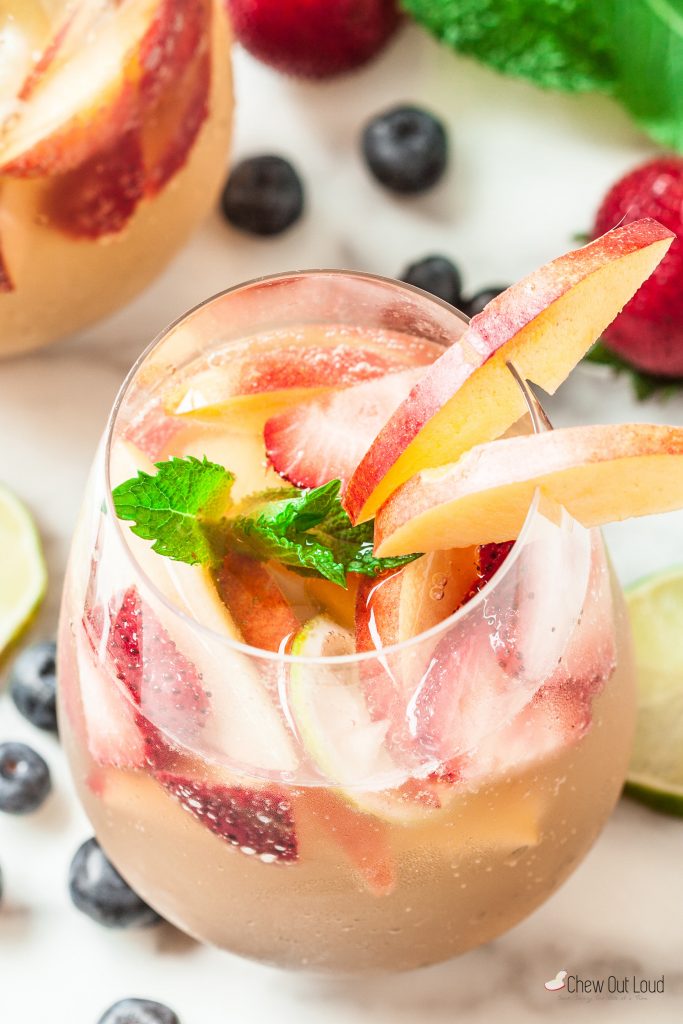 Here's to creating room for slow moments on purpose.
Enjoy.
P.S. If you've found great ways to create margin, I'd love to hear it in the comments below 🌸
Did you make this?
Please give us a rating and comment below. We love hearing from you!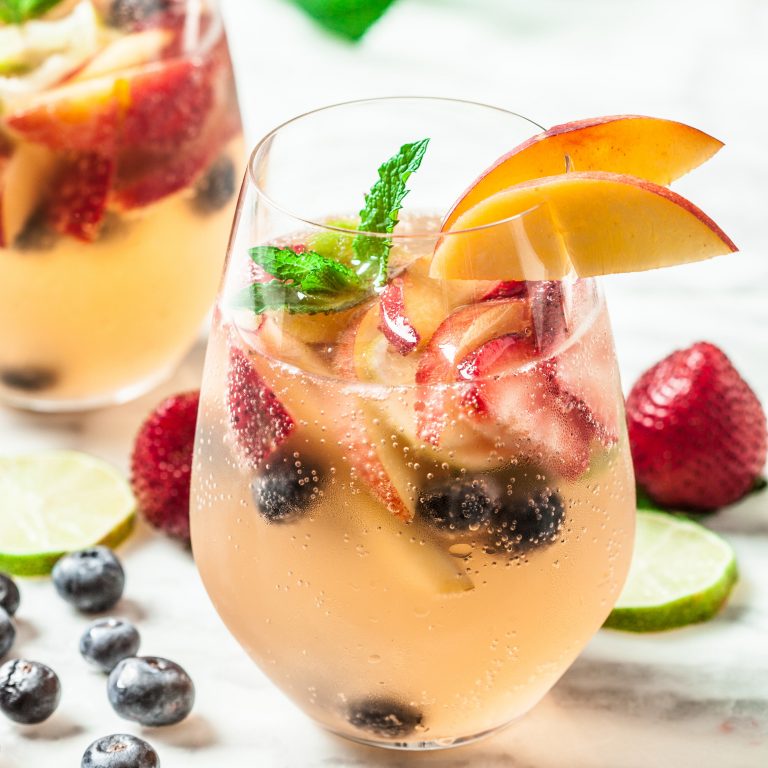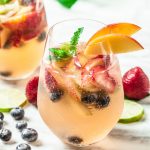 Summer Berry Sangria
This Summer Berry Sangria is the ultimate refreshing, sparkly, delicious drink of the season. Unlike most sangrias, this recipe doesn't require a lengthy chill time. Easily serve up a pitcher of summer berry sangria all summer long.
Ingredients
2

peaches

,

sliced thin

1

cup

berries

,

blueberries, raspberries, or sliced strawberries

1

lime

,

thinly sliced

1

bottle

crisp white wine or rosé wine

1

cup

peach nectar

,

from concentrate

⅓

cup

Grand Marnier or Cointreau

lemon-lime soda

Garnish: fresh mint leaves
Instructions
In a pitcher, add all ingredients except for lemon-lime soda. Cover and chill about 1 hour. Pour into individual glasses, leaving room for soda and ice. Top off with about 1/4 cup lemon per glass. Add ice and garnish with mint leaves. Serve immediately.
Nutrition (per serving)
Calories:
201
kcal
|
Carbohydrates:
22
g
|
Protein:
1
g
|
Fat:
1
g
|
Saturated Fat:
0.1
g
|
Polyunsaturated Fat:
0.1
g
|
Monounsaturated Fat:
0.1
g
|
Sodium:
19
mg
|
Potassium:
191
mg
|
Fiber:
2
g
|
Sugar:
17
g
|
Vitamin A:
288
IU
|
Vitamin C:
6
mg
|
Calcium:
22
mg
|
Iron:
1
mg
In Case You Missed this Yummy Recipe: