Chewy M&M Coconut Cookies
Chewy M&M Coconut Cookies are deliciously chewy and chocolatey. They're sure to be an instant hit for spring or anytime of year.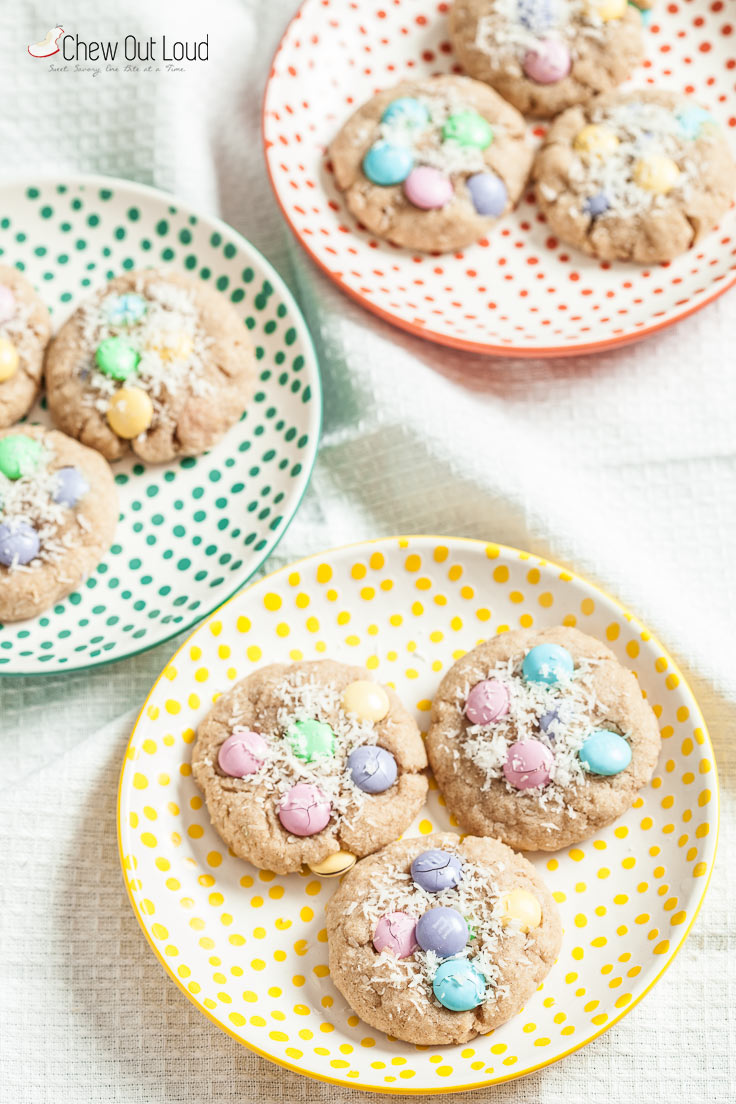 As soon as the pink, red, and white hearts of February gave way to the pastels of almost-spring, we dove right in. Packages of pink, baby blue, and lavender M&M's found a new home in my kitchen.
Good thing, too. Because after a psych-out wave of warmth last week, we're once again braving below-zero early mornings. And dare I say it: snow showers forecasted on my birthday 😭
The only redeeming piece about spring freeze is baking + eating cookies. Pretty M&Ms have a way of bringing a ray of sunshine into any chilly day.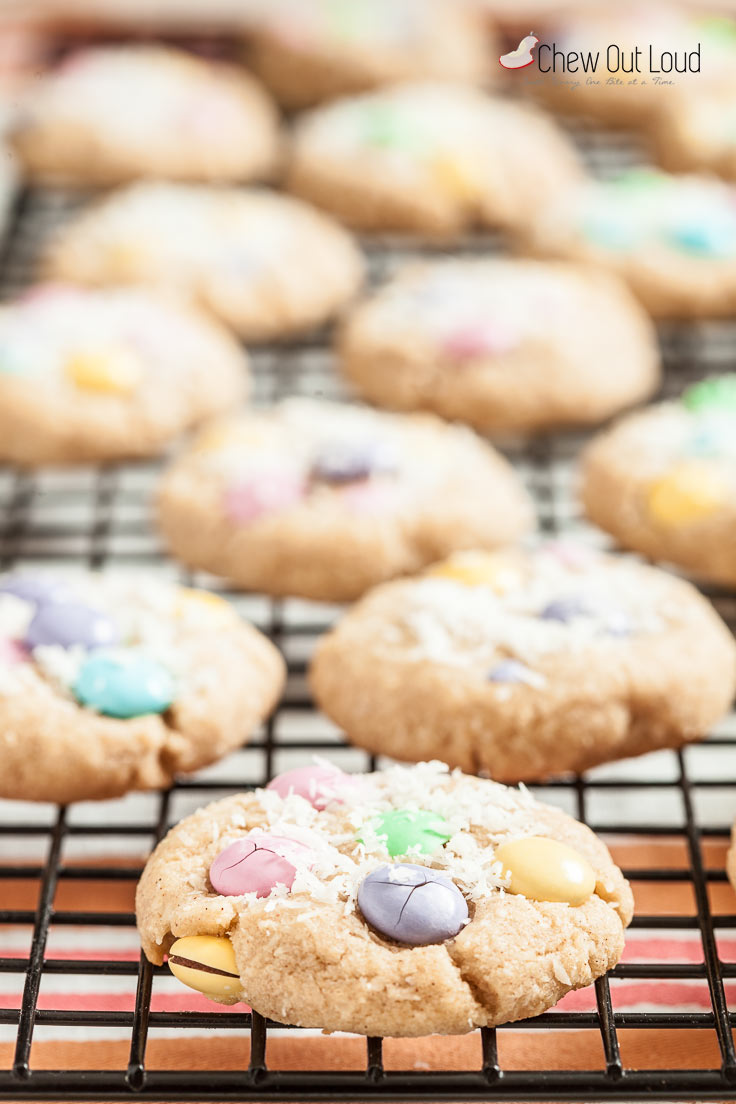 These Chewy M&M Coconut Cookies are yumalicious.
They're satisfyingly chewy, chocolatey, and joyfully studded with coconut.
We get to crank up the oven and do all the baking, because baby it's still cold outside.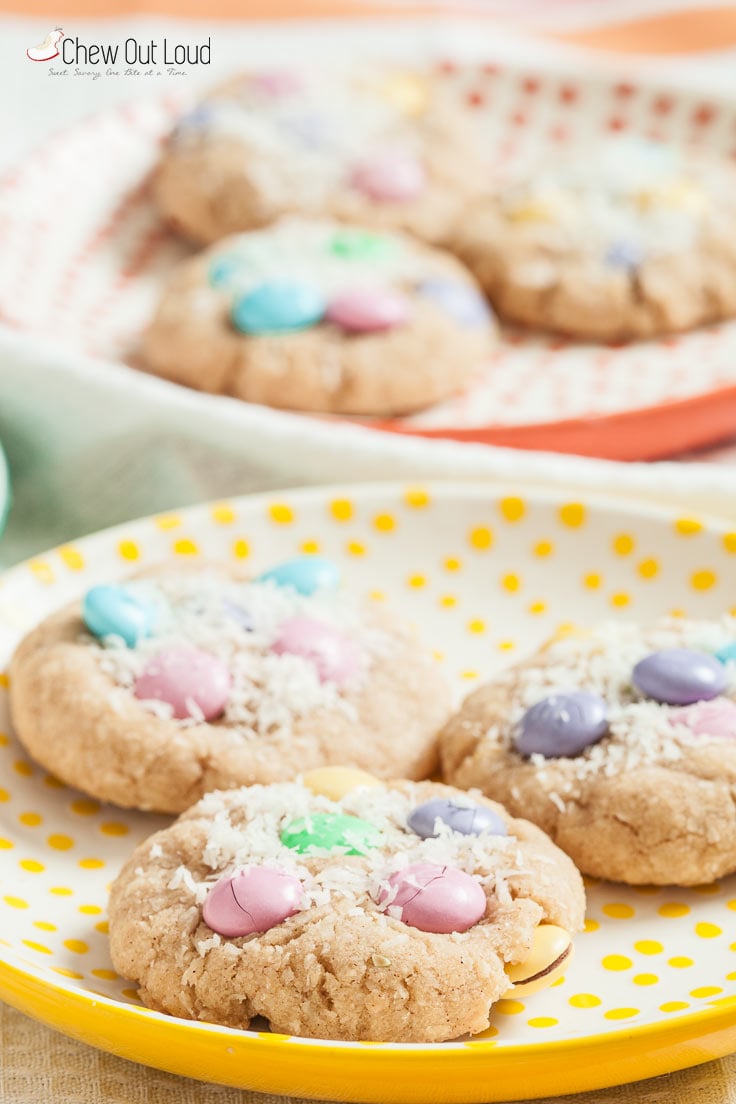 So yeah, bring on the spring freeze.
Totally kidding. Please keep the frost far, far away. Just bring on the cookies.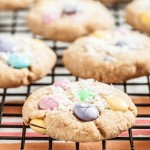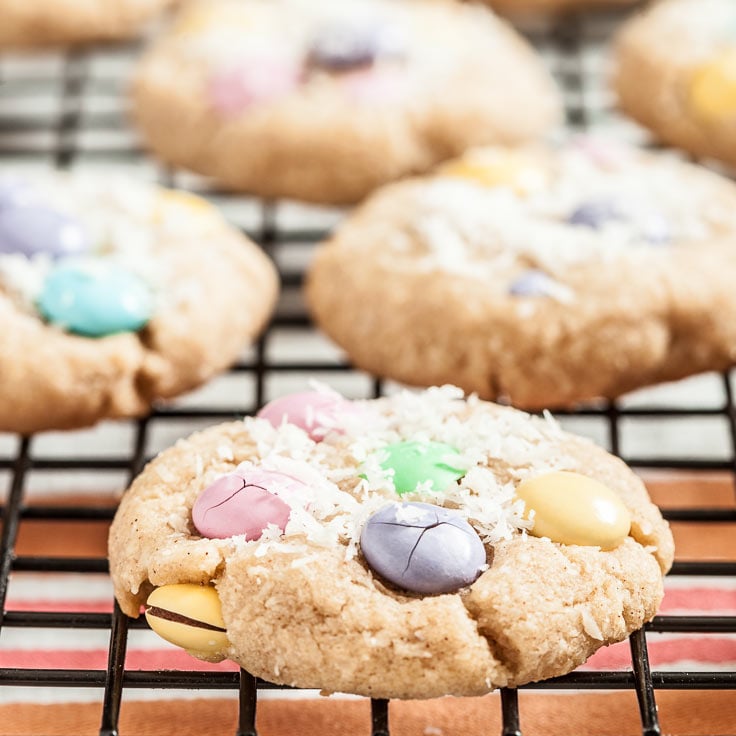 Chewy M&M Coconut Cookies
Chew M&M Coconut Cookies are deliciously chewy and chocolatey. They're sure to be an instant hit for spring or anytime of year.
Instructions
In bowl of stand mixer fitted with paddle attachment, cream together the butter and both types of sugar until fluffy, 3-4 minutes on medium high speed. Add egg and vanilla and continue beating until well incorporated.

In a separate bowl, whisk together the flour, cinnamon, baking soda, and salt until combined. Add to the butter/egg mixture and gently mix on low speed just until no flour streaks remain. Don't over-mix. Hand-stir in the coconut flakes and M&M's until combined. Depending on how sticky your dough is, roll dough into a ball, cover tightly, and chill 30-60 minutes. (If your dough is not sticky at all, you may skip chilling.)

Preheat oven to 350F with rack on lower middle position. Line baking sheets with parchment paper or silicone baking mats. Form rounded tablespoons of dough and place 2 inches apart on cookie sheets. Slightly flatten cookies, as they won't spread too much in oven. If desired, place additional M&M's on top of cookies for garnish. Bake 8 minutes (may seem lightly under-baked, but they will set upon cooling.) Cool completely on wire racks.
Notes
*Dough will be thick and just slightly crumbly, depending on your brand of shredded coconut. If it's quite thick, just use hands to tightly press and form the dough balls before baking. Dough should be workable; take care not to use even a little too much flour, or dough will be too crumbly to work into a ball.
*If you need to use sweetened coconut flakes, granulated sugar can be reduced to 1/3 cup.
* Dough can keep in fridge up to 5 days, wrapped airtight. Bring to near-room temp before forming dough balls and baking. Dough can also be frozen several weeks, as well as fully baked cookies (just be sure to always keep them airtight.)
Did you make this?
Leave a comment below and tag @chewoutloud on Instagram
Source: Chew Out Loud
Springing for Cookies…