Chewy Coconut Chocolate Chip Cookies
By Amy Dong
Published Sep. 18, 2020
Updated Nov. 16, 2023
These Chewy Coconut Chocolate Chip Cookies are slightly crispy on the outside and chewy soft on the inside. The flavors of coconut and chocolate makes them irresistible.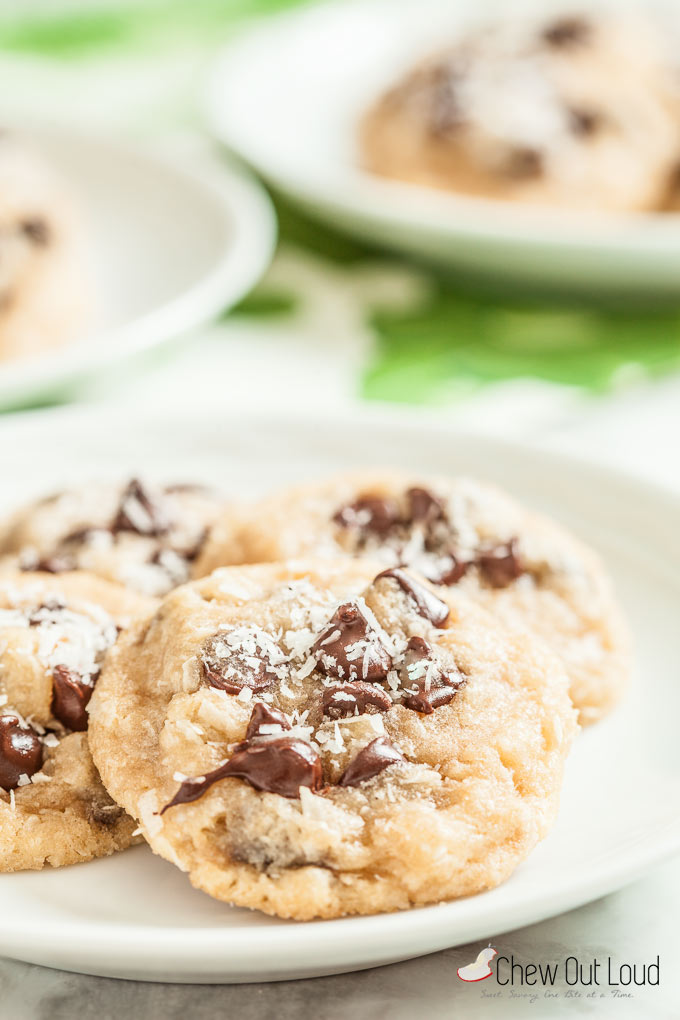 Chewy Coconut Chocolate Chip Cookies
One of the simple pleasures of everyday life can be wrapped up in a single word: cookies.
More specifically, perfect chocolate chip cookies. After all, who [100% willingly] says no to buttery chocolate chip cookies that are golden at the edges and chewy within? It's hard to top homemade, fresh-out-of-the-oven cookies strewn with melty chocolate morsels.
Possibly the only time one would want to deviate from tried-and-true chocolate chip cookies is when the tantalizing aroma of nutty coconut is involved. Even self-proclaimed non-coconut eaters will likely polish off their share of these chewy coconut chocolate chip cookies.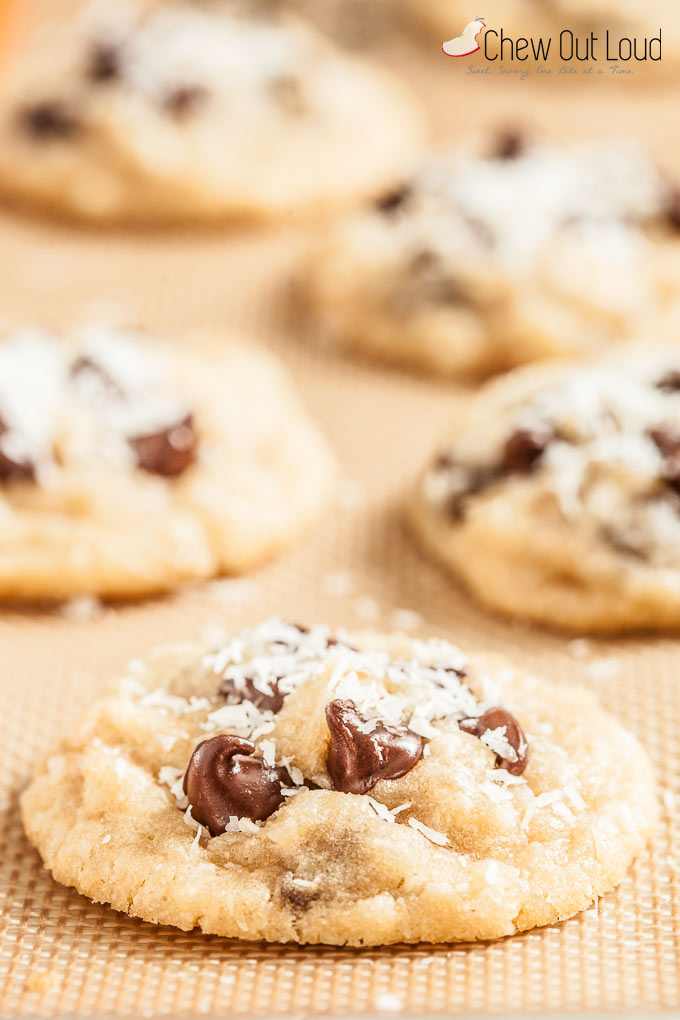 Buying and Storing Shredded Coconut Flakes
Shredded coconut flakes are perfect in everything from Fluffy Toasted Coconut Pancakes to these no-bake Coconut Oatmeal Cookie Balls.
For today's coconut chocolate chip cookies, finely shredded coconut adds an irresistibly nutty flavor. Though these cookies are designed to be on the soft/chewy side already, adding some shredded coconut to the mixture further boosts the chewy bite of every cookie.
Many grocery stores offer various types of shredded coconut, including healthy options such as organic, unsweetened shredded coconut. You can choose between larger flakes of shredded coconut vs. very finely shredded coconut.
For a more finesse coconut cookie experience, look for finely shredded coconut flakes. They're less prominent in the finished recipe, yet still provide plenty of aroma and depth of flavor. Opt for unsweetened coconut flakes if you don't want the added sugar (unsweetened coconut is also fabulous for savory recipes: Chicken, Sweet Potato, and Coconut Stew.)
Store your shredded coconut flakes in an airtight container or in its original sealed package. Keep it in a cool, dry space such as a basement pantry or even the fridge for longest-lasting freshness. It's important to keep moisture/humidity out of the shredded coconut.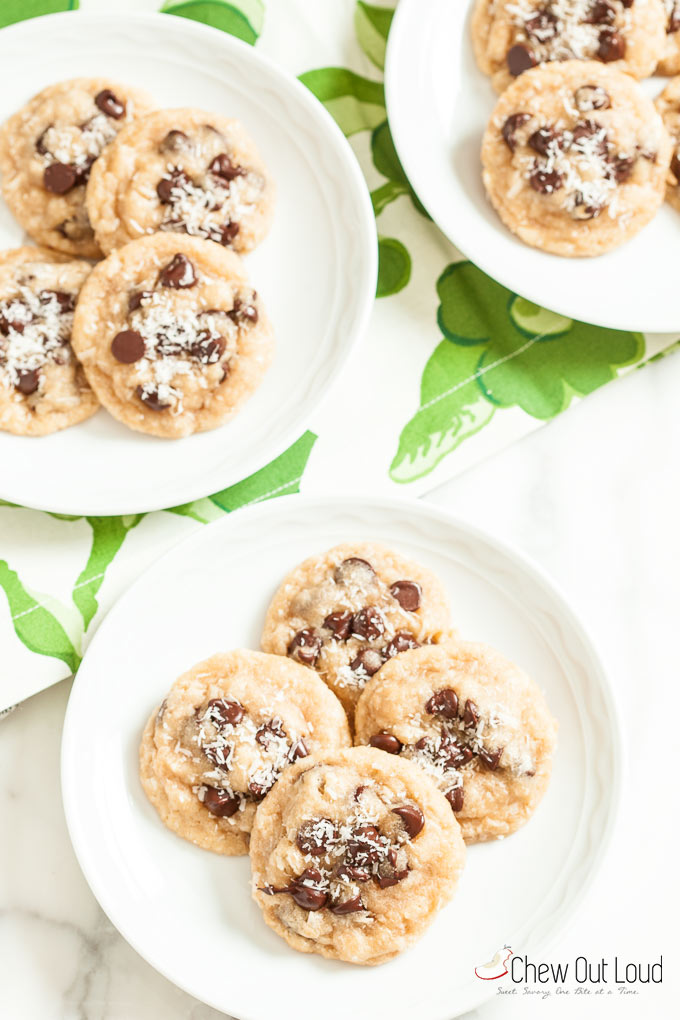 This dough's a keeper
Coconut chocolate chip cookie dough keeps superbly well. We've made this dough and kept it in the fridge for days prior to baking; this allows for things like freshly baked cookies on the regular. Very convenient when on family cabin trips.
Additionally, this coconut chocolate chip cookie dough keeps wonderfully well in the freezer, too. Just be sure it's wrapped up airtight; defrost what you need when you need it, and bake away.
Tip: you can shape dough into 1 TB balls and freeze them for super-fast freshly baked cookies. Be sure the dough balls aren't initially frozen for about 30 minutes without touching, to prevent them from sticking to each other in the freezer. They can be placed together in a sealed container after initial freezing.
Essentially, you're minutes away from fresh coconut chocolate chip cookies anytime you want. This can be good or bad, but it's mostly good 🙂
Try These White Chocolate Macadamia Cookies, Too:
Get this white chocolate cookies recipe and try them out!
Did you make this?
Please give us a rating and comment below. We love hearing from you!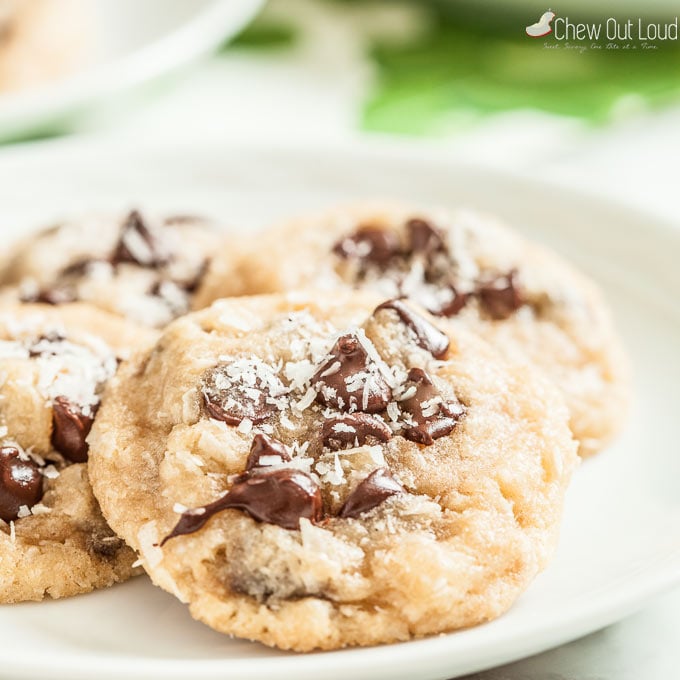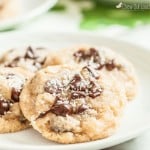 Chewy Coconut Chocolate Chip Cookies
These are like chocolate chip cookies, taken up a notch with the nutty aroma and chewy texture of shredded coconut flakes. Be sure to chill the dough prior to baking.
Instructions
In a bowl, whisk together the flour, cornstarch, baking soda, baking powder, and salt. Set aside.

In the bowl of a stand mixer fitted with paddle attachment, mix together the butter and both sugars on high speed until fluffy and light, scraping down sides and continuing to mix, for 3 to 4 minutes – do not skimp on this step, as it's very important for achieving correct texture. You can use an electric hand whisk if you don't own a stand mixer.

Add egg and vanilla extract, mixing until incorporated and smooth; scrape down sides as needed.

On medium-low speed, gently mix in the dry flour mixture just until incorporated, scraping down the sides as needed; do not over-mix here. Add coconut and chocolate chips and slowly mix just until combined; again, do not over-mix.

Use rubber spatula to scrape down sides of bowl and form a large dough ball. Transfer entire dough ball onto a sheet of cling wrap and wrap it up airtight; chill at least one hour in the fridge.*

When ready to bake, heat oven to 350F, with rack on lower middle position.Line baking sheets with parchment or silicone mat. Let chilled dough sit at room temp 5-10 min. while oven preheats.

Use cookie scoop to form 1 TB rounded dough balls, 2 inches apart on lined baking sheets. Bake about 8 minutes or just until edges are golden; cookies will seem slightly under-baked, but will set upon cooling.
Notes
When measuring flour, use the Scoop & Level method to ensure accurate measurement. You'll want a dry-ingredient measuring cup that does not have top margins, nor a lip. A metal, 1-cup scoop is perfect for gently scooping up flour; use flat end of a butter knife to gently scrape across the top to remove excess flour.
Dough can be chilled overnight or up to several days. It's important for cookie dough to be adequately chilled in order for it to bake up chewy and thick (not flat). Chilling cookie dough allows the butter fat to firm up throughout, which helps retain thickness while baking. Chilling also gives flour time to fully hydrate, which helps with a great chewy texture.
Leftover cookies should be kept in airtight container at moderate room temp several days. Baked cookies can be wrapped airtight and frozen for several weeks.
See original article for notes about buying and storing shredded coconut flakes.
If you enjoyed these cookies, please come back and give them a rating ♡
Nutrition (per serving)
Calories:
168
kcal
|
Carbohydrates:
23.3
g
|
Protein:
2
g
|
Fat:
8.2
g
|
Saturated Fat:
5.6
g
|
Cholesterol:
12.8
mg
|
Sodium:
96.8
mg
|
Fiber:
1.4
g
|
Sugar:
17.8
g
Cookie Time