Best Carrot Cake with Cream Cheese Frosting
By Amy Dong
Published Mar. 22, 2021
Updated Aug. 17, 2022
This truly is the Best Carrot Cake with Cream Cheese Frosting. The cake is supremely tender, moist, and bursting with great carrot cake flavor. The frosting is creamy, smooth, and decadent.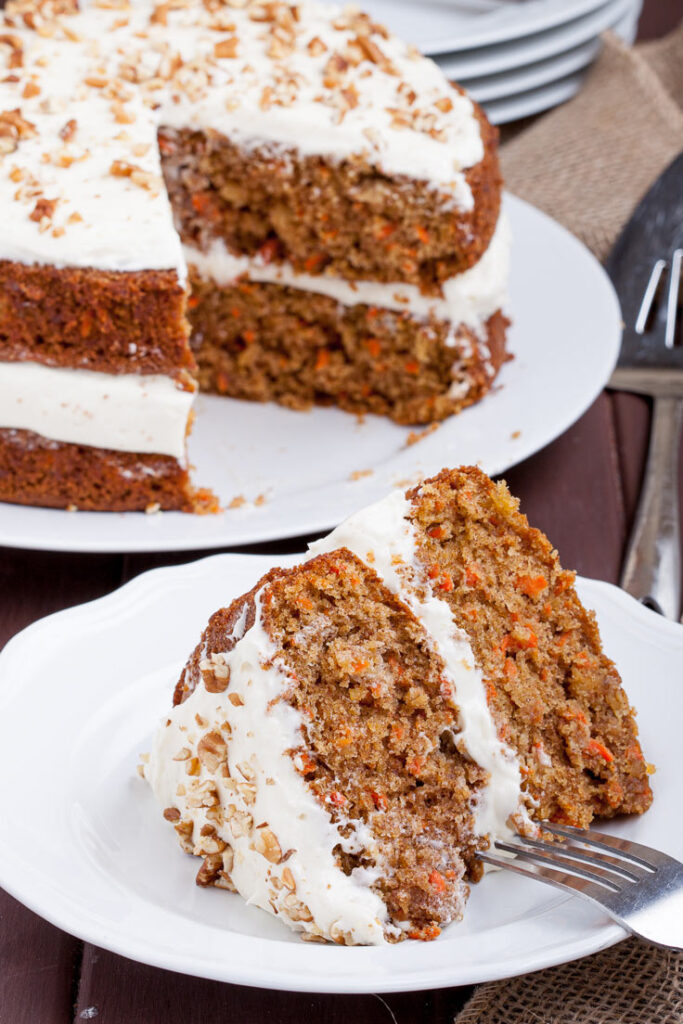 Moist Carrot Cake with Cream Cheese Frosting
It's finally officially spring. Though the weather can be somewhat of a finicky unknown during spring in this neck of the woods, nobody's complaining. There might be an April snowstorm (no jinx, please) and puddles of mud, but it's definitely on the upswing.
Spring calls for the appearance of Lemon Poppy Seed Bread and carrot cake, despite the funny fact that lemons reach peak harvest in winter and carrots are more of a summer farmer's market staple. Thankfully, fresh carrots are available year round for most of us, and magical carrot cake can happen whenever the craving hits.
And when the carrot cake craving hits, there's none better than this extraordinarily moist carrot cake with cream cheese frosting. It's a family & friends' favorite recipe which has ruined all other carrot cakes for us…fair warning, it may do the same for you.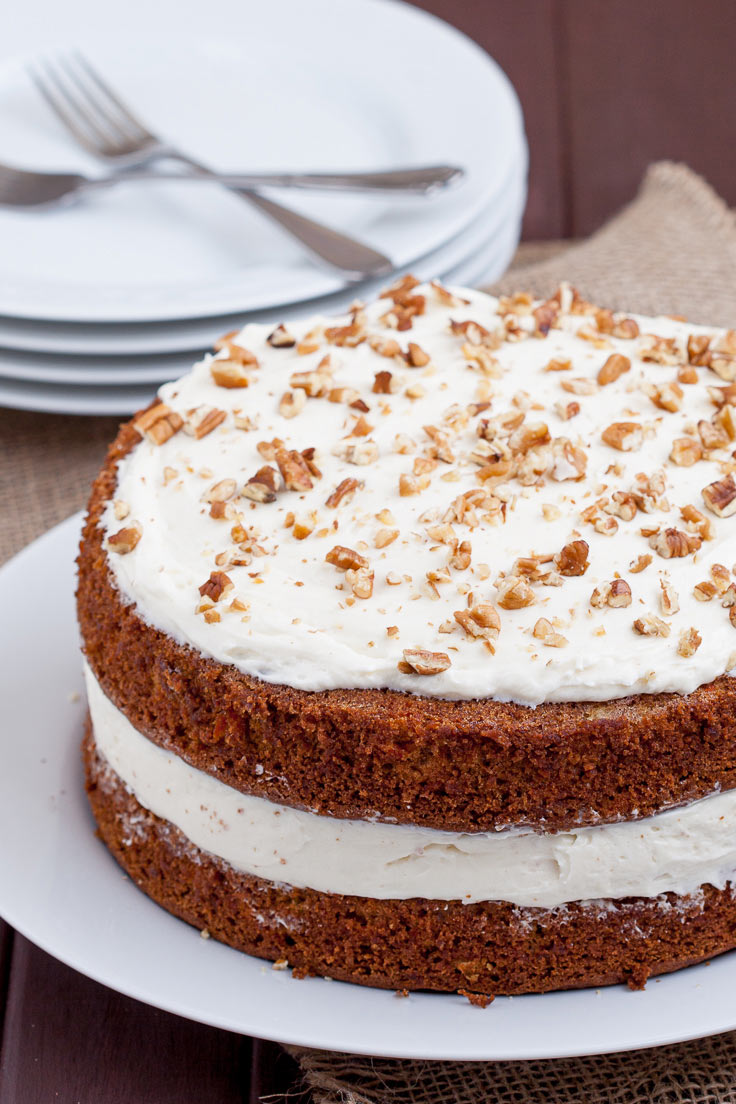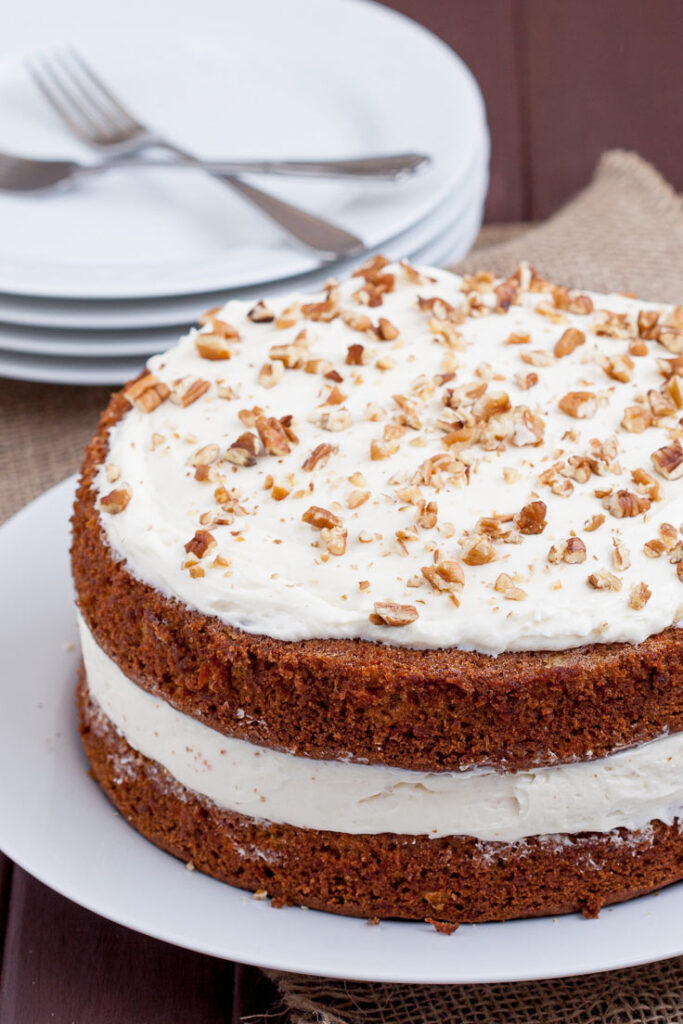 The perfect texture and balance of flavors
This genuinely is the best carrot cake we've ever sunk our sweet teeth into, and that includes many restaurant carrot cake tastings. Here's why:
The combination of baking soda and baking powder gives this cake an extra tender crumb.
This cake doesn't skimp on the spices; your taste buds will appreciate the generous combination of cinnamon, nutmeg, cloves, and ginger.
Brown sugar is combined with granulated sugar for a boost in moisture and depth of flavor.
Four large eggs go into the batter, binding the ingredients and providing structure
The cake utilizes oil to give it that supremely moist texture – we often use light olive oil, which does not impart any olive-ish flavors to the cake. Feel free to use vegetable or canola oil.
An entire pound of fresh carrots offer plenty of carrot cake respect. The cake won't taste like a big carrot, we promise.
Whether you grate your fresh carrots using large vs. small holes of your box grater is your choice. If you prefer the carrots to "melt" into the cake more, grate them finer.
Crushed pineapple is a legit moisture-booster in this cake. You'll squeeze out all the excess juice from pineapple to ensure correct liquid to flour ratio.
If you're a raisin fan, feel free to drop in 1/2 cup of raisins.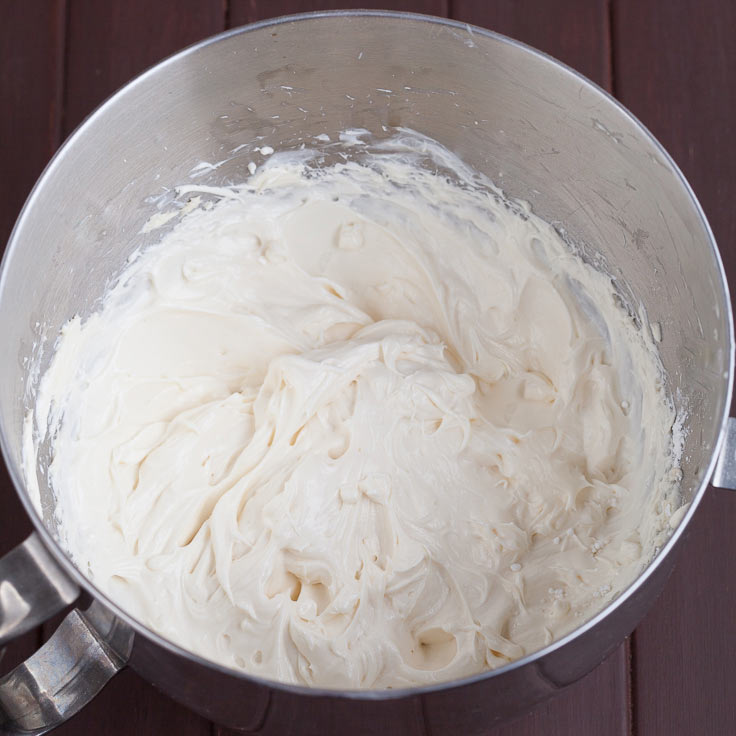 Cream Cheese Frosting
This carrot cake needs nothing else but a generous slathering of velvety cream cheese frosting. Feel free to embellish it to your heart's content with carrot-shaped candies or orange and green swirls on top if you'd like.
Just know that the cream cheese frosting is really all you need:
It tastes like smooth, creamy soft cheesecake layers in between moist carrot cake layers.
Do use regular, whole cream cheese.
Salted butter provides smooth, rich, salty buttery goodness to the frosting.
A bit of sour cream give the frosting a tangy boost, helping to offset the sweetness.
Pure vanilla extract brings this cream cheese frosting home.

All the flavors of the cake swing and jive so well together.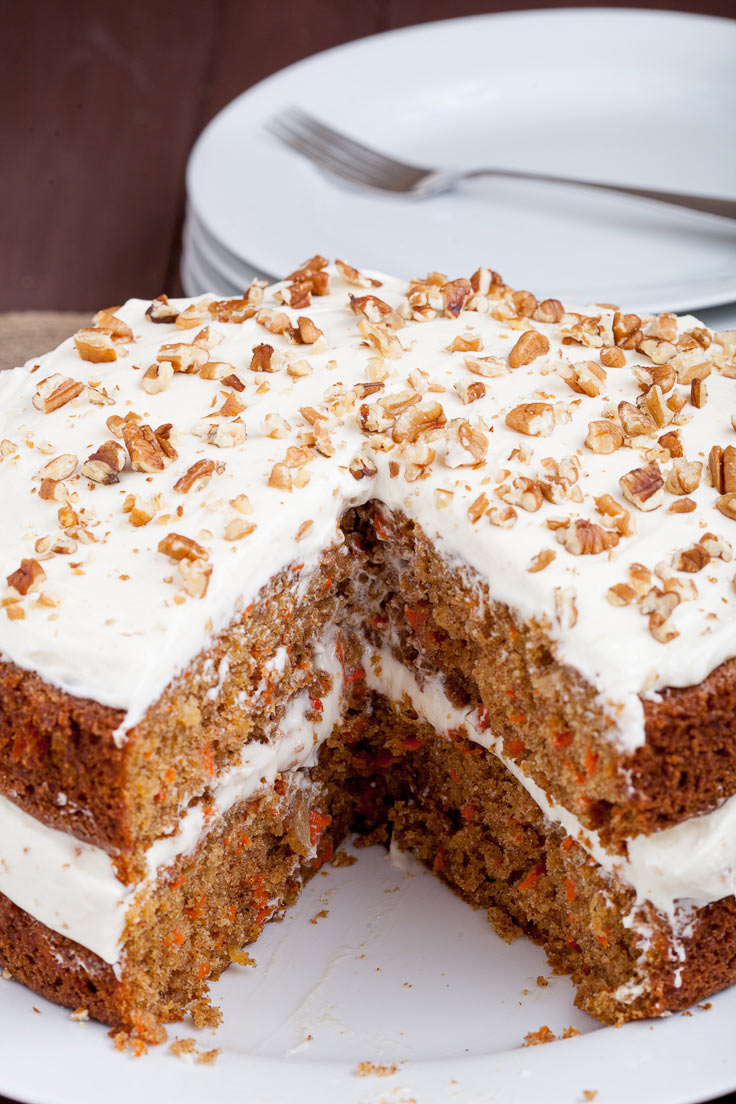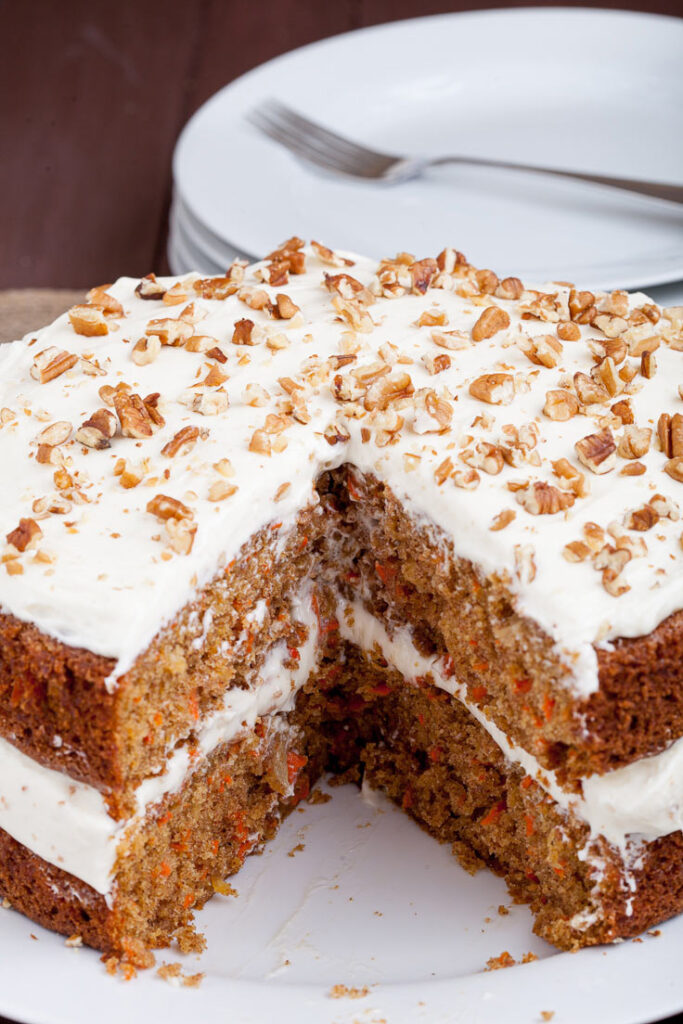 Make the entire cake in advance
You'll love the fact that this entire carrot cake with cream cheese frosting is a make-ahead deal. You can frost and assemble the entire cake and keep it chilled up to a day or two in advance. Just be sure to keep it covered and not exposed in the fridge.
This handy cake container/carrier is super useful for storing cakes or bringing them to a friend's house.
We love this cake so much, it shows up on birthdays and holidays often. We even have this simplified version for any day carrot cake cravings come calling.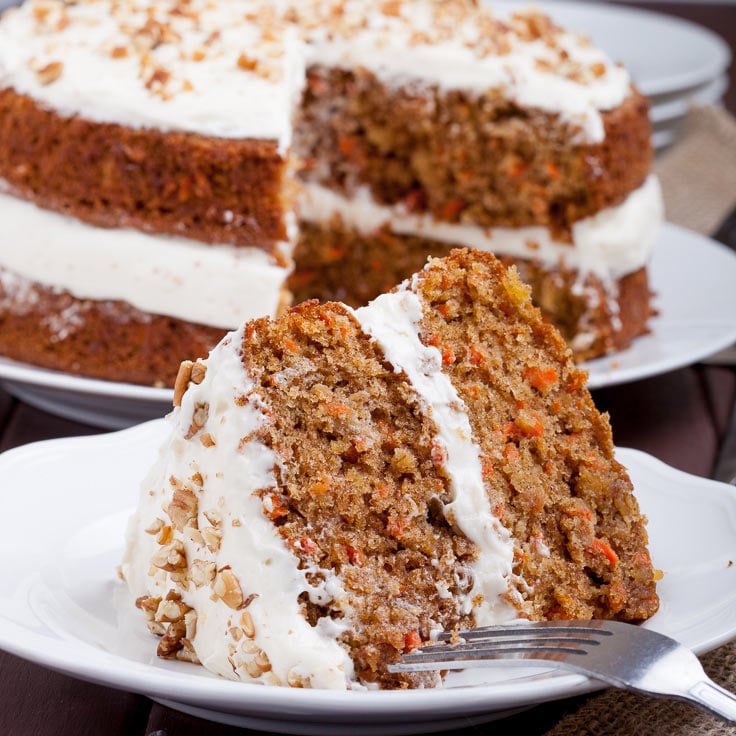 Did you make this?
Please give us a rating and comment below. We love hearing from you!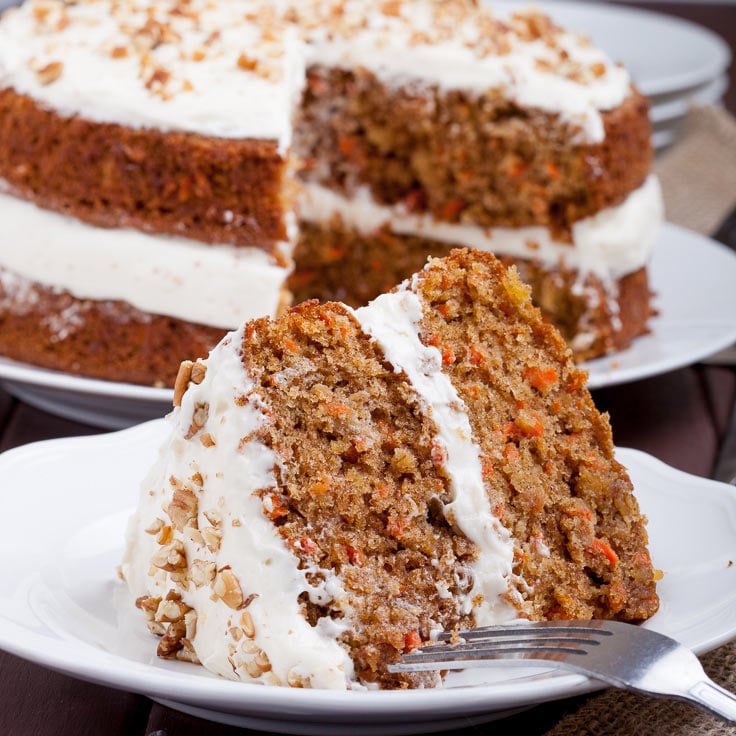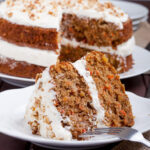 Best Carrot Cake with Cream Cheese Frosting
This is truly the very Best Carrot Cake with Cream Cheese Frosting we've ever had the pleasure of sinking our sweet teeth into! The cake layers are super moist, tender, soft, and delicious. The cream cheese frosting is smooth and velvety, like a bit of cheesecake heaven. *This cake can be made a day ahead, and actually tastes better the next day!
Ingredients
For Cream Cheese Frosting
Instructions
Preheat oven to 350F with rack on lower middle position. Line 2 (9 in) round cake pans with parchment paper on bottom. Grease parchment paper and sides of pan. Set aside.

Make the Cake: In a large bowl, whisk together the flour, baking powder, baking soda, cinnamon, nutmeg, cloves, ginger, and salt. Set aside.

In a stand mixer fitted with paddle attachment, beat both sugars with eggs on medium high until combined, 45 sec. Reduce to medium speed and add oil gradually. Increase to high speed and mix until light in color, 1 min.

Remove bowl and using a rubber spatula, fold in the carrots and pineapple. Gently fold in dry ingredient mixture just until no flour streaks remain; do not over mix.

Scrape batter, divided evenly, into prepared cake pans. Smooth top to release air bubbles. Bake until toothpick inserted in center comes out with a few tender crumbs attached, 30-35 minutes.

Remove pans and cool cakes completely in pans on a wire rack (at least several hours.)

Meanwhile, Make the Frosting. In stand mixer fitted with whisk attachment, mix the softened cream cheese, butter, sour cream, and vanilla at medium high speed until combined, 30 seconds, scraping down as needed. Add confectioners' sugar and mix until very fluffy, 1 minute. Keep chilled until ready to use.

Be sure cakes are completely cooled. Run thin knife around edge of cakes to loosen and invert one round cake onto serving platter. Tap back of pan to remove cake and gently peel off parchment paper. Spread half of the cream cheese frosting on top of cake. Repeat with second layer of cake, placing it gently over the top of frosting. Spread remaining frosting on top, and garnish however you like, but no garnish necessary. Cake may be covered and chilled 1 day ahead.
Notes
Cake can be fully assembled a day or two in advance. Keep covered and chilled until ready to serve. This cake container/carrier is helpful for storing or transporting.
Optional: you can add 1/2 cup raisins if you like. Top with toasted chopped pecans or walnuts if desired.
Click here if you'd like to make carrot cake cupcakes.
If you enjoyed this recipe, please come back and give it a rating ♡
Nutrition (per serving)
Calories:
667
kcal
|
Carbohydrates:
81.9
g
|
Protein:
6.8
g
|
Fat:
36.8
g
|
Saturated Fat:
8.8
g
|
Cholesterol:
82.6
mg
|
Sodium:
327.8
mg
|
Fiber:
2.3
g
|
Sugar:
57.8
g
More to Bake and Eat
1. Best Blueberry Lemon Bundt Cake – This moist, tender cake is easy and bursting with berries and bright flavors to cheer up anyone's day. Super easy, too!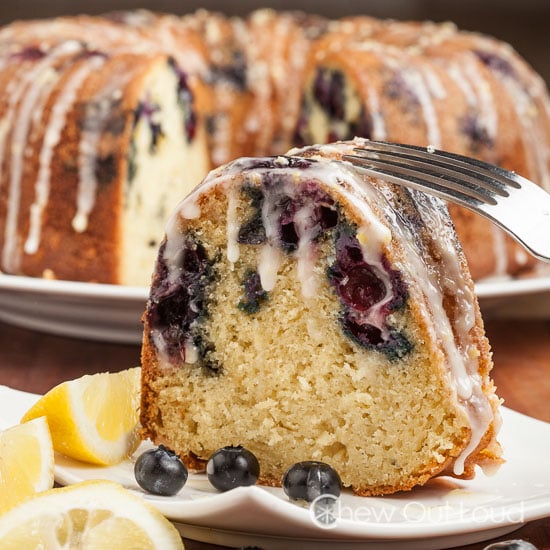 2. Carrot Cake with Cream Cheese Frosting – This is a super duper easy carrot cake in a pan that doesn't involve layers but involves lots of moist flavor!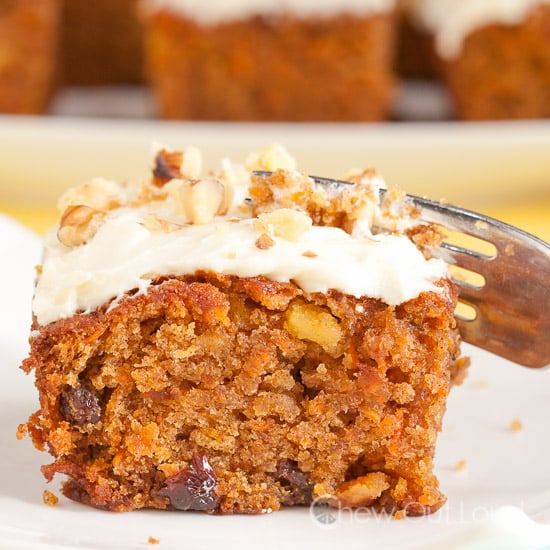 3. Banana Cake with Whipped Cream Frosting. An easy pan cake that is always moist, soft, and perfect for any time of day.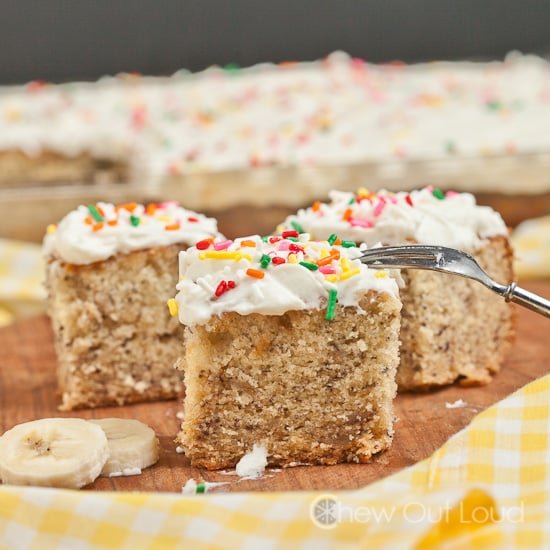 4. Banana Chiffon Cake. This light, spongy, airy cake is moist and tender all the way. So good and addictive, you can almost eat the entire thing all by yourself.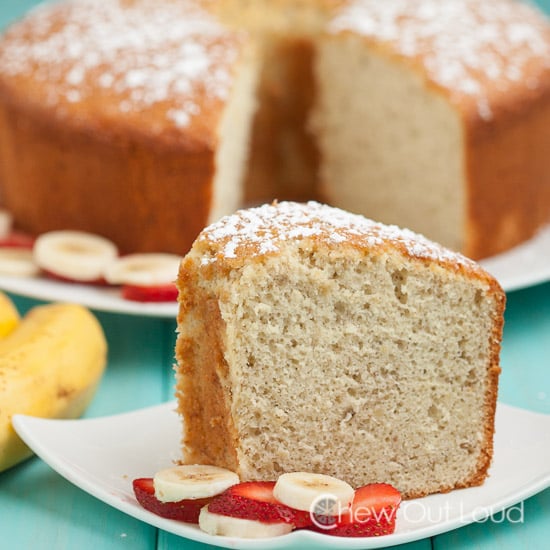 5. Best Ever Angel Food Cake. I never tasted real angel food cake until I tasted this. It blows away any store bought version.