Crunchy Granola
Ever since we've been making this simply scrumptious Crunchy Granola, we haven't had any need to buy it at the store. It's super easy and budget-friendly to make your own perfectly crispy granola at home. Sprinkle it over yogurt or ice-cream, pour milk over it, or eat it straight as it is…breakfast, snack, or dessert.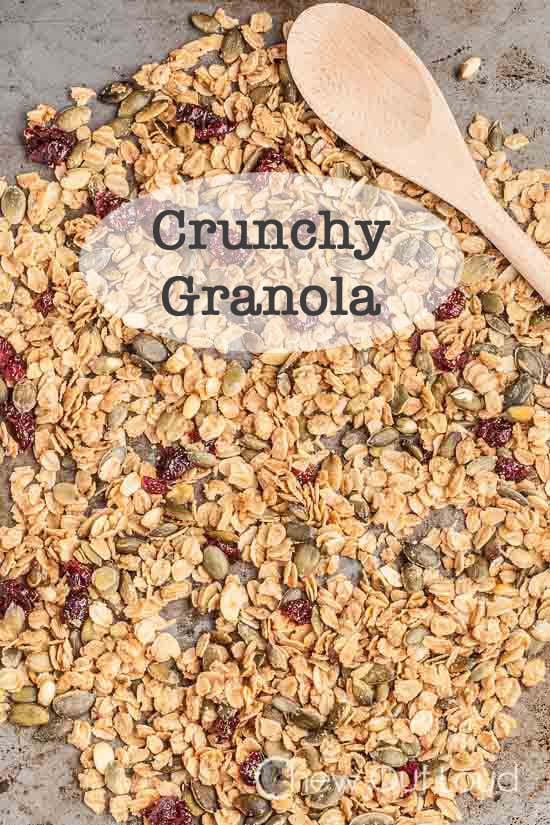 For awhile, we were buying granola in all shapes, sizes, and flavors. Chewy granola, crispy granola, chocolatey granola, fruity granola, nutty granola… my pantry door could barely close, with all that 'nola.
Two things transformed me from granola buyer to maker.
For one, I was buying so many boxes and bags of granola items that it was getting eeeexpensive. For another, The Littles (and Hubby) are granolaholics and I was making trips to the store just for that. Plus, I was growing increasingly vexed with the long list of questionable ingredients on the majority of the labels.
Which just made me spend more, because the "natural stuff" costs quadruple the amount.
I realize that was more than two things. But you get the gist. Granola buyer to maker.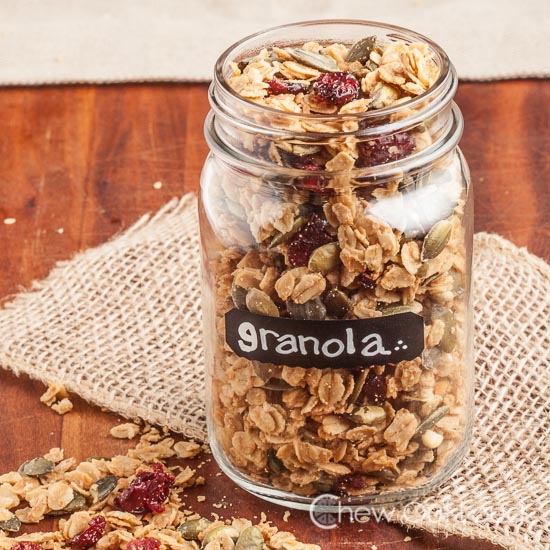 This past year has seen many batches of homemade granola goodies come out of our oven instead of the store.
These Chewy Chocolate Chip Granola Bars and these 5-Ingredient Protein Bars (no bake) are simply marvelous because they are so much healthier and cheaper. They're addictive, which is fine, because you can make a big ol' batch that lasts several days or more.
I feel awesome about munching on homemade granola, because I know exactly what went into them…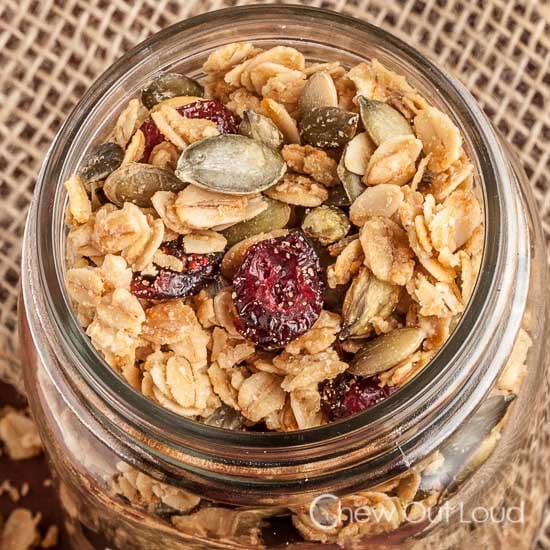 For this Crunchy Granola, I use good old fashioned rolled oats. Nice and hearty. Roasted pumpkin seeds (pepitas) were liberally strewn throughout, imparting protein, nutrition, and a fabulously toasty flavor. Sunflower seeds could work as an alternative, but I'm partial to the bigger size and toothsome crunch of the pumpkin seeds.
By the by, seeds instead of nuts makes this granola a nut-free treat for allergic peeps.
Dried cranberries are my favorite dried fruit to toss in, as cranberries boast a tangy zip that offsets the sweetness of the granola.
Speaking of which, this granola is naturally sweetened with brown sugar and pure maple syrup. We used coconut oil, as it has a very neutral flavor that works well in this recipe. If you prefer, extra virgin olive oil will work also.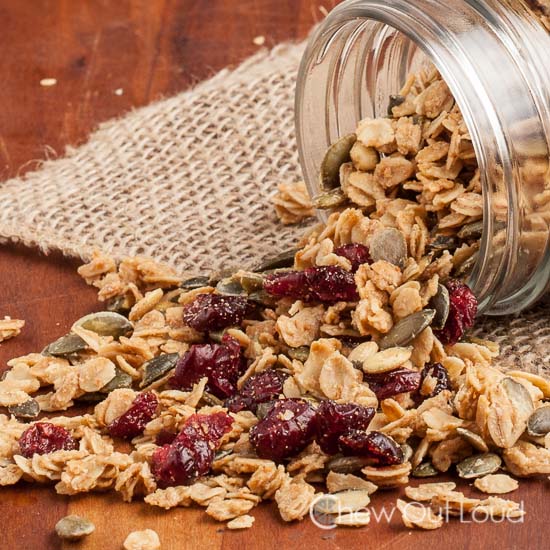 Spritz up your daily yogurt with this crunchy granola for breakfast. Pack a Ziploc bag of granola for lunch or snack time. Sprinkle granola over frozen yogurt or ice cream for dessert.
Did I mention how well this crunchy granola keeps? Put it in an airtight container at room temp, and it will keep for many days or longer. Save yourself money and make it, don't buy it.
Enjoy!
Did you make this?
Please give us a rating and comment below. We love hearing from you!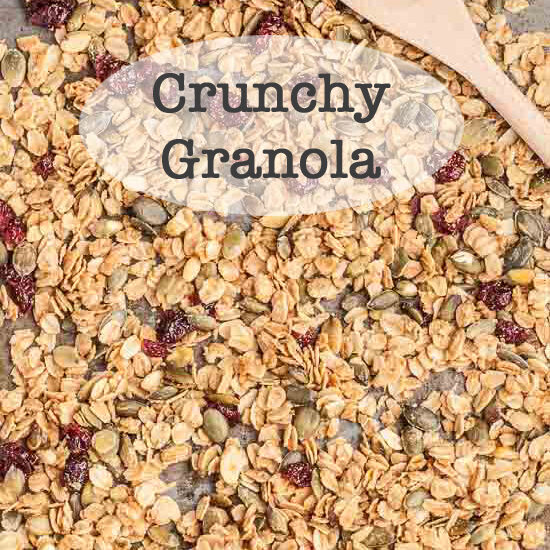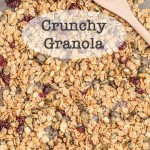 Crunchy Granola
This Crunchy Granola is nut-free, healthy, and simple. Perfect addition for breakfast, snack, and dessert. Keeps extremely well in an airtight container at room temp.
Instructions
Preheat oven to 300F, with rack on middle position. Line a large baking sheet with parchment paper.

In a large bowl, combine the oats, pumpkin seeds, and salt - toss well.

In a small saucepan over low heat, warm sugar, maple syrup, and oil until sugar is dissolved. Remove from heat.

Fold oat mixture into the syrup mixture until dry ingredients are well coated.

Spread mixture over the parchment-lined baking sheet. Bake until dry and lightly golden, 35-45 minutes, stirring mixture every 10-15 minutes during baking.

Remove granola from oven and cool slightly before mixing in dried cranberries.

Cool to room temp before storing in an airtight container.
Nutrition (per serving)
Calories:
171
kcal
|
Carbohydrates:
22
g
|
Protein:
4
g
|
Fat:
8
g
|
Saturated Fat:
4
g
|
Polyunsaturated Fat:
2
g
|
Monounsaturated Fat:
2
g
|
Trans Fat:
0.004
g
|
Sodium:
139
mg
|
Potassium:
128
mg
|
Fiber:
2
g
|
Sugar:
12
g
|
Vitamin A:
1
IU
|
Vitamin C:
0.2
mg
|
Calcium:
21
mg
|
Iron:
1
mg
Source: Chew Out Loud
Here are those Chewy Chocolate Chip Granola Bars my family devours: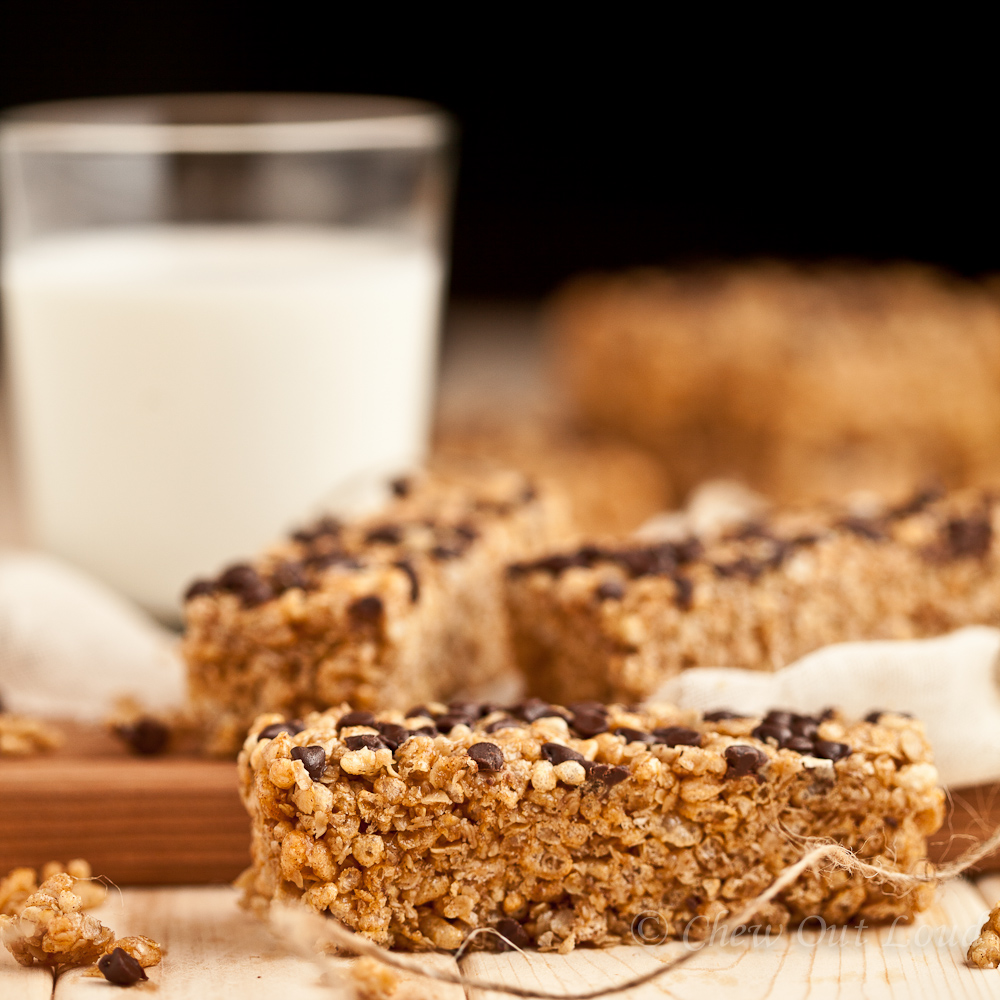 These 5-Ingredient No-Bake Protein Bars have made quite a wave around here: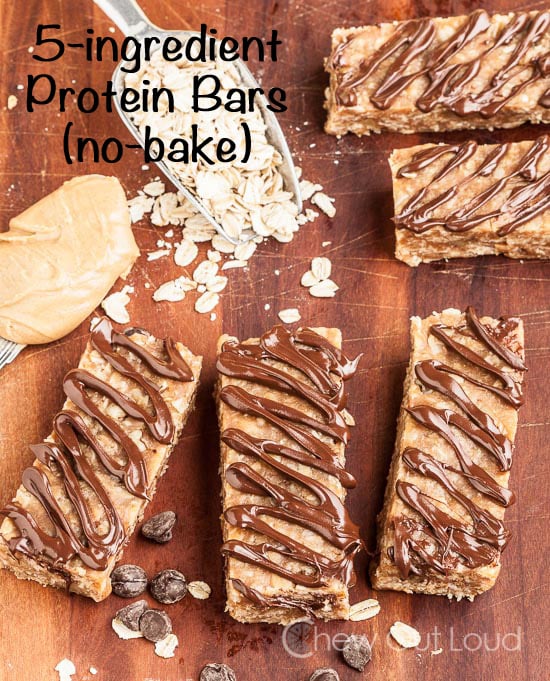 These S'mores Cereal Bars are crunchy, chewy, and perfect summer breakfast/snack. Oh, and no-bake!