Despite the fact that fall leaves are long gone and bare branches lay in their stead, it's technically still fall. That's hard to remember in these zones. It's been a rough year for apples, and apple pickings were sadly slim, but our favorite Honeycrisp variety remains plentiful at the stores. Our fridge is happily stocked with those crisp apples with honey-like sweetness.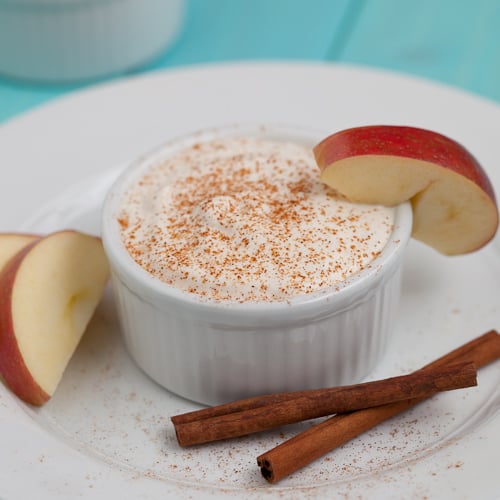 After the Thanksgiving holiday, where some of us (me) indulged in more rich desserts than we (I) care to reveal, it's time to gift you with a healthier treat.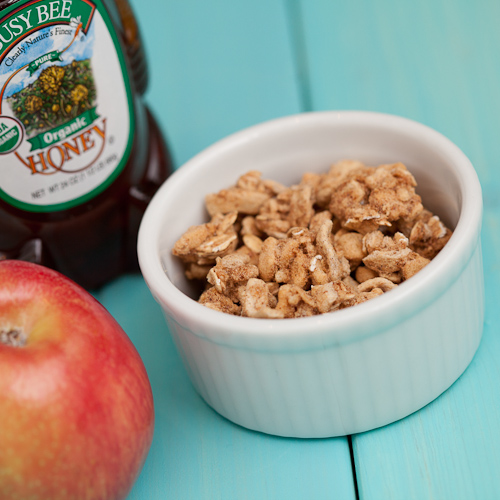 This fabulous honey yogurt fruit dip is bursting with fall flavors. It's a no-guilt cure for the sweet toothed – real honey, vanilla greek yogurt, and cinnamon makes up this lively fruit dip.
We love adding generous sprinkles of crunchy granola to give it that extra crisp texture. Dip your favorite varieties of apples or other fruits into this dreamy dip, and you're set. My little ones lapped it up, begging for more apples so they could scrape up every last bit of their dip. They enjoy plain old apple slices, but the honey yogurt dip brings any slice of fruit to a dessert-worthy level.
Greek yogurt tends to be higher in protein, and is thicker than many other yogurts. If you use a thinner variety of yogurt, it won't set up as thickly, but it will probably still taste fab. I use honey or vanilla yogurt so the honey and cinnamon can take center stage, but feel free to experiment with flavors. This will make about 1 1/2 cups worth of yogurt goodness. It keeps very nicely in an airtight container in your fridge.
Grab some fruit, granola, and get your yogurt on! Enjoy 🙂
———————————————————————————————————————————
RECIPE (1 1/2 cups)
INGREDIENTS
1 cup honey or vanilla Greek yogurt
3 tsp honey (more or less, depending on sweetness of yogurt brand)
2 tsp cinnamon
1 tsp powder sugar
1 tsp vanilla extract
*1/2 cup whipped cream
apple slices or other fruit slices
granola
DIRECTIONS
Gently mix together all ingredients except whipped cream. Fold in whipped cream and chill. Serve with slices of fruit and granola.
* To make awesome whipped cream:
Place beaters and medium bowl in freezer or fridge to chill. Measure out 1 cup heavy whipping cream, 1 tsp vanilla extract, and 1/4 cup powder sugar. Put cold ingredients into cold bowl and beat on medium/high until still peaks form.
(If you want a firmer, stabilized whipped cream, see recipe.)
By: Chewoutloud