Crispy Cereal Bars with Peanut Butter (No-Bake)
Cereal bars are the perfect on-the-go breakfast for busy adults and kids alike. These Coconut Peanut Butter Cereal Bars pack a nutritious punch for the morning or afternoon pick-me-up. Teeming with the protein of peanut butter and the benefits of coconut, these crunchy yet chewy little bars are deliciously convenient.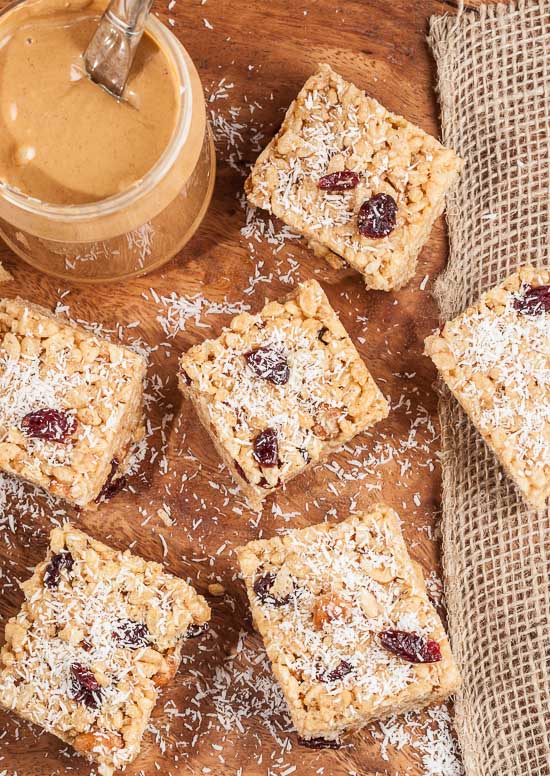 Deliciously healthy cereal bars
If you're anything like we are, the daily life can be a harried blur of one appointment to another. Even if that appointment is just between me and the laundry, it contributes to the flurry of events nonetheless. That leaves little time for sitting down to breakfast on the weekdays.
One of my favorite ways to ensure a nutritious breakfast for my peeps in the midst of grabbing backpacks and tying sneakers is this: breakfast bars. Hectic mornings are all about cereal bars and granola bars. I'm famous in our family for making huge batches of cereal and granola bars.
I've made straight up Peanut Butter Cereal Bars, Chocolate Chip Granola Bars, and protein laden 5-Ingredient Protein Bars. They're just better when homemade. Healthier. Take these Coconut Peanut Butter Cereal Bars. Only a handful of ingredients vs. the abyss of ingredients in store bought cereal bars.
These Rice Cereal Bars are both crispy and chewy
Admission: I haven't always been a coconut fan. In truth, it's only been this past year that I've plunged into the world of coconutty goodness. Slowly but surely, it's happening.
These Peanut Butter Cereal Bars are busting at the seams with finely shredded coconut, but the coconut texture melds so well with the crispy rice cereal that you can't really tell there's coconut shreds within. The flavor is there, but the texture is mostly crispy and chewy, thanks to the rice cereal, PB, and honey. If you want more distinct coconut texture, just sprinkle more on top, like so.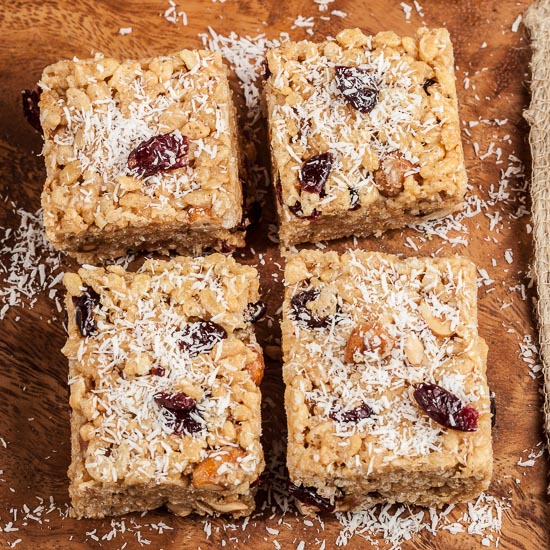 Naturally gluten-free cereal bars: use your favorite add-ins
The flavors of peanut butter, coconut, and honey are a match simply destined for one another. Neither flavor overpowers the other, and the result is a harmonious blend of YUM.
I like throwing in honey roasted peanuts into these bars to give them that sweet, roasted, crunchy oomph. Sooo fabulous. As for the dried fruit, any of your favorite variations will do. I used dried cranberries in mine, which gave these sweet little cereal bars a nice mild tartness.
Feel free to play with the kind of nuts, nut butters, or seed butters. If you don't prefer coconut, leave that out and add in your favorite option instead. Chocolate chips are more than okay.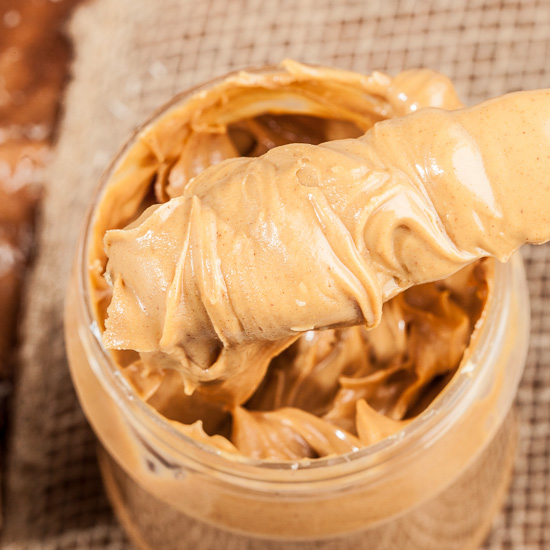 No-Bake and 6 Ingredients
Oh, yeah, and these are no-bake. Simply combine and mix only 6 basic ingredients, using what you have on hand or what you like.
Cereal bars are the only reason I ever buy crispy rice cereal by the box these days. When the fam sees a box of crispy rice cereal in the pantry, they know something good is comin' up.
Cereal Bars are easy on-the-go snacks
These Coconut Peanut Butter Cereal Bars keep well in wrapped airtight in moderate room temperature. For ease of cutting, you can chill the pan if needed. It depends somewhat on the room temperature. Once the pan of bars is nice and firmly set, cutting should be a cinch.
But let's be real. If a few of these tasty bars crumble a little bit on my cutting board, there are plenty of hands eagerly waiting to snatch those morsels up.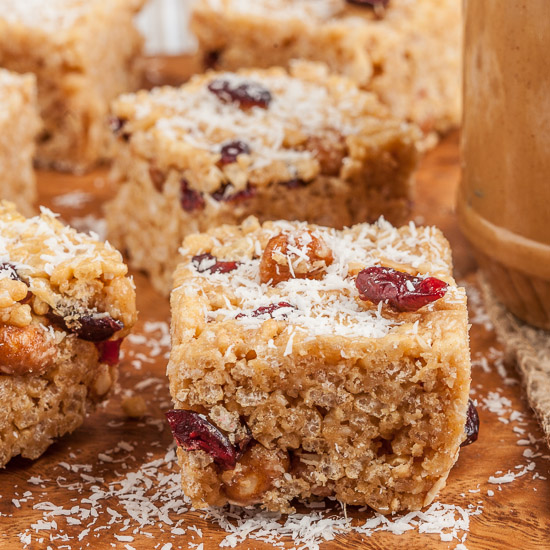 Other Cereal Bars/Granola Bars to Make and Eat:
---
Did you make this?
Please give us a rating and comment below. We love hearing from you!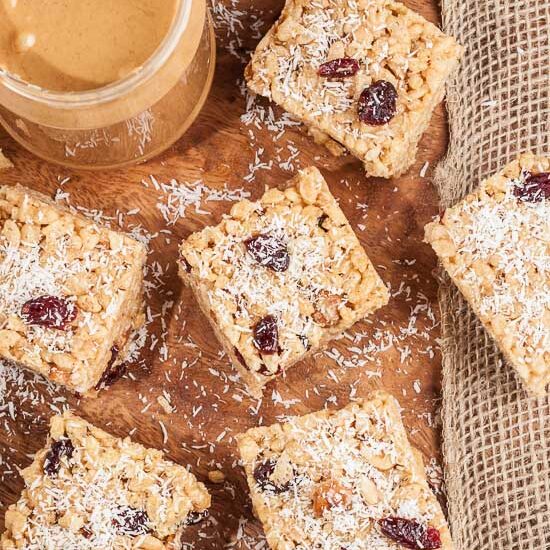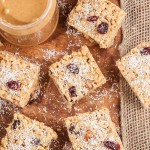 Coconut Peanut Butter Cereal Bars (No Bake)
These Coconut Peanut Butter Cereal Bars and no-bake and only a handful of ingredients! Way healthier than any store bought bars. Perfect for mornings on the go, afternoon pick-me-ups, and trips!
Ingredients
1

cup

pure honey

,

plus more to taste

1

cup

creamy peanut butter

7

cups

crispy rice cereal

1

cup

shredded

,

unsweetened coconut

½

cup

dried cranberries

,

or other dried fruit

½

cup

honey roasted peanuts
Instructions
In a microwave or saucepan, warm up honey to lukewarm. Add peanut butter and combine well. Add crisp rice cereal and combine well. Carefully stir in coconut, cranberries, and peanuts. Stir gently to fully incorporate. Add additional honey, if desired, to taste.

Lightly grease a 9x13 pan. Press cereal mixture into pan. Press hard enough to firmly pack down the cereal mixture evenly. Cover and chill until mixture is firm.

Cut into squares and serve. Leftovers can be kept in an airtight container at moderate room temperature. If room is warm, keep bars chilled.
Notes
Feel free to play with add-ins; use your favorite dried fruit, chocolate chips, or nuts. If you don't prefer coconut, omit it. Various nut butters or seed butters can be used instead of peanut butter.
If you enjoyed this recipe, please come back and give it a rating ♡
Nutrition (per serving)
Calories:
220
kcal
|
Carbohydrates:
30.3
g
|
Protein:
4.7
g
|
Fat:
10.6
g
|
Saturated Fat:
3.4
g
|
Sodium:
110.5
mg
|
Fiber:
1.6
g
|
Sugar:
19.4
g
If you like breakfast or snack on the go, you'll appreciate these Chewy Chocolate Chip Granola Bars. Way better than store bought and super easy.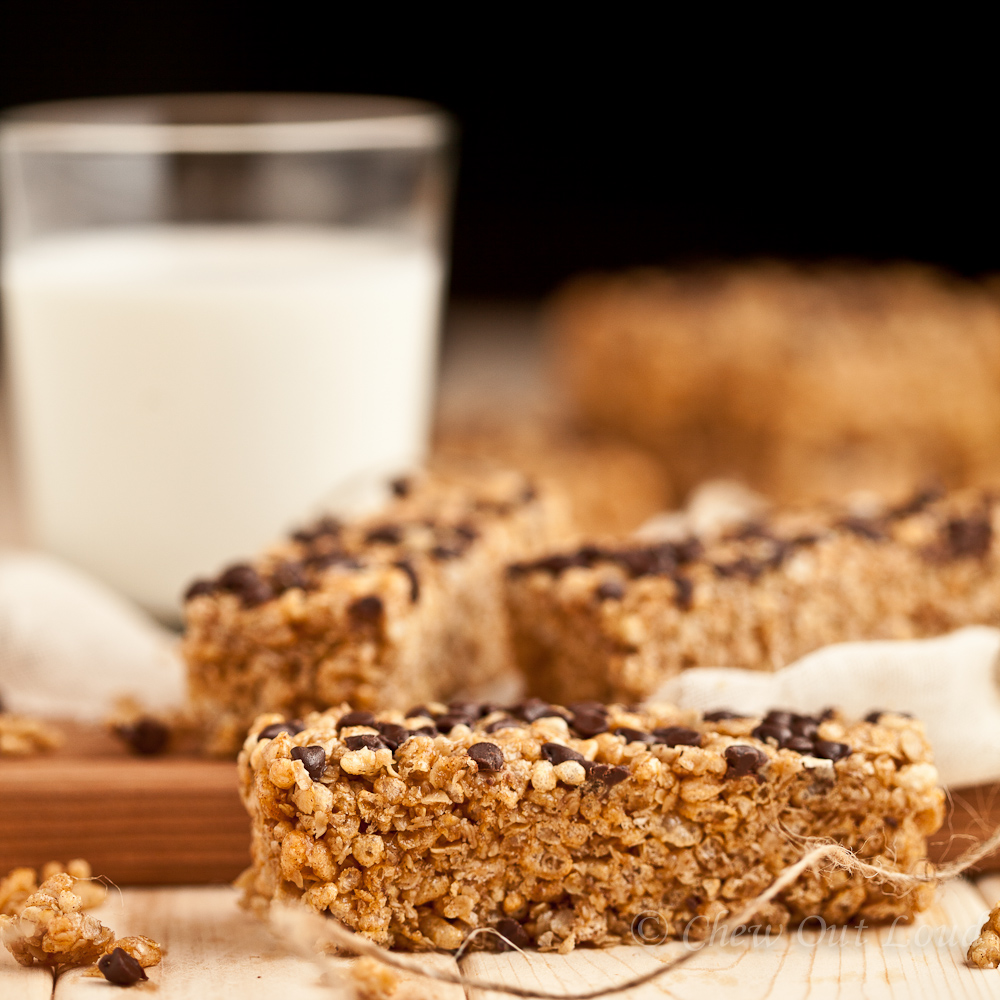 These 5-Ingredient Protein Bars have earned some popularity around this blog. For good reason. They are totally easy, keep very well, and packed with goodness. Perfect protein loader.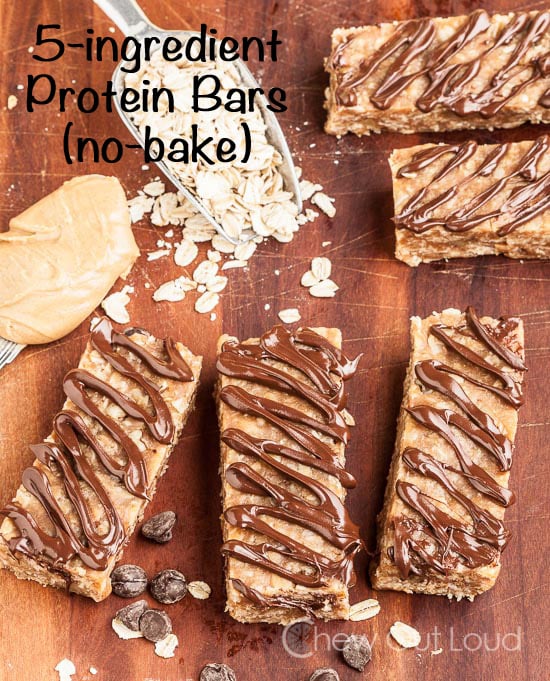 These Peanut Butter Honey Bars made with Cheerios is in regular breakfast rotation around here as well. Way to use up those Cheerios!