Homemade Granola Bars (Gluten-Free)
By Amy Dong
Published May. 20, 2013
Updated Sep. 8, 2023
These homemade granola bars are reminiscent of your favorite chewy chocolate chip granola bars. They're much healthier than store-bought granola bars, and they're super easy to make.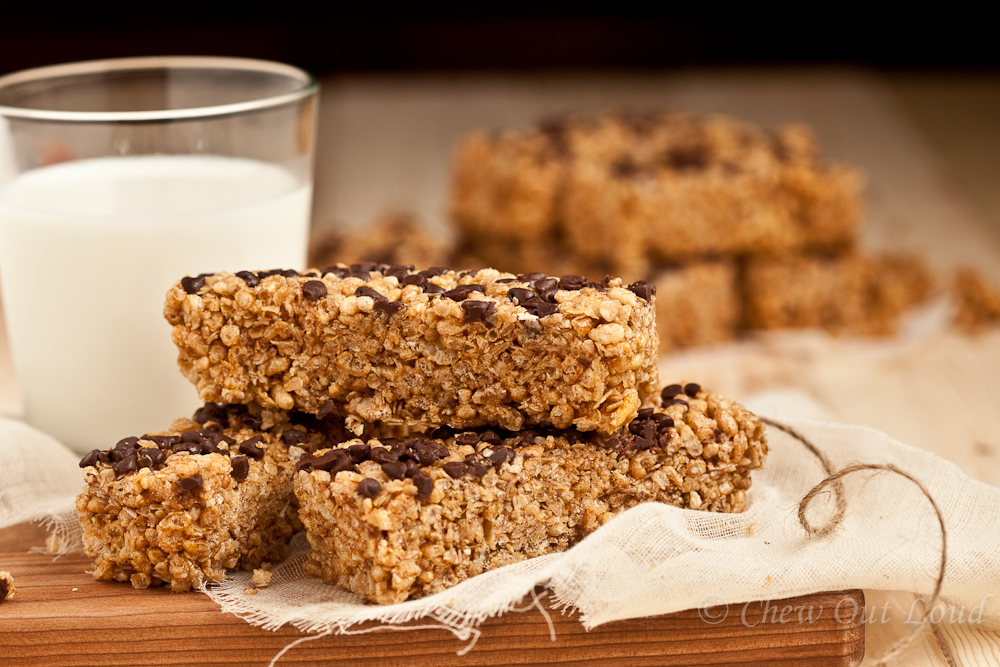 One peek into our pantry reveals our family's obsession with granola bars. Fruit-filled granola bars, nutty granola bars, and the kids' favorite… chewy chocolate chip granola bars. But because I'm uber picky about the ingredients that go into the granola bars I buy, it gets pricey keeping a replete supply on hand.
Granola bars must be one of the best creations of all time. Busy families can attest to their great worth. After all, granola bars are a multi-hat-wearing kind of food. They serve as the perfect breakfast-on-the-go, sans mom guilt because they're packed with good stuff. They are an easy grab for the lunch boxes, after school, after work, or in-between activities.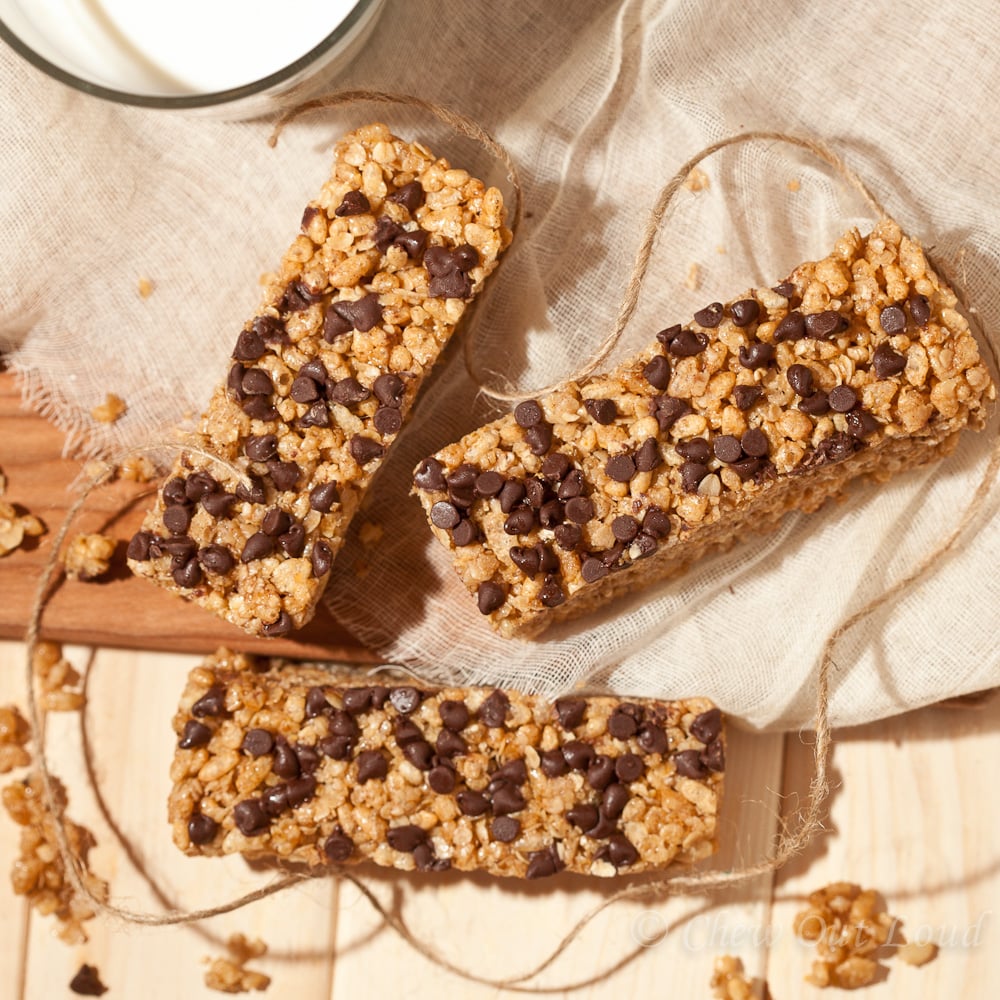 Whenever I can, I love making our own granola bars. We've done all kinds of granola bars, but my kids' ultimate fave are these chewy chocolate chip granola bars. Like the store variety, they are chewy and sweet, but infinitely better because you made them yourself. You know exactly what went into them. No ingredients you can't pronounce. Only the good stuff goes into these yummy granola bars.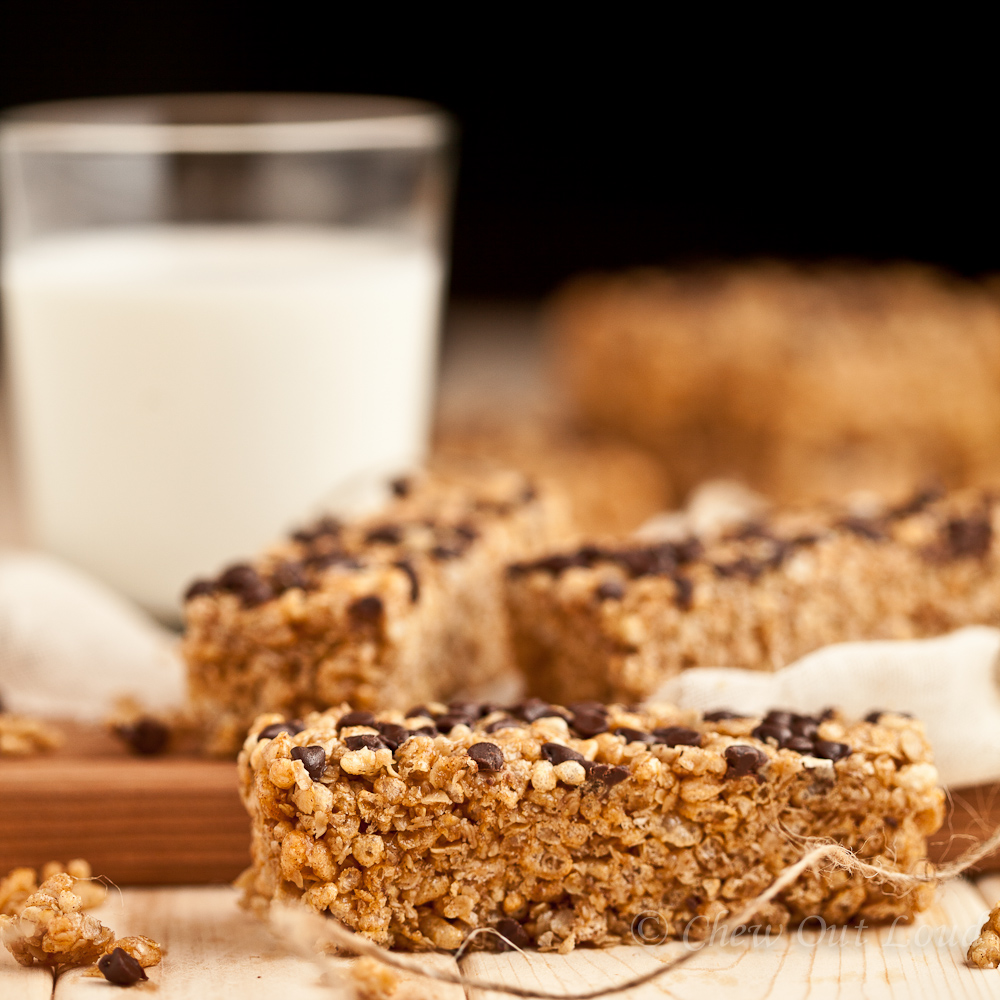 Sweetened with brown sugar and honey, chock full of oats, and tossed with mini chocolate chips. Exactly eight ingredients went into these addictive granola bars. They store well for days, if kept in an airtight container.
Get ready for a quick and satisfying breakfast or snack. You just might need to double the recipe.
Enjoy!
Did you make this?
Please give us a rating and comment below. We love hearing from you!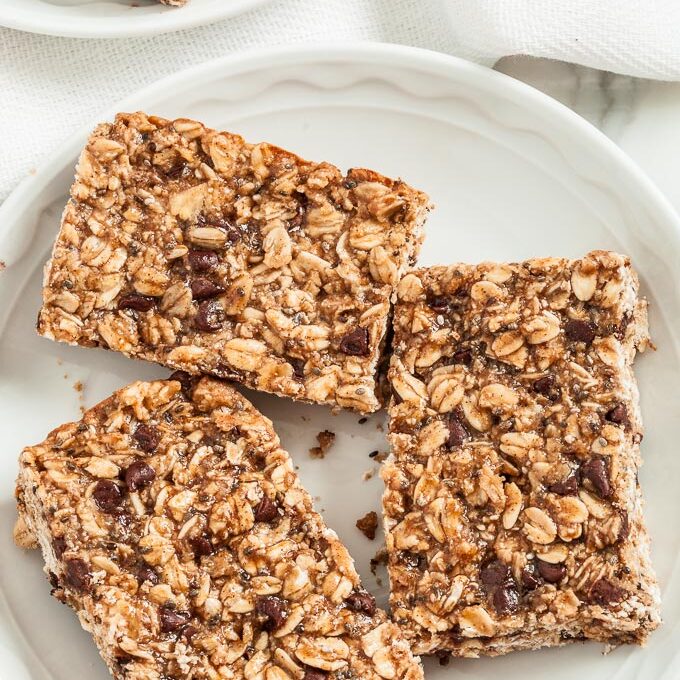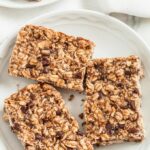 Chewy Chocolate Chip Granola Bars
These homemade granola bars are supremely chewy and have no weird ingredients. They are great for breakfast, snack, or sack lunch treat!
Instructions
Butter an 8×8 baking pan and set aside. In large bowl, combine oats and cereal only.

In a saucepan, melt brown sugar, honey, and butter over medium heat, stirring, until it reaches a low boil. Immediately reduce to simmer, and stir another 2 minutes. Remove from heat, and stir in cinnamon and vanilla extract until fully incorporated.

Carefully pour melted honey mixture over the cereal mixture. Mix until fully incorporated. Press granola mixture into the buttered pan, pressing down to pack the granola tightly and evenly into pan. Sprinkle mini chocolate chips evenly over top of granola, using back of spoon or slightly wet hands. (Mini chips may melt if you try to fully mix into the granola rather than sprinkle on top)

Allow granola to fully cool before cutting. Store in airtight container.

Note: If your granola bars break apart, it may help to chill the bars prior to cutting.
Nutrition (per serving)
Calories:
147
kcal
|
Carbohydrates:
21
g
|
Protein:
2
g
|
Fat:
6
g
|
Saturated Fat:
4
g
|
Polyunsaturated Fat:
0.5
g
|
Monounsaturated Fat:
1
g
|
Trans Fat:
0.2
g
|
Cholesterol:
11
mg
|
Sodium:
37
mg
|
Potassium:
62
mg
|
Fiber:
2
g
|
Sugar:
10
g
|
Vitamin A:
136
IU
|
Vitamin C:
0.2
mg
|
Calcium:
24
mg
|
Iron:
1
mg