Garlic Soy Braised Chicken
Braising is one of the easiest ways to infuse delicious flavor into food. Perfect for days you don't want to turn on the oven or fuss with the grill. This Garlic Soy Braised Chicken is tender, bathed in a savory sauce, and perfect over a bed of rice.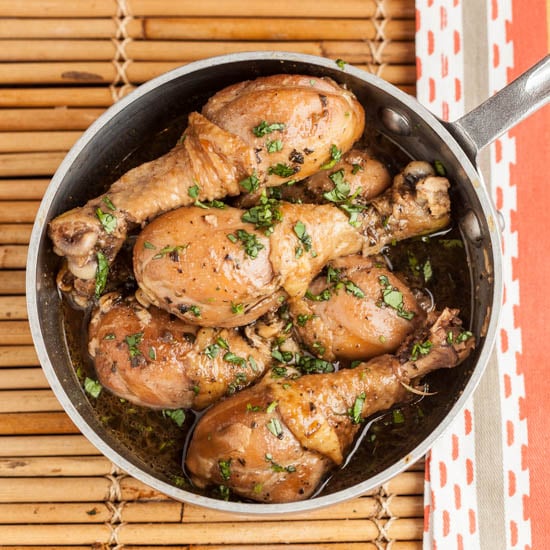 Many of us find that there's at least one certain dish that takes us back to childhood. Even if it's just good old Mac and Cheese like this uber creamy one, it's a recipe that reminds us of favorite meals frequently put on the table.
My folks are both well seasoned cooks in the kitchen. Growing up, it was Dad who cooked up a storm most nights. And because my parents' cooking philosophy consists of pinches and dashes rather than actual measurements, I could only learn by watching and memorizing.
Dad had his specialty favorite dishes that were mostly homestyle Chinese variations of braised meats and all flavors of stir fried tofu. Nothing fancy, nothing complicated, but intensely flavorful and savory. Like this Garlic Soy Braised Chicken…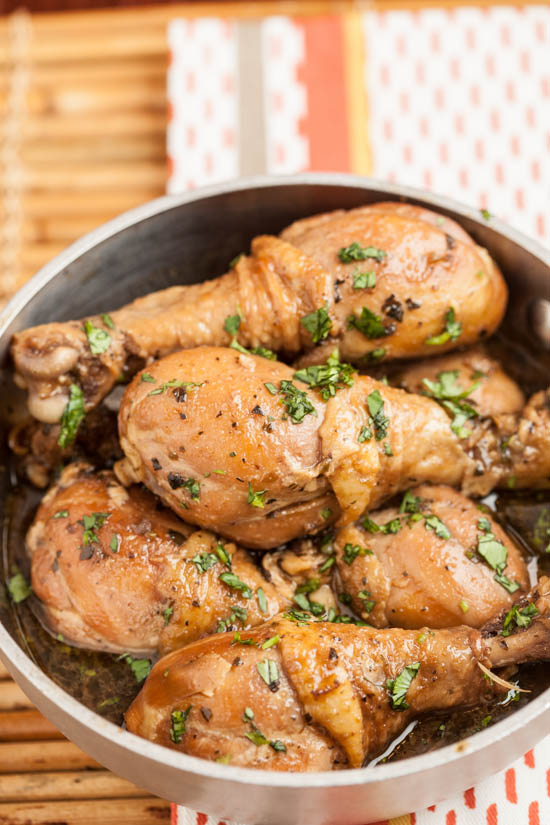 Whenever I braise meats, it takes me back to my roots with a smile. Thankfully, I won't be leaving you with just pinches and dashes. I actually measured stuff out for you guys 🙂
This Garlic Soy Braised Chicken is amazingly simple to make. Once all the ingredients get piled into one pot, just turn on the stove and walk away. The aroma one hour later will bring you back hungry, guaranteed.
If you've never used whole dried star anise, this recipe calls for it. The anise is what gives the dish such aromatic goodness. Don't try to go without it. Star anise is found in most all Asian grocery stores.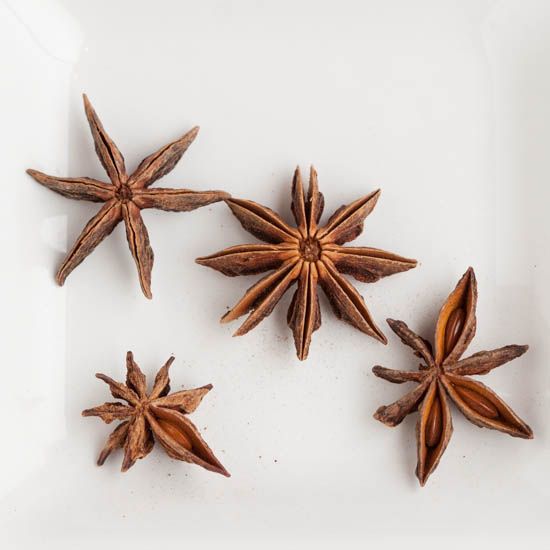 When I make this Garlic Soy Braised Chicken, my boys inhale every single bite of their dinner without my prompting. They devour piece after piece, barely touching anything else but this chicken.
Thanks to braising in a savory sauce, the chicken is full of flavor and extremely tender. Leftovers, if you're lucky enough to have any, is absolutely delish.
Enjoy!
Did you make this?
Please give us a rating and comment below. We love hearing from you!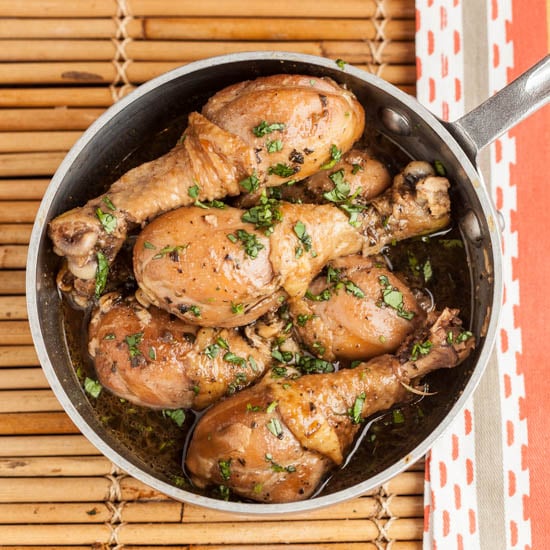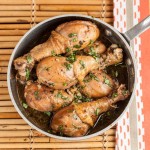 Garlic Soy Braised Chicken
This Garlic Soy Braised Chicken is a healthy, richly flavorful, and easy dinner solution. Perfect over a bed of fluffy rice. Leftovers are wonderful.
Instructions
Combine all ingredients except chicken in a Dutch oven or heavy pot. Stir to incorporate.

Using a fork, poke holes everywhere on all sides of the chicken pieces. Be sure not to skip the towel drying. Add chicken to the pot. Sprinkle a thin layer of table salt lightly over the chicken. Stir to coat chicken in sauce.

Bring to a boil and immediately drop down to medium-low heat. Cover pot and cook for 1 hour, occasionally stirring/turning the chicken with a wooden spatula so that all sides are braised in the sauce evenly.

If desired, garnish with chopped cilantro or green onions. Serve warm.
Nutrition (per serving)
Calories:
496
kcal
|
Carbohydrates:
8
g
|
Protein:
69
g
|
Fat:
16
g
|
Saturated Fat:
4
g
|
Polyunsaturated Fat:
4
g
|
Monounsaturated Fat:
6
g
|
Trans Fat:
0.1
g
|
Cholesterol:
313
mg
|
Sodium:
1772
mg
|
Potassium:
932
mg
|
Fiber:
1
g
|
Sugar:
3
g
|
Vitamin A:
118
IU
|
Vitamin C:
2
mg
|
Calcium:
71
mg
|
Iron:
4
mg
Source: Chew Out Loud
This Asian Sticky Rice is amazing with almost any Asian main dish. We actually just devour it bowl after bowl all by itself. It's THAT good.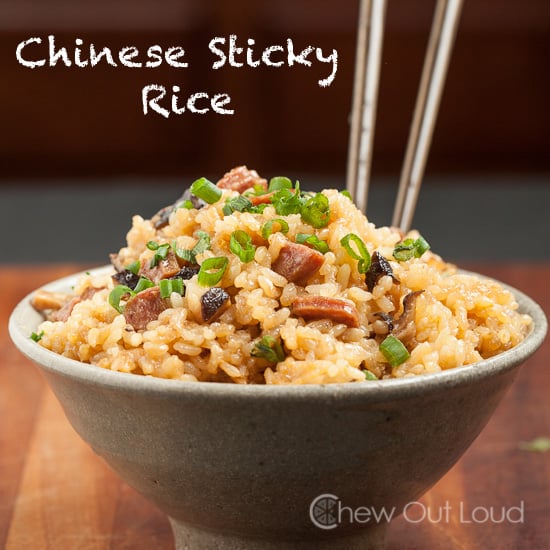 These Asian Honey Chicken Wings with Sriracha are a game-changer. Seriously, you might never go back to "just the normal" wings after these.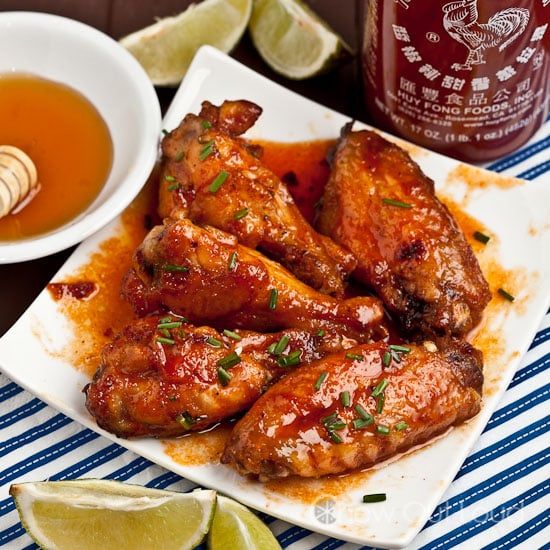 A big plate of this Chicken and Vegetable Lo Mein really hits the spot, without the greasy take out.