How to Roast Garlic
Learn how to roast garlic in the oven to create a sweet, caramelized, nutty flavor and a smooth, buttery texture. Use it to make the best pasta, pizza, sandwiches, mashed potatoes, and more!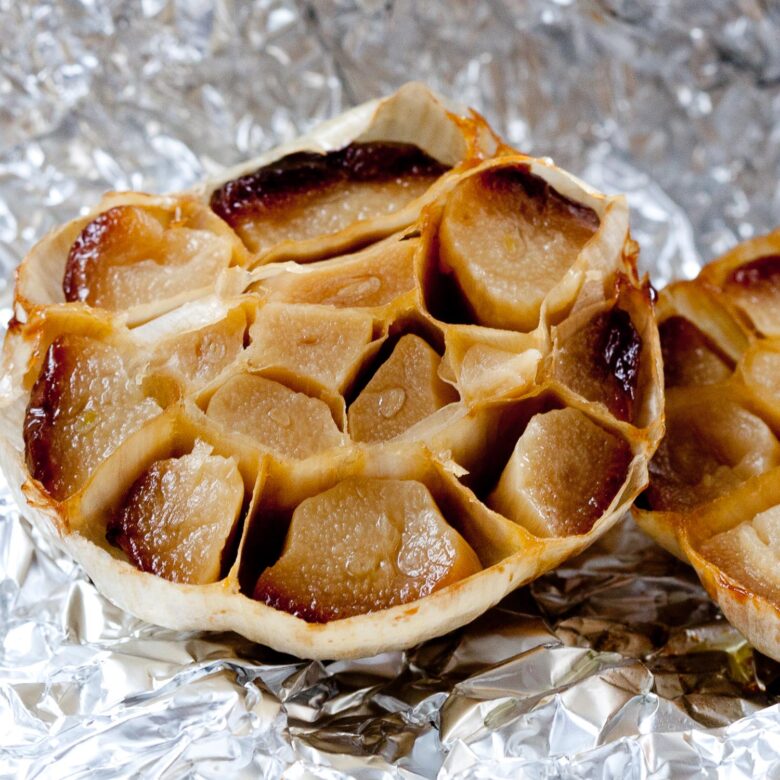 How to Make Roasted Garlic (and Why You Want To)
If you've never learned how to roast garlic cloves in the oven, prepare to be amazed! The simple process transforms the already flavorful herb into something that's truly bursting with flavor. Placed in the oven, the natural sugars in garlic concentrate and caramelize. As a result, the once crisp cloves become buttery, soft, and have a flavor that is sharp, sweet, and pungent all at the same time. That's not the only reason why you should learn how to roast garlic, though. Some benefits of roasting garlic:
Boosts garlic's natural health benefits.
Makes it easier to digest.
Helps preserve fresh garlic, preventing waste.
Adds depth and flavor to nearly any dish.
Health Benefits of Roasted Garlic
As if its taste wasn't enough of a reason to include it in everything, roasted garlic is also highly nutritious! For example, it's particularly rich in vitamin C, vitamin B6, and manganese. As a result, including it as part of a healthy diet can help:
Boost immunity
Reduce blood pressure
Improve cholesterol levels
Protect against Alzheimer's disease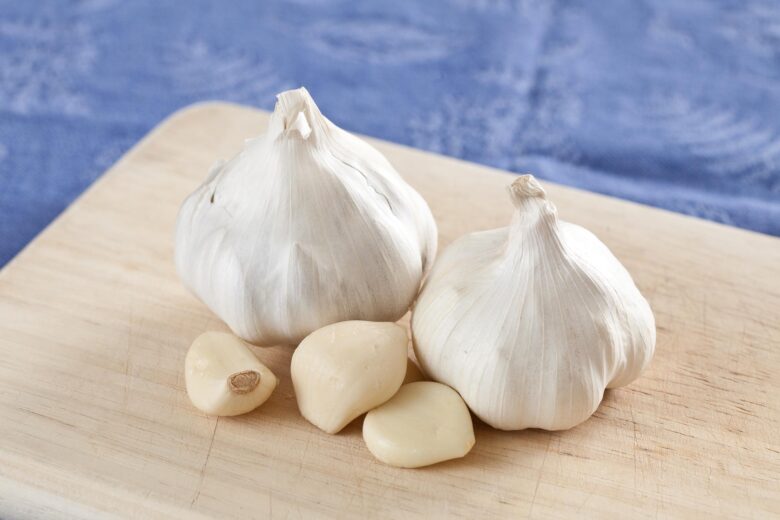 Key Ingredients
The secret to creating the best roasted garlic is using just a few additional ingredients to bring out its natural flavor. Here's what you'll need:
Garlic – You'll want to use a whole head, and keep it unpeeled.
Olive oil – A good drizzle is used to coat the garlic, helping it caramelize and become tender and sweet while also adding a dose of healthy fats.
Salt – Just a sprinkle is all you need to enhance the garlic taste.
How to Roast Garlic in the Oven
Once you learn how to make roasted garlic, it'll be hard not to include it in everything! Just follow the steps below, and it will be ready to use in no time.
Slice. Using a sharp knife, slice the garlic in half horizontally to expose the cloves.
Season. Drizzle olive oil on top of the cloves, coating them generously, and add a sprinkle of salt.
Wrap. Close both sides of the garlic back together, and wrap the entire head tightly with aluminum foil.
Roast. Place the garlic in an oven-proof pan, and let it roast in the oven until the cloves are soft and fragrant.
Squeeze. Set the roasted garlic aside to cool. Then, carefully squeeze the cloves out of their peel, and put them to use!
Alternative Methods for How to Roast Garlic
Roast Peeled Garlic. We prefer to roast unpeeled garlic because it's much easier to remove the cloves after they've been cooked, and keeping then in the peel retains moisture. However, if you prefer to peel them first, you can arrange the cloves on an aluminum-foil-lined baking sheet, toss them with oil and salt, and roast them tightly covered for 30-40 minutes, stirring frequently.
Use the Air Fryer. Prepare the garlic as instructed in the recipe card below. Then, instead of roasting it in the oven, place it in an air fryer at 350F for about 30 minutes.
Make Roasted Garlic in the Microwave. Slice and season the garlic as instructed. Then, place it in a shallow dish with a few tablespoons of water, cover, and microwave at 40% power for about 5 minutes or until the cloves are soft.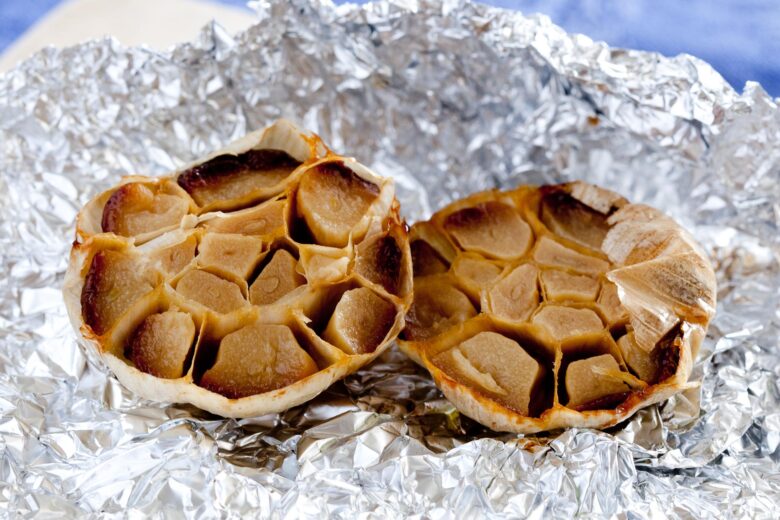 How to Store
Don't worry if you don't use the entire head of roasted garlic right away. Leftovers can easily be stored! For the best results, we recommend removing the cloves from their peel and submerging them in olive oil in an airtight container.
Refrigerator: Wrapped up in foil or placed in an airtight container, cloves kept in the peel will stay fresh in the fridge for 2-3 days. Cloves submerged and stored in oil will last for up to 2 weeks.
Freezer: Placed in a freezer-safe container or sealable bag, roasted garlic can be frozen for 2-3 months. For easy use, we like to mash our cloves and transfer them to an ice cube tray. Then, all you have to do is pop out a cube or two when you're ready to cook.
Ways to Use Roasted Garlic
There's a plethora of recipes that can be greatly improved with the addition of roasted garlic. Here are some of our favorite ways to use roasted garlic:
Mix it into Dips
Use it in Potato Dishes
Use it on Breads
Stir it into Soups and Sides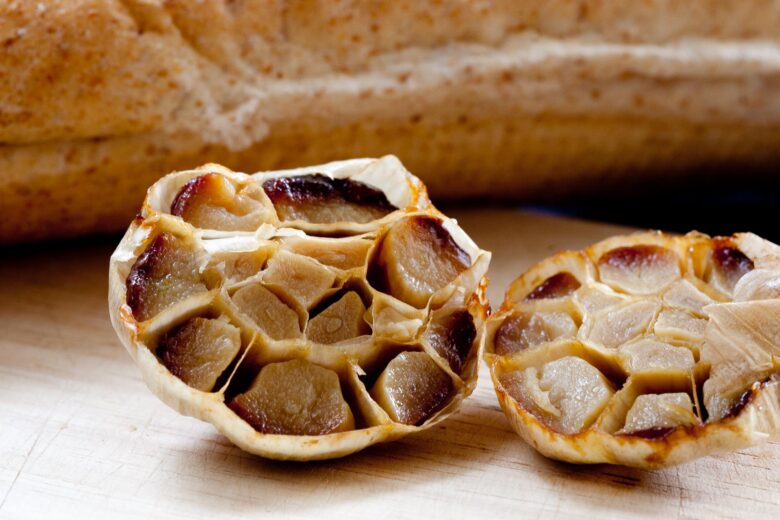 Common Questions About How to Roast Garlic
Do I have to use foil?
No, you could replace the foil with parchment paper. Just be sure to wrap the ends with twine to create a seal. Or, place the garlic head in a muffin tin, and place a second muffin tin on top to cover it up.
Is roasted garlic still healthy?
Yes. In fact, roasting garlic makes it easier to digest, meaning it may be even more beneficial than its raw counterpart.
Why is my roasted garlic bitter?
Garlic becomes bitter when it is overcooked. To prevent this from happening, keep a close eye on it in the oven, and remove it as soon as the cloves become caramelized and fragrant.
---
More Ways to Use Garlic
---
---
Did you make this?
Please give us a rating and comment below. We love hearing from you!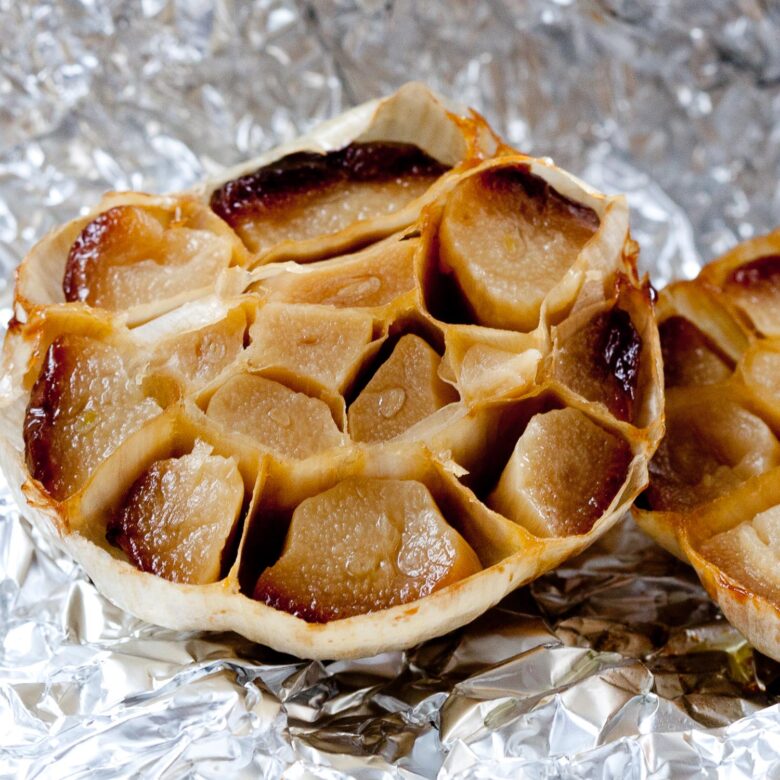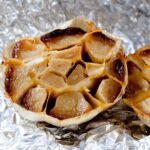 How to Roast Garlic
Learn how to roast garlic in the oven to create a sweet, caramelized, nutty flavor and a smooth, buttery texture!
Ingredients
1

whole head garlic,

unpeeled

Olive oil,

for drizzling
Instructions
Preheat the oven or toaster oven to 400F.

Using a sharp knife, slice whole garlic in half horizontally, straight across the middle to expose the cloves. Place each half on a large piece of foil, cut side up.

Drizzle oil generously over the tops of exposed cloves, allowing oil to seep into the cloves. Sprinkle salt on top of each half.

Place the garlic halves back together. Wrap the garlic tightly with foil, twisting the the top to create a seal and prevent any leaks (like a wrapped Hershey's kiss).

Place the garlic head on an oven-proof dish. Roast for 1 hour or until the garlic is soft and fragrant.

Remove from the oven, and set aside until cool enough to handle. Carefully open the foil, and gently squeeze the cloves out of the peel.
Notes
Choose firm, fresh heads of garlic.

You can roast more than 1 head of garlic at a time. Store extra in an airtight container in the fridge for 2-3 days or submerged in oil for up to 2 weeks until ready to use.
If you enjoyed this recipe, please come back and give it a rating ♡
Nutrition (per serving)
Serving:
1
clove
|
Calories:
13
kcal
|
Carbohydrates:
0.1
g
|
Protein:
0.02
g
|
Fat:
1
g
|
Saturated Fat:
0.2
g
|
Polyunsaturated Fat:
0.1
g
|
Monounsaturated Fat:
1
g
|
Sodium:
0.1
mg
|
Potassium:
1
mg
|
Fiber:
0.01
g
|
Sugar:
0.003
g
|
Vitamin A:
0.03
IU
|
Vitamin C:
0.1
mg
|
Calcium:
1
mg
|
Iron:
0.01
mg