How to Roast Garlic
Garlic is not only an antioxidant powerhouse full of health benefits, but it's the most flavorful and flexible herb that can be added to any savory dish. It's easy to roast garlic. Use this roast garlic recipe in pastas, pizzas, sandwiches, and mashed potatoes.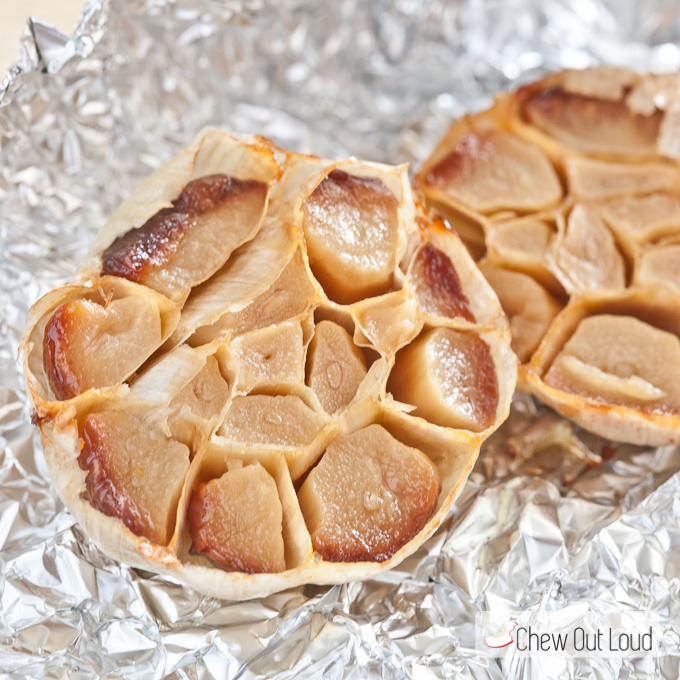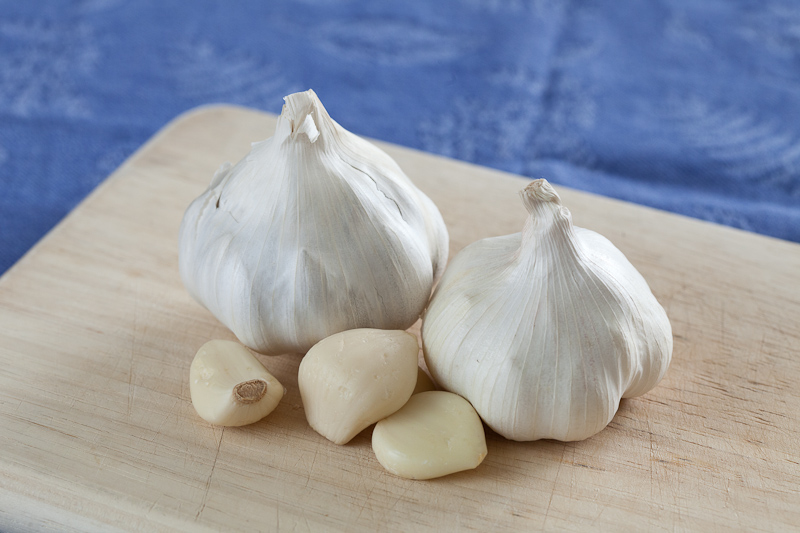 Roasted Garlic – pick fresh, firm bulbs
How to roast Garlic
I don't remember a time in my life when garlic wasn't incorporated into the daily dinner menu in some shape or form. This amazing bulb has been chopped, diced, sautéed, smashed, pureed, and used in every way possible in our family.
Garlic holds spotlight in everything from Garlic Herb Roasted Potatoes to Rosemary Garlic Bread.
My parents have long claimed garlic's powerhouse antioxidant properties have benefited their health tremendously. They've inspired dishes like our Healthy Garlic Szechuan Shrimp and Butter Garlic Mushrooms.

With all the research done on garlic's medicinal virtues, my mom might be right. However, we also just love the taste of garlic as an herb that greatly enhances the flavor of food.
One of my favorite ways to make delicious use of garlic is to roast them whole. Once you've made your own roast garlic, you'll wonder how you've gone this long without it.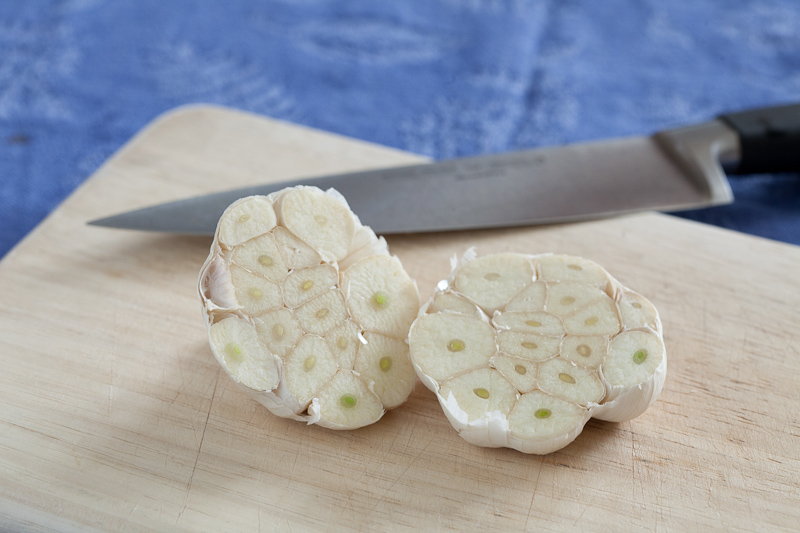 Roasted Garlic – delicious nutrition
When I first started roasting garlic many years ago, it was for the garlic mashed potatoes we made every year during the holidays. Since then, so many reasons to roast my garlic. It is super easy and so versatile!
First, pick out a firm, fresh head of garlic – larger is better, as it will shrink a bit while roasting.
Next, use a good, sharp knife and carefully slice your bulb in half, across the middle. Generously drizzle both halves with good olive oil and sprinkle with salt over each half.
Finally, close the garlic bulb back together, seal up completely in foil, and roast in oven or toaster oven at 400F for 1 hour.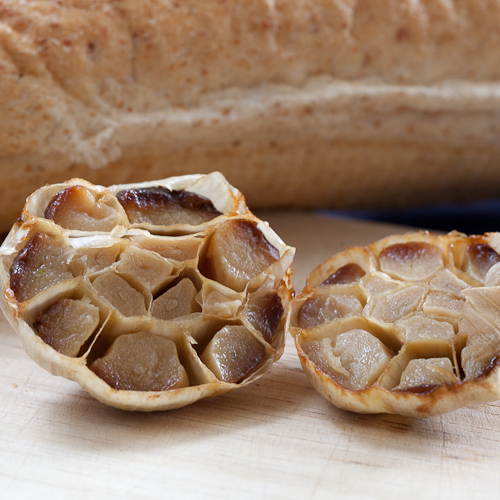 Ways to use Roast Garlic
Not too many good eats are easier than that. Pop out the soft roasted cloves and use in whatever way you like. (Hello, Roasted Garlic Hummus that's better than any store-bought version you've ever tasted.)
I already mentioned using mine in our family favorite roasted garlic mashed potatoes. I also mash up roasted garlic to make roasted garlic mayo and roasted garlic butter. SO good on all kinds of toast and sandwiches.
I love including roasted garlic in pizzas and pastas. Simply stir your desired amount into the pizza or pasta sauce you're using.
Once you've started using roast garlic, you'll undoubtedly come up with creative ideas of how to incorporate them into daily meals. Happy garlic roasting!
Try Roast Greek Chicken with Garlic Potatoes: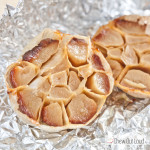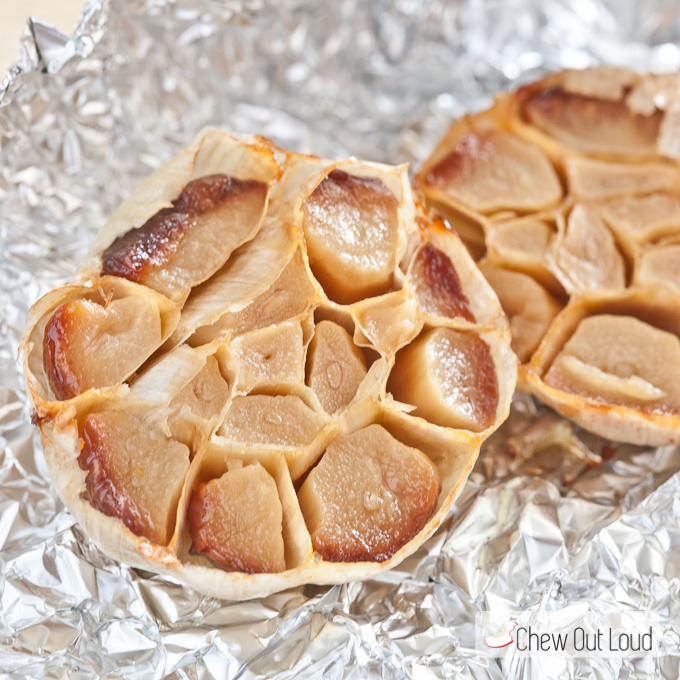 How to Roast Garlic
Ingredients
1

whole head of garlic

,

unpeeled

Olive oil for drizzling
Instructions
Preheat oven or toaster oven to 400F. Slice whole head of garlic in half horizontally, slicing across the cloves so each clove is halved.

Place both halves on a sheet of foil, cut side up. Drizzle olive oil generously on tops so that the oil seeps into the cut cloves. Sprinkle each top with pinch of kosher salt. Close garlic halves back together and quickly seal with foil, twisting foil tightly at the top to ensure it's leak-free.

Place garlic on oven proof pan. Roast 1 hour or until garlic is fully soft and aromatic. Let cool enough to handle. Carefully open foil. Gently squeeze cloves out of their peel and enjoy.
Notes
Choose firm, fresh heads of garlic.
You can roast more than 1 head of garlic at a time. Store extra in airtight container in fridge for several days until ready to use. Roasted garlic can be mixed into your tomato sauce, mayo, or butter sauce and then chilled airtight until ready to use.
Nutrition
Calories:
20
kcal
|
Carbohydrates:
3.7
g
|
Protein:
0.7
g
|
Fat:
0.4
g
|
Saturated Fat:
0.1
g
|
Sodium:
1.9
mg
|
Fiber:
0.2
g
|
Sugar:
0.1
g
Did you make this?
Leave a comment below and tag @chewoutloud on Instagram