Lomo Saltado Peruvian Stir Fry
Lomo Saltado is a scrumptious Peruvian dish that is loaded with big, bold flavors. The genius combination of lean tender beef, garlic, tomatoes, and herbs make this one of the most popular Peruvian dishes. Lomo Saltado is typically served with crispy fries and fluffy rice.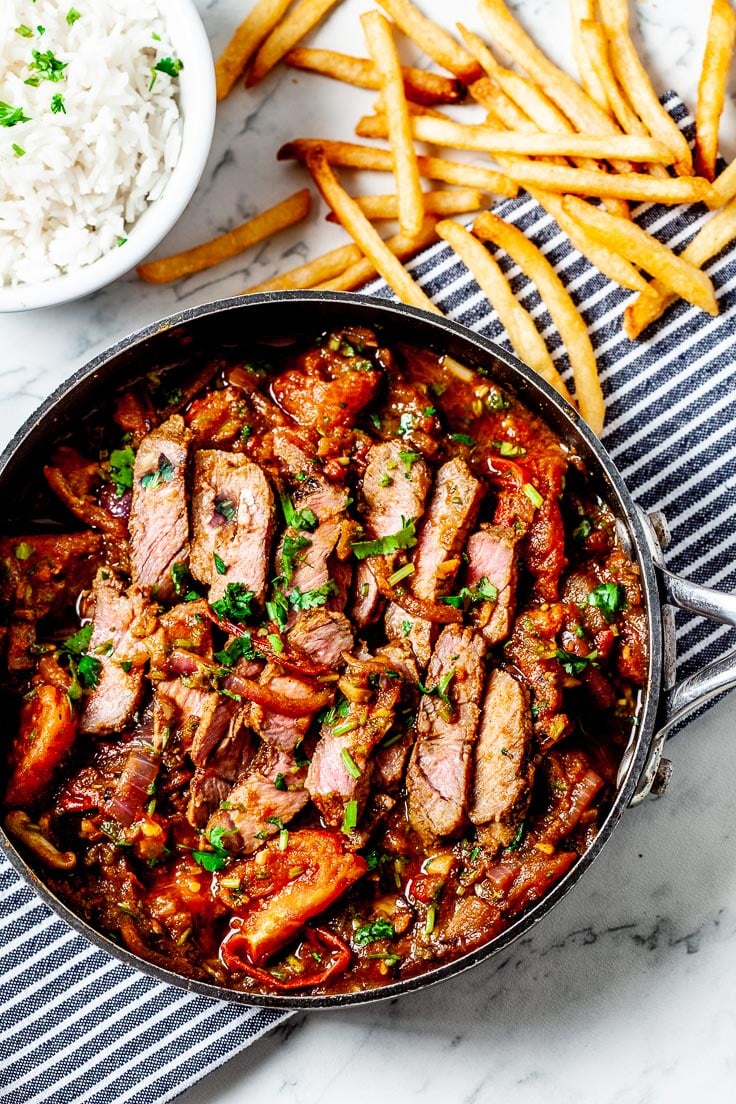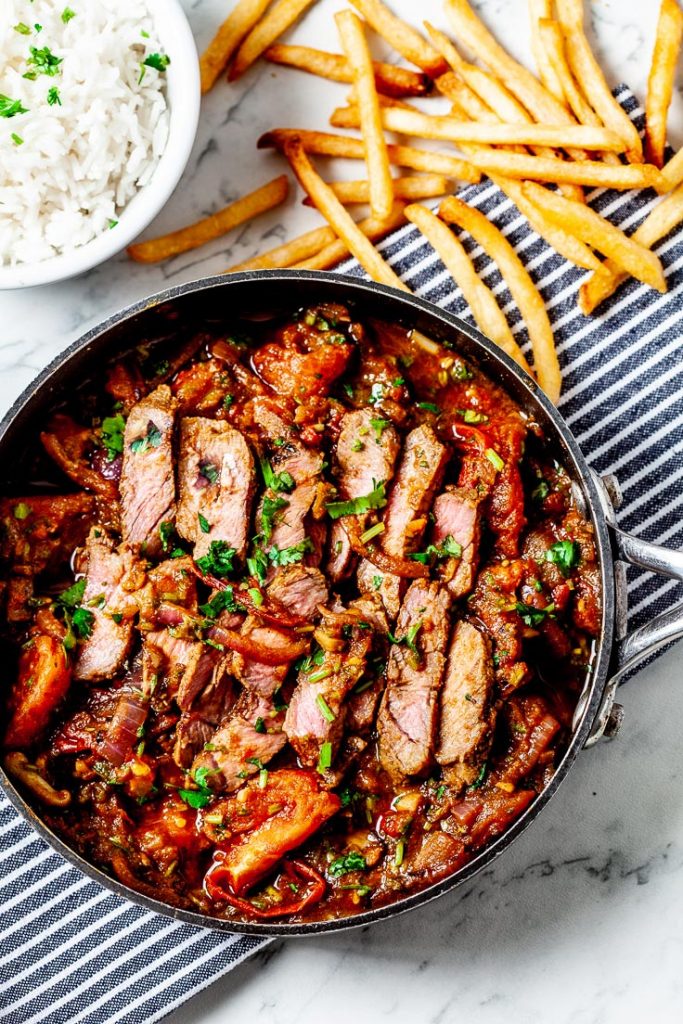 Delicious Lomo Saltado Recipe
During our 35+ years in Los Angeles, Hubby and I fell in love with the plentiful Peruvian eats around the cities of So. Cal.
Our favorite restaurants were owned by Peruvian families who cooked up the most amazing lomo saltado. If you've never tried lomo saltado, now is The Time.
Fair warning: you may forever crave its magical flavors once you've tasted it.
Those of you that are already infatuated with this popular Peruvian stir fry dish…you don't need any persuasion to cook this up immediately.
I lucked out when our good friends got a hold of this traditional lomo saltado recipe after their Peruvian friend cooked it for them. Since I am hunter-gatherer of all magnificent recipes, I obviously begged for the recipe. When I received it, my thrilled self could have jumped up for 30 burpees, possibly without whining.
When we make this lomo saltado dish, it's quickly devoured in one sitting. We've yet to experience leftovers with this one. The hubby, the kids, the friends, the everyone — they all love this explosion of flavors.
Bonus: This Peruvian stir fry also happens to be on my healthy options list.
What Ingredients do I need to make Lomo Saltado?
If you're anything like me, you're a busy bee who has little time for hunting down ingredients. That's why you'll LOVE this lomo saltado recipe; all the ingredients are everyday items you either already have or can easily get at your grocery store.
The only item I didn't have was aji amarillo paste, which is a lovely golden pepper paste that imparts the kick you want in lomo saltado. I ordered my jar of aji amarillo easily online, but if your grocery store has a good ethnic aisle, you can probably find it there.
ingredients for Lomo Saltado Recipe:
Boneless New York or ribeye steak, thinly sliced. Some use sirloin, but we love the NY and ribeye cuts for their tenderness.
Plenty of fresh garlic. Because you can never have enough garlic.
Red onion, thinly sliced.
Ripe roma or plum tomatoes, larger sized. Some choose to seed the tomatoes, but I really like leaving the juices intact, as it melds into the sauce wonderfully.

Aji Amarillo paste

;

depending on the brand you use, the spice level can vary. I wrote 4-6 TB in the recipe card, so you can decide how much kick you want.
Soy sauce. Yes, absolutely soy sauce and plenty of it. You can keep it gluten-free by using Tamari soy sauce, which is naturally gluten free and tastes delicious.
Red wine vinegar provides the tangy flavor of the overall dish.
Ground cumin; again, plenty of it, as it adds tremendous flavor.
Freshly chopped cilantro finishes off the dish and gives it the traditional flavor we know and love.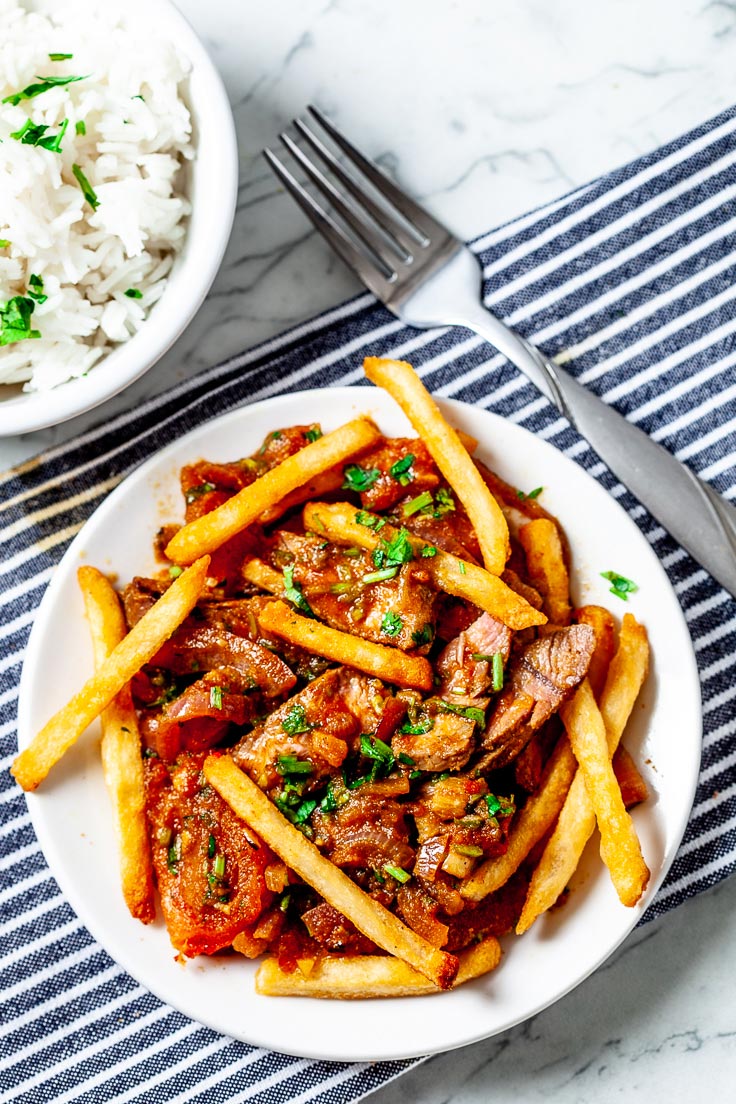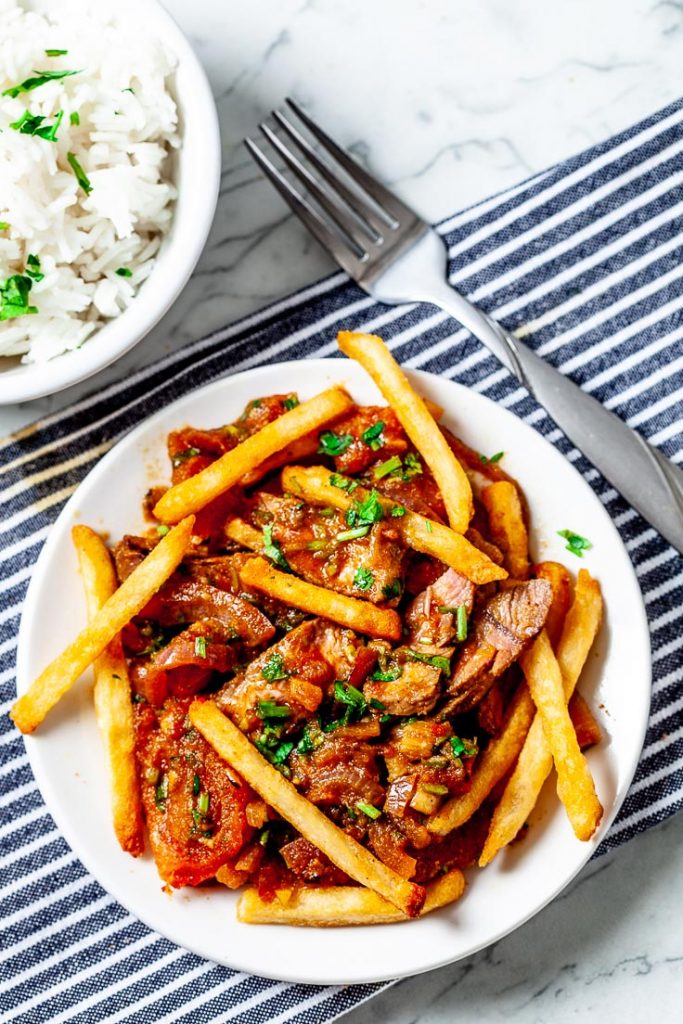 What should we serve lomo saltado with?
It's classic to serve your stir-fry directly over crispy french fries. At many restaurants, you'll get thick cut fries. Often, the fries may be stirred into the dish. You get to decide on thick vs. thin, baked or fried, and stirred in vs. on the side. We serve our saucy lomo saltado over a plate of crispy fries. That way, some of the fries are saucy and some are crispy. We're talking french fries, so you can't go wrong however you do it.
It's also traditional to serve lomo saltado over fluffy rice. We've had it over white rice, basmati rice, fried rice, and next time I'll do brown rice because I'm addicted to Instant Pot Brown Rice. White Jasmine rice is always a winning choice.
Lomo saltado is ultra delicious with drizzled with "Peruvian green sauce." It's a light yet rich, creamy, dreamy sauce that is finger-licking good and goes well on almost everything. I provided the green sauce recipe below, if you want to whip up a batch.
* If you make this recipe or any other Chew Out Loud recipes, be sure to tag us @chewoutloud on Instagram so we can see what you created. We love seeing what you make and giving shout outs 👍🏼 😋
You May Love this Beef Barbacoa, Too:
Did you make this?
Please give us a rating and comment below. We love hearing from you!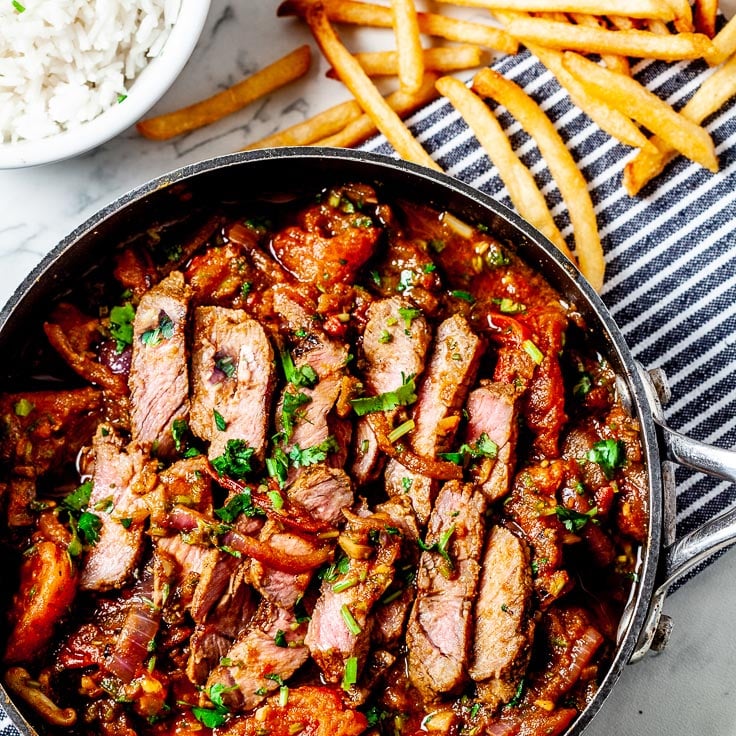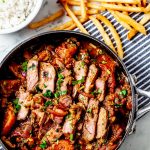 Lomo Saltado Peruvian Stir Fry
Lomo Saltado is a scrumptious Peruvian dish that is loaded with big, bold flavors. The genius combination of lean tender beef, garlic, tomatoes, and herbs make this one of the most popular Peruvian dishes ever. Lomo Saltado is typically served with crispy fries and fluffy rice.
Ingredients
For the Sauce:
4-6

TB

aji amarillo paste,

depending on desired spice level

½

cup

regular strength soy sauce

,

Tamari soy sauce for gluten-free

3

TB

red wine vinegar

4

tsp

ground cumin
For the Stir-Fry:
1.5

lbs

boneless New York or Ribeye steak

,

trimmed

7

fresh garlic cloves

,

chopped

1

red onion

,

thinly sliced

4

large

,

ripe roma or plum tomatoes, sliced into thin wedges

¼

cup

freshly chopped cilantro

Olive oil for cooking
For Serving:
4

cups

freshly fried or baked french fries

Cooked rice

,

fluffy white variety like Jasmine works well
Instructions
Make the Sauce: In a bowl, combine the Sauce ingredients and gently whisk to incorporate well. Divide sauce in half. Set aside.

Use paper towels to pat dry steaks, removing excess moisture. Marinade the beef in half of your prepared sauce. (Reserve the other half of sauce.) Let beef marinade 30 minutes to 1 hour at room temp. When done, remove steaks from marinade, but keep the marinade sauce.

Heat up outdoor grill or indoor grill pan on medium-high heat, with enough oil to thinly coat grill. Once oil is hot, grill steaks to medium done. Let steaks rest 5 minutes on cutting board; slice thinly and set aside.

In a large, deep skillet, add 3 TB olive oil. Heat on medium-high until oil is hot. Add onion and garlic, stirring for 2-3 minutes until softened and somewhat browned. Add the marinade sauce and the remaining reserved sauce (use all the sauce there is.) Stir to coat well. Add tomatoes with juices and stir 2 more minutes until heated through and softened. The mixture should be gently bubbling at this point.

Add the grilled beef slices to the pan, gently stirring just until beef is warmed through. Sprinkle in the cilantro. Serve immediately over freshly cooked fries and rice.
Notes
For Optional Creamy Green Sauce (make-ahead):
1 cup fresh cilantro, packed
1–2 medium jalapeños, seeds carefully removed and coarsely chopped
2 fresh garlic cloves, chopped
1 tablespoon extra-virgin olive oil
2 1/2 teaspoons fresh lime juice
1/4 teaspoon kosher salt
1/3 cup real mayonnaise
In a blender, purée cilantro, jalapeños, garlic, oil, lime juice, and salt until well incorporated. Add mayonnaise and blend just enough to combine well. Use rubber spatula to transfer to a container with cover. Chill until ready to use.
Nutrition (per serving)
Calories:
325
kcal
|
Carbohydrates:
70.6
g
|
Protein:
15
g
|
Fat:
1.6
g
|
Saturated Fat:
0.2
g
|
Sodium:
621
mg
|
Fiber:
7
g
|
Sugar:
11.8
g
Kitchen Stuff We Love:
Way Better than Takeout, in 30 minutes or less:
Korean Beef Bowl Recipe (Gluten-free, Dairy-free)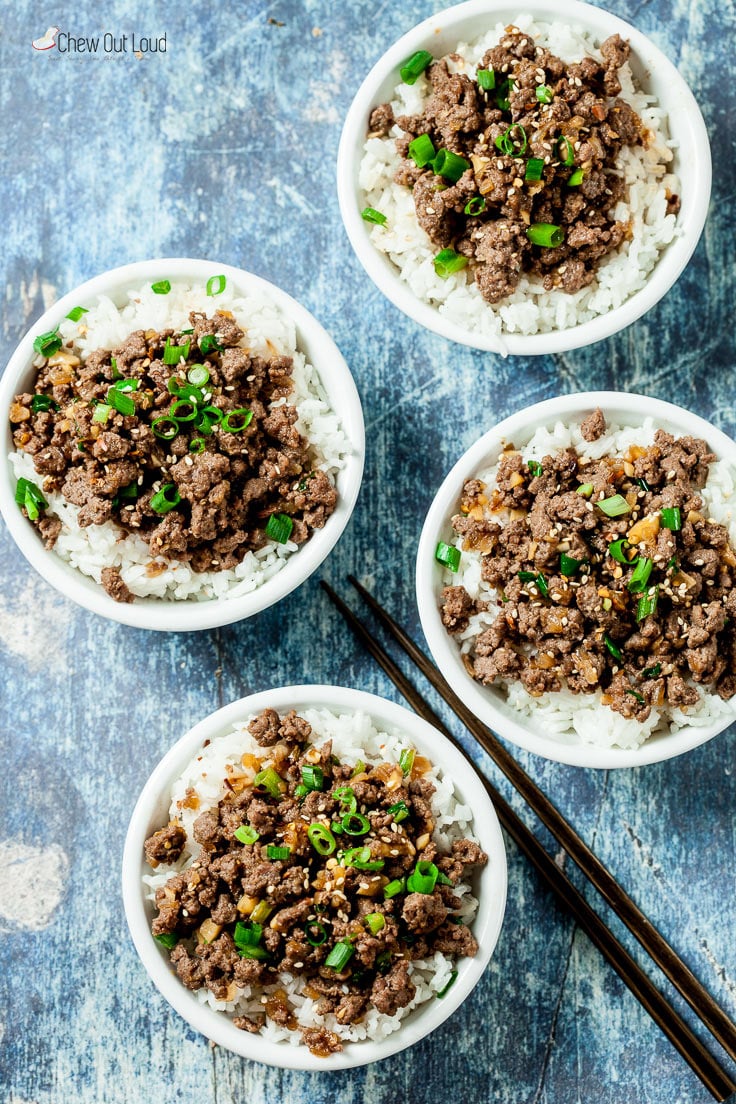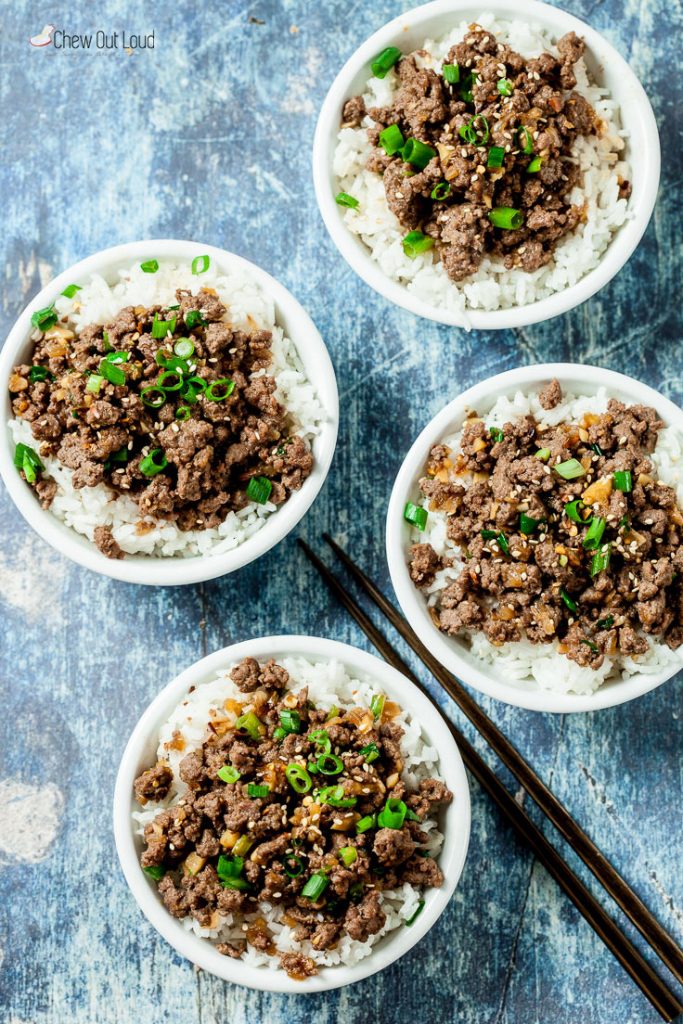 Thai Basil Chicken with Peppers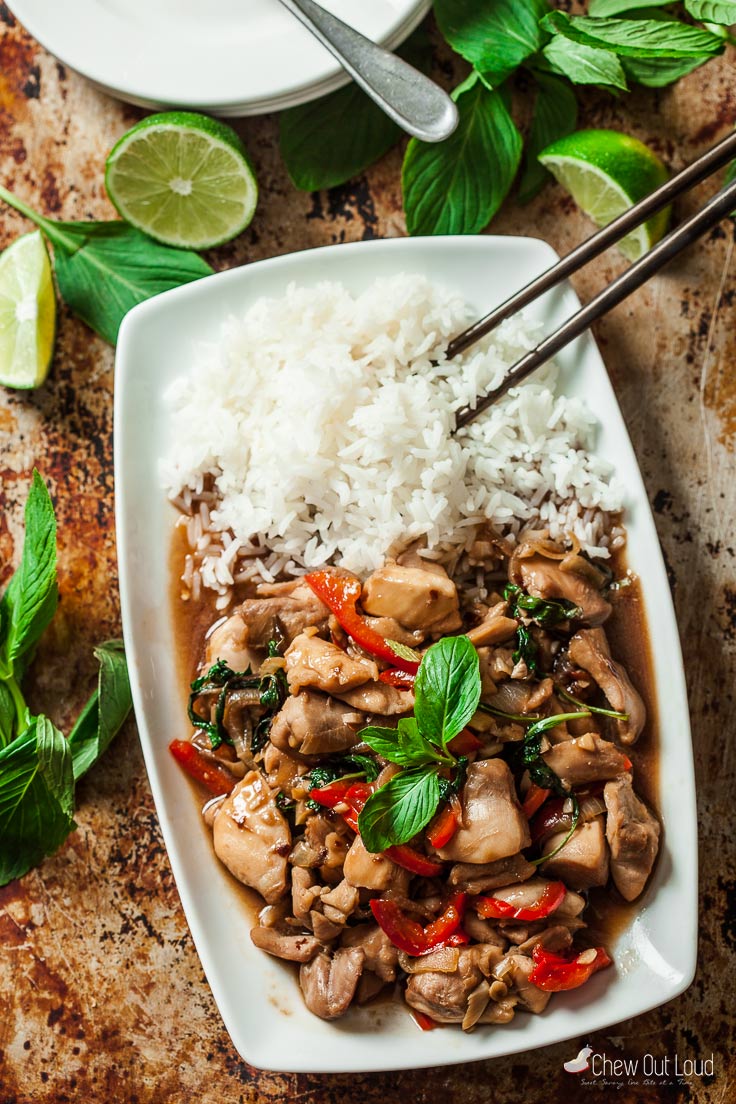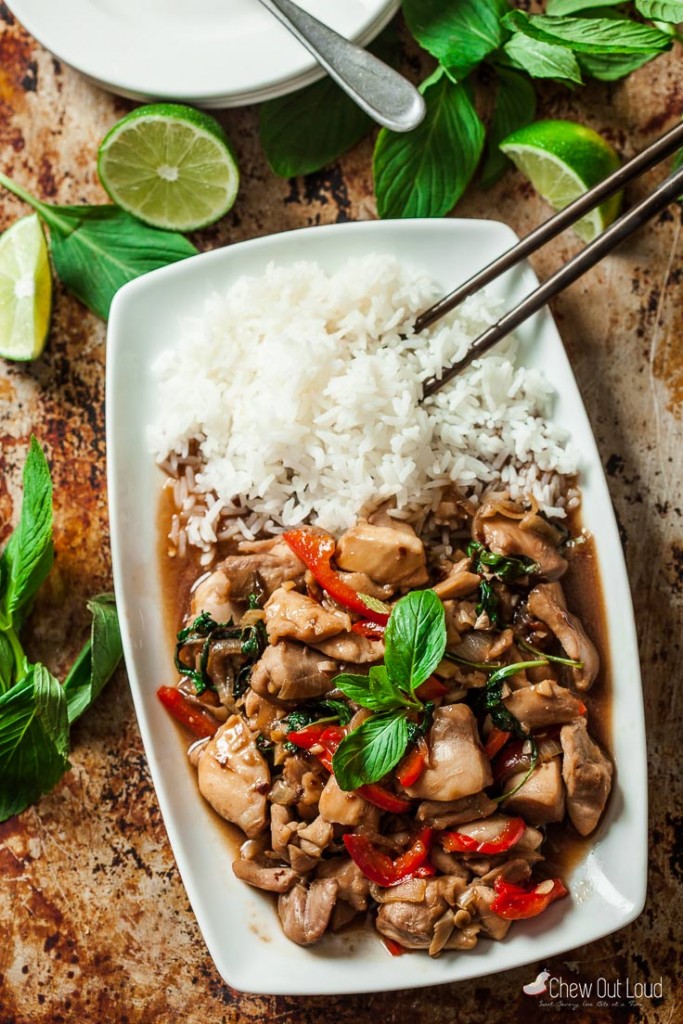 P.F. Chang Mongolian Beef Copycat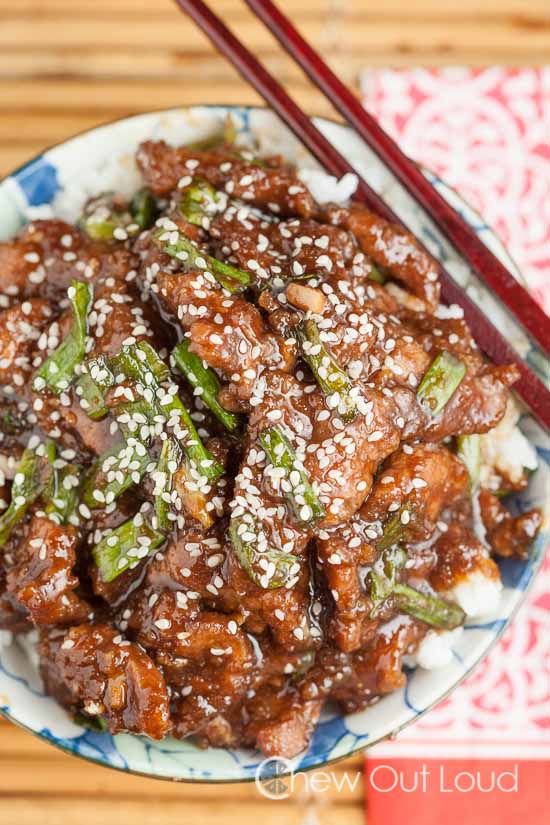 Fast Healthy Kung Pao Chicken Recipe