30-Minute Beef and Broccoli Stir Fry
This Beef and Broccoli Stir Fry is tender, flavorful, and healthy. This family favorite is perfect for busy weeknights.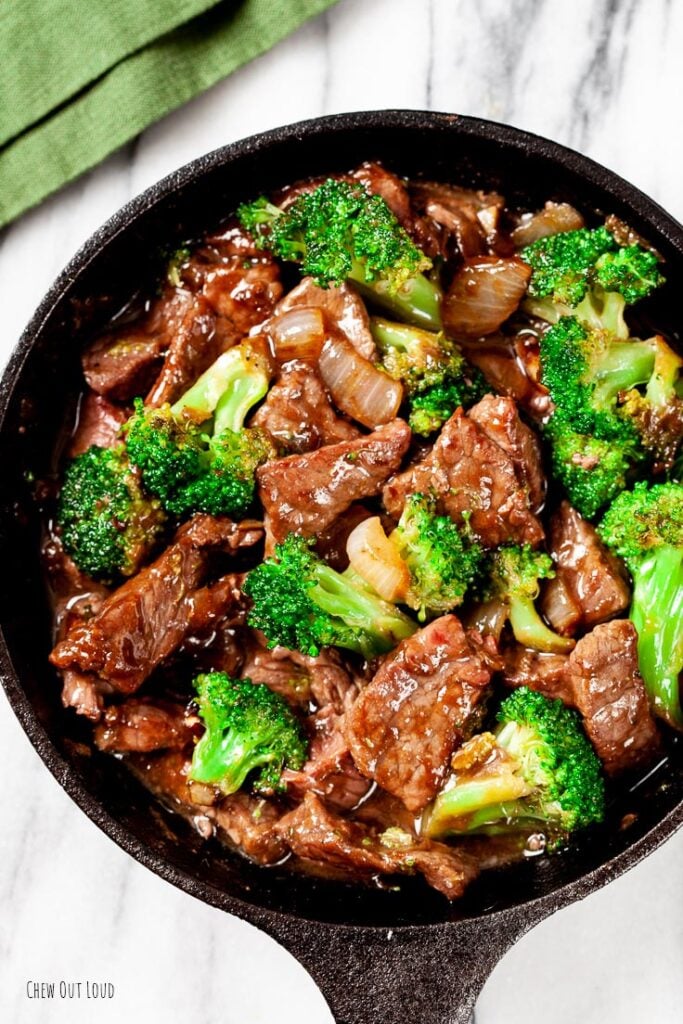 Beef and Broccoli Stir Fry is Better Than Takeout
Forget the days of greasy Chinese takeout. This is not even close to that, fellow food lovers. Rather, this beef and broccoli stir fry recipe belongs in our Way Better Than Takeout collection of recipes that are easy, healthy-ish, and beyond delicious.
This beef and broccoli recipe has everything you want and nothing you don't: tender slices of beef, fresh green broccoli florets, and aromatic seasonings (garlic!) will have your eaters piling it up.
What comes out of your pan is a savory, mouthwatering dish that's healthy and boldly flavorful. Whether you choose to serve your beef and broccoli over fluffy brown rice or with a side of lo mein noodles, it's a dinner winner every time.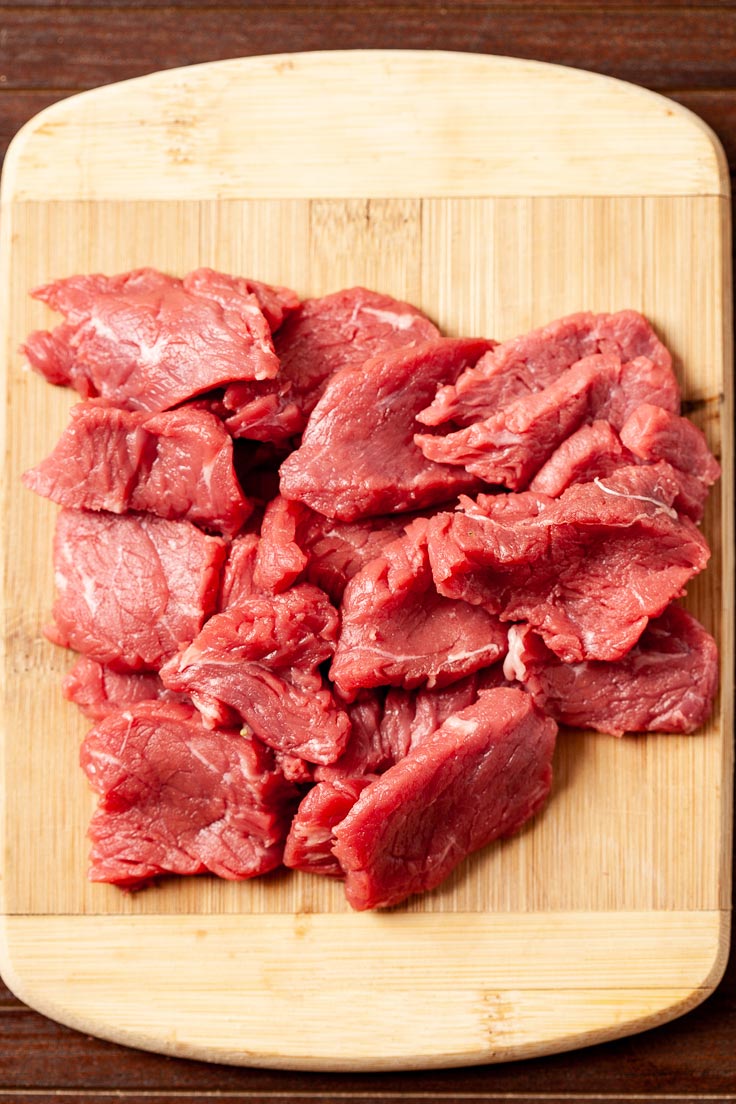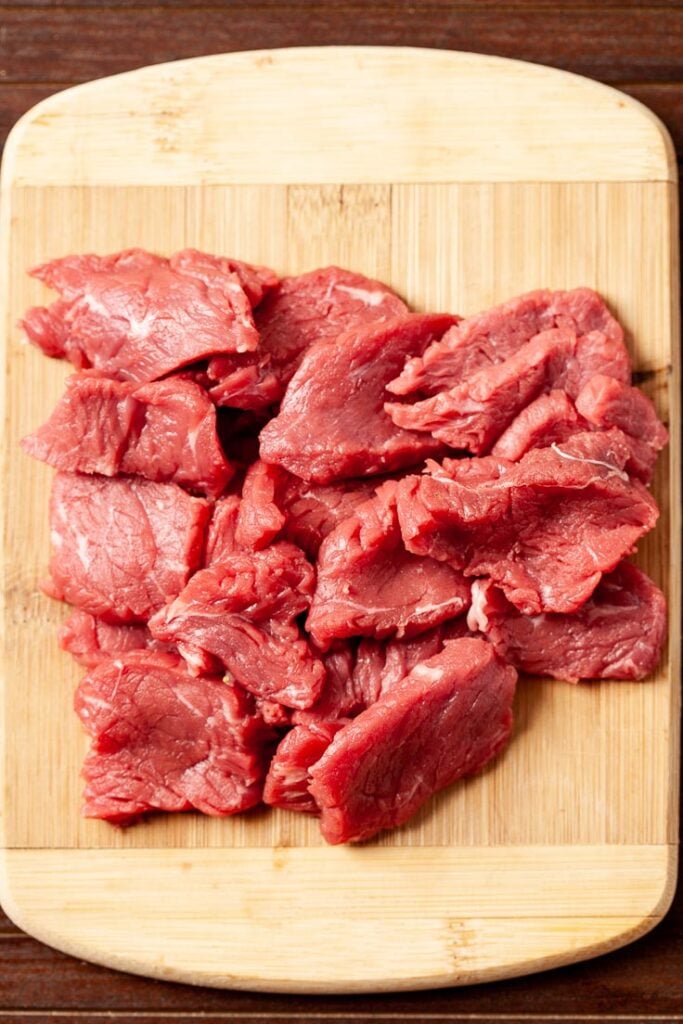 Basic Pantry Ingredients
A great beef and broccoli stir fry starts with the sauce. Though the sauce won't mingle with the stir fry in until the end of cook time, it's what gives this iconic dish its irresistible flavors.
The sauce for this beef and broccoli recipe includes Tamari soy sauce, which is a much purer soy sauce with no fillers and is naturally gluten-free.
Japanese rice wine, often labeled mirin, is a common condiment used in Asian cuisine. The variety you'll find in most major grocery stores contains very low to no amounts of alcohol and provides a bright touch to the food it seasons.
Asian seasoned rice vinegar is now readily found in most major grocery stores and lends a brilliant tangy sweetness to your dishes. It's a healthy option as a base in salad dressings.
Oyster sauce brings umami succulence; it's that savory flavor which makes everything that much more gratifying. You may start hoarding bottles of it once you try it.
The stir fry itself involves lean sirloin steak, which becomes fabulously tender when sliced as thinly as possible, across the grain. Tip: a good knife goes a long way.
Fresh broccoli florets bring crunch, color, and texture into the dish. Garlic and onion are staples as aromatic seasonings, and we aren't shy with them.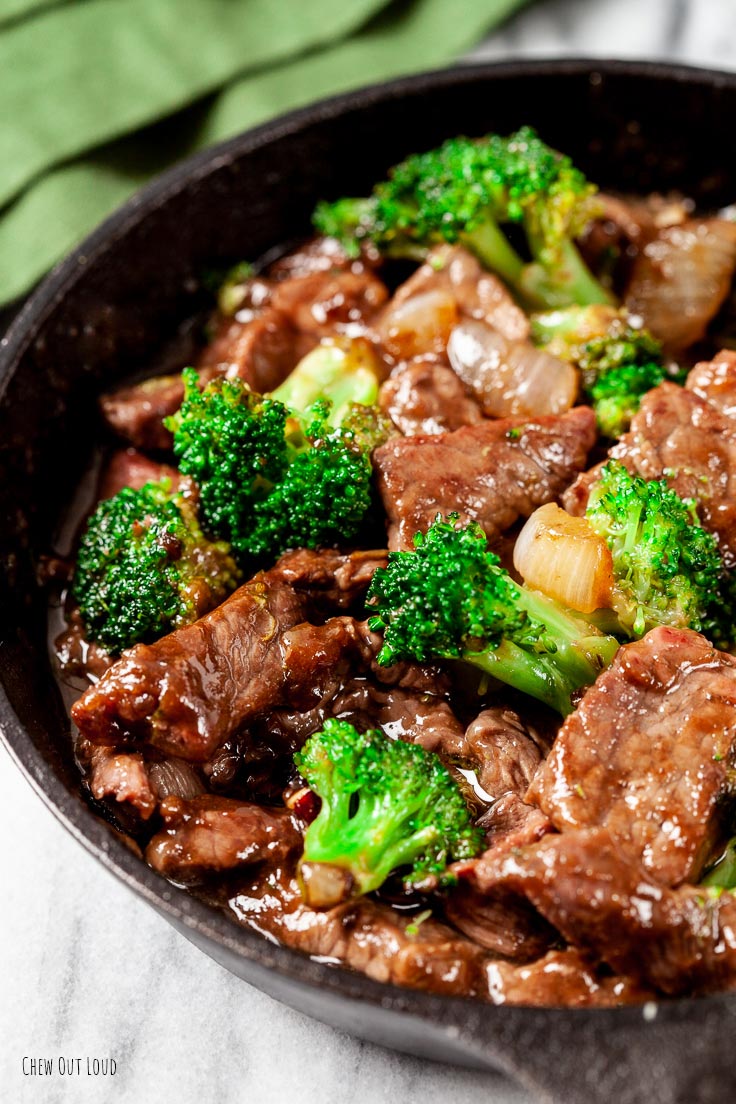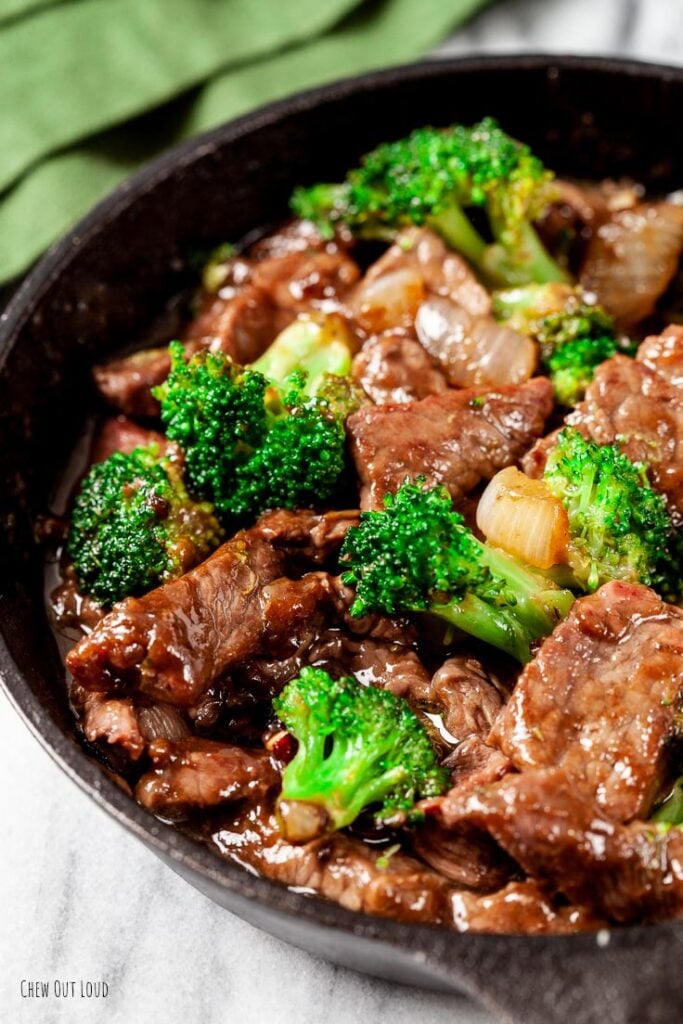 Pro Tips for Your Best Beef and Broccoli Stir fry
To ensure the sirloin steak cooks up lusciously tender, slice it as thinly as you can, across the grain.
If you'd like some char to your broccoli, let it brown over in the pan without stirring too much. Once the underside is somewhat browned to your liking, flip and let the other side brown. If you prefer more of a crispy crunch, cook the broccoli for less time.
It's essential to ensure that your cornstarch is fully dissolved when you mix the sauce together at room temp, prior to adding it to the pan. If there are any bits of undissolved cornstarch that ends up in the pan, it will cook into gummy lumps. Not appetizing.
Serve your awesome beef and broccoli stir fry with this quick and healthy Instant Pot Brown Rice.
You May Love This Thai Basil Chicken, Too: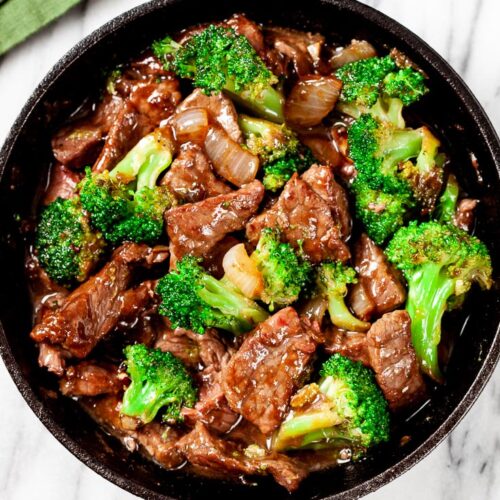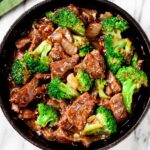 30-Minute Beef and Broccoli Stir Fry
This Beef and Broccoli Stir Fry is tender, flavorful, and healthy. This family favorite is perfect for busy weeknights.
Ingredients
For the Stir Fry:
5

TB

olive oil,

divided

6

cloves

fresh garlic,

chopped

1

small onion,

chopped

3

cups

fresh broccoli florets

1 – 1.5

lb

sirloin steak,

sliced across the grain into very thin, bite-sized pieces

Optional: 1/4-1/2 tsp crushed red pepper flakes
Instructions
Make the Sauce: In a bowl, combine all Sauce ingredients. Use hand whisk to be sure cornstarch is fully dissolved into the sauce mixture (any bit of undissolved cornstarch will cause gummy lumps in dish.) Set sauce aside.

Aromatics: In a large, deep pan, add 3 TB olive oil over medium-high heat until oil is hot. Add garlic and onion, stirring 2 minutes until fragrant and translucent.

Cook: Add broccoli florets, cooking about 2 minutes or just until just tender. (Note: If you prefer a bit of char, let florets brown and flip only occasionally, without stirring too much.) Transfer vegetable mixture into a dish and set aside.

Beef: Add 2 TB olive oil into the now-empty pan, over medium high heat. Meanwhile, pat-dry all pieces of sliced sirloin steak to remove any excess moisture. Once oil is hot, add beef in a single layer in to the pan. Let beef brown, uninterrupted, for 3 minutes for bottom to brown. Once bottom of beef slices are browned, give it a good stir.

Combine: Add back the cooked broccoli/garlic mixture and the sauce you prepared. Stir to incorporate well and continue to cook for another minute. Taste and add red pepper flakes, if desired. Remove from heat and serve with fluffy rice or noodles.
Notes
Tamari soy sauce, mirin, seasoned rice vinegar, and oyster sauce are usually found in the Asian aisles of most major grocery stores these days. You can use low-sodium soy sauce instead of Tamari, but note that Tamari typically has a much purer and cleaner flavor due to containing no fillers.
If you enjoyed this recipe, please come back and give it a rating ♡
Nutrition
Calories:
364
kcal
|
Carbohydrates:
8.2
g
|
Protein:
19.7
g
|
Fat:
28.4
g
|
Saturated Fat:
4.8
g
|
Cholesterol:
52.4
mg
|
Sodium:
925
mg
|
Fiber:
1.8
g
|
Sugar:
2.2
g
Did you make this?
Leave a comment below and tag @chewoutloud on Instagram
---
---